Many growers are concerned with the differences in mustard greens vs collard greens when deciding what to plant in their home garden. Growers and chefs alike ask, are mustard and collard greens the same, and struggle to comprehend the intricacies of the difference between collard greens and mustard greens.
Leafy greens are a popular product among growers in early spring and fall because they are high in vitamins, minerals, and antioxidants, with many health benefits. Collard and mustard greens are only two of the many types of greens grown. They endure – and even flourish in – colder temperatures, but that's where the similarity ends.
Brussels sprouts, broccoli, cauliflower, and kohlrabi are all cabbage family (Brassica) members, as are collard greens and mustard greens. Kale is part of the collard greens family, too. Mustard greens are an herb, the seeds of which make the condiment mustard. They appear similar to some loose-leaf lettuces while growing.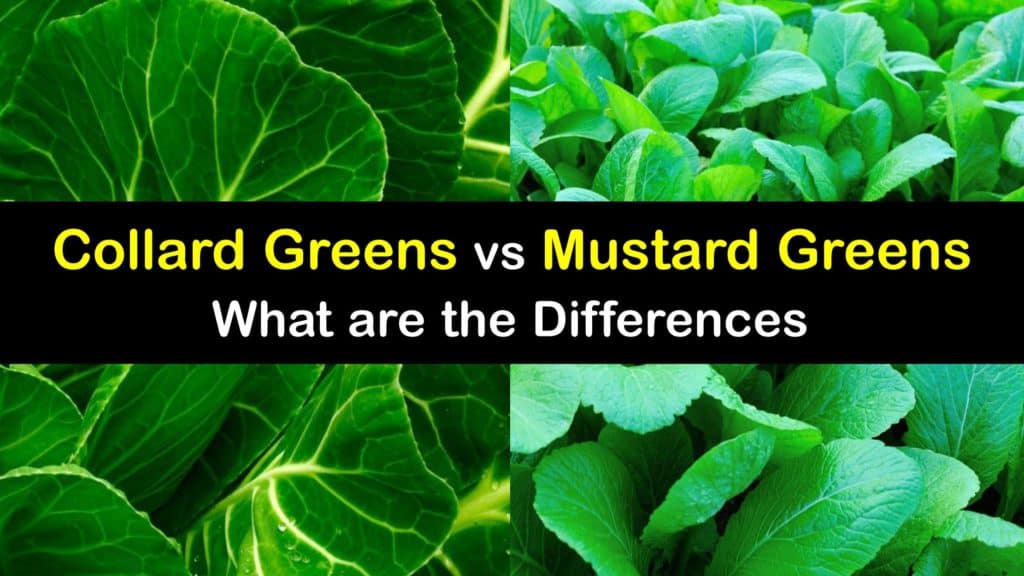 Understanding the Difference between Collard Greens and Mustard Greens
In addition to one being a Brassica and one being an herb, the difference between collard greens and mustard greens goes beyond classification. Mustard greens vs collard greens differ in flavor, appearance, and growing requirements.
People often wonder, are mustard greens and collard greens the same? The answer is no. Mustard greens and collard greens are not the same, and collard greens do not substitute for mustard greens, though other leafy greens like kale, baby spinach, arugula, dandelion greens, turnip greens, and Swiss chard do.
Collard greens may reach two feet and get tougher as they mature. They're simple to acquire no matter the season, but if you want delicious, fresh collards, avoid any with holes or dried edges.
The seeds of mustard greens plants are used to manufacture mustard. The taste of these greens is intense, spicy, and peppery, and this flavor correlates to a robust nutritional profile.
Are Mustard Greens and Collard Greens the Same?
Although both mustard greens and collard greens thrive in colder temperatures, their underlying structures are vastly different. Collard greens, known as tree cabbage, comprise an upright stalk crowned with a rosette of foliage.
The wide, blue-green leaves grow below a rosette, are not frilled, and texturally resemble rosette leaves like a head of cabbage.
Mustard greens grow in low-growing bunches. The leaves are typically collected while they are fresh and fragile. The deep green leaves are sometimes curled and tend to catch sand from the garden depending on the cultivar, necessitating thorough cleaning before consumption.
Growing Mustard Greens vs Collard Greens
While the answer to are mustard greens and collard greens the same is no, there are some similarities in growing them and many differences. The same can be said for turnip greens vs collard greens and some other leafy veggies, as well.
Mustard greens are typically grown from seed, similar to bok choy, and harvested while still young and tender. August through March is the best period to plant, depending on the conditions. Though mustard greens prefer full sun, they become tough when the leaves receive too much heat and develop a pungent taste.
After the seeds grow, it typically takes 35 to 50 days for the first harvest. Begin planting mustard greens in the spring as soon as the ground is workable. The seeds sprout when the soil temperature climbs to 40°F or above. Plant ten weeks before the first forecast frost in the fall.
Seeds or transplants are used to grow collard greens, or you can regrow them like you regrow bok choy from scraps. Transplants are typically grown as a spring crop, and they extend the growing season by four or five weeks because they start indoors before the weather warms sufficiently to flourish outside. March through October is the best period to plant in full sun, whether growing collards in containers or in a garden plot.
When the soil temperature hits 45°F, the seeds germinate in six to 12 days. The harvesting period is 75 days from the time of planting. Plant in the fall approximately 80 days before the first forecasted frost.
Collard greens yield for the majority of the winter in milder climates. In rare cases, collard greens plants withstand temperatures as low as 20℉.
Practice companion planting to increase yield and cut down on troublesome pests. Good companions for bok choy, collards, and mustard greens include carrots, garlic and onions, and potatoes.
Are Mustard Greens and Collard Greens the Same Nutritionally?
While both collard and mustard greens are members of the Brassica family, mustard greens are classified as an herb. Aside from having distinct flavor qualities, these greens have varying vitamins and minerals. The nutritional difference between collard greens and mustard greens is vast.
Mustard greens include a few extra calories, but they're higher in protein and fiber. The most significant nutritional disparities arise from the percentage of recommended daily intake of different vitamins and minerals each leafy green has.
Mustard greens, for example, provide 348% of the daily vitamin K requirement, whereas collard greens offer 230%. Vitamin A levels in mustard greens are 118%, while collard greens are only 48%.
Mustard greens have a higher concentration of folate, vitamin C, potassium, manganese, and even calcium than collard greens.
However, both mustard greens and collard greens have extremely little calcium compared to the other vitamins and minerals. Add mustard greens to salads, sauté them, or even put them into soups to reap the benefits of their nutrients and antioxidants.
Leafy greens are low in carbohydrates and cholesterol, and calories, making them an excellent low fat, high dietary fiber option for a healthy and nutritious side dish or meal addition.
Harvesting Mustard Greens vs Collard Greens
If the plant is not allowed to grow, it extends the harvest period for mustard greens. Regularly pluck the sensitive, young leaves, keeping enough inner leaves to further growth. The leaves are too harsh and bitter to eat once the plant has blossomed.
Store mustard greens in the refrigerator's crisper drawer for up to a week if the leaves are wrapped and unwashed. Mustard greens are often served boiled with potatoes or ham hocks; however, young tender leaves are also served raw in salads or fried in a little olive oil with a dash of lemon juice or parmesan.
Collard greens are ready for picking as soon as the lower leaves achieve full size, leaving the rising bud and younger leaves to generate new leaves for a later harvest. The plant's entire green portion is edible and may be picked at any time. Some gardeners prefer the fragile leaves of early growths' inner rosette.
Wrap unwashed collard green leaves in damp paper towels and place them in a plastic bag to store your harvest. In the refrigerator's crisper drawer, they should last four to five days.
Carefully cleanse the leaves before usage. The leaves are commonly prepared as a side dish by boiling them with turnips, potatoes, or meat seasonings to add to dinner with cornbread or a gratin; however, the cooked leaves are also widely included in pasta or rice recipes.
Whether you grow your veggies or shop at the grocery store or farmers markets, understanding the answer to are mustard greens and collard greens the same helps you make the best choice for taste, cooking time, and health benefits.
Both collard greens and mustard greens are high in dietary fiber and low in cholesterol and carbohydrates, making them an excellent addition to several dishes. When selecting mustard greens vs collard greens, consider growing conditions, cooking goals, and the flavor profile you prefer.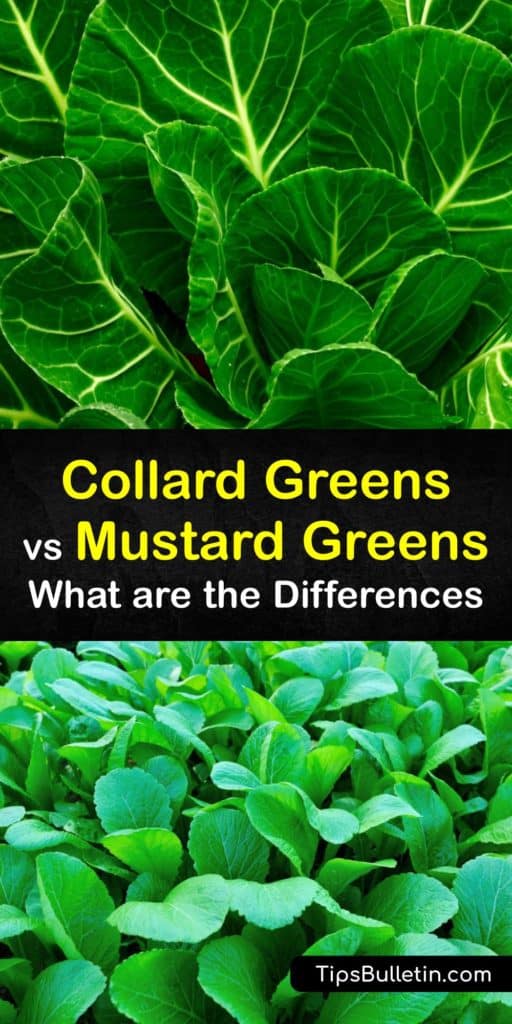 If you loved this article on mustard greens vs collard greens, please share these handy tips on the difference between collard greens and mustard greens with your friends and family on Pinterest and Facebook.