Spring and summer finally arrive, the windows are open, and the scent of emerging flowers is in the air. We all look forward to this time of year, yet this is also the season when tiny ants begin infesting the home. Luckily, there are a few ways to make a natural ant deterrent without calling in pest control or using harsh chemicals.
Ants send out scouts to find food sources to feed the colony. During their hunt, these ants leave pheromone scent trails for others to follow. Ants and ant trails left unchecked eventually lead to an ant invasion that is more difficult to eliminate.
Therefore, it's essential to deter ants as soon as you spot them. If you're anything like us, you do not want to fill your home with toxic insecticides and chemicals. Luckily, many natural remedies repel and eliminate ants, and many of them you already have in your home.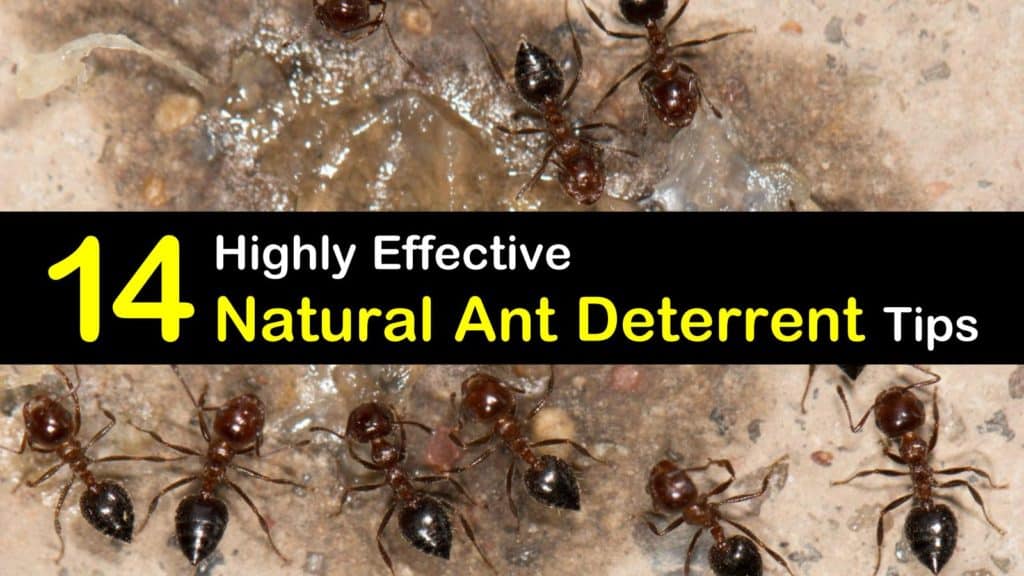 Deterring and Eliminating Ants Naturally
Ants' infestation is not a fun thing to deal with, especially if they are carpenter ants. We created a long list of home remedies to help you get rid of ants, with natural ways to prevent them from coming back.
Everyday household items such as vinegar, dish soap, and baking soda are some of the many natural ingredients that work wonders for deterring ants.
How to Deter Ants from Entering the Home
If you have ants in your home, you're probably wondering what deters ants. Many products on the market repel ants, but some of them contain harmful chemicals.
Here is how to deter ants from entering your home by using preventative measures and how to safely eliminate an ant problem.
Ant Prevention
Always keep the kitchen counter clean of leftover food and dirty dishes. Wash the dishes after each meal or place them in the dishwasher and close the door.
Use a garbage can that has a lid to prevent easy access to food scraps and store pet food in sealable containers between feeding.
Use caulk to seal cracks and crevices in your home and repair ripped screens and cracked windows. Apply a natural ant deterrent around the perimeter of your home and remove ant trails as soon as you notice them.
Homemade Ant Deterrent with Soapy Water
If you didn't use preventative measures fast enough and already have ants in your home, try making a homemade ant deterrent with soap and water. This spray kills ants on-site and removes ant trails from countertops and other surfaces.
Fill a bottle sprayer with tap water and add a couple of squirts of dish soap. Shake it well to mix and label it for continual use. Spray the soapy water directly on visible ants to kill them.
The solution sticks to the insects and suffocates them. The spray is also useful for use on ant trails to eliminate the pheromone scent.
Natural Ant Deterrent with Lemon Juice
Lemon juice is a natural deterrent for ants because the acid in the spray confuses ant's senses, making it difficult to locate a scent trail. Not only does this solution work to get rid of ants, but it leaves your house smelling fresh and clean.
Pour water and lemon juice into a bottle and shake well to mix. Spray the solution on ant trails as soon as you discover them, and wipe the solution away with paper towels.
Spray ants directly as you see them and kill them on contact. It's also useful to place leftover lemon peels in areas where ants hang out to repel them.
Natural Ways to Deter Ants with Spices
There are a variety of spices and herbs that repel ants. The annoying pests hate these ingredients and avoid the area for another more desirable space. This technique is useful if you spot a couple of ants at the beginning of the season.
Sprinkle a decent layer of black pepper, cayenne pepper, or cinnamon across all areas where you spot ants. It's especially helpful if you notice ants walking in a line. Follow the ant trail back to where it enters your home and sprinkle the spices across that pathway.
Deter Ants with White Vinegar
Does vinegar keep ants away? Yes, it does. A vinegar spray not only keeps ants from following a pheromone trail to food sources, but it is easy to use for quick elimination.
Pour equal parts water and white vinegar into a bottle and shake well to mix. Spray the vinegar solution on all entry points to your home, including doors, windows, and baseboards. Repeat every day for one week for optimal results. Use paper towels to clean up dead ants when you see them.
Make an Ant Deterrent with Baking Soda
One of the best ways to eradicate ants in your home without using commercial insecticides is to make a homemade ant killer with baking soda and sugar. The sugar lures them to the bait, and the baking soda kills them.
Pour equal parts baking soda and powdered sugar in a shallow container and mix the powders. Poke holes in the top that are large enough to accommodate the size of the ants and secure it in place. Set the container in an area where you spot the most ant activity.
Repelling Ants with Essential Oil Spray
Many different essential oils are great for repelling ants. These insects hate peppermint and cinnamon and are natural deterrents for ants.
They avoid areas where you spray it while making your home smell awesome. This spray is also an excellent natural spider repellant.
Fill a glass bottle with water and add about 15 drops of peppermint oil and 15 drops of cinnamon oil. Close the spray bottle and shake it vigorously to mix it well.
Spray the liquid across window sills, doorways, baseboards, and any other location where ants can access your home. It's also useful for spray along ant trails and on the pests directly.
Another common essential oil that can be used is lavender oil. Ants don't like lavender scents and will naturally walk away from them. Consider planting lavender in your garden or spraying lavender essential oils around the perimeter of your home.
Deter Ants by Eliminating an Outdoor Ant Colony
If you know where the colony of ants is located in the yard, it's easy to use boiling water as a natural ant killer for outdoors. This technique is especially useful if you have biting insects such as fire ants.
Fill a pot with water and add a couple of squirts of dish soap. Bring the liquid to a boil and pour it carefully into a watering can.
Pour the boiling water directly into the top of the ant hill to kill the colony. If you notice a line of ants going to and from the hill, pour water along the trail as well.
Homemade Ant Bait with Borax
Adult ants feed entirely on a liquid diet, and it's easy to make ant traps using sugar water and Borax. The sugar lures the ants into ingesting the Borax, which leads to their eventual death.
Pour the warm water into a container and add the Borax and sugar. Stir the liquid until the mixture dissolves. Soak cotton balls in the liquid bait and place the soaked cotton on a countertop, near a garbage can, and other areas of ant activity.
If you do not want to set the sticky cotton directly on the surface, consider placing them in a bottle cap or other shallow dish.
Deterring Ants with Diatomaceous Earth
Diatomaceous earth, or DE, occurs naturally in nature as soft, sedimentary rock, and in its powdered form, kills many types of insects, including ants. It is also an excellent aphid repellent.
Sprinkle a fine layer of diatomaceous earth around the yard or inside the home where you notice ants congregating. Familiar indoor places are behind the fridge or stove, around the garbage can, and along the edges of a wall.
Outdoor spaces include entryways to the home, cracks in the sidewalk and driveway, and bare patches of lawn. The ants travel across the powder, which damages their exoskeleton, and causes them to dehydrate and die.
Getting Rid of Ants with Cornmeal
Cornmeal is a safe and efficient way to get rid of ants, and you probably have a box in your kitchen cupboard. This ingredient is convenient if you have pets and children in the home.
Cornmeal Ant Killer
Sprinkle cornmeal around the spots where you see a lot of ant activity. Good places for cornmeal are around the garbage can, on a windowsill, and near the doorway.
Ants cannot digest the substance properly, so they ingest it thinking it is a tasty treat, but starve instead.
Repel Ants with Chalk
Chalk is a quick fix for deterring ants in a pinch. It breaks the ant trail and confuses ants, forcing them to search for an alternative food source.
If you discover an area where ants are getting into the home, use a piece of chalk to draw an unbroken chalk line across the area. If you do not have chalk, try using baby powder.
Sprinkle the powder on windowsills, doorways, and other entry points. It's also handy for ants eating cat food or dog food in the house. Draw a circle around the food and water bowls to keep them from accessing the food.
The ants are unable to cross both chalk and baby powder and search for other food locations.
Keep Ants Away with Coffee Grounds
Ants are susceptible to caffeine, and utilizing your leftover coffee grounds is a great way to deter them. The grounds confuse worker ants while they search for scent trails, and forces them to hunt for a different food source.
Coffee Ant Deterrent
The best way to use coffee grounds to get rid of ants is to sprinkle coffee grounds around your home in areas where ants like to hang out, such as around your pet's food dish or the garbage can. The strong smell of the coffee repels the ants, sending them elsewhere for food.
Get Rid of Ants with Equal
Believe it or not, but it's easy to kill ants with a packet of the same Equal that you put in your morning coffee. Equal packets contain a neurotoxin that kills ants and is safe to use in the home.
This solution is ideal because there is no worry about cleaning up after a bunch of dead ants. The adult ants eat the sweet liquid, go back to their colony, and die.
Pour apple juice into a container and sprinkle a packet of Equal sweetener into the juice. Stir the liquid to dissolve the sugar and dip cotton balls in the container until they are soaked.
Put the drenched cotton balls in a milk cap or another small container, and place them in strategic locations inside and outside your home.
The windowsill and countertop are both ideal spots, as well as near baseboards, doorways, and other areas where you spot ants inside the house.
Place them near the patio, porch, or outdoor sitting area. It's also ideal for placement near the nest to kill the adult ants of the colony.
The best way to defeat an ant problem in your home is to deter them from the area. However, eliminating an ant predicament only works if you have a minor infestation.
Sometimes, more significant solutions are necessary to get rid of the entire ant colony. Fortunately, no matter how big the issue, there are many natural ways of getting rid of ants.
Recipe for Natural Ant Deterrent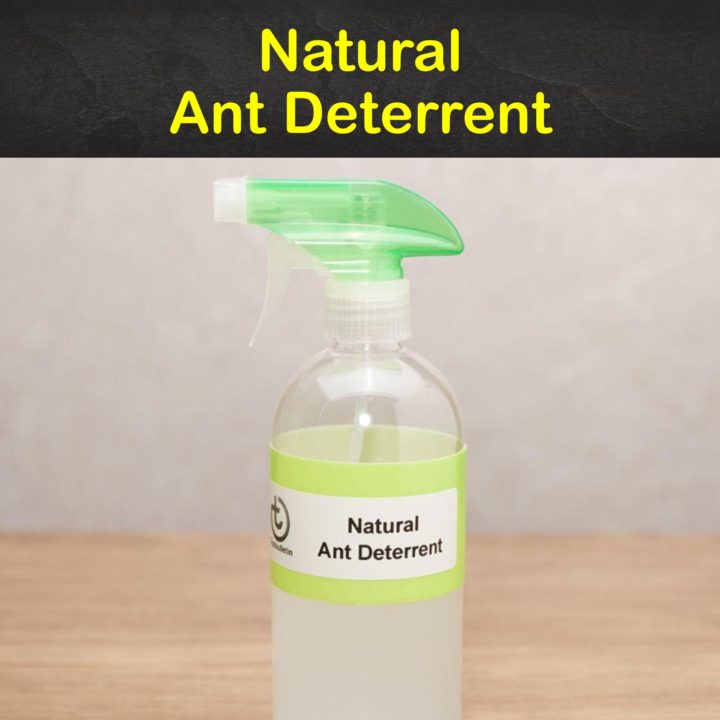 Natural Ant Deterrent
Get rid of ants and their trails with ease!
Ingredients
16-ounce sprayer bottle
8 ounces water
3 ounces lemon juice
Paper napkins
Instructions
Add the lemon juice and water to the bottle and shake to ensure the ingredients mix.
Spritz ants and their trails.
Wipe away dead bugs with napkins and dispose of them.
Notes
Easily double or halve the recipe as needed.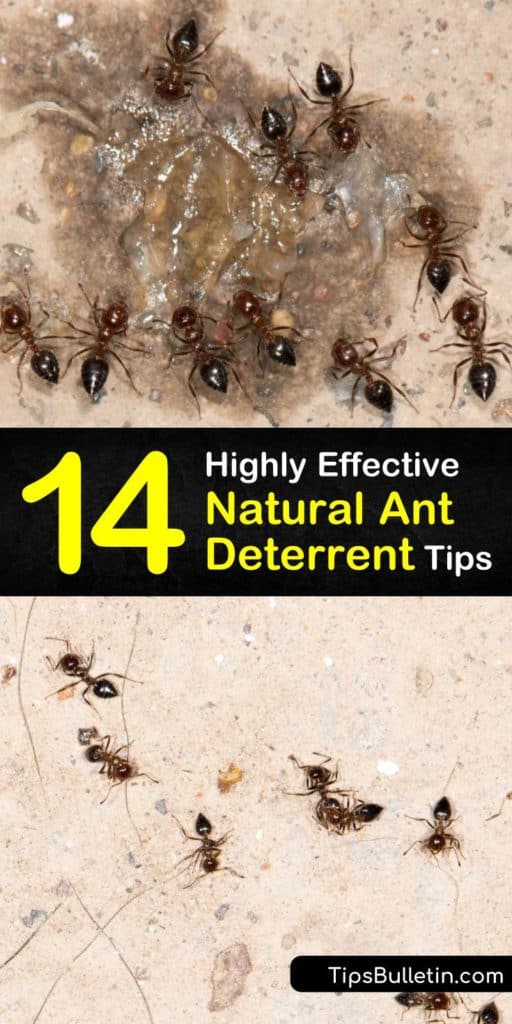 We hope that your home is ant-free using one of our many natural ant deterrent solutions, and we'd love it if you'd share our homemade ant repelling techniques with your friends and family on Facebook and Pinterest.