Bacteria is literally everywhere, from doorknobs, countertops, and floors to appliances and cutting boards. While there is no escaping it, there are ways to disinfect areas of your home without using harsh chemicals. We show you several ways to make a natural antibacterial cleaner to kill germs on household surfaces.
There is a wide variety of cleaning products on the market, such as Lysol, and many of them contain bleach for sanitizing. However, it's not a good idea to use these household cleaners throughout your home daily since bleach tends to stain surfaces and fill the air with fumes.
The CDC suggests overusing an antiviral or antimicrobial spray causes resistance over time. However, it's essential to keep your home clean and relatively germ-free. Fortunately, there are gentler ways to sanitize and disinfect surfaces, remove dirt and grime, and clean away mildew or mold using homemade cleaners.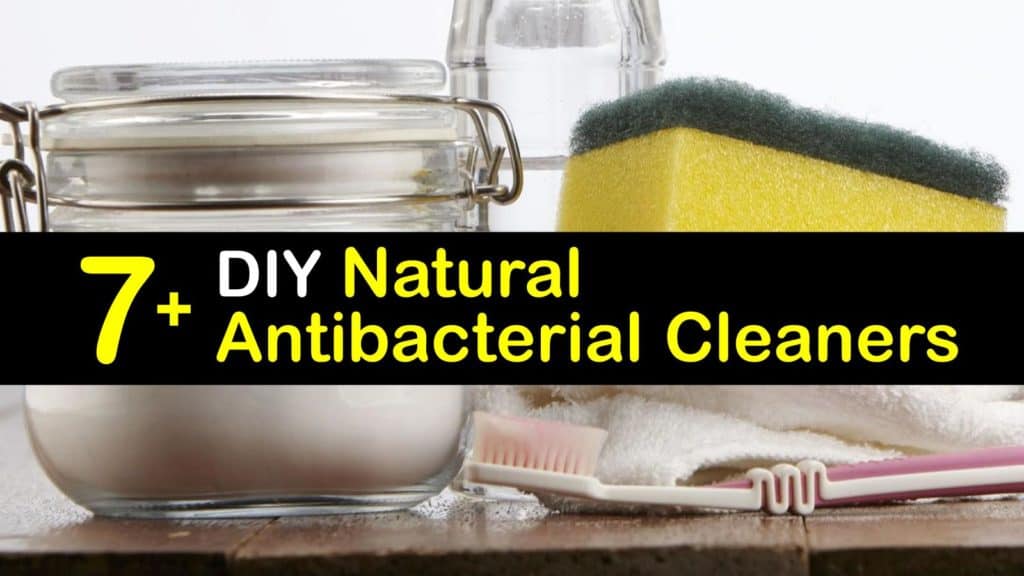 Ways to Make Homemade Antibacterial Cleaners
We show you several ways to make homemade and natural cleaners to kill household bacteria. Many of the ingredients are not only safe, but you probably have a lot of them in your home already.
Homemade Antibacterial Cleaner with Baking Soda
While using baking soda alone doesn't kill certain bacteria, it is a powerful cleanser when combined with vinegar. This homemade antibacterial cleaner is ideal for cleaning everything from countertops to showers.
Mix one cup of white vinegar with a half cup of baking soda in a container. To make a paste for more scrubbing action, use less of the vinegar. If you're cleaning a filthy area, consider adding a squirt of dish soap.
There is a bubbling reaction occurs as the two ingredients combine. This is perfectly normal, and we recommend using the cleanser right away to take advantage of the fizzing action.
Use the solution to clean the bathroom or kitchen sink, toilet, bathtub, or shower or for a natural drain unclogging solution. Apply it directly to the dirty surface and use a sponge or washcloth to clean the area. Rinse away the residue with clean water and dry it with a towel.
You can also use this solution to clean and sanitize a used couch or chair. Add your favorite essential oil to mask the vinegar scent.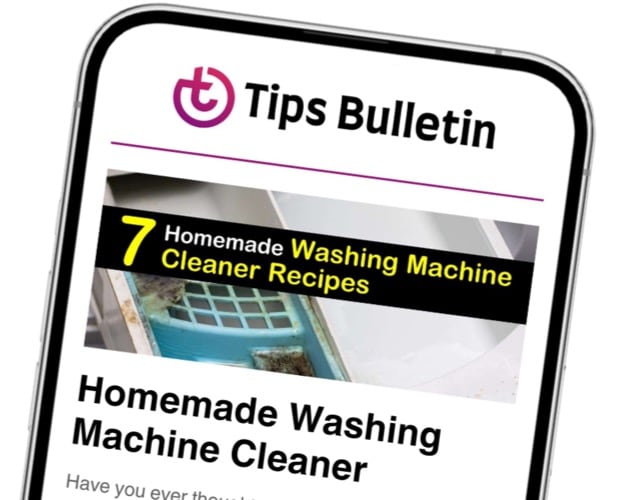 Finally, an email that Transforms Your Home.
Get the latest home and garden tips from our experts, delivered straight to your inbox.
Make a DIY Antibacterial Cleaner with White Vinegar
White vinegar is the cheapest and most effective liquid for making a germ-killing spray. It kills E. coli and salmonella, and this DIY antibacterial cleaner is useful for spraying on counters and cutting boards where you prepare food.
To make a disinfectant spray, pour the water and white vinegar into a plastic spray bottle and shake it well to mix the liquids. If you hate the smell of vinegar, consider adding several drops of one of your favorite essential oils to the mix.
Write the name of the cleaner on the container for future use and store it in the cleaning closet.
To clean the kitchen counter or cutting board, spray the liquid on the surface, let it sit for a few minutes, and use a towel or rag to wipe away the residue. This antibacterial spray is also useful for other commonly used areas such as doorknobs and phone cases.
Using Hydrogen Peroxide to Make a Natural Antibacterial Cleaner
Hydrogen peroxide is an antiseptic liquid that kills bacteria by breaking down cell walls. It also kills mold and is the perfect candidate for making a homemade disinfectant spray.
Use it for natural cleaning in the bathroom or kitchen, and spray it on doorknobs to kill germs.
Combine two parts of hydrogen peroxide to one part water in a spray bottle, shake it well to mix, and label the container for storage purposes.
Spray the liquid on any surface that you feel is contaminated with germs when cleaning door knobs and handles and kitchen and bathroom counters. Then wipe the area clean with a cloth. Keep the bottle handy and use it as needed.
Make a Natural Antibacterial Spray with Tea Tree Oil
This homemade antibacterial cleaner contains powerful tea tree essential oil. This oil has antiviral and antiseptic properties, and using it to disinfect surfaces is not only safe and natural but leaves your home smelling fresh.
Pour hot water and white vinegar into a spray bottle and add the tea tree oil. Ensure that you use a glass container to prevent the essential oil from degrading the plastic. Shake the bottle well and write the name on it for storage.
Spray the liquid on the dirty area and let it sit for a couple of minutes before wiping it clean with a washcloth. Apply the antibacterial solution to surfaces as needed, and keep the container on hand for regular cleaning purposes.
Using Lemons to Make Antibacterial Cleaner
Lemons are high in citric acid, which naturally kills some bacteria. This DIY antibacterial cleaner is easy to make and useful for cleaning most non-porous household surfaces. Not only that, but it freshens the air with a lemony scent as you clean.
Begin by peeling the rinds off fresh lemons. Store the insides in a plastic bag and keep them in the fridge for your next favorite recipe or to add to ice water.
Put the lemon rinds in a Mason jar and pour vodka over the top to cover them. Place the lid on the container and set it in a dark area of the kitchen for one to six weeks to steep until the liquid turns yellow.
Strain the cleaner from the bowl into a spray bottle and spray it on the toilet seat, counters, floor, cutting board, or any other surface that requires disinfecting. Let it sit for several seconds to kill the germs and then wipe it away with paper toweling.
Making an Antibacterial Floor Cleaner with Castile Soap
This natural antibacterial floor cleaner contains Castile soap, a soap product made from a vegetable oil blend, to safely clean most floor types to remove everyday dirt and grime. Adding tea tree oil to the cleaner gives it a boost of antibacterial power.
For the best way to make floor cleaner, mix the hot water, Castile soap, and tea tree oil in a glass spray bottle and shake it gently to mix.
Spray the cleaner on the floor, one section at a time, and use a mop to clean the floor surface. For larger areas, double the ingredients and combine them in a bucket before cleaning.
How to Make Homemade Antibacterial Hand Soap
It's common practice to use antibacterial soap throughout the day, but oftentimes the soap causes your hands to dry out.
The best way to keep your hands free of germs while maintaining their soft appearance is to use natural ingredients to make homemade hand soap.
Open the cover of your soap dispenser and pour in the coconut oil, Castile soap, and tea tree oil, and then pour distilled water in until the dispenser is full.
Replace the cap and shake the bottle gently to mix the ingredients without creating too many suds. Set the soap dispenser on the back of the sink and use it whenever necessary.
Preparing a Disinfecting Cleaner with Alcohol
Alcohol is one of the best liquids for killing germs and bacteria, and there are a few different types that are useful, including rubbing alcohol and vodka. The key is to use the appropriate one for the job at hand.
While it seems unconventional, vodka is useful for disinfecting surfaces in a pinch. When it comes to cleaning with vodka, the higher the proof, the better.
Choose a brand that is at least 60% alcohol and pour a small amount on a clean rag before wiping the dirty surface area.
It's also easy to make your own hand sanitizer with alcohol. However, this recipe calls for isopropyl alcohol or rubbing alcohol instead of vodka.
Pour rubbing alcohol into a container and add aloe vera. Stir the two ingredients to blend them well, and apply the sanitizer to your hands as needed.
While bleach is useful for killing bacteria, it's not safe to overuse it, and an all purpose cleaner doesn't always get the job done right. However, there are many common solutions in your home that are perfect for making disinfectants and antibacterial cleaners.
Recipe for Natural Antibacterial Cleaner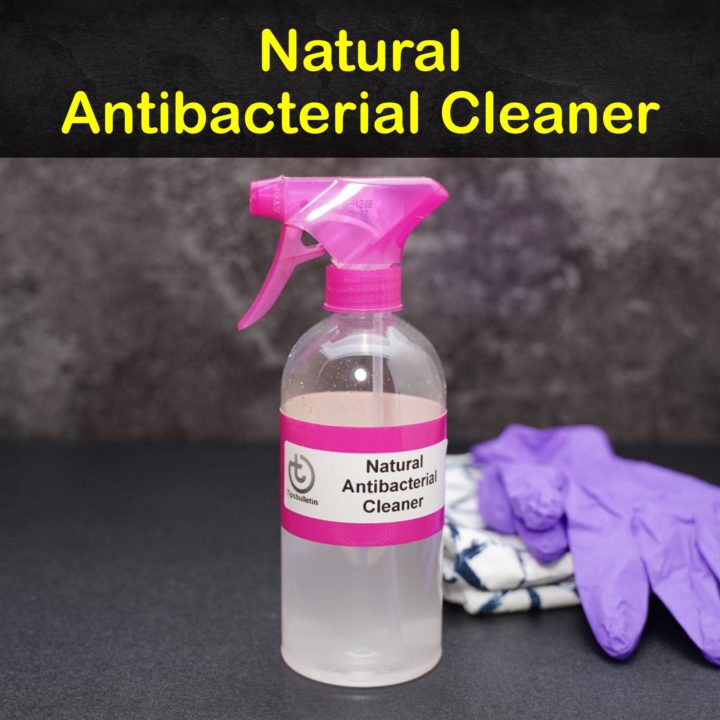 Natural Antibacterial Cleaner
Sanitize the house with this citrusy cleaning solution.
Materials
4 ounces vinegar
16 ounces water
8 drops orange essential oil
Tools
Microfiber cloth
24-ounce glass sprayer bottle
Measuring cup
Instructions
Combine the liquids in the glass spray bottle.
Spritz the material to be cleaned and let it sit for several minutes.
Wipe away with a microfiber towel.
Notes
Do not use a plastic sprayer.
This cleaning spray disinfects multiple surfaces throughout the home.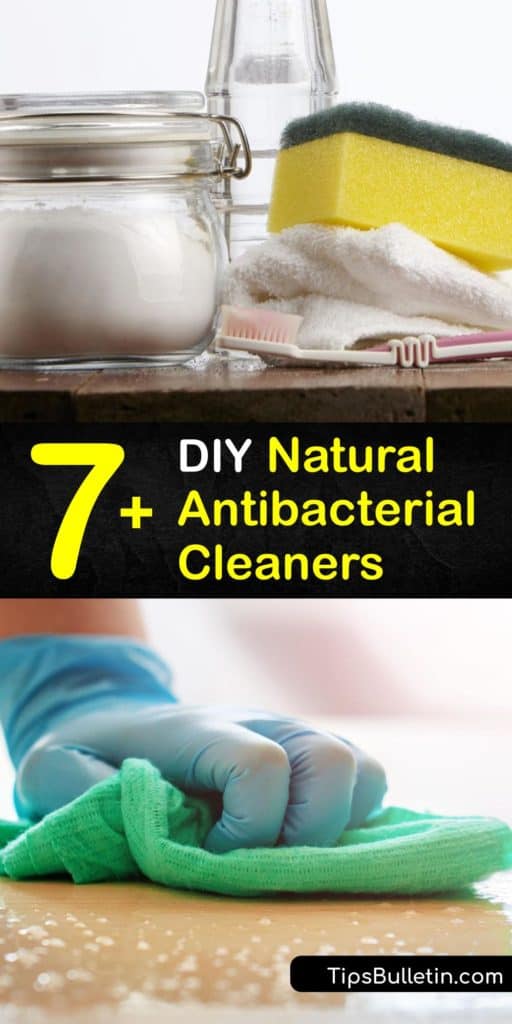 Making a homemade, natural antibacterial cleaner keeps your home safe from germs and puts your mind at ease knowing that you're using gentle ingredients, so why not share our DIY antibacterial cleaning recipes with your social circle on Facebook and Pinterest?