As chores start to pile up, it's easy to forget about the bathrooms in our homes. Bathrooms are one of the dirtiest places inside our houses, but most cleaners are filled with harmful chemicals that are dangerous for us to breathe in and use consistently. There are ways to make a natural bathroom cleaner that work just as well as traditional cleaning products that kill equally as many bacteria.
Finding the best all-natural bathroom cleaner is simple when you use this guide full of DIY recipes and cleaning hacks to get rid of grime, soap scum, and dirt that builds up on bathroom surfaces. Bathroom cleaning is an annoying and tedious chore.
With potty-training, bathing pets, and brushing teeth, this spot in our homes becomes a breeding ground for bacteria, especially because this tends to be a room in the house with trapped moisture and heat. Try out a DIY organic bathroom cleaner spray in your home. You'll be surprised how well they work compared to the sprays you buy at the grocery store.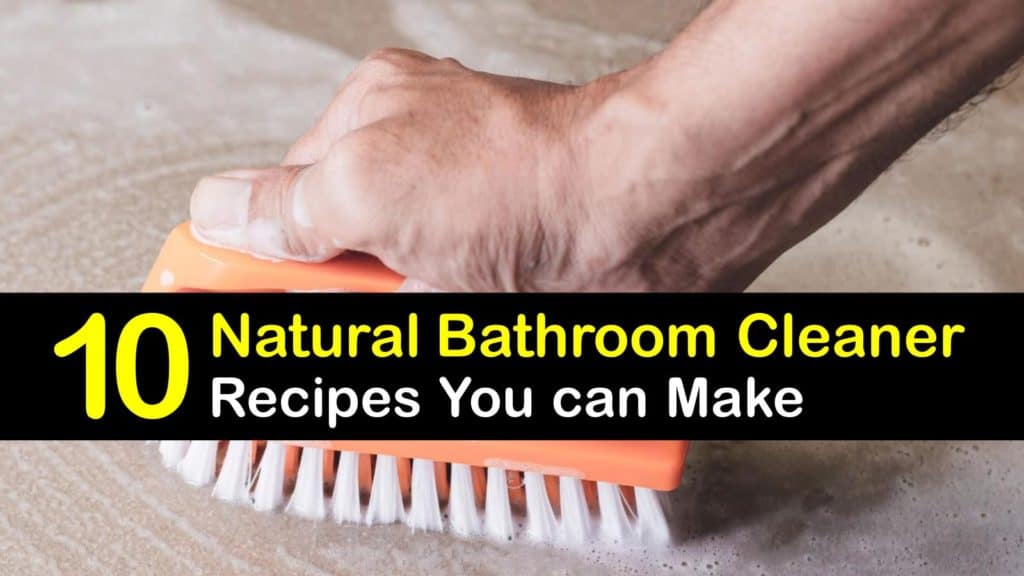 How to Find the Best All-Natural Bathroom Cleaner
Using a natural bathroom cleaning might sound like a farce. After all, how can clean ingredients disinfect your home better than bleach or Lysol?
Just because those products use harmful chemicals doesn't mean you're doing a better job at cleaning your bathroom. Finding an all natural bathroom cleaner that you enjoy might take a few rounds of trial and error.
Some of the natural cleaning hacks on this list work better for different things. Your best option is to start by making one batch from the following bathroom cleaner recipes and using it a few times before deciding how you like it.
If you love it, keep using it. If not, rotate through the list and use it in different rooms to know what areas it works best on. If you find one spray works better for one task than another, write it on a sticky note and tape it to the bottle so that you never forget what it's for.
How to Make a Natural Bathroom Cleaner
A homemade bathroom cleaner contains a combo of natural ingredients that don't cause irritation and are safe to use around children and pets.
Many of these ingredients work as a natural disinfectant, so you know that your bathroom surfaces are still getting clean while smelling far better than the alternative.
The Best All-Natural Bathroom Cleaners
All-in-one cleaners are a go-to for homeowners, especially when they have a million other things they have to get done. This recipe is perfect for disinfecting nearly all hard surfaces, is simple to make, and smells lovely from the combination of essential oils.
Remove the nozzle of the spray bottle and pour in the warm water. Add the baking soda, soap, and oils to the bottle and put the nozzle back on tightly. Shake the spray bottle so everything mixes thoroughly.
Spray the cleaner on the tub, shower doors, sink, toilet, and even the bathroom floor. Allow the cleaner to sit for two minutes before rinsing it away with a damp cloth. Rinse the cloth every so often to remove old dirt and keep lifting more from the hard surfaces.
Tub and Tile Cleaner
When we clean a tub, shower, or tile, creating a cleaner with fizz is important. The fizzing helps lift the layers of grime that have been building up. This shower cleaner combines baking soda and vinegar to create a strong shower cleaner and soap scum remover.
For this natural way to clean bathtub and shower areas, add the ingredients to a large spray bottle and shake it thoroughly, so all the powder dissolves. Spray the cleanser all over your shower walls or on your floor and let it sit for five minutes.
Use a soft-bristle brush to remove the excess build up. Rinse your shower walls with water or use a wet cloth to wipe the floor cleaner.
Homemade Grout Cleaner
One of the most challenging spots to get rid of dirt and grime is the grout between bathroom tiles. The grout has tiny ridges and grooves and collects dirt so that it seems nearly impossible to get rid of.
To make this homemade grout cleaner recipe, mix one part heated white vinegar with one part Dawn dish soap in a spray bottle. Spray the hot liquid over the grout lines and use a scrub brush to start lifting the dirt. Wipe the excess cleaner away with a wet rag and allow it to air dry.
Surprising Toilet Bowl Cleaner
Would you ever think that cola could be used to clean a toilet? Believe it or not, this carbonated beverage is high in acid and fizzy, making it the perfect ingredient to use when cleaning the inside of a toilet bowl.
To use this unusual natural toilet cleaner, dump the entire can of cola into your toilet bowl and let it sit for ten minutes before flushing. Pour the white vinegar down the sides of the bowl, and sprinkle the baking soda over it.
Let it sit for another two minutes or until it stops bubbling. Take the toilet brush and scrub the inside of the bowl. Flush once more, and you're left with a spotless bowl.
You can also sometimes use cola to get rust off bathtub surfaces if the spot is not too large. Add the soda to a cloth and rub on the rusty area to remove it.
DIY Organic Bathroom Cleaner Spray
Hydrogen peroxide is an excellent tool for getting rid of mildew and other molds. It has disinfecting properties, and the smell is better with a few drops of grapefruit or eucalyptus essential oils.
Sprinkle baking soda over the dirty surface. Add vinegar and a few drops of your favorite essential oil to a spray bottle.
Spray the white vinegar over the powdered baking soda and let it sit until the bubbling stops. Wipe away the powder and vinegar with a microfiber towel.
Concentrated Cleaners
For an area with a lot of mildew or soap scum build-up, you might require a lot stronger solution. Mix half a cup of powdered Borax with half a cup of distilled white vinegar and stir them to make a paste.
Smear the paste over the stained area and let it sit for ten minutes. Wipe away the Borax paste with a wet cloth and dry the area with a microfiber towel.
DIY Glass Cleaner
We often turn to Windex as our go-to glass and mirror cleaner. This product is fine, but it still uses harmful chemicals to get the job done when it's easier to make your own.
Combine about four cups of warm water with a quarter cup of vinegar in a spray bottle to make a DIY glass cleaner. Spray the mirrors in your bathroom and use dry paper towels to wipe away spit and toothpaste marks.
The vinegar is the secret to this simple recipe. It helps the glass dry quicker and won't leave behind wipe marks and hard water stains when you remove it from the mirror. Try using this cleaner on your windows as well.
All-Natural Drain Cleaner
When using a natural bathroom cleaner, you might not think that they'll work on drains. Drains in the sink and shower clog with hair and other items and often build up so much that it gets blocked.
To combat this with natural ingredients, pour half a cup of baking soda down the affected drain and rinse it with a cup of vinegar.
Let the drain sit and fizz for roughly 15 minutes before adding extremely hot or boiling water. Repeat this unclogging process as often as necessary until the drain works properly again.
How to Make a Homemade Scouring Pad
Scouring pads are expensive and often don't work as well as we hope. Our homes are already filled with ingredients and tools that grind down areas with layers of grime.
Add one cup of Borax, a cup of baking soda, and one cup of kosher salt to a jar and mix. Sprinkle the dry ingredients over an affected area, like when cleaning wall tiles in your bathroom. Use a damp sponge to wet the ingredients slightly and scrub away hardened dirt.
Making a Floor Sanitizer
When you think about it, our bathroom floors are likely to be one of the dirtiest places in the bathroom. Dribbles and spills are sure to happen, and our bare feet drag these gross germs throughout the entire house.
Sanitizing floors is one of the essential steps in bathroom cleaning and only requires two ingredients. Fill a large plastic bucket with two gallons of hot water and mix in half a cup of Borax.
Dip a mop or sponge into the Borax water and mop down every inch of your bathroom floor. Don't forget to go around the baseboards, so you sanitize every nook and cranny.
Sometimes purchasing a supply of brand name cleaners and using them in our homes seems like an easier and more reliable option, but that's not really the case.
Making a DIY organic bathroom cleaner spray only takes a few minutes and kills just as much bacteria as the store-bought products.
On top of that, these recipes only use safe ingredients for breathing in and using around our loved ones. Cleaning bathrooms doesn't have to be a pain. Using natural cleaners is one simple way to make your home a safe space for all.
Natural Bathroom Cleaner Recipe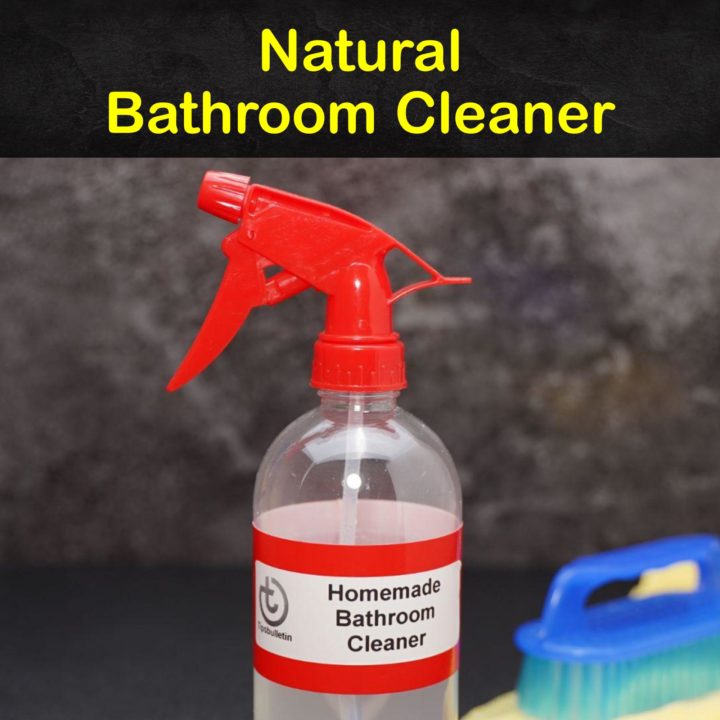 Natural Bathroom Cleaner
Works well on all bathroom surfaces!
Materials
20 drops lemon or orange essential oil
28 drops tea tree oil
16 ounces of water
2 tbsp oil-based liquid soap
1 tbsp baking soda
Tools
24-ounce glass bottle sprayer
Measuring cup
Tablespoon
Cleaning rag
Instructions
Add the ingredients to the sprayer.
Shake to mix.
Spritz each area of the bathroom, one at a time.
Let the cleaning spray sit for about five minutes.
Wipe clean with a damp rag.
Notes
Castile soap is an excellent oil-based soap.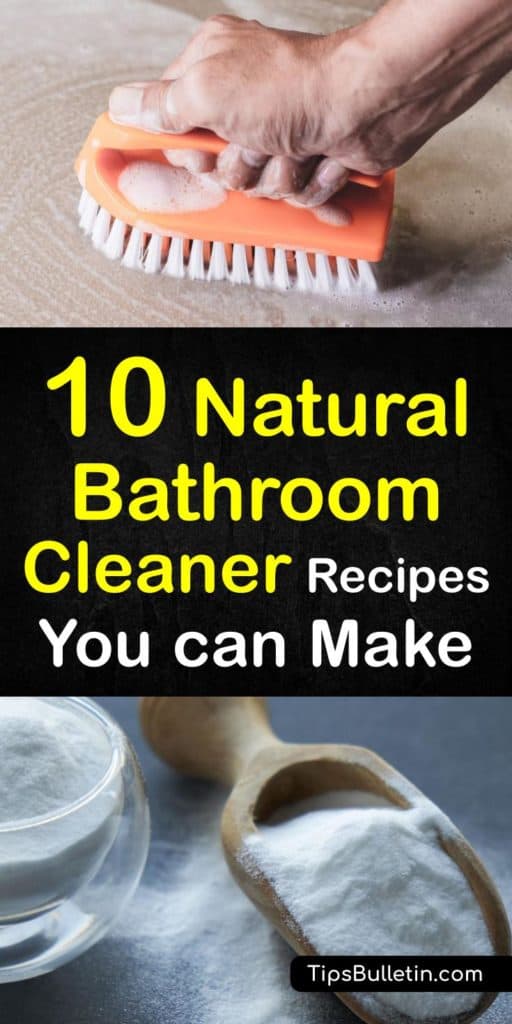 If using a natural bathroom cleaner helped make cleaning a more enjoyable process, share one of our best all-natural bathroom cleaner recipes on Facebook and Pinterest.