Our homes have modern conveniences that make our daily lives much more comfortable to navigate. However, those conveniences can become caked with grease and grime. Having a natural degreaser recipe or two handy is essential for today's homemaker.
When you're confident that you can handle any grease or oil spill that comes your way, you can breathe easy and enjoy your day a little more. We've gathered the best and most useful natural grease cutter recipes to help you find the perfect one for your home.
In this guide, you'll find vinegar degreaser recipes and many other home remedies that are perfect for the DIYer. These recipes will get your kitchen back into shape without requiring you to make extra purchases or risk your family's health with harmful chemicals.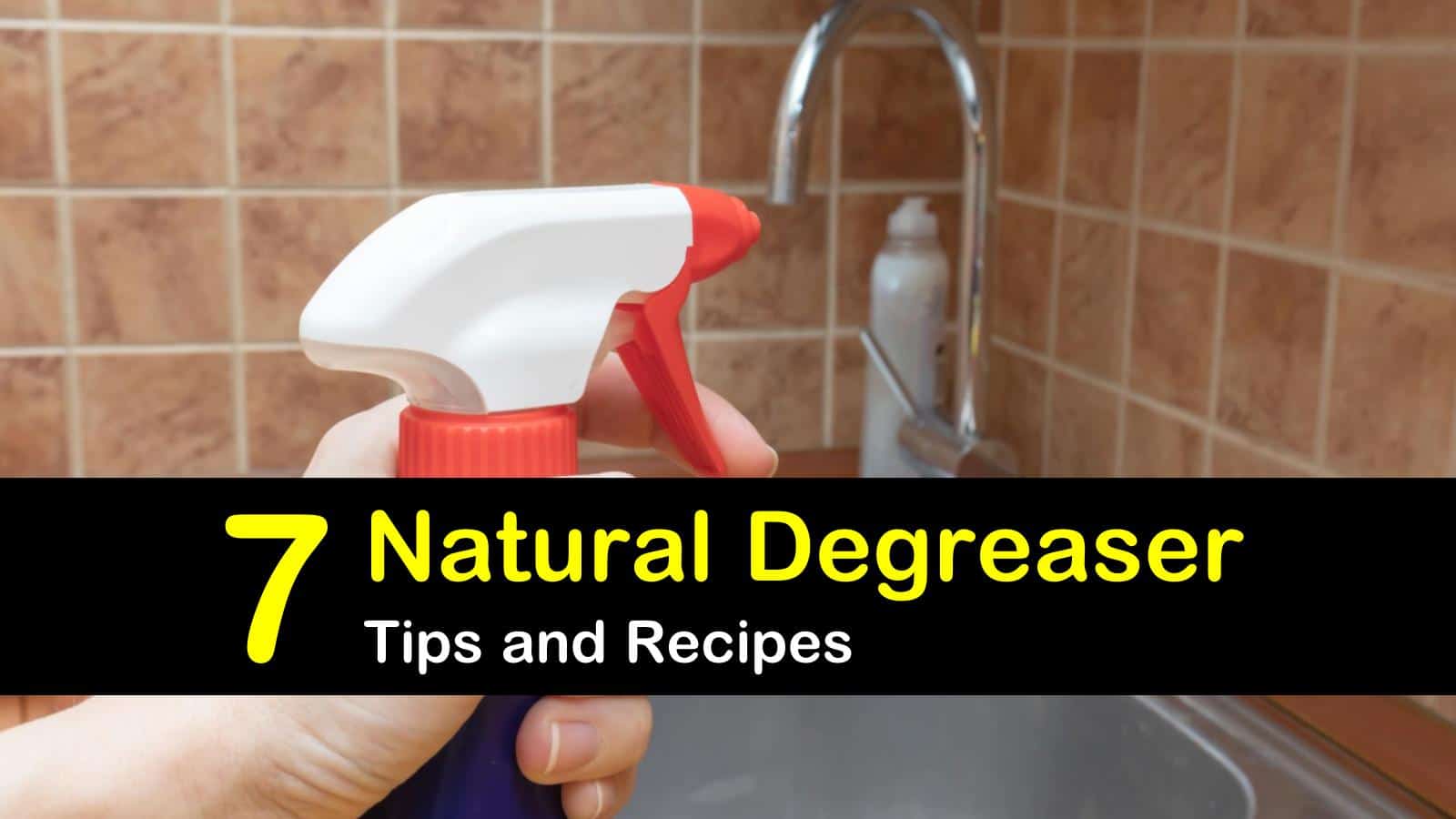 Make Your Own Degreaser Recipes
When you set out to use a natural degreaser recipe, you want to find one that takes care of the grime and leaves you with a fresh scent.
There are plenty of fragrances that you can add to cleaners to make them smell great, but you should try to find natural scents that also add cleaning power to your recipes. Essential oils do just that and are ideal ingredients for degreasers.
Natural Grease Cutter Recipes with Essential Oils
This section focuses on degreasing recipes that include essential oils to boost cleaning strength and leave you with a beautiful fragrance.
You'll find recipes that include baking soda, soap, and salt with essential oil, so you have plenty of cleaning options from which to choose. You're sure to find a natural degreaser for your needs.
Cut Through the Grease with Baking Soda and Lemon Oil
Lemon essential oil is an outstanding cleaning solution in its own right. When you combine it with the grease-eating action of baking soda, you wind up with a grease cutter that smells amazing and knocks out any stain you send its direction. This cleaning option is an excellent first recipe for grease stains and makes a great natural window cleaner, too.
Combine all ingredients in the spray bottle, and spray on stains on countertops or appliances. Leave the mixture on the stain for several minutes before wiping it off with a damp cloth. Lemon juice is an adequate substitute for essential oil in this recipe.
Try this solution for other household issues, as well. It may work to remove oxidation from aluminum window frames or to clean and freshen the toilet bowl. You can't go wrong with lemon and baking soda.
Make a Dynamite Degreaser
Baking soda and vinegar are two homemade cleaners well known for having an energetic reaction when exposed to each other. You can take advantage of that reaction to clean up the worst grease stains when you combine it with liquid soap. And, the citrus oil both cleans and refreshes as you work.
For how to remove grease from a pan or other cookware the easiest way, combine the ingredients in a bowl to form a thick paste, and adjust the required water as needed so it is the right consistency. Spread the paste liberally over the stains. Let the paste dry, and then wipe it away.
Repeat as needed until the grease stain cleans away. Use this simple yet effective recipe as an aluminum cleaner or for stainless steel. It cuts through grease and other stains and leaves the surface shining and free of dirt and oil.
Build a Degreaser from Castile Soap, Baking Soda, and Orange Essential Oil
Castille soap is a favorite product of DIYers around the world. It's perfect for use as a natural grease cutter, especially when you combine it with baking soda and orange essential oil. Give this recipe a try to remove build up and have a clean and delicious-smelling kitchen.
For this DIY orange cleaner, combine the ingredients to form a paste. Coat a sponge with the paste, and scrub the spot until the stain lifts away. Rinse the area thoroughly and repeat as needed.
Make an Amazing Degreaser from Salt and Essential Oils
Salt is a natural cleanser and abrasive and will gently scrub away at whatever surface you wish. Baking soda, essential oils, and vinegar are excellent companions for salt and make this recipe a winner. Use it for stubborn, dried-on, and baked-on grease and oil stains.
Combine the salt, baking soda, and water in a bowl to make a paste. Spread the paste on the stain, and allow it to dry. Combine your vinegar and essential oils in a spray bottle, and spray the mixture over the paste.
Wipe the spot with a damp cloth or paper towel. This option is an excellent recipe for cleaning laminate surfaces.
Vinegar Degreaser and Other Extra-Strength Recipes
Despite these essential oil natural degreaser recipes, you might find yourself facing a grease stain that sticks around. If you run across a tough stain, you need to step up your game and use a vinegar degreaser. Vinegar is one of the most potent cleaning products in your home, and it makes a prime primary ingredient for homemade grease cutters.
It makes some of the best glass cleaner around, too. This section goes over some effective and easy-to-use kitchen degreaser recipes that include vinegar as the main ingredient. Vinegar contains acetic acid, which makes it an ideal cleanser for eating away at all manner of grease and grime.
We give you the most popular vinegar degreaser recipes to use at home on kitchen grease in your stovetop, a clog in your dishwasher, or gunk in your range hood.
Use Vinegar by Itself
Your vinegar degreaser doesn't have to be a big production with tons of extra ingredients. Vinegar can take care of many grease stains on its own without any help. If you encounter a grease spot that shrugs off most natural cleaners, give vinegar a try.
Combine your vinegar and water in a spray bottle, and spray all greasy surfaces. Let the mixture work on the grease for at least 15 minutes, and rinse with a clean, damp cloth. Repeat until the stain lifts away.
This solution is ideal as the best degreaser for kitchen cabinets that have greasy fingerprints and spatters. Your cabinets will gleam again after you treat them with this degreasing recipe.
Hit Your Grease Spots with Vinegar and Ammonia
Ammonia might challenge vinegar as the most useful household product. Ammonia is a go-to for all sorts of tasks, including to clean wooden kitchen cabinets and antique brass.
It's equally effective on stainless steel. When combined with vinegar, it makes for a powerful homemade degreaser that will take care of almost any spill or stain without resorting to harsh chemicals.
Don all safety gear, open any windows and turn on all ventilation before you proceed. Mix your ingredients in a spray bottle, and spray the stain until thoroughly wet. Let the mixture sit for a few minutes, and wipe the area down with a clean cloth.
Use this easy yet effective solution as a natural degreaser for an oven hood that has a thick coat of grease. It'll cut right through the mess and leave you with a shiny hood.
While you're tackling the hood, you can also get the rest of the oven clean, as well. Spray this oven degreaser on both the interior and exterior of your oven to cut through grease and leave a gleaming surface behind.
You can also try this remedy as a homemade engine degreaser. Get that old dirty grease off your engine with this solution and have a nice shiny engine under your car's hood.
Hit the Grease with Vinegar, Baking Soda, and Ammonia
If you've tried everything else and still can't take care of that stubborn grease stain, it's time to break out the big guns. A mixture of vinegar, ammonia, and baking soda makes for a fantastic natural grease cutter and will knock out any stain.
Put on all safety gear, open the windows, and turn on fans. Combine the ingredients in a bucket, and apply it to the stain with a sponge.
Let the mixture sit for a few minutes, and then wipe the spot with a damp cloth. Repeat as needed until you've removed the stain. Try this method when you need a homemade floor cleaner for mopping, too.
We hope you had a lovely experience exploring our natural degreaser guide. Our modern homes contain all sorts of equipment that make our lives easier, but we need to make sure they stay clean and grease-free. Our guide to natural grease cutters shows you how to make a vinegar degreaser or other potent grease remover for your home.
Recipe for Natural Degreaser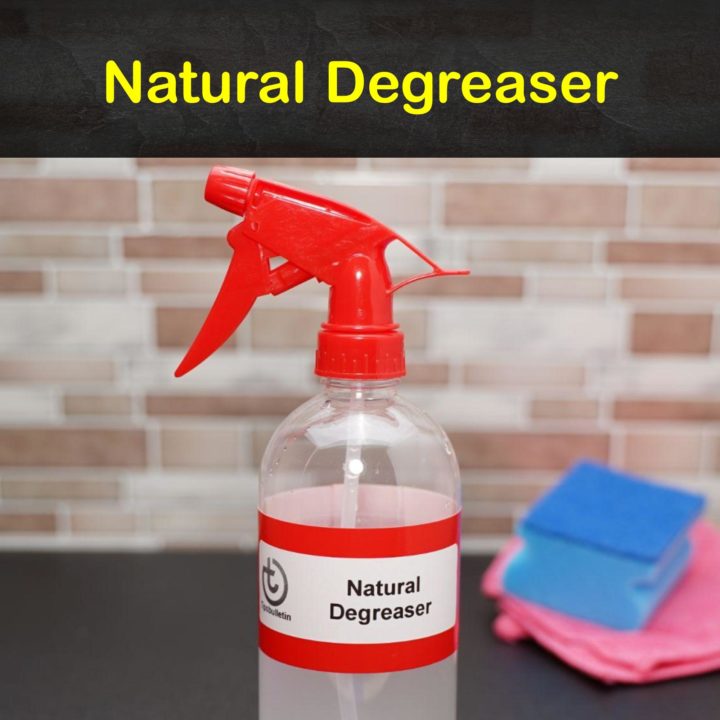 Natural Degreaser
Eliminate sticky grease with household ingredients!
Materials
1 tablespoon of baking soda
1/8 cup of lemon juice
16 ounces water
Tools
Tablespoon
Measuring cup
24-ounce spray bottle
Damp microfiber cloth
Instructions
Combine the baking soda, lemon juice, and water in the sprayer.
Lightly spray the greasy surface.
Let the cleaner sit for several minutes to penetrate the stain.
Wipe clean with the microfiber cloth.
Notes
Substitute the lemon juice with 18 drops of lemon essential oil if desired.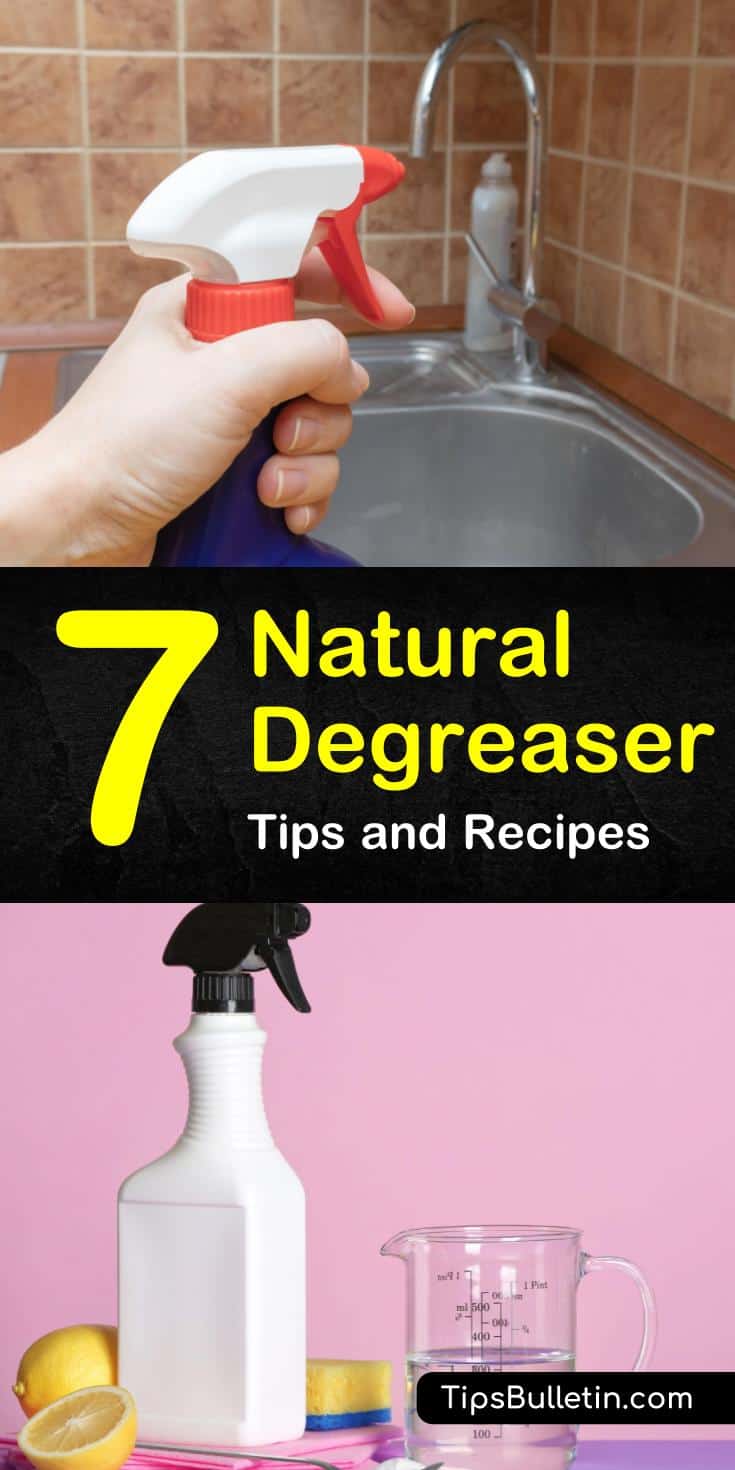 Thanks for reading our degreaser cleaning tips. If you found our natural degreaser recipes helpful, please help us out by sharing our natural grease cutter suggestions with your family and friends on Pinterest and Facebook.