Nowadays, it is critical to kill germs and disinfect the surfaces around your home. Although germs are invisible to the naked eye, they have the ability to impact your health when they overtake your immune system. Creating a natural disinfectant cleaner with everyday household products like white vinegar, rubbing alcohol, or hydrogen peroxide is simple.
The DIY household cleaner recipes we provide show you how to create an effective disinfectant that is inexpensive compared to store-bought household cleaners. Some people believe that making a homemade disinfectant cleaner takes a long time. However, we show you how to repurpose products that double as an antibacterial spray.
Not only do these disinfecting sprays kill a majority of the germs on your countertops, but they also break through mildew and grime buildup in hard to reach areas. If you have been looking for household cleaners with natural ingredients instead of harsh chemicals, follow these steps to concoct a perfect DIY disinfectant cleaner recipe.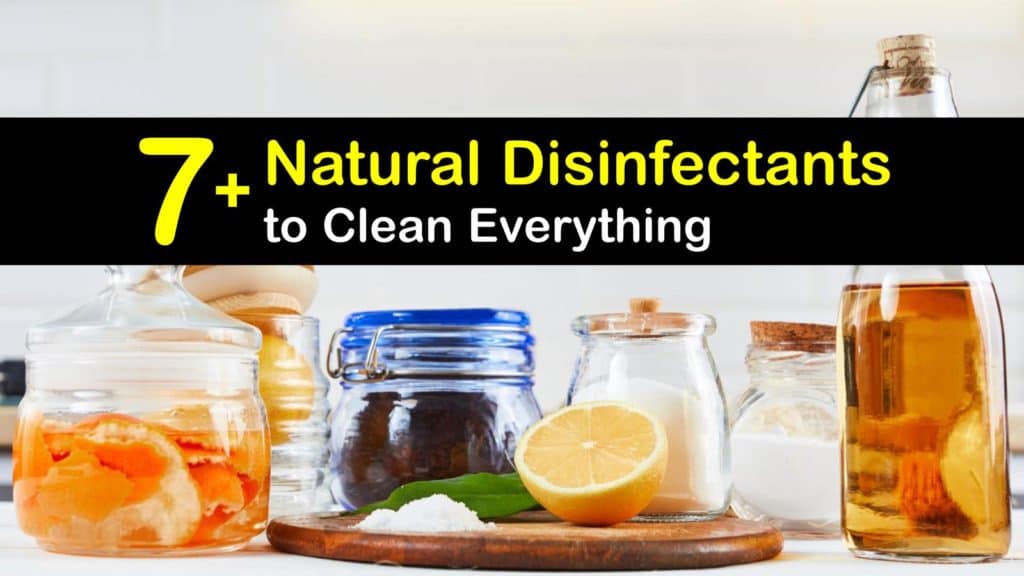 Commonly Found Places for Germs
Germs and other viruses are found on many surfaces in your household and accumulate on cutting boards, countertops, refrigerator handles, and light switches.
Because germs lead to potentially dangerous sicknesses, it's important to understand how to make an antibacterial spray safe for all your hardtop areas.
Discover how to create a homemade disinfectant cleaner that works just as well as a brand name all purpose cleaner like Lysol wipes. There are recipes available for a homemade disinfectant cleaner with bleach or you can use less harmful ingredients that work just as well.
Repurposing Vinegar as a Natural Disinfectant Cleaner
White vinegar is a wonderful all-natural cleaner that has several benefits. A popular product used to clean and disinfect a variety of areas, it is also a disinfectant.
One of the advantages of using distilled vinegar is that it is inexpensive. Another great thing about white vinegar is that it is overly acidic. The acids in vinegar kill the germs that cause colds and flu.
In a spray bottle, combine equal parts white vinegar and hot water. This spray works fantastic as a disinfectant for floor cleaning or for any other surface in your house.
Since vinegar has a powerful scent, mix in a few drops of lemon or orange essential oils to dilute the odors. Wipe away the vinegar spray with a damp clean cloth or paper towel.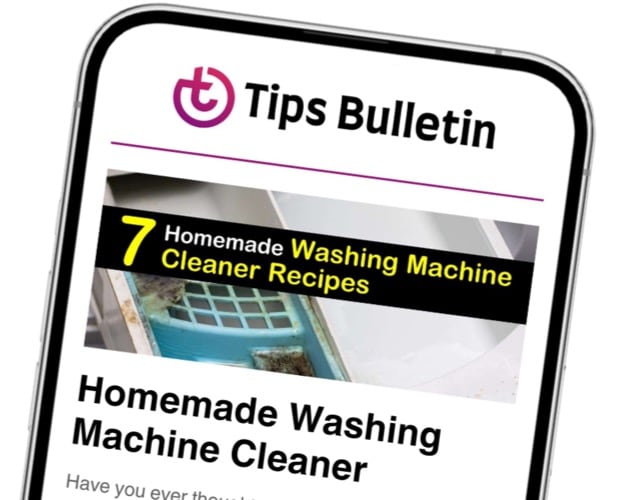 Finally, an email that Transforms Your Home.
Get the latest home and garden tips from our experts, delivered straight to your inbox.
Hydrogen Peroxide is a Wonderful Homemade Disinfectant Cleaner
One of the best natural cleaners is hydrogen peroxide. Because hydrogen peroxide is a common household item, sanitizing your countertops is straightforward.
The ingredients in hydrogen peroxide make an all natural disinfectant because the solvent kills bacteria cells' cell walls. As the liquid interacts with oxygen atoms, they attract dirt and bacteria. Through oxidation, hydrogen peroxide destroys bacteria and germs.
To make this antiviral cleaner, mix two parts water for every one part hydrogen peroxide in a spray bottle. Use this disinfectant spray on your kitchen or bathroom areas to kill and prevent bacteria growth in the future.
Hydrogen peroxide can discolor some carpeted materials, so refrain from using hydrogen peroxide there. To check if hydrogen peroxide stains the surface where you plan on using it, perform a small spot test in a hard to see site.
DIY Disinfectant Cleaner Recipe with Rubbing Alcohol
Rubbing alcohol is magnificent for sanitizing your countertops, just like hand sanitizer kills the germs on your hands. Alcohol immediately kills germs on contact and continues to disinfect the surface for hours afterward.
Use isopropyl alcohol that contains at least 70 percent isopropanol to ensure the bacteria dies. If the rubbing alcohol is below 70 percent, the contents do not destroy as many bacteria cells.
Start by washing the area with warm, soapy water to remove any dirt or small food particles. Combine ⅓ cup of rubbing alcohol with two cups of warm water in a glass spray bottle to apply the natural antibacterial cleaner evenly.
Wipe the solution away with a damp clean cloth to remove excess alcohol that remains on your surfaces.
Utilizing Essential Oils to Disinfect Countertops
A wide array of essential oils serve as natural cleaners that smell great and have disinfecting properties. This essential oil natural disinfectant cleaner contains antimicrobial, antiviral, and other natural cleaning agents.
Combining essential oils and rubbing alcohol ensure your surfaces are cleaned and disinfected.
Pour the cleaning agents into a glass spray bottle and shake gently to ensure that the essential oils settle into the rubbing alcohol.
Spray the natural cleaning combination onto any surface you need to disinfect. Use this mixture as a natural bed and mattress disinfectant spray that will also kill and repel bed bugs and dust mites.
Learning how to create a DIY disinfectant cleaner recipe may seem complicated at first, but it is relatively easy.
How to Use Castile Soap as a Natural Spray
Castile soap is an eco-friendly cleanser that works efficiently for a variety of purposes. The ingredients in the soap lift dirt, grime, and other pathogens off the surfaces where they accumulate.
One advantage of using Castile soap is that it is gentle on your skin, so you do not need to worry about wearing gloves during use.
Mix the water, essential oil, and Castile soap into a spray bottle. A Castile soap spray is one of the homemade cleaners that is safe to spray on any material.
After spraying the solution onto your countertops or sinks, wipe it away with a paper towel. Castile soap and essential oils make an excellent natural disinfectant cleaner that kills just as many germs and bacteria as bleach.
Repurpose Dish Soap into a Disinfectant Spray
Liquid dish soap like Dawn is not only effective at cleaning your dirty dishes but is also designed to lift dirt and grime while simultaneously killing bacteria.
A homemade disinfectant cleaner with dish soap works fantastic on countertops, baseboards, and windowsills, and is ideal for disinfecting the bathroom.
Pour the liquids into a medium-sized spray bottle and shake the contents lightly. Mist the natural cleaner on the desired surface to clean and sanitize before wiping the contents away with a clean damp cloth.
This DIY disinfectant cleaner recipe also works well on the windows in your home.
Depending on the material, make a disinfectant spray for your couch with these ingredients. Test the cleaner on a hidden area first to ensure it does not discolor the fabric.
Lemon Juice Kills Bacteria on Countertops
A fantastic way of killing germs and cleaning a cutting board is with lemon juice. Lemon juice is very acidic and cuts through dirt and grease effortlessly. Additionally, the acids in lemon juice kill bacteria and germs.
Another asset lemon juice brings is that it works as a glass cleaner. If you have extra lemons in your fridge, repurposing them as natural household cleaners is an excellent option.
To kill the bacteria and viruses on your cutting boards, slice a lemon in half and scrub the cutting board with the open end of the lemon.
The juices in the lemon remove stains and kill the odors that seem impossible to get out. It is vital to kill germs on your cutting boards because the germs can lead to dangerous foodborne diseases and possible illnesses.
Making a Homemade Disinfectant Cleaner with Borax
The CDC states the germs and bacteria are a part of everyday life because they are found in the air, water, and on multiple surfaces… These bugs don't stand a chance against Borax. It is a natural mineral that is used in many household cleaner recipes.
This multi-dimensional cleaner, similar to baking soda, starts working when combined with water molecules. A Borax spray acts most efficiently in the bathroom or rooms that have a lot of moisture.
Borax kills odors and bacteria, keeping your bathroom fresh. An excellent cleaning ingredient to use with Borax is white vinegar. Borax and vinegar make a natural mold and mildew remover since they destroy severe mildew buildup and the germs in your bathroom.
Germs and bacteria live on every surface in your home. Although it may be impossible to eliminate every single germ, killing large bacteria accumulations is feasible.
All-natural cleaning recipes are simple to create and require easy to find and inexpensive ingredients. Standard household products like white vinegar, hydrogen peroxide, and rubbing alcohol all make magnificent disinfecting agents.
Recipe for Natural Disinfectant Cleaner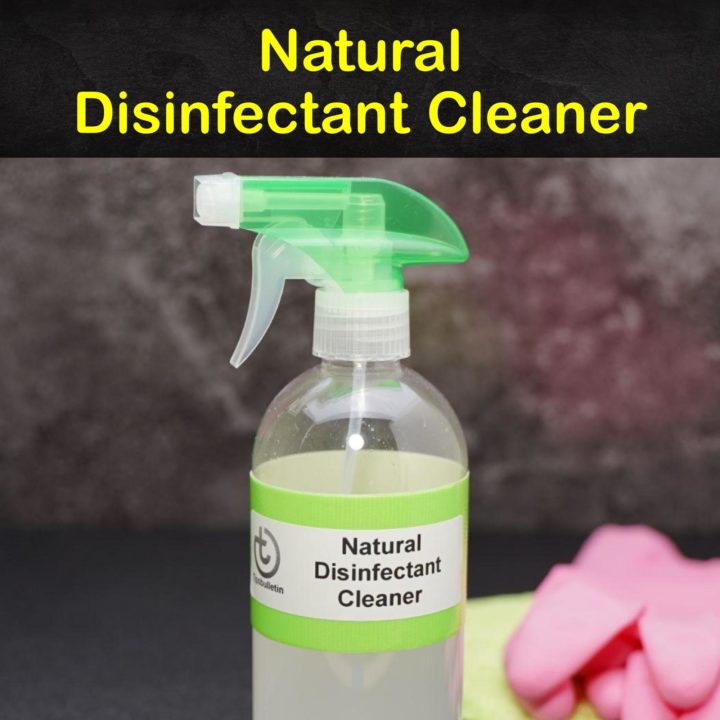 Natural Disinfectant Cleaner
A multi-surface cleaning spray with a fresh scent!
Materials
1 cup of vinegar
1 cup hot water
8 drops orange essential oil
Tools
Measuring cup
24-ounce glass spray bottle
Cleaning rag
Instructions
Pour the liquid ingredients into the sprayer and shake well to combine.
Spritz the item you want to clean.
Allow the cleaner to sit for a few minutes, if possible.
Wipe away the dirt and cleaner with the rag.
Notes
Essential oils degrade plastic so be sure to use a glass sprayer bottle.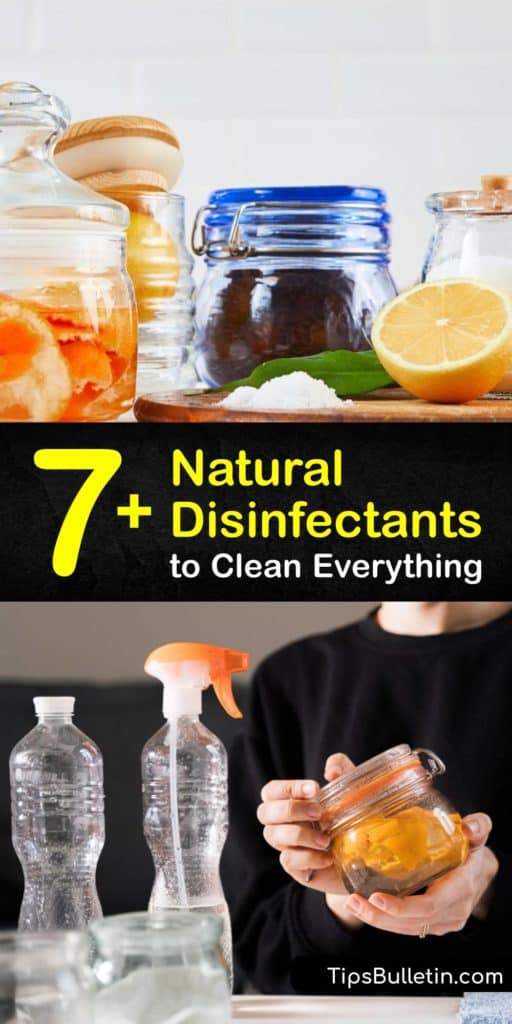 If you discovered how to make a natural disinfectant cleaner, share this article with tips on creating a homemade cleaner with your family members on Facebook or Pinterest.