More pet owners are looking to natural flea prevention for dogs to improve their health and reduce their exposure to undesirable chemicals. Dog parents who know how to prevent fleas on dogs naturally are less likely to have a flea problem or any associated risks.
Your dog may pick up fleas anywhere, from the dog park to your backyard, and it only takes one to begin a significant infestation. Fleas and ticks bite pets and people alike, and their saliva is irritating and dangerous. Ticks are well known for spreading Lyme disease, and fleas were a huge contributor to the bubonic plague.
Keeping these unwelcome insects off your pet and out of your home is vital. Fortunately, there are many options for natural flea control for dogs and for preventing fleas. Find a home remedy to kill fleas quickly to keep these nasty bugs off your pets for good.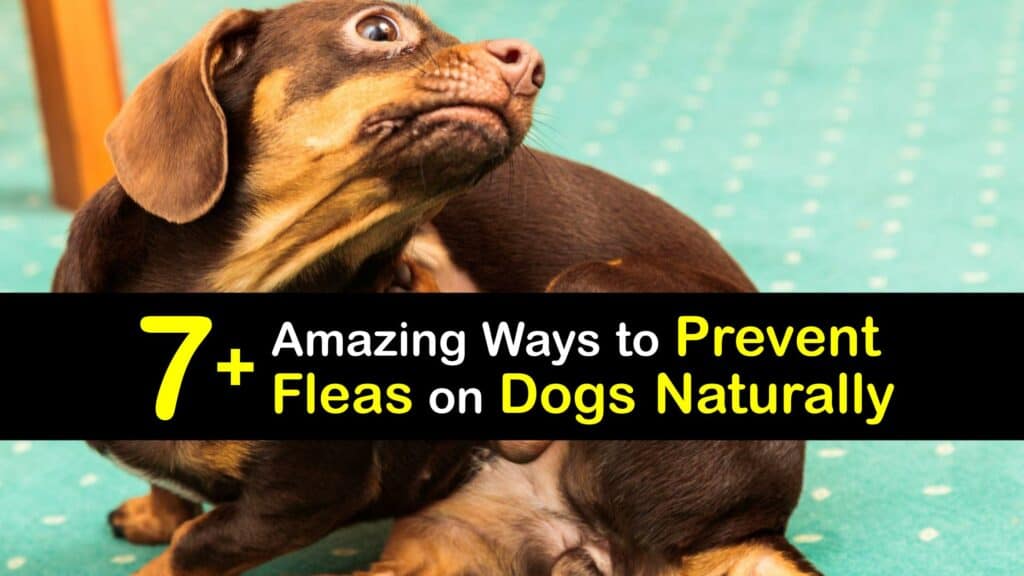 Remarkable Ways to Prevent Fleas on Dogs Naturally
Choose natural flea prevention and homemade flea shampoo for dogs to keep your pet healthy and happy. Though there are many chemical options, choosing to prevent fleas on dogs naturally reduces their exposure to damaging substances and promotes good health.
Trust everyday supplies like apple cider vinegar, essential oils, and citrus fruits to prevent and treat fleas and ticks on your canine companions.
Signs You Need Natural Flea Prevention for Dogs
A dog flea invasion is miserable for you and your pet. Whether you find a painful bump on your skin, suspect a flea bite, or notice your dog itching more than usual, it's crucial to know the signs of fleas on your pets and home.
If you inspect your home and dog and realize you are facing fleas, don't panic. Though pet stores are flooded with flea and tick treatments that use unsafe compounds, there are several affordable and natural remedies to eliminate the fleas from your pet and your home and help ensure they don't return.
Flea bites are uncomfortable and dangerous for you and your dog. As soon as you notice fleas, take action as quickly as possible, starting with laundering and cleaning your home, and use a natural flea control method to treat and prevent these insect pests.
Apple Cider Vinegar is Natural Flea Control for Dogs
Among its multitude of uses, apple cider vinegar is an excellent flea and tick repellent, as it balances the pH of your pet's skin to make them a less welcoming target for blood-sucking pests like fleas and mosquitoes.
Dab a bit of apple cider vinegar behind your pet's ears using a cotton ball, or add several drops to their drinking water to act as a natural flea repellent. Ask your pet's veterinarian for more detailed guidelines on dosage, and always check with them before starting any new health regime for your dog.
Natural Tick and Flea Prevention for Dogs
Essential oil has many uses, so it's no surprise that it will repel fleas from your dog. Though essential oils are naturally derived and non-toxic, they must be diluted with a carrier oil to avoid burning or irritating your dog's skin.
Several different oils efficiently repel fleas. Choose your favorite scent and keep fleas off your dog while making them smell great.
Mix a few drops of flea repelling essential oil into a teaspoon of coconut oil and apply behind your dog's ears to deter fleas. Fleas have extremely sensitive olfactory systems, and the potent aroma of the essential oils is unappealing, causing them to avoid your dog.
Never use oil on your pet's skin on bright sunny days, as this could result in severe sunburn.
Dish Soap is the Safest Flea Prevention for Dogs
Dish soap has many uses in treating and preventing fleas and ticks on your dog. Head for the kitchen and grab your liquid dish soap to use as a natural flea and tick shampoo to kill pests. Washing your dog every few weeks with dish soap is a viable flea control method.
Wet your dog thoroughly and lather them in dish soap, let the soapy suds sit for about five minutes, then rinse. The dish soap clings to fleas and flea eggs on your pet to suffocate them and ensures they wash away with the soap and water.
Regular baths with dish soap ensure the flea life cycle breaks and your pet never becomes infested. For bad cases of fleas, bathe your pet in dish soap once a week and follow the bath with a thorough flea comb to remove dead fleas and eggs from your dogs coat.
Try a Natural Flea Treatment – DIY Lemon Flea Spray
Lemons are known for their sour test and fresh, clean scent. These citrus fruits are a valuable tool to make your own flea treatment for dogs or cats. Forego synthetic chemicals and reach for some lemons to make a simple spray to prevent fleas, ticks, and mosquitos from bothering your dog.
Add the lemons to a pan, fill with water until the fruit is covered, and bring the contents to a boil. Let the lemons brew for 12 hours, strain out the fruit, and add the liquid to a spray canister. Cover your dog in the spray, avoiding their face and eyes, to protect them from fleas and ticks.
Select Flea Collars Offer Natural Flea Prevention
Whether you have a little or big dog, a flea collar or a tick collar is a popular choice to prevent fleas. Be mindful when choosing a flea or tick product for your pet, and search for a natural flea and tick product instead of a chemical one.
Collars like the Seresto flea collar contain heavy chemicals and synthetic insecticides. These chemicals eradicate the adult flea, their flea larvae, and flea eggs, but they might also harm your canine friend.
Instead of dangerous chemical collars, visit your local pet store and look for natural pet products like the TervaPet natural collar, which uses non-toxic and safe substances to prevent fleas and ticks.
Home Spray for Flea and Tick Prevention
Ridding your house and yard of existing fleas and keeping it clear throughout flea season ensures your dog doesn't pick up unwanted passengers at home. Mix this homemade natural flea and tick control spray for your home using simple items.
Pour the liquids into the sprayer and shake well until blended. Apply to hard and soft surfaces like carpets, sofas, baseboards, and outside the foundation of your home. Refrain from using this spray on your pet and ensure it's fully dry on other surfaces before allowing your pet to access the area.
Clean Your Home to Reduce Flea Issues
Combine treatments to repel fleas with good home maintenance to ensure an infestation doesn't take hold of your dog. A dog flea invasion begins with a single adult flea and quickly multiplies.
Fleas live in fabrics like carpet, blankets, and pet beds, as well as on your dog. Wash fabric regularly throughout the flea season, and keep your carpet vacuumed. If you usually have challenges with fleas, consider a steam clean once a month to destroy any insects or eggs in your carpets and furniture and break the flea life cycle.
Launder pet items like beds, blankets, dog coats, and plush toys in the machine on a hot wash to kill any living fleas, and run them through the tumble dryer on a hot cycle for good measure. A stray female flea might produce hundreds of eggs, so it's best to thoroughly clean your dog's items often to prevent the growing population.
If you discover fleas on your pets or home and need to treat them, don't use a chemical flea and tick spray. There are so many techniques for natural flea control for dogs, and they work well and keep your pet safe from exposure to toxins.
Fleas and ticks are a daunting experience for any pet owner. Their bites are annoying and have dangerous side effects like flea allergy dermatitis and Lyme disease. Choose a natural remedy for flea and tick prevention and protect your pets and family from pesky fleas without the risks associated with synthetic treatments.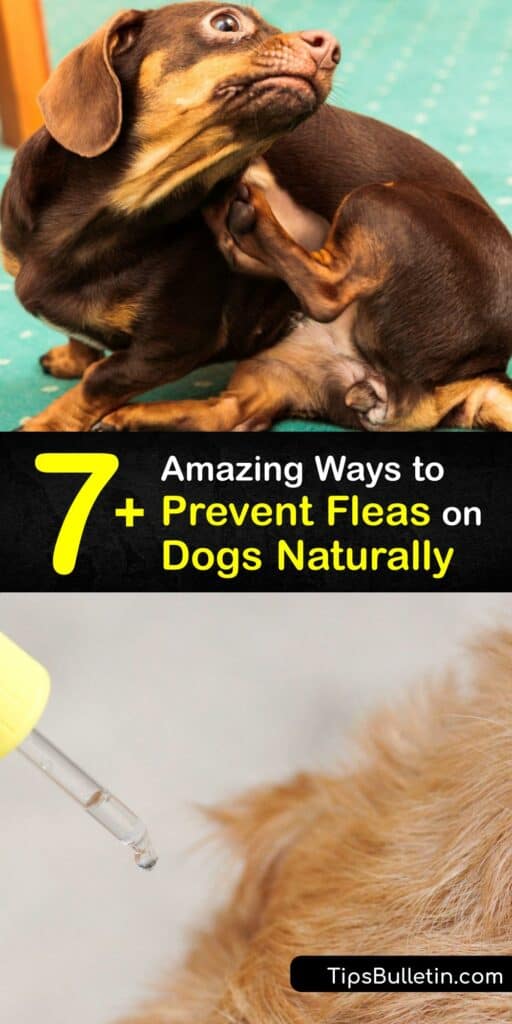 If you loved this article on natural flea prevention for dogs, please share these brilliant tips to prevent fleas on dogs naturally with your friends and family on Pinterest and Facebook.