Our dogs are precious to us, and we take their best interests seriously – that's why every responsible pet owner should know about flea and tick control. We've assembled some of the most reliable tips about natural flea repellent for dogs to help your pet stay flea-free this summer.
Fleas are wingless, high-jumping parasites, and they can jump two hundred times their body length. Hiking and other outdoor activities are more popular than ever, which means your dog has ample opportunity to pick up these toxic pests. Even if your dog mostly hangs out in the yard, fleas and ticks are always waiting on the sidelines.
Of course, there are many pills, collars, and chemicals available for flea control, but your dog is a much-loved member of the family. Pet pest control isn't like spraying the lawn, and considerations must be made for your pet's optimal health and safety. These hand-picked tips should set you in the right direction for natural, non-toxic home remedies that work.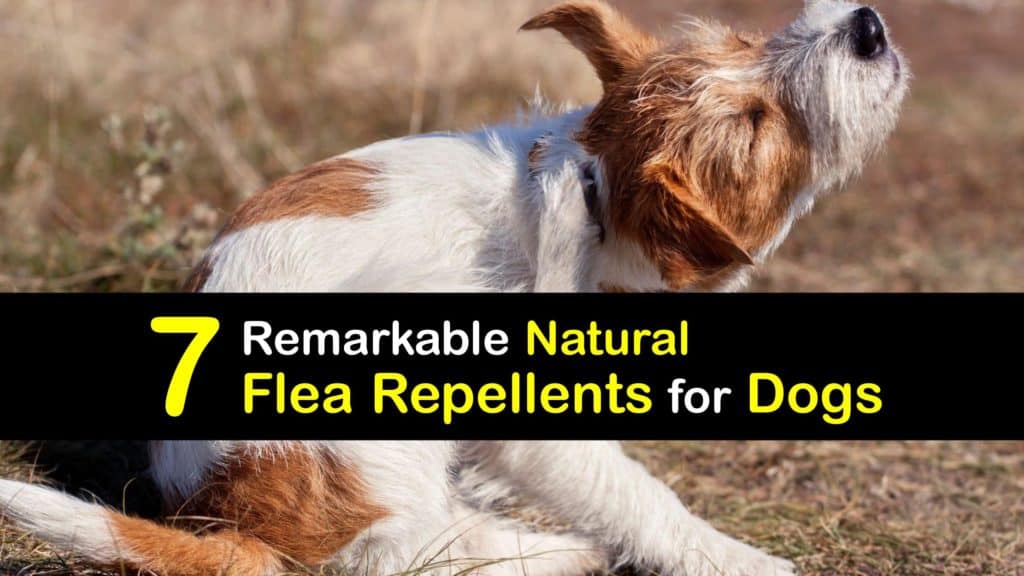 Learn about Natural Tick and Flea Repellent for Dogs
Save your dog from the discomfort of a flea infestation. Discover how to treat fleas and make a homemade flea repellent with simple, safe ingredients for natural flea prevention for dogs. Your furry friends will thank you for eliminating these nasty pests in their fur.
Apple Cider Vinegar
Apple cider vinegar, which comes from crushing apples and fermenting the juice, makes a formidable, non-toxic homemade flea repellent for dogs and is also a natural tick and flea repellent for cats. Diluting the vinegar with water lessens the smell.
The sugars from the crushed apple juice are turned into alcohols by adding bacteria and yeast, and then the alcohols are turned into vinegar by adding acetic-acid-forming bacteria. The refinement process gives vinegar its high acidity level and bitter smell and effectively repels ticks and fleas.
To make this simple and effective DIY flea killer spray, mix the 1:1 ratio of water and apple cider vinegar, and give the spray bottle a good shake. Once the vinegar flea spray is ready to go, give your dog a bath and a quick towel dry. Spray the vinegar flea repellent over the dog's coat, lightly ruffling it with your fingers.
The vinegar smell fades after drying and should be applied every week during peak flea season as the best way to kill fleas and keep them off your pet. If your dog is the excitable type, leash them to something sturdy and use extra caution around their face and eyes.
Lemon Juice and a Flea Comb
A few lemons and a ten-dollar flea comb are all you need for a DIY natural remedy. Fill a small, shallow bowl with fresh-squeezed lemon juice. Soak the flea comb in the lemon juice and settle your dog in for a good grooming.
Alternate between soaking the flea comb and brushing it through your dog's coat. The comb and lemon juice combo works against flea dirt, flea eggs, flea larvae, and adult fleas. After combing from head to tail, give your dog a good rinse, towel dry, and a delicious treat.
Essential Oils for Dogs
We classify essential oils as highly concentrated plant extracts that are steam-distilled and refined into powerful aromatic oils that we use for various purposes. Generally, essential oils are well-tolerated but must never be applied to the skin without being adequately diluted.
Many people recommend essential oil as a natural flea repellent for dogs; however, it's necessary to go over a few points before using them on your pet and using them as a way to keep fleas away from them and you.
Before use as one of the home remedies for killing fleas, reduce your essential oils to a 2% maximum concentration by using an application agent like coconut oil, olive oil, or water. For example, if you have one ounce of water, add five drops of essential oil to achieve a safe level of dilution.
Always look for high-quality extracted essential oils, and discontinue use if you notice any irritation. Dogs are more sensitive to intense smells, and their immune systems are more delicate; observe your dog closely to ensure essential oils work for them.
Homemade Flea Repellent for Dogs
Many essential oil-based flea and tick repellents are available on the market, but sometimes it's more satisfying to make your own natural flea treatment. Here's a safe, non-toxic, natural tick and flea repellent for dogs that works. As one of the best home remedies for getting rid of fleas, it's easy to make, cost-effective, and the batch lasts quite a while.
Add the witch hazel and aloe vera juice to a measuring cup. Carefully add precisely ten drops of lavender essential oil, ten drops of lemon oil, and 20 cedarwood oil drops. When mixed to specification, this DIY flea deterrent for dogs has a 1.6% essential oil concentration within safe pet-use standards.
Pour the repellent into the spray bottle and shake well. Mist your dog's dry coat and lightly rub through the fur as required. Apply twice a week and use other non-toxic home remedies like tick shampoo for amplified results.
Avoid essential oils that have documented oral toxicity in dogs, like tea tree oil, peppermint, or wintergreen. Don't use essential oils around puppies under eight weeks, senior dogs, or pregnant dogs.
Organic Flea Repellent Soap
Quite simply, fleas are gross. Saliva proteins from even one dog flea bite cause itchiness, irritation, and, if left untreated, hair loss. Many non-toxic, flea-repellent shampoo options are available to incorporate into your dog's bath routine and make great natural remedies or you could make your own homemade flea dip for dogs with ingredients you have at home.
Weekly baths during peak flea season provide consistent protection and tick prevention. Organic flea shampoo shines as a natural flea repellent for dogs. It provides tick control every day, so you don't have to.
Natural Flea Repellent for Dogs
There's no need to go and buy flea shampoo because we've got a tremendous DIY flea deterrent for dogs right here. Learn how to make this easy, effective natural flea shampoo right in your kitchen. This recipe makes one generous batch of safe, non-toxic flea shampoo and is easily multiplied for more dogs. Neem oil is safe for dogs and fleas hate the smell.
Brew some nettle tea. This healthy tea is made from the leaves of the stinging nettle; it's inexpensive and easy to find. Allow the nettle tea to cool, pour it into a measuring cup and add the remaining ingredients.
Castile soap is vegetable-based and full of naturally occurring ingredients. It acts as an effective delivery agent, which helps the solution lather on your dog's coat. Get the treats ready and coax your dog into the tub.
Wet their fur thoroughly and rub the shampoo all over to get all the nooks and crannies; fleas hide everywhere. This homemade natural flea repellent for dogs is most effective when left on for at least 10 minutes and then rinsed thoroughly. A weekly application of this shampoo will repel fleas during peak outdoor season.
Make This DIY Flea Sachet
A hand-made flea sachet is just the ticket if you're seeking a natural tick and flea repellent for dogs. This non-toxic flea sachet is easy to make and attaches to your dog's collar for all-day wear.
Avoid saddling your dog with an irritating Seresto flea collar full of harsh chemicals that absorb into your dogs coat and body. Instead, cut the tick collar up, put it in the vacuum bag or canister, and vacuum the dog bed for a very effective tick trap.
An inexpensive bag made of breathable fabric is ideal and easily found at craft stores or dollar stores. An even more affordable option is to cut a fabric circle and tie it securely at the top; there are no wrong answers.
Fill your bag of choice with cedar chips, lavender buds, and fresh lemon peel. Secure the bag with a sturdy string, and then tie it to the top of your dog's collar. The sachet should hang at their back instead of under their nose.
The flea sachet is excellent for the front half of your dog; however, we recommend additional protection for the back half as well. Use the flea sachet with a regular application of our DIY flea and tick spray for maximum protection on long hikes or summer camping trips.
To fight the battle against fleas and ticks outside, grow some flea and tick repellent plants like rosemary, lemongrass, and garlic.
We hope you feel ready to take on every flea that you see. A strict no-flea policy must remain for your pet's health and safety. Practice regular prevention like using a flea comb to weed out flea larvae, flea eggs, and adult fleas, then choose the best response based on your pet's needs.
Choose a reliable, organic dog soap, make a DIY repellent spray, and consider a homemade flea sachet for your flea problem. Use your knowledge of natural flea repellent for dogs to be a lean, mean flea-killing machine this summer.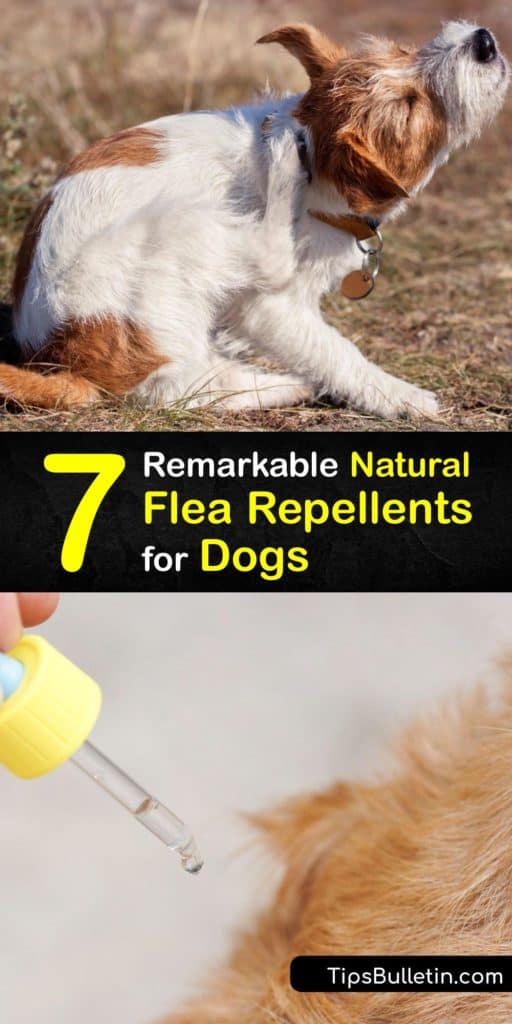 If you loved learning how to make natural flea repellent for dogs, share these tips with someone on Pinterest or Facebook interested in DIY flea deterrent.