Have you started seeing round, raised ridges breaking the surface of your lawn? These 3 to 5-inch piles of dirt are a sure sign of moles. These carnivores love to live under your lawn and gardens where they can feast on a variety of insects. Luckily, you can use a natural mole repellent to get rid of them safely.
Moles and other burrowing pests are great for the soil, as they naturally aerate the ground as they dig with their front feet. They are also responsible for eating a lot of destructive insects.
Although considered good, people want to learn how to get rid of moles because their tunnels destroy root systems. The most effective homemade mole killer is a trap that will kill the animal, but other home remedies may work with a bit of time and effort.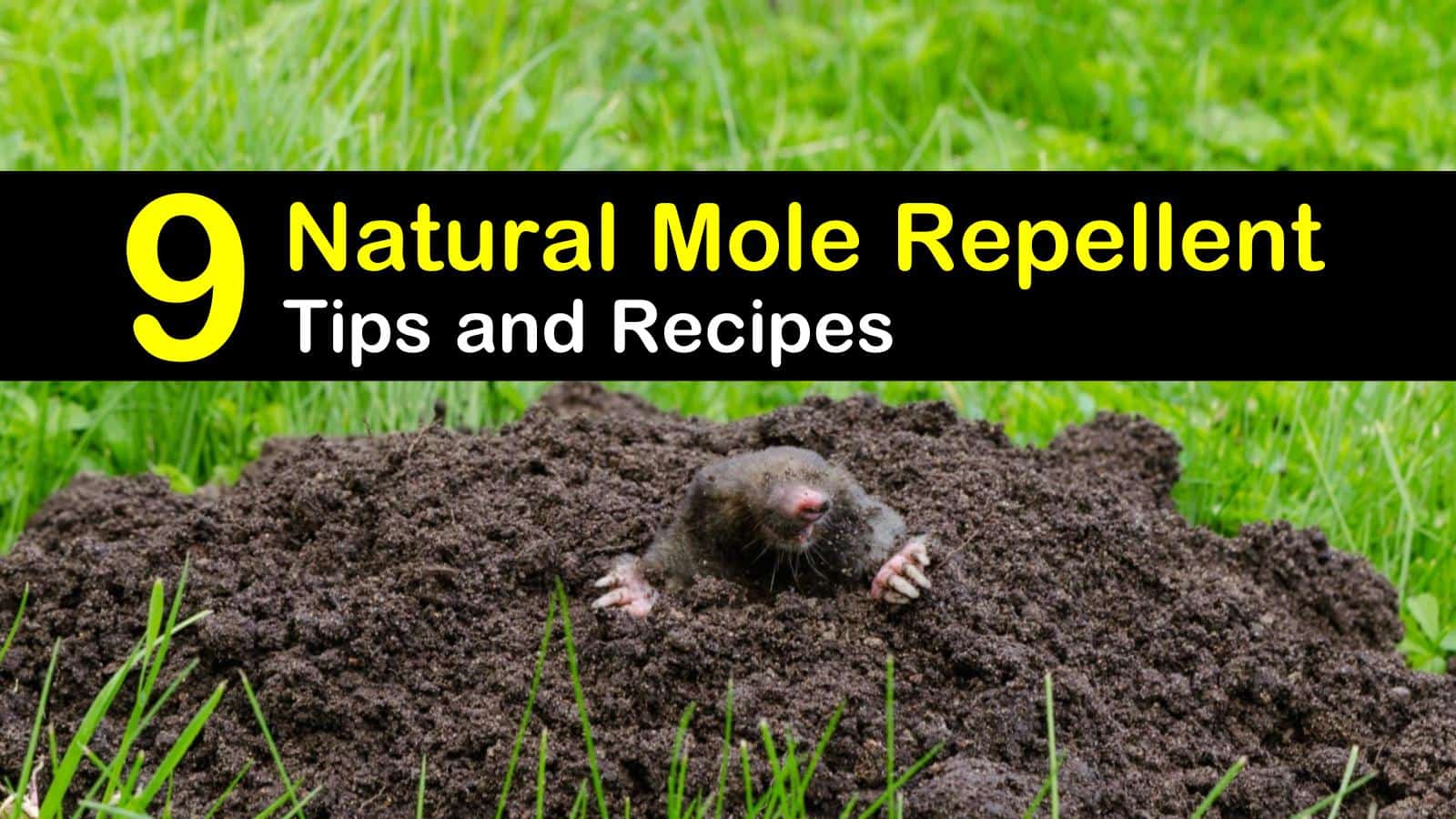 How to Get Rid of Moles in Your Yard
Natural Mole Bait
Using this natural mole repellent will change the way the insects taste in your yard. With your own mole repellent, the active ingredient is castor oil, which is responsible for changing the way insects taste.
Add castor oil, cayenne pepper, and liquid dishwashing detergent to a blend. Mix on high speed until thoroughly blended. Add water and blend again until mixed properly. Pour the solution into a sealed container. Store the mixture in a cool, dry location.
As you see new mounds, add two tablespoons of the solution to one gallon of water and mix well. Pour directly into mole holes. The solution needs to be sprayed or poured around each mound of dirt and along the tunnels.
Homemade Mole Trap
A homemade mole trap allows you to trap and kill any pest you capture. This easy trap requires two shovels and a bucket. As soon as you spot a mole making a tunnel, you need to follow it with a shovel.
Stick the shovel in the dirt in front of the mole to block off the tunnel. Wait until the mole reaches the first shovel and then stick your second shovel into the ground directly behind where you think the mole is.
Place a bucket in between the two shovels. Wait for the mole to dig up and out and then scoop the pest up inside the bucket.
Castor Oil Mole Repellent
One of the benefits of castor oil to take care of the problem is moles do not like the oily or slick feel of the solution. If the first application doesn't work, you will need to add more of the concentrate to the gallon of water and reapply.
Add castor oil and dish soap into a jar with a lid. Close the jar and shake well to mix contents. Mix several tablespoons with a gallon of water. Pour solution directly into molehills.
Reapply after rain or as needed for new mole activity. This solution may also help as a homemade grub worm killer.
How to Get Rid of Moles with Fencing
Meadow voles, moles, and other burrowing pests want the most accessible path to their meal. Installing a mole-proof fence underground will block their way and make finding their favorite food source difficult.
If you need an effective method to deter lawn pests in your garden use ¼ inch hardware cloth to create the mole fence, cut the hardware cloth into pieces that are 20 inches high and as wide as needed to protect specific areas.
Use snips or wire cutters to cut the hardware cloth. Each piece needs to bend at a 90-degree angle, so the sides are 10 inches long. One side of the hardware cloth needs to lie flat against the ground, so the mower doesn't catch it. Bury the other side along the perimeter.
Compost as a Natural Repellent
Moles love to munch on white grubs, worms, Japanese Beetle Grubs, and many other insects; they are not after your garden plants. If you start a compost pile several feet away from your planting areas, you will be able to draw the pests away by providing them with another food source.
Milky Spore Pest Control
One way to eliminate a mole infestation is to remove its food supply. Grub worms are a favorite food source for many burrowing pests, so you want to start eliminating them in early spring. Milky spore, when applied regularly to large areas, will result in the elimination of grub worms.
As naturally occurring bacteria, milky spore as a grub killer provides a long-term solution as it survives freezing temperatures. Milky spore's population will increase each year and reach peak effectiveness after three years of the initial application.
Homemade Mole Killer with Chewing Gum
Chop up several packs of chewing gum into fingernail size squares or smaller. Find the freshest mole tunnels you can locate close to the surface. Carefully dig into the tunnels.
You only need a large enough hole to allow you to drop several squares of gum into the pit. Dig several holes a few feet apart from each other and place gum into each hole. Be careful not to collapse the tunnels.
Reapply the chewing gum once a week for several weeks. If after two months you still have moles, there are several other common home remedies you can try.
Kitty Litter
Urine soiled kitty litter is a natural way to rid your lawn of moles. Pour 1 cup of used kitty litter into each molehill you see in the problem areas. Used kitty litter can also be poured directly into mole tunnels.
Cover the kitty litter with dirt from the tunnel or mound. The urine odor suggests predators are around so that the pests will leave for somewhere safer.
Garden Hose for Mole Control
This do-it-yourself pest control method is not the best way to solve your pest problem, but it can work as a temporary solution. Flooding the burrows causes them to flee to other areas, including your neighbor's yard.
Stick a garden hose into the hole directly. Turn on the water and let the water fill the burrow. For larger areas, you may need to insert the hose in numerous locations.
Allow the water to run for 30 to 60 minutes. The flooding will either drown these garden pests or cause them to flee to nearby areas.
Natural Mole Repellent Recipe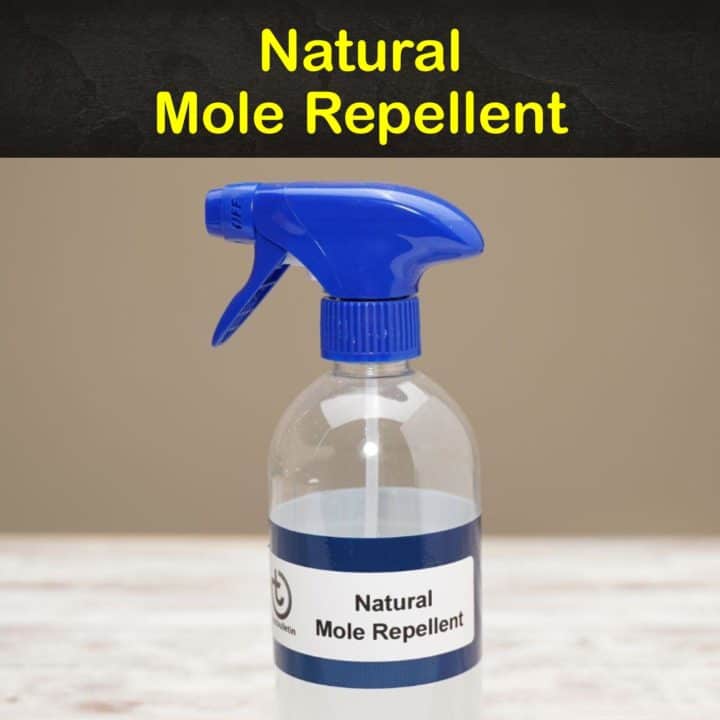 Natural Mole Repellent
Moles will run from this potent spray!
Materials
1/2 cup castor oil
3/4 cup of water
2 tbsp cayenne pepper
2 tbsp liquid dish soap
1/2 gallon of water
Tools
Tablespoon
Measuring cup
Blender
Jar with a lid
Spray bottle
Instructions
Blend the water, oil, dish soap, and pepper.
Add the mixture to the jar and store it until needed.
To make the mole spray, pour 64 ounces of water into a sprayer with one tablespoon of the pepper mix.
Shake well.
Spray mole tunnels and mounds thoroughly.
Reapply the spray if needed after it rains.
Notes
Use this solution to get rid of other rodents, too.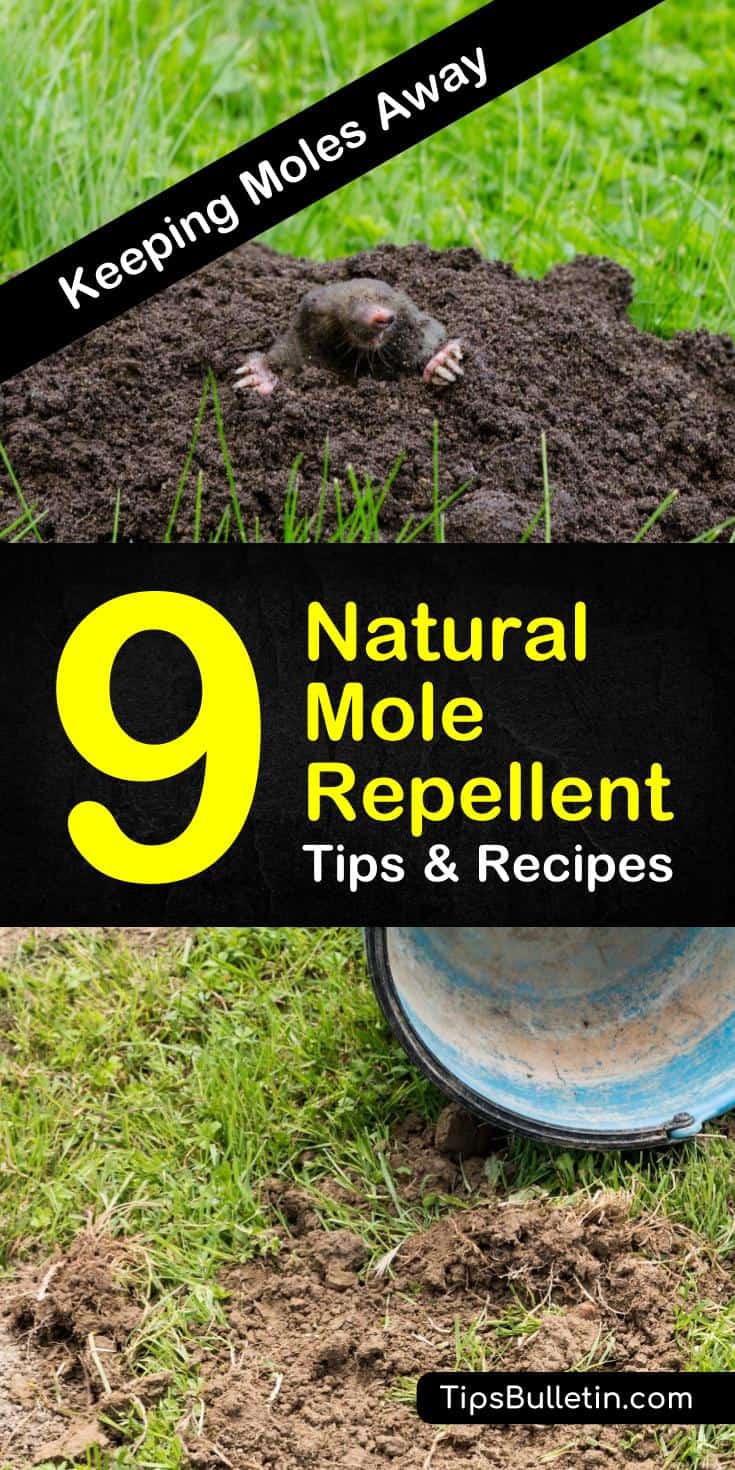 We want to thank you for reading through these natural mole repellent tips and recipes. If you have found any of these common home remedies helpful, please take a minute to share our article on Facebook and Pinterest.