Warmer weather may be coming soon, but are you ready for mosquito season to start? Are you and your loved ones stocking up on bug sprays to avoid the dreadful mosquito bites and tick bites that will inevitably appear on your skin this year?
Have you thought about using a natural mosquito repellent to prevent this year's skin irritation symptoms due to bug bites? Well, if you're looking for a natural bug repellent, you've come to the right place.
Here we'll discuss how to make a natural bug spray with pure and natural ingredients like lemon eucalyptus oil, lavender oil, tea tree oil, and much more.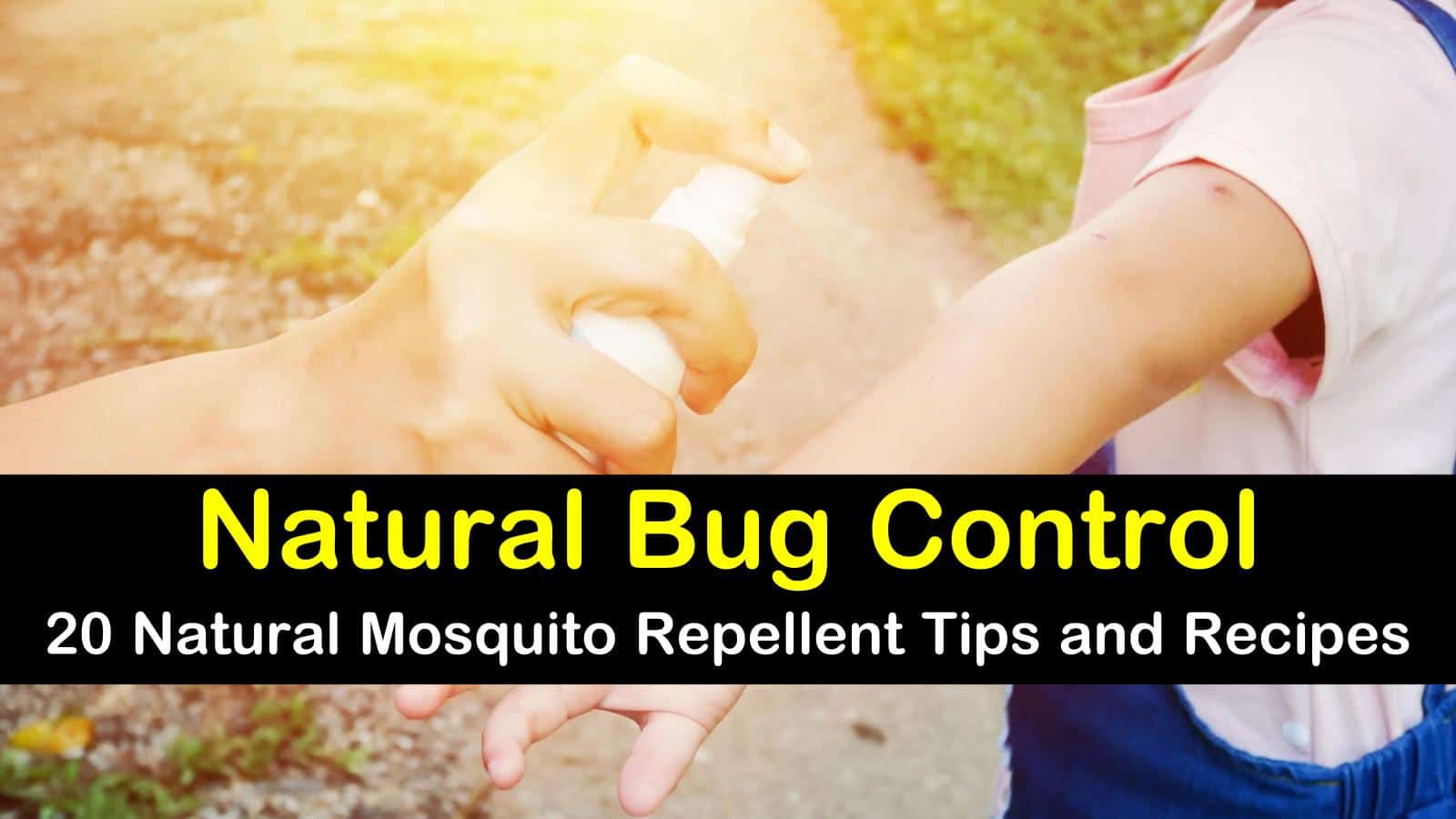 Make Your Own Mosquito Repellent
Try these simple solutions to repel mosquitoes and keep them off you for good! Learn how to create the best natural insect repellent in minutes and protect yourself and your family from nasty diseases like the Zika virus this mosquito season.
With our natural bug control tips and recipes, you'll be mosquito bite free in no time. Try these simple solutions to repel mosquitoes and keep them off you for good!
Natural Mosquito Repellent Spray Using Essential Oils
The best part about a natural mosquito repellent spray is that it will hardly ever produce allergic reactions. Also, natural bug repellents have been approved by the EPA, also known as the environmental protection agency, and the CDC, also known as the centers for disease control and prevention.
Grab an empty jar and pour witch hazel and all essential oils inside. To make a homemade mosquito deterrent spray, mix the oils well and pour the mixture into a spray bottle using a funnel. Always shake the spray bottle before using it.
Homemade Mosquito Repellent Candle
If you want a homemade mosquito repellent that acts as something other than a spray, you can make your own natural bug repellent candle. This natural alternative will not only be good at repelling mosquitoes, but it will also make your home smell fresh.
Slice the lemon and lime. Place a few slices of each inside a Mason jar. Then, put the rosemary sprigs in the container.
In a separate pot, mix the water with the essential oils and pour it into the Mason jar. Take the tea light candle out of its container and set it on top of the water. Light the candle, and you're good to go!
Homemade Mosquito Repellent Lotion
If you have dry skin, look into this recipe for a natural repellent to help you avoid those pesky mosquitoes all season.
First, mix all of your essential oils. Add the coconut oil and combine thoroughly. Wait a few minutes until the coconut oil hardens and then you'll be ready to apply this natural alternative to your skin.
Using a Mosquito Repellent Essential Oil Mixture in a Nebulizer
If you're not looking to put a spray or lotion on your skin, you can take your essential oil mixture and use it in a nebulizer machine to scare the mosquitoes away.
With this recipe, you can add and subtract drops from the mixture to discover your preferred scent. All three essential oils will shoo the mosquitoes away. Use these natural repellents today at little cost.
Essential Oil Mosquito Spray for Clothing
Some natural mosquito repellent recipes are too strong to apply directly to the skin; instead, apply these mixtures to clothing. It also works well as a natural fly repellent, too.
Start by mixing all the essential oils. Once blended, add the vodka or rubbing alcohol to the mixture and shake it well. Next, pour the witch hazel in and add the water. Shake the mix again.
Always shake before using it as the mix needs to be distributed evenly throughout the solution.
Keep in mind that the essential oils listed above in the recipe are interchangeable with clove oil, lemongrass oil, tea tree oil, cajeput oil, cedar oil, catnip oil, and mint oil, as all ingredients produce the same reaction from mosquitoes.
Dried Herbs Mosquito Spray
Many DIY specialists claim that mosquito sprays made with essential oils are the most potent. Sprays made from dried herbs can produce a similar effect. Also, if you're on a budget, the dried herbs recipe is the way to go.
Boil one cup of water and add three to four tablespoons of the dried herbs you select. Some herbs that repel mosquitoes are peppermint, spearmint, lemongrass, lavender, catnip, and citronella. Any mixture will work, but it's recommended to use at least one mint herb. Throw in some dried cloves to the mix.
Cover the substance and let it sit until cool. Then, strain the herbs out of the mix and add one cup of witch hazel or rubbing alcohol. Store it in a cool place.
Natural Insect Repellent
If you're looking to keep a variety of insects away this year, the natural insect repellent made with vinegar will do the trick. Fair warning, though, as it will stink when wet, but the smell will subside as it dries away.
Mix 32 ounces of vinegar with all of the dried herbs. Seal the mixture tightly and shake daily for approximately two weeks. After this time, strain the herbs out of the mix and store the substance in spray bottles in a cool place (e.g., refrigerator).
If you'd like to apply this directly to your skin, dilute the recipe with half water. This mixture works well with insects other than mosquitoes, too.
Many people who like to hike in the open woods will apply this to their skin, or bring the right amount of the substance with them, to avoid being noticed by ticks.
Insect Repelling Ideas
Sometimes, the recipes that you find just don't cut it. That means you need a few extra tips and tricks to get you through.
If you want a mixture that takes nearly seconds to make, try gathering some vanilla extract from your kitchen and combining it with witch hazel and water. Rub on the skin or spray using a spray bottle.
Plant some insect-repelling herbs and mosquito repellent plants in your garden as an easy access route. That way, you can use the active ingredient of your choice when the time comes. Some of the best choices for easy mosquito repelling plants include rosemary, lavender, and lemon balm.
Rub lavender oil on the hot parts of your body (e.g., neck and underarms). Fresh or dried mint leaves offer the same effect.
These tips are useful as home remedies for spiders. Many simple solutions listed above can be turned into ways to get rid of fruit flies naturally, too.
Lemon Eucalyptus Mosquito Repellent
This well-known natural mosquito repellent has been approved by the CDC and has been encouraged by your PMD, or your primary medical doctor, for decades. The oil of lemon eucalyptus provides almost 100% protection from mosquitoes.
Mix and apply to skin. Researchers from Florida do not encourage the application of this substance to children three years of age and younger.
Lavender Mosquito Repellent
The fragrance that lavender produces acts as a natural mosquito repellent. Lavender is also good for calming and soothing your skin during all times of the year.
If you're trying to get those pesky mosquitoes to stay away from your skin, try applying the oil to bite-sensitive areas, like your ankles and arms. Then, take a cloth with lavender oil on it and apply lightly to other exposed areas of the body.
Cinnamon Oil Mosquito Repellent
Cinnamon spices up some foods, like oatmeal and rice pudding (fortunately, this makes the substance FDA approved). That's not even the best part, though! Cinnamon oil can help kill off mosquito eggs, too.
Mix and shake it up. Try spraying it onto your skin, clothing, plants, and outdoor furniture for the best effect. Don't make the solution too concentrated, though, as this could irritate the skin.
Thyme Oil Mosquito Repellent
If you're looking to protect yourself against malarial mosquitoes, stick to using thyme oil in your mosquito fighting recipes. For additional protection against those annoying insects, try throwing some fresh thyme into a bonfire, as this will make the little critters stay away for up to ninety minutes.
Mix the two ingredients and start spraying away.
Greek Catnip Mosquito Repellent
The white and pink flowers that grow to produce Greek catnip oil are excellent at acting as natural repellents. Once extracted from the plant, the oil is proven to be extremely valuable in many natural mosquito repellent recipes. The mixture, once applied, can last anywhere from two to three hours.
Researchers from Iowa found in recent studies that catnip can be up to ten times more effective than DEET at repelling mosquitoes, making this DEET-free substance the perfect go-to spray.
Soybean Oil Mosquito Repellent
Though soybean oil is not a primary ingredient found in most natural mosquito repellents, it is still an excellent additive to make the mixture more potent. Adding this ingredient to homemade blends that already have lemongrass oil present will almost double your exposure protection.
Some researchers say that homemade recipes including both soybean oil and lemongrass oil have proven to protect against numerous species of mosquitoes.
Neem Oil Mosquito Repellent
Neem oil is a natural alternative and neem oil does repel mosquitoes, but some researchers have claimed that the product does not work as well as previously listed options do. United States research aside, Ethiopia found that neem oil provides a 70% protection rate for approximately three hours.
Keep in mind, this essential oil is not approved by federal standards as a topical applicant, as it can actively irritate the skin depending on the person. The FDA warns that if you're traveling to another country that's prone to mosquito-causing diseases, you should probably use more than just a neem oil mosquito repellent.
Using Baking Soda to Trap Mosquitoes
Most mosquito repellents are made to mask your scent and distract mosquitoes from what they're genuinely looking to find. However, there is another alternative method: create a carbon dioxide trap for the critters.
For the ideal patio mosquito protection solution, grab a bottle and cut it in half; set the top half of the container to the side. Any size spray bottle will work. Pour the baking soda into the bottle and invert the top of the container so that it forms into a funnel. Place this over the bottom of the bottle and tape it together.
Pour one cup of vinegar into the container. Once the two ingredients combine, they'll start to bubble and release carbon dioxide. What attracts mosquitoes? CO2 is a big one. This solution draws mosquitoes, but once they dive into the liquid, they'll find themselves trapped and will eventually die.
This solution doesn't always have to be in a bottle to work, though that is the best way to trick the mosquitoes. There are still more tips and tricks regarding baking soda on plants that you can learn.
How to Use Garlic to Repel Mosquitoes
Mosquitoes hate garlic, so getting rid of mosquitoes in the garden can be as simple as growing a few plants. You can grow it in the backyard, incorporate it into your food, or take it in pill form.
You can also make a mosquito spray for the yard that includes garlic. Mosquitoes will not want to be around you once they sense the substance is near you or in you. In other words, the more you eat or have around you, the less likely you'll be to attract the pesky insects.
Keep this food ingredient handy. Not only will it help you in the insect department, but it also has several health benefits.
Carrier Oils in Mosquito Repellents
Many natural mosquito repellents require essential oils to ward off the nasty insects. However, when essential oils are at full strength, they have the opportunity to severely irritate certain areas of the skin, especially if you're super sensitive to certain ingredients.
That's where carrier oils play their part in recipes. A carrier oil is better known as base oil or vegetable oil.
They're typically used to dilute concentrated solutions used in massages and aromatherapy, but the same facts pertain to mosquito repellent recipes. As such oils are FDA approved, they will be able to reduce skin reactions potentially caused by essential oils.
Using Black Pepper to Ward off Mosquitoes
One of the most well-known kitchen spices can help in your fight against mosquito attacks, and that's black pepper. There are a couple of ways you can use black pepper: sprinkle the spice around you and on your clothes to distract mosquitoes or purchase black pepper oil and gently rub it on exposed areas of the skin.
Be aware that severe skin irritation symptoms may occur when using black pepper oil. Talk to a specialist before trying this or stick with sprinkling black pepper around you.
For ready access to the spice, try growing black pepper yourself. It is not that difficult and you will have a supply for the kitchen and garden whenever you need it.
Treating a Mosquito Bite
Even if you've created the perfect natural mosquito repellent with ingredients around the house, you're still susceptible to getting a few bites here and there, especially if the solution has worn off and you've forgotten to re-apply it. If that's the case, you'll want to know how to treat a mosquito bite.
Try rubbing some apple cider vinegar directly onto the bite. Also, if you rub a slice of raw onion or fresh garlic onto the site of the bite, you'll feel relief from the itchiness.
If your bites get severe, head to your doctor as soon as you can and take note of all signs and symptoms that start to occur.
Mosquitoes can pose a dangerous threat if they're carrying a virus around with them. That's why it's best to prepare yourself before they start attacking. Use our natural mosquito repellent recipes devised to use non-toxic ingredients from around the house to better prepare yourself and your loved ones.
Recipe for Natural Mosquito Repellent
Natural Mosquito Repellent
An unusual but effective mosquito spray.
Ingredients
8 ounce glass sprayer bottle
1 cup tap water
15 drops thyme essential oil
Instructions
Pour the liquids into the sprayer.
Shake.
Apply to skin and clothing to keep mosquitoes away.
Notes
A glass bottle ensures the integrity of the mosquito deterrent.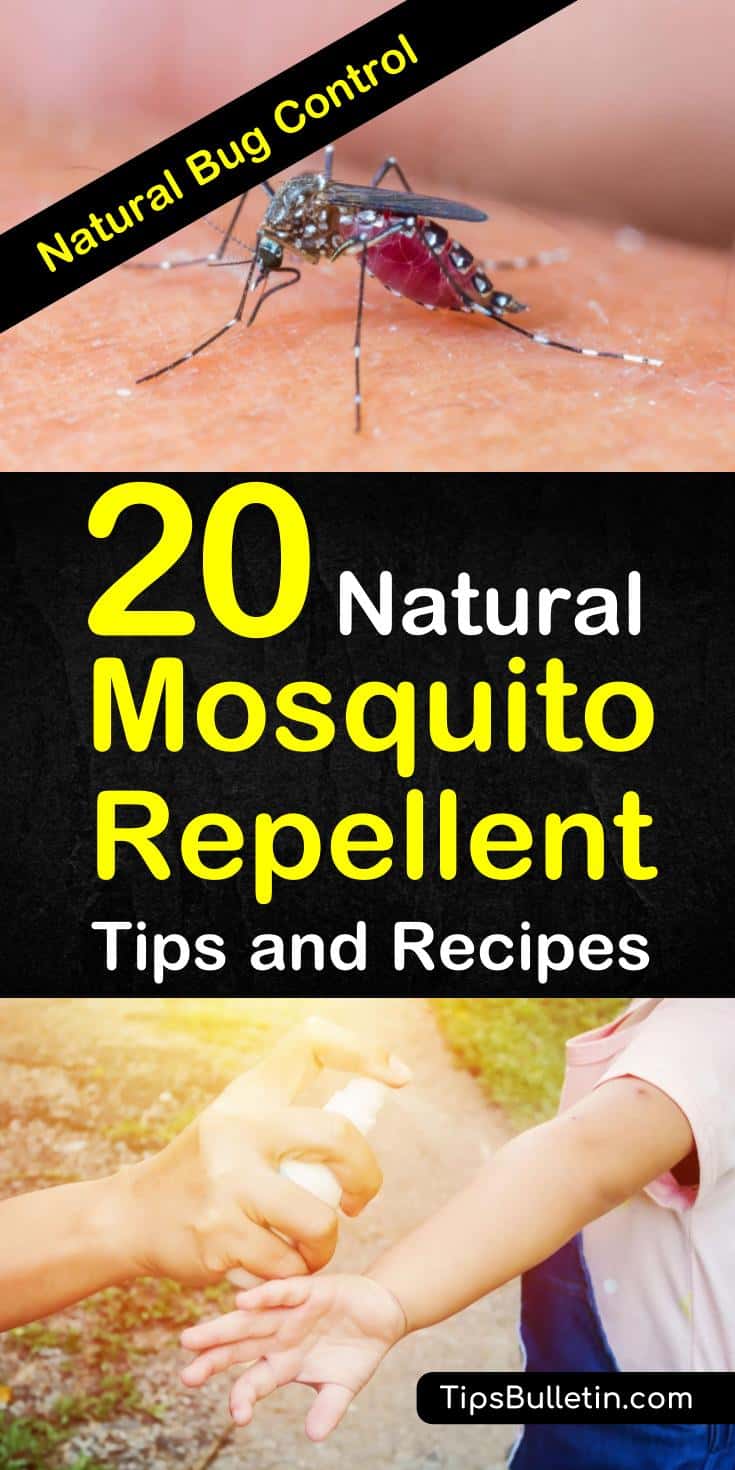 We hope you liked our homemade mosquito repellent recipes and tips. Please share these pest control ideas on Facebook or Pinterest with your friends and family.