No one wants to see is a nasty roach scurrying across the floor. If you have these vile creatures, your first reaction was probably denial. As one of the vilest creatures on the planet, we tend to associate cockroaches with dirty, filthy homes.
The truth is that cockroaches can live anywhere and if you have seen even one roach in your home you need to start looking into a natural roach repellent. Cockroaches don't just give you the creeps; they also harbor some of the worst bacteria around.
The list of different strains of bacteria, viruses, molds, and funguses roaches carry around on their body is long, but some of the more popular ones include salmonella, streptococcus, and Staphylococcus. They also trigger allergy and asthma responses in people with these health conditions.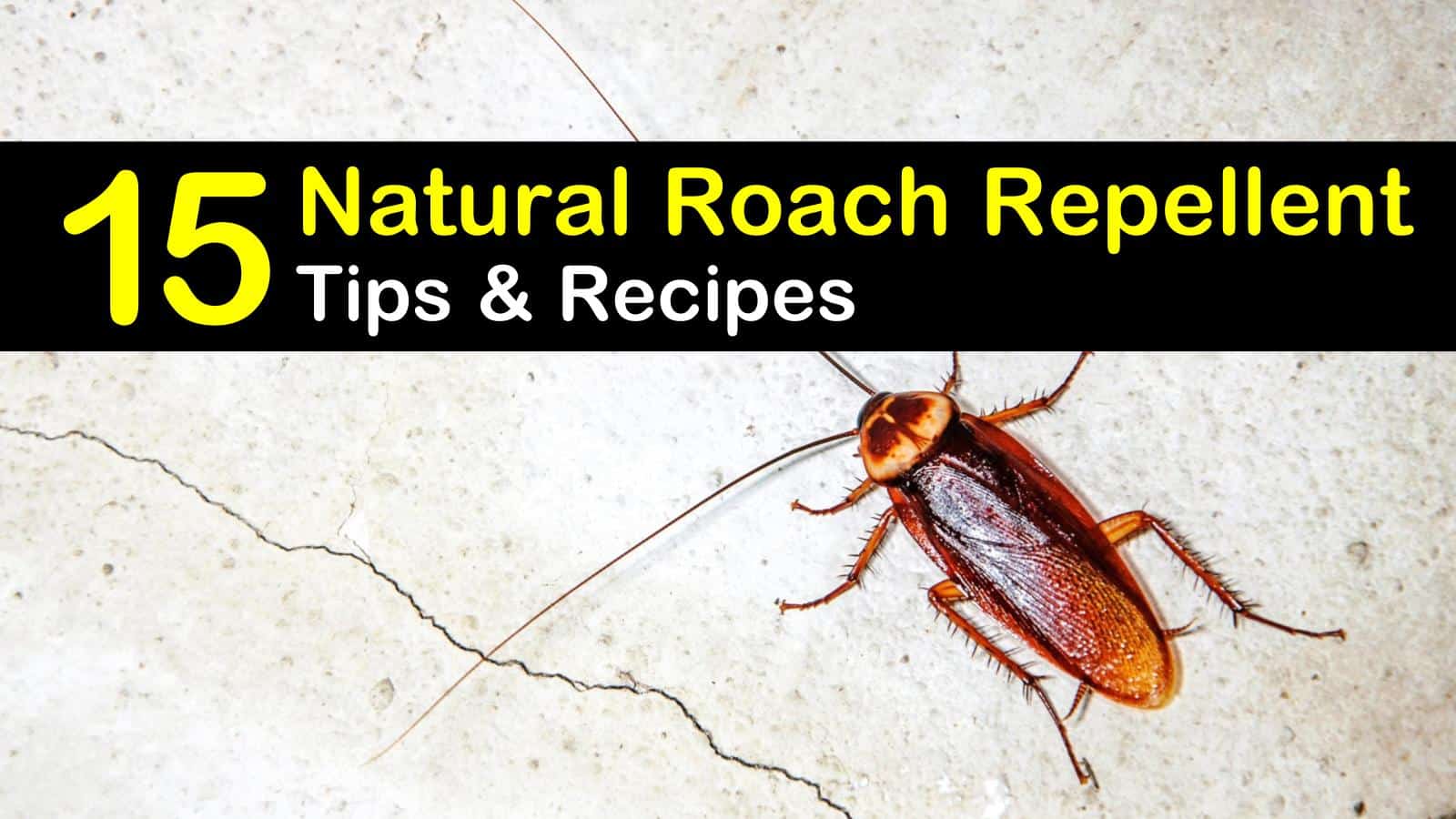 Why You Need to Get Rid of Cockroaches
As cockroaches scurry around your house, they crawl on everything, leaving traces of these nasty germs everywhere, including on food and utensils. Cockroaches will eat anything from food to feces, and they defecate on anything on counters, including toothbrushes and food.
When you touch these items or put them in your mouth, you transmit the bacteria that can make you sick. With the number of health issues cockroaches cause, it is easy to see why you must get rid of cockroaches the minute you see them.
You can call in a pest control company to do the job for you, but that can get expensive and expose you and your loved ones to toxic chemicals. Using homemade roach killer recipes lets you kill cockroaches without exposing your family to harmful chemicals.
Easy-to-Make Roach Repellent Recipes & Tips
You may find that some of these solutions are ideal for other purposes, too. There may be the best way to repel crickets or ants among these natural remedies for bug control.
Homemade Roach Killer
This homemade roach killer recipe attracts roaches and provides them with something to eat that will kill them after ingesting. It will help in repelling and keeping roaches away.
Mix the first four ingredients. Add a small amount of water at a time until a soft dough forms. Separate dough into small balls. Place three dough balls in areas frequented by roaches. Use a spray bottle to mist dough balls daily to keep them soft.
As a bonus, if you have a problem with mice or rats, this roach killer bait works well as a natural rodent repellent, too. The creatures take the bait, eat it, and die, eliminating the colony.
Diatomaceous Earth
Food-grade diatomaceous earth will leave behind dead roaches, as well as ants, fleas, and other pesky insects, but is safe for use around pets and kids. No matter what kind of diatomaceous earth you use to solve your roach problem, clean your home first with a thorough dusting, sweeping, and vacuuming to get rid of insect eggs that may lurk in corners or beneath the furniture.
Mix a little cocoa powder with the diatomaceous earth and sprinkle in areas frequented by roaches and other bugs you want to get rid of. The cockroaches will take the bait back to the nest and solve your pest problem.
Catnip Roach Repellent
Catnip makes an excellent natural roach repellent, whether you need to prevent roaches in the bedroom or another area of the house. Catnip contains cockroach-sensitive nepetalactone.
Place small sachets of catnip around the house in places these insects frequent. While catnip does not kill them directly, it aids in keeping them out once you have solved your cockroach infestation.
Grow a few catnip plants in pots and strategically place them around the yard, as they are plants that deter roaches and many other bugs. Catnip can be invasive so container gardening solves this problem.
Homemade Roach Spray
Directly spritzing the air with a homemade roach spray is not an effective method for killing roaches, but peppermint oil does repel roaches and steer them away. To kill them, target them directly with the spray.
Pour ingredients in a spray bottle and shake well. Spray the areas of your home frequented by roaches to prevent them from coming back. Spray solution directly on the roaches to help eliminate them.
Coffee Grounds Roach Bait
Coffee grounds are an excellent bait for cockroaches, as they are attracted to the aroma. Create homemade roach traps by filling a jar halfway with water. Place some coffee grounds into a small paper cup and place inside each jar.
Put each trap in an area you suspect cockroach activity. Roaches will crawl into the jars, but will not be able to get out. Check traps daily for dead roaches and dispose of both the water and dead roaches. Refill the container with water and set the trap again.
Bay Leaves
Although not a cockroach killer, bay leaves repel cockroaches and several other flying insects. Use a mortar to grind dried bay leaves into a powder. For preventing cockroaches, sprinkle the leaf pieces around the house where you have seen cockroach activity. The aroma of the bay leaves drives the roaches away.
Boric Acid Roach Killer
Boric acid is highly toxic, so only use it as a last resort and keep it away from pets and children. To prevent roaches in the bathroom, sprinkle the powder along the tops of cupboards and cabinets in your kitchen and bathroom, as high places are a roach's favorite hiding places. As the bugs travel through the powder, they bring it back to their nests, effectively killing the colony.
DIY Roach Killer Soda Bottle Trap
Old soda bottles can quickly become roach traps. Remove the top third of the soda bottle with a sharp knife and take off the cap. Place the cut off top upside down into the bottom so that it creates a funnel. Use tape to keep the top piece in place.
Mix a small amount of dish soap with some water inside the bottle. Place the trap in areas where roaches visit. The cockroaches crawl inside the trap and drown.
Essential Oils
Using essential oils as a natural cockroach repellent works because these oils are easy to get, leave a pleasant scent behind, and are not toxic to kids. Peppermint oil is a must, as it is considered the most effective oil in combating pests.
Other oils that work well include eucalyptus oil and cypress oil. Tea tree oil not only repels roaches but bed bugs, as well. To use, put a few drops of oil into a spray bottle with water and spray around the home as needed.
Cucumber Slices or Peels
Cucumbers are one of those home remedies you see all over the internet. Some people swear it works, while others claim to have little to no success.
Use this home remedy by placing the peels inside an aluminum can. The reaction between the skins and the aluminum repels roaches naturally. You can also place peels or fresh slices throughout problem areas in the home.
DIY Roach Trap
Homemade traps using petroleum jelly and sliced fruit work to kill roaches. Spread a small amount of petroleum jelly along the top of a glass jar.
Drop sliced fruit or other food sources for these pests into the jar and leave out overnight. Cockroaches climb in to reach the food source, but can't get back out due to the petroleum jelly.
Baking Soda Roach Killer
Baking soda can be used by itself or mixed with sugar as a natural roach killer. Sugar attracts the roaches, while the baking soda kills them as it dries them out.
Use a soda cap or shallow bowl for the best results. Avoid setting this out in large quantities. Baking soda on plantskills roaches and other insects.
Stop Feeding Roaches
One of the best natural ways to get rid of these bugs fast is to quit feeding them. Removing food and water sources eliminates household pests as they will go elsewhere to seek what they need.
Spills need to be cleaned up as they happen, never leave dirty dishes in the sink, or garbage piled up around the home. Store all food in sealed containers, never leave food sitting out on the counter, including fruit bowls, and never leave pet food out at night.
Cedar Natural Roach Repellent
Cedar works as a natural repellent as roaches, and other insects do not like the smell. Does cedar oil kill bed bugs? Directly spraying bugs does kill them but it also acts as a deterrent. You can purchase chips, balls, or cedar oil from the grocery store.
Place the chips or balls at entry points. Chips and blocks lose their potency over time so reapply cedar oil as needed or purchase new chips and chunks to repel roaches continuously.
Lemon Juice and Peels
The most versatile of natural remedies is lemon juice or lemon peels. Lemon juice not only works to repel American cockroaches thanks to its acidic smell but also doubles as a cleaning agent and an antibacterial.
Cut four lemons in half and squeeze the lemon juice into a bucket. Add half a gallon of water. Use the lemon water to clean areas frequented by cockroaches and it's one of the best natural ways to repel roaches with a scent that is pleasant to us.
Recipe for Natural Roach Repellent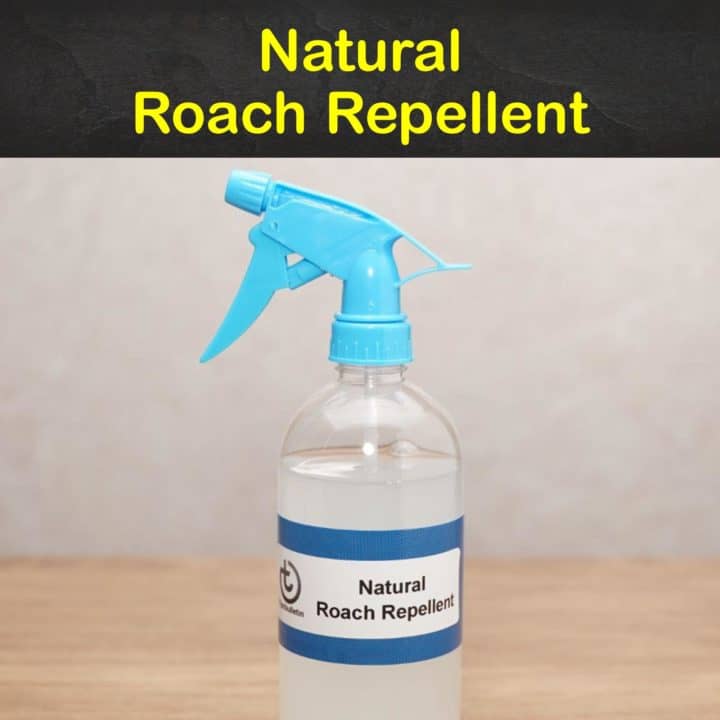 Natural Roach Repellent
Get rid of roaches without calling the exterminator.
Materials
16 ounces of tap water
8 ounces vinegar
12 drops peppermint oil
Tools
32-ounce glass spray bottle
Measuring cup
Instructions
Combine the liquids in the bottle.
Shake well to mix.
Spritz roach-prone areas or spray roaches directly to kill them.
Notes
Feel free to add 6-8 drops of tea tree oil for added effectiveness.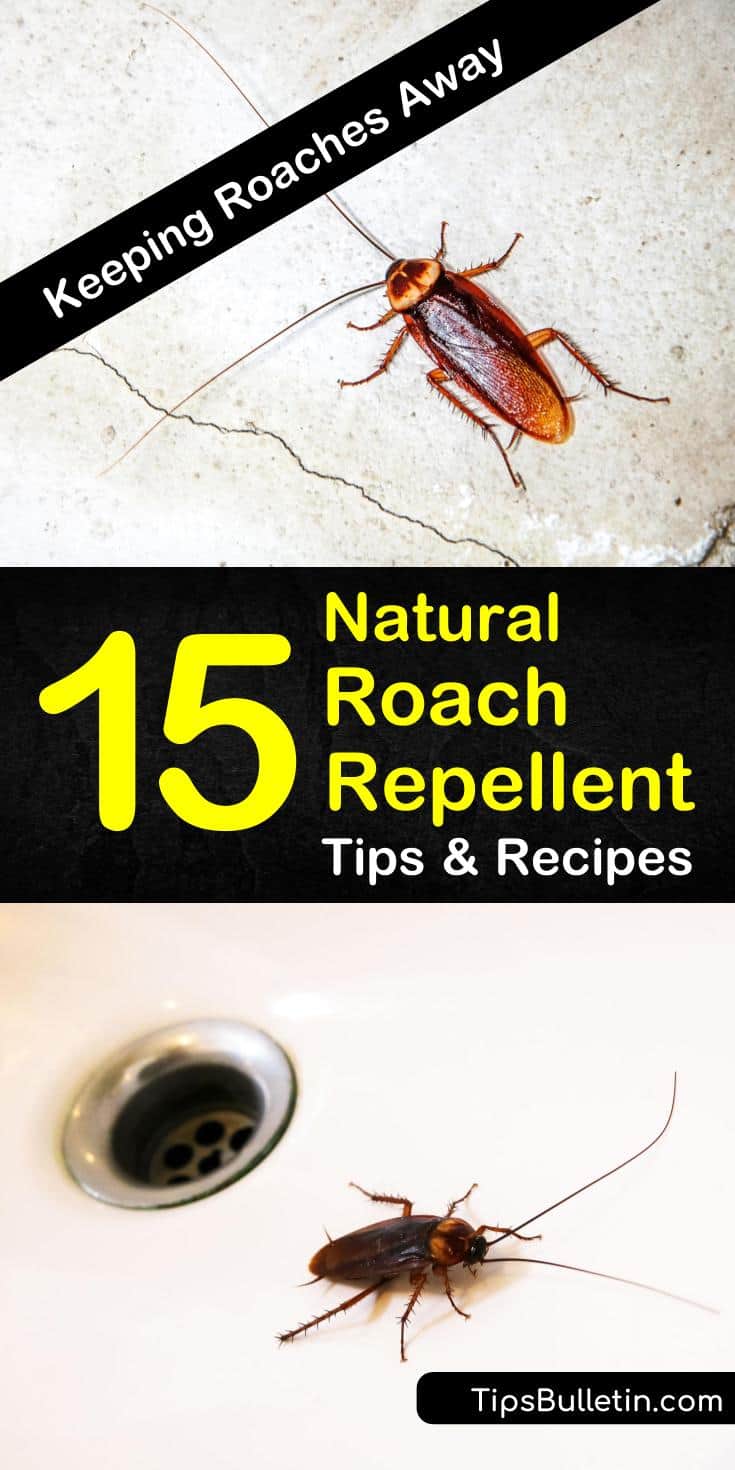 Thank you for reading our ideas on natural roach repellents. If you have found our homemade roach killer recipes and tips useful, please take a minute to share our DIY roach killer ideas with others on Facebook and Pinterest.