Over time, your shower accumulates mildew and mold build-up due to the constant moisture. Soap scum and grout also build up in the corners and crevices of your shower due to spills and leaky bottles. Although cleaning these areas seems complicated, a natural shower cleaner is not difficult to find.
Additionally, several DIY shower cleaner recipes require everyday household items like white vinegar, baking soda, or dish soap. We provide you with several bathroom cleaning solutions.
Using a homemade shower cleaner, you can cut through dirt and grime quickly and with little to no elbow grease.
Bathroom cleaning is often thought to be an arduous process that is too time-consuming. However, we show you that a clean shower is a nearly effortless task with the correct cleaner recipe.
Whether you have a shower with ceramic tile, natural stone, or one with glass shower doors, there is an effective natural cleaning recipe for you.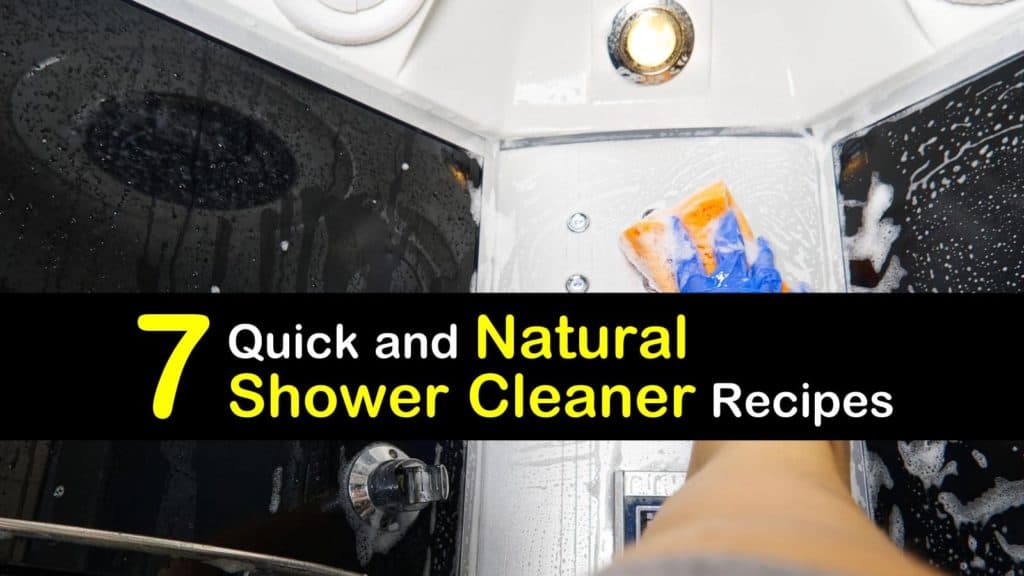 The Importance of a Clean Shower
Using a homemade daily shower cleaning spray is vital to kill all bacteria and germs that make their way into your shower. Hard water stains that accumulate in your shower head give off harmful bacteria on the tile and glass in the shower. Use this cleaner to wash treated glass shower doors and tile in the shower to avoid bacteria growth.
A build-up of dangerous mildew in the crevices of your shower leads to a much bigger problem if it's not taken care of right away.
We provide numerous creative ways to make a DIY bathroom cleaner and daily shower spray inexpensive while also acting as a powerful disinfectant.
All-in-One Natural Shower Cleaner with Household Products
If you need to create an all-in-one bathroom cleaner, combine white vinegar, essential oils, and dish soap. The ingredients found in vinegar and Dawn dish soap eat through grease, grime, dirt, and bacteria.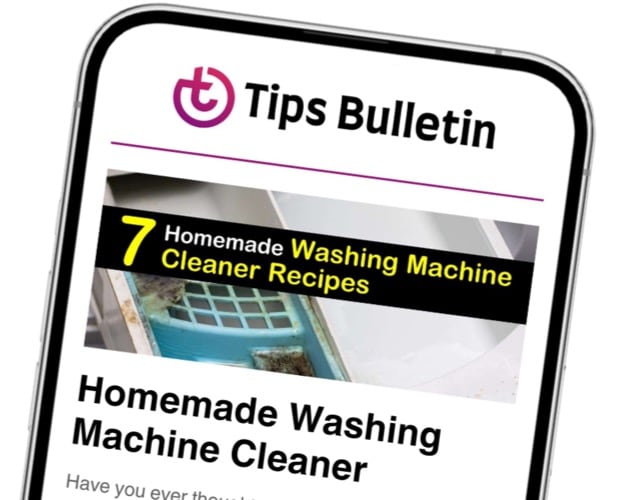 Finally, an email that Transforms Your Home.
Get the latest home and garden tips from our experts, delivered straight to your inbox.
The two ingredients not only clean the surfaces in your showers but disinfect them as well. Adding essential oils assists in killing mold while adding a pleasant scent to your mixture.
To make this homemade shower cleaner spray with vinegar, dump all the ingredients into a glass spray bottle and shake gently to mix. Spray the all-purpose cleaner on shower doors, shower head, tub, and any other surface in your bathroom.
You can also add the mixture to a heavy-duty plastic bag and create the ultimate natural shower head cleaner. Soak your shower head overnight for the best results.
This spray works great as a DIY toilet bowl recipe or sinks faucet.
Let the mixture work for 30 minutes before rinsing with hot water. You might need to scrub some areas if the mildew build up is nasty. We recommend not using this cleaning product on granite or marble showers, as the vinegar may eat away at the surface.
Homemade Daily Shower Cleaning Spray with Castile Soap
Castile soap is composed of plant oils, including coconut, sunflower seed, hemp, and olive. The ingredients make it a fantastic natural shower cleaner spray that disinfects and thoroughly cleans. It's also perfect as a natural bathtub cleaner.
Companies like Dr. Bronner manufacture this versatile soap that works great when added to other cleaning products.
To make this natural cleaning spray for your bathroom, pour the ingredients into a spray bottle and shake gently to mix. Spray the solution on the walls and tub of your shower and rinse with hot water.
If there is an extensive build-up of mildew or grout, spray more of the product on the affected area and let it sit for ten minutes. Then, scrub with an old toothbrush or sponge. This natural shower cleaner works well as a tile cleaner and grout remover.
Cleaning Soap Scum with Dawn Dish Soap
Dawn dish soap is a great way to get rid of soap scum and mildew that accumulate in the hard to reach areas of your shower. Dawn dish soap ingredients are designed to dissolve grease and dirt while simultaneously killing germs and bacteria.
Using this cleaning product is also remarkable because it only requires one component that is probably already in your house. Combine hot water and a few squirts of dish soap into a squirt bottle.
Shake the bottle gently so the dish soap mixes in with the water. With a heavy-duty sponge, place a small amount of the soap on the surface and scrub.
This technique does require a little more elbow grease than other cleansers. However, if you are short on other cleaning supplies, it is ideal.
Dissolve Dirt and Grease with Baking Soda
Baking soda cleans a variety of surfaces in your household. It is also a fantastic way to cut through dirt, grease, and mildew in your shower. When baking soda interacts with water, it eats away tough unwanted build-up in your tiles, walls, and tub.
For this natural cleaner for glass shower doors and the interior, pour the ingredients into your spray bottle and spray your entire shower with the solution. When the baking soda interacts with the vinegar, it forms a cleansing foam. Let the baking soda mixture sit for 15 minutes.
Wipe down the area with a damp microfiber cloth or old rag. This homemade daily shower cleaning spray is easy to make and is perfect for eliminating severe build-up.
Pour some of this mixture down the drain for a shower drain odor remedy that eliminates smelly bacteria.
Using Hydrogen Peroxide to Disinfect Difficult Areas
Hydrogen peroxide gets rid of germs by destroying the cell walls of bacteria cells. This cleaning product has been used for years because it works effectively on so many surfaces.
Combining hydrogen peroxide and baking soda creates a fantastic, bacteria-eating paste that makes cleaning hard to reach areas simple.
Mix two parts baking soda with one part hydrogen peroxide in a small dish. With a sponge, apply the paste to areas of your shower. Let the mixture sit for 30 minutes before scrubbing the paste with an old toothbrush.
After the affected area is spotless and free of mildew and soap scum, rinse the shower with warm water. This natural shower cleaner is a straightforward alternative to harsh chemicals that get rid of build-up and pink mold in shower quickly.
Kills Germs in Your Tub with Bleach
Bleach is specially designed to kill nearly all of the germs found on the surface it interacts with. Using bleach in your shower is a straightforward process that ensures a majority of germs are killed and is the ideal way to keep shower grout clean.
This cleaning method requires only a couple of ingredients, bleach and water, making it an inexpensive way to clean your shower.
In a bucket, pour one gallon of water with ⅓ cup of disinfecting bleach. Wipe your shower walls and tub with a sponge. We recommend wearing protective rubber gloves to avoid any damage to the skin on your hands and fingers.
After wiping down the surface, let the solution sit for five minutes. To finish the cleaning, rinse the area thoroughly with warm water.
Create a Natural Shower Cleaner Spray with Rubbing Alcohol
If you have a shower with glass doors, rubbing alcohol and vinegar make an excellent daily shower cleaner.
This natural shower cleaner spray eats away at the mineral deposits and soap scum that accumulate on your glass doors. Not only does it remove hard water stains, but it also works as a disinfectant.
In a spray bottle, combine the cleaning products and shake gently. Spray the mixture on the glass doors in your shower and wipe down with paper towels or a microfiber cloth.
It is vital to store the mixture in a cool cabinet and away from any heat source as the rubbing alcohol is flammable.
When a shower is not cleaned correctly, soap scum, mold, mildew, and grime gather throughout the shower's surface. A natural shower cleaner spray is simple to create and uses all-natural ingredients to kill germs.
Recipe for Natural Shower Cleaner
Natural Shower Cleaner
Make the shower shine again with this simple spray!
Materials
One tablespoon white vinegar
16 ounces water
16 ounces isopropyl alcohol
Tools
32-ounce spray bottle
Measuring cup
Tablespoon
Microfiber cleaning cloth
Instructions
Pour the alcohol, vinegar, and water into the sprayer.
Shake to combine.
Spritz shower doors, tiles, the tub, and more.
Wipe clean with the cloth.
Notes
Store this flammable cleaner away from heat sources.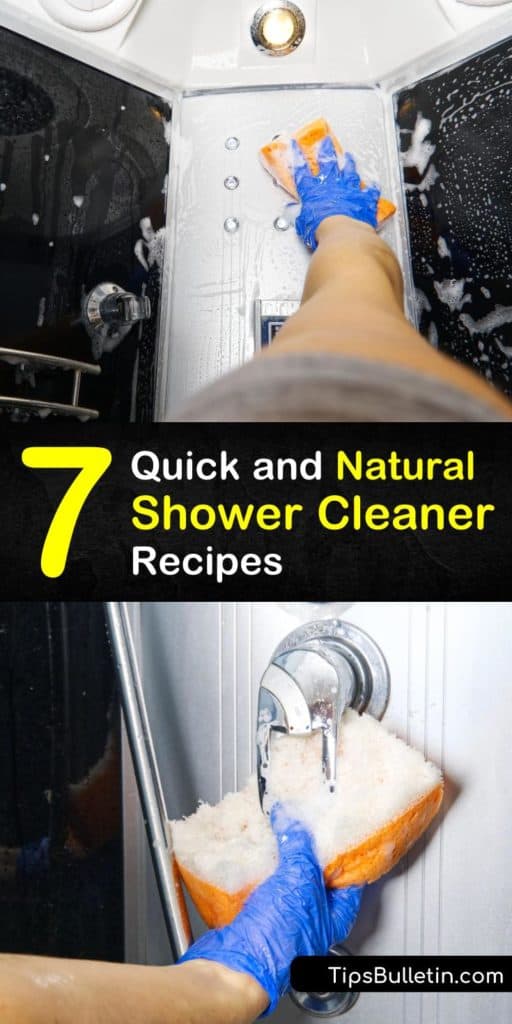 If you discovered a new natural shower cleaner, share this article with natural shower cleaner sprays with your followers on Pinterest and Facebook.