Silverfish are a nuisance for many homeowners. Dark, moisture-prone corners of the basement, garage, or backyard are the ideal breeding ground for silverfish, and they're tricky to get rid of once they've established themselves. Discover how to make and use natural silverfish repellent in this incredible tutorial; get rid of unwanted pests the right way.
Lepisma saccharinum is an order of nocturnal pests called silverfish, or sometimes, the fish moth. These unsightly invaders aren't harmful to humans, nor do they spread disease. However, they tend to congregate in large numbers and destroy your possessions with unpleasant and unhygienic silverfish droppings.
Silverfish are attracted to any starchy food source, such as unsealed pet food, sugars, and grains. Female silverfish lay approximately 100 eggs during their lifetime. The silverfish life cycle lasts anywhere from 2 to 8 years, meaning they could become a real long-term guest. These small silver insects seek shelter and safety in your home, but we'll show you how to give them the boot.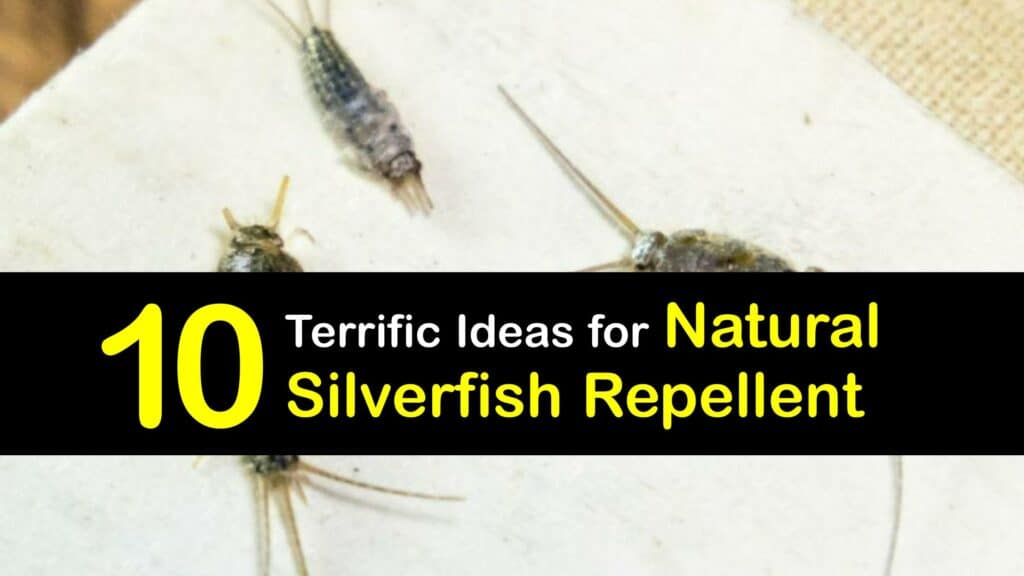 Learn About Homemade Silverfish Deterrent
Don't let silverfish take over your basement or garage. Take action against infestation with our incredible tips and tricks. Discover how to spot the signs of a silverfish infestation, use effective, natural repellents, and prevent future pest-related emergencies.
Silverfish might appear harmless but want to eat your book bindings, paperwork, and other starchy materials. Learn how to protect your home by growing certain species of plants, make a homemade spray for silverfish, and get ideas to improve the security of your home to keep bugs outside where they belong.
Grow Bay Leaf to Repel Pests
The plant life you choose for your yard can be a form of homemade silverfish deterrent. Add a robust and aromatic touch to your dwelling with bay leaf plants while repelling silverfish naturally without chemical pesticides.
Members of the Lauraceae family, these slow-growing herbs are native to Mediterranean parts of the world. Not only are bay leaves ideal for soups, stews, and casseroles, they're surprisingly effective at producing a repellent scent detectable by unwelcome pests like silverfish, ants, and roaches.
Plant a few bay leaf shrubs near your doorways, or space a few potted plants on the porch for extra silverfish prevention. Take further steps to repel silverfish outdoors, and consider some yard maintenance. Tidy up the yard, and remove leaf piles, wood planks, or dark and moist areas.
Cedar is a Natural Silverfish Repellent
Silverfish love darkness and moisture. Fortunately, we have a great homemade silverfish deterrent to let them know they're not welcome. This essential oil spray is easy to make and effectively repels silverfish bugs. It also repels bed bugs, spiders, and dust mites.
Cedar oil is fantastic for pest control due to its antimicrobial and antibacterial characteristics. Mix 20 drops with some distilled water and spray in dark corners and possible entry points. Refresh the application every week or as needed. Additionally, use cedar shavings in drawers and storage bins to preserve clothing and fabric.
Cinnamon Sticks to Deter Silverfish
There are more uses for fresh cinnamon sticks than a warm cup of hot chocolate. According to many independent studies, cinnamon contains powerful essential oils and resins that repel pests and act as natural silverfish control.
Cinnamon's potent scent comes from a compound called cinnamaldehyde. It's most fragrant in fresh cinnamon stick form. However, cinnamon power works in a pinch. Place cinnamon strategically around window sills, doorways, pantry shelves, and under appliances. Refresh the cinnamon supply weekly, and watch for signs of infestation.
Diatomaceous Earth for a Damp Garage
Food-grade diatomaceous earth makes an excellent non-toxic, homemade silverfish deterrent. This naturally occurring mineral isn't harmful to mammals and doesn't act as a pesticide. Instead, diatomaceous earth works by creating minor abrasions that dehydrate and kill silverfish in about 24 hours.
Sprinkle DE in dark, damp corners of the garage, behind boxes, around the wood pile, and more. Use it to kill silverfish eggs and adult pests. While diatomaceous earth is generally safe, always use a dust mask and work gloves to prevent minor irritation. A 2-pound bag of food-grade diatomaceous earth is less than 20 dollars and probably lasts longer than you need.
Homemade Silverfish Repellent Spray
Everyone needs a reliable homemade silverfish repellent spray recipe. This citrus-themed repellent is all-natural and chemical-free. Lemons and other citrus fruits like limes and oranges contain limonene.
This potent-smelling compound is strangely repellent to many household pests like adult silverfish. Use this silverfish deterrent spray on any commonly infested area as often as required.
Juice four medium-sized lemons and add the liquid to two cups of water. Carefully transfer the repellent to a clean spray bottle. Keep a spray bottle full of citrus fruits ready and do a weekly re-up in dark corners and humid spaces where silverfish bugs gather. This DIY remedy is also a natural mite repellent spray, as well as working against bed bugs and fleas.
Try Boric Acid for Stubborn Silverfish
Household boric acid is a form of boron, a naturally occurring compound found in many minerals. There are many natural sources of boron, such as volcanoes, water, and some fruits and vegetables. Refined boric acid is an insecticidal powder and an excellent DIY silverfish repellent and poison.
Many homeowners sprinkle this crawling insect killer along problem areas such as the basement, garage, or unused rooms. Use either a spray or a sprinkle to suit your needs. Boric acid isn't advised for use in areas frequented by kids or pets. When ingested, boric acid is irritating and, in some cases, toxic.
How to Make Outdoor Citronella Candles
Citronella oil is a plant-based repellent distilled from the stems and leaves of various lemongrass species. Citronella is used in a range of insect deterrent products and is a natural silverfish repellent. Make your own citronella candles for outdoor use.
Choose a Mason jar with a lid, and be sure it's clean and dry. Drill a hole in the lid, and thread the wick through the hole; allow two inches of the wick to poke through the hole. Fill the jar with two cups of citronella torch fuel or 100% natural citronella oil. As a general guideline, one ounce of oil provides one hour of energy.
Place your DIY citronella candles outside near planters or any dark, damp places silverfish might be hiding to prevent a silverfish infestation. Use your candles around the campfire or on picnic tables to add ambiance during outdoor gatherings. Citronella candles also work great to repel mosquitoes and other annoying flying insects.
Always use caution when working with anything flammable, and never leave candles burning without supervision.
Dehumidify Your Damp Basement
Locations that experience consistently damp conditions are at a higher risk of attracting moisture-loving pests like silverfish. A home dehumidifier unit is a sound investment for anyone looking to mitigate the effects of moisture. A dehumidifier reduces humidity levels, prohibits water damage and mold, and prevents silverfish from flocking to your home.
The first dehumidifier was invented in America by Willis Carrier in 1902, and since then, manufacturers have improved technology and made these units affordable. There are two main types – desiccant dehumidifiers and condensate dehumidifiers.
Desiccant or absorption humidifiers collect moisture with single-use cartridges, powders, or gels. In contrast, condensate humidifiers use a refrigeration cycle to pull water molecules from the air. Each type maintains consistent humidity levels in the air; choose one to meet your budget and energy consumption preferences.
How to Make a Silverfish Trap
Nothing beats household solutions when it comes to a small silverfish problem. If sticky traps aren't your thing, here's a super-effective, humane silverfish trap for you. These silverfish traps are cheap and easy to make and provide an eco-friendly way to control pests around your house.
Run a continuous wrapping of masking tape around the outside of a large Mason jar; this provides traction for the silverfish to get inside. Place a piece of bread in the jar, and set up the trap. Silverfish are nocturnal pests and feed overnight. Check the trap regularly, remove any dead insects, and dispose of the rest.
Contact Pest Control for Serious Infestations
Silverfish are sneaky; there are sometimes considerable deposits in walls and under floorboards. This level of silverfish infestation requires professional guidance and support. A local pest control company is a fabulous resource for those outnumbered in their homes by silverfish.
Pest control professionals offer permanent solutions for overwhelming infestations. They come equipped with specialized protocols and can locate hidden silverfish egg deposits or dispatch large numbers of bugs quickly and effectively.
Pest control professionals often offer free service quotes and inspections for curious homeowners and provide sound advice on moving forward.
We hope you enjoyed learning about the numerous ways you can make and use natural silverfish repellent. Don't allow Lepisma saccharina to move in and get comfortable. Nothing attracts silverfish like warmth, moisture, and a reliable food source; it's your job to remove the welcome mat.
Perform regular checks of the dark, damp corners of your house. Look for yellow staining on fabrics and carpet, and watch for sudden holes in your paperwork. Use a natural repellent spray or scents like cedar or lemon to deter pesky pests, and set traps for small silverfish infestations.
When you control the humidity and moisture levels in your home, you make it unwelcoming for pests like silverfish and other moisture-loving bugs. Consider investing in a good home dehumidifier if you live in an area with high moisture levels.
Never hesitate to get a professional pest control opinion if you feel the situation warrants it; keep your home secure and your possessions safe.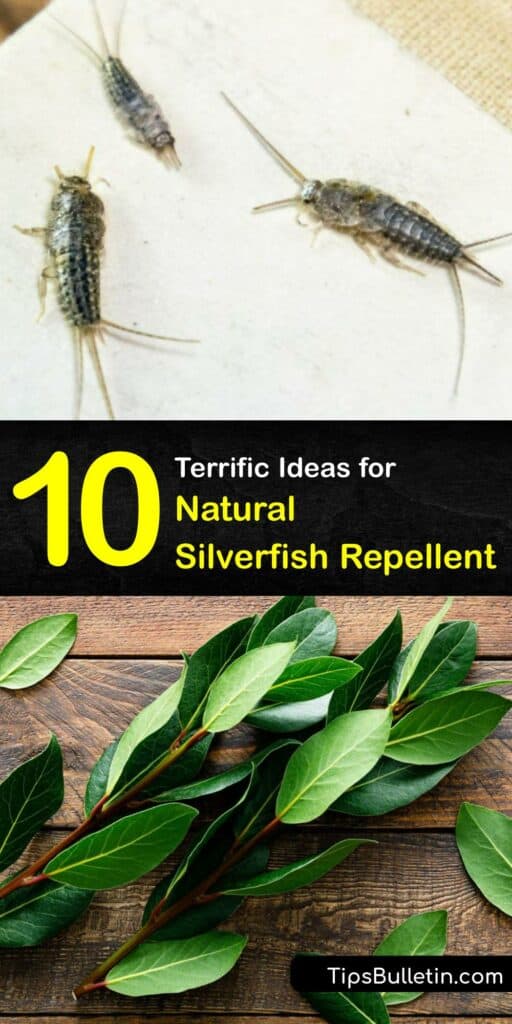 If you liked our ideas for natural silverfish repellent, share this pest control piece with friends on Pinterest or Facebook to help them solve their silverfish problem.