The first thing my family did when we moved from the city to the countryside was stockpile anti-skunk spray shampoo for our dog. Even without the fear of getting sprayed, skunks can still dig up your gardens and cause all sorts of other problems.
That is why we have compiled this natural skunk repellent master list to help you maintain a skunk-free yard. There are plenty of ways to deal with skunks.
With these various commercial and homemade skunk repellent recipes and other home remedies, you should have no problem finding a solution that works for you and your family.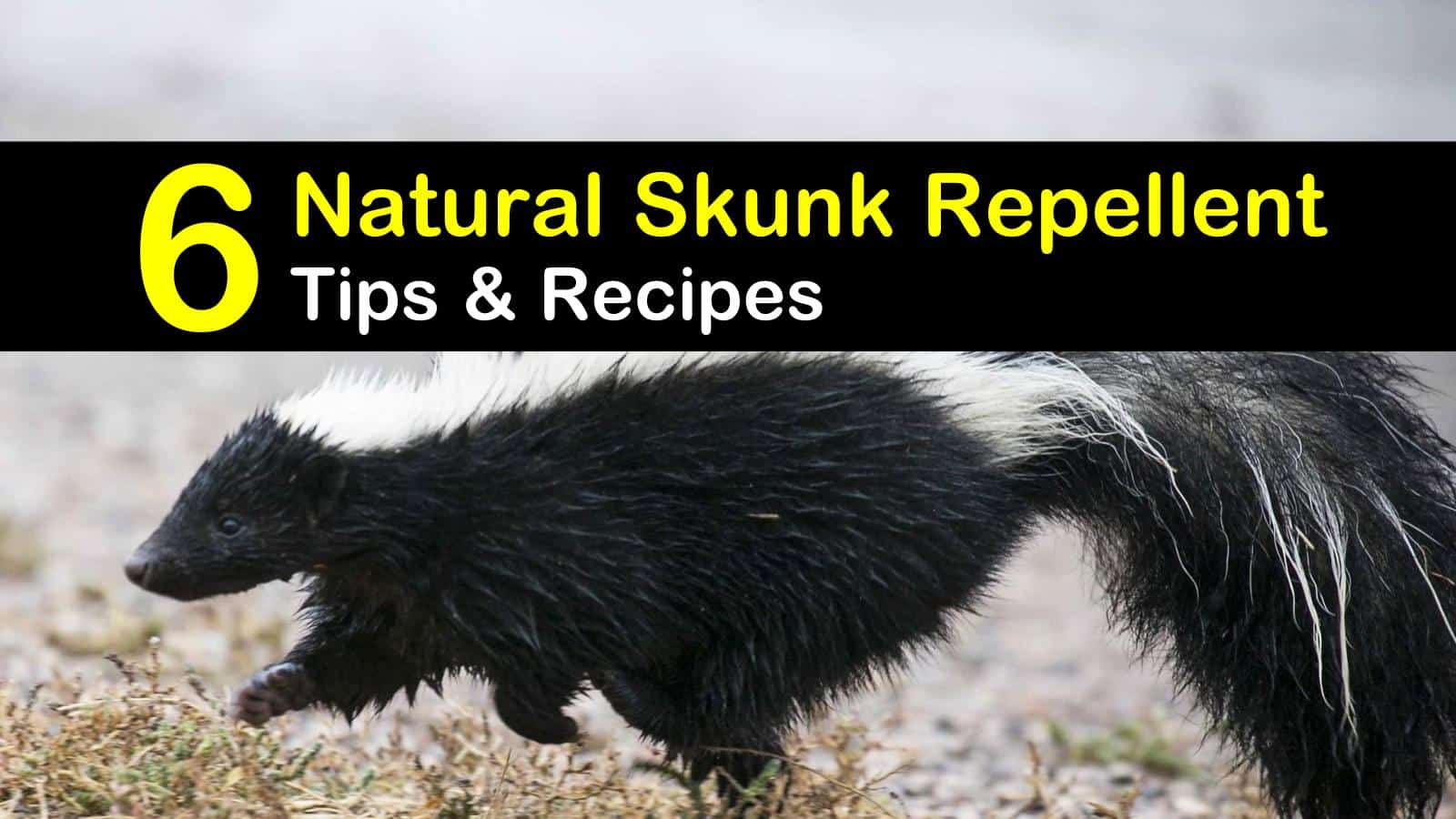 Easy-to-Use Skunk Repellent Tips and Recipes
If you notice that you might have a sort of pest problem, whether it be small rodents or skunks or something else, it is always a good idea to follow ways to poison a skunk or take a couple of easy preventative steps.
Preventative Measures
Everything is attracted to food sources. If you keep pet food outside, be sure the empty bowl is the default state, not sitting filled with food.
You might also want to think about adapting your bird feeders. Ideas on how to make homemade squirrel repellent for bird feeders will also be useful skunk deterrents.
Although, if you do suspect you might have a small rodent problem as well, be sure to take care of that. Skunks will eat small rodents, so you want to make sure your pest control needs are in order.
Easy, Low Maintenance DIY Skunk Repellent
When you first notice you have a skunk problem, you can try these easy, natural ways to keep skunks away. You can take citrus peels and spread them out around your yard to help keep the skunks away.
If you don't have any citrus peels, you can sprinkle cayenne pepper around your yard. These methods will be particularly useful around the skunk den.
The Ultimate Homemade Skunk Repellent: Homemade Hot Pepper Spray
If your skunk problem persists, you can whip up this easy pepper spray with all natural ingredients to scare away the skunks.
Mix the ingredients and boil for 20 minutes. Once the mixture cools, you'll then want to pour it into an empty spray bottle. This repellent spray is great for trouble spots, such as your garbage can or near crawl spaces.
Using Household Cleaners
If you're in an area that's experiencing a large amount of rain, enough to wash away any of citrus peels, cayenne pepper, or pepper spray, you might want to try something you can find in your cleaning cabinet. Because skunks can sometimes carry rabies, you're going to want to get them out of your yard as quickly as you can(..).
There's a quick home remedy that you can try: old rags or cotton balls soaked in ammonia. The intense smell will drive the skunks away. Just make sure that you place the soaked materials away from any air intake areas of your home.
Urine – the Ultimate Natural Skunk Repellent
There is no purer natural skunk repellent than fear. In this case: fear of predators. Skunks are prey to coyotes, and so by association, skunks will often recognize dogs as predators as well.
If you have a dog, you can try to collect your own dog urine. If not, you can usually find predator urine for sale at pet stores. As long as you continuously re-apply the predator urine to your yard, the skunk should eventually get scared and run for the hills.
Motion Sensor
A popular commercial method is motion sensor "alarms." Skunks are nocturnal, so a common practice is to hook up a night vision motion sensor camera to some bright lights to scare away the skunk.
Another popular option is to set up a motion sensor to a sprinkler so that the water will turn on whenever the skunk is near, also pushing the animal out of the area.
If all else fails…what next?
Who knows, maybe a particularly rough and tumble skunk found its way into your yard. If none of these conventional methods work, you may need to call in animal control. They will be able to use live traps and skunk traps to catch the skunk and relocate it to a more hospitable environment.
Regardless of how you remove the skunk from your property, be sure to walk along your fence line and look for any possible points of entry. You'll want to seal these up, so you don't have any future intruders.
Besides just worrying about that infamous skunk smell, skunks can sometimes carry various diseases that can hurt you, your family, and your pets. By using these commercial and homemade skunk repellent options, you are sure to find yourself worry free.
Recipe for Natural Skunk Repellent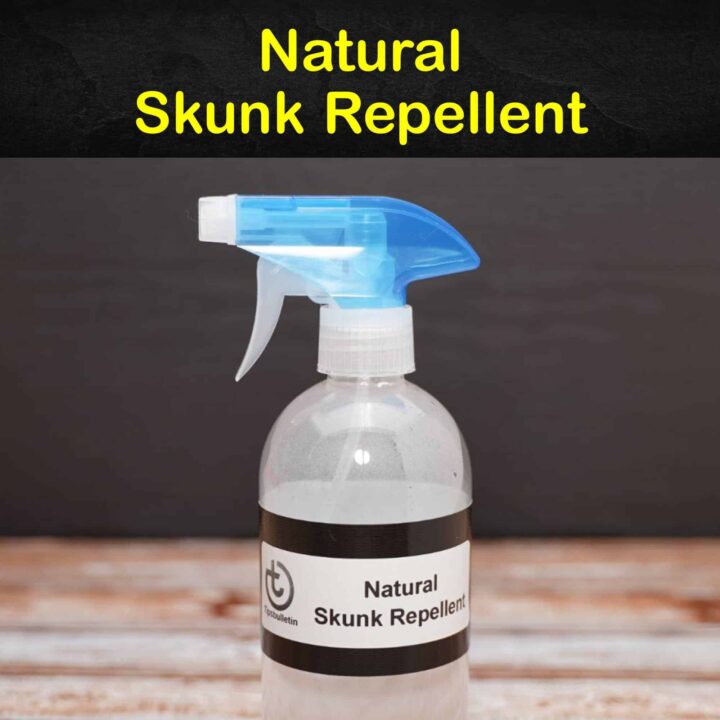 Natural Skunk Repellent
Fight skunks with a spray of your own!
Materials
64 ounces water
1tbsp cayenne pepper
1 chopped onion
1 chopped jalapeno
Tools
Saucepan
Spoon
Strainer
Measuring cup
Tablespoon
2-quart sprayer
Instructions
Add the ingredients to the saucepan and stir well.
Bring to a boil and cook for about twenty minutes.
Let the liquid cool to room temperature.
Strain into the sprayer and discard solid pieces.
Spray your property border and anywhere else skunks congregate.
Notes
Keep away from your eyes.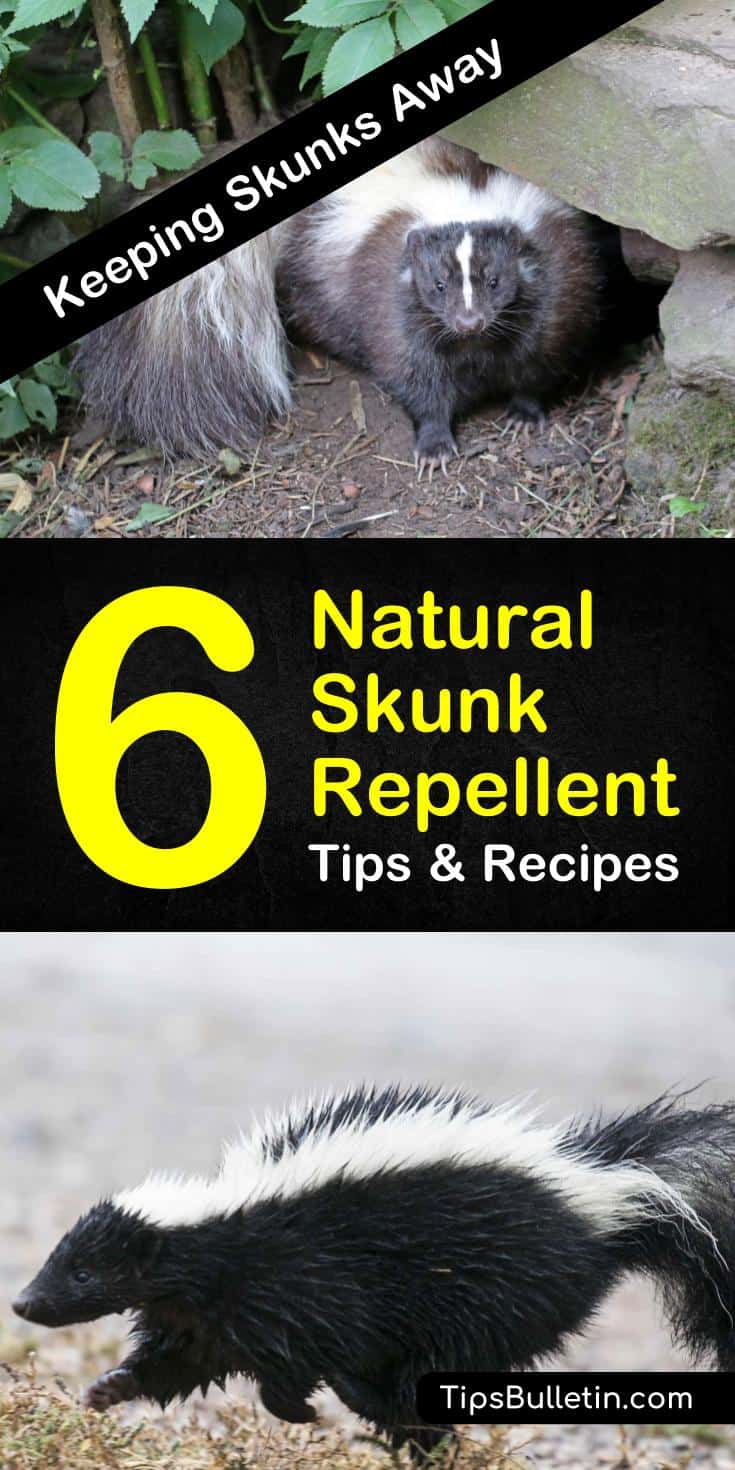 If you found these DIY skunk repellent tips and tricks helpful, then please share this article about homemade skunk repellent tips with your friends on Pinterest and Facebook!