Whether you grew up in a part of the world where snakes are a constant threat or the idea of seeing a snake immediately fills you with some combination of the heebie-jeebies and sheer fear, you don't have to worry anymore. This article details several easy, inexpensive, and natural snake repellent tips and tricks to keep your home and yard snake free.
A lot of homemade snake repellent tips and recipes are made with ingredients you can find around the home or are easily attainable. With this arsenal of ingredients, you will have no problem making an effective snake repellent.
Additionally, making a homemade snake repellent is safer, as many commercial snake repellents have chemicals known to cause liver damage or other health issues, such as the naphthalene found in most snake-a-way repellents. So with these non-toxic and natural snake repellent ideas, you will be able to keep everybody safe.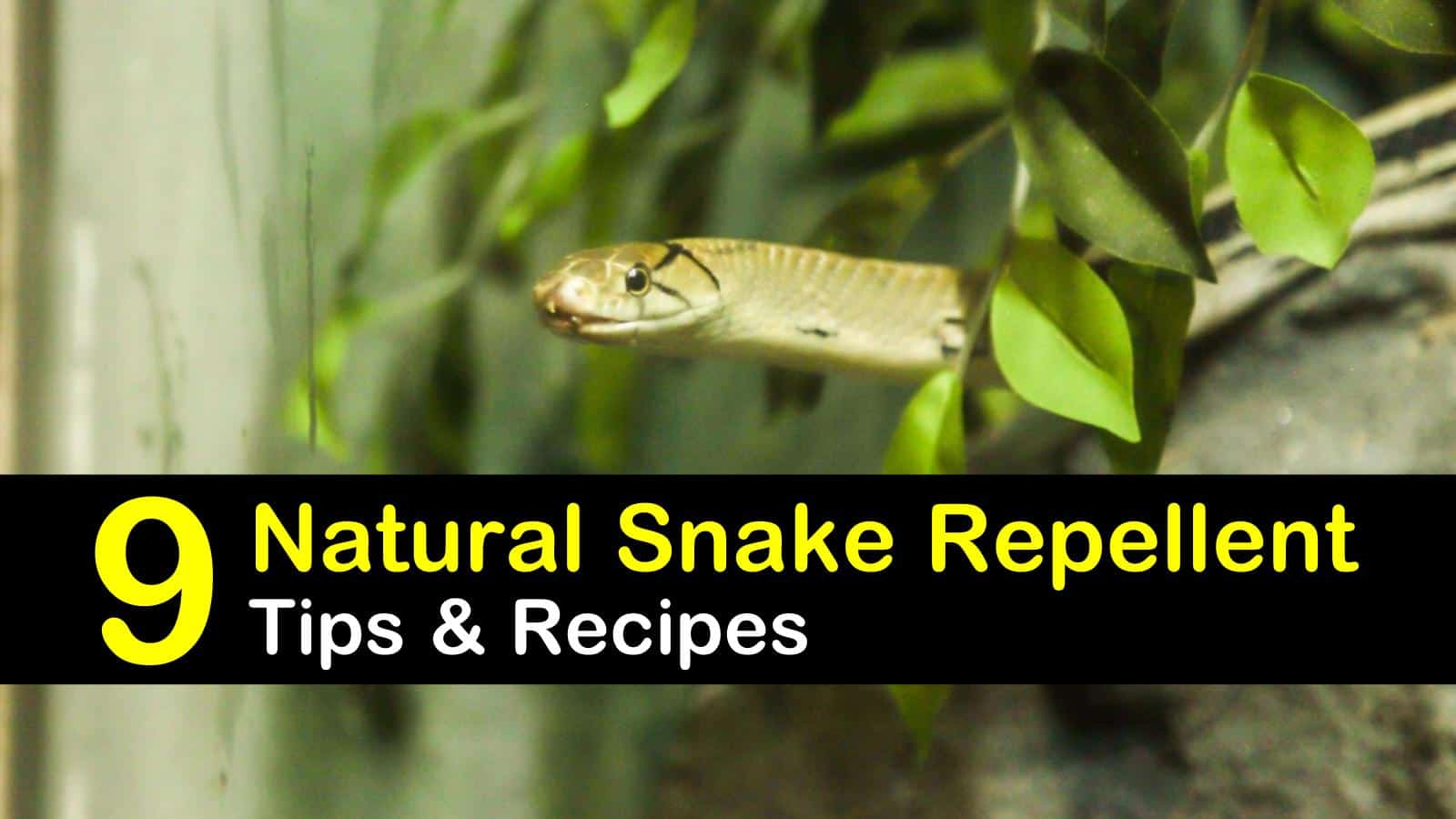 How to Repel Snakes Naturally
There are many different species of snakes, from small to large and harmless to venomous. However, whether the snake is venomous or not, a snake bite is going to hurt you, your family, and your pets. If you have poisonous snakes in your area, you do not want to risk a snake bite.
Whether you are dealing with harmless rat snakes or black snakes or know you have some dangerous copperheads around your house, these various pest control options will help you keep snakes out of your home.
Cat Litter
Whether in person or on a video, you have seen how a snake moves. That slithering motion is already tricky enough for the snake. If you make it more difficult for the snake to move, the snake won't want to use the energy (remember, snakes are cold-blooded and saving energy is crucial for them!).
Sprinkle cat litter around the perimeter of your house or yard. The rough texture makes slithering challenging, and the cat litter will also stick to the snake, making it even more uncomfortable. If you're thinking about re-doing your garden or yard, adding some gravel will yield a similar result and help repel snakes.
Salt and Garlic for Easy Natural Snake Repellent
Snakes have a very acute and unique sense of smell. Anything that is even remotely unpleasant smelling helps with your snake problem. One common snake repellent people try is a 50-50 mix of salt and crushed garlic.
The salt irritates the snake's skin, and the garlic smell will upset the snake. Sprinkle the mixture around the edge of your property and house, and the snakes will slither away.
Garlic and Onion
If you want something a little bit stronger than just salt and garlic, add onion to the mix. Thanks to the sulfonic acid in onions, basically the "active ingredient" that makes you cry when cutting them, the component creates an all natural snake repellent.
Boil the water in a small saucepan. Add the garlic and onion to the water and let boil for about five minutes. Turn the heat off and let the water steep for a few hours or overnight.
Carefully pour the water into a spray bottle and addthe salt. Shake the spray bottle to mix the ingredients. Spray the mixture around the perimeter of your yard or in any cracks or holes you may be worried about hiding snakes.
Essential Oils for a Simple Homemade Snake Repellent
This essentials oil recipe works on all types of snakes, making it an excellent go-to homemade snake repellent.
Pour the ingredients into a spray bottle and shake. The natural oils work to create a strong odor that the snakes do not like, especially the cedar oil and cinnamon oil. The water will not dilute the oils, so be sure to shake the spray bottle before each use.
White Vinegar
The pungent odor of this standard household cleaner repels snakes and acts as an effective snake deterrent. Take some white vinegar and spray it around the perimeter of your property. You can even water it down, which will cost you even less.
Smoke
One of the smells that scare snakes the most is the smell of smoke because it just screams danger. Light a small fire, such as in a barbecue grill or pit, and let it smoke.
Let the fire burn for a few hours to help drive away the snakes. Preferably, keep the fire smoking for at least a day.
Snake Repellent Plants
One of the easiest ways to snake-proof your yard is to make it inhospitable in the first place. Several snake repellent plants help keep snakes out of your yard.
Garlic is a strong scent that many snakes do not like, so plant a garlic barrier around your garden plot to help keep snakes out. Lemongrass gives off a citrus smell that is distasteful to snakes. It is also a relatively low maintenance plant.
Marigolds have a complex, deep, and arguably aggressive root structure that makes traveling through the garden very difficult for snakes and other pests. Animals like to take the path of least resistance, and marigolds make all paths through the garden harder to navigate.
The Moth Ball Myth
You may hear people say that mothballs and that the smell of mothballs keeps snakes away. The active ingredients in mothballs are pesticides, and relatively dangerous ones at that (..). Not only that, but mothballs are designed for moths, not snakes, so they are not a practical choice to repel snakes.
Clean Up and Preventive Measures
There are a few cleaning and preventive measures that serve as great control methods to keep snakes out of your home and yard.
If you have wood piles, keep them as small as possible if you cannot get rid of them altogether. The wood piles provide perfect hiding spaces for snakes, and before you know it, your yard will fill with baby snakes (which is especially dangerous if the snakes are venomous).
For a smaller yard, purchase some mesh hardware cloth and enclose the area you want to protect. Dig along your wall or fence and insert some of the hardware cloth underground as well. While this works for a large yard as well, it can be time consuming and expensive.
If you have a chicken coop, you have eggs. Snakes eat eggs as one of their primary food sources. To protect your chicken coop, remove bird seed from the area and keeping rodents and snakes out by installing a snake-proof fence around the perimeter.
If you have a severe problem with snakes, call animal control professionals. They will safely remove the snakes from your property or set a snake trap to aid in the snake removal. Then, you can start over with these snake repellent ideas.
Recipe for Natural Snake Repellent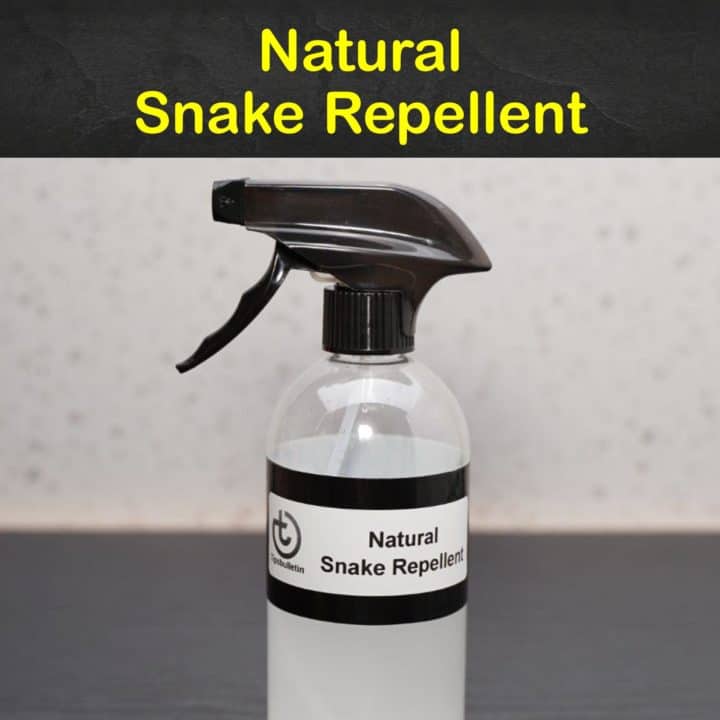 Natural Snake Repellent
Keep snakes away from your property with this simple deterrent spray.
Materials
32 ounces water
1/2 onion, cut into rings
4 roughly chopped garlic cloves
1 tbsp table salt
Tools
Tablespoon
Saucepan
Strainer
Measuring cup
32-ounce sprayer
Instructions
Bring the water to a boil in the pot. Add the onion and garlic.
Boil for five minutes or so.
Remove from the heat.
Let the mixture sit for 8-12 hours.
Strain the liquid into a spray bottle and add the salt.
Shake to dissolve the salt.
Spray any area of the yard where you want to deter snake activity.
Notes
This deterrent will also discourage rodents like squirrels, skunks, and more.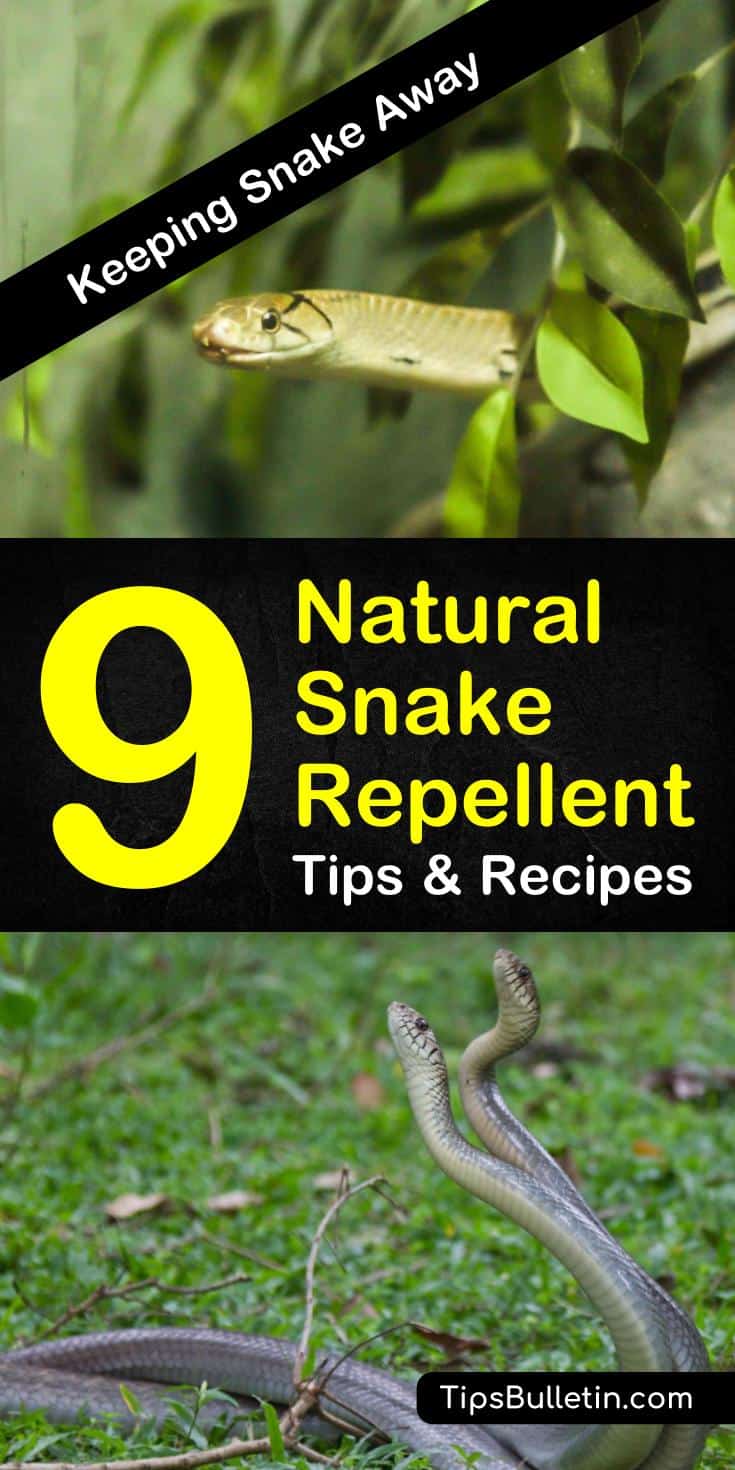 Hopefully, you found a few snake repellent tips and tricks that will keep you from having to kill snakes. Snakes are beneficial members of the environment and help keep rodent populations down. If you found the natural snake repellent ideas and recipes in this article helpful, then please share this snake control article with your friends and family on Facebook and Pinterest.