Spiders account for a large portion of phobias in the United States, with almost everyone knowing someone who stops dead in their tracks at the sight of one. While these creatures may pose several benefits to gardens and keeping out unwanted pests in your household, sometimes they, too, become the unwanted pests. Using a natural spider deterrent is a must for those who are terrified of spiders or just want them out of their homes for good.
These natural solutions do not always require killing the spiders, but instead, discourage them from making your home theirs, as well. Even if you don't want to harm every spider you see, you may be a little cautious about letting one enter your home. Though not all spiders are aggressive or lethal, you don't want to take any chances when it comes to those painful spider bites.
So, how to deter spiders without calling in an expensive exterminator? Sometimes the problem is easy to fix on your own and can be accomplished using natural ways to deter spiders. The following eleven spider repellent tips will help you find the best solution for your household.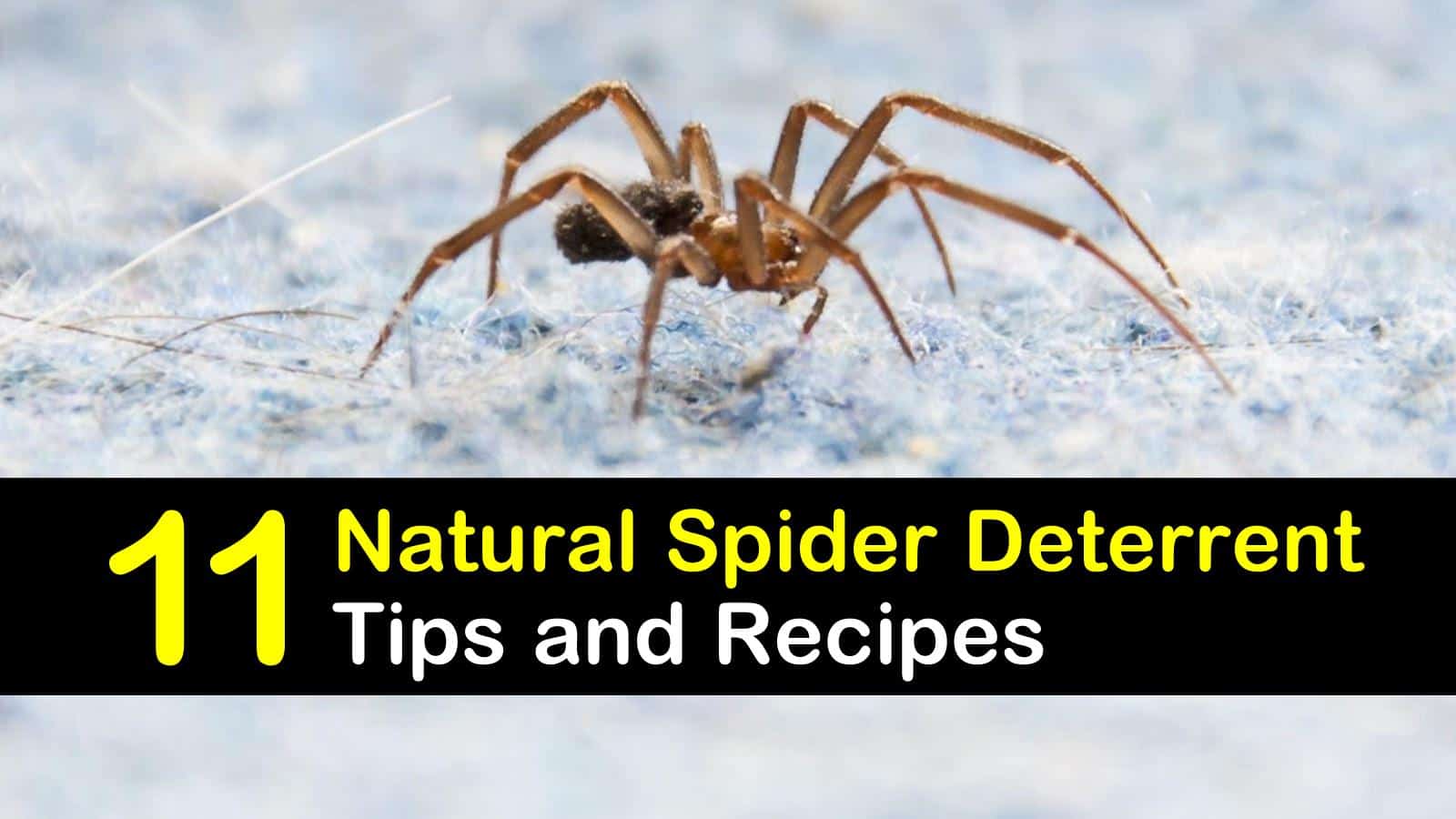 How to Deter Spiders with these Easy Repellent Tricks and Tips
The United States is full of spiders, not all lethal and most of them widely beneficial to the environment. Still, this doesn't tempt us to invite these creepy crawly creatures of nightmare into our homes. While we equate these terrifying arachnids to venomous species like the Black Widow, the most common spiders are generally harmless.
Though all spiders possess small amounts of venom, they are rarely toxic to humans. In fact, more deaths occur by bee stings, mosquito bites, or scorpions than spiders each year.
Using natural ways to deter spiders keeps the insect population in balance and protects animals that do more good than harm. When you target the adult spiders, this will get rid of baby spiders that may be coming, too. Nobody wants morespiders.
Use Peppermint Oil to Deter Spiders
One of the best peppermint oil benefits is that, while it has a pleasant smell to humans, other creatures don't seem to like it. One of the most effective natural ways to get rid of spiders is to use peppermint essential oil. When deterring most insects and arachnids, smells play a massive part in turning them away.
Spiders hate peppermint, which gives off a scent so strong they will avoid it whenever possible. Using a spider repellent spray made from peppermint essential oil is a fantastic way to keep them out of your home.
To make this simple and very effective peppermint spider spray, add the ingredients to a spray bottle then shake well. Spray the problem areas around the house; anywhere you have seen cobwebs or common entry points for spiders.
Use this once a week, or after the scent has faded until you no longer see spiders. Keep a labeled bottle on hand to use whenever you discover cellar spiders in the house or on the deck where you don't want them around.
Another technique you may want to use is adding a few drops of the essential oil to cotton balls. Leave these cotton balls in strategic locations, like entry points, to stop spiders from entering your home.
They will quickly go the other way when encountering the smell. Peppermint is one of the natural deterrents for ants, roaches, and a variety of other unwanted bugs.
What Other Essential Oils Can You Use?
Spiders are highly motivated by smell since it is a significant component of how they track down food. Spiders both smell and taste using sensory glands located on their legs.
Because of this, they will generally avoid walking through oils or substances containing these potent smells, which would interfere with these senses.
If you aren't a fan of peppermint, then any of these essential oils can easily replace it in a natural spider spray or to use as a yellow jacket deterrent. For many of these scents, using essential oils is not the only solution.
While adding a few drops of these oils to a cleaning solution or cotton balls, can transform them into an effective spider repellent, using pieces of the plants will also work to eliminate these arachnids or other bugs you don't want nearby.
Try using one or more of these essential oils as a homemade squirrel repellent or to get rid of chipmunks around the perimeter of your house.
How to Deter Spiders by Removing Clutter
One easy way to deter spiders is by regularly cleaning and organizing your home. Spiders thrive in areas that are unused and forgotten, places where they can set up shop without being noticed for weeks.
Dusty corners with clutter make it easy for them to slip in between cracks and hide undetected for long periods. One way to avoid this situation is by removing clutter, boxes, and any loose items that need a home, especially in places like garages and basements.
To keep spiders out of your garage, regularly removing cobwebs is one excellent way to keep spiders away. If their home is continuously destroyed, the spider will eventually get the hint and set up camp elsewhere in a location where it does not have to keep rebuilding its web.
Clear Away Wood Piles and Outdoor Clutter
So we already talked about cleaning clutter inside the home to keep spiders away. However, there are plenty of places outdoors that are breeding grounds for spiders, as well. While these outdoor arrangements may not seem like a problem at first, if these areas are close to the home, it allows spiders to quickly move from one place to the next – and that means inside your house.
To get rid of spiders outside, look at your woodpile. Wood piles are prime examples of these areas where clutter makes it easier for spiders to hide, and then eventually creep their way into your home.
To avoid any issues, keep the wood piles far away from the house. Remove large piles of leaves as quickly as possible, and keep plants trimmed back away from the building.
Try White Vinegar as a Dual Threat
Among the odors that spiders hate is vinegar, particularly the acetic acid. Though many of us can relate to the spider's distaste for vinegar smell, the scent is far easier for us to handle than it is for them.
After a few minutes of cleaning with your vinegar solution, the odor has faded, while the spiders continue to smell the vinegar long after it disappears from our senses and stay away.
One fantastic part about this spray is that it doubles as an all-purpose cleaner. Adding it to your regular cleaning routine will not only deter spiders, but it will also disinfect surfaces and leave them sparkling clean.
Mixing both ingredients in a medium spray bottle, shake the contents well and spray any entry points, baseboards, or areas where you see cobwebs.
Add Citrus Peels to Almost Any Recipe
Citrus is another overpowering scent that works similarly to vinegar to repel spiders. The most significant difference is that citrus has a much more pleasant fragrance than vinegar and can be used either as peels, whole fruit, or essential oils.
As a bonus, it also makes an excellent homemade fly repellent. One way to use citrus as pest control is to rub the peels along window sills or around the edges of doorways.
You can also add the rinds to homemade potpourri or DIY cleaning products to absorb into the solutions. Leaving the peels themselves in crevices and entryways that spiders frequent is another great deterrent.
Planting Osage Orange Trees: Myth or Truth?
For years the idea of planting Osage Orange trees outside your home was considered one of the best home remedies for keeping spiders away from your property. These oranges, also known as hedge apples, are virtually useless when it comes to protecting your house. At least, when the hedge apples are still whole and on the branch.
Instead, the Osage Orange contains properties that repel spiders but only when converted into an essential oil. If using this method, save your time with the extra hassle of planting and caring for a plant by using the essential oils to prevent the spiders.
Use Citronella as a Natural Spider Deterrent
When you think of citronella, you may imagine a powerful mosquito repeller, but it is also a highly effective way to repel spiders. As with many of these solutions, there is more than one way to use citronella as spider control.
One is by planting Lemongrass in your garden. Citronellol is the main ingredient in citronella candles and sprays and comes from the lemongrass plant. Planting this outside will regulate the amount of both spiders and mosquitoes in your yard.
While using a citronella candle will also deter spiders, the above recipe is another wonderful way to get rid of spiders. Mix the ingredients and spray the areas where spiders are suspected to inhabit. This method also works outside the home, especially around porches and along the perimeter of the house.
If you're feeling a lot of animosity toward the spiders around your house, you can also submerge them in this solution. Can spiders drown? Yes, although some have water-repelling capabilities that take them longer to succumb to immersion. It's probably better to just deter them in the first place.
Sprinkle Cedar Mulch Around Your Home's Perimeter
Among the many scents that spiders hate, cedar is useful both indoors and outdoors. Sprinkling wood chips made from cedar along the perimeter of your home will keep spiders from entering in the first place. If you have plants along the outside of your home, these wood chips double as a fantastic mulch.
Cedar chips are even useful indoors, with the subtle woodsy scent adding an attractive fragrance to the interior. Place these chips near doorways and hidden crevices.
Remove the Spider's Food Source
One of the most critical issues we fail to notice when it comes to what attracts spiders to our homes is their food source. A higher number of spiders may also indicate a higher number of other pests, such as cockroaches, mosquitoes, or flies, all of which spiders love to eat.
Getting rid of these pests will aid in the removal of the spiders, as well. In some cases, though, this may require the help of an exterminator.
Reduce the Amount of Outdoor Lighting
Another way to eliminate the food source is to reduce the amount of lighting outside. Spiders themselves are not attracted to the bright lights shining like beacons in the night. However, they are attracted to the yummy morsels flocking to those very same lights.
This increase in a food source also attracts the spiders, causing them to set up nests and webs along the edges of your home and on porches. They may eventually make their way into the house.
While the idea of a completely dark exterior at night is terrifying for many homeowners, this does not mean sacrificing safety for preventative measures.
One option is to use sparse lighting, especially in areas where lighting is not necessary. Homeowners may also invest in motion-detection lights. This alternative would allow light in terms of safety concerns but would limit the unnecessary attraction of insects.
Using yellow lighting is another spectacular way to repel insects that attract spiders, while also providing a source of light. Most insects are not as attracted to yellow lights as they are to white lights or lights of other colors.
Final Advice for Natural Ways to Deter Spiders
Still have questions? Looking for alternatives to dealing with spiders? These last few tidbits of advice should help.
What are the Warning Signs of a Spider Infestation?
These deterrents will only work when you need to rid your home of a few spiders. If there is a full-on infestation, however, you need to call a professional exterminator.
Whether drawn to the area by an abundant food source, or nests that have grown too high in number, very little will deter arachnids when they collect in large groups.
If you don't see large quantities of spiders of cobwebs, there are other ways to determine whether you have an infestation. Check for common signs and in locations that spiders frequently inhabit. These locations include areas with minimal foot traffic, such as garages, cellars, and crawl spaces.
Other indicators to look out for are egg sacs. Not all spiders build webs, meaning an infestation of wolf spiders, Sac Spiders, and Jumping Spiders may still be on the table. However, all spiders produce silk to make an egg sac for their babies, usually a fluffy cotton-ball-like creation.
Seeing these egg sacs, whether on the spider itself or in corners of your home, is a relatively good indicator of an infestation. If there isn't already an infestation, there will be once those eggs hatch. Removing these sacs from your home is essential to preventing a more serious issue.
Why Should I Use a Natural Spider Deterrent Instead of an Insecticide to Kill Spiders?
Many homeowners recognize the value of maintaining a balance in the surrounding environment, which is why they generally opt for a natural spider killer spray. Spiders provide many underlying functions for humans, such as eating even more problematic pests like mosquitoes, flies, and cockroaches.
In addition to these insects, spiders also consume many of the bugs that destroy vegetation in gardens. This practice allows many gardeners to protect their crops. Killing spiders outright takes away creatures that regulate this extensive list of indoor and outdoor pests, while also removing a food source from birds and reptiles that eat the spiders.
Using natural spider repellents over an insecticide is also beneficial when you have pets or small children in the home.
These natural solutions allow you to steer spiders in the other direction without laying out harmful chemicals that might easily be ingested by other animals or children. If you must use an insecticide, however, one of the most common ones is diatomaceous earth.
Also used as part of a natural bed bug spray, food-grade diatomaceous earth is sprinkled around entry points to kill roaches, ants, and spiders after they walk through it. This insecticide is non-toxic and safe to use around pets in small quantities. It is even ingested and used in deworming treatments for animals.
These unique options are some of the best ways to keep spiders out of your home. Choosing the best natural repellent for you depends on what scents you love, what you have in your kitchen, and what works best for your lifestyle. If you're having trouble deciding, you can always try multiples at once!
Recipe for Natural Spider Deterrent
Natural Spider Deterrent
Keep spiders out of the house naturally!
Materials
24 ounces of water
1/2 teaspoon dishwashing liquid
20 drops peppermint oil
Tools
Measuring cup
Teaspoon
32-ounce glass sprayer
Instructions
Pour the liquids into the spray bottle.
Shake well. Let the suds dissipate a little before using the spray.
Spritz areas in the house where spiders tend to lurk.
Notes
Essential oils degrade plastic so be sure to use a glass bottle.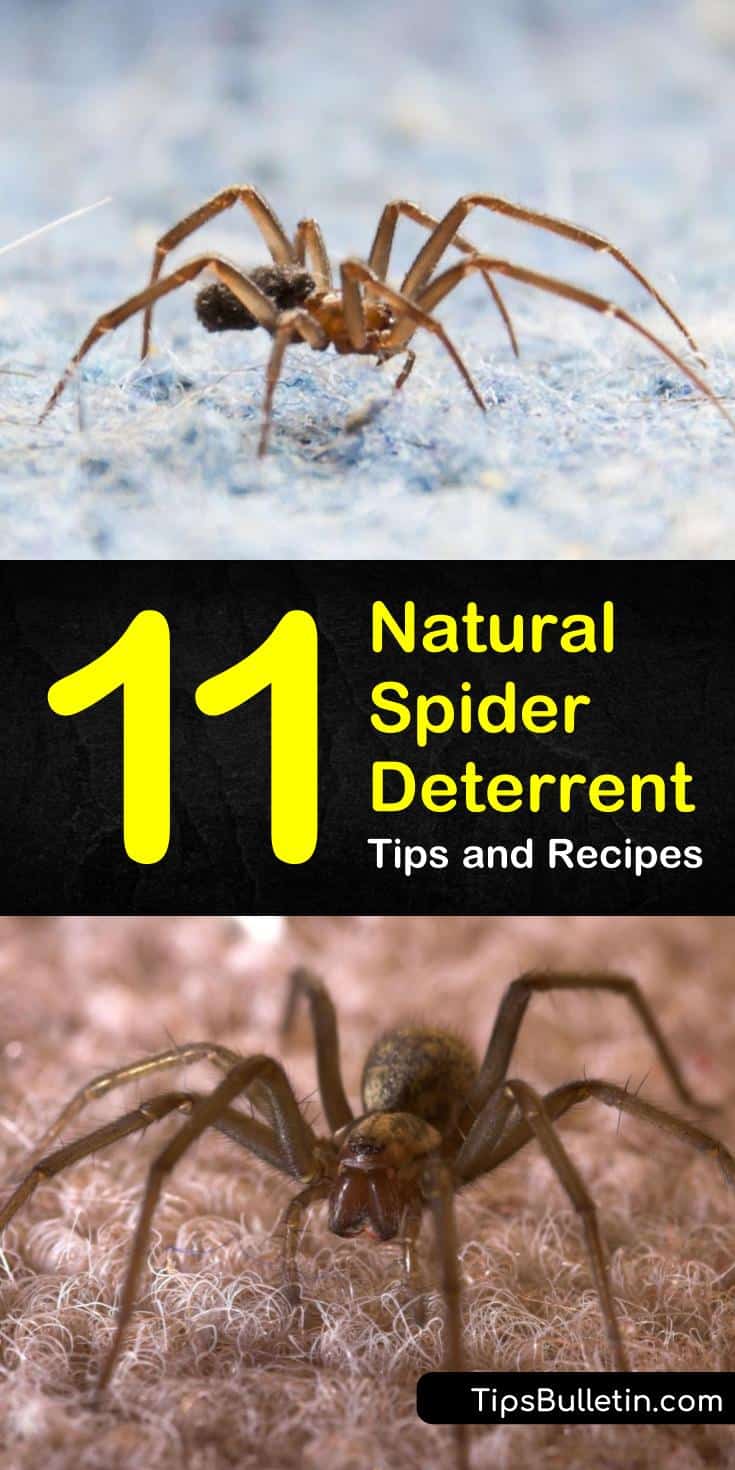 Hopefully, you enjoyed reading about these natural ways to deter spiders as much as you'll love getting them out of your home. If you learned something about getting rid of spiders, please remember to share your favorite natural spider deterrent with friends and family on Facebook and Pinterest.