Natural stone is a beautiful way to add an all-natural material to your home. Natural stone is a lovely decorative piece, whether it is countertops, bathroom tiling, or flooring. Because natural stone is relatively expensive, it is important to understand how to make a DIY natural stone cleaner.
We show you how to take everyday household cleaning products to disinfect stone surfaces. A common misconception is that stone care is difficult and requires expensive cleaners. However, products like dish soap and glass cleaner serve as an outstanding natural stone cleaner.
Natural stone surfaces accumulate a buildup of dirty grout, soap scum, and hard water stains over time. Because of the unique makeup of stone floors and other surfaces, you must know how to remove dirt and grime while preserving the stone.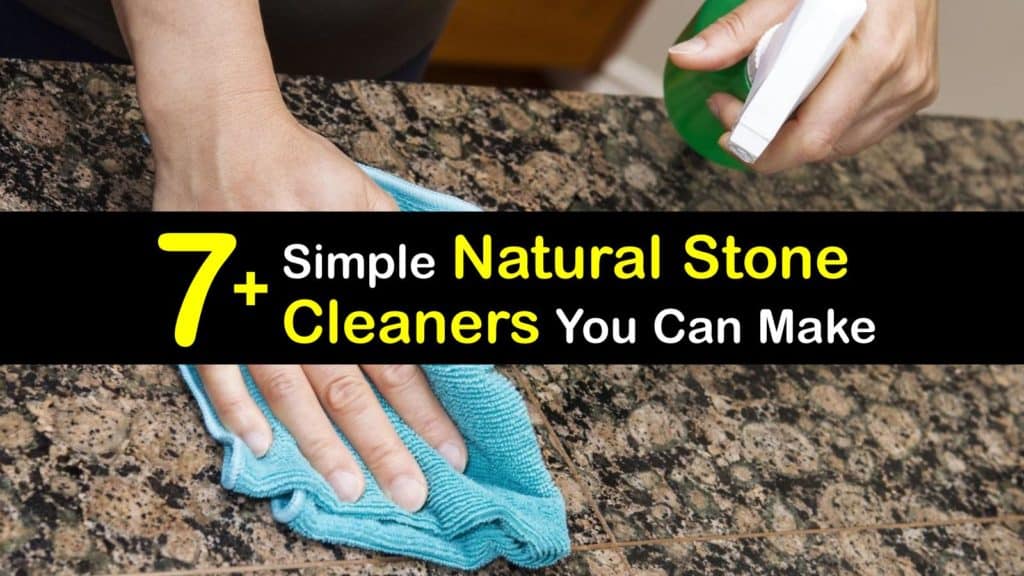 The Importance of Cleaning Natural Stone
We provide you with a list of cleansers that do not damage your stone floors, and we draw attention to the cleaning products that damage natural stone surfaces.
Making a homemade stone cleaner to remove water stains from marble is easy when you know the right ingredients to use. Natural stone surfaces contain a sealant over the top to protect the surface.
However, if your stone has a significant etch or stain, or if you need to remove Super Glue from granite, you may need to coat the natural stone with a sealer after cleaning. We show you how to clean-natural-stone surfaces like travertine, quartzite, onyx, and granite countertops.
Using Dish Soap as a Natural Stone Cleaner
Daily cleaning of your natural stone floors is critical to get rid of dirt and grime. A consistent cleaning solution is necessary for high-traffic areas on your natural stone floors.
Liquid dish soap is a remarkable natural stone cleaner and the best DIY marble floor cleaner. The ingredients in dish soap brands like Dawn are designed to eat away at dirt and grease built up over time.
Before cleaning the floors with dish soap, remove all area rugs and sweep the floor with a dust mop to remove large dirt chunks. Fill a large bucket with warm water. As the bucket fills, add a few drops of liquid dish soap.
Soak a microfiber cloth in the homemade stone cleaner and gently scrub the floors. Use a soft cloth because the material is gentle on the natural stone and does not damage the stone sealer. After you wash the floor, let it air dry.
This solution is also the best to clean a burnt pizza stone to keep from harming the surface.
Bleach is an Excellent Natural Stone Tile Cleaner
The ingredients in a bleach cleaner work great as a grout cleaner. Bleach dissolves grime while simultaneously killing nearly every germ on the surface.
Only use bleach as a natural stone tile cleaner when the tiles have a fresh seal. Using bleach is a fantastic cleaning solution because it only requires a single ingredient and is very inexpensive.
In a spray bottle, pour equal parts bleach and water. Cover the areas affected with grout build up and let the solvent sit on the surface for 15 minutes.
Scrub the grout with a sponge and rinse the area with warm water to clean up the tile. Stone tile cleaning solutions are vital to remove the accumulation of grime and calcium build up.
Before cleaning slate with bleach, test a small area to ensure that it doesn't discolor the stone.
How to Prevent and Clean Etches on Natural Stone Floors
Etching occurs on natural stone floors when there is surface damage. On stone countertops, etching results after acidic substances contact the surface and leave a dull mark behind.
Preventing etching with a homemade stone cleaner is simple when you clean the surface as soon as anything spills on the stone. You must use a safe cleaning product for natural stone countertops after an accidental spill happens.
A mild etch feels smooth and is best removed with specialized polishing powder found at your local home goods or department store. If you have a deep etch, a natural stone cleaner cannot fix it.
A deep etch feels rough and is cloudy. Hire a stone restoration professional to help improve deep etching. The DIY homemade stone cleaner options we provide are the best way to handle light etching on your stone surfaces.
Homemade Stone Cleaner with Glass Cleaner
Glass cleaner is a fantastic stain removal product for stone and quartz countertops. The ingredients in glass cleaning products dissolve grime and dirt without leaving any streaks or film on your countertop.
Combining glass cleaner and dish soap creates a great natural stone tile cleaner, natural quartz cleaner, or countertop cleaner.
Combine the dish soap, glass cleaner, and warm water in a standard spray bottle. Shake the bottle gently to mix the cleaning ingredients and spray the affected areas on your countertops.
If you are using the mixture to eliminate a stain, spray the solution on the stain and scrub with a non-abrasive sponge. Creating a natural stone cleaner or natural headstone cleaner spray that fights stains is possible when you incorporate glass cleaner.
Fight Stained Grout on Stone Surfaces with a Baking Soda Poultice
Creating a baking soda poultice is an excellent natural stone tile cleaner. Baking soda eats away at grout build up when combined with warm water. Another significant aspect of using baking soda as a neutral cleaner is that it is inexpensive and dissolves foul odors.
Measure ½ cup of baking soda and pour it into a small container. Slowly add tap water until the consistency is similar to peanut butter. Spread a generous amount of the paste on the grout and let it sit for 15 minutes.
Rinse with warm water. If your tiles have a lot of grout build up, gently scrub the paste with an old toothbrush to eliminate the dirt.
Creating a Grout Cleaner with Hydrogen Peroxide
Hydrogen peroxide is another natural stone tile cleaner that works great and is easy to make. The ingredients in a hydrogen peroxide solution kill bacteria while also dissolving dirt and grease.
If your natural stone tiles have grout or calcium build up, make a DIY cleaning product with hydrogen peroxide.
Combine your ingredients in a medium-sized container and stir to mix. Use a sponge to work the solvent onto the affected areas and let it sit for five minutes before rinsing with water.
This is a great homemade stone cleaner because it combines several powerful cleaning agents. The best results come from using this cleaner on granite and quartzite surfaces.
Understanding How Often to Seal Natural Stone
It is important to make sure your natural stone surfaces are properly sealed. A stone sealant is required for natural stone surfaces because of the makeup of the material.
Stone is naturally porous, which means it absorbs bacteria, liquids, and food particles if there is no sealant protecting it. Most sealers last at least three years; however, some higher quality sealants last up to ten years.
Ask a professional to make sure your stone surfaces are up to date regarding a sealant. After your natural stone floors and countertops are sealed, using the proper natural stone cleaner helps the area stay disinfected without damaging the stone.
Learning How to Clean Quartz Surfaces
Unlike other stone surfaces, quartz does not need to be sealed. Another benefit of quartz countertops is that they are simple to clean compared to other stone surfaces. Avoid placing scorching items on quartz because it damages the material.
Using a glass cleaner is a quick solution to clean quartz and natural stone. The ingredients in any standard glass cleaner kill bacteria without leaving a film. Avoid scouring pads or abrasive sponges, as they damage quartz.
Knowing what Cleaning Products to Avoid
The sealants that protect your stone countertops and floors are sensitive to certain cleaning products. You must use the correct natural stone cleaner and avoid certain ingredients to preserve your natural stone and the sealant that protects it.
When you make a homemade natural stone cleaner, the last thing you want to do is add ingredients that cause your natural stone to fade.
Avoid cleaning solutions that contain any lemon juice, vinegar, or other acids. The acidic nature of these cleaning products scratches and damages natural stone surfaces. It is also vital to avoid any cleaners that contain ammonia, as they cause color fading on natural stone.
Countertops, floors, and tiled areas made of natural stone provide a beautiful touch to any home. Understanding the correct way to protect and disinfect your natural stone is crucial, so it lasts as long as possible.
Standard household cleaning solutions like liquid dish soap, baking soda, hydrogen peroxide, and glass cleaner are all fantastic ways to get rid of dirt and grease on your natural stone while also killing bacteria.
Recipe for Natural Stone Cleaner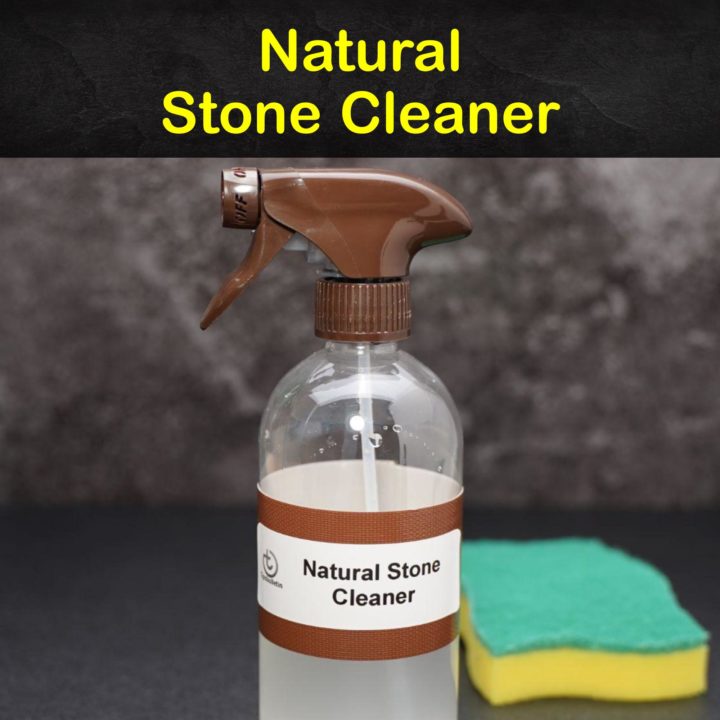 Natural Stone Cleaner
Restore the shine to stone without damaging the surface.
Materials
8 ounces of your favorite glass cleaning solution
1 tsp dish soap
24 ounces warm water
Tools
Soft sponge
Microfiber towel
48-ounce spray bottle
Measuring cup
Teaspoon
Instructions
Pour the liquids into the sprayer and swish the cleaner to mix.
Spritz the stone surface. Use the sponge to work on tough stains.
Wipe dry with the cloth.
Notes
This cleaning mix is ideal for all types of stone.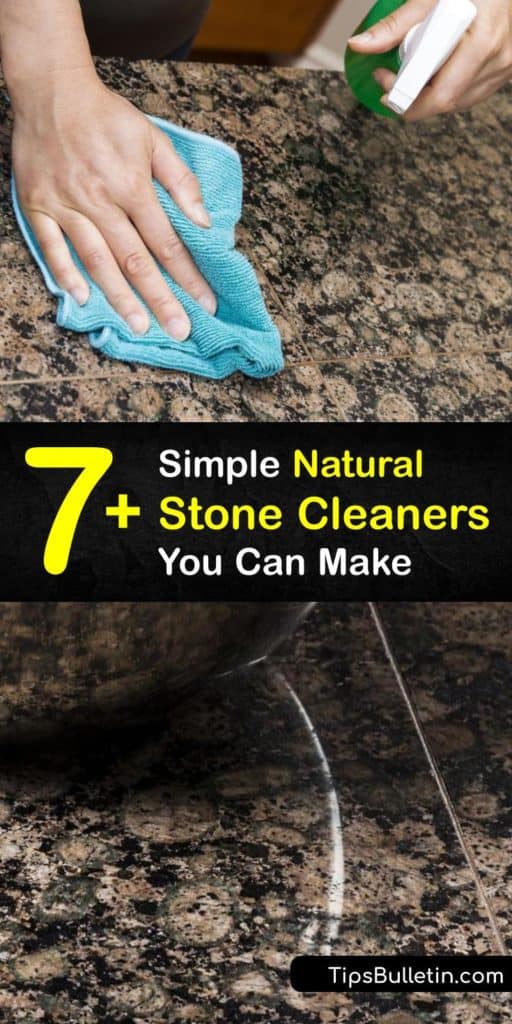 If you discovered an impressive natural stone cleaner here, we ask that you share this article about DIY stone cleaners on Facebook and Pinterest with your friends.