Unfortunately, if you have pets, they will likely encounter ticks at some point. Not only are they dangerous for animals, but they also carry diseases that humans can get, as well, like Rocky Mountain Spotted Fever and Lyme Disease. Prevention is key to ensuring that you and your pets are not bitten by these blood-sucking insects.
Natural tick repellent is safe and effective for people, pets and the environment. CDC and EPA may recommend using DEET, the most common insect repellent, for your protection. This may be useful but it is hazardous. DNA damage, brain diseases, and environmental contaminants are some of the reasons why this is concerning (..).
There are all-natural chemical compounds that can keep the ticks away. Let's learn about them.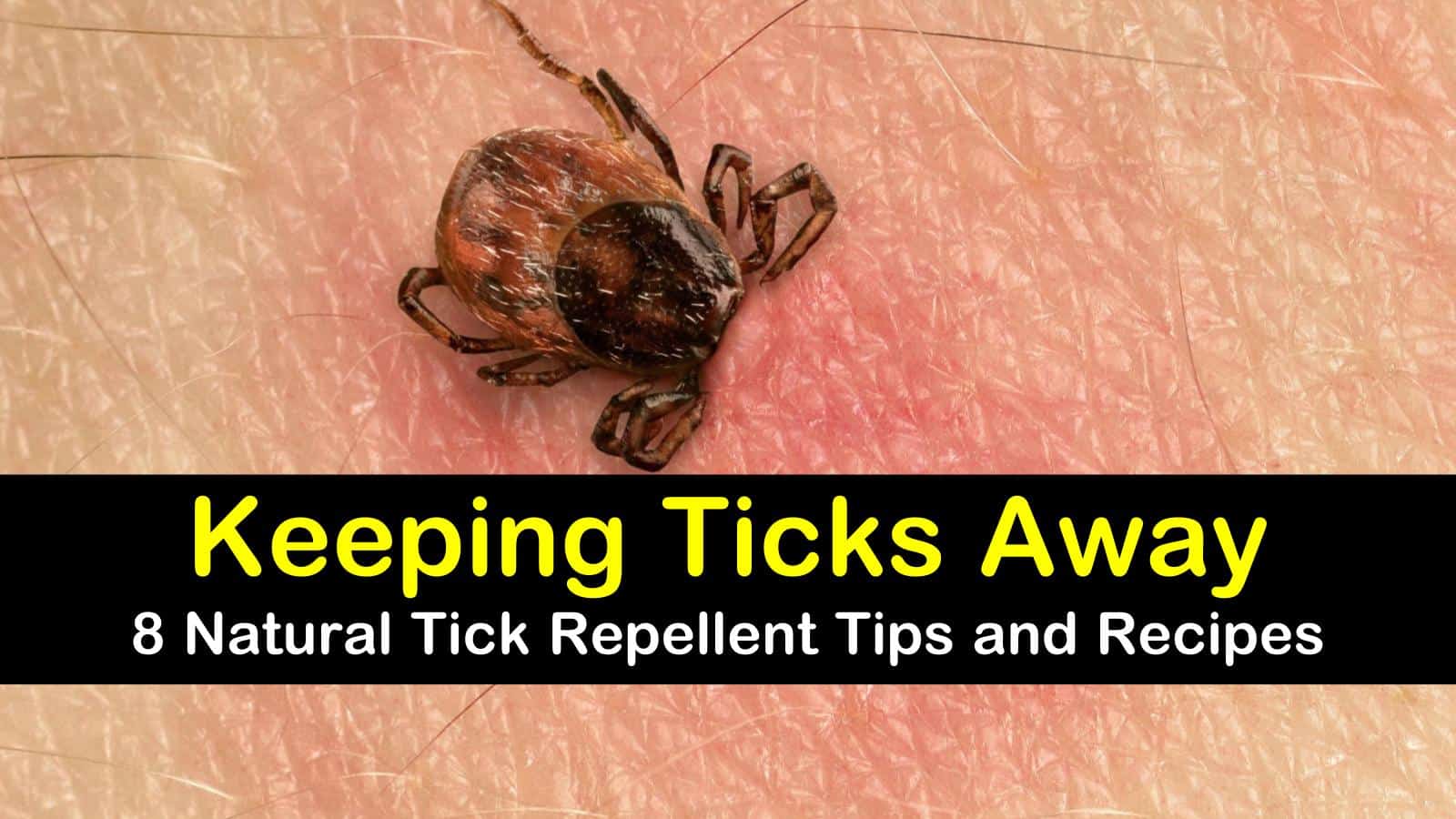 1. Natural Tick Repellent for Humans 
Essentials oils are some of the best active ingredients for tick repellents. You can use catnip, lemon eucalyptus, or geranium essential oil as part of your DIY tick repellent recipes.
Essential Oil Tick Repellent Recipe

250 ml lotion
20-30 drops of essential oil 
Spray bottle
Mix essential oils and cream. Add to a spray bottle and store in a cool, dry place. You can spray this directly on your skin to prevent tick bites.
2. Apple Cider Vinegar as a Natural Tick Repellent for Dogs 
Vinegar can be used to kill ticks on your dog. Apple cider vinegar does not instantly kill the insects, but it helps to remove them. You can use it as a spray, add to their drinking water, or put it directly on your dog's ticks.
Homemade Repellent Using Apple Cider Vinegar 

A cup of water
A cup of apple cider vinegar/white vinegar
Spray bottle 
Cotton balls
Tweezers
For spray use, combine water and vinegar in an empty spray bottle. For drinking water, add a teaspoon of white vinegar or apple cider vinegar to your dog's drinking water to prevent future tick bites.
For direct use, pour distilled vinegar into cotton balls and rub it down on your dog's ticks and then pull the ticks with tweezers. The usefulness of vinegar is endless. You can even use this to repel mosquitoes naturally.
3. DIY Tick Repellent for Dogs
Witch hazel is a fragrant shrub that can also be used as a tick repellant. Get better tick prevention by adding peppermint oil into the mixture as it gives off a strong scent that most insects hate. This is only one of the many uses for peppermint oil. 
Witch Hazel Tick Repellent Recipe

Peppermint oil
Witch Hazel
A cup of water
Spray bottle
Add ingredients to the bottle and shake well. Prevent ticks during tick season by spraying this mixture on your dog. Be sure not to spray in the eyes of your pet. Uses for witch hazel include healing mosquito bites, as well as dealing with ticks. 
4. Keeping Ticks Away with an Essential Oil Mixture (for clothes/humans)
Most insect repellent is applied to the skin. This solution is used on your clothes instead.
Essential Oil Mixture Tick Repellent Recipe

2-5 drops Lavender oil
2-5 drops Lemongrass oil
10 drops Rose geranium oil
2-5 drops Eucalyptus oil
2-5 drops Cedar oil         
A cup of water
Spray bottle
Mix the oils first and then add to water in a spray bottle. Shake well to distribute all ingredients. Spray it on your shoes and clothes. 
5. Keeping Ticks Away with Distilled Vinegar & Almond Oil (for dogs)
Ticks hate the taste and smell of vinegar and almond oil contains sulfur which is excellent for preventing tick-borne diseases. Say goodbye to dog ticks with this natural tick repellent.
Distilled Vinegar & Almond Oil Tick Repellent Recipe

A cup of water
2 cups distilled vinegar
2 tablespoons of almond oil
Lemon juice
Spray Bottle
Pour water, vinegar, and almond oil in a spray bottle and add a squeeze or two of lemon juice. Shake well. Apply to your dog to repel insects like the Lone Star tick and black-legged tick.
6. Keeping Ticks Away with Dried Rosemary (for dogs, clothes, and humans)
Rosemary, a woody, fragrant herb that's part of the mint family, is one of the best plants to repel mosquitoes and ticks.
Dried Rosemary Tick Repellent Recipe

1 Ounce dried rosemary
4 Cups of water
Strainer
Vinegar
Boil the water and add rosemary. Stir gently, cover with a lid, and let it steep overnight. Remove the leaves with a strainer and then add at least one tablespoon of vinegar. After you have mixed all ingredients thoroughly, add to a spray bottle. Spritz this natural tick repellent on your pet's body and your skin and clothing.
7. Keeping Ticks Away with Garlic (for pets/humans)
Aside from providing excellent health benefits, garlic also offers tick control as it excretes scents that ticks don't like. Sometimes, what you eat every day can also be the best natural tick killer that works.
Garlic Tick Repellent Recipe

3 ounces finely minced garlic
1 tablespoon mineral oil/coconut oil
Tap water
1 squirt dish detergent
Empty mixing bowl
Soak the garlic in the oil overnight. Use garlic oil, instead of raw garlic to make this process a little easier. Add tap water to a spray bottle with dish detergent and the garlic and mineral mixture.
Shake well before using. If you like eating garlic, ticks might just avoid you during tick season!
8. Keeping Ticks Away with Tea Tree Oil (for dogs/pets)
The tea tree and its oil have antibiotic and antiseptic elements. It is useful in fighting fleas and ticks while helping the EPA in protecting the environment, as well as the CDC for disease control (..).
Tea Tree Oil Tick Repellent Recipe

A few drops of tea tree oil
A cup of warm water
Combine tea tree oil and water. Pour a liberal amount of this homemade repellent to your pet's shampoo. Use this pest control trick at every bath, and you'll see dog ticks fall off.
Natural Tick Repellent for People with Health Problems
Humans who have respiratory illness or skin sensitivity may not be comfortable using specific ingredients. Eucalyptus oil is widely used for individuals with respiratory problems and does not harm sensitive skin. The CDC also promotes these natural ingredients for both pets and people.
Natural Ingredients to Repel Ticks

Essential Oils
Apple Cider Vinegar
Witch Hazel
Lavender/lemongrass/rose geranium/eucalyptus/cedar oil
Distilled Vinegar & Almond Oil
Dried Rosemary
Garlic
Tea Tree oil
Conclusion
Natural tick repellent is more than protecting your clothes. Using natural methods like essential oils and growing the best plants to repel mosquitoes and ticks are highly effective. Homemade tick repellent for the members of your family, as well as dogs and other pets, can also help you safeguard everyone at home.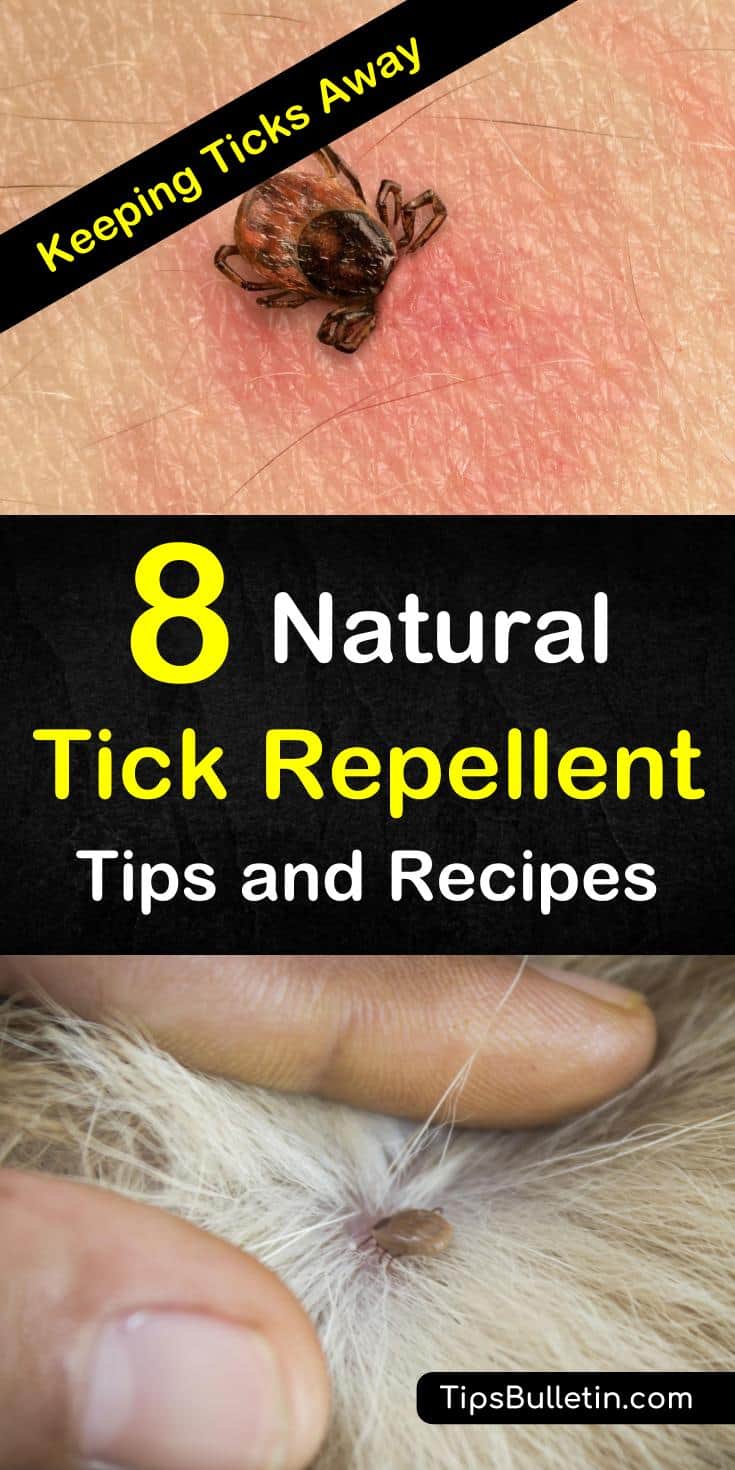 Spread the word! Feel free to share these homemade natural tick repellent hacks with friends and family on Pinterest, Facebook, and other social media sites.