Insect encounters can be incredibly freaky, painful, and life-threatening, especially for those who have a sensitive immunologic reaction to insect stings. These insects include hornets, fire ants, bees, yellow jackets, and wasps.
For this reason, many people look for ways to prevent wasps from nesting in various places or cavities, as well as stopping them from populating and invading homes.
Although there are many products on the market like commercial wasp traps, wasp deterrent, and wasp control sprays, that are designed to keep the wasps away, there are still many adamant individuals and homeowners who prefer not using harmful chemicals. Instead, many people resort to using a natural wasp repellent.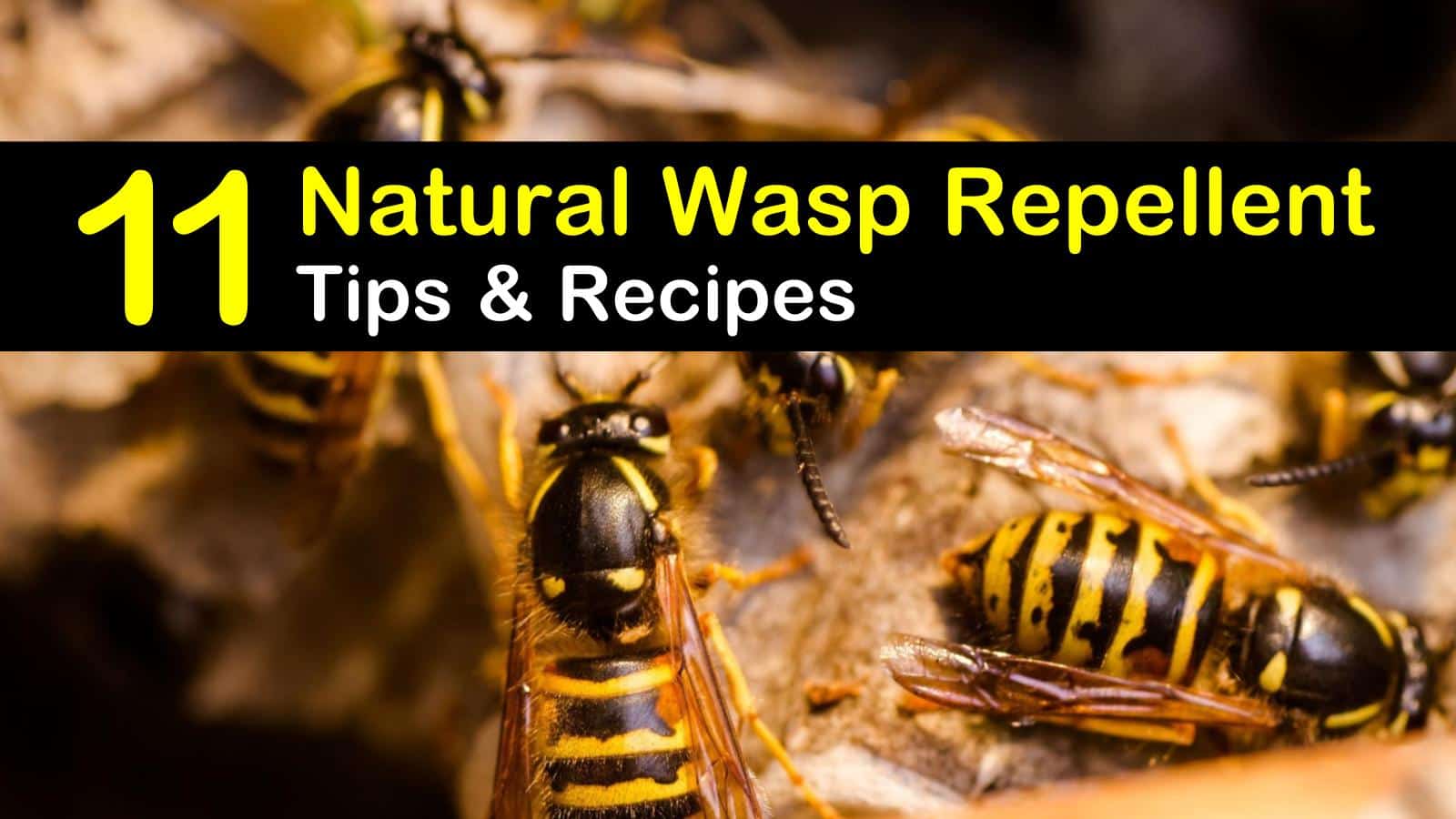 How to Repel Wasps and Make a DIY Wasp Repellent
Here are some of the most common and effective ways to repel aggressive and predatory wasps that includes tips and tricks to make your homemade wasp repellent.
The ingredients are easy to find, and the tips are simple; you won't even need expensive protective clothing to set them in your house or yard. Get rid of a red wasp nest or other types with these easy solutions.
Seal Wasp Entry Points
The first and best line of defense against wasps is to get wasps out of your place of residence — your home. A solitary wasp appearance in your home may not pose a significant threat at first, but if you see wasps appear daily, it may indicate that they are building their wasp nest inside your home.
Remove Wasps Food Sources
Always remember that wasps love foraging meats, sugary liquids, and other food products. If you want to minimize the number of wasps invading your home, your best option is to reduce their access to a source of food and water.
Cover serving dishes, clean up food scraps or dirty plates and keep trash bins covered. Also, do not leave moist pet foods exposed or faucets or drains dripping because these are good food sources for wasps that attract the worker wasps to come into your house.
Avoid Squashing and Swatting Wasps
Squashing and swatting wasps is not helpful at all. Why? Because it just makes the situation worse.
When a wasp is stomped or squashed, a chemical inside the wasps called a pheromone is released. This pheromone attracts wasps and invites those that are within the vicinity. In short, crushing one will bring more wasp troops.
Avoid Use of Bright and Floral Patterns as Well as Perfumes
It is best not to use bright and flowery patterns on tablecloths, curtains, and clothes. If so, you will only look like a big flower in the eyes of wasps, especially when they are all busy looking for nectar. Perfumes, on the other hand, lure wasps because of their pleasant smells.
Build Fake Paper Wasps Nest – The Best Natural Wasp Repellent Method
Fake nests trick wasps into believing that there are wasps already living in the area. If wasps think that the territory belongs to someone else, they will find a different place to build new nests, although it will be within a few hundred feet away.
Crumple a large brown paper bag and stuff it with crushed newspapers. Twist the open end of the bag and tape it shut with tape. Scrunch up the paper bag a bit more to mimic the natural shape of the wasp's nest.
Use the paper twine or string to hang your fake wasp nest. An artificial nest works because wasps are territorial and they will avoid the nests of other wasps.
Put Out Some Wasp Water Traps using Plastic Pop Bottles
If prevention strategies do not work against wasps, then a great recipe is to make a DIY wasp deterrent and traps, especially if the weather is dry or during early spring.
Considering wasps are attracted to sweet liquid, any sweet or sugary food will be the perfect bait for a wasp killer. And instead of buying a glass wasp trap, you can grab a pop bottle from your recycling and repurpose it as a plastic pop bottle wasp trap.
For one of the best home remedies to kill wasps, pour the sugar into a cup with warm water to make a sugar water solution. Then, using a knife, cut the large plastic pop bottle into two by cutting it just above the bottle's shoulder line.
Fill the bottom part of the pop bottle with the sugar water or fruit juice. Remove the lid from the other half of the pop bottle and push it upside down into the bottom half.
Once set up in a place where wasps frequent, they will fly right through the bottom hole and die. This trap also works to attract yellow jackets, so it is a two-in-one wasp and yellow jacket trap. Replace the liquid as needed.
Use White Vinegar to Strengthen Water Traps
Vinegar is a good bait for wasp traps and is a natural repellent for bees and wasps. It is also an effective deterrent to get rid of hornets and bees. Once the creepy crawlies get soaked in the vinegar, they will be unable to move out and eventually drown.
Make a water trap using pop bottles as directed on tip number seven. After pouring warm water and fruit juice or sugar liquid in the bottle trap, add a tablespoon of white vinegar to the solution.
Use Herbs to Repel Wasps
Wasps are not a fan of aromatic, strong-smelling herbs. Not to mention, herbs have no chemicals that can be harmful to health. If you want to try a non-toxic way repel various types of wasps, plant any of the following herbs listed below around your patio, backyard deck, or outdoor sitting areas.
Grow any of these wasp repelling plants and enjoy a wasp-free home and backyard. In addition to their ability to deter insects, they naturally give a refreshing fragrance.
Make Homemade Wasp Repellent
There are many natural ways to make a DIY wasp repellent, most of which include using wasp deterring plants and essential oil blends like peppermint oil.
Using essential oil blends as a natural wasp repellent is an effective way to keep certain insects like wasps, honeybees, flies, and spiders from ruining your insect-free house.
Essential oils are also an excellent yellow jacket repellent which makes this recipe a useful pest control option.
In one study publicized in the Journal of Pest Management Science, researchers reported that essential oils have active compositions that can repel vespid wasps. To make your homemade wasp repellent, gather the ingredients on the list and follow the directions.
Place the cotton balls in the jar and add peppermint oil to them. Strategically put your homemade wasp repellent in areas where wasps like to frequent and build new nests, like crevices, porch roofs, ledges, and other possible wasp entry points.
Use Chili Peppers
Chili peppers contain a chemical called capsaicin, which is what makes a chili pepper hot. The United States Environmental Protection Agency considers this chemical a natural biochemical pesticide (..). It was first registered in 1962 for use against insects and mites. It works by causing damage to insects' nervous system and cell membranes.
Pour chili peppers and water in the pot. Boil the mixture for two minutes and set aside to let it cool. Pour the mixture in a spray bottle and spray generous amounts wherever you want to have fewer wasps.
Make a Homemade Wasp Repellent using Essential Oils
Several essential oils repel worker wasps, hornets, and bees. This means that you can use different essential oils to keep bees away and keep your yard free from all types of flying pests.
Combine with dish soap; these natural ingredients are sure to repel annoying wasps and yellow jackets. If you have different essential oils, make good use of them as DIY wasp deterrents.
Add all the essential oils and dish soap to a spray bottle. Put the lid back and shake well to mix all the ingredients. Spray your essential oil blend on surfaces where wasps frequent. This is the ideal solution for repelling bees and keeping them away from outdoor areas where humans interact.
Chemical Versus Natural Wasp Repellents
The most common mistake that a lot of people make is choosing potent products to kill wasps, believing that the product's strength determines how quickly it works and how many wasps they can repel and eradicate.
However, it is possible to control and prevent wasp encounters in your home while avoiding dangerous insecticides that can harm your family and your pets. End your wasp problem and avoid wasp stings by trying one or all of the tips included in this article. The recipes only use natural ingredients, and all of them are proven effective.
If you encounter a wasp infestation, it may be best to contact a professional. Don't attempt removal if you or a family member is allergic, as potential consequences could be deadly.
Recipe for Natural Wasp Repellent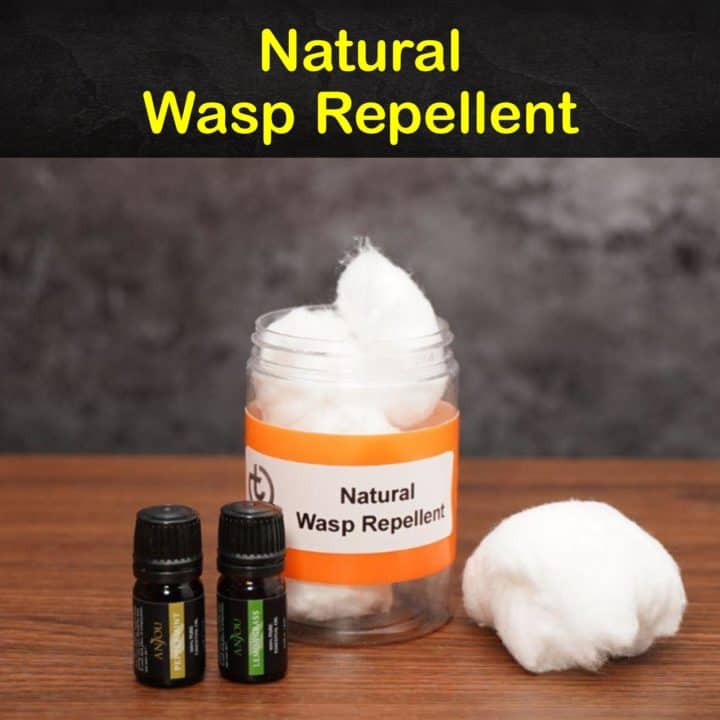 Natural Wasp Repellent
The organic solution to a wasp problem.
Instructions
Add the cotton to the jar.
Drip 3 drops of lemongrass essential oil on each cotton ball.
Place the oil-dampened cotton in locations where wasps are a problem.
Replace after the scent fades.
Notes
Substitute peppermint essential oil for lemongrass, if desired.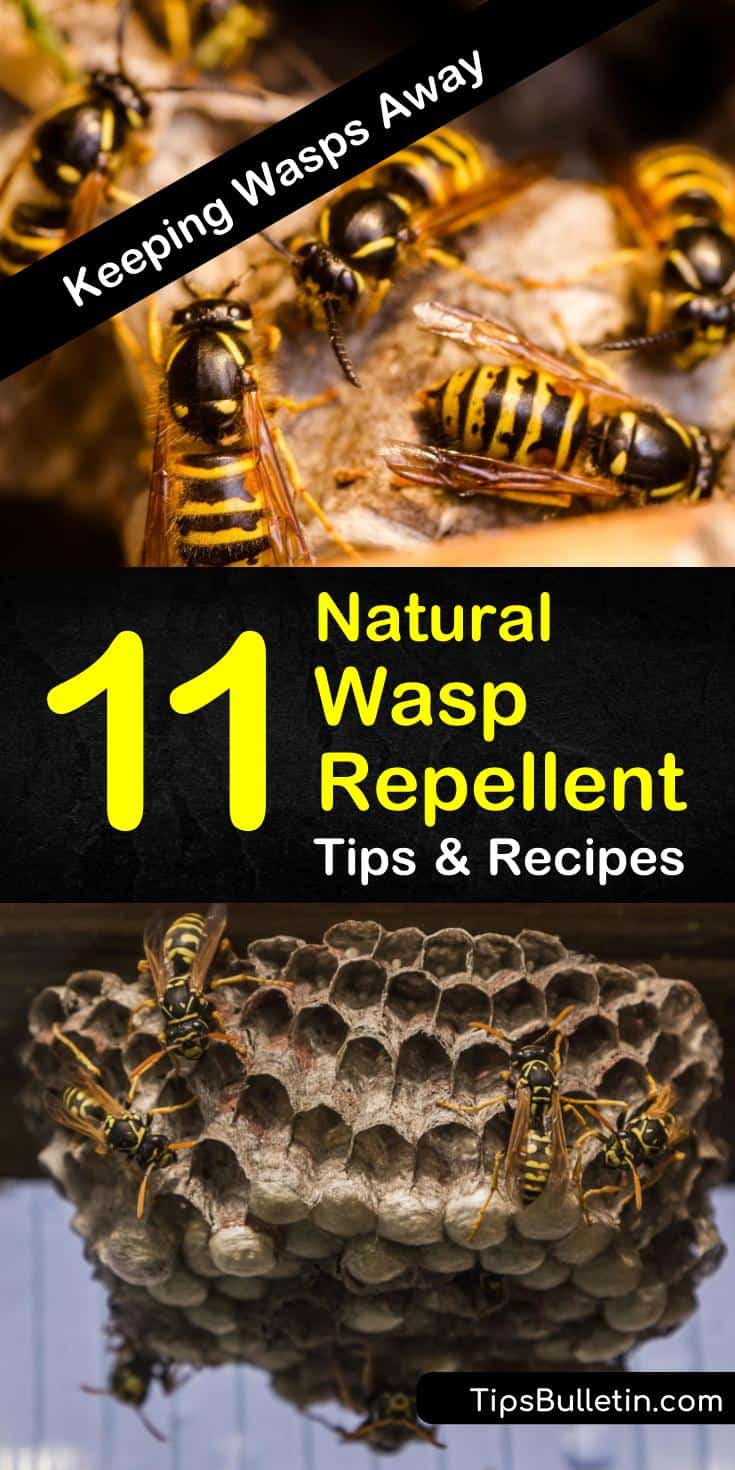 We hope you found our pest control tips helpful. Please share these wasp repellent tricks on Facebook and Pinterest to help others who may be having trouble getting rid of wasps.