Are you looking for a non-invasive plant to add both beauty and structure to your yard? Ornamental grasses have an appeal that is unmatched by other plants like flowering annuals and foliage perennials. Many non invasive grasses fill the appropriate spaces with charm without taking over your yard.
The first idea many of us have when thinking about grass is a lush green lawn that requires weekly mowing. However, other grasses are not only attractive but non-invasive.
These grasses are ornamental in style and growth and are both beautiful and easy to grow. Non-invasive grasses are useful for various fashions, including a backyard focal point, garden border, or natural screen and hedge.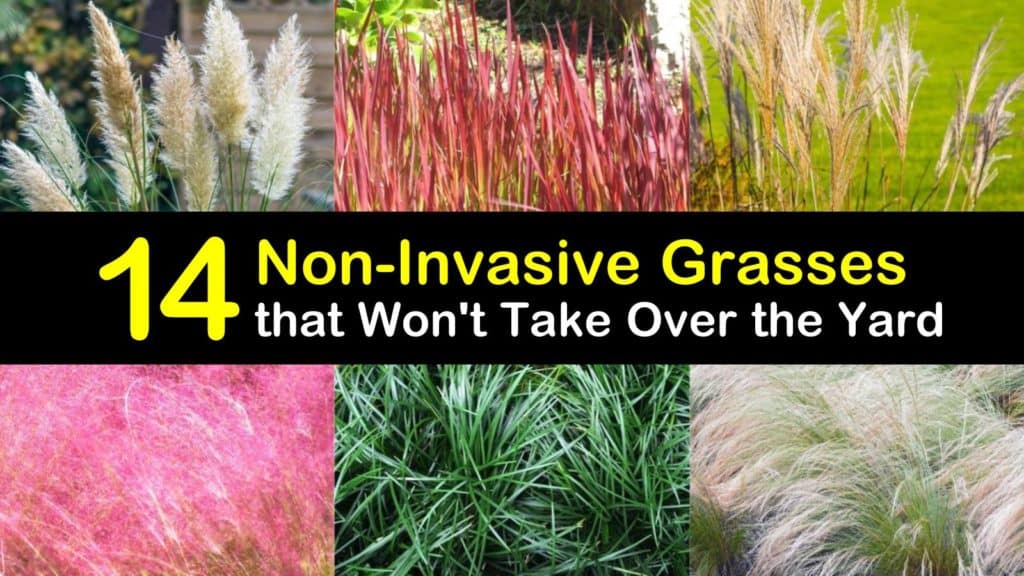 Landscaping with Non-Invasive Grass
Grasses come in such a variety of colors, sizes, and textures, that it's easy to find the perfect grass to meet your landscaping desires, whether you grow these decorative grasses for shade or sun.
Growing ornamentals is easy. However, there are several things to think about when choosing the right grass for your yard. We'll help you answer a few critical questions and provide you with a list of our favorite ornamental grass that stays where you want them.
No one wants to have to get rid of quack grass or other invasive grasses that can quickly take over a yard. Make your selections carefully and you'll enjoy a beautiful display.
Are there Different Types of Grasses?
There are three main categories of grasses based on the structure of their roots. Creeping grass has long rhizomes and quickly spreads through areas, forming large colonies. Many of these grasses are invasive plants and should be avoided when planting in a structured yard.
Clumping grass grows in dense tufts and spreads in diameter over time but is easy to manage by dividing. They are a slow-growing grass that is an excellent choice for creating an ornamental garden.
Finally, there are sod-forming grasses that have short rhizomes that are not considered invasive. They have a tuft appearance but are less dense than clumping grass, and while they do grow outward, they are easy to control.
How to Tell if the Grass is Invasive
It's essential to determine if the grass is invasive before purchasing it from the garden center. Inspect the stems of the potted plant for shape and growth. Stems that form a small and dense clump are considered clumping grass.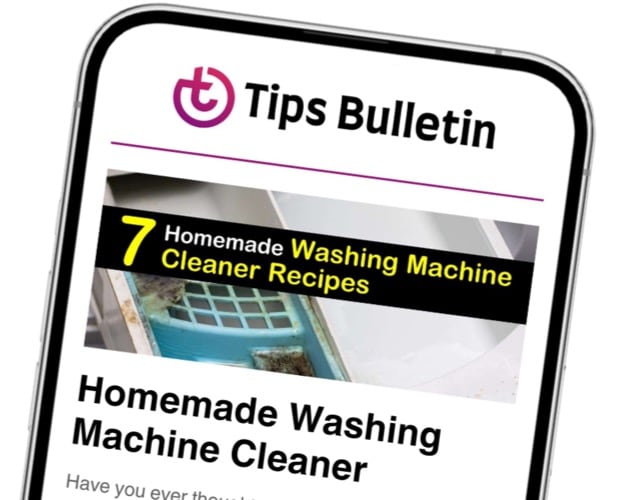 Finally, an email that Transforms Your Home.
Get the latest home and garden tips from our experts, delivered straight to your inbox.
If the stems are close together but do not form a tuft, it has short rhizomes. On the other hand, if the individual stems are separated and grow with structure, the grass is a creeper and probably invasive.
What Types of Grass are Non-Invasive?
Little bluestem is a tufted grass with short rhizomes and is a great choice for growing along the border of a garden. Fountain grass is a clump-forming grass that grows in a wide variety of sizes and colors and looks fabulous as a focal point in the garden.
However, some varieties of Sporobolus tend to be invasive and spread throughout the yard if left to their own devices.
Are Non-Invasive Grasses Hard to Grow?
Non-invasive grass is relatively easy to grow once you get the plant established. Choose plants that grow well for your garden conditions. Consider the amount of light your yard receives and match up the USDA hardiness zone of the plant to your area.
Water the grass thoroughly after planting and continue watering as needed throughout the growing season. Cut the plants back late in the winter to encourage new growth and divide them if the center dies out or they become crowded.
Feather Reed Grass (Calamagrostis x acutiflora)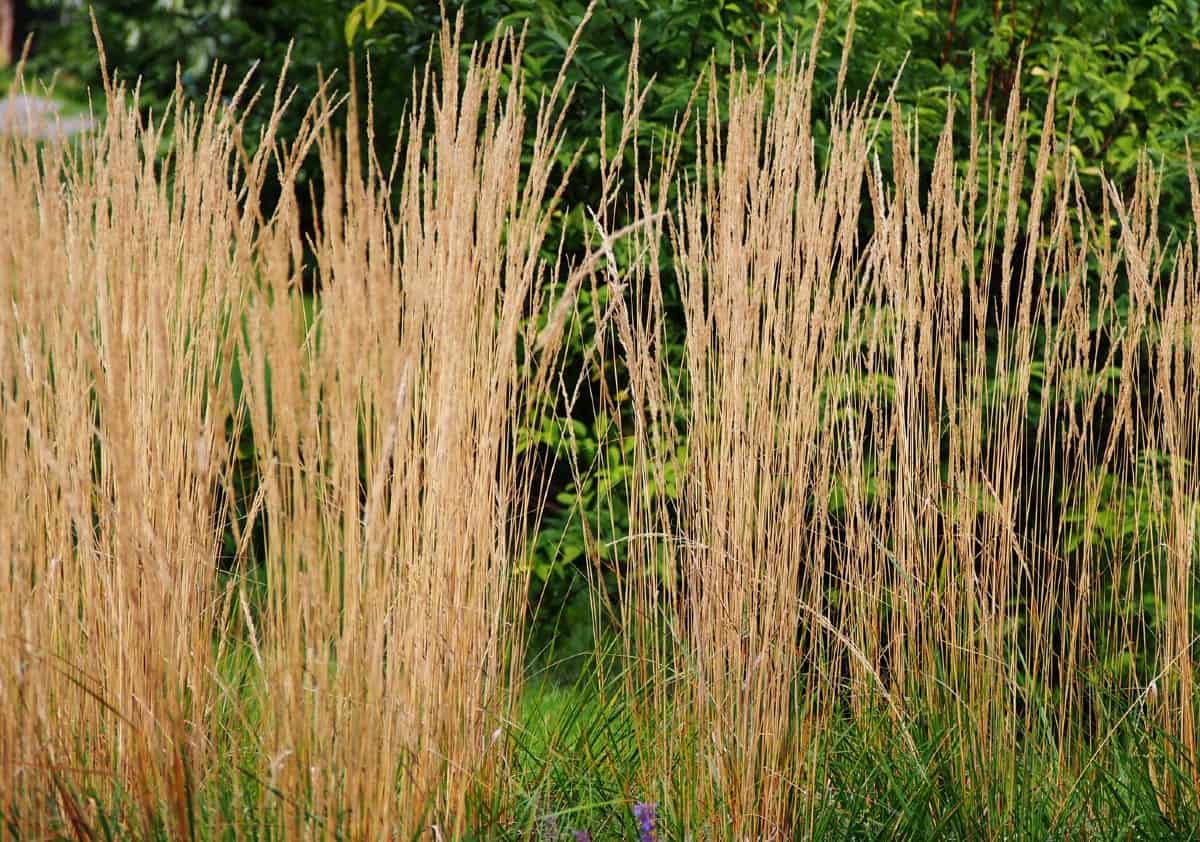 This clump-forming ornamental grass is a cool-season semi-evergreen that retains color in mild climates. They bloom early in the season and have a tall and upright form with foliage in green and greenish-yellow.
There are many varieties of this grass, including Karl Foerster and eldorado, and they all grow best in zones 5 through 9. Feather reed grass has a mature size of 4 to 6 feet in height and 2 to 3 feet wide and prefers full or filtered sun.
Switchgrass (Panicum virgatum) – Tough Non Invasive Grasses that Attracts Birds to the Yard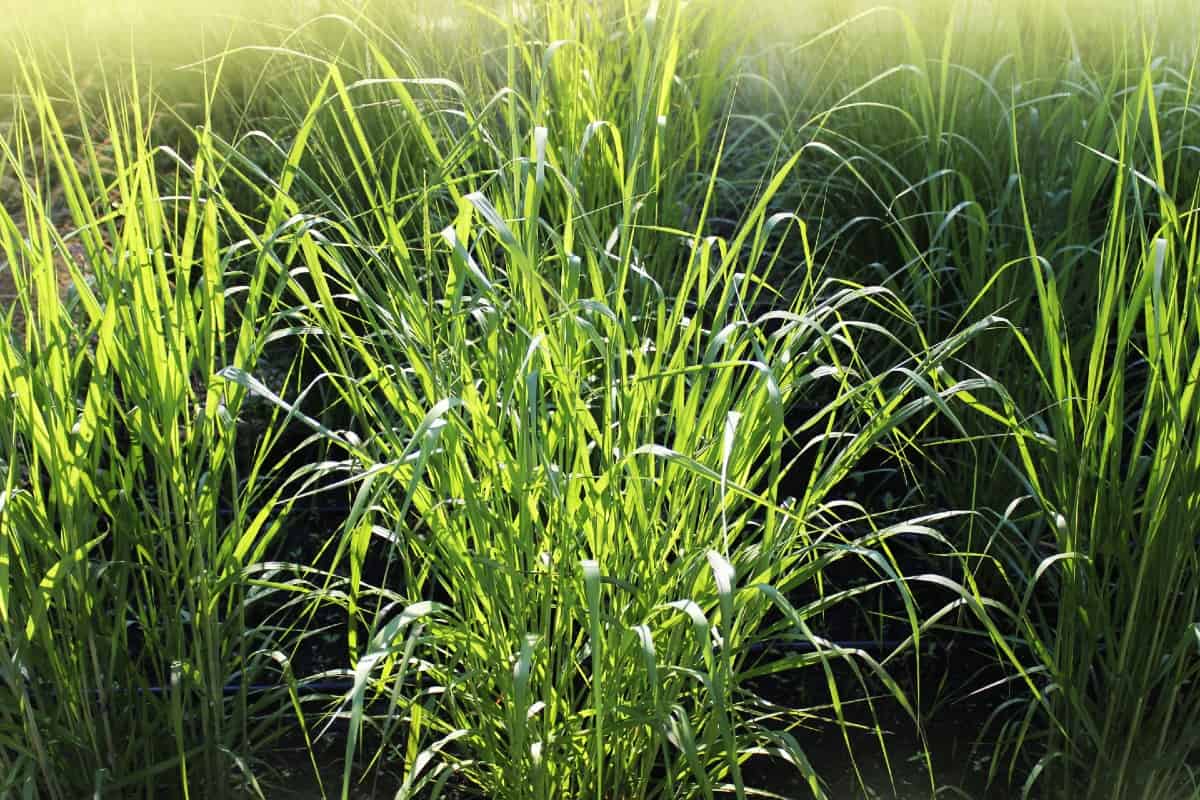 Switchgrass is one of the native cool season grasses in North America that provides seeds for the birds during the winter. It is a hardy grass that handles harsh conditions and offers columns of texture and color to the garden in blue/green and purple/burgundy.
This non-invasive grass is low maintenance, drought tolerant, and deer resistant. Switchgrass is one of the flowering grasses that grows in hardiness zones 4 through 9 and produces pink flowers from mid to late summer. This easy-to-grow grass grows 3 to 6 feet tall with a 2 to 3-foot spread.
Chinese Silver Grass (Miscanthus Sinensis)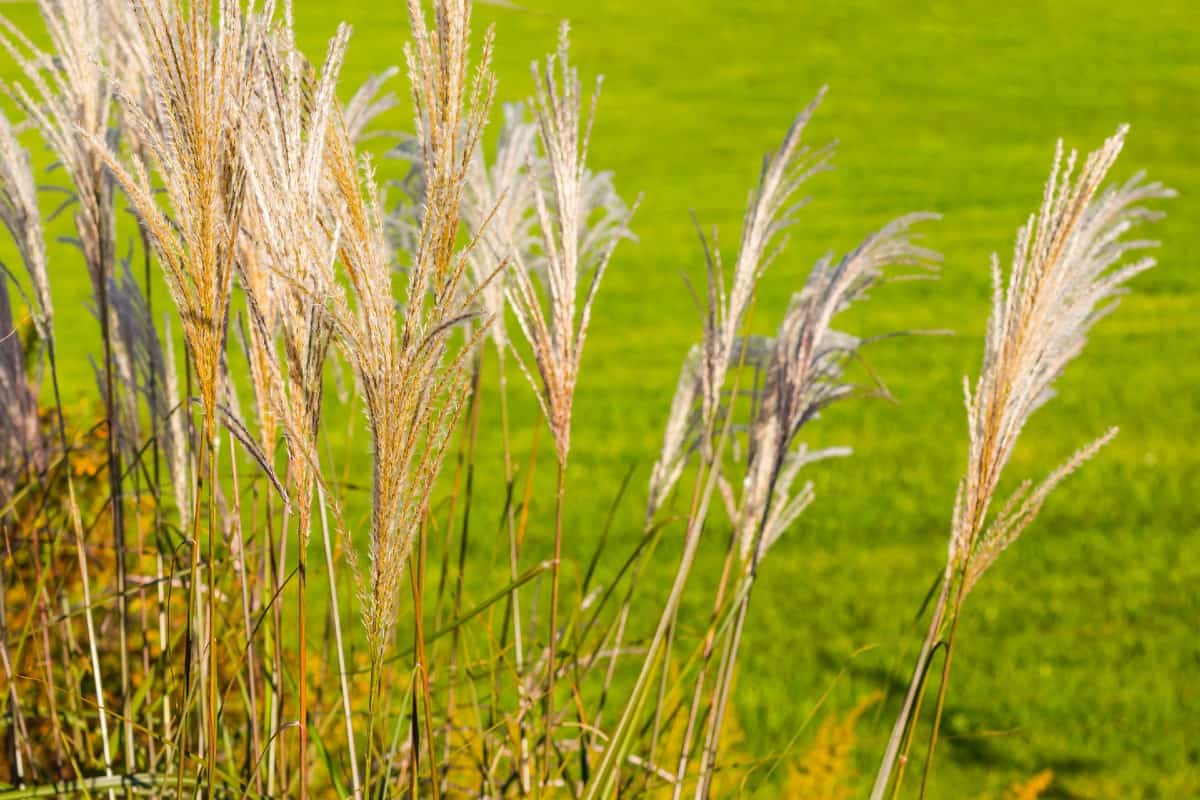 Also called maiden grass, Chinese silver grass grows in an upright and arching habit and produces attractive pink feather blooms that turn silver as they mature.
This grass looks lovely in a mixed border or container and provides the space with interest all year-round. Maiden grass is a tall and graceful clumping grass that has a mature size of 8 feet tall but varies but cultivator.
It is tolerant of dry and wet soil and is hardy in zones 4 through 9. This warm-season grass enjoys full sun and spreads by seed.
Pink Muhly Grass (Muhlenbergia capillaris) – Non-Spreading Grass with a Showy Flower Display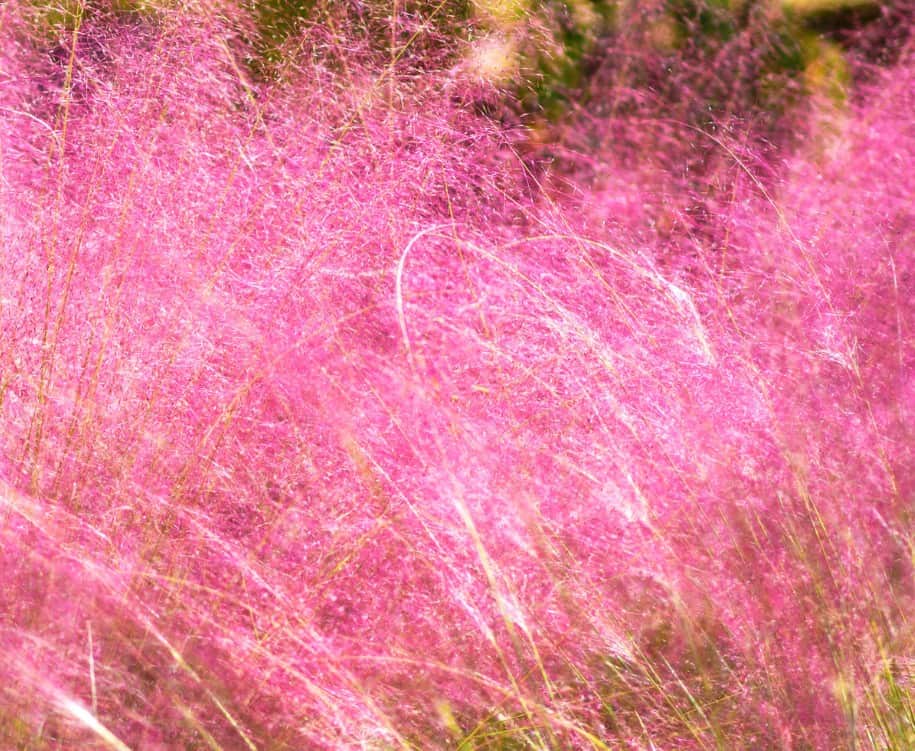 Pink muhly grass grows in an upright and slightly mounded form of fine foliage with sprays of pink flowers during the fall season. It is a warm-season grass that is most attractive in summer and fall.
This sun-loving plant grows best in hardiness zones 6 through 9. These coastal grass plants thrive in moist, well-drained soil but tolerate some periods of drought. Pink muhly grass grows 2 to 3 feet tall and prefers partial to full sun.
Mexican Feather Grass (Nassella tenuissima)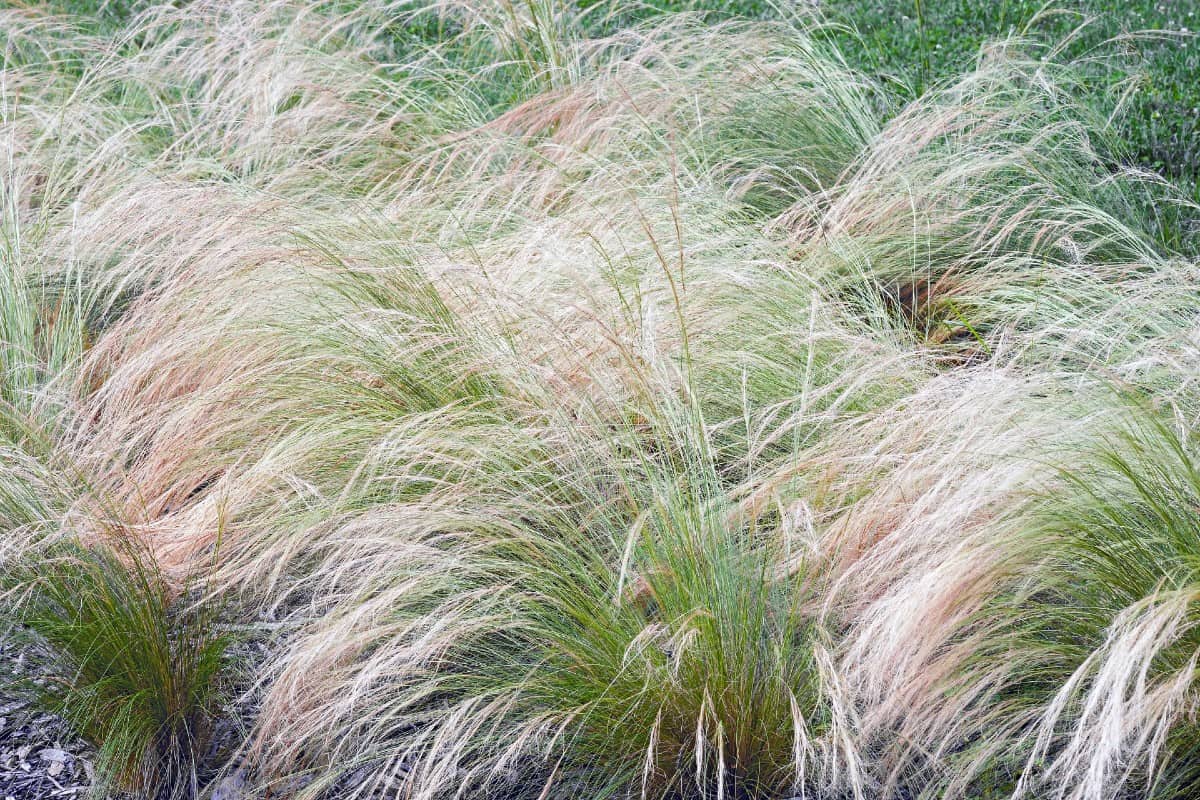 Mexican feather grass has semi-evergreen foliage with seeds that have a delicate, feathery appearance. In the right containment situations, this plant is a lovely addition to a space and looks stunning during a gentle breeze.
This low maintenance plant thrives in drought conditions and is hardy in zones 6 through 10. Mexican feather grass has a mature size of 1 to 3 feet tall and wide and loves part to full sun. This plant tends to have invasive growth in some areas, so check your locality before planting.
Pampas Grass (Cortaderia selloana) – Showy Ornamental Grass with a Big Statement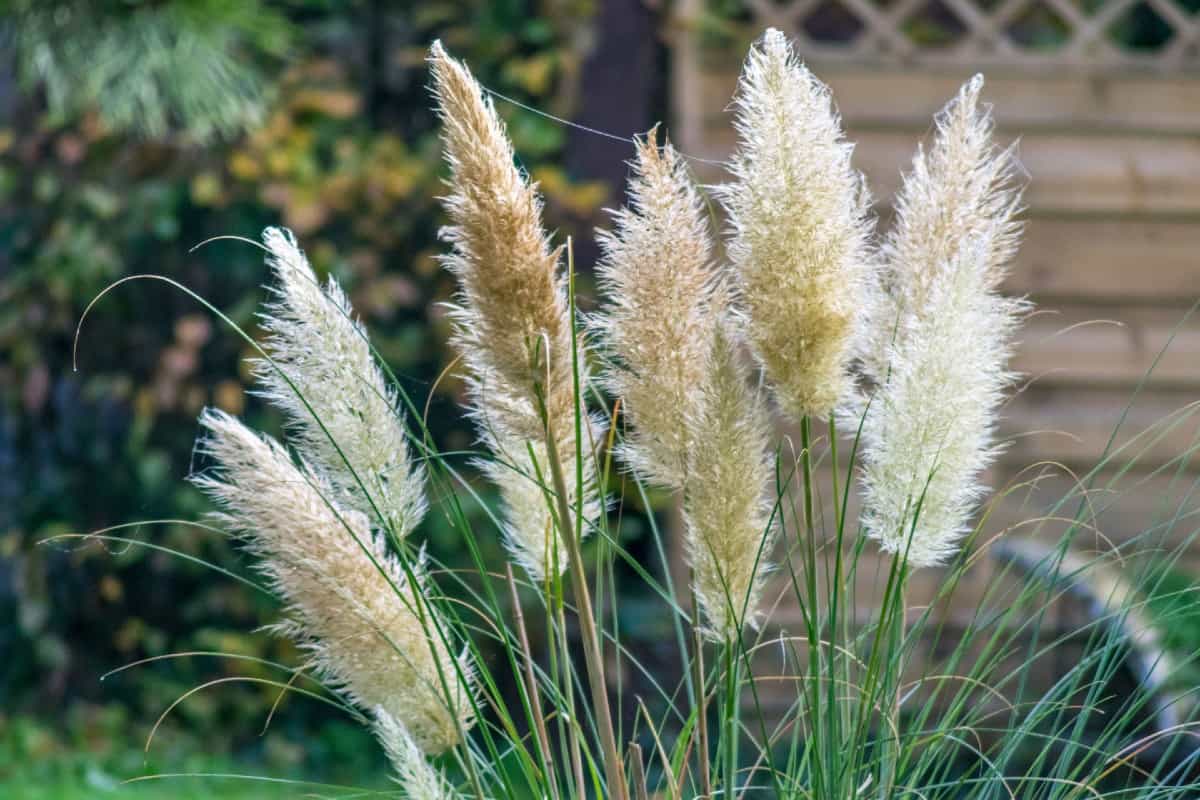 This large grass makes a bold statement in landscaping with its height and showy flowers. It has arching, gentle blades of grass, topped with white or pink flowers, and adds great appeal to the winter landscape.
This grass is invasive in mild climates such as California and Hawaii but is easily controlled in other regions. This accent plant is hardy in zones 7 through 10 and prefers sunny areas of the garden. Pampas grass grows 8 to 12 feet tall and spreads up to 6 feet.
Blue Fescue (Festuca glauca)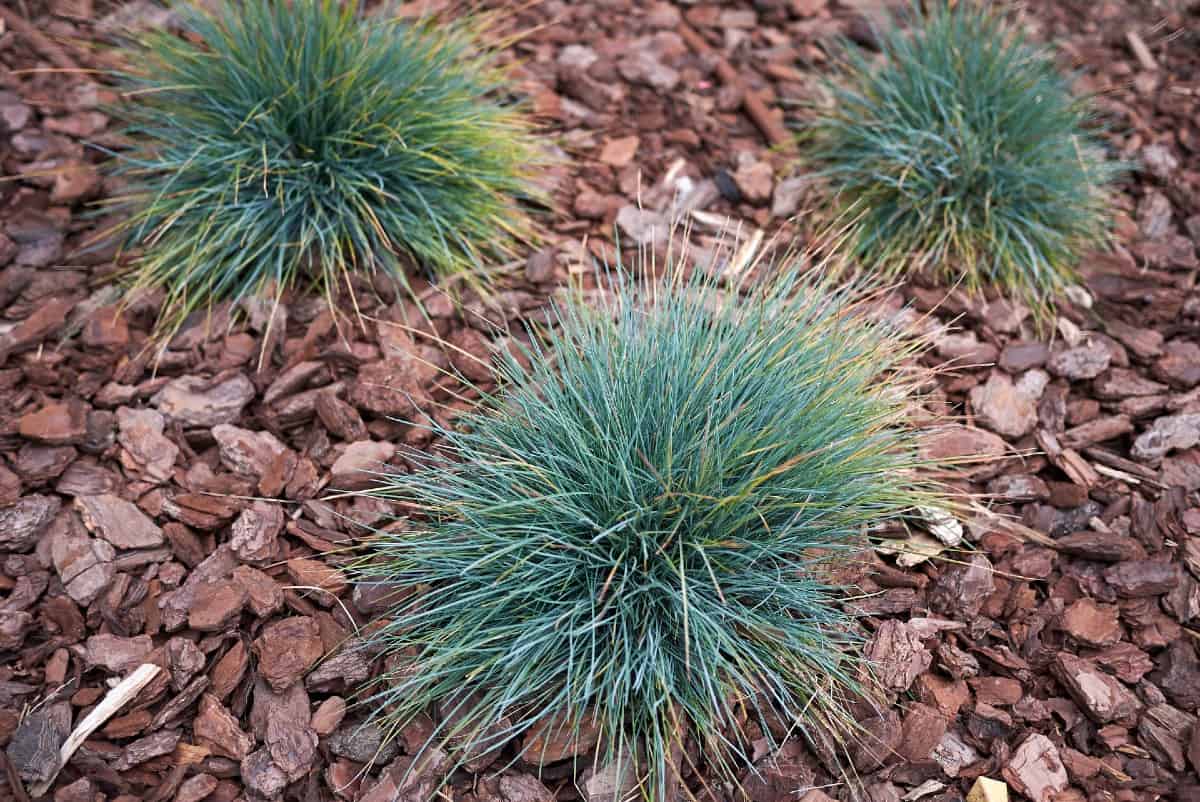 Blue fescue is the ideal grass for growing in gardens and yards that don't have a lot of room. This small grass has icy blue fine-textured foliage, pale yellow flowers, and a low growing habit of rounded mounds. It looks great as an accent plant or mass plantings throughout a rock garden.
This versatile perennial grass grows well in part or full sun areas of zones 4 through 8. Blue fescue is a perennial that grows 9 to 12 inches tall and spreads up to 9 inches. It is low maintenance, drought tolerant and deer resistant.
Green Fountain Grass (Pennisetum setaceum) – Tough Ornamental Grass with Flower Plumes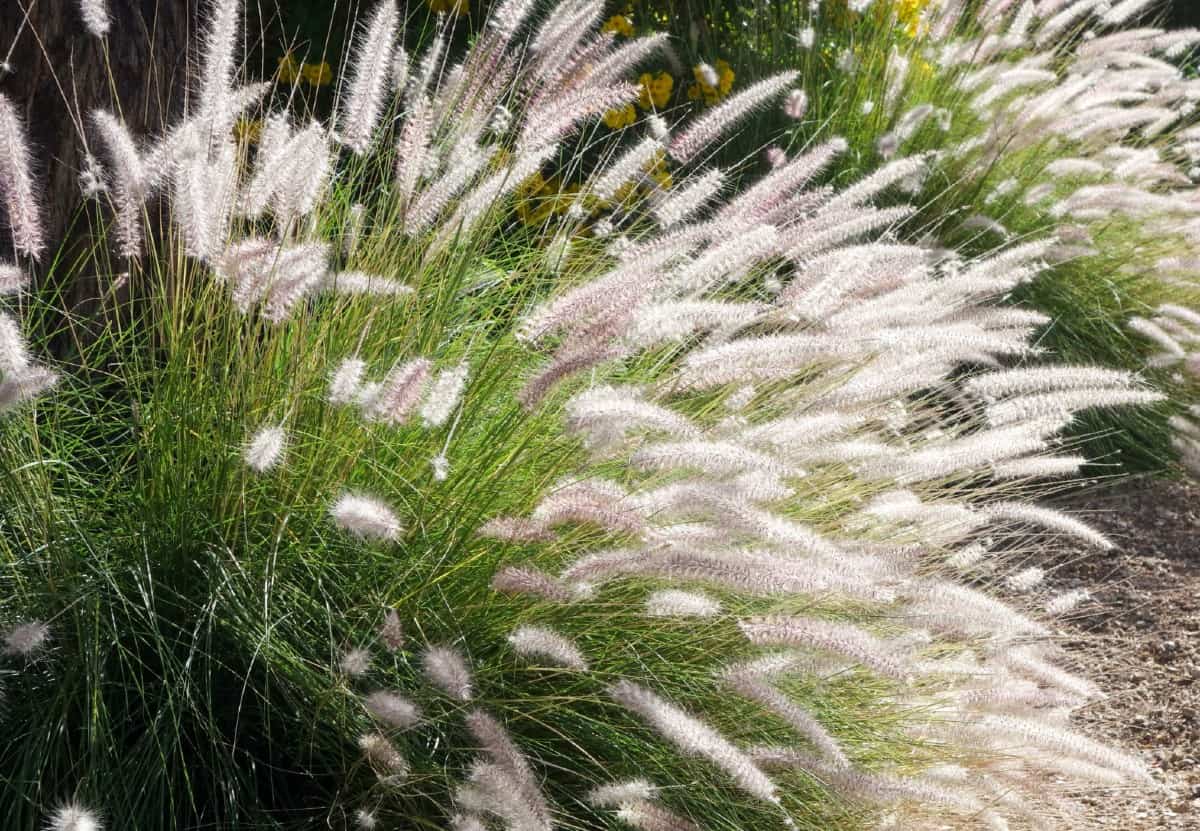 This robust and vigorous ornamental grass grows in a dense clump of green foliage and produces long fox-tail plumes of rose-tinted flowers during the summer. It brings other plants together in the garden and grows well as the border or focal point.
Green fountain grass grows in 4-foot, graceful clumps and loves sunny areas of hardiness zones 4 through 10. This grass has a high growth rate and is considered invasive in areas of California, but quickly managed other regions.
Japanese Sedge Grass (Carex morrowii)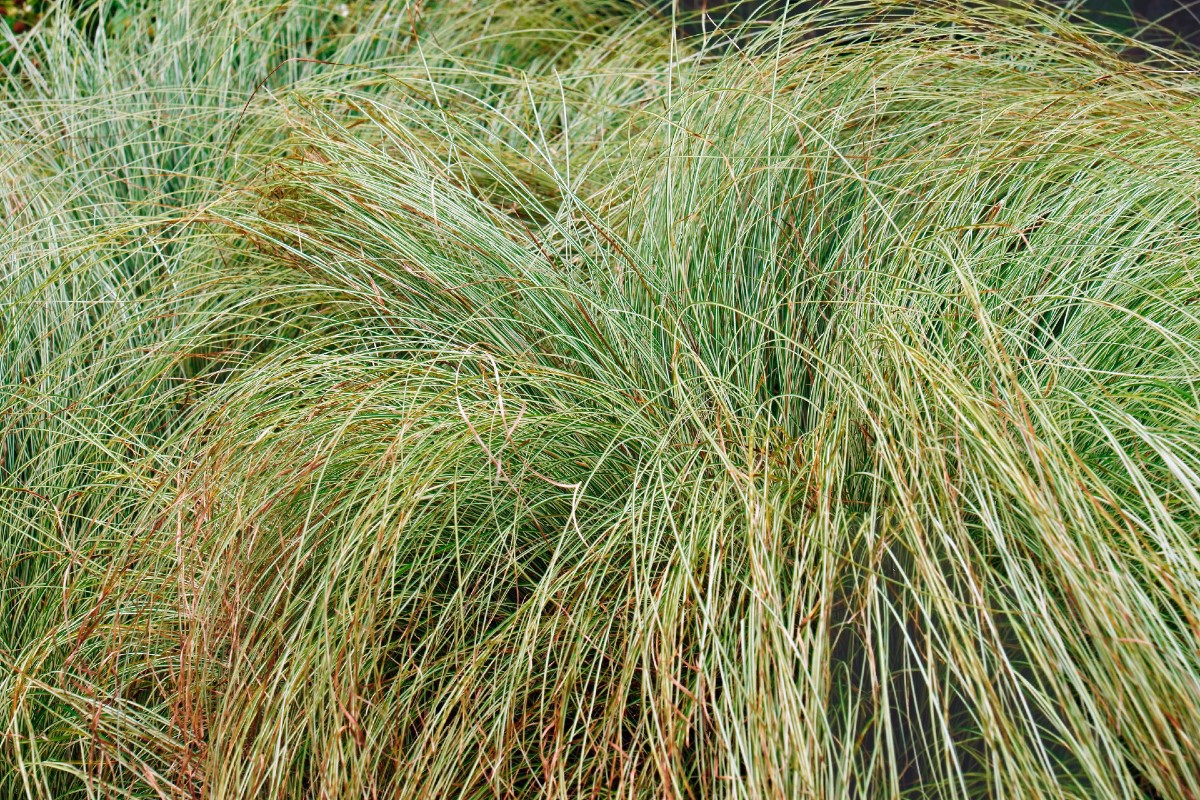 This semi-evergreen grass grows in a low, tufted mound of glossy, deep green leaves with white edges. It has an arching habit and produces brown flowers on tall spikes. This decorative grass is a slow-spreader that is easy to maintain.
Japanese sedge grass grows best in hardiness zones 5 through 9 and is tolerant of both shade and sun. This easy-care plant grows 1 to 2 feet tall and wide and is the perfect accent for borders, rock gardens, flower beds, and ground cover.
Tufted Hairgrass (Deschampsia cespitosa) – Part Shade Ornamental Grass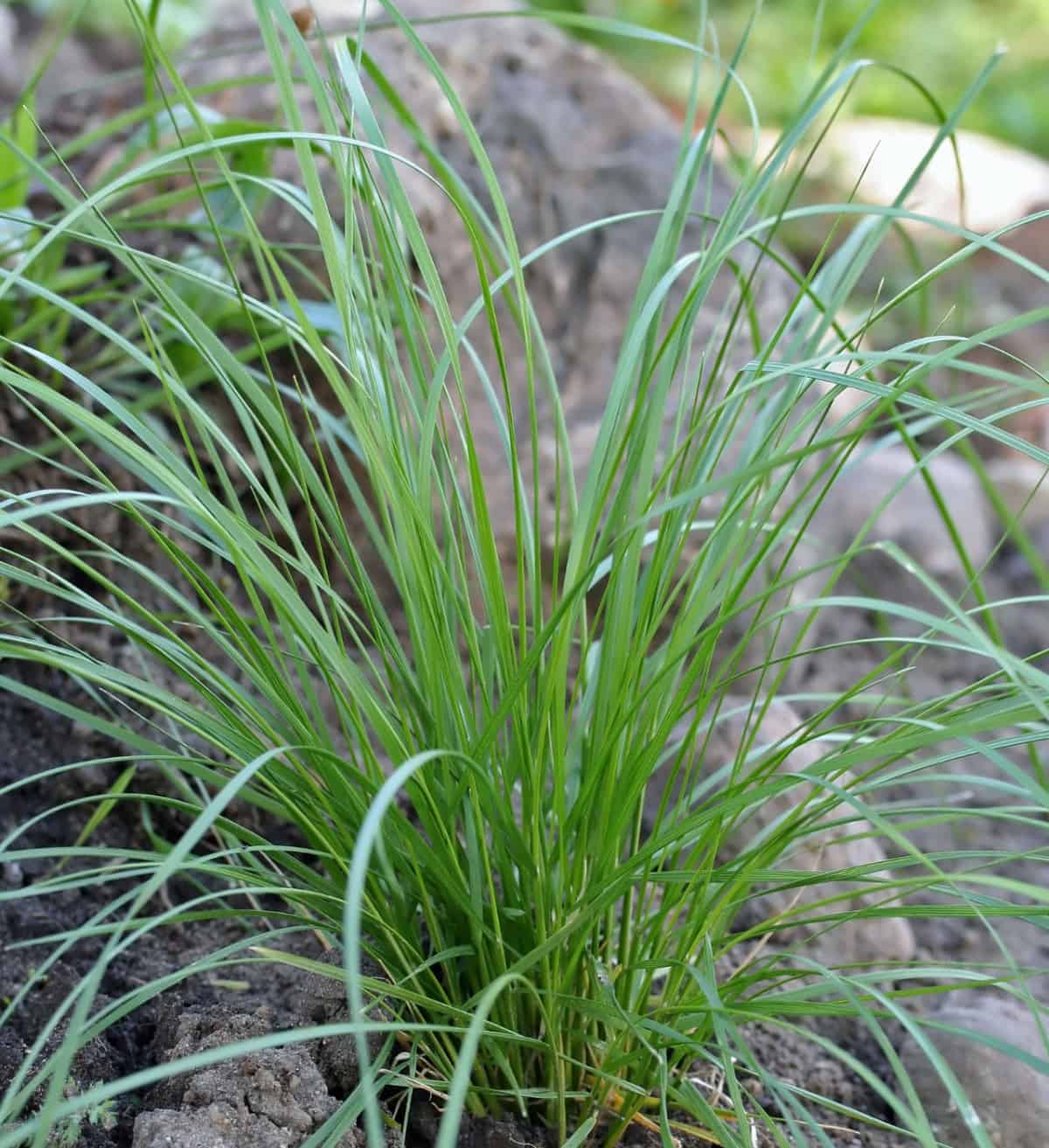 This decorative grass is one of the few ornamental kinds of grass that handle growing in part shade. It has a robust clumping form that adds texture to the area with its fine and narrow foliage. The blades are deep green or blue-green and produce purplish florets during the summer.
This cool-season grass is semi-evergreen in hardiness zones 7 through 9 but also grows in zones 4 through 9. Tufted hairgrass has a mature size of 1 to 3 feet tall and 1 to 2 feet wide and requires moist, fertile soil for optimal growth.
Dwarf Mondo Grass (Ophiopogon japonicus)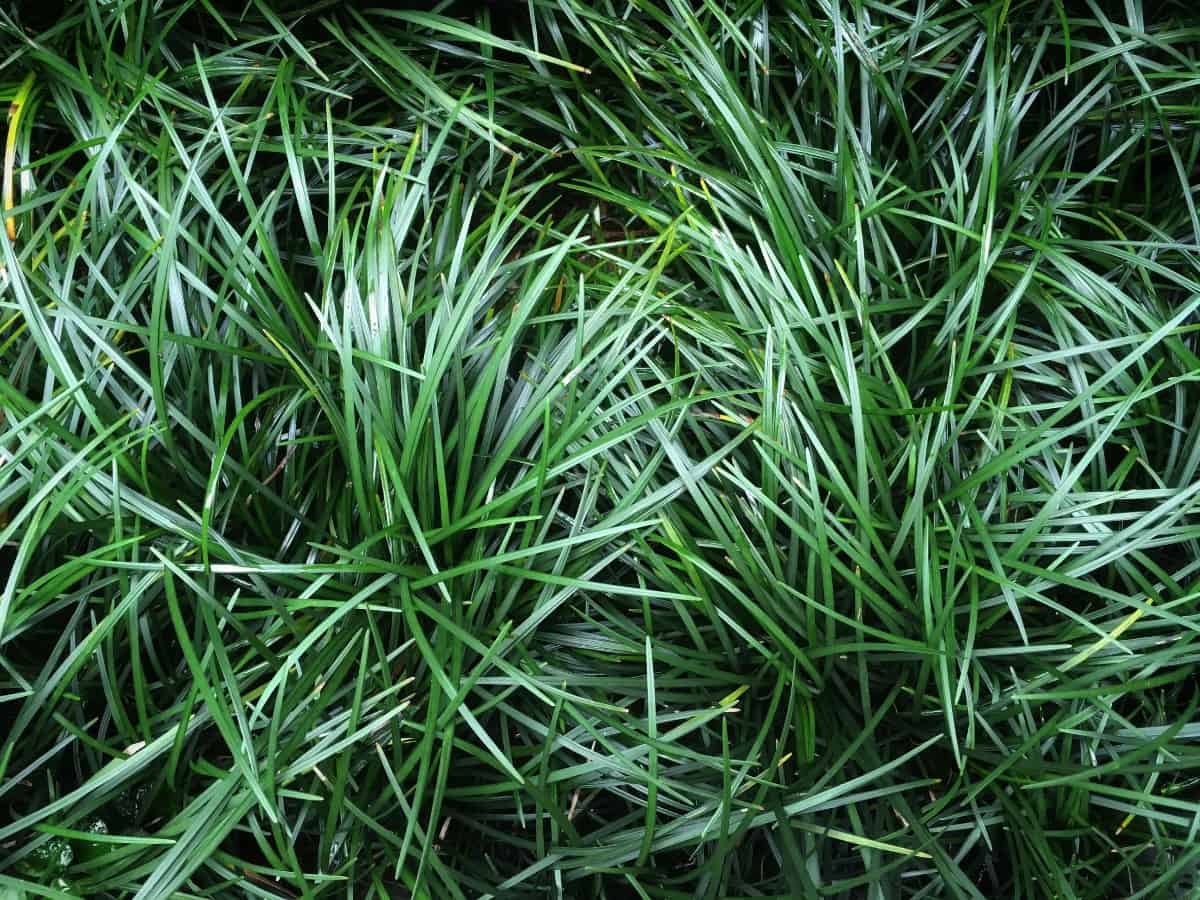 This grass is also called dwarf lilyturf, and a favorite for growing in a zen garden. It is a dense ground cover grass that grows in clumps of dark green and is excellent tucked into a rock garden or edging along a walkway.
Mondo grass grows up to 3 feet tall, but the dwarf variety grows half the size. It thrives in hardiness zones 6 through 11 and tolerates filtered sunlight. This easy growing evergreen grass is deer resistant and low-maintenance.
Japanese Blood Grass (Imperata cylindrica) – Non-Invasive Grass with Dramatic Flair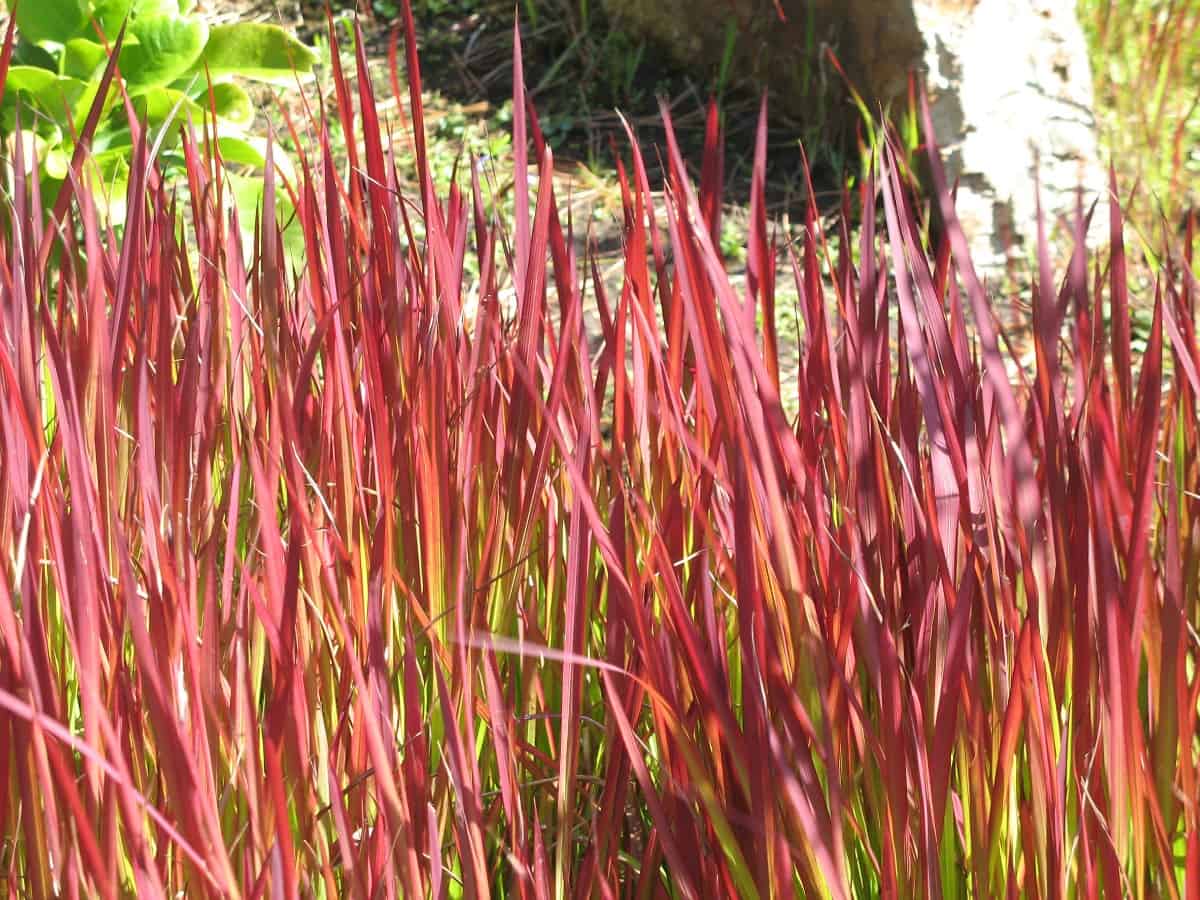 This accent grass adds drama and flair with its eye-catching red-tipped grass blades, striking in contrast to the lower green colors. The foliage intensifies in color as the growing season progresses, changing from mild to bright red.
Japanese blood grass is a showstopper in the garden, growing up to 2 feet in height and width. It is low maintenance, drought tolerant, and grows in both full or part sun. This accent grass is hardy in zones 6 through 9.
Dwarf Fountain Grass (Pennisetum alopecuroides)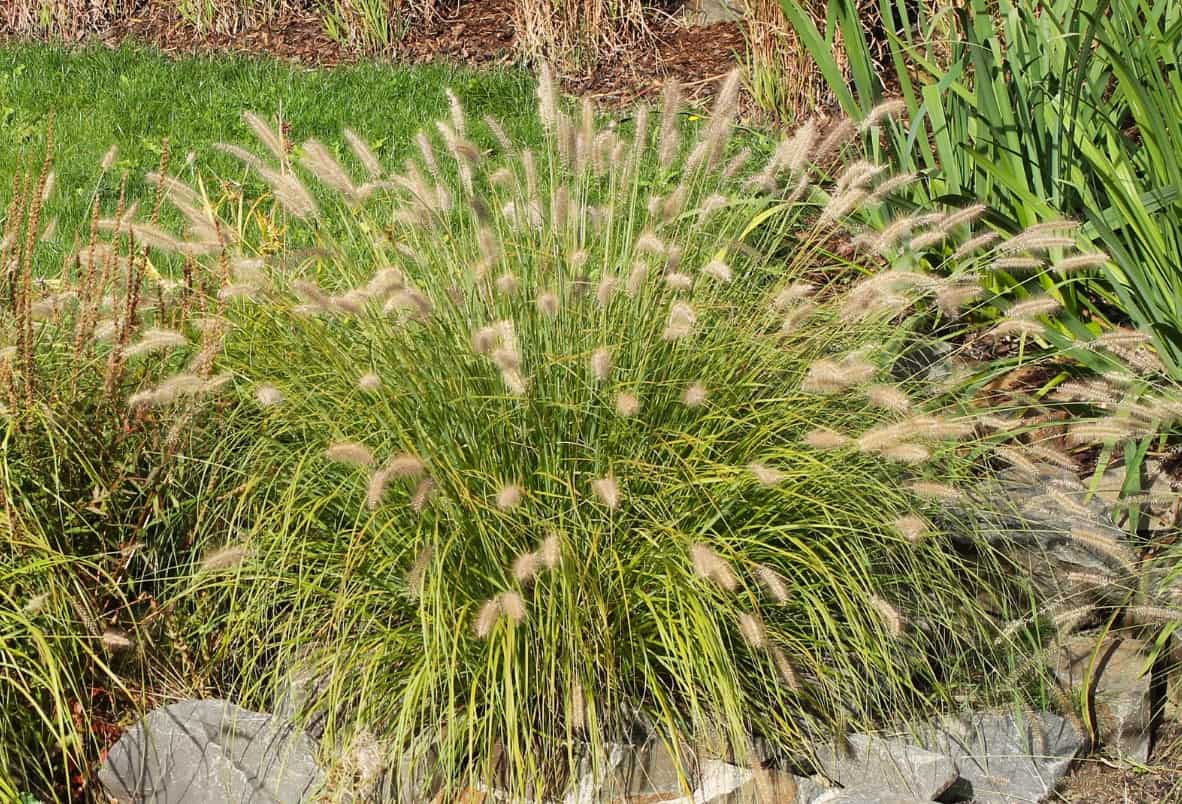 There are many types of dwarf fountain grass, and each has its unique style of growth and color. They have stunning textural contrast with their dark green blades, sometimes combined with red and fuzzy flower heads during the summer.
The typical size of these plants is 12 to 24 inches in height and width, and they grow in a compact rounded mound, with arching stems. Dwarf fountain grass grows best in hardiness zones 4 through 9
Purple Fountain Grass (Pennisetum setaceum rubrum) – Easy-Growing Grass with Drama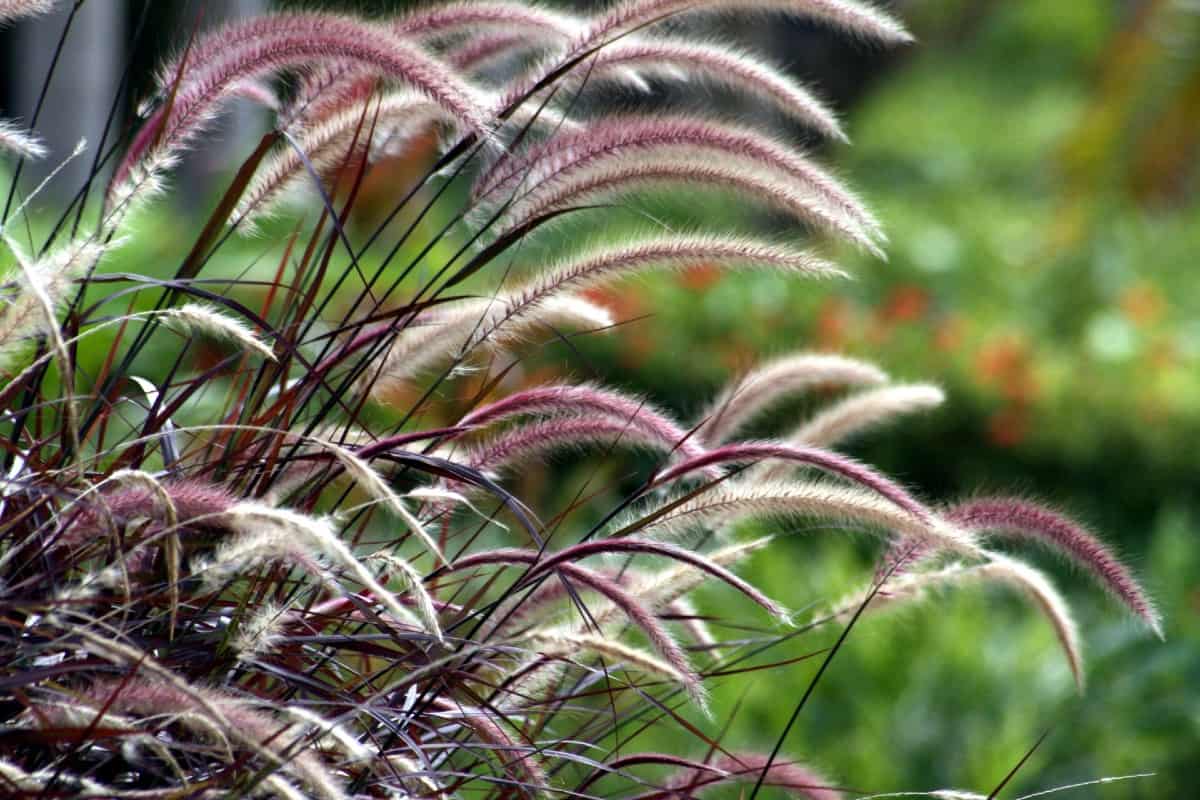 This stunning ornamental grass creates a dramatic statement in the landscape with its graceful and arching mound of narrow leaves, topped with feathery plumes of pink flowers from mid-summer through fall. The flowers grow up to 15 inches long and tan as they mature.
Purple fountain grass performs admirably in well-drained soil in sunny areas of hardiness zones 8 through 11. It requires very little care and has a mature height of 3 to 5 feet tall, with a spread of 4 feet.
Thinking that all grasses take over the yard and are a nuisance is a common misconception. Many grass varieties are not only non-invasive, but have visual appeal with their arching shape, colorful seed heads and flowers, and gentle swaying motions. These grasses are easy to grow and do not invade your yard.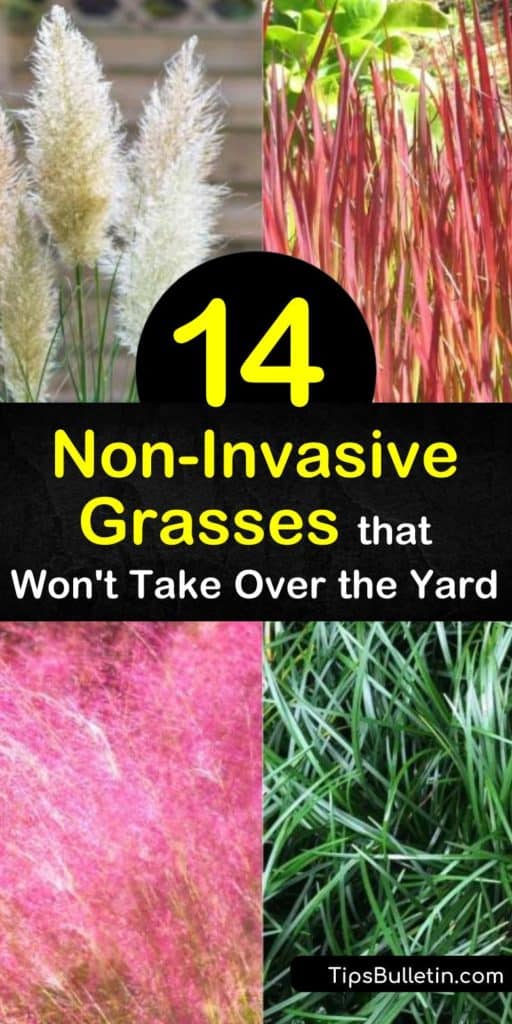 Creating a yard filled with beautifully arching non invasive grasses is a great way to add appeal to your landscape, so why not share our non-spreading grass guide with your family and friends on Pinterest and Facebook?