There is often much confusion when a recipe calls for spring onions, chives, shallots, leeks, scallions, or green onions, and you take a trip to the grocery store in search of the right ingredients. While they are all part of the allium family, there are differences between their flavor and texture. We discuss shallots vs onions, appearance and taste, health benefits, growing habits, and how to use them interchangeably in cooked dishes.
There are so many uses for alliums, and understanding which ones are ideal for tossing in salad dressings or adding to quiches makes all the difference.
White onions and chives are perfect for Asian dishes and stir-fry, leeks are the right choice for adding to soups, scallions are the ideal garnish, and shallots and garlic are tasty in a vinaigrette.
Differences and Similarities of Shallots and Onions
If you've ever stood at the produce bin at your local market sorting through an assortment of shallots or red, white, and yellow onions of various sizes trying to decide which one is the right one for a recipe, you know the struggle is real.
Besides their coloring, they all look relatively similar with their papery skin. So, is there much of a difference between them?
It's easy to confuse an onion for a shallot since they have a similar appearance, but there are some differences. Learn how shallots and onions differ and their nutritional benefits, ways to use them in recipes, and tips for growing them in the garden.
What's the Difference between Shallot and Onion Bulbs?
It's easy to mistake a small onion for a shallot since they look very similar. While they are both from the onion family, there are a few things that set them apart. What is the difference between shallot and onion bulbs, and are they interchangeable in recipes?
A shallot resembles an onion with an oblong shape. However, peeling the skin reveals cloves rather than rings you see on an onion. The flesh of shallots is usually creamy, and the skin ranges in color from golden brown to gray or red.
They have a milder flavor than white onion vs yellow onion bulbs and are slightly sweet with a hint of garlic. Grow shallots from sets or bulbs, and you plant them like you do garlic cloves.
On the other hand, the common onion grows as single bulbs, and peeling the smooth, papery skin reveals many layers and rings. They grow in varying sizes, from tiny pearl onions to softball-sized onions, and they range in color from deep purple to white.
Are red onions and white onions the same? There are a few differences, and onions have a more pungent taste than shallots. Each type has a unique scent, flavor, and appearance.
The yellow onion types are most common with their neutral flavor that is not too sweet or sharp, and they are the best onion to use when a recipe doesn't specify an onion.
Red onions are relatively mild and sweet and a good choice to eat as a raw onion, while white onions have a sharper taste and are better for cooking.
Leeks are the right choice for soups, and stews, or sauteed on their own. Use them whenever you would typically cook with onions.
Nutritional Values of Shallots vs Onions
We often think of an allium as merely a seasoning for food. However, the common onion and shallot contain many nutrients, and incorporating them into your diet is an excellent way to give your immune system a boost.
Here are the nutritional values of onions and shallots and how they benefit your health.
Both are excellent sources of vitamins, minerals, antioxidants, and plant compounds, but onions contain fewer calories than shallots.
Shallots have higher amounts of essential nutrients, such as fiber, vitamin B6, copper, folate, magnesium, and vitamin C, since they contain less water and are more concentrated. Both alliums have anti-inflammatory effects, lower blood sugar levels, and improve bone and heart health.
What's a Good Substitute for Shallots?
So, you discover a recipe that calls for specific ingredients, and you're looking for a substitute for shallots. Fortunately, there are several alternatives if your grocery store is out of shallots, and they are usually readily available at the market.
Cooked yellow onions are the best replacement for shallots since this type has the closest flavor.
If you only have white onions on hand, you may wonder about the difference between white onion vs yellow onion in a recipe. The flavor will be a little different but the substitution will work. Raw red onions, cooked or raw scallions, and cooked leeks are also options.
When substituting an onion for a shallot, it's important to remember that one does not equal the other. Instead, use a substitution ratio when replacing shallots with onions since they are so much smaller.
A large chopped shallot equals a half of a cup, a medium chopped shallot is a quarter of a cup, and a small chopped shallot is two tablespoons.
Substitutes for Onions in Recipes
While the yellow onion is a great substitute for shallots, are there any substitutes for onions? If you have a new recipe that calls for white, yellow, or red onions and you don't feel like running to the market, there are a few veggies that are suitable alternatives.
Shallots are an alternative, but if you decide to substitute them for onions, use half the amount in a cooked dish. Chives are another excellent choice, and adding a handful to the recipe at the end of the cooking time gives the dish an onion flavor.
Another onion replacement is scallions. Saute them in oil like you do onions or add diced scallions just before serving. If you want to add aromatic vegetables without the onion taste, try adding celery or carrots to the dish for background flavor.
Tips for Growing Onions and Shallots
Most allium types are fairly easy to grow, including onions and shallots. However, they do require specific growing conditions to flourish. Here are several tips to help you choose an ideal garden spot for your bulbs.
Onion and Shallot Growing tips
As a rule of thumb, alliums require several hours of full sun daily, so choose a garden spot where they get the necessary sunshine. They also love loose, well-drained, fertile soil, so till the top several inches and remove rocks and debris before planting your bulbs.
When planting onion and shallot bulbs, position them with the root side down in the hole and follow the packet instructions for planting depth and spacing. Water them right after planting and as needed so they receive an inch of water each week.
Avoid planting onions and shallots together since onion maggots tend to travel from plant to plant. Peas, beans, sage, and asparagus are other plants that do not make good garden companions for these bulbs.
Combining Onions and Shallots in a Recipe
Once you know the difference between shallot and onion bulbs, why not use both of them to create a delicious recipe? This French onion soup combines the flavor of both onions and shallots, and it's the perfect comfort food for dreary days.
Put the butter into a large pot and set it over medium heat. Cut the onions and shallots into thin slices, mince the garlic and add them all to the melted butter.
Place the bay leaves, sea salt, and black pepper into the pot and simmer the ingredients until the onions are translucent.
Turn the temperature to medium-low and continue cooking while occasionally stirring until deep golden brown and caramelized – about 20 minutes.
Stir in the flour, cook for one minute, and then pour in the wine. After cooking and stirring for two minutes, add the beef broth and thyme and simmer the soup, uncovered, for half an hour.
Slice the crusty bread into six one-inch-thick slices. Place them on a cooking sheet and toast them in an oven preheated to 350°F for 15 minutes, making sure to turn them over halfway through baking.
Remove the bread and turn your oven to broil. Spoon the soup into oven-safe ramekins positioned on a baking sheet and place a piece of toasted bread on the top of each one.
Set a slice of Gruyere cheese over the bread, sprinkle with grated Parmigiano-Reggiano cheese, and set the baking sheet in the oven to broil until the cheese is melted and bubbly. Serve immediately or store the soups in the fridge for the following day.
While a shallot is somewhat similar to an onion, there is a difference between raw shallots and regular onions in specific recipes.
Small shallots are a perfect flavor enhancement or condiment, and onions are more suitable for cooked dishes. However, they are both packed full of nutrients and beneficial to your diet.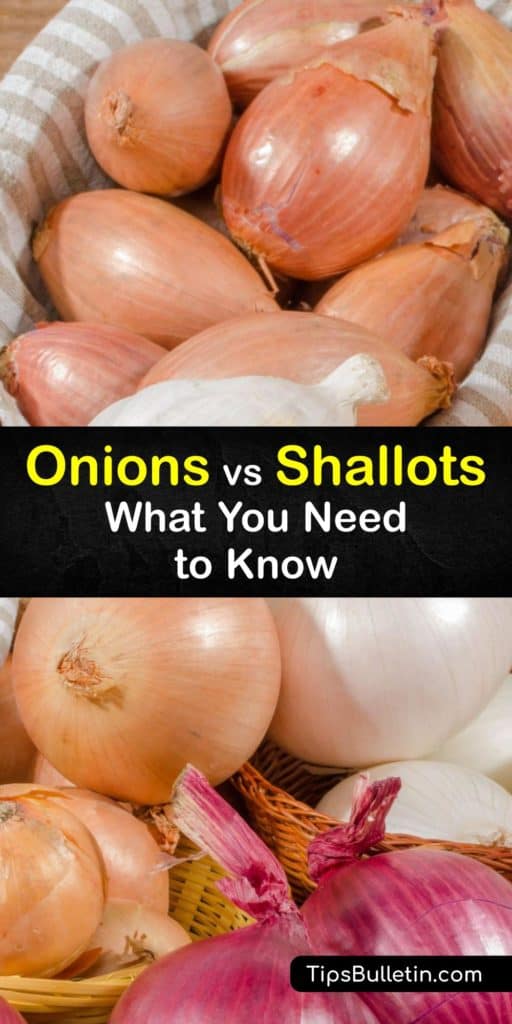 Understanding the differences between shallots vs onions goes a long way when preparing your favorite recipes, so why not share our shallot and onion comparison guide with the onion-lovers in your life on Facebook and Pinterest?