As summer winds down, many of us start switching our cooking from outside to inside, which means your oven is going to start seeing a lot more use. The more you use your oven, the dirtier it is going to become.
Stay on top of a dirty, grimy oven find the best oven degreaser before you need it. Having a homemade degreaser for an oven on hand makes cleaning your oven faster and easier. When looking for the best oven grease cleaner, you want something that will get the job done and something that will tackle even the toughest messes.
You also want something that can address the heavy-duty-oven cleaning jobs but is safe to use on a variety of ovens. Sometimes the inside requires a different oven degreaser than the stove top, but the best homemade degreaser for an oven is safe to use inside and out.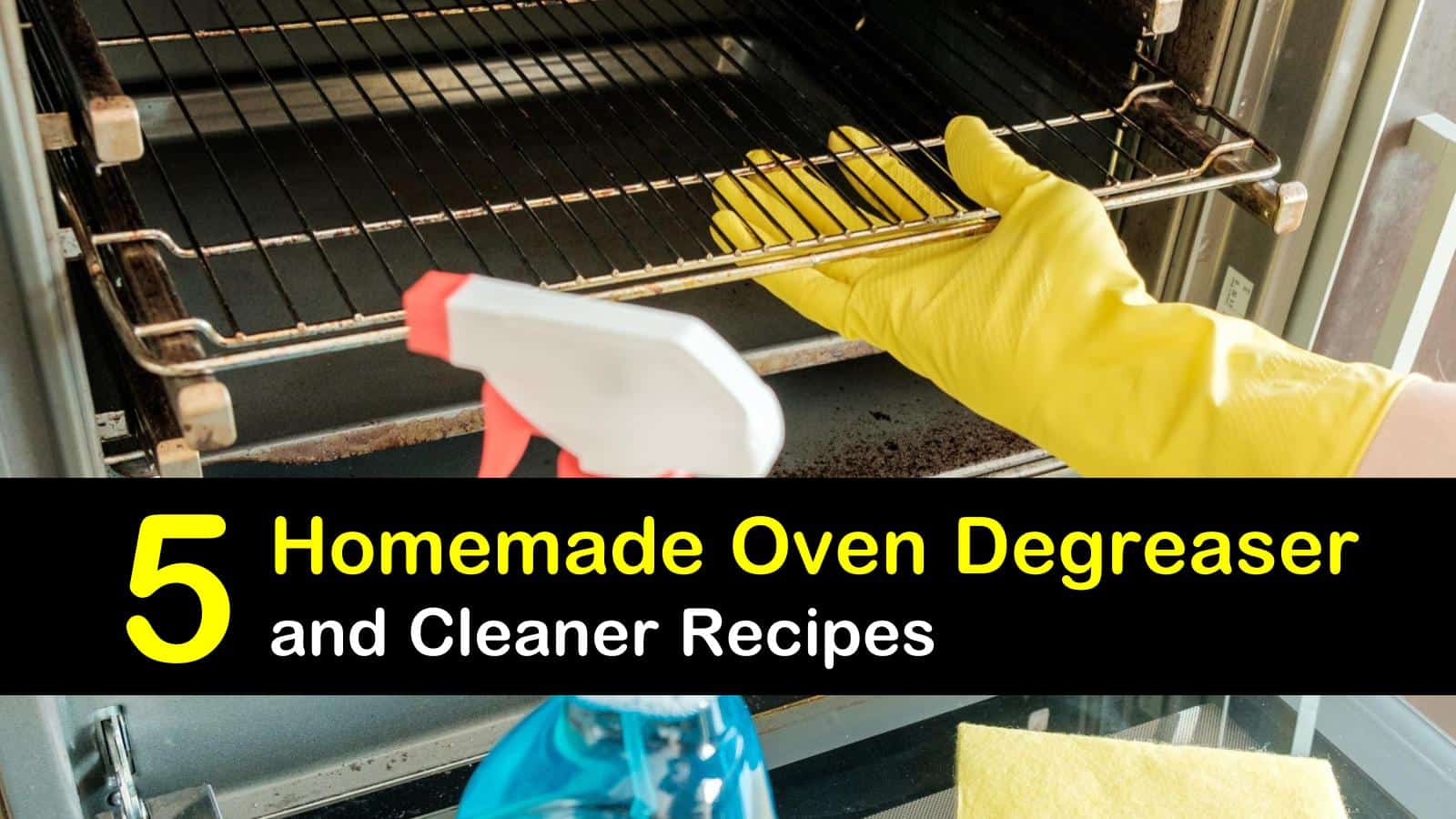 Simple Degreaser Recipes for the Oven
Before degreasing your oven, don't forget to protect the heating elements and broilers from coming into contact with your homemade cleaner.
Best Homemade Degreaser for an Oven
When using this homemade oven cleaner, you need to allow it to sit for several hours. Letting the oven cleaner sit will aid in the dissolving of burnt-on food and grease inside the dirtiest ovens. Although it's safe to use on glass, scrub carefully to prevent any scratches.
You can use the same cleaner on the racks, but the best way to clean oven racks is in the bathtub so they can presoak before using a cleanser. Let the racks rest on a towel in the tub to keep from scratching the surface. Another way to remove built-on gunk from racks is running them through your dishwasher if they will fit.
Mix the dish soap, baking soda, and the salt to form a thick paste. The paste's consistency should be similar to frosting, so add liquid dish soap or baking soda as needed until the desired consistency is achieved. You will be coating the walls of your oven with the paste, so you want something that will stick rather than run down the sides.
Smear the paste all over the entire inside of the oven. Leave alone for several hours; it is best is to let the paste sit inside the oven overnight. Dip a clean sponge in warm water and squeeze out any excess.
Wipe down the interior of the oven with a damp sponge. You may have to use a bit of elbow grease to remove built-up food, grime, or oil. Rinse the sponge as needed and continue wiping down the oven until clean.
Spray any leftover baking soda paste residue with a little white vinegar. Wipe down the inside of the oven again to remove all traces. You might need to repeat this cleaning process several times if your oven was heavy with built-up food and grease. Ordinary cleaning requires one treatment.
Natural Oven Degreaser
One of the downfalls of using commercial oven cleaners is how toxic they are. The fumes from these cleaners not only get into your lungs as you clean, but they linger inside your oven, and the harsh chemicals come into contact with your food.
n Easy-Off Fume Free Oven Cleaner needs to be avoided. It doesn't emit as many fumes, but it still contains harsh chemicals you want to avoid. Use this simple homemade grease cleaner to get rid of nasty oven gunk and not only leave your oven clean but also smelling wonderful.
Remove stainless steel oven racks and clean separately in hot, soapy water. Mix soap, vinegar, and baking soda in a glass bowl. Use a paintbrush or basting brush to smear the paste all over the oven, being careful not to come into contact with the heating element.
The paste is safe enough to use as a cooktop cleaner, too. Leave the paste overnight or for several hours. As the cleaner sits, you will notice it begins to foam up a bit, similar to how commercial oven cleaners do.
You will also see all of the goo and grime begin to lift off the oven's surface. Fill a small bowl with some clean water. Dip paper towels, a sponge, or a clean cloth into the water and wring out any excess. Using the damp cloth, wipe the interior of the oven, rinsing as needed and changing out the water inside the bowl frequently.
This solution works for cleaning silicone cupcake liners that have built-up grease and other stains, as well.
Oven Grease Cleaner with Orange
Not everybody is a fan self-cleaning ovens; even people who have them prefer to use homemade cleaning products rather than the self-cleaning feature. Castile soap is an excellent addition to many cleansers, including the best multi purpose cleaner, as it's a pure soap that is 100% chemical-free.
Use a pastry or basting brush to coat the oven surface with the baking soda cleaner. Allow to sit inside the oven for at least eight hours, preferably overnight. Wear gloves and wipe down oven with a damp cloth until clean. Rinse the cloth as needed.
Best Homemade Kitchen Degreaser
Oil splatters on every surface in your kitchen regardless of if you use a fryer or not. Using a natural degreaser for oven hood and other kitchen appliances and cookware is the best way to combat grease that has turned to grime in your kitchen.
This spray is an excellent choice for spot cleaning your kitchen or getting baked grease off pans. Gently shake the bottle to mix the ingredients. Spray degreaser liberally on the area you are cleaning and allow to soak for up to ten minutes.
Use a sponge to wipe down the area and a scouring pad to clean the tough spots. Wipe everything with a dry cloth to prevent any streaks from appearing on your countertop and cooktop.
When degreasing your range hood, wipe down with a microfiber cloth and allow the range hood to air-dry. You can use the DIY range hood degreaser to clean oven doors and the stovetop, too.
Spray the exterior of the door and pay close attention to the edges as this is where fumes escape and harden. Allow the degreaser to work for at least 30 minutes before moving onto the next step. Wipe exterior with a microfiber cloth and then allow to dry.
Homemade Heavy Duty Oven Cleaner Spray
One of the great things about the best oven cleaners is they also double as a grill cleaner. If using an oven cleaner or grill cleaner to clean your BBQ, be sure to remove the grates from the grill before applying the cleaner to prevent any mishaps with the burners.
Shake to mix and then spray inside the oven or use it as an effective degreaser for your grill. Allow the solution to sit for several minutes and then clean the grill or oven.
Recipe for Homemade Oven Degreaser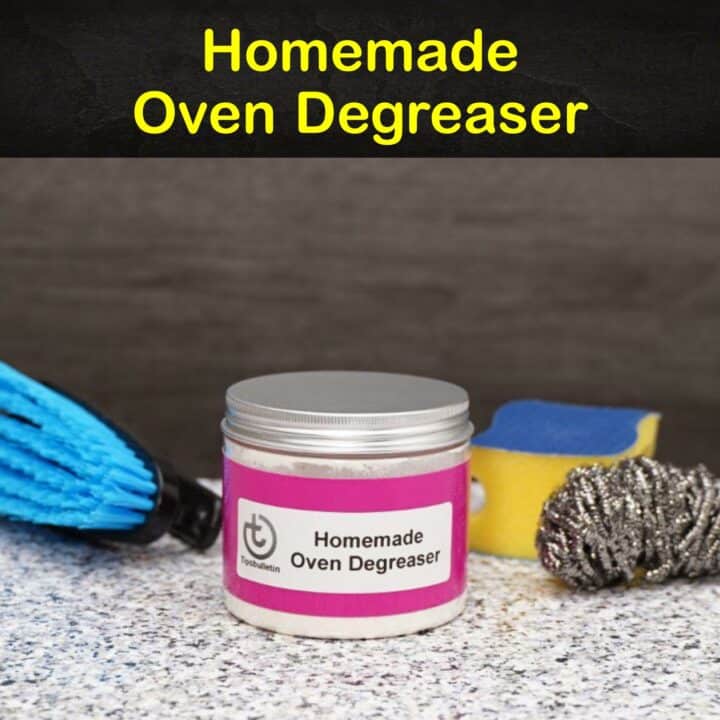 Homemade Oven Degreaser
No need for caustic fumes or a hot kitchen with this natural degreasing paste!
Materials
2 ounces vinegar
12 ounces baking soda
2 tbsp Castile liquid soap
6 drops orange essential oil
Bucket of clean water
Tools
Quart jar
Gloves
Pastry brush
Microfiber cloth
Measuring cup
Tablespoon
Instructions
Combine the first four ingredients in the jar to form a paste.
Don the gloves and spread the paste on the inside of the oven with the pastry brush.
Let the paste sit for 8-12 hours.
Use the cloth and water to wipe away the degreasing paste and grime.
Rinse the cloth frequently.
Notes
Either white or apple cider vinegar is acceptable.
Remove the racks before cleaning the oven interior and clean them separately.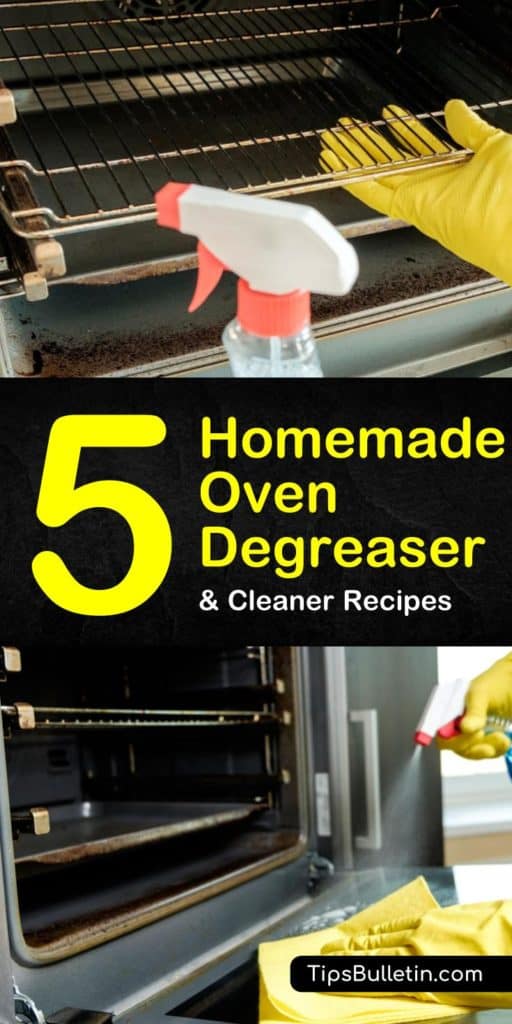 Thank you for reading about our oven grease cleaner recipes. If you found any of these oven cleaner recipes or tips useful, please take a minute to share these oven degreaser ideas with others on Facebook and Pinterest.