Are you like so many others who equate palm trees with the perfect desert oasis? For years, when people think about palm trees, they think of them as a way to escape from their ordinary lives, so they want to bring a small paradise into their backyard. The problem is to determine the best palm trees for the desert oasis you are creating.
Not all palm trees are created equal; some do quite well in desert climates while others require tropical or subtropical regions.
The upside to this is whether you live in the desert or the tropics you can use palm trees for a desert-themed landscape, as long as you plant the ones that work within your climate range.
Many of our favorite palm trees for desert locales tolerate occasional cold temperatures during the winter. For the most part, they require extra protection from chilly weather if it's for a prolonged period.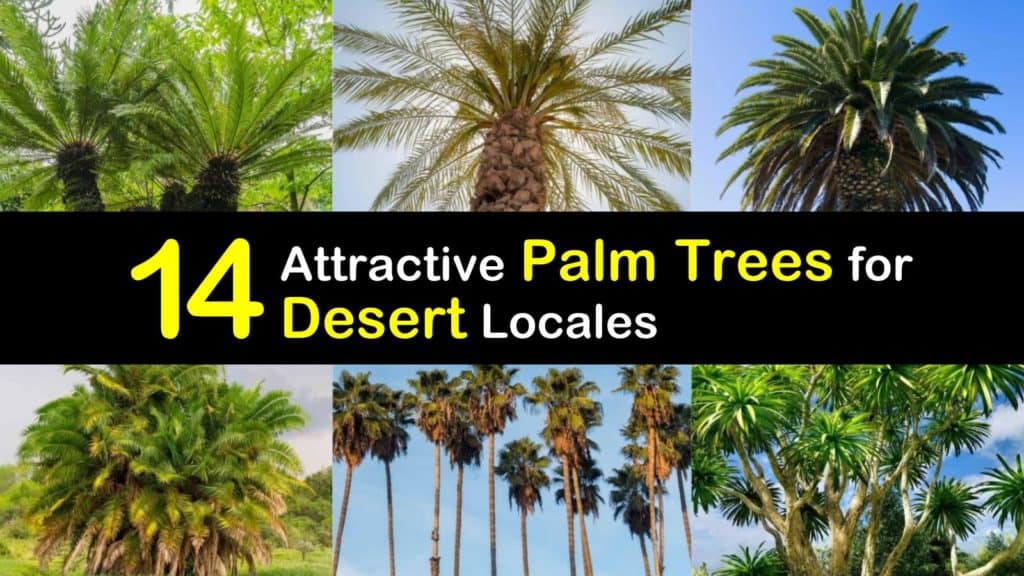 Planting, Pruning and Caring for Palm Trees
Unlike other trees, palm trees require planting during warm or even hot weather. When you plant your favorite palm trees depends on the specific tree. To ensure success when planting, wait until late in the spring or even into the start of summer.
This gives the ground time to warm up, and palm trees prefer the warmer soil for root growth. Plant in a hole two times the size of the root ball and water regularly until the tree is mature and established.
When creating a watering schedule, never let the soil dry out, but don't keep it overly wet. Soggy soil conditions invite diseases and fungus issues, and dry dirt affects the tree's overall health.
Use a foliar feeding for these water resistant plants the first spring. Follow it with a time-released granular food every four months – after the first year, use only granular feed. Like other tree species, pruning is part of the proper care routine of palm trees.
Never cut off any green fronds, only trim the brown ones. Green fronds are essential for the tree's health and growth, as they collect chlorophyll from the sun.
Always leave at least seven green fronds on the tree for optimal results. Leave taller palm trees to a professional.
Most Attractive Palm Trees for Desert Landscapes
In the northern parts of the US, growing palm trees outdoors presents some challenges, while it is almost natural in the south. Choosing a cold-tolerant species and researching their care goes a long way toward growing success.
Palm Trees for the Desert – Mediterranean Fan Palm (Chamaerops humilis)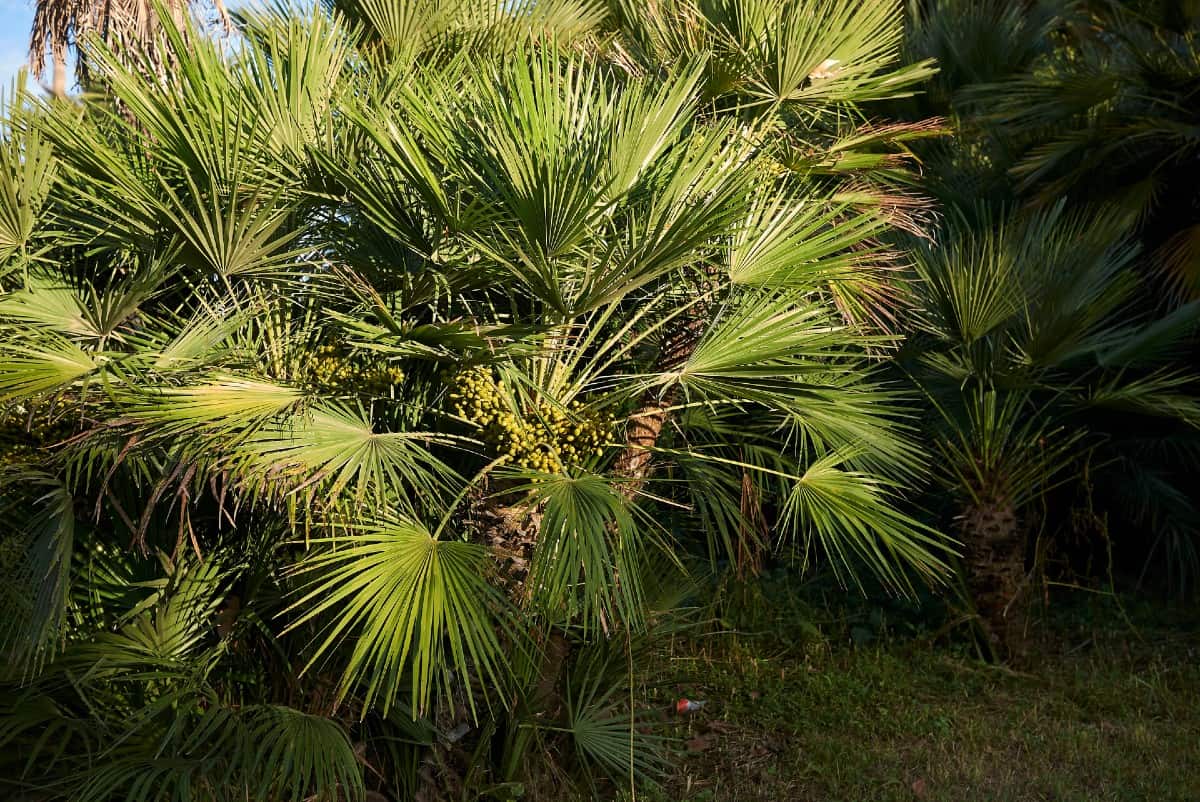 If you are after a palm tree that looks and does well by a swimming pool, consider the Mediterranean Fan Palm. The tree grows 15 feet tall with multiple trunks and can be trimmed to look more like a "shrub" palm rather than a full-grown tree.
Plant these palm trees as a standalone tree or in groups to use the palm trees as bushes to create a privacy hedge. This palm tree is the only one native to Europe, so it is often called the European Fan Palm. Growth is restricted when planted in containers, but they require repotting every three years.
Mexican Blue Palm (Brahea armata)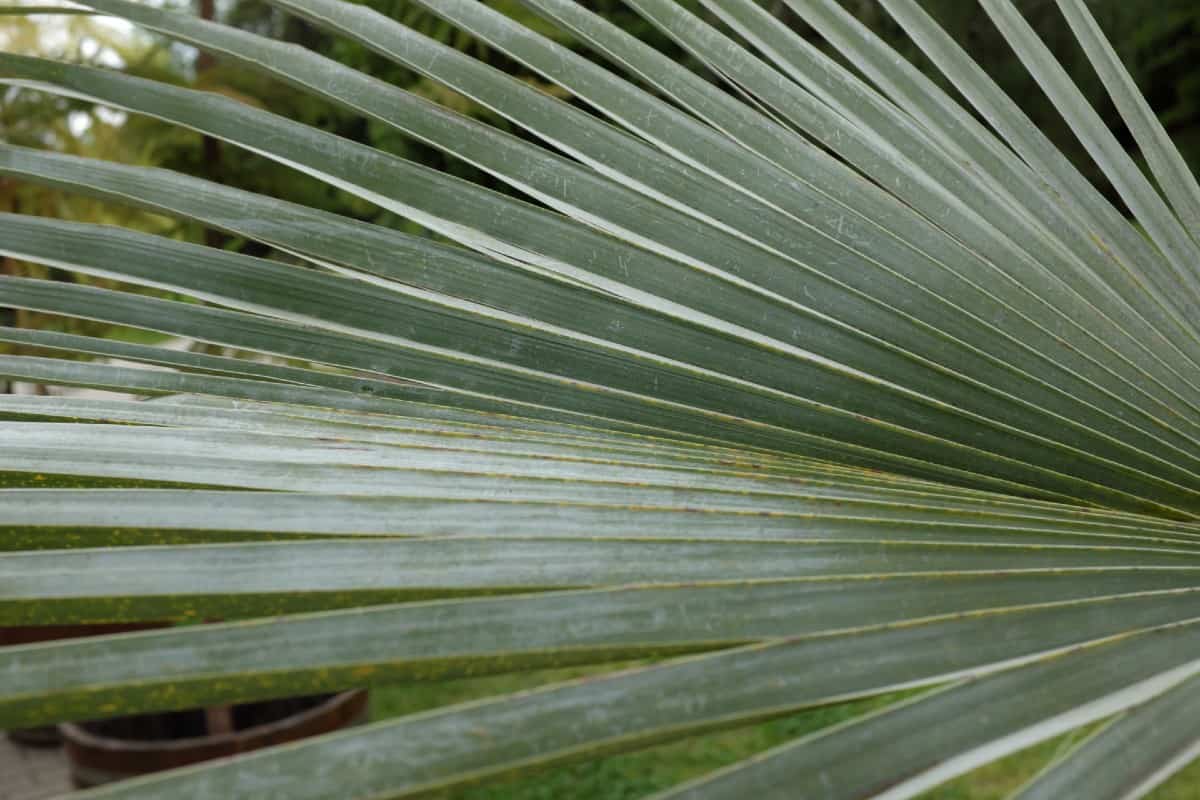 Most people grow the Mexican Blue Palm for its breathtaking foliage color, which is a bright blue-green. These trees for dry climates sport brightly colored, fan-like fronds that grow about five feet long and top the single, thick trunk.
Creamy-yellow flowers appear on the stalks in the summer and turn into round, yellow-golden fruit. The slow-growing tree won't bloom for about 20 years.
This beauty is heat and drought tolerant but also withstands strong winds. The Mexican Blue Palm reaches between 20 to 40 feet tall with a 12 to 25-foot width. Grow these plants for full sun in well-draining soil.
Queen Palm (Syragrus romanzoffianum)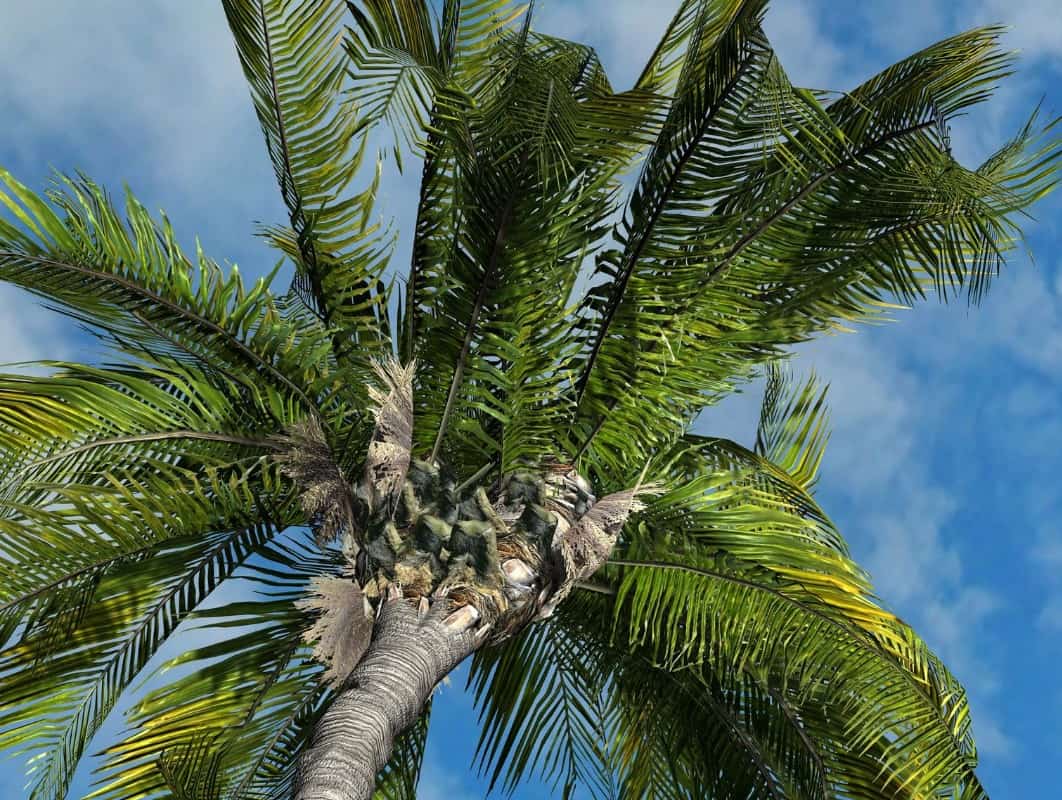 A single trunk palm tree, Queen Palm is known for its bright and glossy pinnate leaves that droop downward to form a canopy. In the summer, tiny blossoms appear on the large plumes and give way to orange fruit by winter.
These beauties only grow in zones nine through eleven in the United States. To successfully grow a Queen Palm, aside from living in the right zone, there are a few other things to know when growing from seed.
Use half-ripe seeds for planting. Remove any fruit pulp and then soak for three days before planting in well-draining potting soil. Transplant the seedling to acidic soil in full sun.
Canary Island Date Palm (Phoenix canariensis) – Desert Palms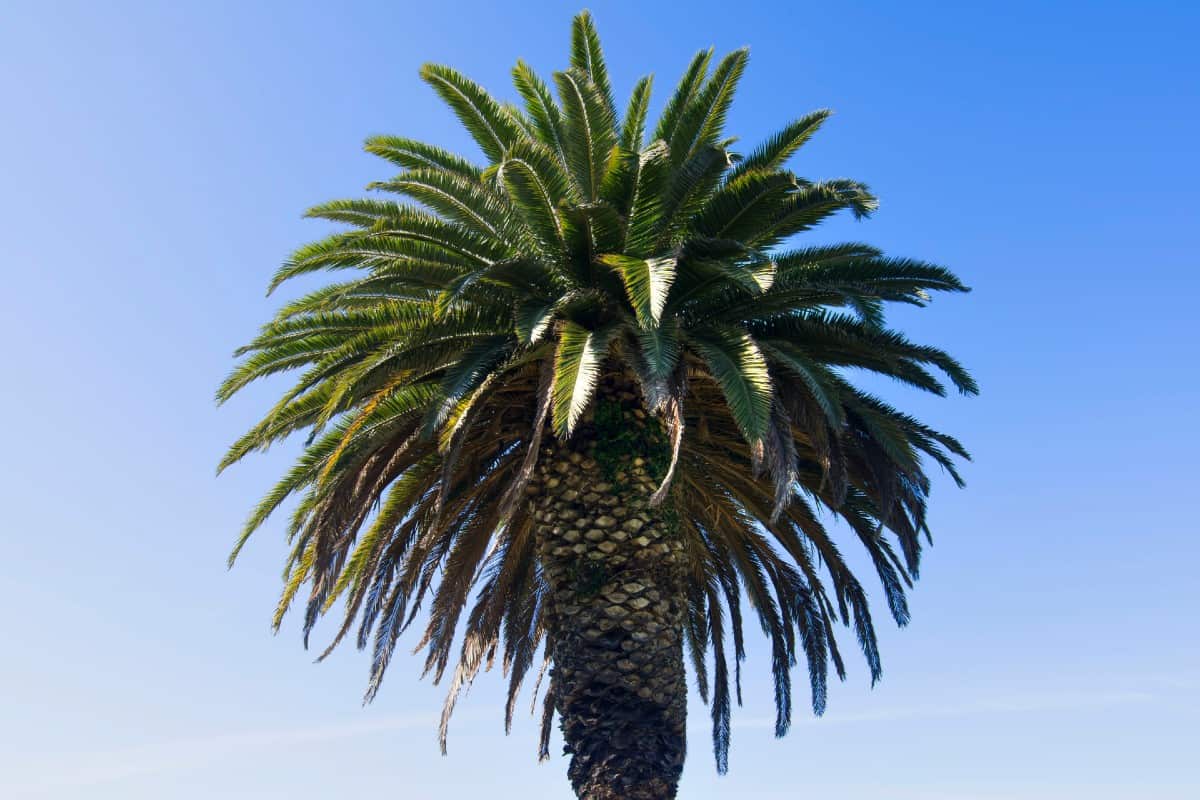 Native to the Canary Islands, this tree grows well in zones nine through 11 outdoors but thrives in containers in all USDA zones. The arching branches are adorned with shiny fronds, and these leaves reach up to 20 feet long.
An ornamental tree, the gray or white flowers lead to decorative fruits that resemble dates in the summer. A slow-growing variety, the Canary Island Date Palm grows 10 feet within its first 15 years.
During their younger years, they require plenty of water and full sun. Cut back watering after tree matures. Fertilize every spring before any new growth appears.
California Fan Palm (Washingtonia filifera)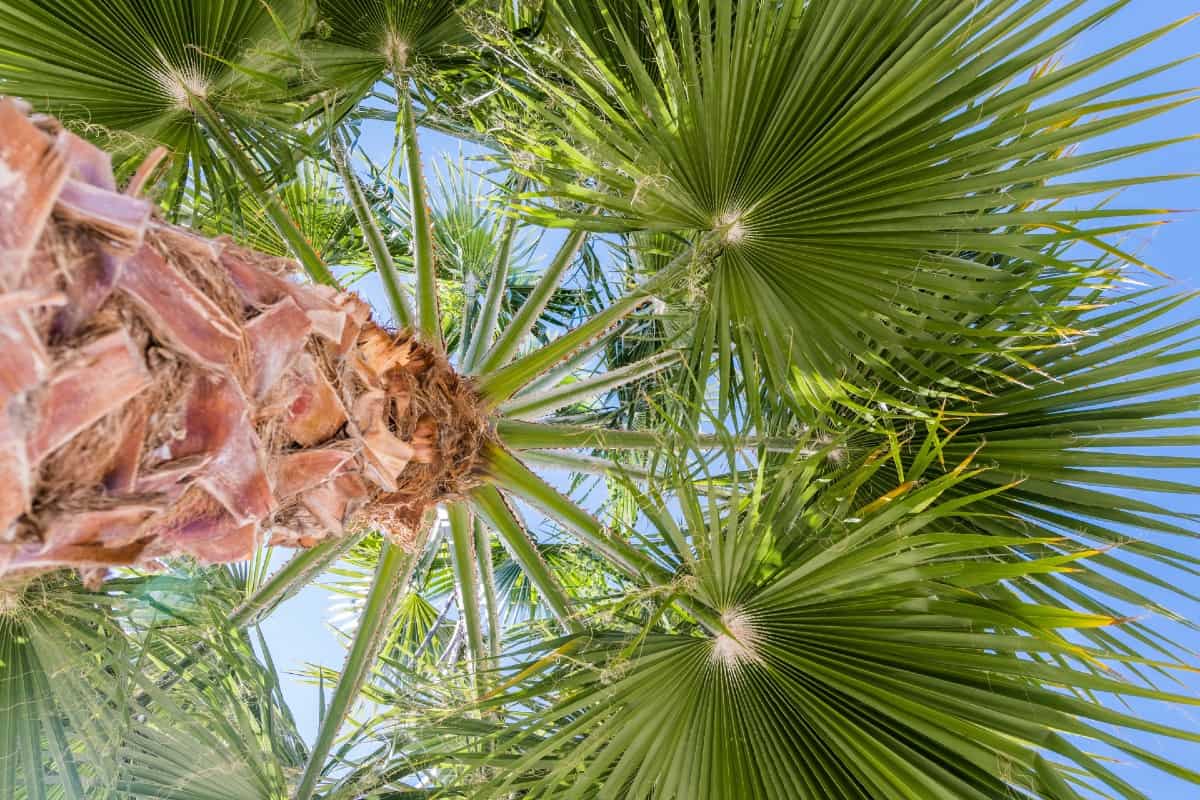 The California Fan Palm belongs to the desert fan palm family and is ideal for drier climates. Although native to the southwestern portions of the United States, this tree is found in Oregon in arid to partially arid regions.
Once fully established, it is a breeze to care for and tolerates frost or a thin layer of snow on occasion.
The tree grows between 30 to 80 feet tall, making it an excellent choice for a large focal point in any landscape. The salt-tolerant tree adapts to different soils but does require full sun.
Pindo Palm (Butia capitata)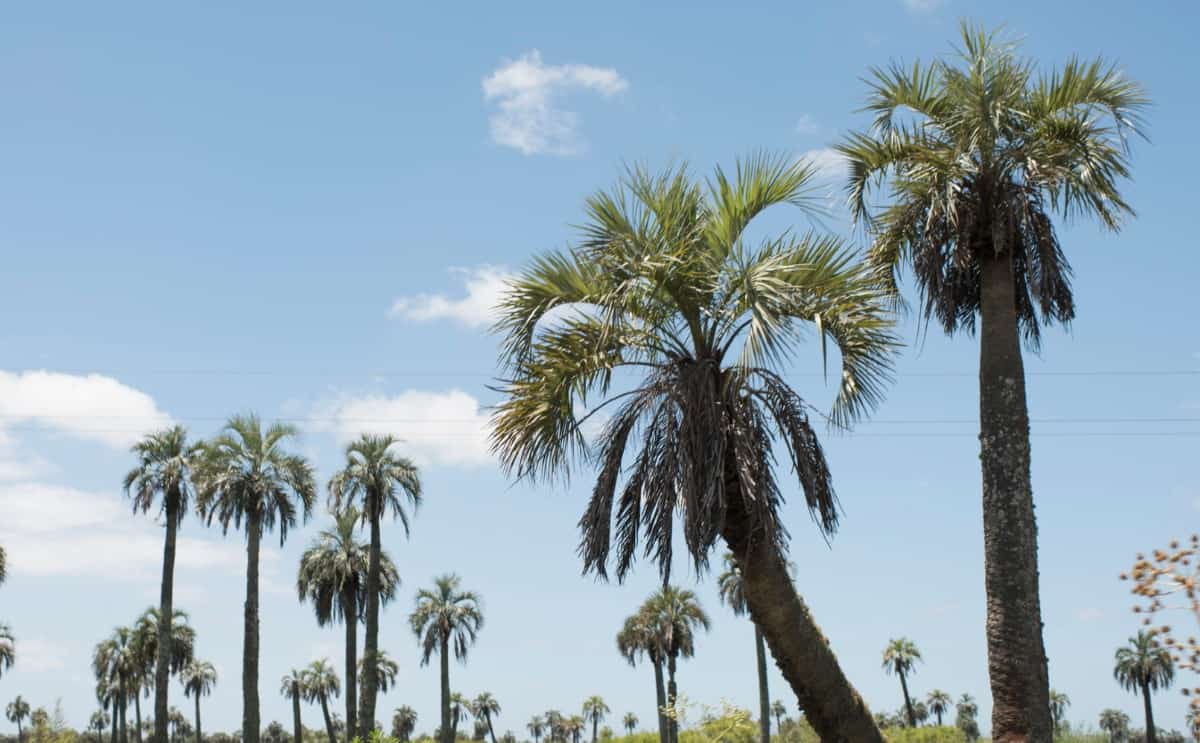 The Pindo Palm tree is found in Florida's colder areas, as well as along the East coast reaching up to the Carolinas. Sometimes called the Jelly Palm, the Pindo Palm is a slow-growing tree that reaches up to 20 feet tall with a slim one and a half foot wide trunk.
The red, yellow, or white flowers give way to orange to red edible fruit. The fruit makes a nice jelly, and the seeds serve as a substitute for coffee beans when roasted.
The sweet-tasting fruit draws in plenty of wildlife. The Pindo Palm adapts to different types of soil and grows well in full sun.
Desert Palm Trees – Guadalupe Fan Palm (Brahea edulis)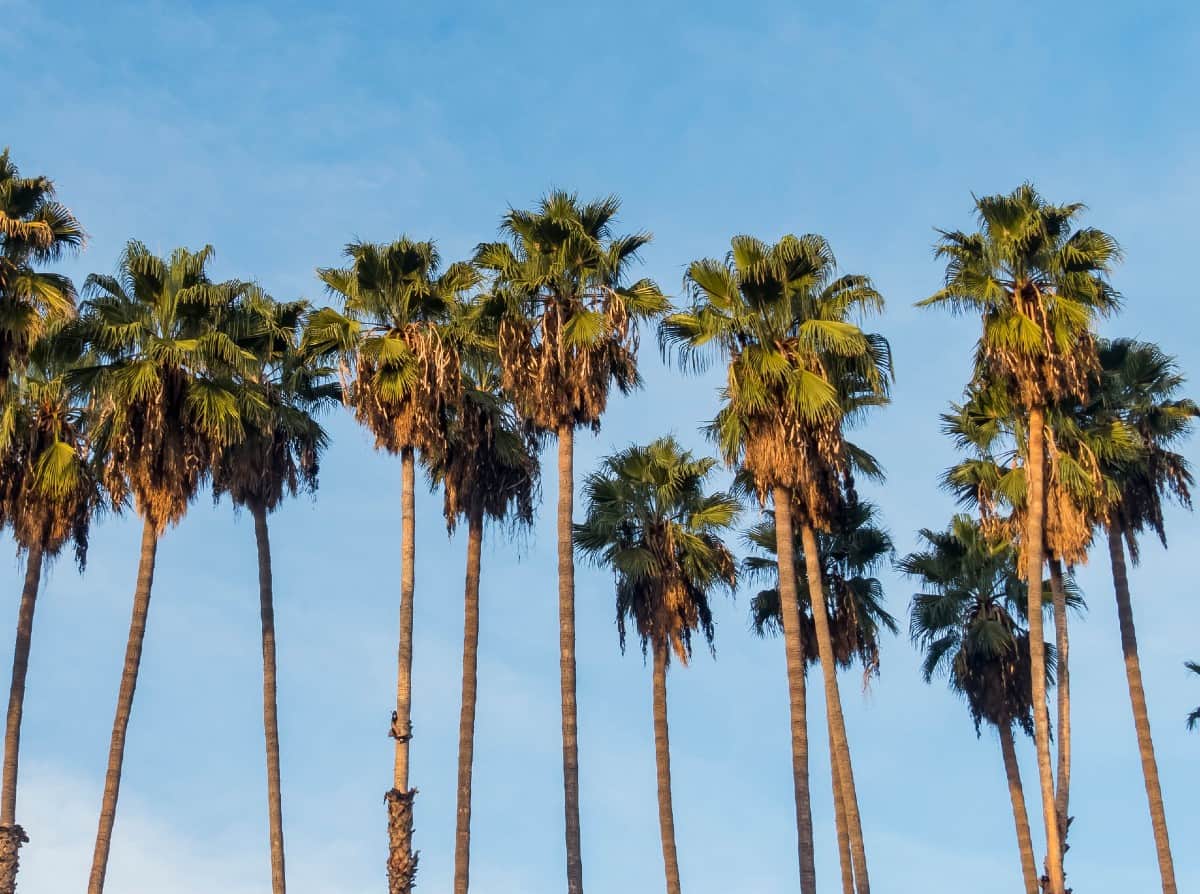 With a single thick trunk, the Guadalupe Fan Palm is on the small to medium size compared to others. The blue-green fan-like fronds form a canopy overhead when planted in groups.
In the summer, creamy-yellow fragrant flowers bloom on drooping stems from the crown of each frond. The Guadalupe Fan Palm grows between 30 to 40 feet tall with a 10 to 15-foot width.
This easy to grow specimen doesn't require any pruning and tolerates even the poorest soil conditions. This tree thrives in desert climates like Las Vegas, as it doesn't like the humidity found in Palm Springs and surrounding areas.
Windmill Palm (Trachycarpus fortune)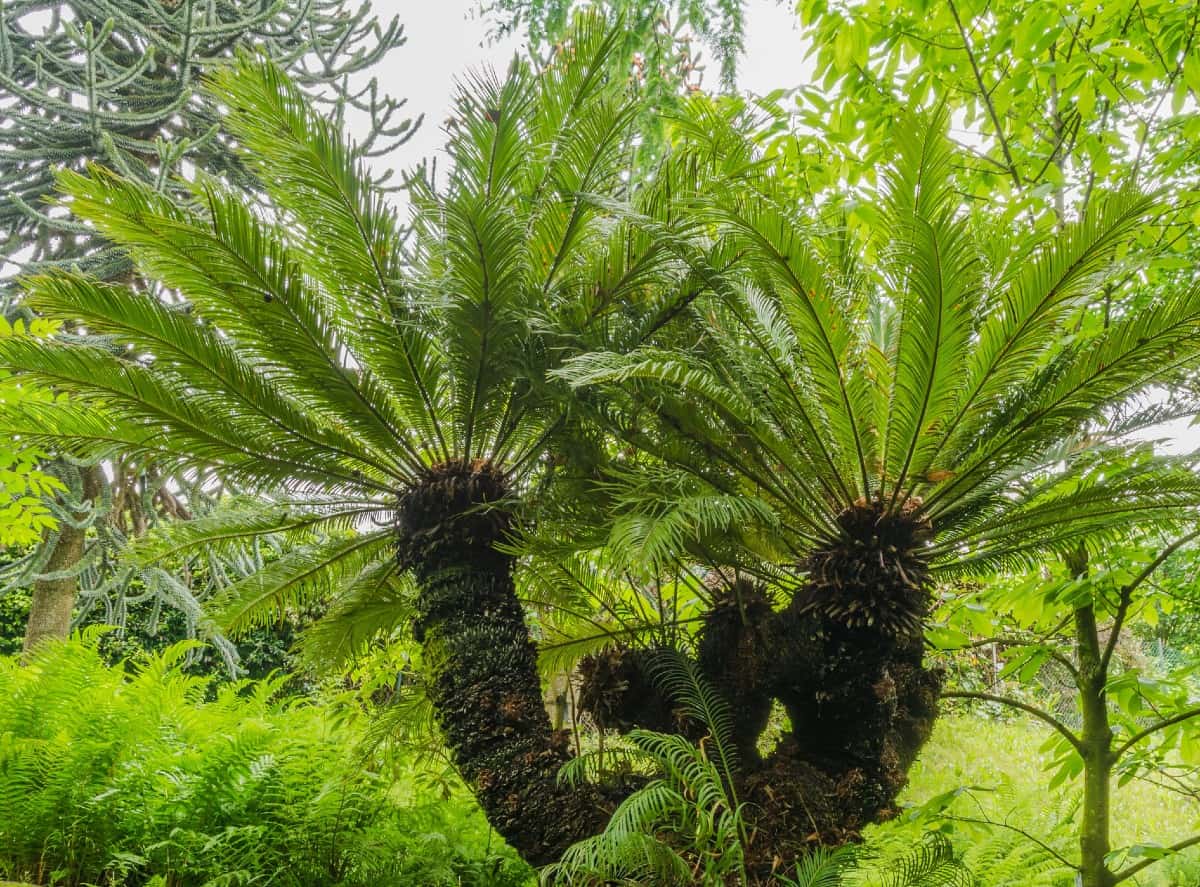 Not native to the Northern United States, the Windmill Palm is hardy enough to survive frigid temperatures in winter, as long as it is planted in zones eight through eleven.
These palm trees are named after their leaves, which create a windmill shape above the stalk. The fan-shaped fronds of this tree are covered with brown hairy fibers.
The Windmill Palm can grow up to 40 feet tall, and most average between 10 and 20 feet with a width of 12 feet. These trees look better when planted in groups of at least six and do well in various soil types.
Mexican Fan Palm (Washingtonia robusta)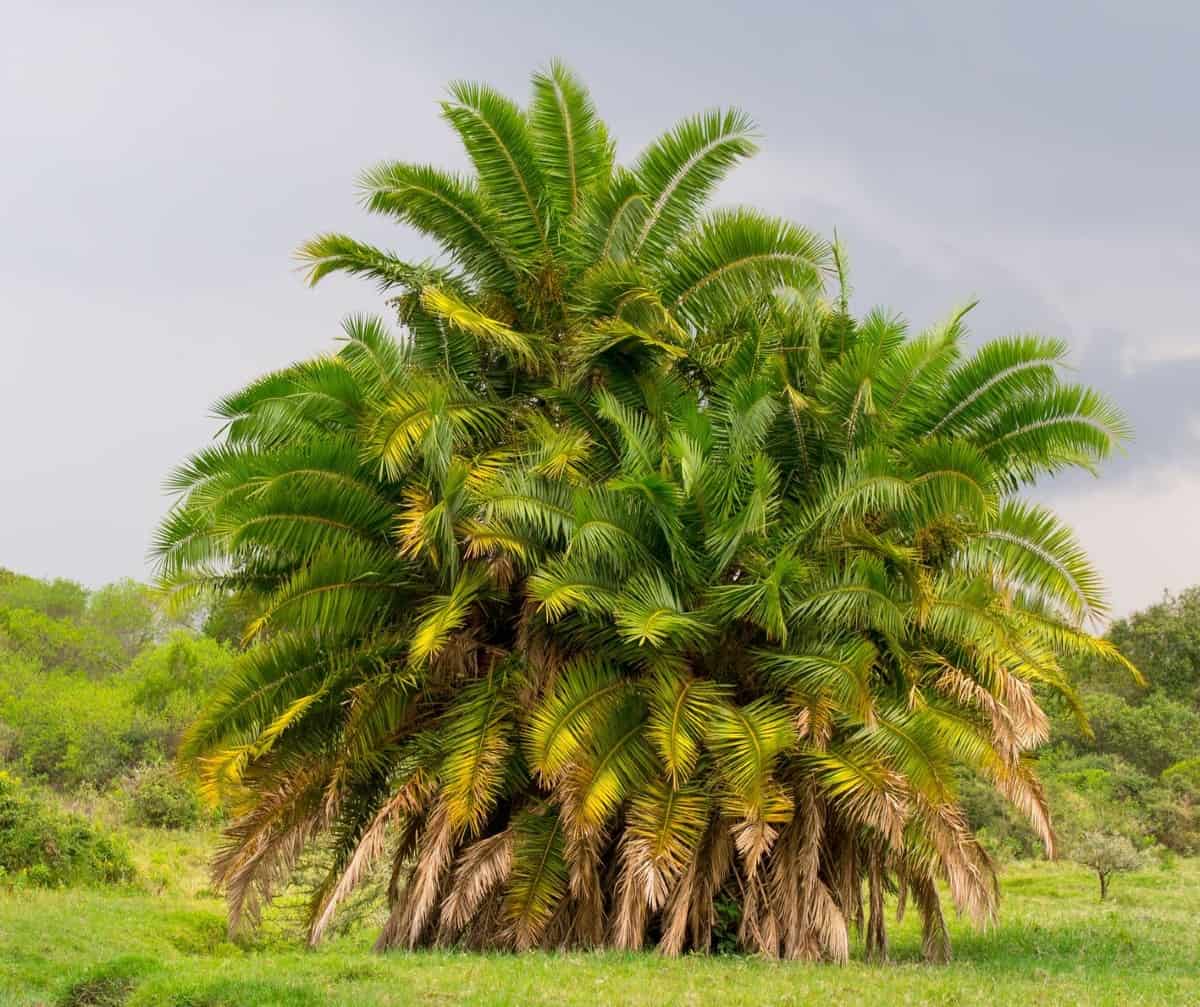 If you are after a desert palm tree, consider Mexican Fan Palms, which are native to northern Mexico.
These beauties also do well in the south and southwestern parts of the United States, as they are thriving in zones nine through eleven. These trees offer broad dark green fronds that form a fan shape.
A taller species, Mexican Fan Palms reach about 100 feet tall, so plant in areas where they are free to reach their full potential. Each frond grows between three to five feet wide and sprouts from the reddish-brown trunk.
Chinese Fan Palm (Livistona chinensis) – Palm Trees for a Desert Landscape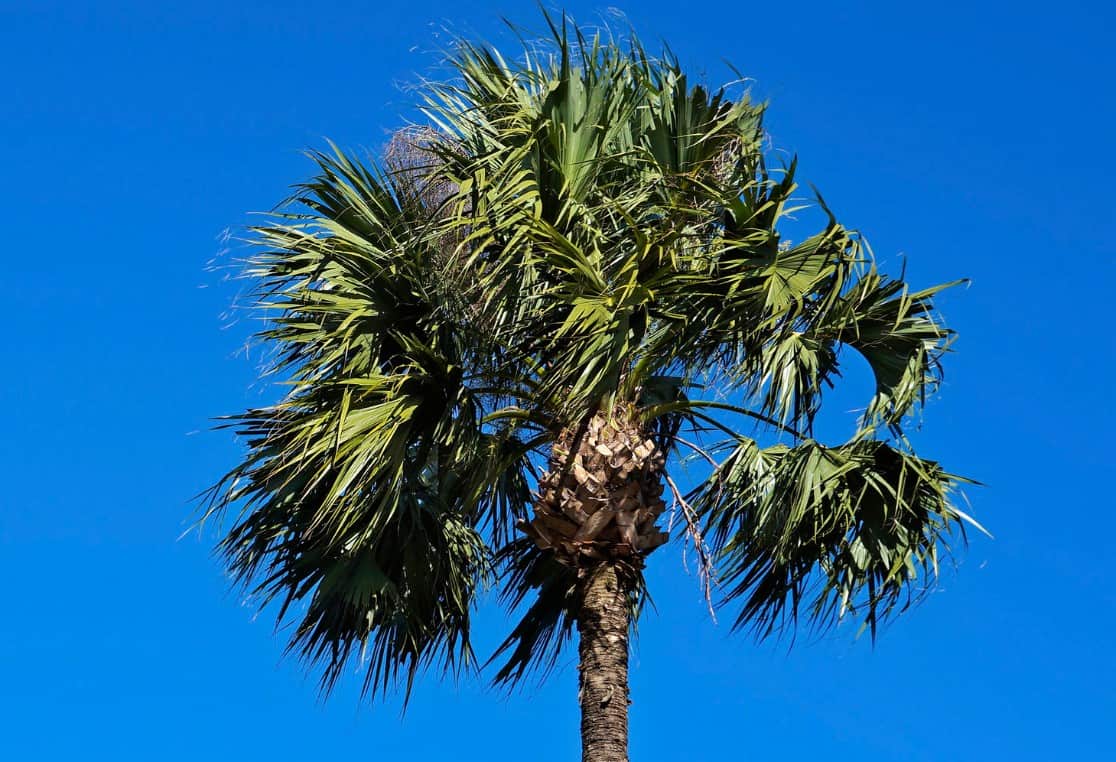 A hardy palm tree sometimes called the Fountain Palm, this slow-growing tree gets its name from the way the fronds droop off the crown. Native to Japan and China, these trees are considered invasive in some areas because of how well they adapt.
The fancy Chinese Fan Palm tolerates cold weather and adapts to drought conditions; it doesn't require the moisture and tropical heat most other species of palms do.
It grows around 40 feet tall, but proper pruning keeps it on the smaller side, and it makes a suitable houseplant.
Sago Palm (Cycas revolute)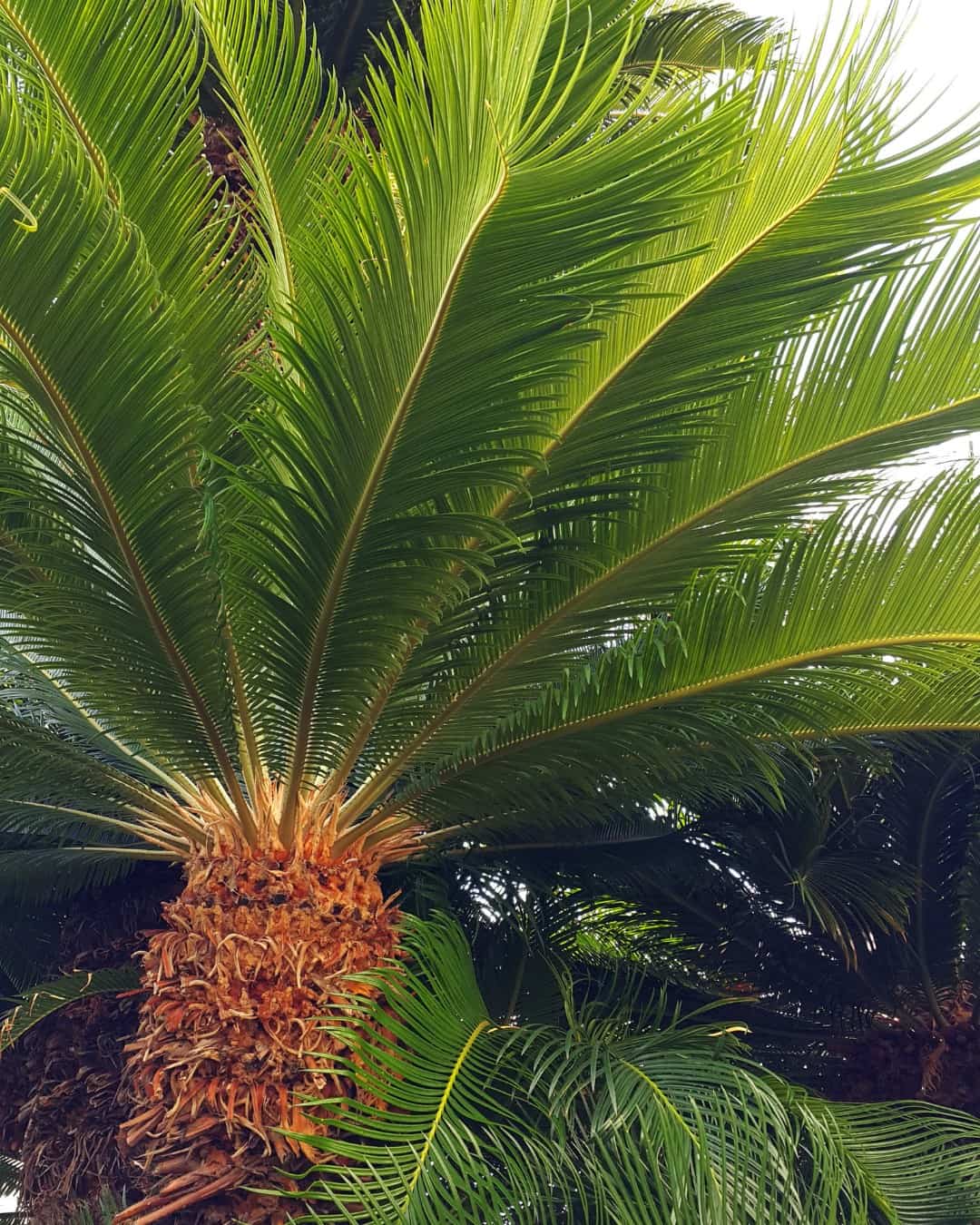 Most people know the Sago Palm as a low maintenance houseplant with beautiful feathery foliage, but it also grows well outdoors. Regardless of the name, the Sago Palm is not a palm tree; it is a cycad – this plant family dates back to the dinosaur ages.
Although they are low maintenance, Sago Palms require some specialized care. Sago Palms work well in low-light situations but thrive in bright light so plant in areas with plenty of sun.
Be careful not to overwater the Sago Palm as they are prone to root rot, which will kill them. Use well-draining soil and fertilize it once a month.
Date Palm (Phoenix dactylifera)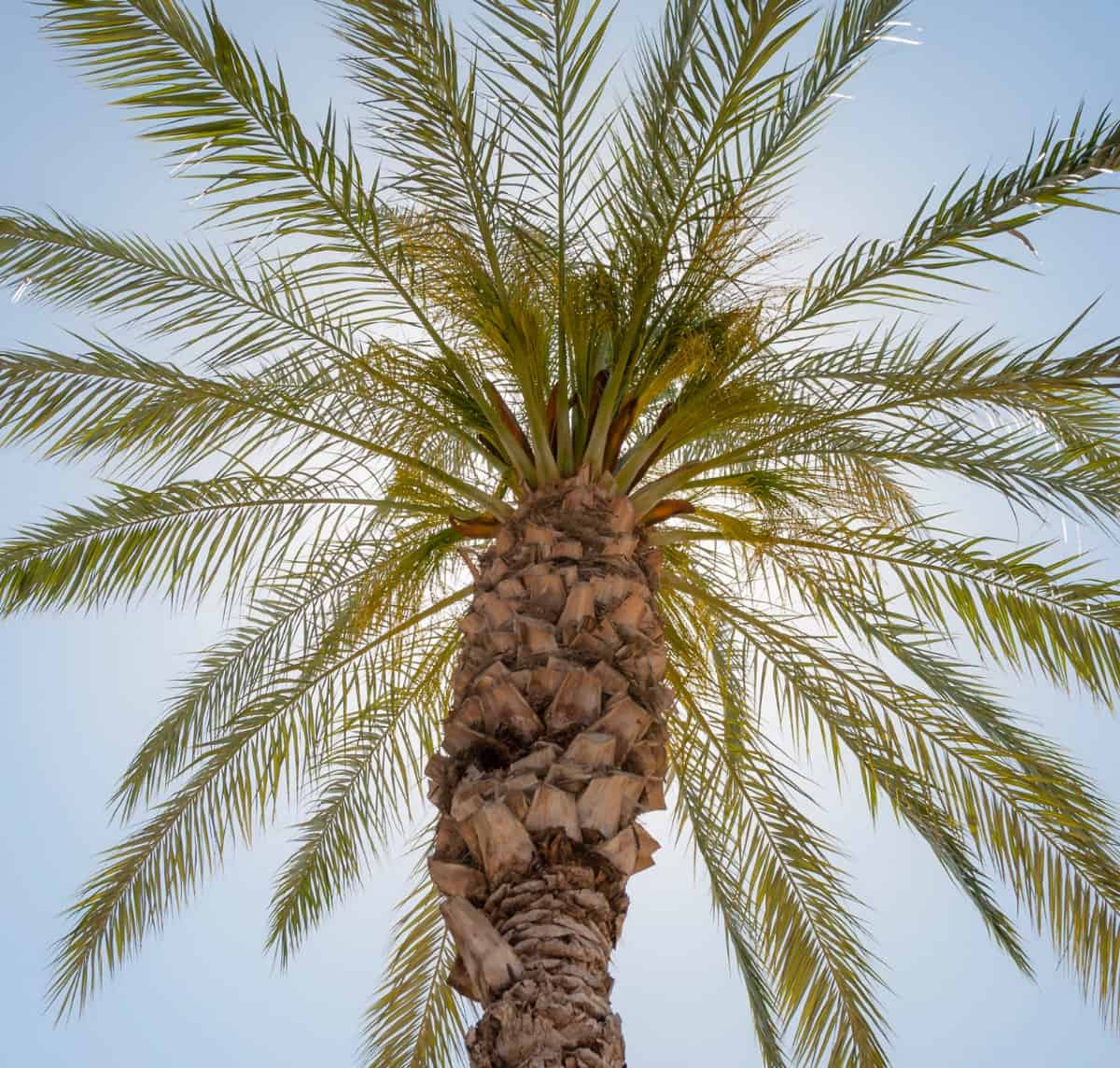 Date Palms like warmer areas of the United States, including Arizona and Los Angeles. To successfully grow Date Palm Trees, temperatures cannot drop below 20°F.
For a successful fruit production plant, grow both male and female trees in areas with hot and dry temperatures during the day with constant warm nights.
Date Palm Trees are on the larger side; they reach up to 120 feet, giving them plenty of room to spread out. Use well-draining soils in full sun for planting.
Although drought-tolerant, increase the watering schedule when the tree is actively flowering and fruit production is occurring.
Palm Trees for the Desert – Pygmy Date Palm (Phoenix roebelenii)
Although not a native palm species to Southern California, the Pygmy Date Palm is an inexpensive and popular choice for homes. The slow-growing miniature palm trees only grow up to 10 feet tall and are often found at big box stores and nurseries.
Along the edges of the leaves are sharp thorns, so choose your planting location carefully. Pygmy Date Palms require regular watering and will grow well in full sun to full shade. This tree needs well-draining sandy soil and is prone to bud rot and leaf spot.
Sable Palm Tree (Sabal palmetto)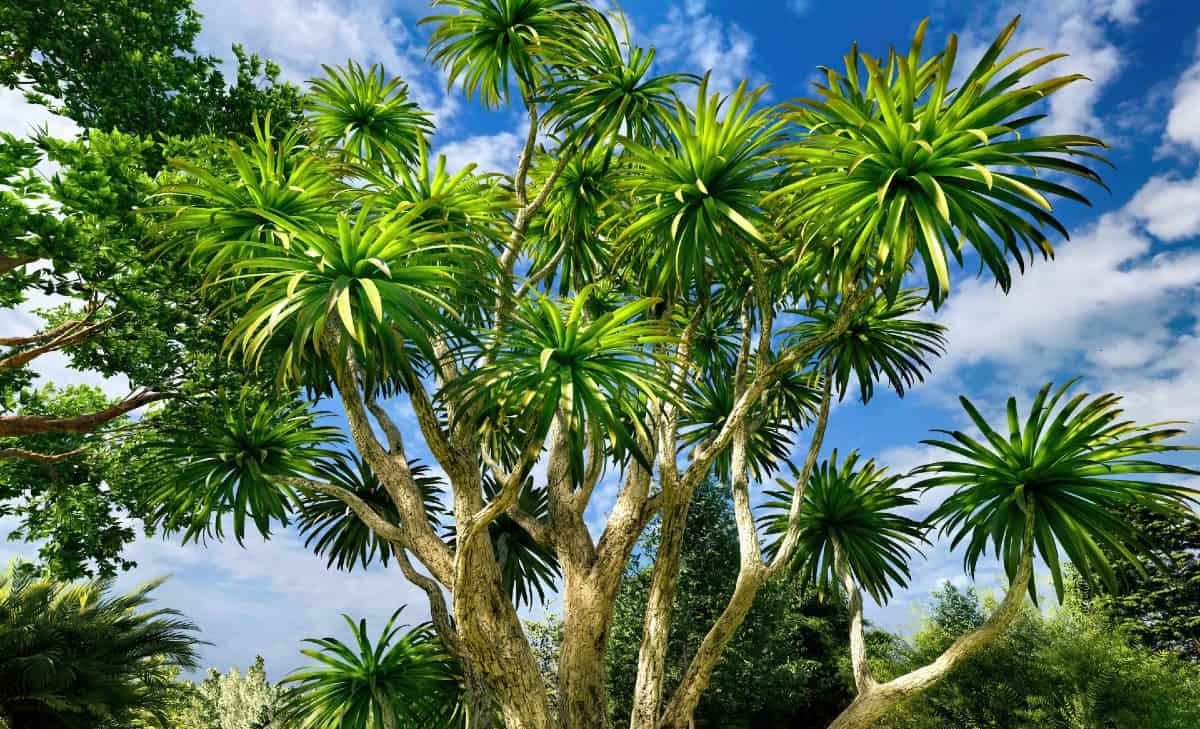 Commonly referred to as the Sabal or Cabbage Palm, but also the Blue Palmetto, this evergreen is popular among homeowners in Florida. Once fully established, the Sable Palm requires little to no maintenance.
Most people select this tree for its huge fronds that resemble fans. The hotter the area, the faster this tree grows, and it can reach up to 80 feet tall.
The large fronds remain near the ground for several years, as it takes a while for the trunk to appear. Plant these trees in full to partial sun using well-draining soil. Mix in sand to improve drainage of heavier soils.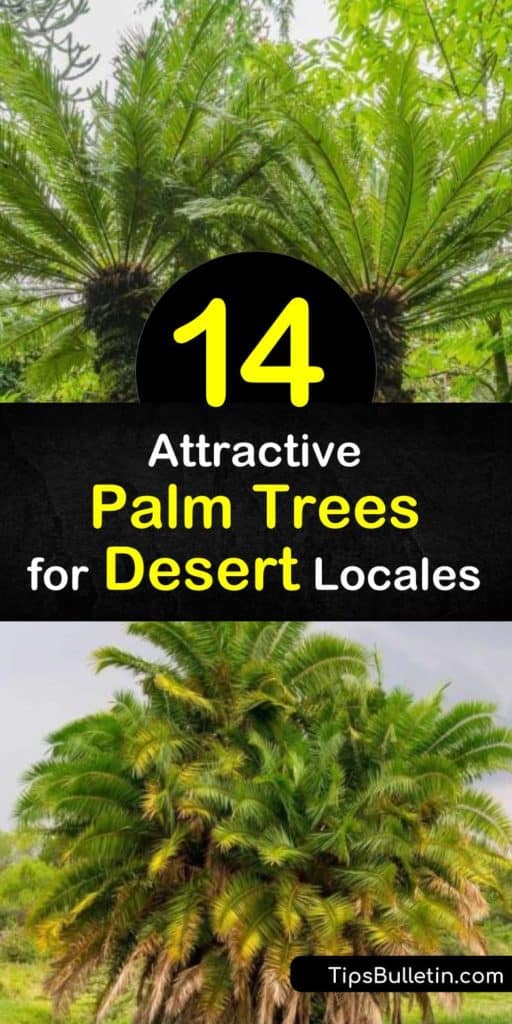 Thank you for reading about our information on palm trees in desert landscapes and locales. If you found any of our palm tree suggestions useful, please take a minute to share the best palm trees for the desert-themed landscapes and locales with others on Facebook and Pinterest.