If you've ever grabbed a bunch of cilantro instead of parsley while at the grocery store, you're not alone. These fresh herbs look strikingly similar, but one of them has a much stronger flavor than the other. Discover the appearance, taste, and nutritional differences between parsley vs cilantro to help you make the right choice during your next shopping trip.
Who would've thought that two herbs that resemble each other so closely could have such a different taste? Cilantro and parsley both have green leaves that look almost identical, and it's hard to tell them apart if you do not have a keen eye.
While they are interchangeable in some dishes, one has a unique flavor and scent that not everyone tolerates. Parsley and cilantro come from the same botanical family, Apiaceae.
However, fresh parsley is a famous garnish in North America and Middle Eastern and Mediterranean regions, and cilantro is a popular herb for Indian, Asian, and Mexican dishes. While both herbs are common for cooking, they also have a history of use in traditional medicine.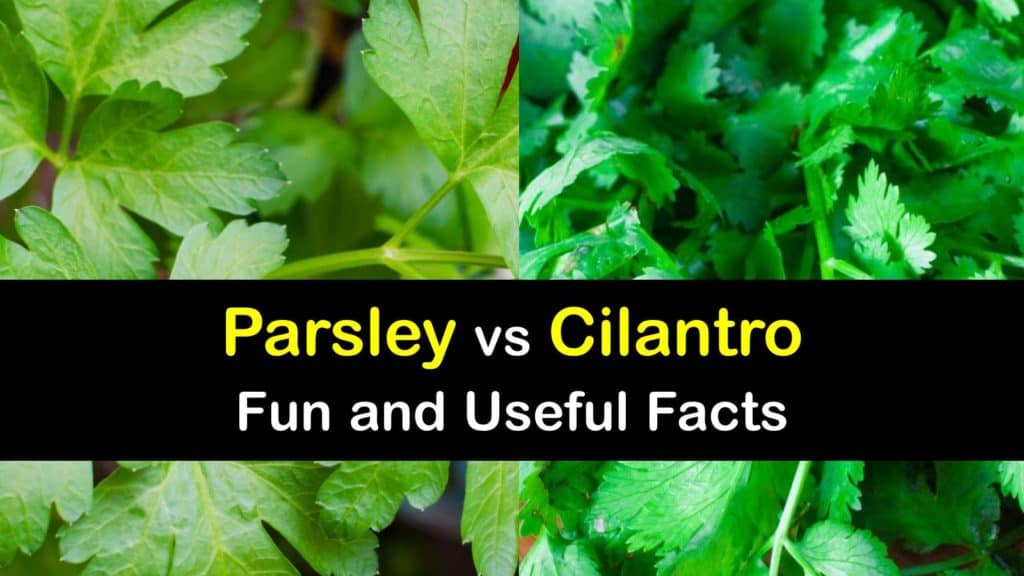 The Differences between Cilantro vs. Parsley
Fresh parsley and cilantro bear a strong resemblance to each other with their stems and bright green leaves. It's easy to grab the wrong one by mistake if you're in a rush while grocery shopping.
However, it's just as easy to grow cilantro in containers indoors, as well as parsley, so save yourself a trip to the store by planting your own. If you are growing them outside, planting cilantro in the fall saves them from the hottest temperatures.
Cilantro is ready to harvest when the leaves and shoots are bright green. Is parsley and cilantro the same thing?
These two herbs have their own distinct taste and aroma, and we use them in a variety of different dishes. Learn the difference between parsley and cilantro regarding flavor and their many cooking and medicinal uses and nutritional values. Explore a recipe for combining the taste of both herbs.
Is Parsley and Cilantro the Same Thing?
Many herbs have a similar appearance, and it's easy to confuse fresh cilantro for parsley. Is parsley and cilantro the same thing, and can you use them interchangeably in recipes? Learn what these two herbs are and how to tell them apart.
Parsley and cilantro are aromatic herbs with long thin stems and bright green leaves. However, parsley (Petroselinum crispum) has a fresh, mild aroma, and cilantro (Coriandrum sativum) has a spicy, citrusy scent.
Cilantro is an annual herb we sometimes call coriander or Chinese parsley, and this herb grows one to two feet tall. It is native to areas that span from North Africa to Southwestern Asia.
Many people don't know that cilantro plants are a two-in-one herb. When cilantro bolts or goes to seed, the dried seeds of this plant are what we know as coriander seeds. Parsley is a biennial herb that we treat as an annual. It is native to Mediterranean lands, and it grows up to one and a half feet tall.
Cilantro leaves or coriander leaves are rounded with frilly edges, while parsley leaves are pointed with ruffled edges. However, there are different types of parsley that vary in appearance, including flat leaf parsley, curly leaf parsley, and Italian parsley. The Italian flat leaf looks like cilantro, which often causes confusion.
Flavor Difference between Parsley and Cilantro
While cilantro and parsley resemble each other, they each have a distinct taste. Note the flavor difference between parsley and cilantro to ensure you use the herbs wisely while cooking recipes.
Parsley leaves have a clean and mildly peppery taste with a hint of earthiness that varies depending on the variety. Flat leafed parsley is more robust, while curly leafed types are slightly bitter or have little to no taste at all.
On the other hand, cilantro has a taste that people either love or hate. Some say it is fresh tasting with hints of citrus, and others claim its strong flavor is too intense and soapy. This soap-like taste is due to the aldehyde compounds of the plant.
Nutritional Values of Parsley vs Cilantro
While we often think of herbs as simply a way to enhance foods, there are many health benefits to incorporating cilantro and parsley into your diet. Learn which vitamins, minerals, and antioxidants these herbs have and how they are beneficial to your health.
Parsley and cilantro have similar nutrients. Both are low in calories and carbohydrates and are rich in many vitamins. They have high levels of vitamin K, vitamin A, and antioxidant vitamin C for boosting the immune system and potassium and dietary fiber.
Parsley has more lutein and folate than cilantro, while cilantro contains more alpha-carotene and vitamin E. They are both rich in phenolic compounds and good sources of antioxidants. Cooking these herbs lessens the amounts of some antioxidants while increasing the levels of others.
The plant chemicals in these two herbs have a variety of health benefits, including reducing blood sugar and cholesterol, preventing blood clots, and relieving pain.
They also have anti-inflammatory qualities and act as a diuretic. Unfortunately, though, studies show that cilantro does not reduce heavy metals in the body as initially thought.
The Many Uses of Cilantro and Parsley
What's the best way to use parsley, and is it a substitute for cilantro? Find the many ways to use both herbs in cooking and everyday life. Browse our list of herbs that are useful substitutes for cilantro and parsley when you're in a pinch.
Both herbs add a pop of vibrant green color to any recipe. However, their flavors are unique, and they aren't always an ideal substitute for each other. Cilantro is a traditional herb for Indian, Mexican, and Asian dishes. It transforms plain, diced tomatoes into pico de gallo and bland avocados into guacamole.
It is also popular for chutneys, curries, chili, soup, salad dressings, and vegetable dips. It is possible to replace parsley for cilantro by adding a bit of lemon juice or lemon peel to the recipe to elevate the dish.
Parsley is a more versatile herb than cilantro with its mild, herbaceous flavor. It complements garlic, lemon, and other ingredients and is a staple in Middle Eastern cuisine like tabbouleh. Unlike cilantro, parsley holds its taste while cooking, and it's perfect for flavoring everything from pesto and marinade to soup and stew.
For a garnish substitute for parsley, cilantro, carrot greens, and celery leaves are good choices. However, dried or fresh chives and chervil are better options for culinary dishes.
These herbs have other purposes than culinary since they are rich in nutritional elements and micronutrients. The coriander seeds of a cilantro plant are beneficial as a medicinal tea to treat indigestion, and boiling the seeds is helpful to women suffering from hormonal mood swings and heavy menstrual flow, and coriander juice aids in indigestion.
Cilantro leaves are rich in carotenoids, and cilantro leaf juice has almost as much beta-carotene as broccoli juice. In addition, this plant contains the essential oil, linalool, which detoxifies the liver and increases the appetite.
There are a couple of reasons parsley works so well as a garnish on your dinner plate. While the texture and green color look appealing, parsley freshens your breath after eating and aids in digesting your food. It's also good for a poor appetite, and consuming the leaves before dinner may help.
The leaves, seeds, and roots of parsley also have an array of medicinal qualities when you prepare them as tea, essential oil, or leaf poultice. The roots affect the urinary system, are useful as a diuretic, and help improve menstrual cycles, and the leaves are beneficial for treating insect bites, inflammation, and bruising.
Using Parsley and Cilantro to Make Chimichurri Sauce
Many dishes call for cilantro or parsley, but one of our favorites is homemade chimichurri sauce. This popular condiment of South and Central America has a vibrant, fresh flavor, and it's delicious when you serve it on chicken, steak, and seafood.
Roughly chop the onions and garlic and put them into a food processor. Add the red wine vinegar, lemon juice, and salt and pulse to blend the ingredients while stopping and scraping down the sides.
Add the parsley, cilantro, and oregano and pulse the processor while pouring in the olive oil to mince the herbs finely. Pour the chimichurri sauce into a storage container and keep it in the fridge until you're ready to use it as a marinade or spread it over meats.
Preserving fresh cilantro or parsley in the freezer is ideal if you have a large supply. Freeze parsley and cilantro in ice cube trays to have the herbs ready for your favorite recipe.
Cilantro and parsley have a similar appearance, and using the wrong herb in a dish leads to undesirable results, especially if you cannot stand the taste of cilantro.
Fortunately, it's easy to tell them apart by inspecting their leaves. Whichever herb is your favorite, you're in for a treat since both of them are rich in flavor, nutrients, and antioxidants.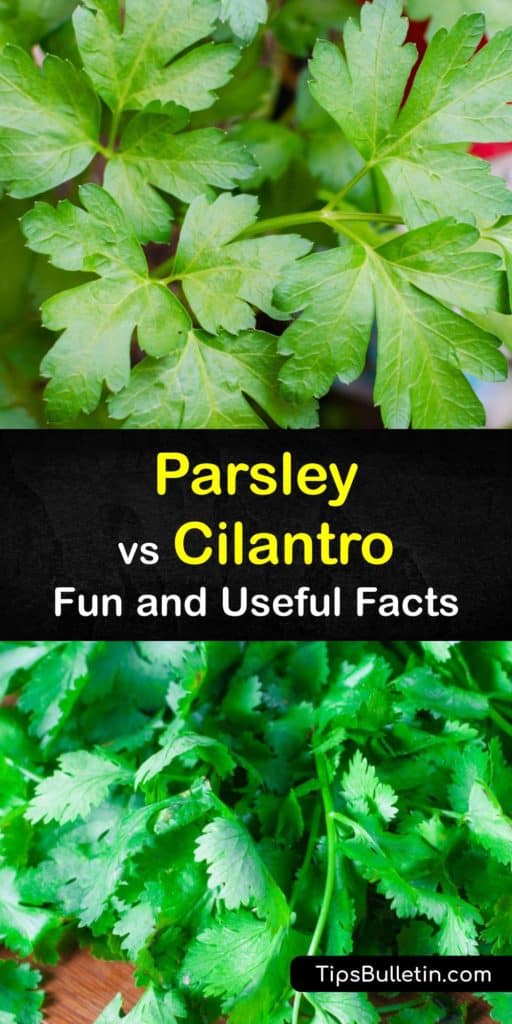 Now that you understand the differences between parsley vs cilantro and how they are beneficial to your health, why not share our parsley and cilantro guide with the herb-lovers in your life on Facebook and Pinterest?