With people becoming increasingly conscientious about their health and their food, they are often looking to substitute foods high in carbs and calories. People prioritize health and wellness for many different reasons, including weight loss, lowering blood pressure, and overall better health benefits and wellness. Comparing parsnips vs potatoes is one small but effective way to take control of your health.
If you are on a low-calorie or low-carb diet like keto, you will always look for a healthier substitute for potatoes and other starchy veggies.
What is the difference between parsnips and potatoes? Is one better than the other? Parsnips are overlooked in a typical American diet. This is an unfortunate finding because they are packed with vitamins and minerals while offering bold new flavors.
Not only does this article compare the parsnip vs potato, but it recommends a substitute for parsnips, the significant differences between them and other root vegetables, and recipes that won't be affected by swapping out one root veggie for another.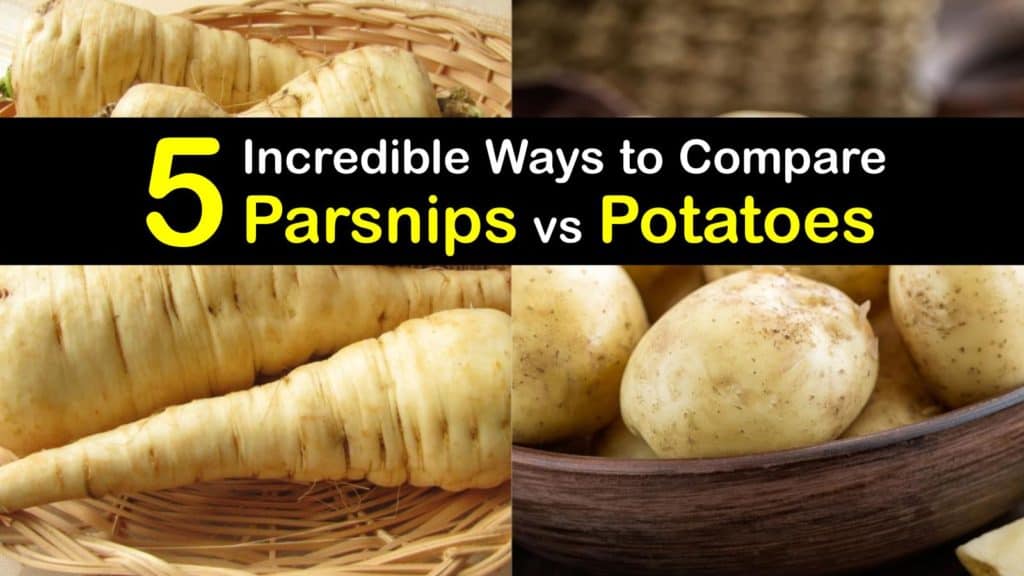 What are Root Vegetables?
Parsnips and potatoes are both root vegetables that people love, but understanding their history might make you appreciate having these types of food on your plate for dinner.
Turnips are not as popular today as they once were but, at a time, as essential to Romans as potatoes are to us now. Turnips are considered one of the earliest root vegetables, and their cousins have only grown in popularity as time has passed.
In the early 17th century, botanists began crossing turnips with cabbages and other plants to give us new foods to eat.
Rutabagas were the first result of these experiments, and over time we have been given access to a wide variety of similar vegetables like carrots, white potatoes, and radish.
The popularity of parsnips started gaining traction around the 18th century and came to America with English colonials. Now that they are presently gaining fans, comparing parsnips vs potatoes is something lots of people do.
Knowing the difference between parsnips and potatoes helps you make more informed choices about the food you put in your body so that you live an overall healthier lifestyle.
The Difference between Parsnips and Potatoes
Venturing outside of your comfort zone is something that we always encourage. With new superfoods on the rise, you might be surprised that parsnips make the list.
Finding a substitute for parsnips is fine, but don't write this food off before you've had a chance to learn about all of the benefits it has to offer.
If you decide to grow your own, plant parsnips with cucumbers to ward off pests. Growing potatoes from a potato is also easy and economical.
Parsnips vs Potatoes
Why would people compare parsnips to potatoes if they don't even look the same? Parsnips look more similar to carrots than potatoes.
Even though they are cream-colored on the inside instead of orange or purple, they have long bumpy bodies thicker on top than they are on the bottom.
Their outer skin is usually peeled to remove dirt and blemishes before chopping them up and using them as a main or side dish. The best way to know if potatoes are bad, as well as parsnips, is to check out the skin and smell the veggie. Throw away spoiled potatoes or parsnips.
Russet potatoes have a similar creamy color on the inside, and sweet potatoes have an orange color closer to a carrot.
Their shapes are much different as they are rounder with equal thickness throughout the whole vegetable. Even though these two vegetables don't look similar, they are excellent substitutes for one another because of the similar textures inside.
The Difference in Flavor Between Parsnips and Potatoes
Flavor is one of the most important things that people care about when cooking. Parsnips have a sweet taste more comparable to a sweet potato than to traditional, savory mashed potatoes.
White potatoes are blander and take on the flavors of other ingredients. Parsnips may be sweet, but they have a hint of spice that lingers in your mouth.
Lots of home cooks turn them into a puree to imitate mashed potatoes, and some people even find them more desirable when cooked this way.
Nutritional Value of Parsnips vs Potatoes
The main difference between parsnips and potatoes comes from their nutritional values. One cup of parsnips contains about the same number of calories compared to potatoes. However, they differ in other places.
Parsnips contain about 12 grams of carbohydrates per half-cup, while potatoes have 20 grams of carbs. Both have vitamin C, but parsnips have a much higher concentration of vitamin A and vitamin K and higher grams of fiber.
Parsnips don't only win over potatoes in vitamins. They are one of the best sources of calcium, potassium, magnesium, folate, phosphorus, and manganese. Potatoes also have some of these minerals, but the amount in parsnips is higher.
With all that said, there are some areas where potatoes beat parsnips. Potatoes have a higher glycemic index to help regulate blood sugar and blood pressure.
Whichever you choose to eat, both are rich in antioxidants and used to control cholesterol and support a healthy diet.
The Best Substitute for Parsnips
If parsnips aren't your jam, the great thing about root vegetables is that they have similar textures and cooking times and are easy to swap with one another.
Some great parsnip substitutes include turnips, celery root, parsley root, sweet potatoes, carrots, rutabaga, and daikon. Many people debate the taste and nutritional value of turnips vs potatoes, too.
Meals to Make with Either Parsnips or Potatoes
The best recipes are ones that are customizable and use ingredients that are easy to substitute. Lots of people love potato gratin, but few have tried parsnips in place of the potatoes.
Gratins are an extraordinary meal idea because it is easy to add nutrition from other veggies, like zucchini, or even throw in unusual spices, like cumin, to give it a whole new flavor profile.
This is a traditional recipe that is easily customized to fit all your personal preferences.
Turn on your kitchen oven and allow it to warm up to 400°F. Wash and peel the outside of the parsnips and slice them 1/8 of an inch thin on a mandolin. Grease a standard baking pan with butter.
Work in layers and lay down the parsnips, onions, thyme, and cheese until you have just enough left for a final topping layer. Dump the heavy whipping cream into a small pot and heat it on the burner.
Whisk in the salt, pepper, and nutmeg until it starts to simmer, and then pour it over the layers of parsnips.
Add the final layer of parsnips, onion, cheese, and thyme, drizzle the top with a small amount of olive oil and cover it with foil. Bake the gratin for one hour and let it rest for 15 minutes before cutting and serving.
It isn't always easy finding ways to cut back on carbs, especially when potatoes are such a regular part of our diet. Learn how to preserve potatoes and parsnips so you always have these yummy veggies when you want them.
Parsnips are a new food on its way to becoming more and more popular, offering our taste buds more than they could have wished for.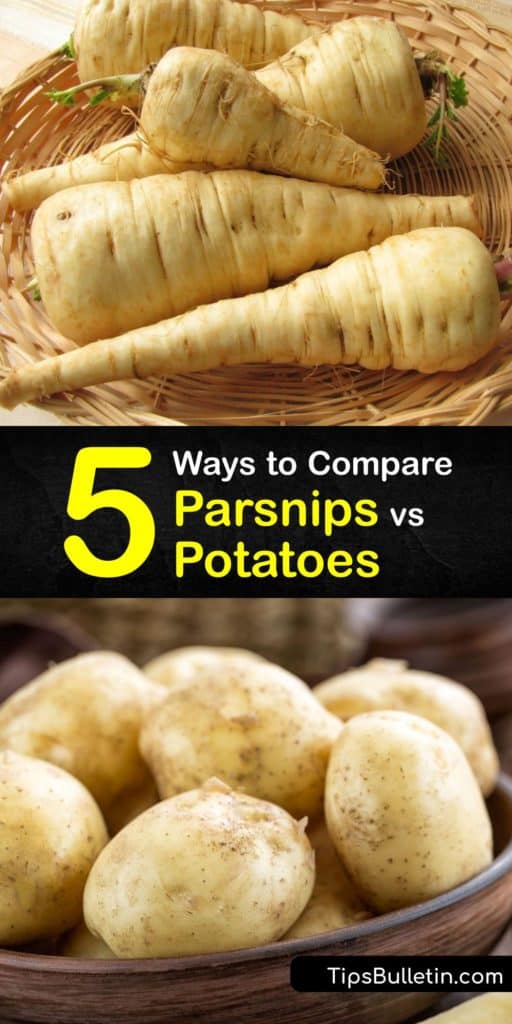 If comparing parsnips vs potatoes has helped you see root vegetables in a new light, share this information on the difference between parsnips and potatoes on Facebook and Pinterest.