Novice and experienced growers often struggle to determine the differences between peat moss vs compost. Is peat moss compost? Peat moss and compost are separate soil amendments, though both are made through decomposing organic matter. Peat moss is a naturally occurring resource made in the peat bogs of Canada. Compost is created in backyards from organic waste such as kitchen scraps or garden trimmings produced in the home.
Some gardeners have a moral objection to using peat moss, as the harvesting process is harmful because of the emission of carbon gasses, and it's a natural resource that takes many years to reform. Conversely, compost is widely accepted and supports a greener planet by upcycling waste into organic garden fertilizer.
If you're interested in using peat moss or compost for lawns, familiarize yourself with the differences to make the best choice for your garden. Peat moss and compost affect soil pH and structure differently, though both have much to offer as soil amendments for the home garden.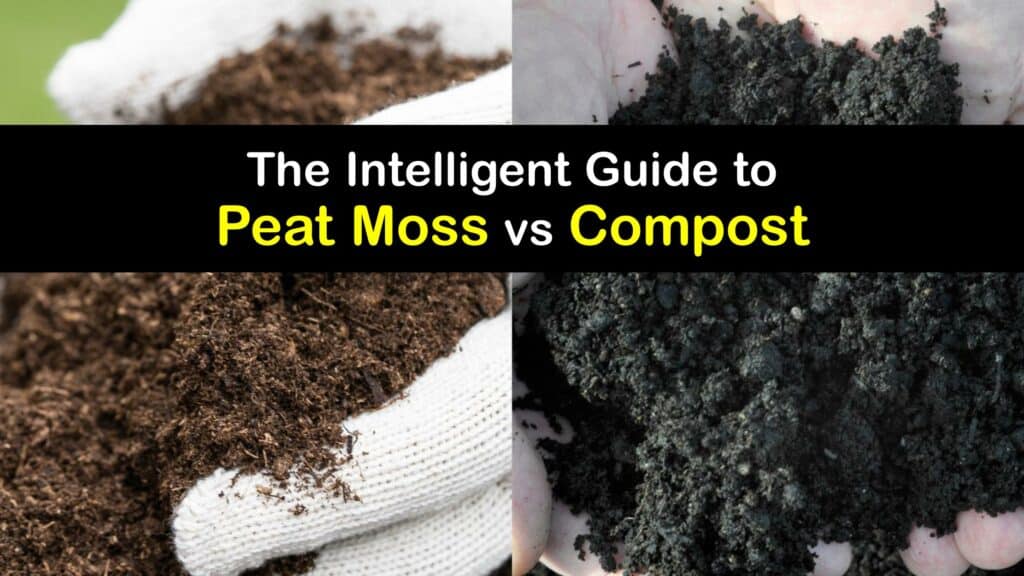 Using Peat Moss or Compost at Home
Many growers wonder about peat moss vs compost and ask, "Is peat moss compost?" Though peat moss and compost are not the same, they share similar qualities. However, they differ vastly in how they're formed and affect soil pH. Learn about these soil amendments to put them to work in your home garden.
What Is a Soil Amendment?
A soil amendment is added to soil to improve its characteristics, from water retention to air spaces to nutritional content. Unlike peat moss, sphagnum moss is not a soil amendment but a florist's tool – though the two are often confused. Learn more about potting compost vs potting soil. They're all different but have unique purposes.
Mix a soil amendment into your potting mix or garden beds and improve their quality for some epic gardening.
Is Peat Moss Compost?
Peat moss and compost aren't the same thing. Peat moss is a decomposing fibrous material developed in Canadian peat bogs as mosses and other organic matter rot. Peat moss primarily moss, and its decomposition happens without air, which considerably slows the process of decay.
Peat moss can take thousands of years to produce; you can make high-quality compost in less than a year. Annually, less than a millimeter of depth is added to peat bogs. Due to its slow growth rate, peat moss is not regarded as a renewable resource.
The Ethics of Peat Moss vs Compost
The difference between peat moss and compost is vast, though both are used as soil amendments to alter the characteristics and quality of soil for gardening. A peat bog releases lots of carbon into the atmosphere long after the mining for peat moss is complete, and the collected moss takes millennia to re-form.
Coco coir (coco peat) and compost are ethical peat moss alternatives. Compost is very environmentally friendly and reduces organic matter and food waste by converting it into a valuable product without harmful side effects. Because of the implications of harvesting peat moss, many gardeners avoid purchasing it.
Uses of Peat Moss
The most frequent peat moss use is for garden soil improvement or lawn amendment. Some gardeners bulk their compost by adding peat moss as a carbon source. Peat moss shouldn't be used as mulch because it can dry out and blow away in the wind, and its fiber-like structure robs the soil beneath it of moisture.
Peat moss is an excellent option for lawn, fruit, flower, and vegetable growth in the garden and complies with organic agricultural standards. Due to its capacity to hold moisture for extended periods, peat moss is frequently utilized as a soilless option for starting seeds in a greenhouse or as an alternative growing medium for houseplants.
How Is Compost Used?
Compost provides organic material and nutrients when combined with potting mix or used in outdoor gardening. Like sphagnum peat moss, mixing compost with soil increases water retention for plants and lawns.
It's a common choice to improve soil structure in gardens with native clay soil or sandy soil, and it is often used in combination with potting soil for container gardening. Compost creates good soil texture and air space around lawn grass or plant roots to help avoid issues like leaf mold.
Finished compost is made by the controlled decomposition of nitrogen and carbon-rich organic matter to form a nutrient-dense organic fertilizer. It's important not to compost weeds to avoid spreading weed seeds in your garden.
Making your own compost is pretty easy if you follow some guidelines. If your compost is not progressing as quickly as it should, make a compost booster recipe to encourage faster decomposition so you can use compost in the garden sooner.
Effects of Compost and Peat Moss on Soil pH
Whether you raise alkaline or acid loving plants, maintaining the pH of the soil mix is a concern for most growers. You may wonder whether to use manure or compost, or peat moss to benefit your soil. Peat moss is acidic; ideal for lowering soil pH to produce more acidic soil quickly. Compost has less effect on soil acidity, though it may make alkaline soil more acidic over time if used in large proportions. Most manure leans toward the alkaline range.
When considering peat moss or compost for lawns, it's crucial to understand how the two differ. Both are valuable soil amendments with similar properties, yet peat moss is much more alkaline and less ethically sound.
If you loved this article on peat moss vs compost, please share this brilliant information on using peat moss or compost for lawns with your close friends and family on Pinterest and Facebook.