Mice spread viruses and diseases such as Leptospirosis and rat-bite fever, cause commotion in the home, and give the illusion that a house is unclean and unhealthy. They also cause property damage. Knowing how to use peppermint oil spray for mice helps avoid one of the most upsetting problems homeowners face – mouse invasions.
An infestation of mice is distressing and bothersome. Fortunately, getting rid of mice or keeping them far from your house using peppermint essential oil doesn't have to be complicated. By employing peppermint oil to get rid of mice, homeowners stop a rodent problem in its tracks and prevent extra worry and home damage.
Toxic synthetic poisons aren't the only answer to a mouse issue. Peppermint repels mice and is safe for pets and people. Address your mouse invasion by mixing a basic peppermint spray, distributing it around the house on cotton balls, or trying another olfactory deterrent like chili oil and cayenne pepper. Peppermint oil is a safe and natural pest control for rodents.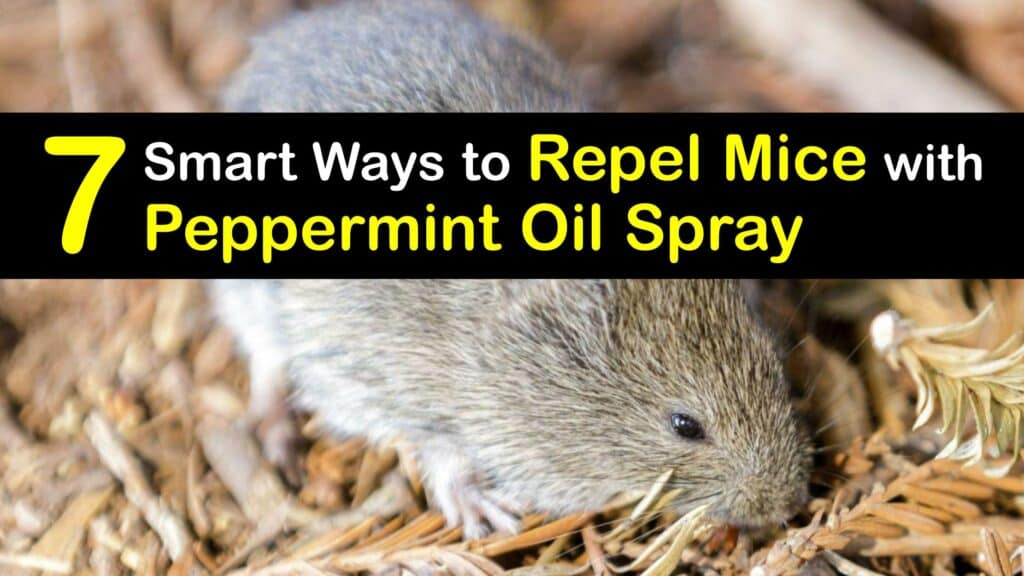 Peppermint Oil to Get Rid of Mice
Ditch a complicated mouse trap and use peppermint oil spray for mice or another rodent infestation. Peppermint essential oil is efficiently extracted from the peppermint leaf, which grows on the peppermint plant; the oil is entirely natural.
Peppermint repels mice as it carries a heavy scent and irritates their olfactory or smell systems. To avoid sickness and maintain cleanliness in your home, manage mouse activity and eliminate mice. Fortunately, applying peppermint to deter mice is a quick and effective pest management strategy.
When using peppermint to discourage mice, address the environmental factors contributing to your mouse infestation for maximum success. Seal pet food in rodent-proof, airtight containers.
Examine your walls, doors, and windows for cracks or other entry points for rodents to prevent them from breaching your home. It is simple to figure out how to utilize peppermint oil to deter mice and help with a rodent infestation.
Note that peppermint doesn't harm mice – they just don't like it. If you are looking for household products that kill mice, try boric acid and peanut butter bait. Keep bait balls away from children and pets.
Why Peppermint Repels Mice
Peppermint oil is a well-known rodent repellent to keep mats, rice, and other unwanted pests, including spiders, out of your house. The strong smell of peppermint provides a natural way to perform pest control as it repels mice and rats.
Rodents such as mice and rats and several insect pests have delicate olfactory sensors or an enhanced sense of smell. This strong olfactory capability makes intense aromas like peppermint uncomfortable for mice. Leaving a peppermint scent around your home ends your mouse problem or rat infestation as the overpowering smell drives off the rodents.
Use Peppermint Oil Spray for Mice in Your Home
A peppermint oil spray keeps mice out of your house and leaves your living space smelling clean and fresh. Mixing peppermint essential oil with water dilutes it into a spray to mist in the air and onto surfaces to ensure mice avoid your property.
Spray the mixture liberally over your home and garage. The spray keeps mice out of your house and leaves everything smelling fresh. Peppermint oil spray deters mice from coming inside, especially when combined with eliminating potential food sources.
Use Cotton Soaked With Peppermint Oil to Keep Mice Away
Pure peppermint oil soaked cotton balls are a cheap and uncomplicated pest control method. Place several drops of peppermint oil onto each cotton ball and set them in an open-top dish on the counter, or put individual cotton balls in places where rodents are a concern.
The fragrant smell of peppermint oil diffuses into the air, and mice pick it up from a great distance thanks to their heightened sense of smell. The aroma of peppermint deters mice and pests from staying or keeps them from entering your house. Peppermint oil will kill bed bugs along with a number of pests in your home.
More Essential Oils as a Natural Mouse Repellent
Fortunately, most people enjoy the strong scents of essential oils, including eucalyptus and tea tree oil, as they leave your home smelling fresh and clean. Rodents, however, hate them.
Natural essential oils are safe for your household and keep mice under control by forcing them away or preventing them from entering. Consider scents that repel mice by using essential oils as a simple and humane mouse pest control solution if you prefer natural treatments.
Spread cotton balls throughout the home after adding a few drops of essential oils to serve as a homemade mouse deterrent. Place the cotton inside your wardrobe or dresser to leave your clothes smelling fresh and guard against mouse damage.
Commercial Products Using Peppermint Essential Oil
If you decide against making a DIY solution for your rodent infestation, choose a commercial product with peppermint extract for the same advantages.
Mighty Mint Rodent Repellent and similar mouse control items rely on the power of peppermint to eliminate mice without putting your family at risk. Always read the label thoroughly when using a store-bought mouse control solution. Follow the guidelines carefully and heed safety warnings for the best results.
Benefits of Using Peppermint Oil to Get Rid of Mice
Many pest control options are available to buy or make as DIY solutions. While lots of these ideas are efficient in eradicating a rodent issue, not all are safe or humane. Many mouse traps are cruel and leave injured mice suffering for hours – not to mention you have a disgusting cleanup and the task of dispatching the creatures.
Chemical rodent treatments are loaded with toxic compounds meant to poison mice, though they readily poison your family and pets if accidentally ingested. Peppermint oil is humane, causes no suffering to mice and rats, and won't harm you or your pets. The oil is budget-friendly and easy to use, making it a beneficial choice for rodent control.
Other Natural Mouse Repellent Items
If you don't have any pure peppermint oil, try a different scent-based deterrent to keep mice away.
Potent aromas, whether from spices such as cinnamon or hot items like cayenne pepper, stop mice from wanting to enter your space. Strong smells disturb rodents' sensitive noses and make them uncomfortable.
Appealing to the prey side of mice is another viable trick to keep them at bay. Cats naturally hunt mice, and letting rodents know there's a cat in the vicinity gives them good cause to steer clear. Place small amounts of used kitty litter outside your home and outbuildings to let mice know it's unsafe to linger.
Rather than setting up laborious traps, use peppermint oil to get rid of mice naturally. Commercial traps and poisons are well-equipped to handle a rodent infestation, but they leave your family and pets at risk of accidental injury or poisoning and harm indiscriminately, often killing and hurting innocent wildlife.
Peppermint oil is affordable, natural, and a humane option to convince mice to leave your property without risking unnecessary harm.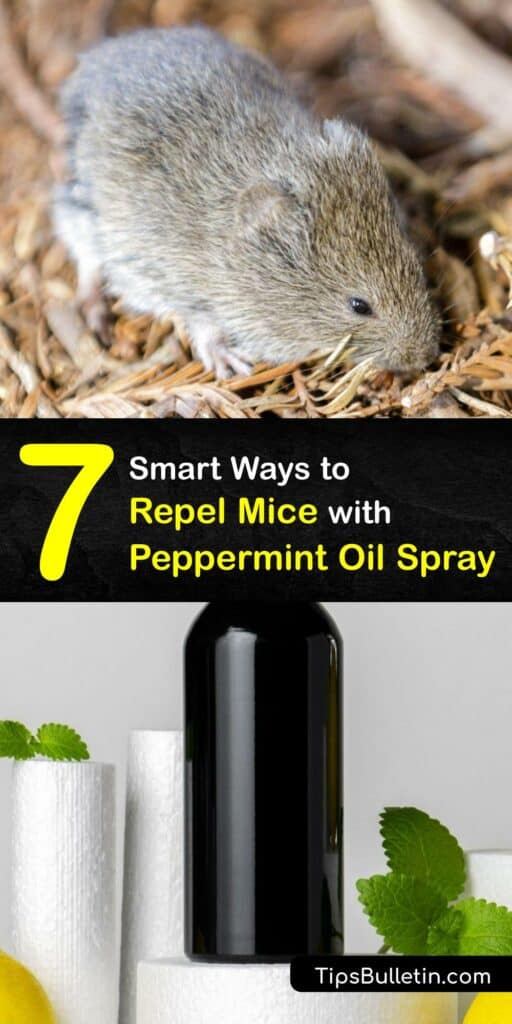 If you loved this article on peppermint oil spray for mice, please share this brilliant information for using peppermint oil to get rid of mice with your friends and family on Pinterest and Facebook.