Spiders are one of the most undesired household pests, and also one of the most common. Not only do these creepy crawlies look spooky, but they also leave annoying cobwebs all over the place! Luckily, you can make a natural, non-toxic peppermint spray for spiders to keep them far away from your home.
The best way to keep spiders out of your home is to prevent them from coming inside. This is where natural deterrents like peppermint make a difference. Another essential aspect in having a spider-free home is to keep it clean and to seal up cracks in the floor and around windows and doorways. These are also the best areas to spray.
While there are more dangerous types of spiders, such as the brown recluse and wolf spiders, house spiders are typically harmless. However, that doesn't mean we want them in our homes. With these five natural ways of getting rid of spiders with peppermint, you can get rid of these annoying critters without having to call an exterminator.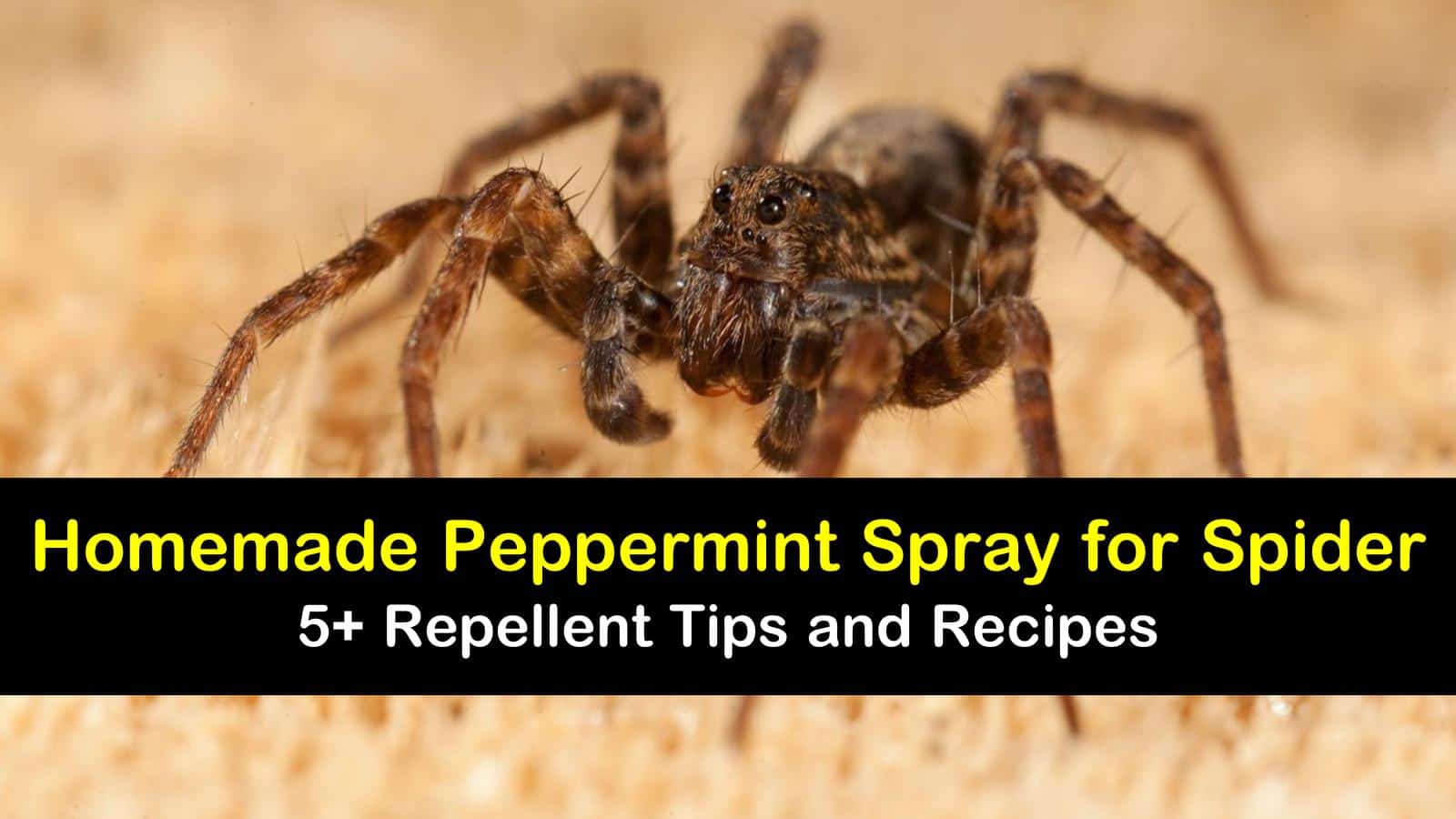 Spider-Repelling Peppermint Spray
Spiders are such a common household pest that it's not realistic to think about calling the exterminator every time you see one. Instead, make an easy peppermint spray preparation to help keep creepy crawlies out of your home and away from you.
These remedies are not a spider web removal spray but will encourage spiders to go elsewhere. When the spiders are gone, wipe away their old webs.
Peppermint Spray for Spiders
If you've ever asked yourself, "Does peppermint extract repel spiders?" The answer is yes. Peppermint and spiders are a terrible combination. Well, bad for spiders, anyway.
Spiders use their legs to smell, so any strong-smelling liquid, like peppermint oil, bothers them. When you squirt a peppermint-based spray on your windows, floors, steps, or walls, spiders will avoid crawling through the strong scent.
Though peppermint sprays will not kill spiders, they will certainly do everything they can to avoid the scent. Prevent them from entering your home, or encourage them to leave, by spraying the mixes on this list about once a week in strategic locations.
Use the sprays on this list to get rid of spiders in your car, garage, and house. Spray any area where you want to keep arachnids away and don't worry about the smell since most people find it quite pleasant.
Peppermint Oil for Spiders
Peppermint essential oil is easy to use in spider repellent spray because it is already in liquid form. However, peppermint oil can be potent when undiluted. To make an all natural spider repellent spray, add it to water.
If you want a stronger scent, dip cotton balls in the oil and place them strategically around your house. Put them in areas where spiders settle or where they try to get into your home. Window sills, crevices in the walls, and baseboards are the best spots.
Though peppermint oil is non-toxic, you still have to be careful when using it. Direct contact with the skin can be irritating. Too much inhalation of the oil leads to side effects like dizziness, confusion, muscle weakness, double vision, and nausea.
Keep it away from any pet cats or dogs. You can also use peppermint oil to get rid of other pests, such as bed bugs, and even to kill yellow jackets.
Peppermint oil is also not the only essential oil that repels spiders. Any of the recipes on this list can substitute the peppermint oil for an essential oil that deters spiders. Here is a list of essential oils that repel spiders and other creepy crawlies.
Peppermint Spider Spray with White Vinegar
Another strong-smelling liquid to scare off spiders is vinegar. The only problem with that is vinegar doesn't smell great to humans either. By mixing vinegar and peppermint oil, you not only double the spiders' discomfort, but you also help your home smell fresher.
Make this easy DIY bug spray for spiders by filling a spray bottle with the water and vinegar and then adding the drops of peppermint oil. Shake the bottle to ensure mixing.
Use this spray approximately once a week to keep spiders out of the crawl space, attic, and other tight spaces.
You can also use this natural spider spray for outside areas. Spritz it around the deck or patio when you want to enjoy time outdoors without worrying about spiders crawling nearby.
Peppermint and Dish Soap Spray for Spider Infestation
Though sprays that only contain peppermint oil for spiders won't kill them, adding just one additional ingredient can thoroughly disrupt a spider infestation in your house. If you've noticed a lot of spiders in your home or your yard, you might have an infestation.
Nests usually occur in corners inside or outside houses, on outdoor furniture, in basements, or other dark, cool areas. To disrupt the spiders and stop the situation from getting worse, you need some dish soap and peppermint oil. This powerful combination should take care of your problem.
To get rid of spiders in the garage or house, mix the ingredients in a spray bottle and shake to combine. Spray in areas where you've noticed a lot of spider activity.
Apply the spray once a week, or more if you do not see a decrease in the activity. Dish soap is effective at eliminating spiders because it disturbs their egg cycle, meaning no new spiders should appear.
You can also use this solution as one of the best home remedies to kill yellow jackets. However, it's important to use a sprayer with a long reach and to have a quick method to retreat after spraying to keep from being stung. Bees don't respond well to being attacked.
Use Peppermint Plants as Natural Spider Repellent
Sprays are great because they let you target specific areas while also covering a lot of ground. However, sprays are not the only option for using peppermint to repel spiders. If you're looking for a less time-consuming pest control option, then peppermint plants are perfect.
They smell great, are low-maintenance, and add a splash of nature to your home.Visit your local garden center and get a few peppermint plants. Place them strategically around your home, on a windowsill in the kitchen, in the bathroom, or by entranceways.
An added benefit of peppermint plants is that they are also a natural rat deterrent and repel cockroaches. They scare off a whole host of household pests, so these plants are a great way to kill two birds with one stone.
Sprinkle Mint Leaves
If you don't want to go around spraying your house once a week and you don't have a green thumb, then peppermint leaves are an excellent solution for you. You can buy mint leaves in the produce section of most grocery stores, so this is the most low-maintenance option on the list for a spider deterrent.
Sprinkle mint leaves in all the usual places that spiders like to hang out. You may need to shuffle the leaves around every few days to rerelease the scent and replace them every couple of weeks. Spiders will avoid these areas and make their homes elsewhere.
Keeping your house free of annoying pests like spiders doesn't mean you need to fill it will harsh chemicals. By using peppermint plants and peppermint oil to repel spiders, your home will be pest-free, will smell great and be safe for you and your family!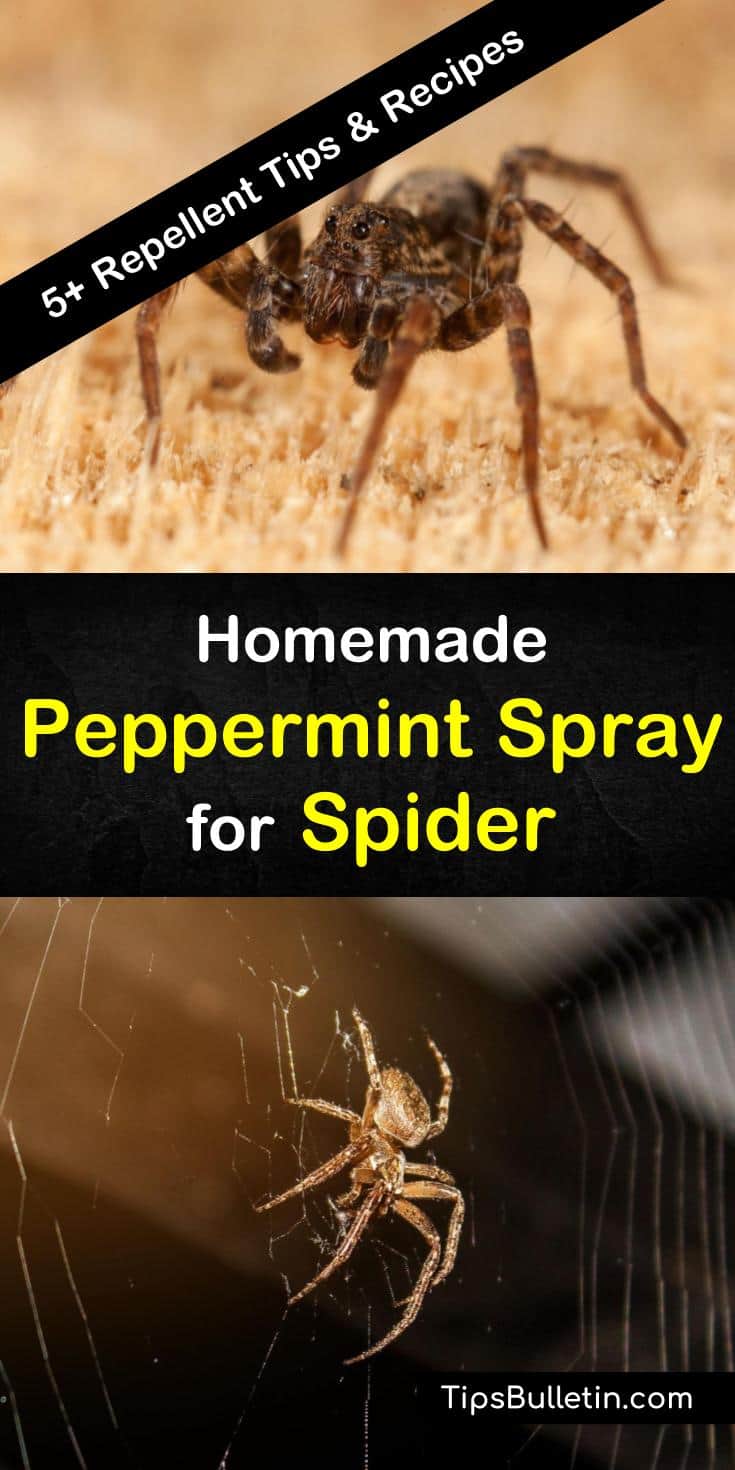 If you had success with any of our homemade recipes for peppermint spray for spiders, then share our natural pest control tips with your friends and family on Facebook!