Your garden is a carefully crafted work of art. You've spent countless hours on the internet, in the gardening centers and nurseries researching just the right flowers and perennial grasses to suit the look of your dream garden.
Planting the most beautiful flowers known to humankind and decorating your walkways with lovely stepping stones adds to the beauty of your little slice of perfection.
Necessary spacing between your flowers leaves huge, unattractive gaps, and putting too many flowers too close together only harms the plants.
Using perennial grasses, however, provides a lovely ground cover for flowers and when used in ornamental gardening will add that extra splash of color and beauty to your garden.
There are even perennial grasses for shade that are perfect for trimming the bases of trees and larger plants. With so many different species to choose from, the right perennial grass for you is a breeze to find.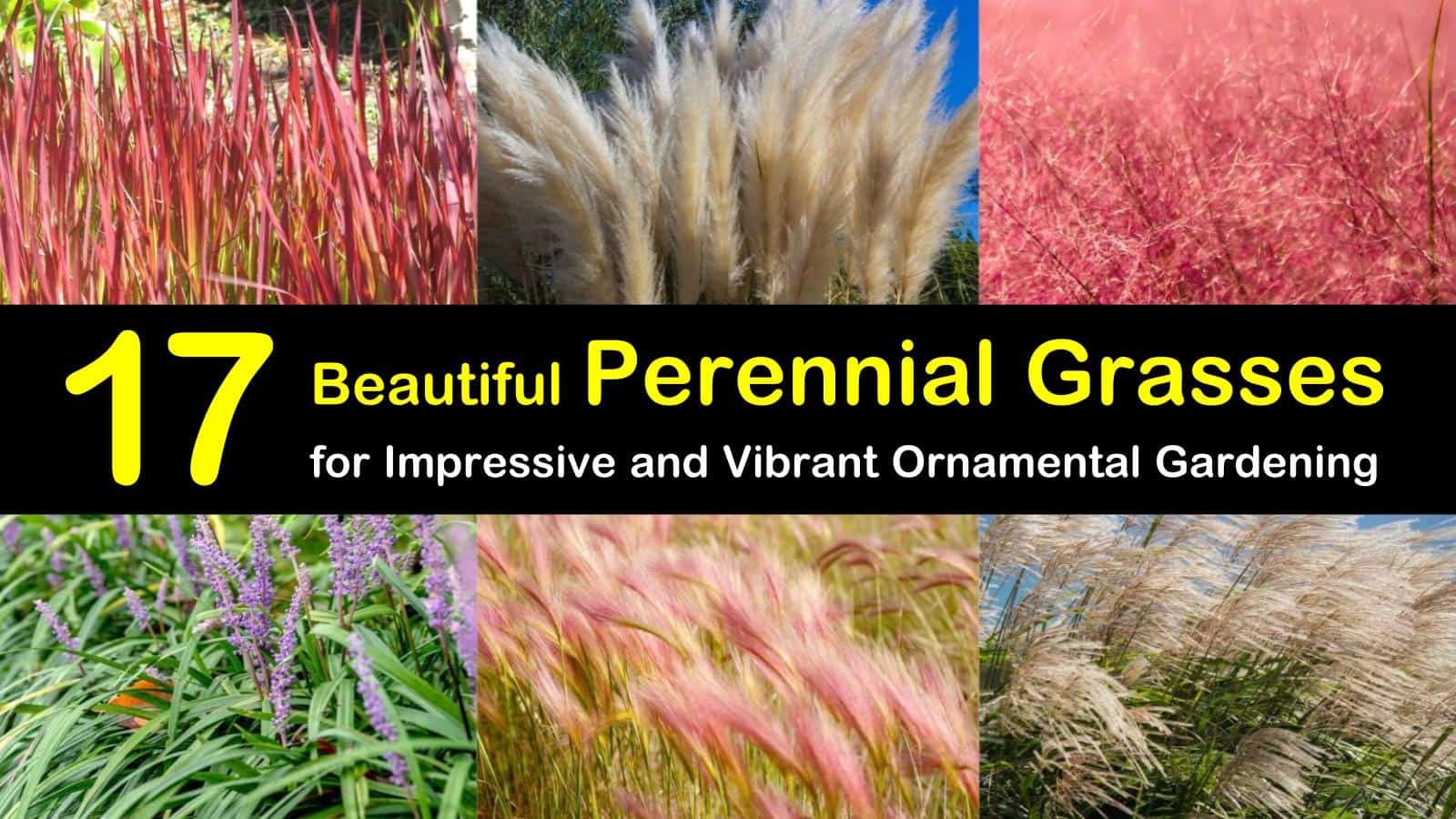 Are there any perennial grasses for shade?
Yes! There are several types of grasses and perennial plants to choose from when it comes to shade preferences. Some ornamental grasses like Northern Sea Oats, Lily Turf, and Mondo grasses grow in full shade.
For areas with partial shade, plants like reed grasses and fountain grasses will work. Some grasses do well in the shade but may not reach their full potential the same way they would in the sunlight.
Why are these perennials considered "ornamental" grasses?
Ornamental grasses come in various shapes, sizes, and colors. Some of the more widely used ornamental grasses aren't even a grass plant at all. What makes these grasses, or grass-like plants, decorative is their aesthetically pleasing contribution to your garden. These perennial grasses are beautiful and expertly enhance the flowers in your garden.
Some perennial ornamental grasses are even used as borders for walkways or hedges to enclose a property. However you choose to use these ornamental grasses, their purpose is to add a decorative flair to your already stunning work of art.
How do I choose a perennial grass that's right for me?
Choosing the perfect perennial grass comes down to several factors. Among these are the visually appealing features such as color and size. While we tend to think of grass as short green shoots erupting from the base of the earth, these perennial ornamental grasses come in all colors from purples to blues to black.
Their size is also a key factor depending on whether you intend to use them for ground cover plants, privacy hedges, or as medium-sized borders. The second crucial aspect of choosing a plant comes down to maintenance. Many of these perennial grasses are already easy to take care of and suited to colder climates. However, it's essential to know how well they will thrive in your garden.
If you need a plant suited for shade, but the one you want requires full sun, keep looking for the grass that suits both the look and substance of what you need. Equally, if there are grasses already in your garden, do not feel obligated to keep them.
Instead, use a natural weed and grass killer to eliminate unwanted plants and keep the ones you find most appealing. Get rid of dandelions and other annoying weeds by spraying them with a commercial or homemade herbicide.
Getting rid of nutsedge or crabgrass is easy with a recipe made from vinegar, dish soap, and Epsom salts. Be careful, though, to only treat plants you don't want as weed killers don't discriminate between favored and unwanted plants.
Jaw-Dropping Ornamental Perennial Grasses
Blue Fescue (Festuca glauca)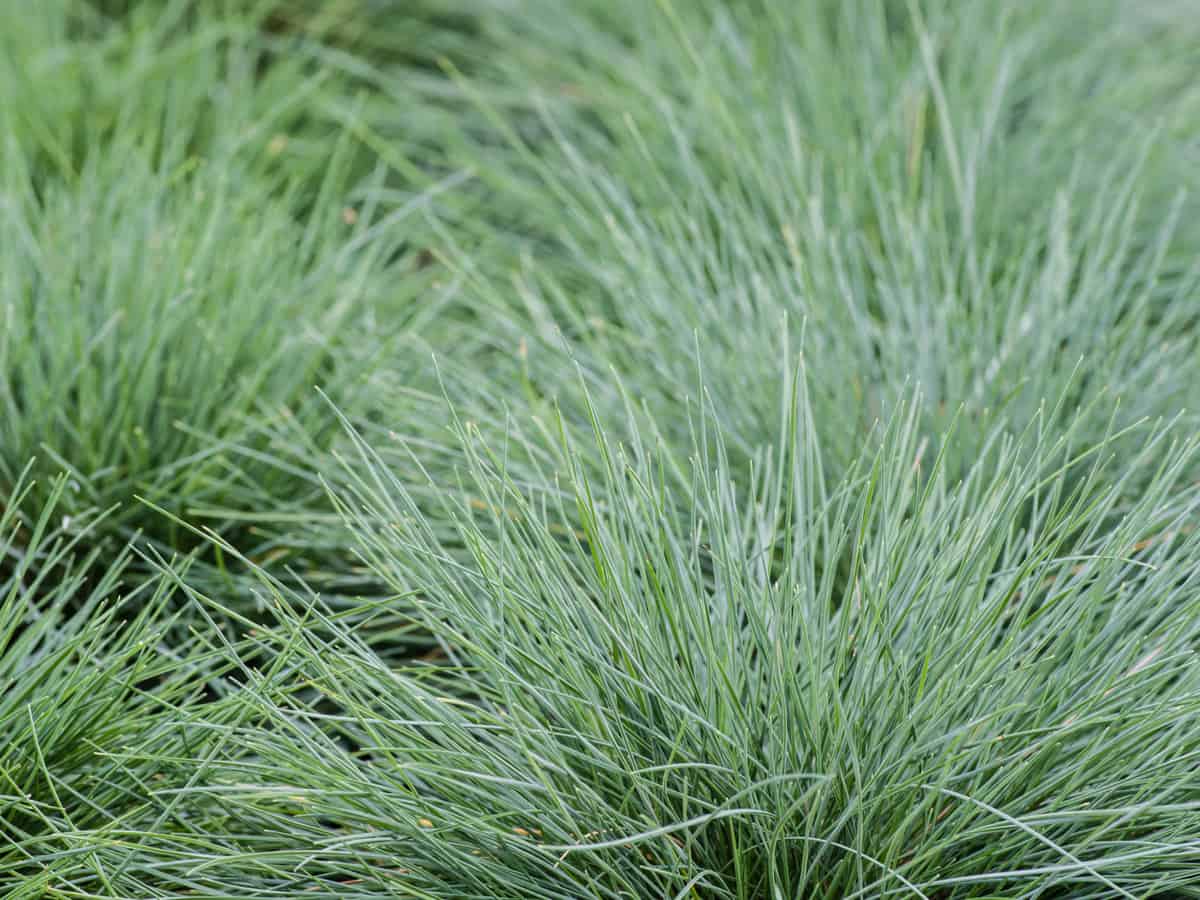 The Blue Fescue, also known as Elijah Blue, is a small ornamental grass with silvery-blue blades. Commonly used as a ground cover plant, the Blue Fescue spreads to about one foot in width and one foot in height. It is a great companion to taller flowers like Salvias and Black-Eyed Susans.
This hardy plant blooms in late summer and is an excellent cool season grass for areas with colder temperatures. Blue Fescues require full sun to thrive and also need additional watering in hot summer months. Once established, however, these grasses are drought tolerant and easy to maintain.
Blue Oat Grass (Helictotrichon sempervirens)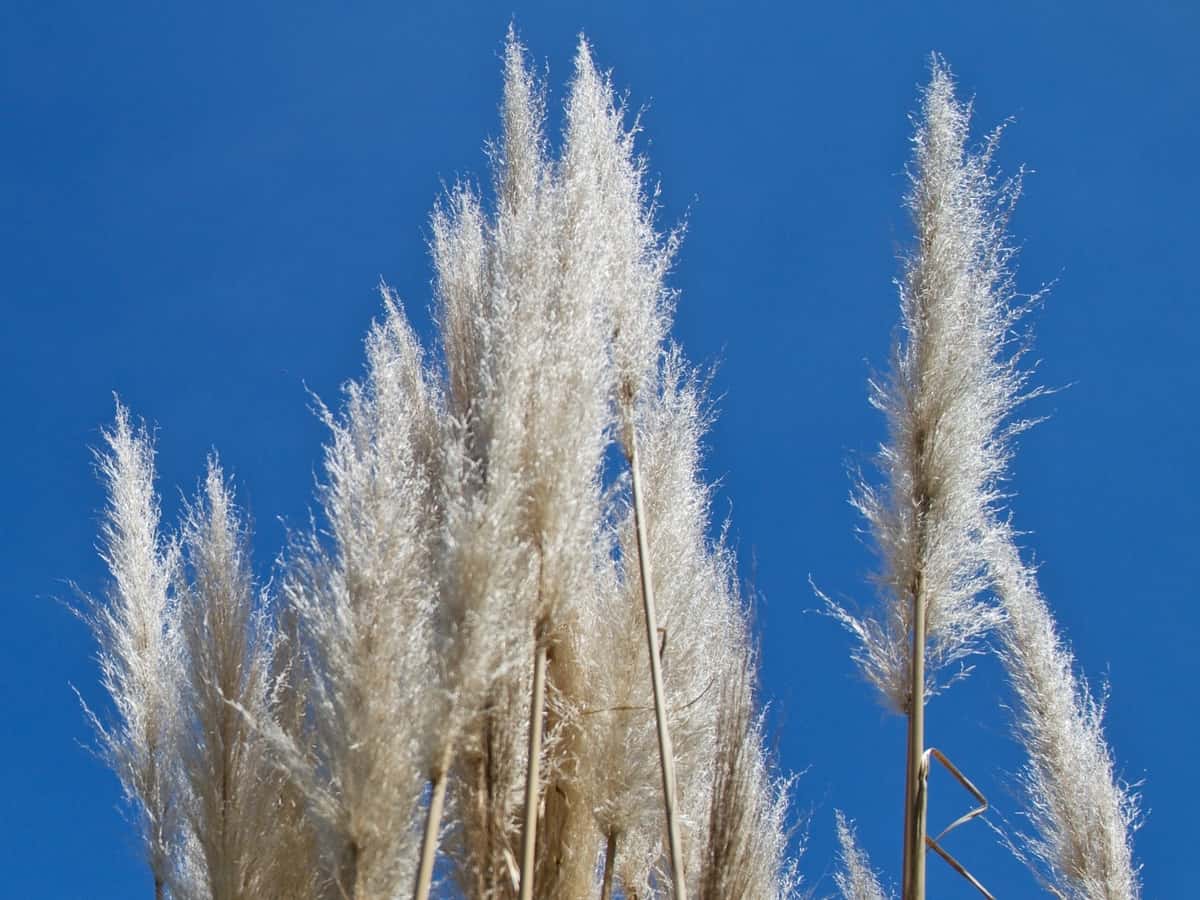 Another plant with a silvery-blue hue is the Blue Oat Grass. Blue Oat Grass grows significantly more massive than Blue Fescue at three feet tall but also works as a groundcover plant.
Despite their larger size, Blue Oat Grass plants are ideal as rock garden perennials, in desert gardens, and shine with brilliant blue accents along pool edges.
Its beautiful blue color and size make it the perfect plant to pair with lavender blooms or blackberry shrubs. When watering the plant, the soil should dry in between waterings. Provide this plant with plenty of sunlight, and enjoy its lovely blue streaks of color.
Feather Reed Grass (Calamagrostis acutiflora)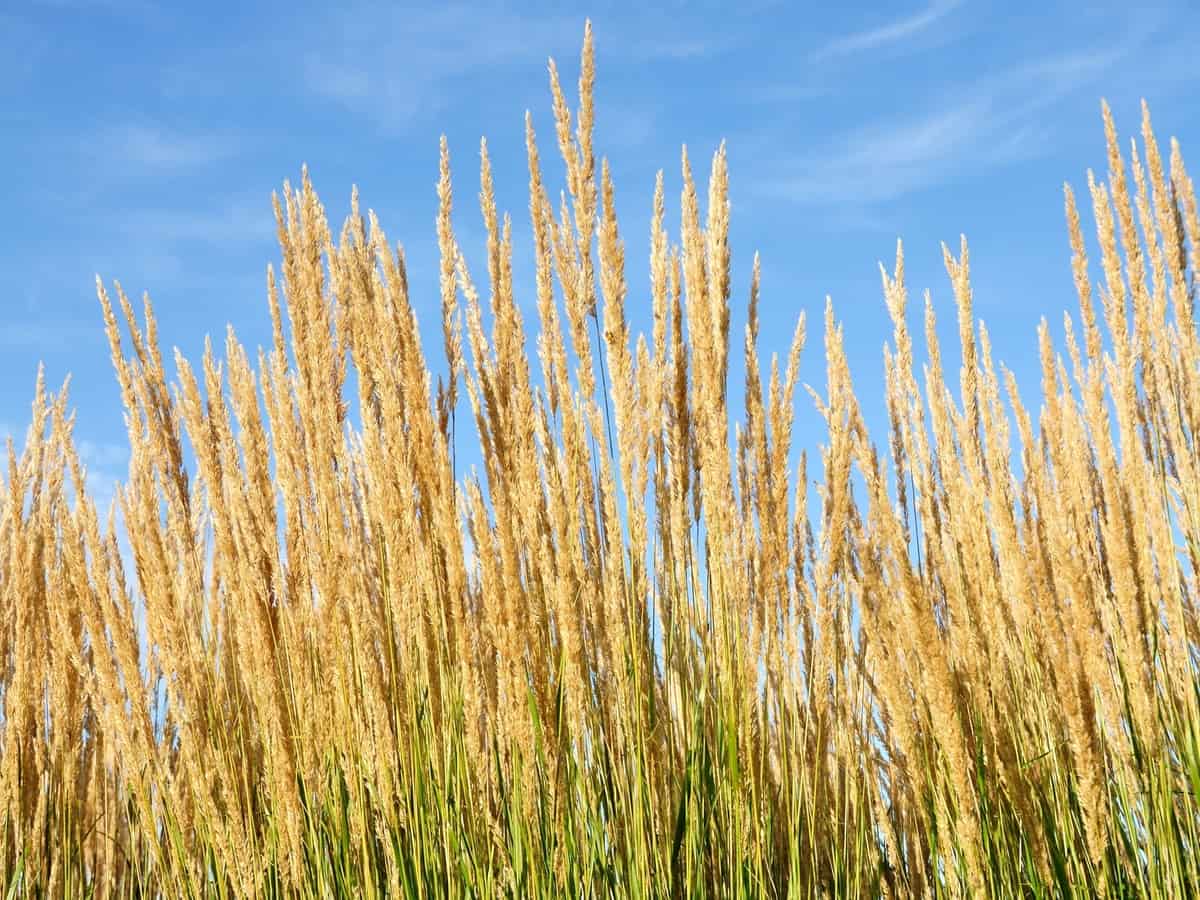 Referred to as Karl Foerster, Feather Reed Grass is deer resistant and a cool season grass. This ornamental perennial has golden brown stalks that shoot up to six feet in height. Noted for its long, slender vertical effect, Feather Reed Grass is magnificent when planted alongside Shrub Roses or Russian Sage.
Feather Reed Grass does well in partial shade but may start to droop if left without enough light. For best results, provide these grasses with full sun.
Pampas Grass (Cortaderia selloana)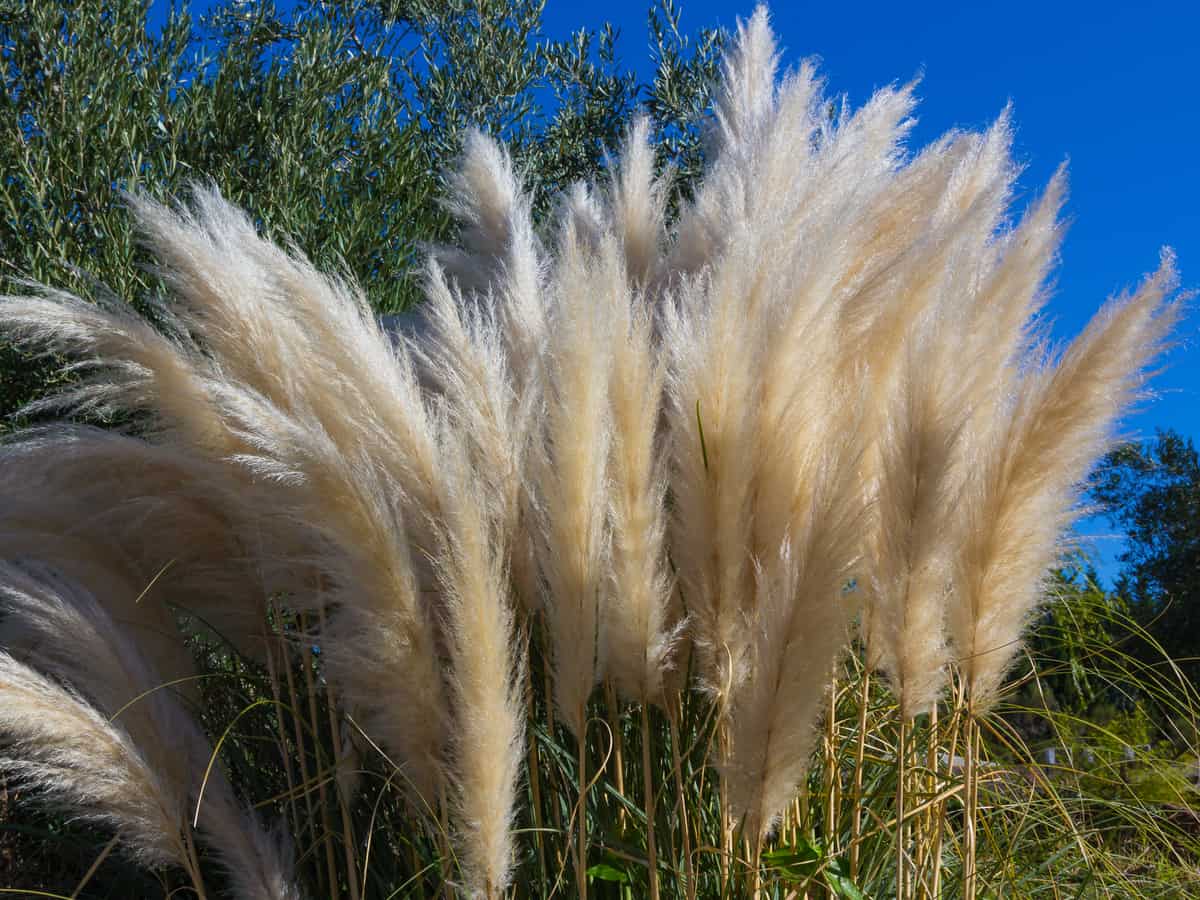 Pampas Grass is especially dramatic in both height and beauty. The flowers on Pampas Grass consist of tall, white blooms that resemble feathers and appear in stunning floral arrangements as cut flowers. When fully grown, the plant stretches about 4 to 6 feet wide and up to 10 feet tall, with the soft, feathery plumage reaching even higher.
Their size makes these grasses a perfect plant to block the wind and protect more fragile flowers. A striking contrast to the size and color of the Pampas Grass would be to pair it with flowers like purple Aster and bright yellow Tickseed.
Japanese Silver Grass (Miscanthus sinensis)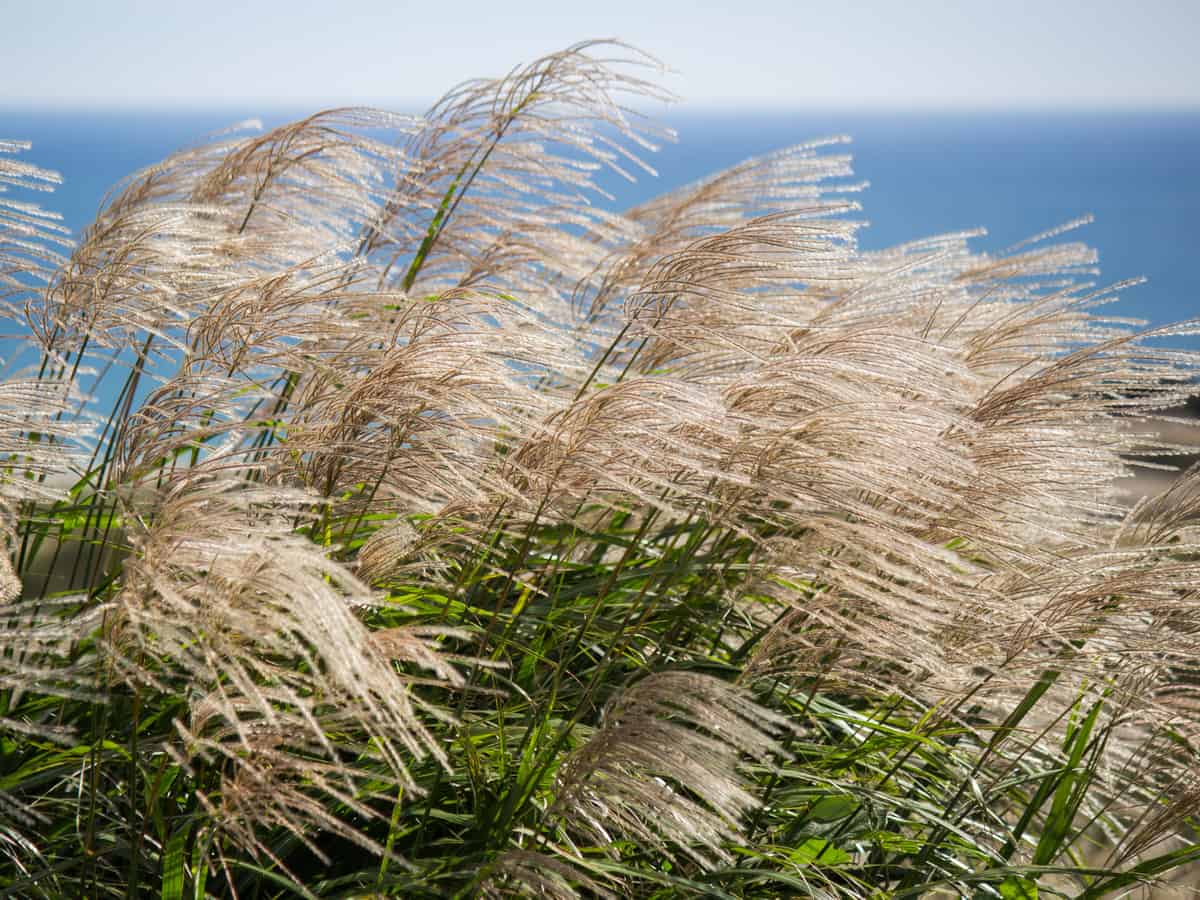 Also referred to as Maiden Grass, Japanese Silver Grass is a notable warm season grass similar to Pampas Grass. Soft, feathery plumes jut out over the tops of the grass in early fall with colors ranging from white to light pink. The grass is equally as impressive throughout the remainder of the year with bundles of bright green leaves and reed-like stems.
Maiden Grass is typically used as a border grass, whether to cover pipes around the perimeter of houses or as space fillers in rock gardens. These ornamental perennial grasses also make stunning displays when individually planted in decorative urns along walkways and outside doorways.
Mondo Grass (Ophiopogon japonicus)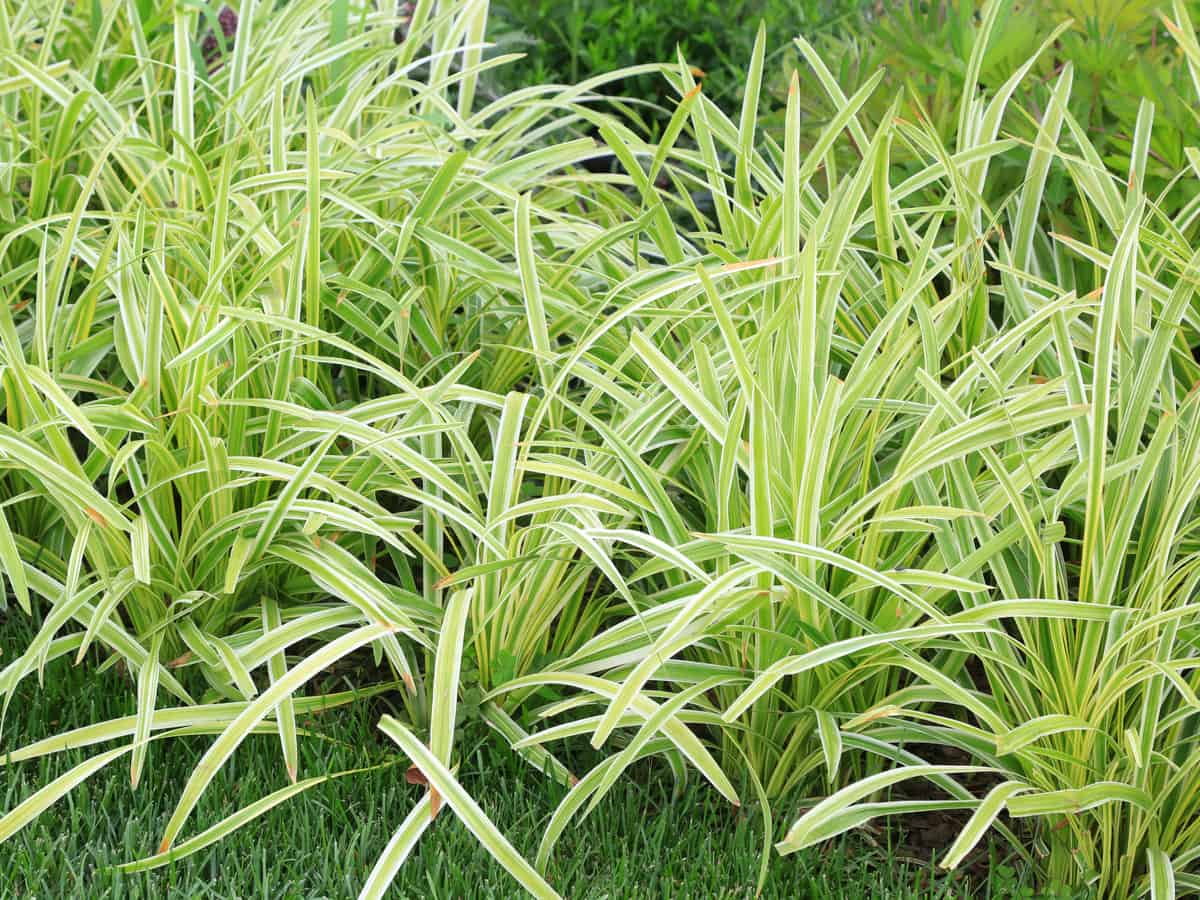 Mondo grass is the low-maintenance perennial plant of your dreams. Some of the easiest perennials to maintain, Mondo grass requires weekly watering and can thrive in both full sun and full shade. Its small size and dark green foliage also make it the perfect border plant for brightly colored gardens.
Some species of Mondo grass, such as Ophiopogon Planiscapus, sport outrageous colors that make excellent accents to bold flower combinations. Richly colored plants like deep blue Lithodora and the varying shades of Coral Bells make excellent garden neighbors for Mondo grass.
Hameln (Pennisetum alopecuroides) – The Hardy Perennial Grass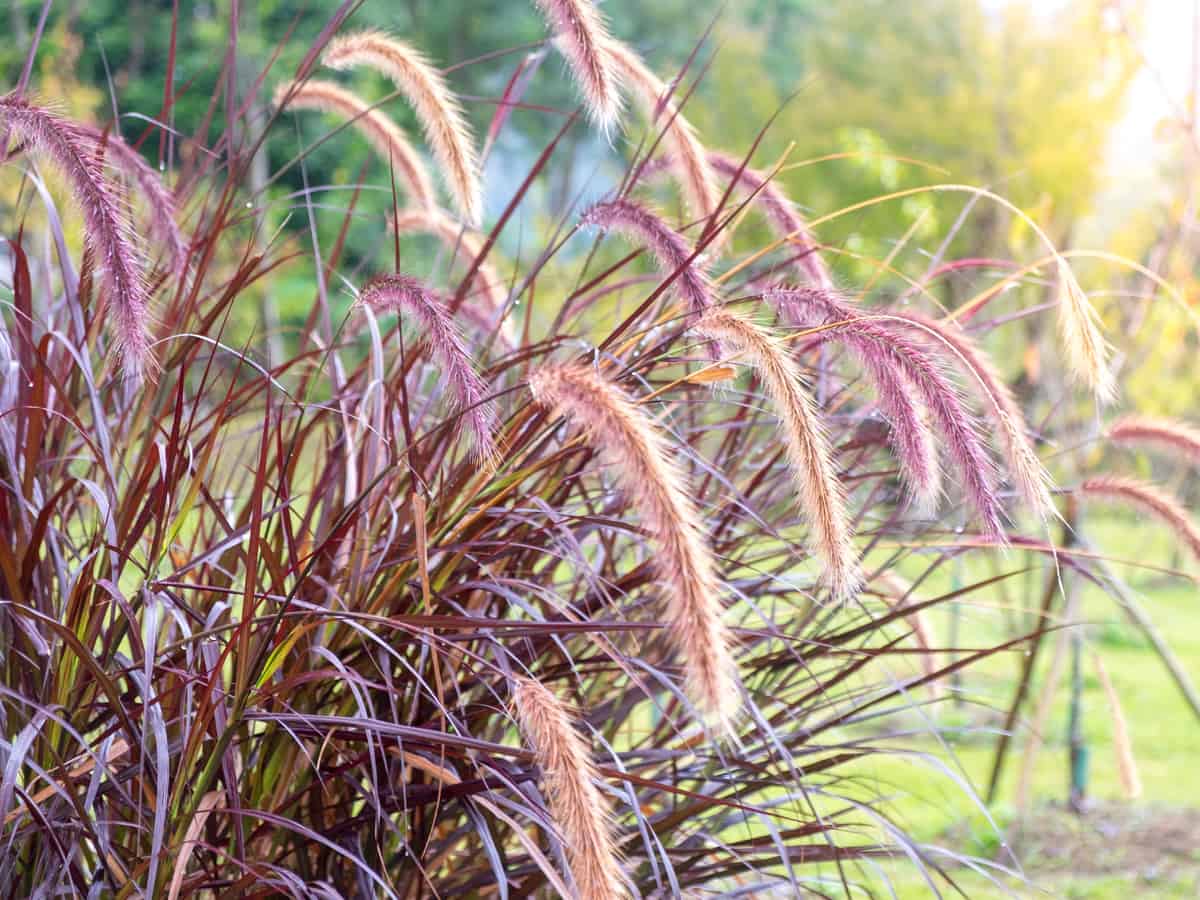 Hameln is a hardy perennial grass that grows across both cold and warmer climates. In late summer, the grass sports beautiful, pale pink blooms that last throughout the fall. By winter, the flowers have receded, but the plant's foliage remains just as lovely and healthy, making it a beautiful winter interest plant.
Hamlen requires little maintenance and does well in both full sun and partial shade. For best results, keep this ornamental grass in medium to wet soils.
Hameln is a great way to add texture to garden borders and ponds. The soft, subtle hues of Hameln grasses is a perfect combination to offset bolder colors like those found on Blanket Flowers and Salvia.
Purple Fountain Grass (Pennisetum setaceum rubrum)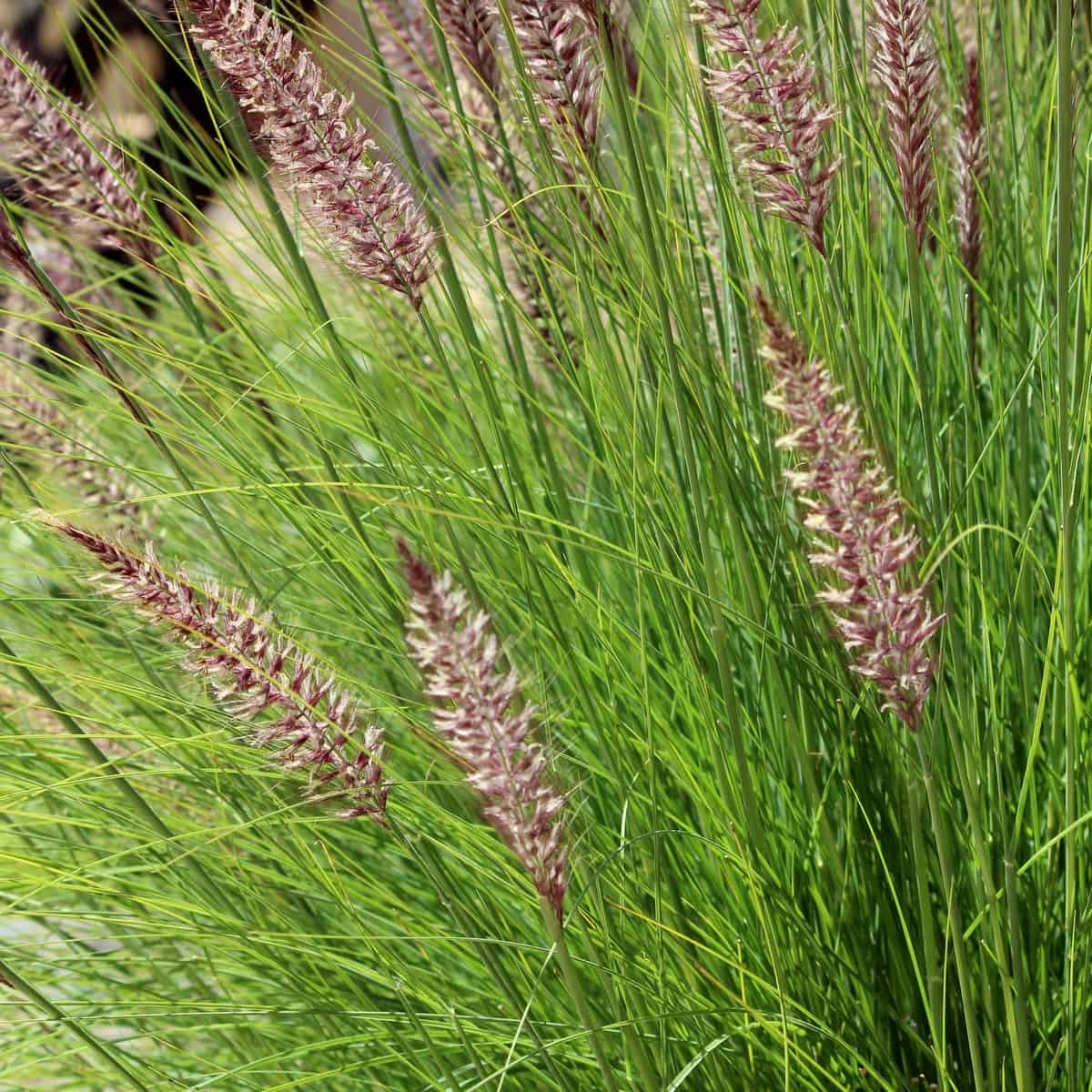 True to its name, Purple Fountain Grass possesses dark purple grass blades throughout the year and softer, reddish-purple plumage that blooms starting in the summer and lasts until fall. These beautiful grasses grow to approximately four feet tall and are drought tolerant once adequately established.
As with most of the larger perennial clumps, dividing perennial grass, like Purple Fountain Grass, is an integral part of its growth and health. During the plant's dormant period, typically in winter, dig up the perennial grass and split the plant into two different clusters.
Replant the two sections of the plant, ensuring both are separated with enough space between them and have healthy roots and leaves to grow. Keep the surrounding soil moist until the two halves have had sufficient time to adapt to their new state.
Switchgrass (Panicum virgatum)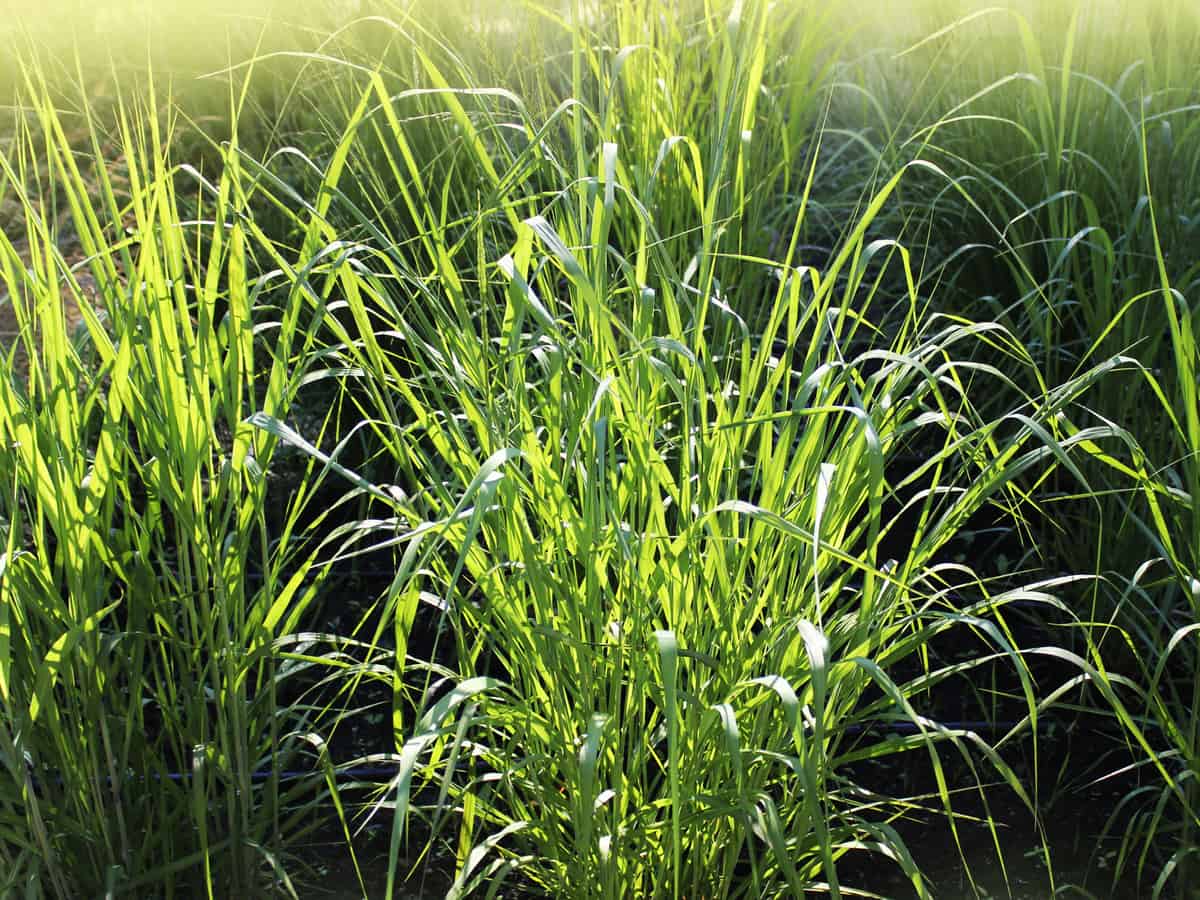 Another spectacular winter interest plant is Switchgrass, which holds its shape and color even throughout the winter months. The blue-green foliage of species like Dallas Blue Switchgrass is what makes this plant a notable ornamental perennial. Beautiful red flowers also bloom on the plant starting in early summer and end in the early fall.
These ornamental grasses can be grown throughout most of the United States and stretch to about five feet tall. Their upright and far-reaching height makes them excellent borders along fencing and the backside of flower beds. They also make stunning backdrops for garden benches.
Little Bluestem (Schizachyrium scoparium)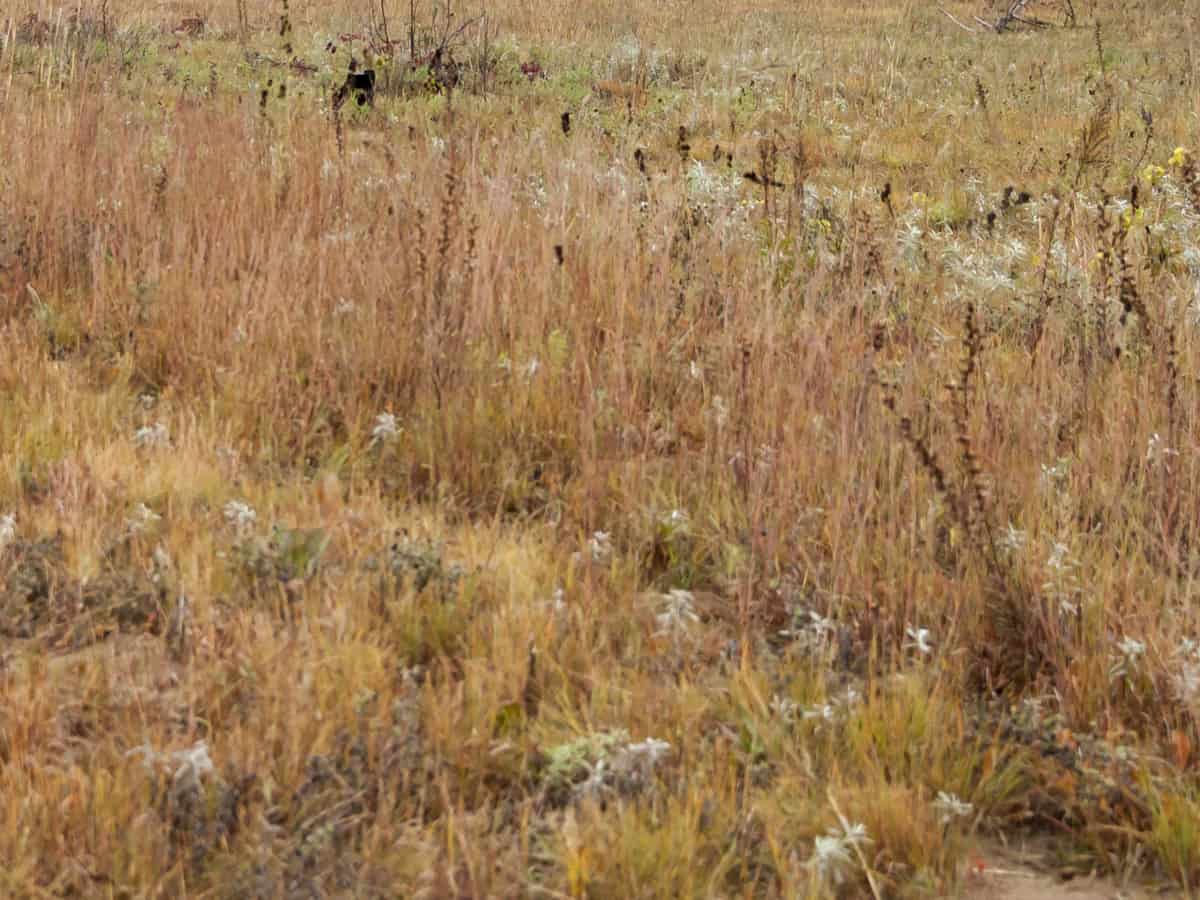 Little Bluestem is a native grass typically found in prairies or terrain with similar conditions. This hardy plant grows anywhere between one and three feet tall, with long, grayish-green and brown leaves.
These shoots turn a bluish color during the summer before transitioning into their fall colors with beautiful shades of purple, reds, and oranges. Beyond its kaleidoscope of colors, Little Bluestem is noted for its importance as a home to small birds and animals, while also being deer resistant.
Lilyturf (Liriope muscari) – Colorful Perennial Grasses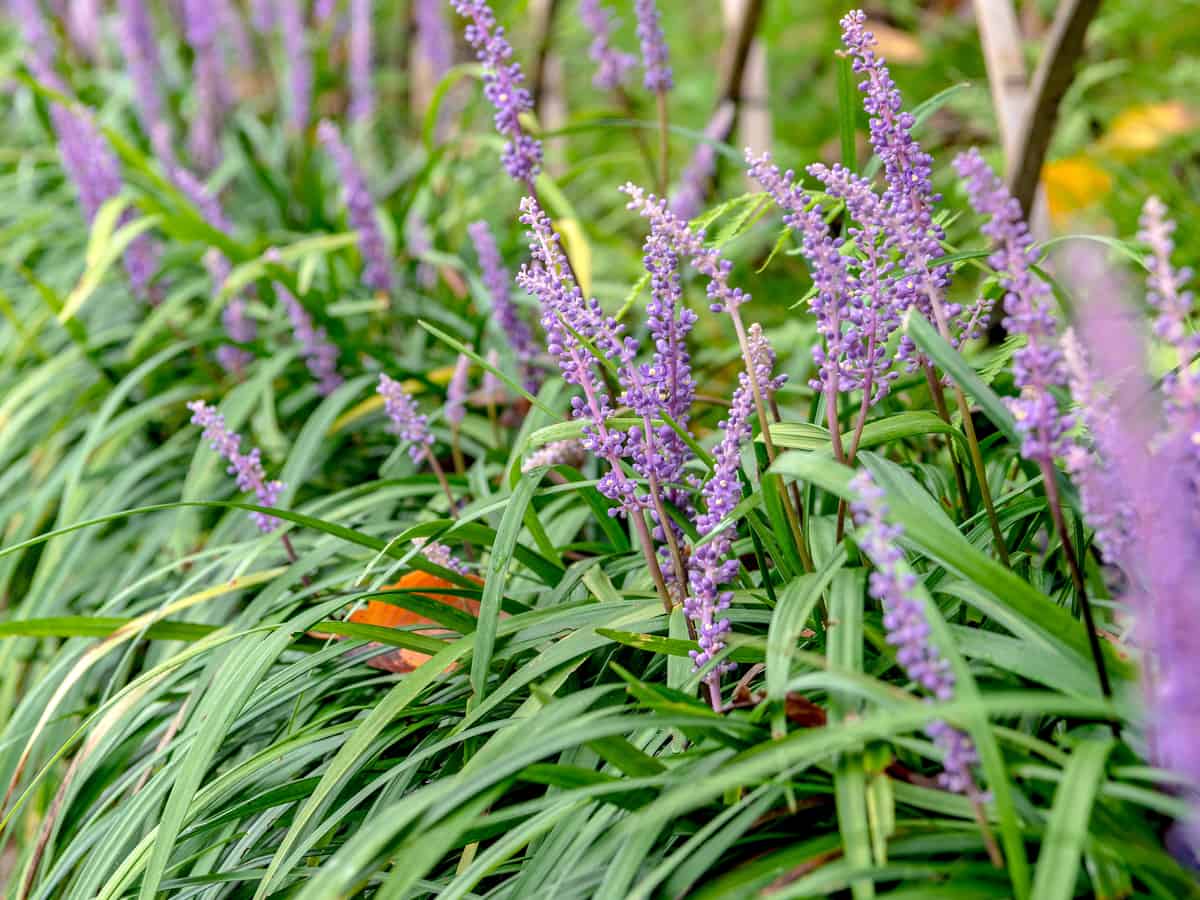 Lilyturf is a type of Liriope, which is a grass-like perennial used in ornamental accent borders. Best for gardens that require a low edging of plants that grow in full shade, Lilyturf only grows to be anywhere between one to one and a half feet tall. Toward the end of summer, the plant produces exquisite purple bells of flowers which are swiftly succeeded by dark berries.
While this flower does well in various shade conditions, well-drained soil that also adequately retains moisture is imperative for the blossom to flourish. Some stunning combinations to pair with Liriope are Star Jasmine, Columbine flowers, or Daylilies.
Foxtail Barley (Hordeum jubatum)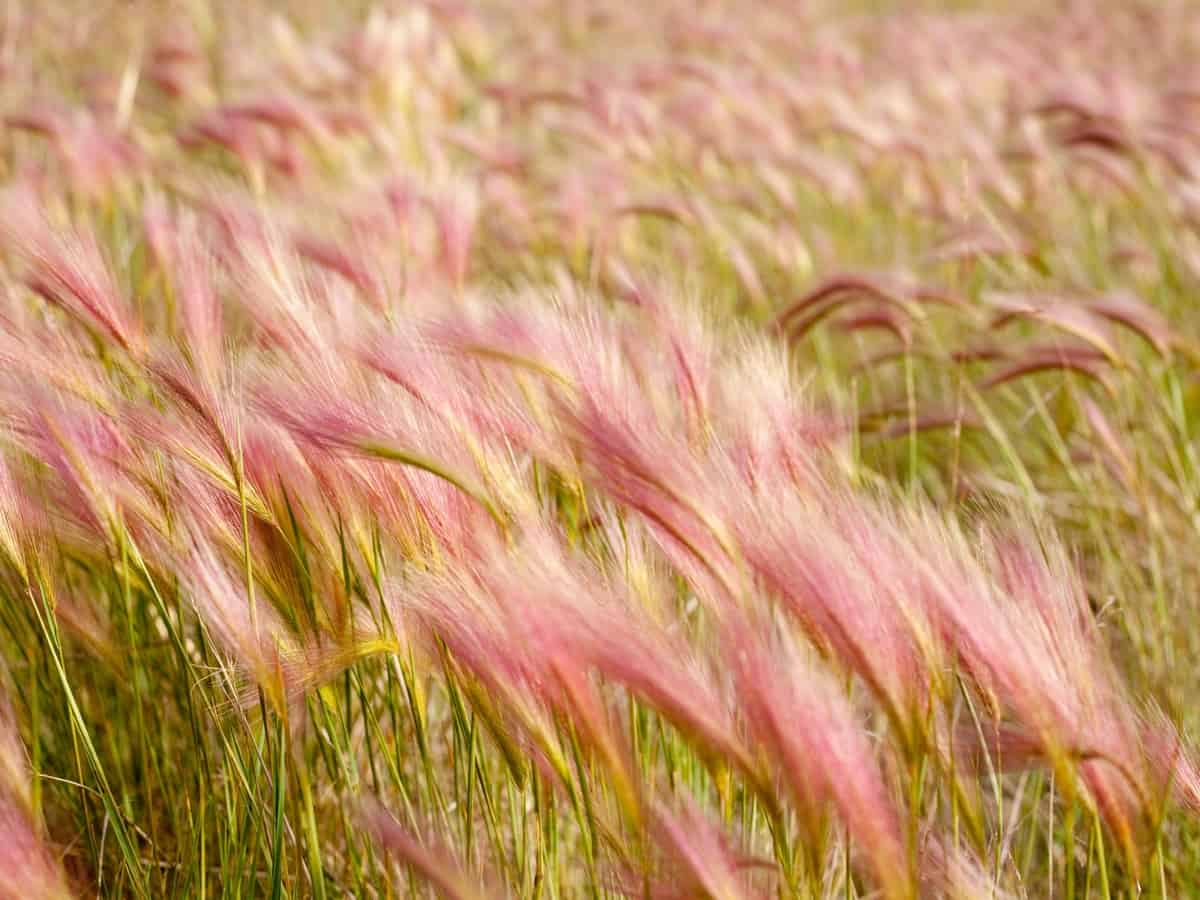 Foxtail Barley is a stunning perennial grass that grows to approximately three feet tall. Sometimes referred to as Squirrel-Tail Grass, Foxtail Barley receives its "tail" moniker from the long fluffy bristles that protrude from the ends during the flowering seasons.
These flowers can produce various colors from vibrant greens to light pinks and deep purple. The seed heads of these flowers pose a potential problem for animals, however. With delicate, needle-like bristles, the seed heads of Foxtail Barley can cause discomfort if ingested or harm your pet's eyes and nose if the fine awns get too close to their faces.
Japanese Blood Grass (Imperata cylindrica)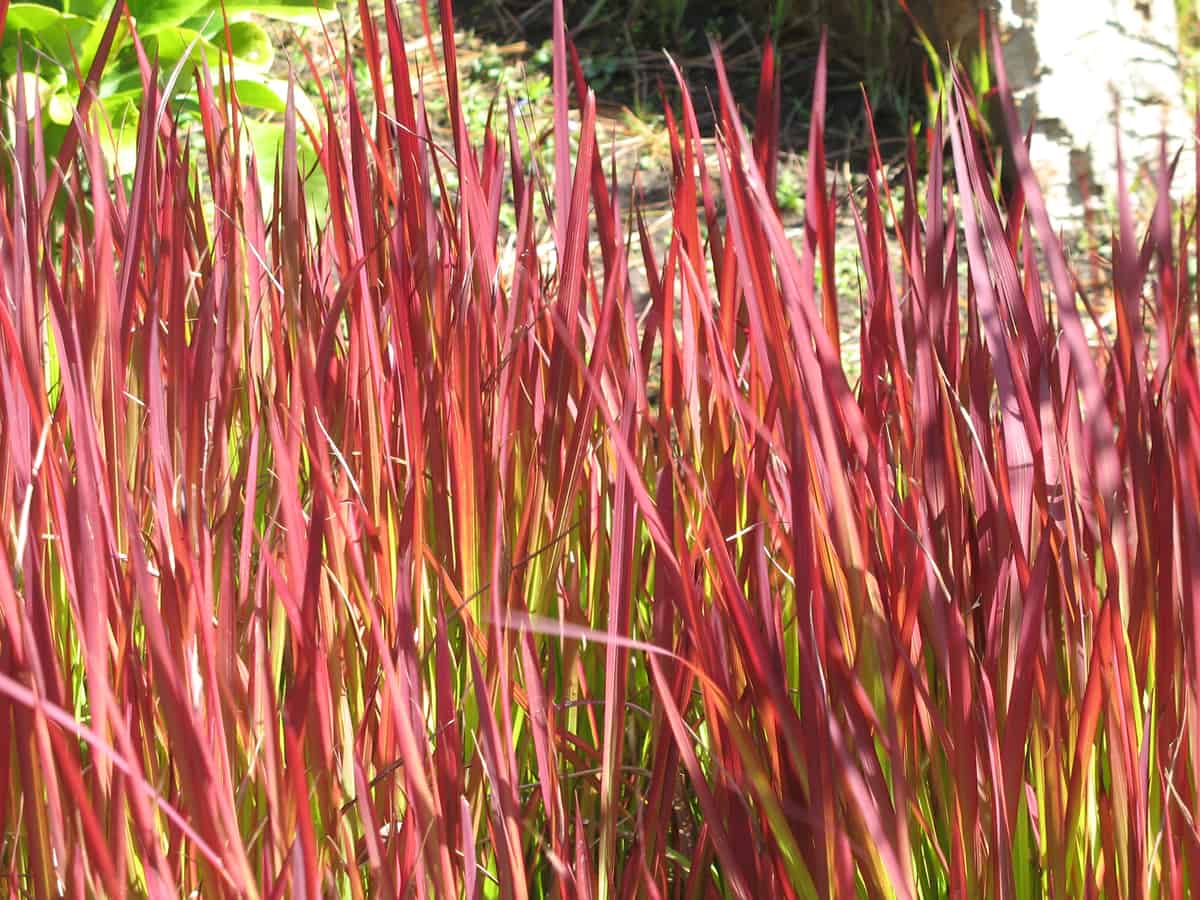 Another magnificent example of the various spectrum of colors these ornamental grasses possess comes in the form of Japanese Blood Grass.
This perennial plant has long bright green blades tipped with a reddish color indicative of their name. This color takes on a deep pink color that transitions into a cranberry-red and a deep burgundy hue throughout the growing season.
Among the smaller ornamental perennials, Japanese Blood Grass only grows between one foot and a foot and a half tall. Its intense colors make it an impressive accent piece for gardens while also providing excellent groundcover.
Muhly Grass (Muhlenbergia capillaris)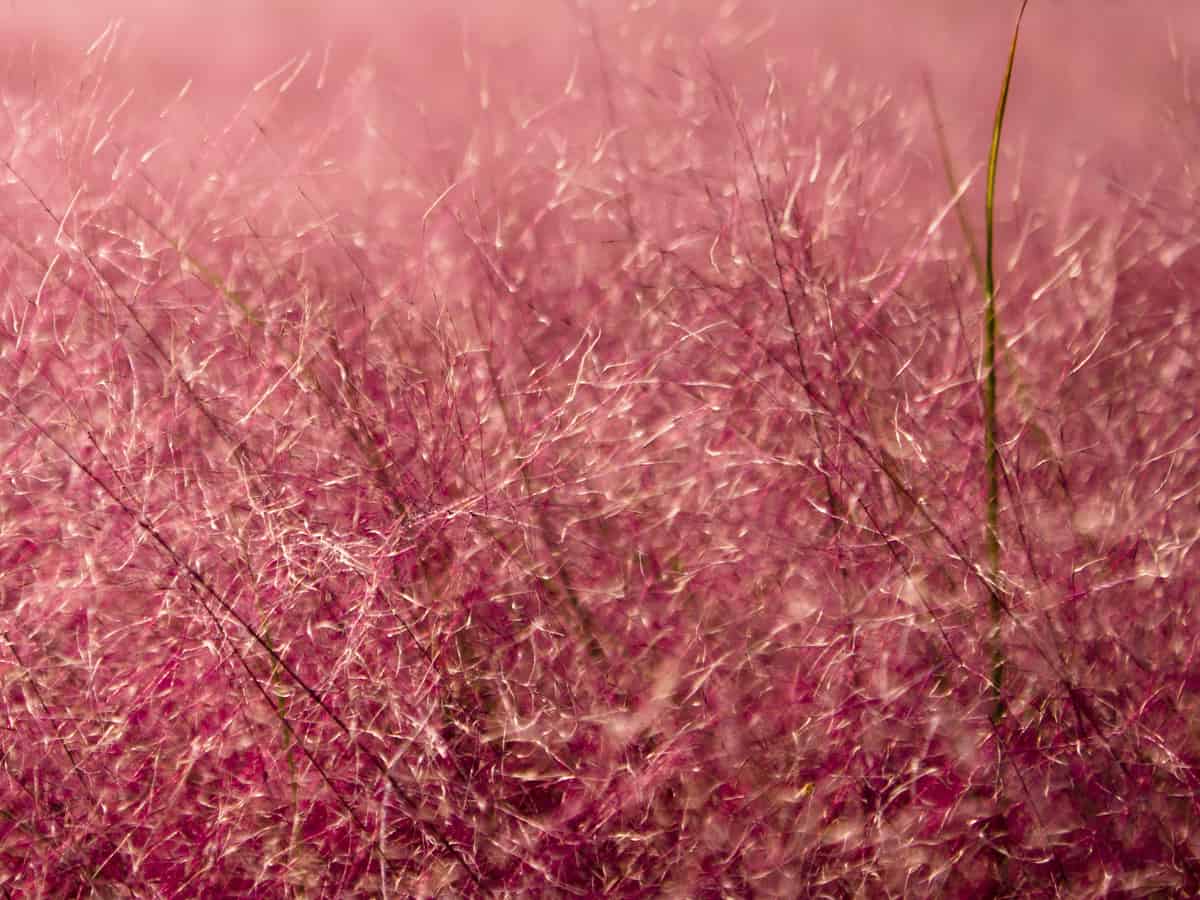 Most gardeners depict Pink Muhly Grass as having soft, cotton candy plumes of flowers, and with good reason. This strikingly beautiful plant consists of vibrant, feathery flowers that range in color from bright pinks to deep purples. An extensive and far-reaching plant, Muhly Grass stretches up to three feet wide and over four feet tall.
This height makes it a dramatic plant for backdrops, poolsides, and broader rock gardens. Muhly Grass is a native grass the requires regular watering and a little extra love and attention.
Avoid using harsh weed killers when tending the garden. Remember to kill dandelions naturally, along with other common weeds, by using homemade herbicides and weed killers that won't harm the other plants in your garden. Not only don't you want to harm your plants, but you also want to kill weeds and not grass, too, so choose your weed killer carefully.
Lemongrass (Cymbopogon citratus) – The Fly Repelling Perennial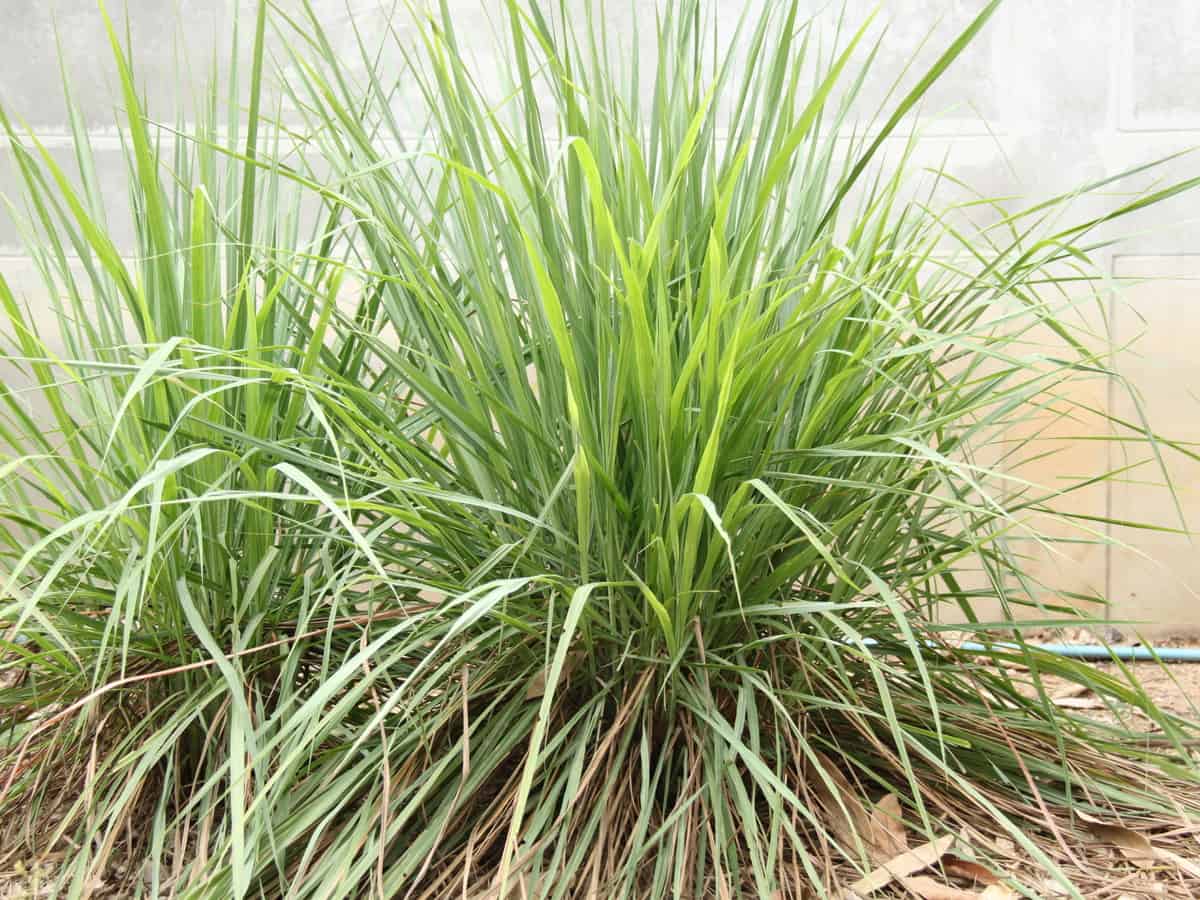 Lemongrass is another grass-like plant common in ornamental gardening. Not only does Lemongrass smoothly fill the gaps between your flowers, but it offers a lovely lemon fragrance. Technically an herb, Lemongrass is among the few perennial grasses that repel mosquitoes, adding yet another advantage to planting the grass-like plant in the garden.
While Lemongrass thrives in either partial or full sun, the plant does require regular watering to remain healthy and vibrant. Just as with other clumping plants like Purple Fountain Grass, divide and replant Lemongrass during its dormant season to ensure a healthy life cycle.
Northern Sea Oats (Chasmanthium latifolium)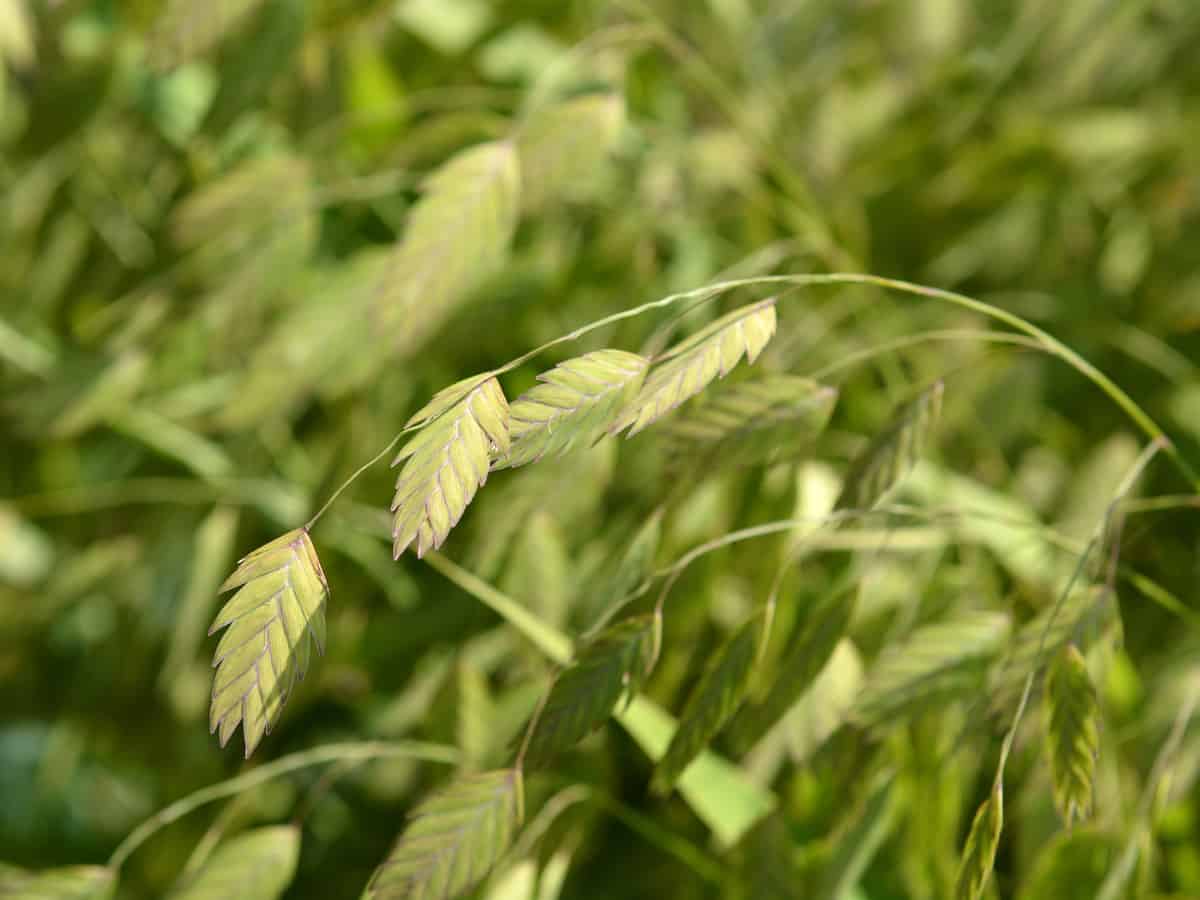 Northern Sea Oats is a fast-growing plant that performs best in partial shade. The foliage of the Northern Sea Oats resembles that of bamboo and produces flat, distinctive flowers that droop at the ends. These green flowers give off a fantastic fall color when the seed heads deepen into a rich purplish gold.
After the first frost, these purple, spiky flowers take on a metallic copper color making it an impressive winter interest piece for your garden. Add these grasses to gardens with Iris or Turtlehead flowers to enhance the richness of the purple hues that arise in fall.
Horsetail Grass (Equisetum hyemale)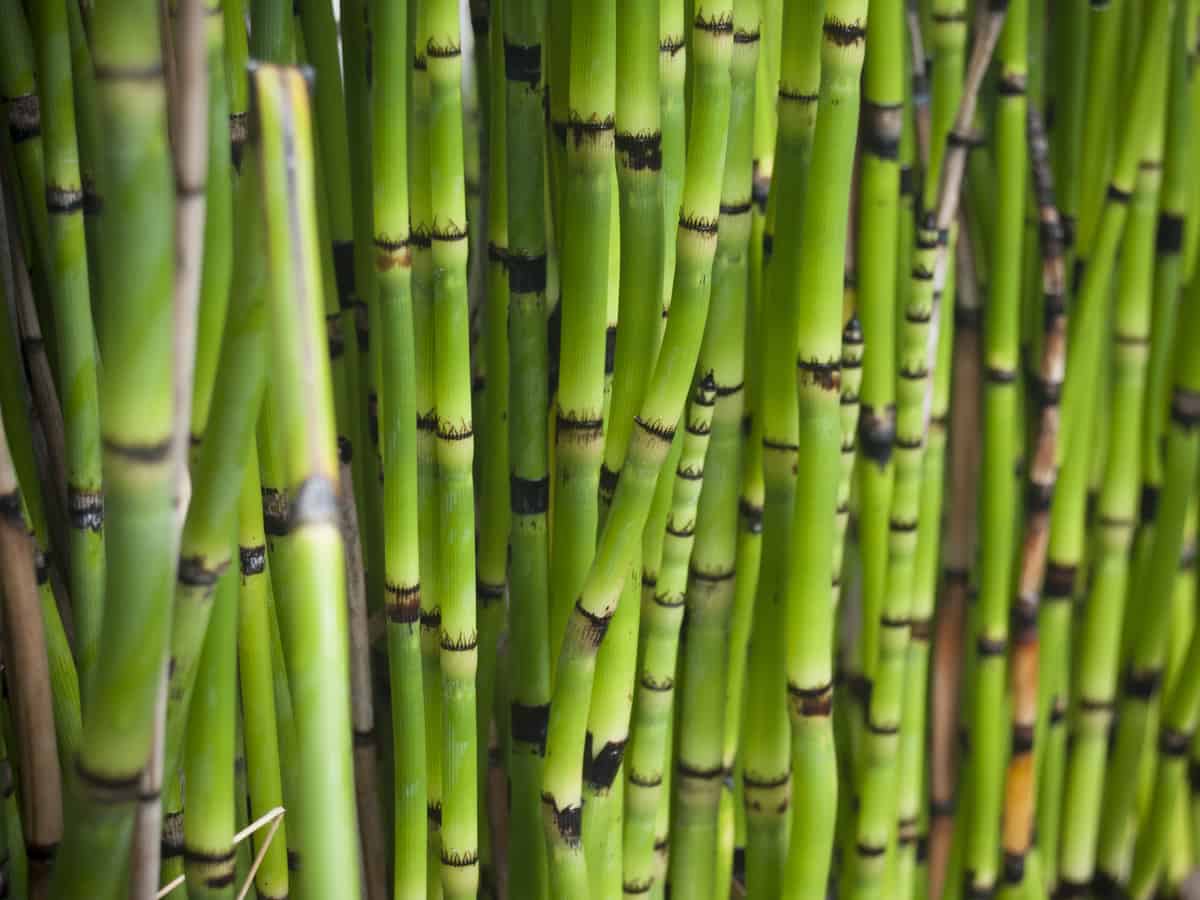 Horsetail Grass is a beautiful reed-like plant that makes the perfect addition to any tropical or zen garden. The slender reeds shoot up to four feet high and can be added to a garden as a tall border, a backdrop, or can even be confined to a decorative urn for a dramatic effect along walkways.
These ornamental perennial grasses are evergreen and stay a lush, brilliant green year-round. The key to the Horsetail Grass's success is to keep it thoroughly watered. Though you should not wholly soak the plant when watering, Horsetails grow best when kept in consistently moist soil.
With so many colors and styles to choose from, the most difficult choice you will make is selecting only one or two ornamental grasses to add to your garden. The abundance of sizes may narrow down where to plant these lovely ornamental perennials, but the variety and beauty of groundcover plants, exquisite borders, and striking backdrops leave you with endless possibilities.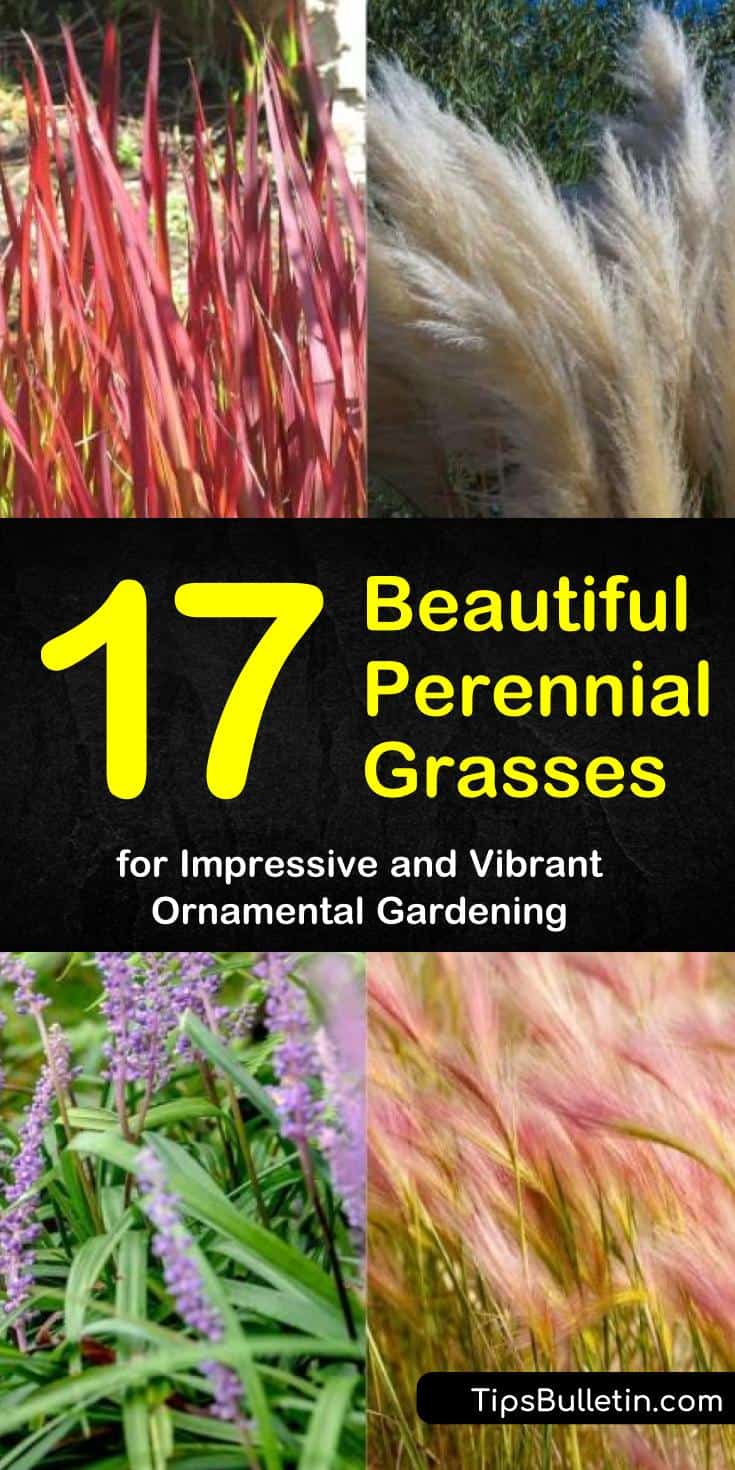 If you enjoyed our article on perennial grasses, don't forget to share these beautiful ornamental grasses with your fellow gardeners on Facebook and Pinterest.