If you live where the dog days of summer seem endless, growing a beautiful garden probably seems like a waste of time. Who wants to watch their plants wilt and scorch in the hot sun, after all? Your garden will be happy to know that there are many perennials for hot areas that not only survive the hottest days of the year but thrive.
Growing perennial plants and flowers is a great way to experience nature in your garden. Unlike annuals, perennials reward your hard work with an abundance of colorful flowers and foliage year after year.
However, it is a sad day if you plant the wrong flowers for your climate and discover them wilting in the heat. Many plants are heat-tolerant and grow happily in harsh conditions, including dry soil.
These hardy bloomers are easy to grow, beautiful to admire and draw everything from hummingbirds to butterflies to the area. They are carefree and perfect for growing in rock gardens, patio pots, flower beds, or ground cover.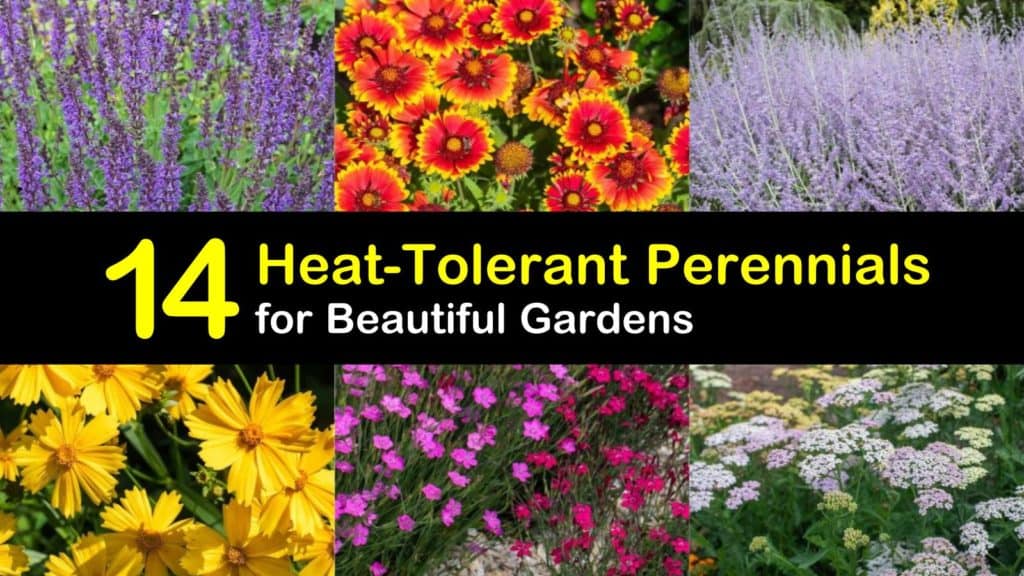 Landscaping Your Yard with Heat Tolerant Perennials
There is a wide range of popular plants that grow in dry climates and hot areas, and we chose some of our favorites. These tough-as-nails beauties are easy-growers that look fantastic year after year.
You may even consider adding some heat tolerant ferns in addition to your perennial plants for greater garden diversity and interest.
Which Plants Tolerate Hot Climates?
You can find many types of desert trees, as well as a variety of perennials that resist heat and love the sun. Not only do they tolerate tough conditions, but they also grow back each year with vibrant and colorful growth.
Durable plants such as salvia, sedum, and daylilies are ideal for challenging climates. They handle the hot rays of the sun with ease and dry soil with minimal problems.
The easiest way to know if your favorite plants handle high temperatures is to check the plant care tag. Look for keywords such as hardy, heat tolerant, and drought tolerant.
What are the Benefits of Landscaping with Perennials?
One of the top reasons for growing perennials is their ability to grow back every year. Annuals die at the season's end, but perennials are growers that keep on giving.
Not only that, but each year's growth is more beautiful and showy than the year before. Another benefit of growing a perennial garden is that they attract beneficial insects and birds to the yard.
Many of the flowers are a favorite among hummingbirds, butterflies, and honeybees. You get to enjoy the fragrance and color of your plants while watching the beautiful fluttering of pollinators.
Which Plants Should I Grow in a Summer Garden?
It all depends on the garden type you desire. If you have empty spaces where nothing seems to grow, consider planting low-maintenance ground cover plants such as stonecrop or blanket flowers.
If you have poor soil, try growing a rock garden filled with ornamental grasses and succulent plants. If you fancy a cut flower in your home, fill a flowerbed with coneflowers and yarrow.
Do Heat Tolerant Perennials Require Special Care?
Heat resistant plants are very hardy and grow well after they establish. However, new plants need a bit of TLC. When planting, dig the hole deeper than the roots and fill with loose soil to encourage a deep root system that helps them withstand drought and heat.
Fill the garden bed with a good amount of mulch to prevent the soil from drying and keep down weed growth. Prune dead or damaged foliage and remove spent flowers to encourage good health.
Common Sage (Salvia officinalis)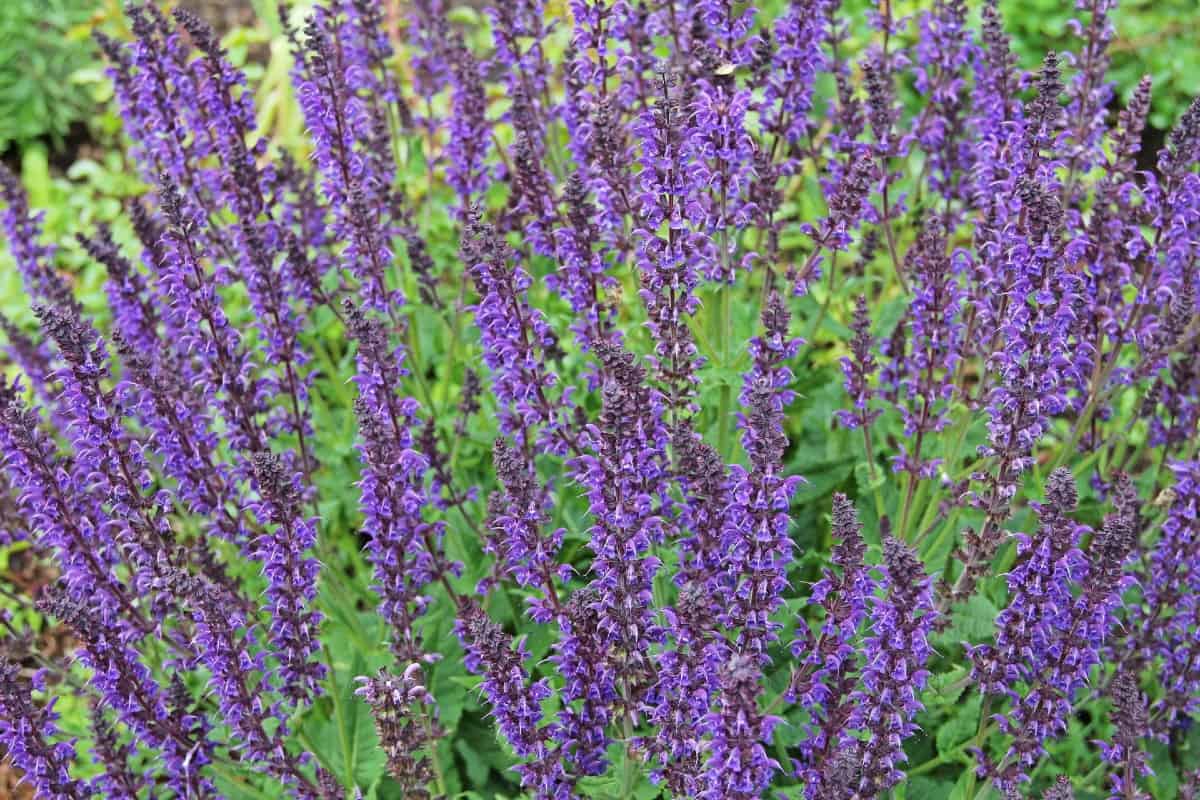 Common sage is a fragrant herb with softly textured leaves. It has edible foliage, popular for flavoring many dishes, and produces small purple, pink, or white flowers during the summer. It is a versatile plant with attractive grayish leaves and looks lovely in containers or a garden setting.
Once established, garden sage grows 1 to 3 feet tall and 2 to 3 feet wide. It desires full sun in zones 4 through 10. Sage is low maintenance, is one of the most popular drought loving plants, and deer don't like it.
Yarrow (Achillea millefolium) – Attractive Perennials for Hot Areas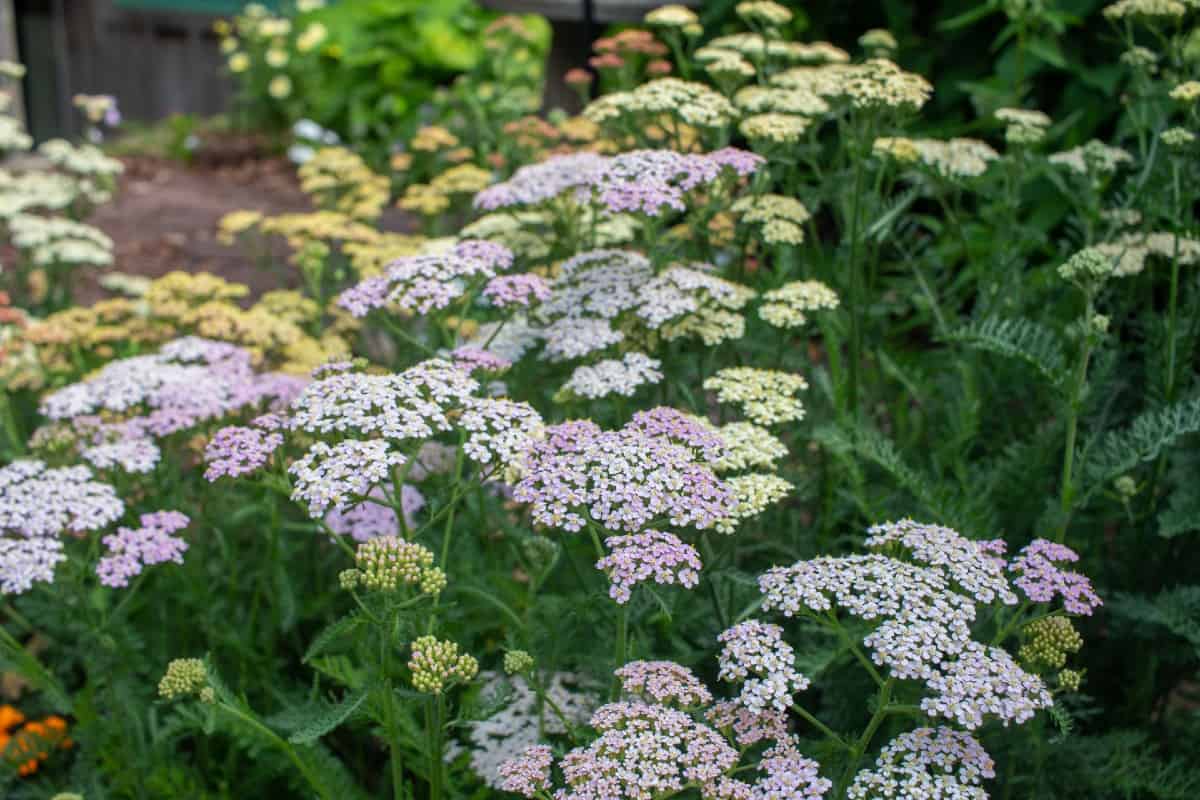 The leaves of the drought tolerant yarrow resemble small feathers, and the colorful clusters grow in flat mounds of orange, red, white, pink, and yellow flowers. This rugged plant tolerates many conditions, including cold and heat, and poor soil, making it ideal for xeriscaping.
Yarrow plants are full sun perennials that tolerate filtered light and grow in USDA hardiness zones 3 through 9. Its mature size of 2 to 3 feet tall and full makes it an excellent centerpiece for flowerbeds.
Black-Eyed Susan (Rudbeckia hirta)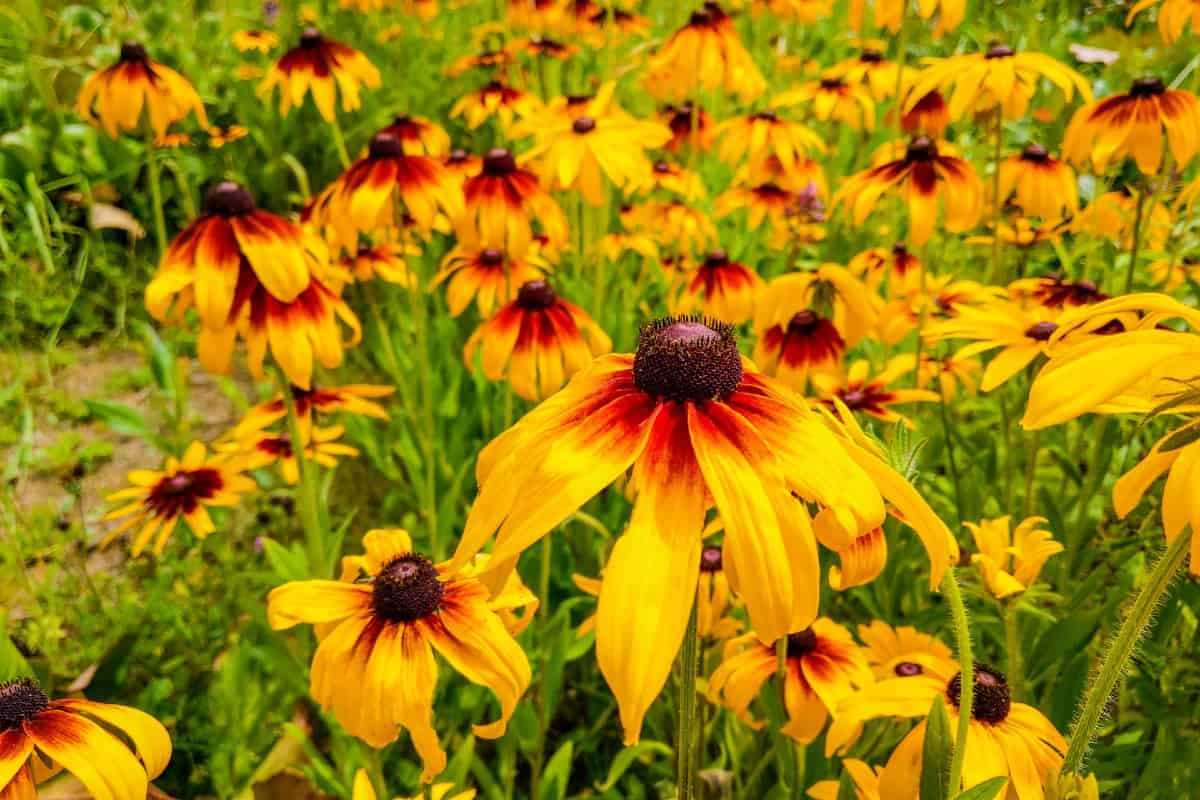 This plant has cheerful, daisy-like flowers that fill the garden with waves of color from early summer to fall. These plants that bloom all summer have bright yellow petals with a brown center and are a long-lasting cut flower for bouquets.
Black-eyed Susan is a member of the aster family, has an average height of 3 feet, and is a champ for being heat and drought tolerant. These full sun flowers in the north are hardy in zones 3 through 11 and prefer partial sun in the south.
Beardtongue (Penstemon) – Heat Tolerant Flower that Attracts Hummingbirds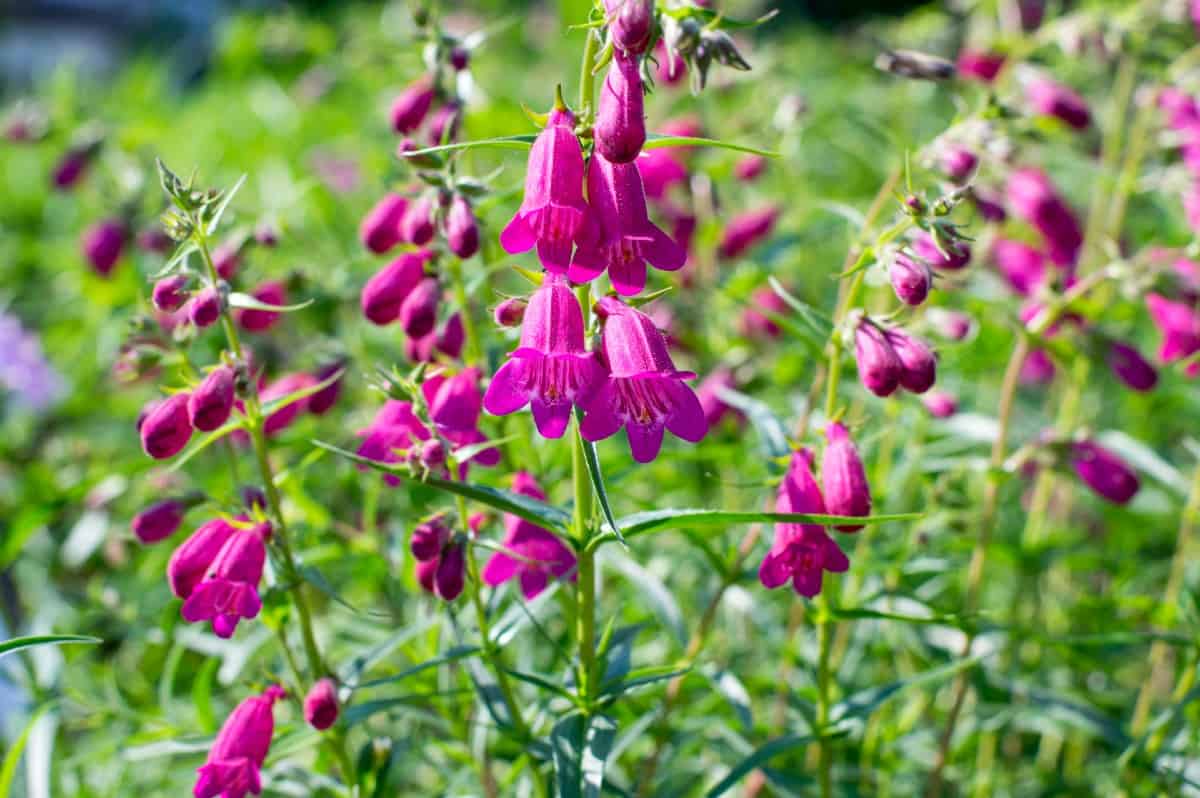 This ornamental flowering plant has delicate looking purple, red, pink, or white flowers with a pollen-free stamen protruding from their cup-shaped form. Beardtongue has lance-shaped foliage and grows an average of 1 to 3 feet tall.
There are hundreds of species of this diverse plant, and they are all hardy in zones 3 through 9. They grow flowers early in summer, tolerate drought, and attract birds to the area.
Milkweed (Asclepias)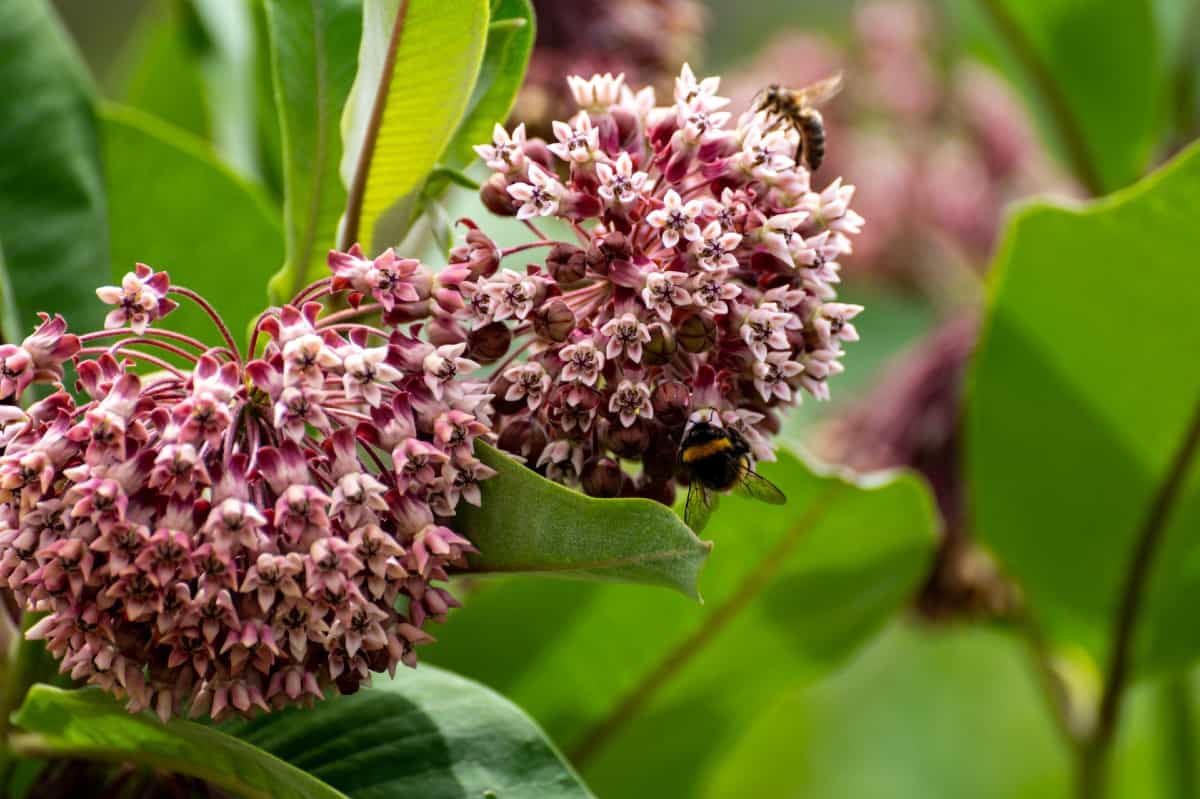 Milkweed is a robust plant with fragrant pink and purple flowers that grow in clusters amid oblong, light green foliage. It is a food source for pollinators and host plant for monarch butterflies.
After flowering, this plant yields 2 to 4-inch long pods filled with fine seeds. The stems and leaves of milkweed leak a milky sap if cut, giving it its name.
It is an easy-growing plant that is deer resistant and drought tolerant and grows an average of 3 feet tall. It thrives in sunny zones 3 through 9.
Red Hot Poker (Kniphofia) – Butterfly-Loving Flowering Plant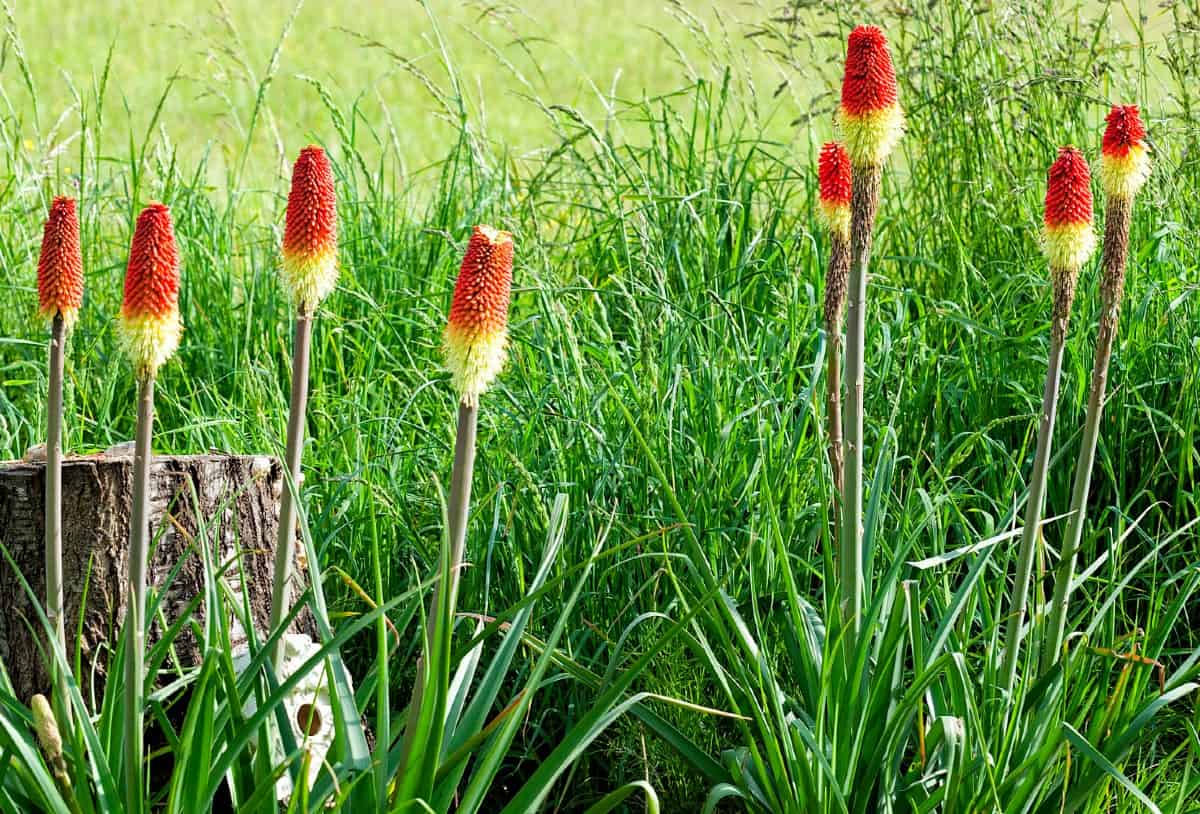 This unique-looking plant grows tall stalks of tightly packed flowers that open with striking green, yellow, orange, and red blossoms from spring through fall. Hummingbirds, butterflies, and other pollinators crave the nectar of these stunning cut flowers.
Red hot pokers grow anywhere from 3 to 8 feet tall and 1 to 2 feet wide. They are deer and drought resistant and grow in both part and full sun. They are long-bloomers that are ideal for a xeriscaping plan.
Blanket Flower (Gaillardia)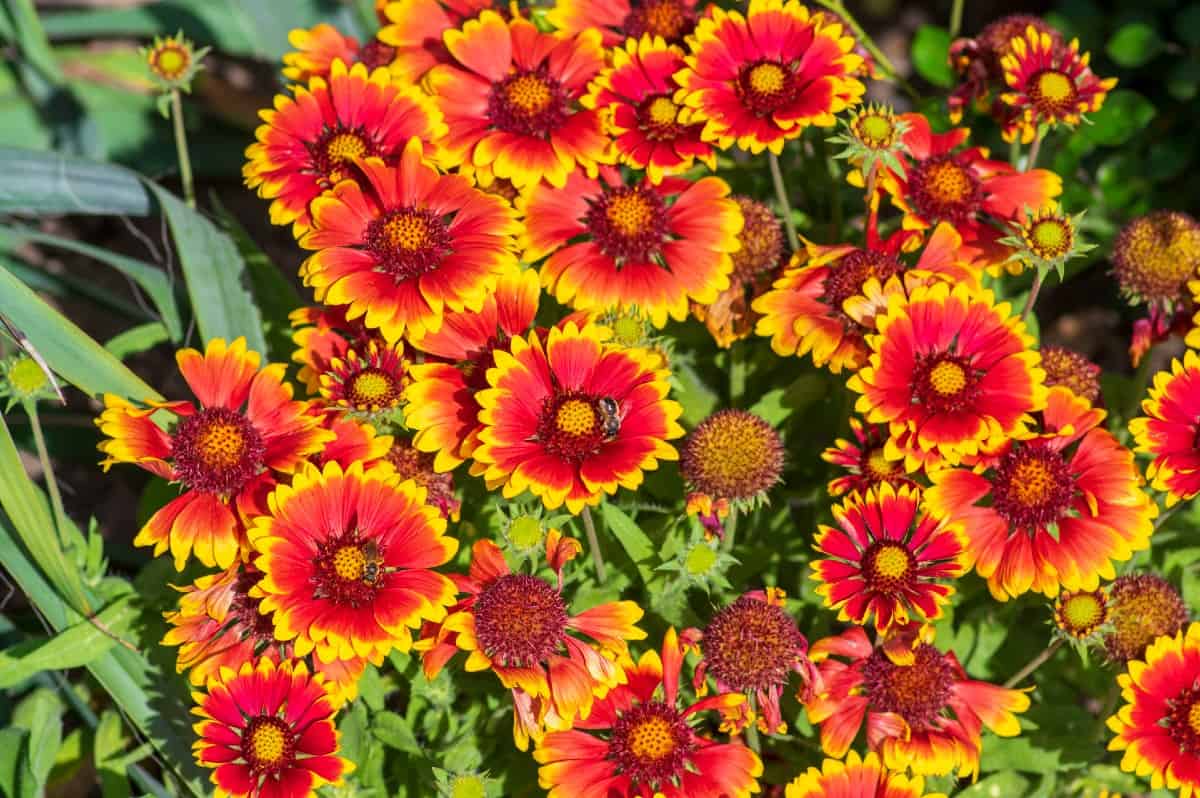 This sun-loving plant has flowers in solid and patterned yellow, orange, and red colors. Butterflies seek out the pollen, and birds love eating seeds from the spent flowers. The extensive flowering-time of these plants fills a space with cheer all summer long.
Blanket flowers grow well in containers or a flowerbed in areas of zones 3 through 10. They are not finicky about the soil and are highly drought resistant. These easy-to-grow flowers have a mature height of 1 to 3 feet.
Tickseed (Coreopsis) – Sun-Loving and Drought-Tolerant Flowering Plant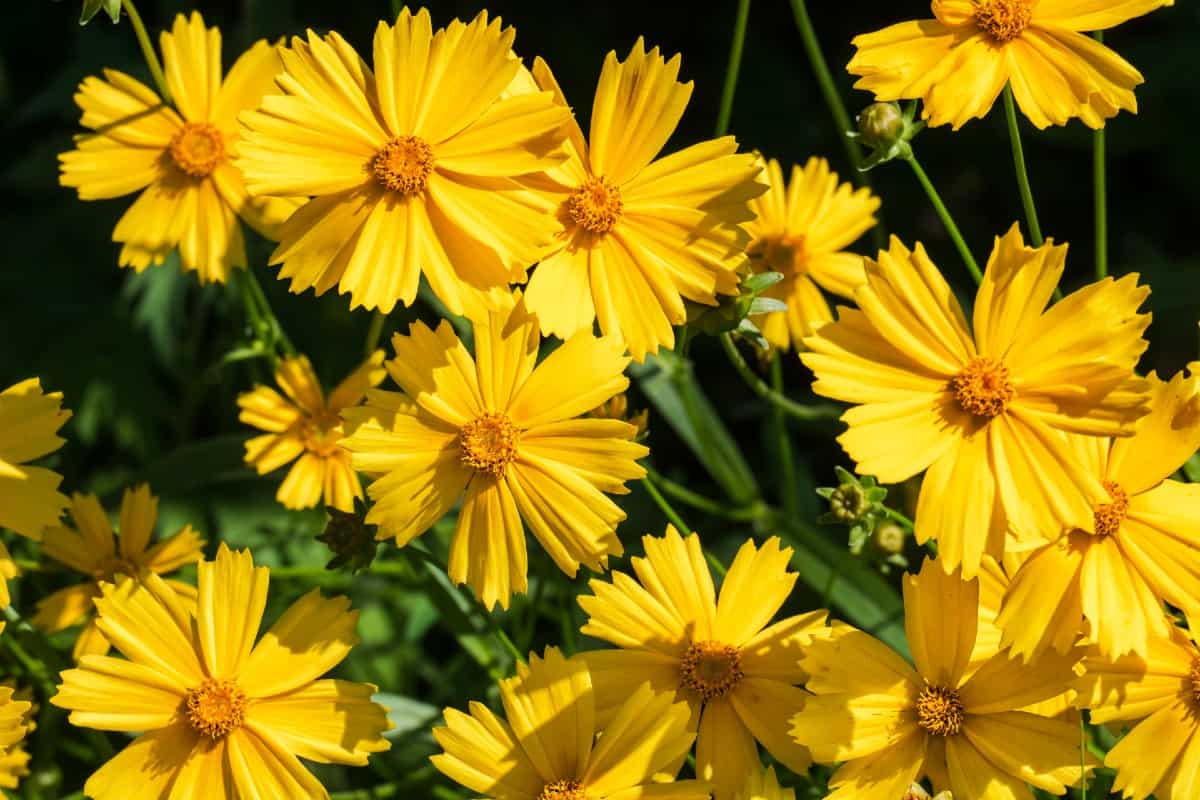 This drought-tolerant, sun-loving plant produces masses of bi-colored yellow, white, orange, and rose-colored flowers in the early summer. It is attractive to butterflies and looks stunning as a border plant.
Tickseed requires direct sunlight for six to eight hours of the day and grows 6 to 24-inches tall, depending on the variety. It is relatively deer resistant, thrives in hardiness zones 4 through 9, and is excellent for flower arrangements.
Carnation (Dianthus caryophyllus)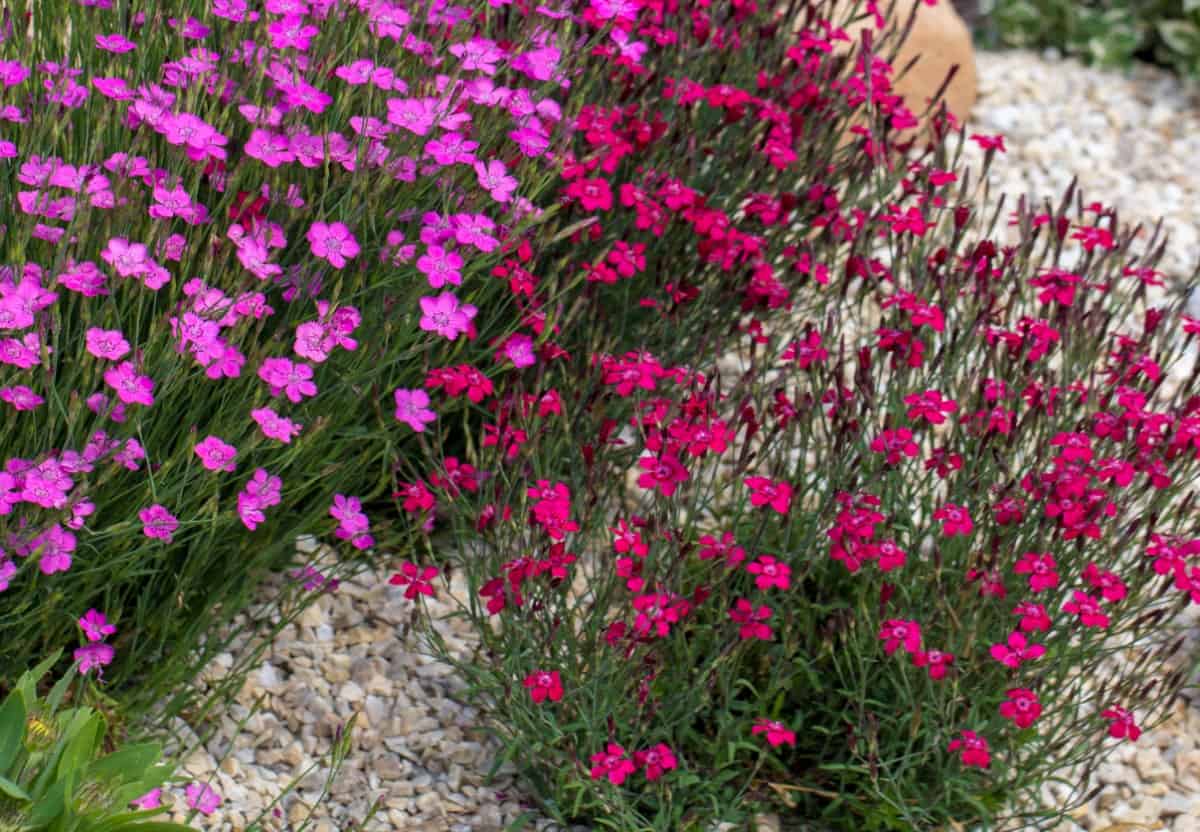 Carnations are popular for their spicy fragrance. These short-lived perennials grow in a range of colors from pink and white to red and yellow, with flowers that are 2 to 3 inches in size. They are a late-spring bloomer and continue flowering for up to two months.
There are a couple of types of carnations. The large-flowered carnation grows 24 inches tall, while the dwarf variety grows up to 12 inches high and is most common in the garden. They need four to six hours of sun daily and grow in zones 5 through 9.
Purple Coneflower (Echinacea purpurea) – Sturdy Cut Flower that Attracts Pollinators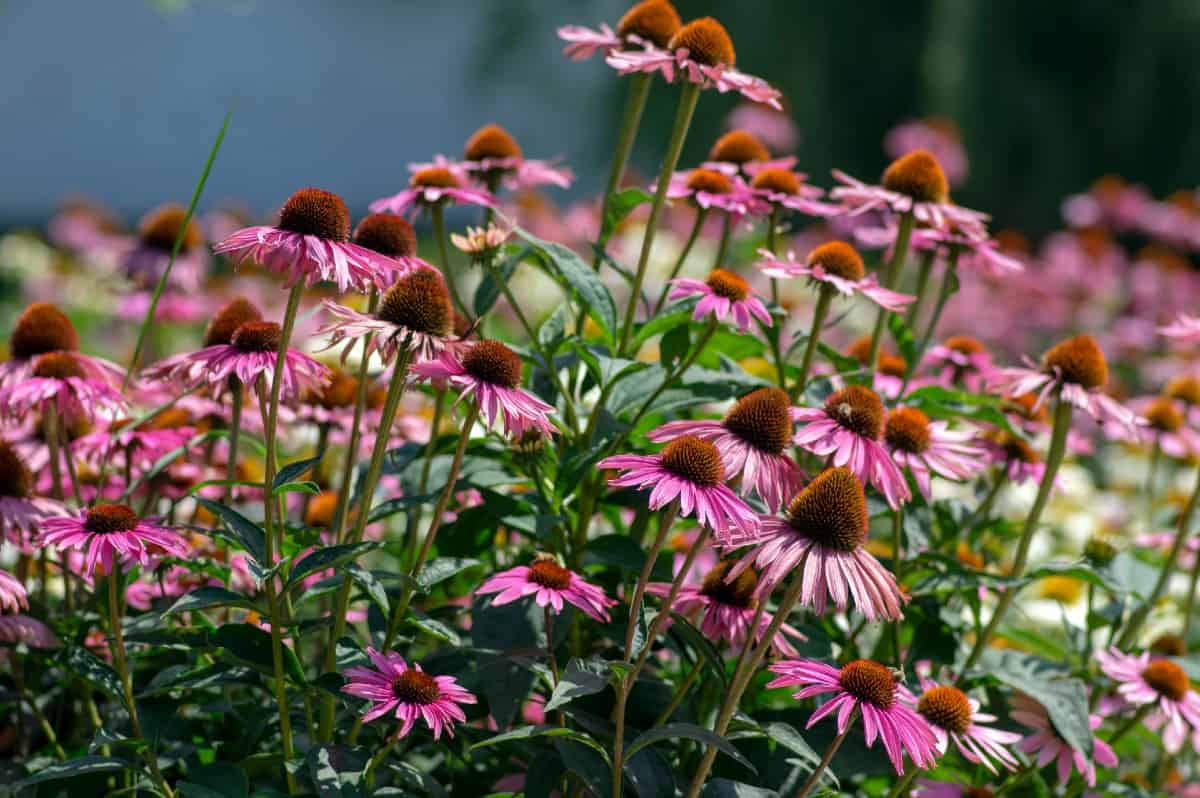 The purple coneflower is a sturdy presence in the garden with its 5-foot stalks and purple, daisy-like flowers. The flower heads are six-inches across, draw bees, butterflies, and other pollinators to the area, and make an excellent cut flower for bouquets.
These coneflowers prefer full sun with afternoon shade and thrive in hardiness zones 3 through 9. The drought tolerant plants go extended periods without water but produce more flowers with regular watering.
Russian Sage (Perovskia atriplicifolia)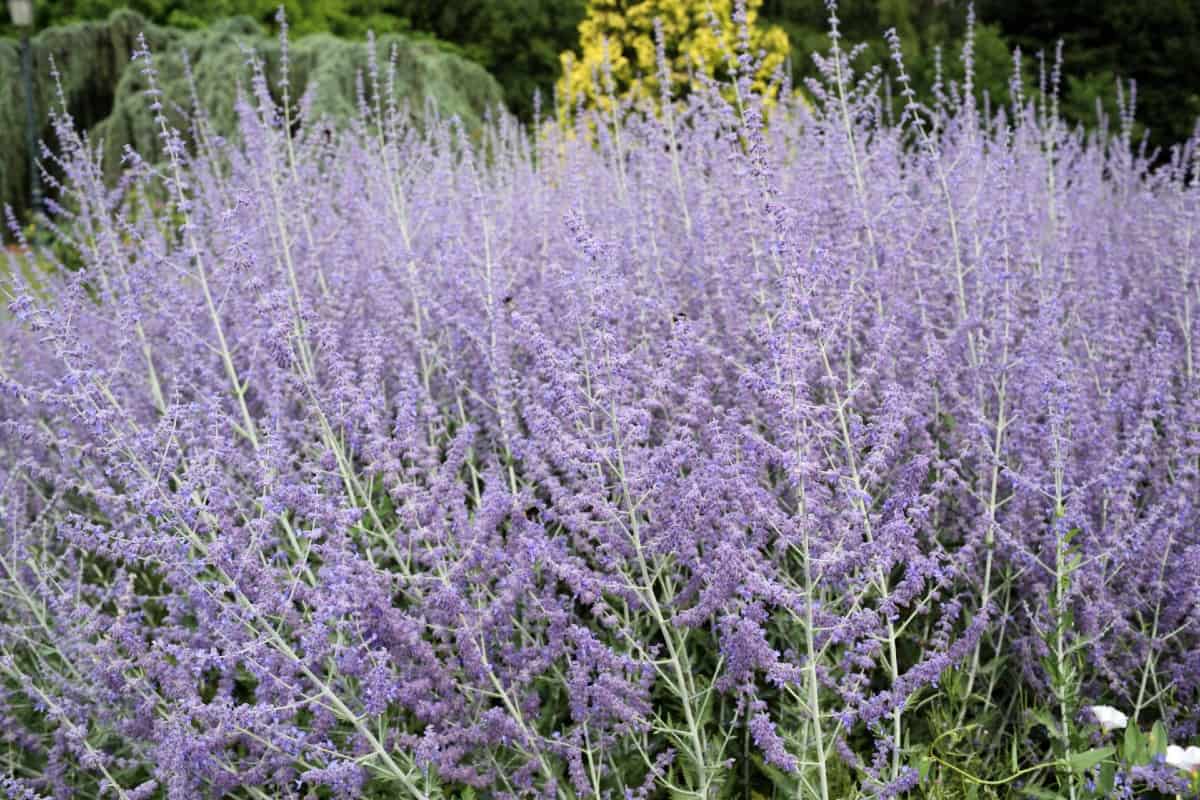 The lightly scented foliage of Russian sage grows in a many-stumped clump of gray-green leaves. It has long and thin panicles of flowers that resemble lavender and grow in abundance from late spring through fall.
These hardy plants look delightful as a specimen plant or ground cover and grow happily in dry conditions. Most varieties grow up to 4 feet tall and 3 feet wide and are hardy in sunny zones 4 through 9.
Daylily (Hemerocallis) – Cheerful Flowers that are Easy to Grow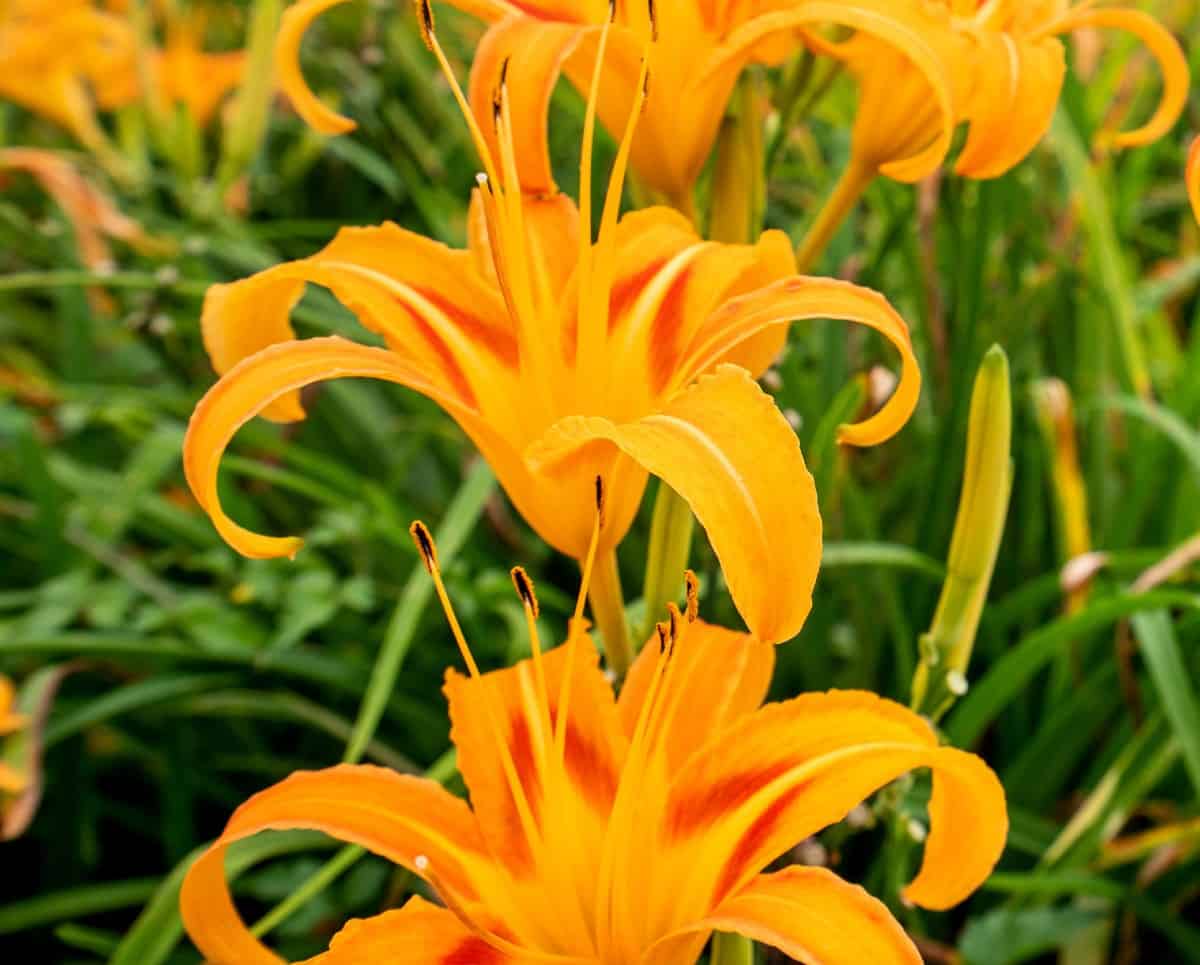 There are so many different daylilies that finding your favorite is not hard to accomplish. They grow in a vast range of sizes, shapes, and colors and fill spaces with fragrant purple, red, orange, yellow, pink, and white flowers from summer through fall.
These drought tolerant flowers are easy to grow and are not bothered by pests or disease. Short varieties have an average height of 1 to 3 feet tall, while the large ones grow up to 8 feet tall. Daylilies are happy to grow in part to full sun in zones 3 through 10.
Stonecrop (Sedum)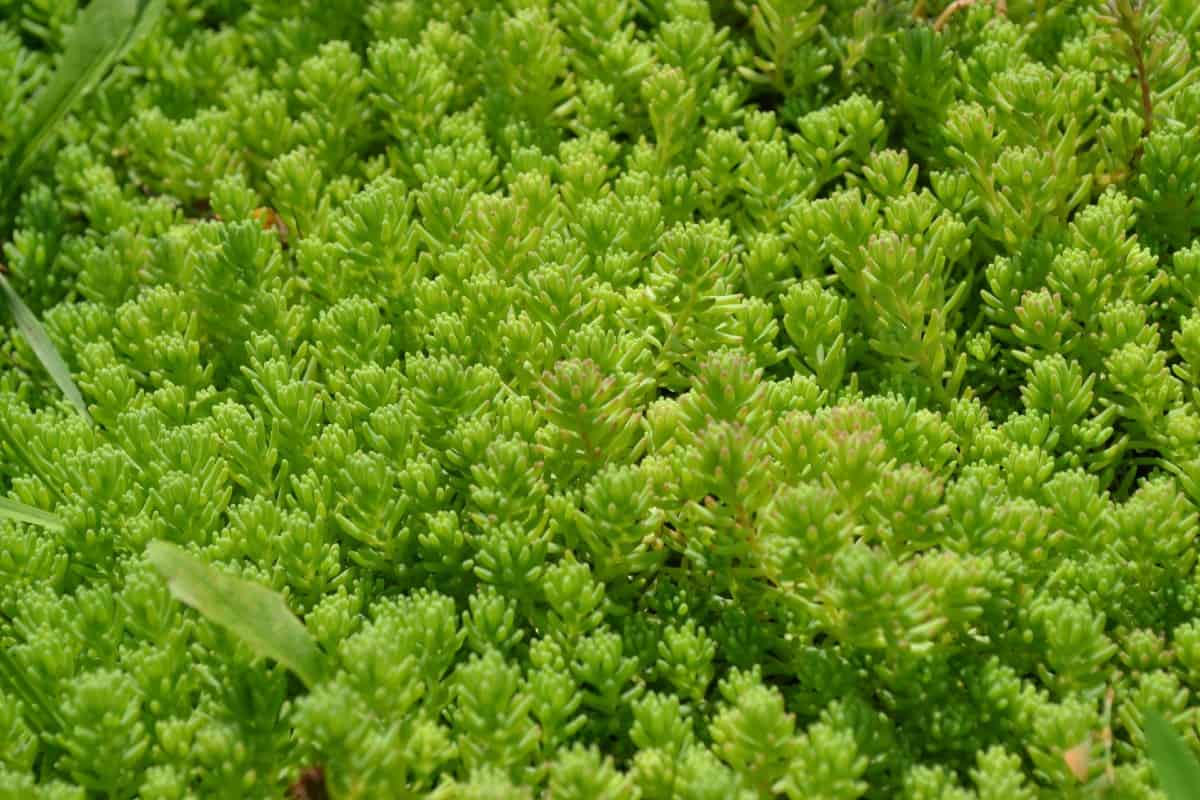 Stonecrop plants have a lot to offer the garden with their vast range of colors, heights, and styles. Their thick leaves withstand heat and drought and cover the ground with shades of green, burgundy, gold, and gray and late summer flowers.
Sedum grows 6 to 12 inches as groundcover and 1 to 3 feet tall as an upright plant. They are tough and adaptable and survive comfortably in zones 3 through 11. These low maintenance plants provide the garden with summer, fall, and winter interest.
Yucca (Yucca filamentosa) – Unique Plant with a Bold Statement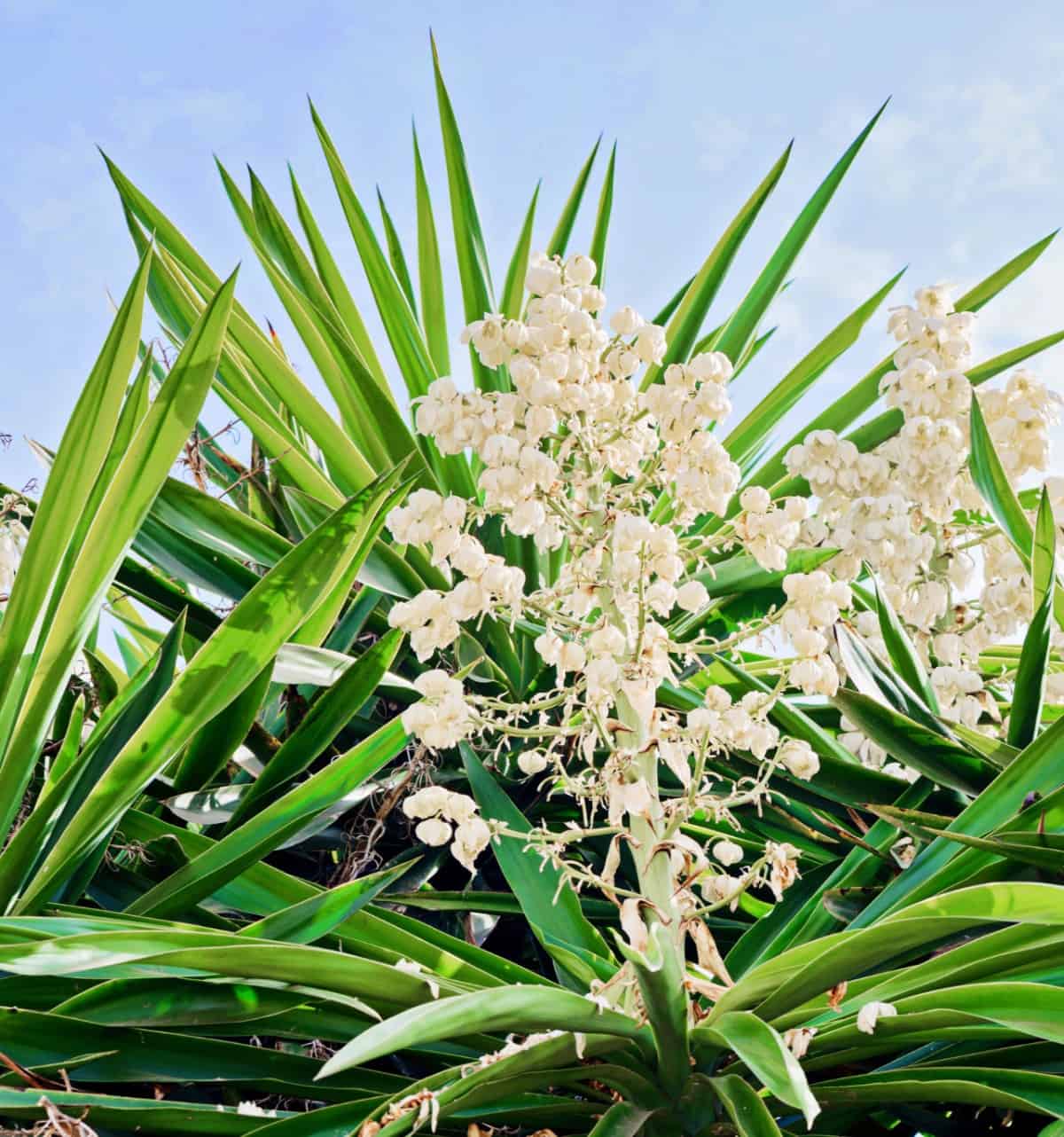 Yucca plants have a unique appearance when it comes to both their foliage and flower. They grow blade-like spikes of evergreen foliage and very tall candelabra-style pink or white flowers from summer through fall.
These tough plants handle severe drought conditions, and their fragrant flowers attract birds to a space. The drought tolerant and deer resistant plants create a focal point with their mature height of 1 to 20 feet or more. They thrive in sunny areas of zones 4 through 11.
It's essential to avoid the temptation of planting tender and fragile plants if you live in a hot, dry area. Delicate annuals struggle in certain conditions and often die during the hottest days of summer.
Fortunately, many perennials are perfect for these growing conditions and fill your chosen location with lovely flowers for both you and pollinators.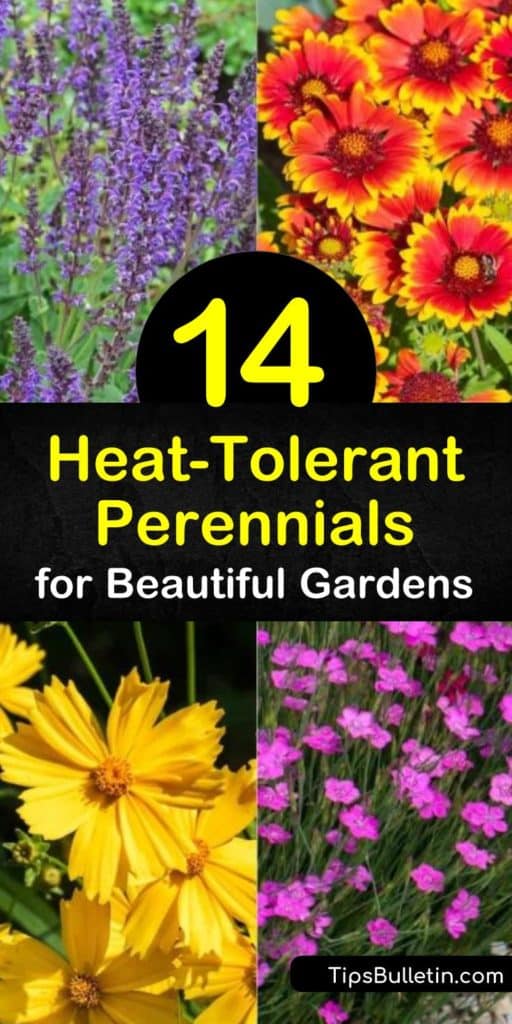 Growing a beautiful garden in a challenging climate is easy with perennials for hot areas, so why not share our heat tolerant plants with your nature-loving friends and family on Facebook and Pinterest?