Having a stone wall or rock area is both an eyesore and an appealing feature in gardens. The difference is in how you dress it up, whether by adding gorgeous flowers, succulents, or grasses to fill in the cracks and crevices. Finding the right perennials for rock gardens is challenging at times since the rock formation creates growing issues for most plants.
Luckily, we discovered some of the best flowering varieties available. The compact spaces in rock gardens mean there is limited room for root systems to spread.
Selecting plants that develop shallow roots and easily weave their way in between cracks and crevices is the best solution. Poor soil is another leading contributor to making your rock gardens selections so problematic.
Soil is often dry, or the plant remains in a bright and sunny location for too long. The two situations, when placed together, mean adding a hardy plant is the only way to make your rock garden work. So, check out the species below to find the flowers of your dreams.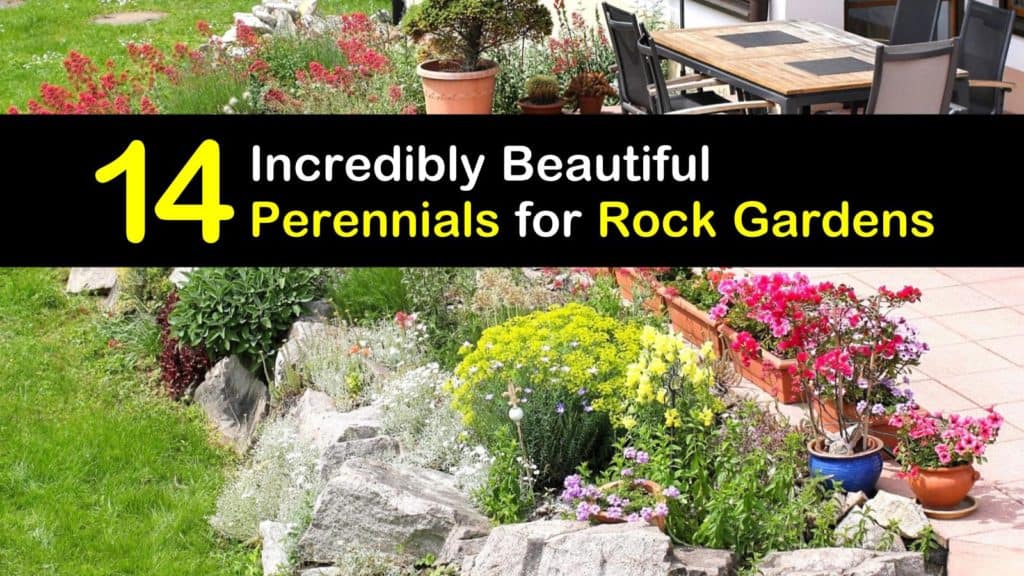 Terrific Perennials for Rocky Areas
When it comes to making demanding soil structures and conditions work, focus on what you plant with your perennials.
Planting them with other shrubs and flowers that don't absorb much water from the soil means there is more to go around for all. The species here offer plenty of diversity to make your decision easier.
Choose from plants in all colors, from blue ground cover flowers to taller red ones. The choices are almost limitless.
If you are trying to work around an area where you need big tree root removal, it may be best to wait before planting your flowers so they are not dug up in the process. However, if you decide to let the root stay, adding plants on and around it can hide the root quite effectively.
Creeping Thyme (Thymus serpyllum)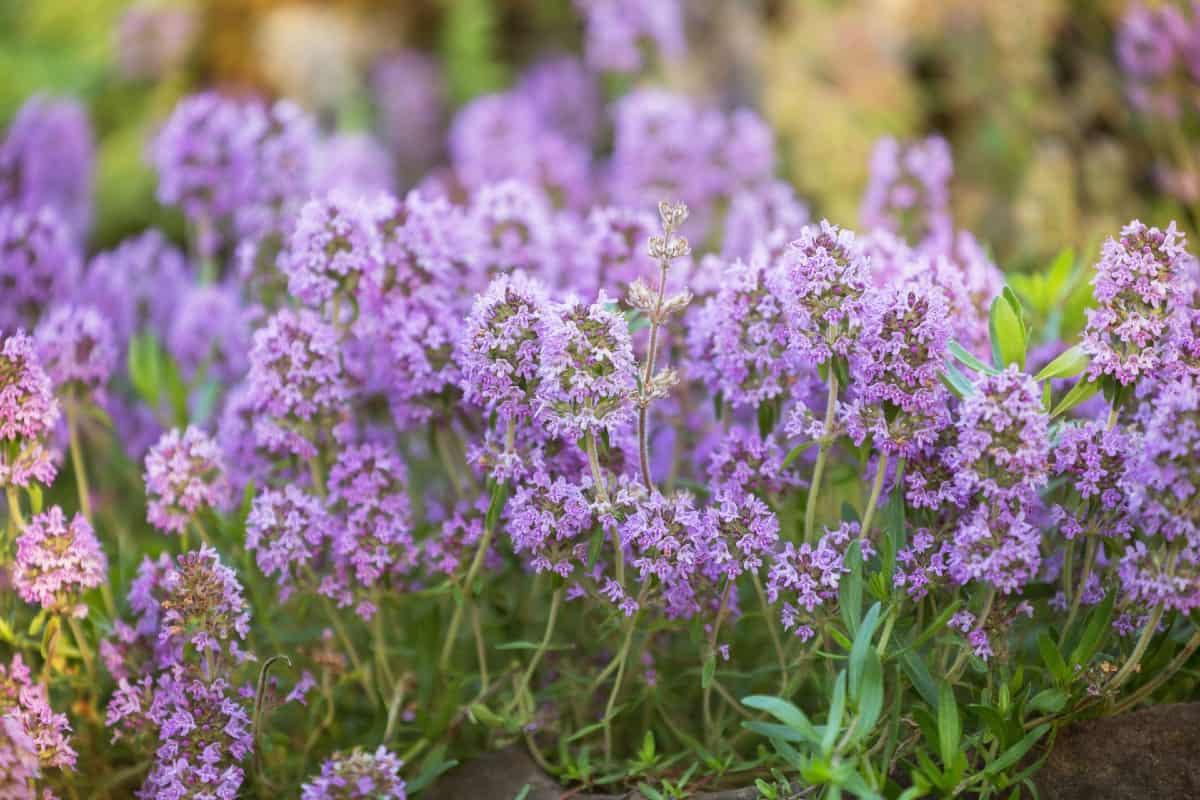 Creeping Thyme makes an excellent addition to any rock garden since it often withstands the less desirable conditions associated with stony ground. This member of the mint family prefers well-drained soils with a light texture.
Amend these shortcomings with a little bit of fertilizer. Since it is susceptible to issues like root rot and edema, the main thing it does not tolerate is wet soil. This vining plant only reaches a few inches high, though it spreads out much further, up to a foot and a half.
These plants that spread fast are just as happy in light shade as they are in full sun environments. It loves growing between the cracks and crevices of rocks and creates a lovely cascading look with its green foliage.
Evergreen Candytuft (Iberis sempervirens): Flowering Plants for Groundcover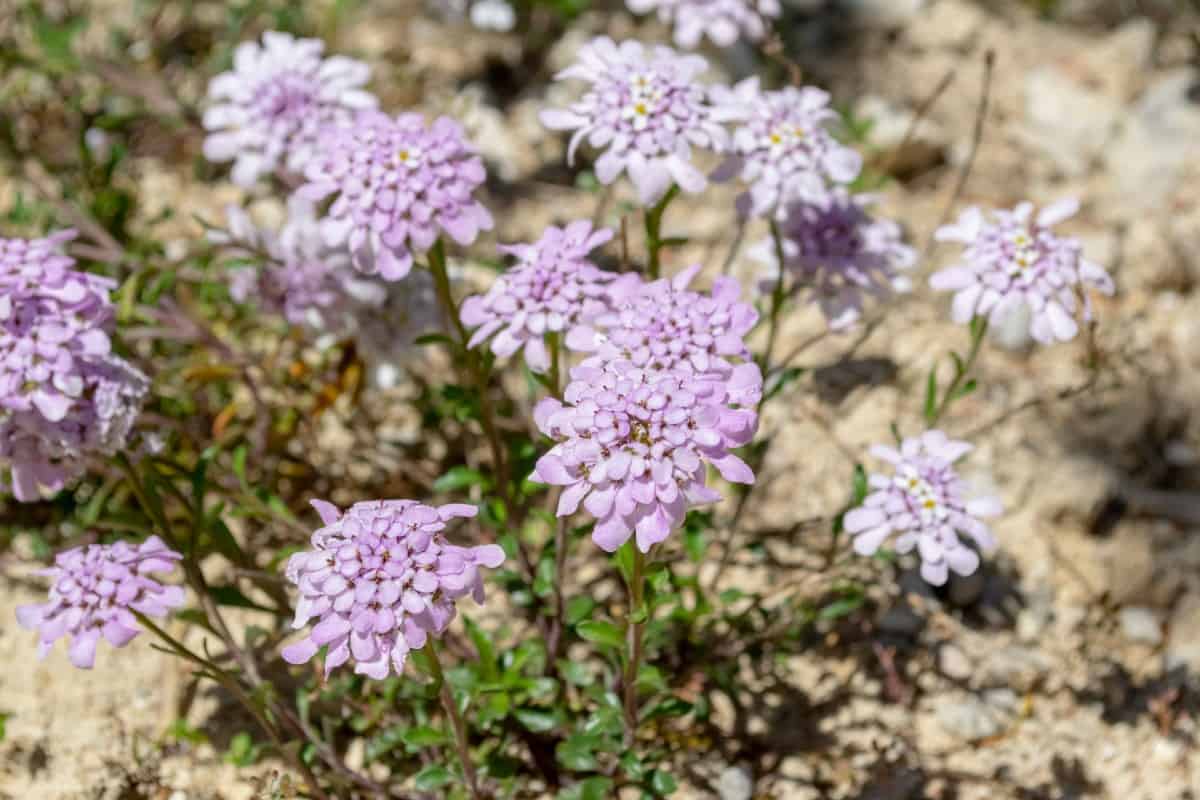 If delicate little flowers are also something you desire in a rock garden aesthetic, then place the Evergreen Candytuft plants at the top of your list. This evergreen perennial stays true to its name with oblong leaves that hold their color all year long.
These perennials for spring or early summer blooming have lovely white flowers that join the leaves. This species is a short shrub ideal for creating groundcover in gardens with taller plants. It only climbs about 10 inches tall, though it spreads significantly wider at about three feet.
Water about one inch each week, but only when it doesn't receive any other moisture from rain. If you are unsure how much water the plant received, it is best to give it less water than more to spare it damage from overwatering.
Carnation (Dianthus caryophyllus)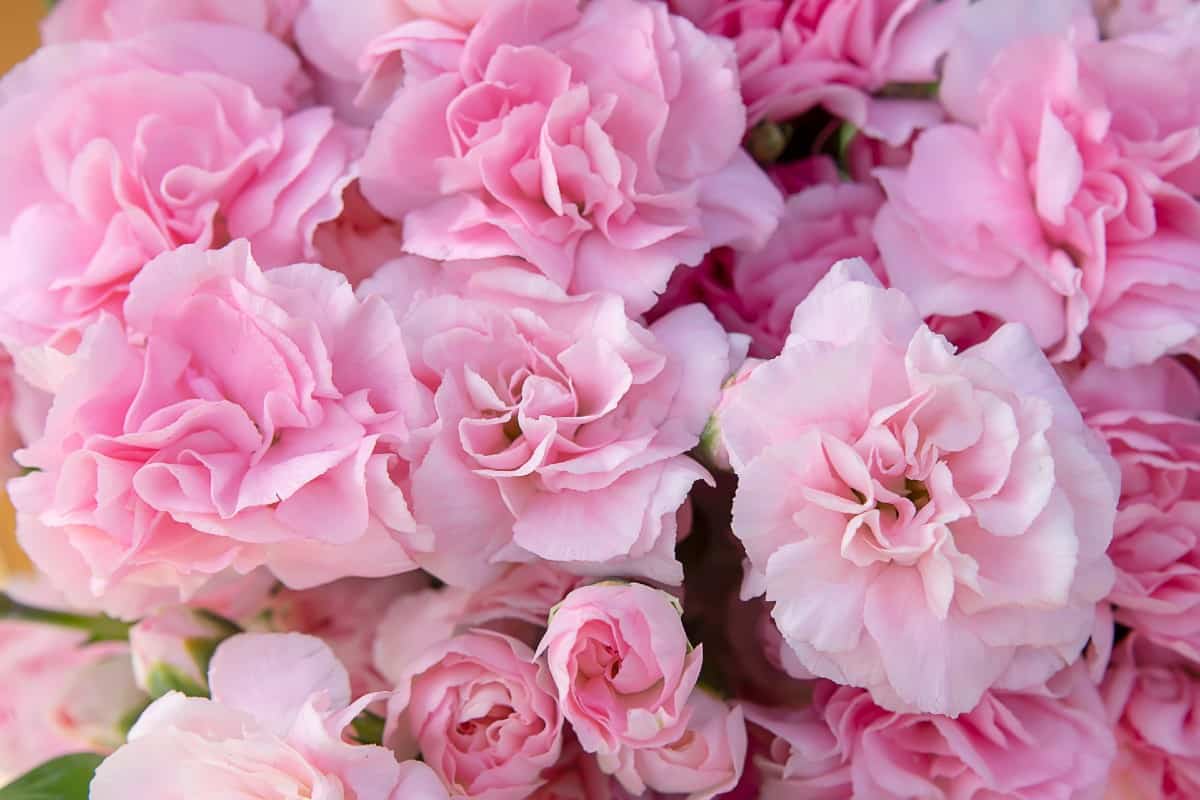 Carnations are a unique flower revered in ancient times as the flower of the gods. Its symbolism is also deeply rooted in the various colors it consists of, including white, purple, and pink flowers.
Each color delivers a singular message and meaning, though altering it may be as easy as using food dye. Flowers grow to around two inches in diameter, while the entirety of the plant extends past two feet.
Provide them plenty of fertilizer during the growing season and water weekly. Carnations make incredible additions to rock gardens because they form compact bursts of color that brighten up a dull grey rockery.
Most bloom in spring to summer, though some may bloom later for the second time in fall if well-tended.
Common Soapwort (Saponaria officinalis)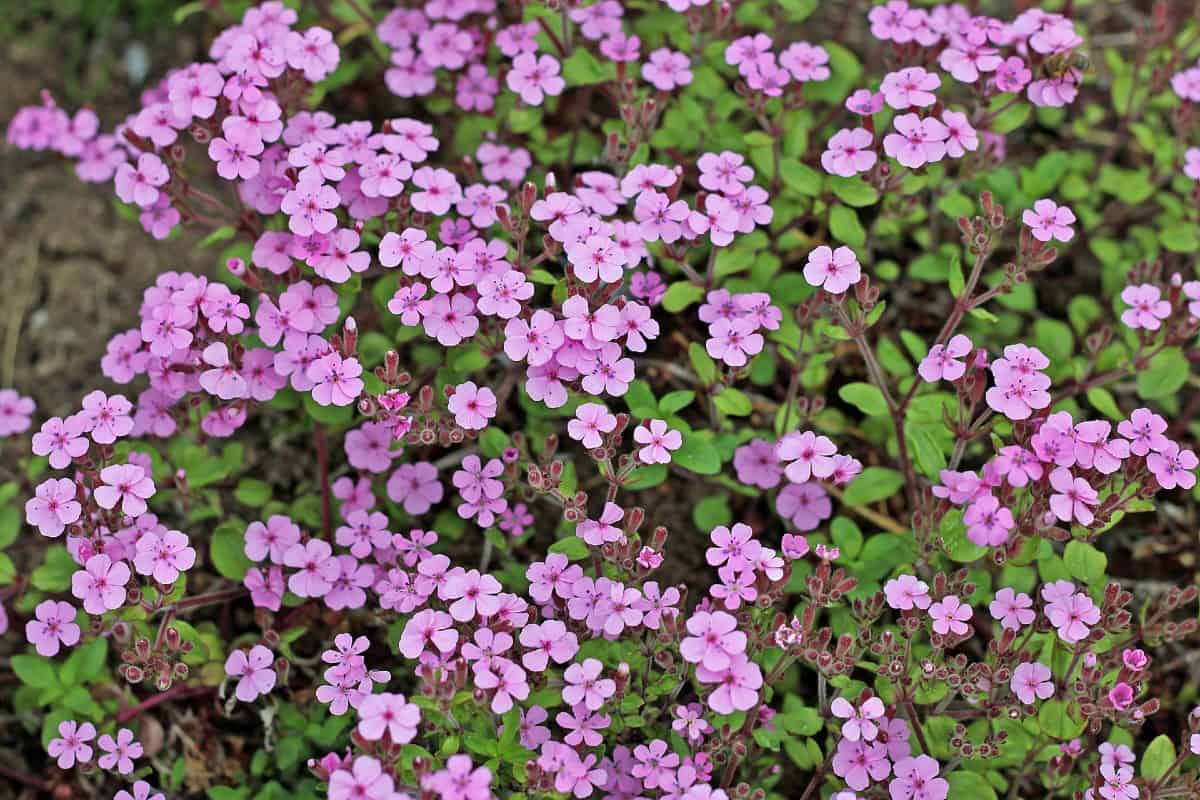 A plant whose usefulness dates back to the Roman Empire is Common Soapwort. In these times, the shrub served as a water softener, later transitioning to a soap substitute for Europeans in subsequent centuries.
It was brought to the United States when early colonists came for that very reason, lending it the soapy name. With soapwort, deadheading old growth is critical to fostering new life.
The plant thrives best when placed in full sun to light shade and tolerates almost any type of soil, making it ideal for rocky areas. Good drainage is an essential step to consider when planting it.
Sweet Alyssum (Lobularia maritima): Perfect Perennial for Pollinators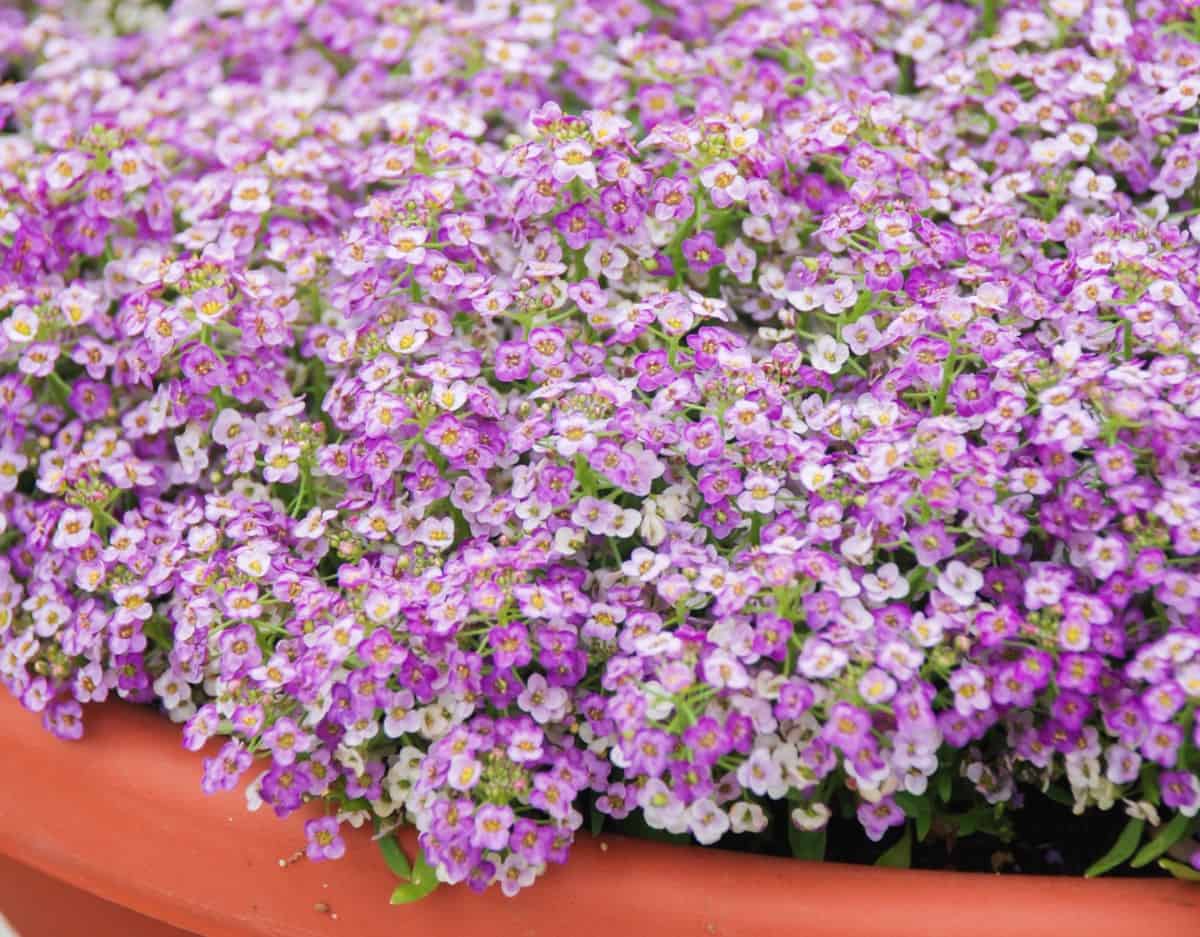 The next option is sweet-smelling Alyssum, whose fragrance bears a light honey scent. It is a massive contributing factor to what attracts pollinators like bees and butterflies to these delicate white or purple flowers.
Alyssum is well equipped to handle dry and poor soil structures because it typically grows along beaches and dunes. In addition to thriving in natural habitats similar to rock gardens, they love to spring up in cracks and small spaces along walks and walkways.
The blooming season for Alyssum starts in June and runs through to October. These tight little bundles of leaves and flowers only grow a few inches tall and make perfect ground cover along rock borders.
Stonecrop Dragon's Blood (Sedum spurium)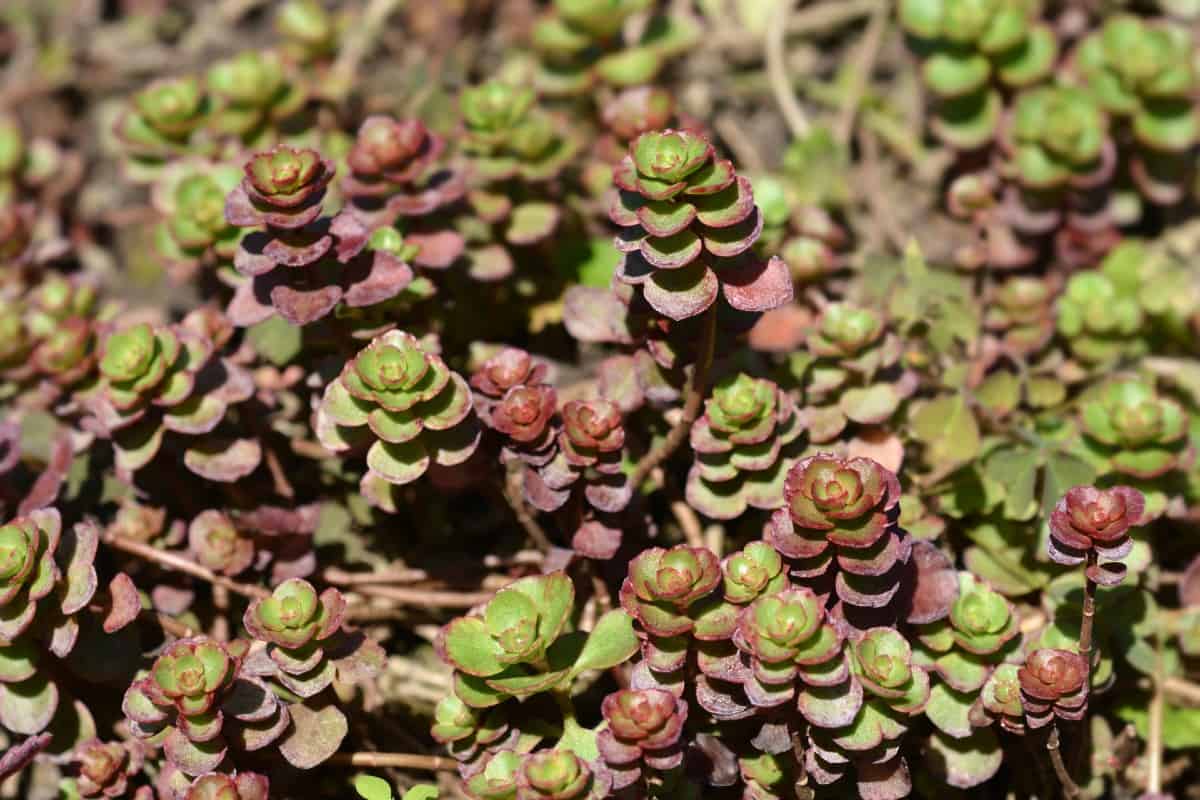 Some of the best rock garden plants to use are succulents, and there is no better specimen to try than Stonecrop Dragon's Blood. This impressive succulent displays gorgeous little rosettes of green leaves with tinges of purplish-red decorating the tips.
In the fall, these tips change to a stunning deep red, which is how the plant earns its "blood" moniker. Not only do these plants tolerate drought and withstand several different soil types, but they also look fantastic against the stony backdrop of rock walls and gardens.
A deal-breaker for them is an area of high foot traffic, so keep them away from footpaths and sidewalks. While they are relatively low maintenance, they still enjoy well-drained, moist soils.
Dalmatian Bellflower (Campanula portenschlagiana): Perennials for Rock Gardens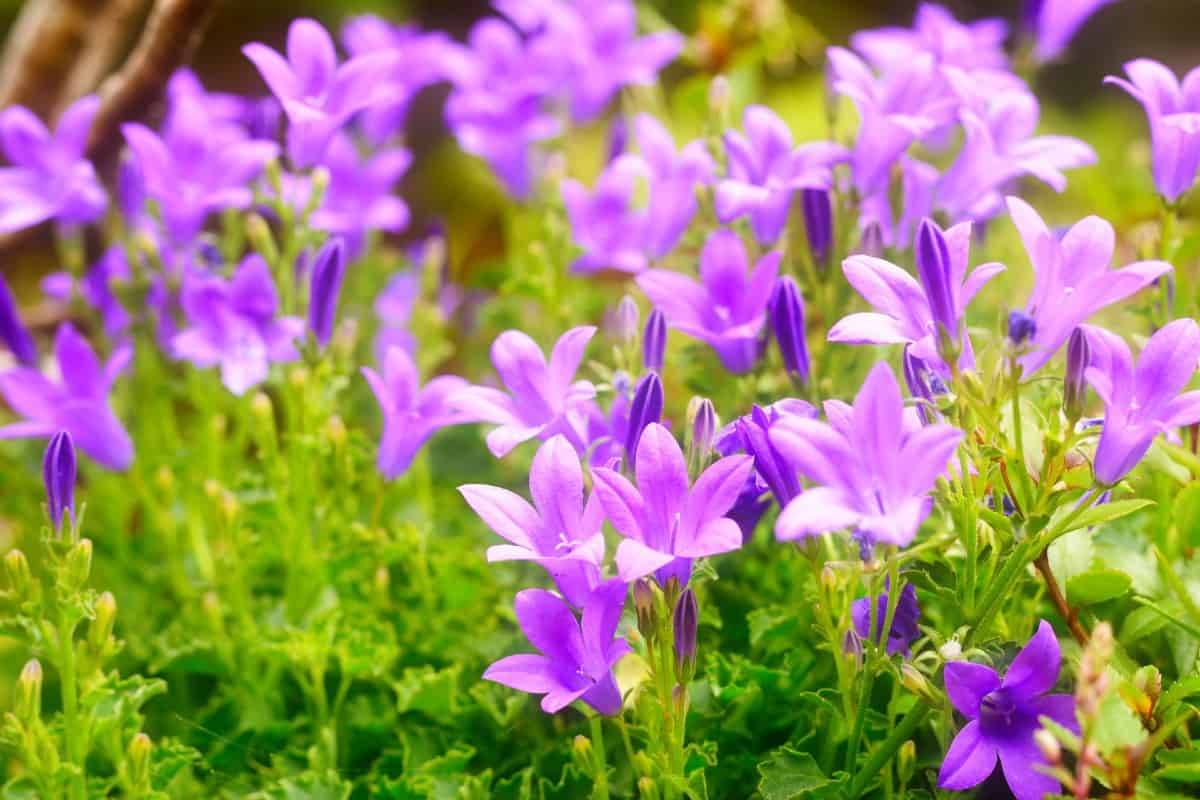 One of the best plants for rock gardens is the Dalmatian Bellflower. They grow in confined spaces like crevices and have long tendrils of branches that create a stunning effect against a rocky backdrop.
Bellflowers love light soils with plenty of drainage and do not require fertilizer to maintain healthy growth. Flowers on this plant begin to bloom starting in mid-summer.
Deadheading the spent flowers is essential to encourage new blossoms, though there is no set routine you must follow to accomplish this. In most cases, the trimming of old flowers is sporadic and only done as they start to fade.
Garden Phlox (Phlox paniculata)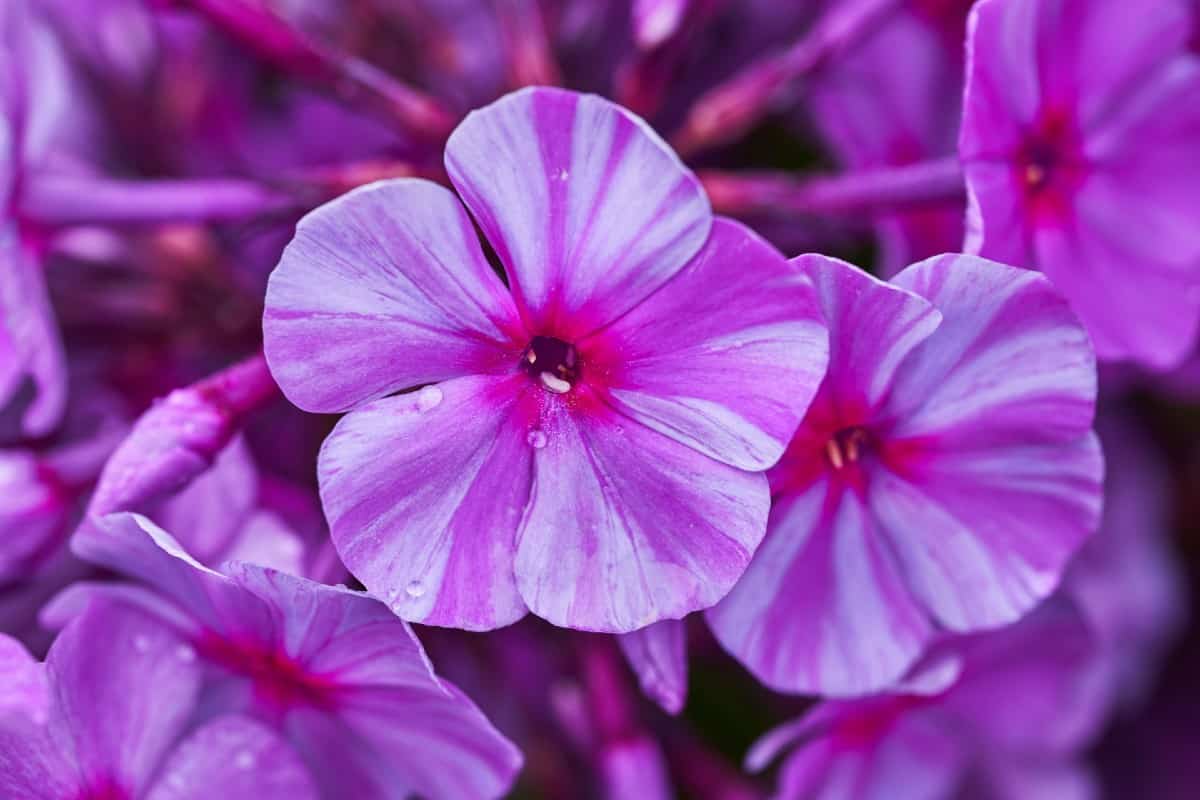 Garden Phlox is a common species found in gardens. In the past, the flower boasted a score of medicinal qualities that made it appealing, including treating boils and relieving stomach issues.
Nowadays, this medium-sized plant is a beautiful way to decorate gardens with lovely white or purple flowers. These summer blooming flowers appear starting late in the season.
The most crucial factor in maintaining phlox is to ensure the earth stays moist and cool. Once they become established, only intermittent watering is necessary.
One way to retain moisture is to lay down a layer of mulch, which also reduces the emergence of weeds.
Common Thyme (Thymus vulgaris)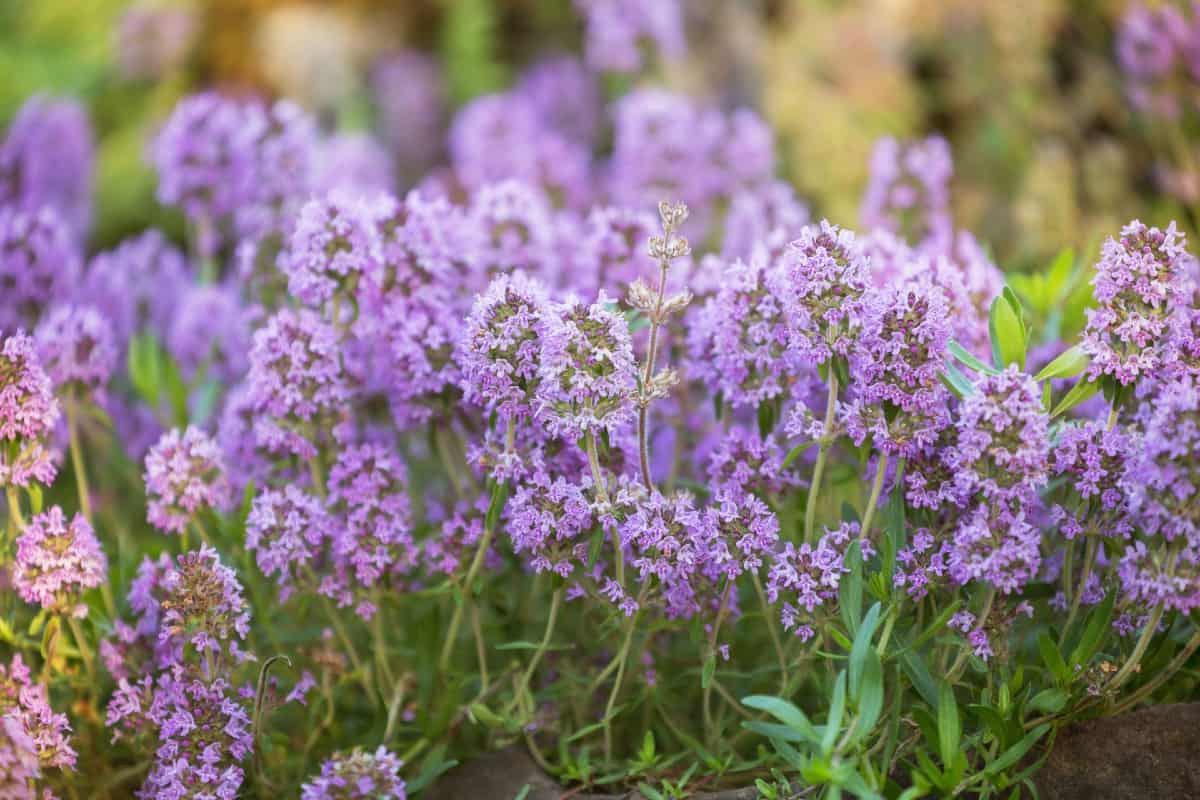 Herbs make outstanding plants in rock gardens. They not only thrive in these settings, but they provide useful ingredients easily added to soups and dishes. One of the most popular plants you find in rock gardens is Common Thyme.
This member of the mint family smells divine and needs very little to survive the less than ideal conditions. Thyme is a drought-resistant plant that only requires watering once the soil completely dries out on the surface.
It grows by seeds, cuttings, or by using parts of the root. The best time to fertilize is in early spring, while it is still growing. Thyme does spread rapidly, so give it a couple of feet in between other plants for its evergreen foliage to expand.
Beard Tongues (Penstemon): Tubular Flowers that Attract Hummingbirds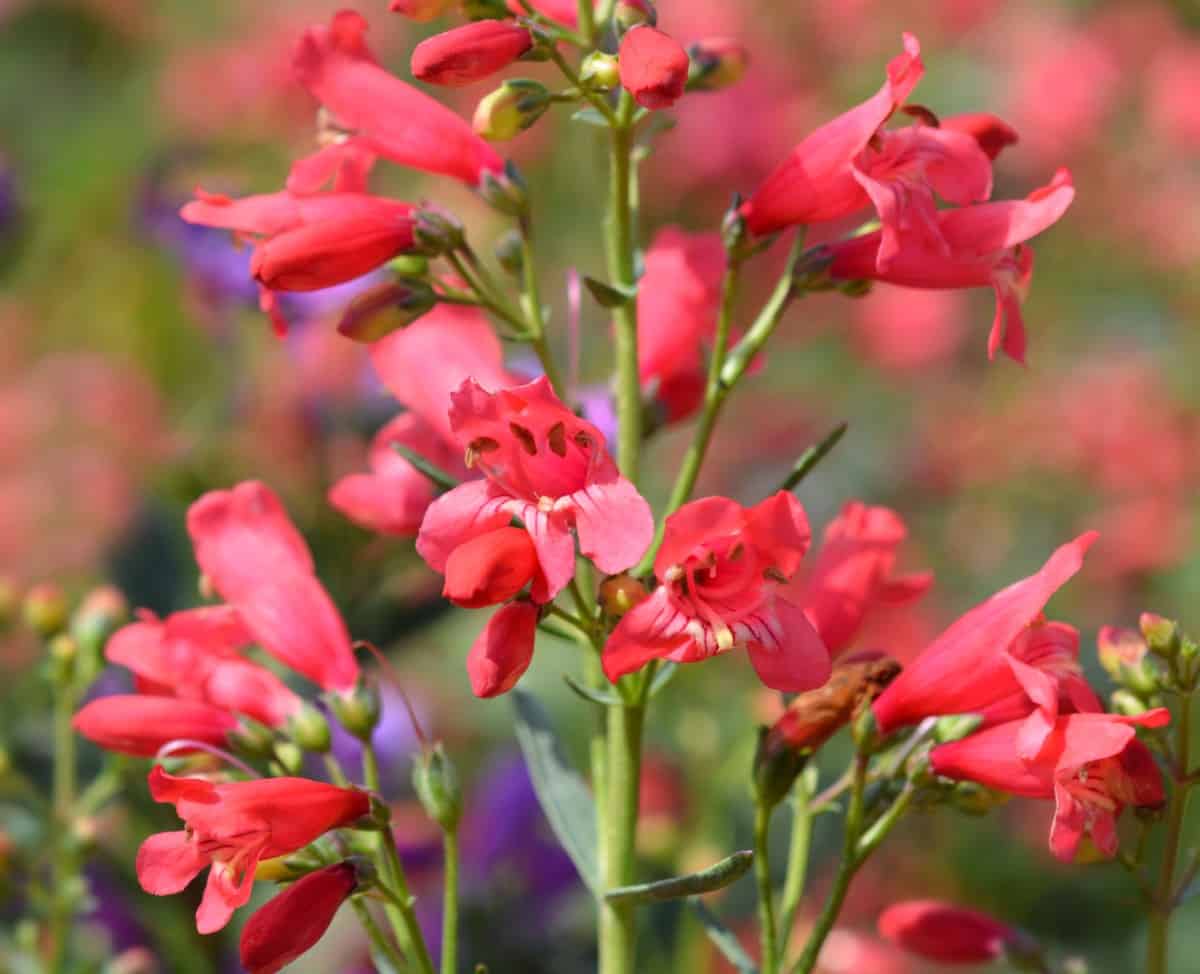 An impressive specimen to add to your landscape is Penstemon. These plants survive in most soils, harboring a preference toward poor, rocky, or sandy conditions.
These attributes make them perfect candidates for the type of soil structure often seen in rockeries and allow the plants to withstand brief periods of drought. Keeping Beard Tongues healthy involves removing weeds from all surrounding areas.
One way to do this isto add three inches of mulch made from organic materials to lower the chances of weeds, provide nutrients, and regulate temperatures.
In early summer, purple and white flowers pop up to take the place of spring bloomers. These flowers entice hummingbirds, bees, and butterflies with their high nectar count and tubular shapes.
Hens and Chicks (Sempervivum tectorum)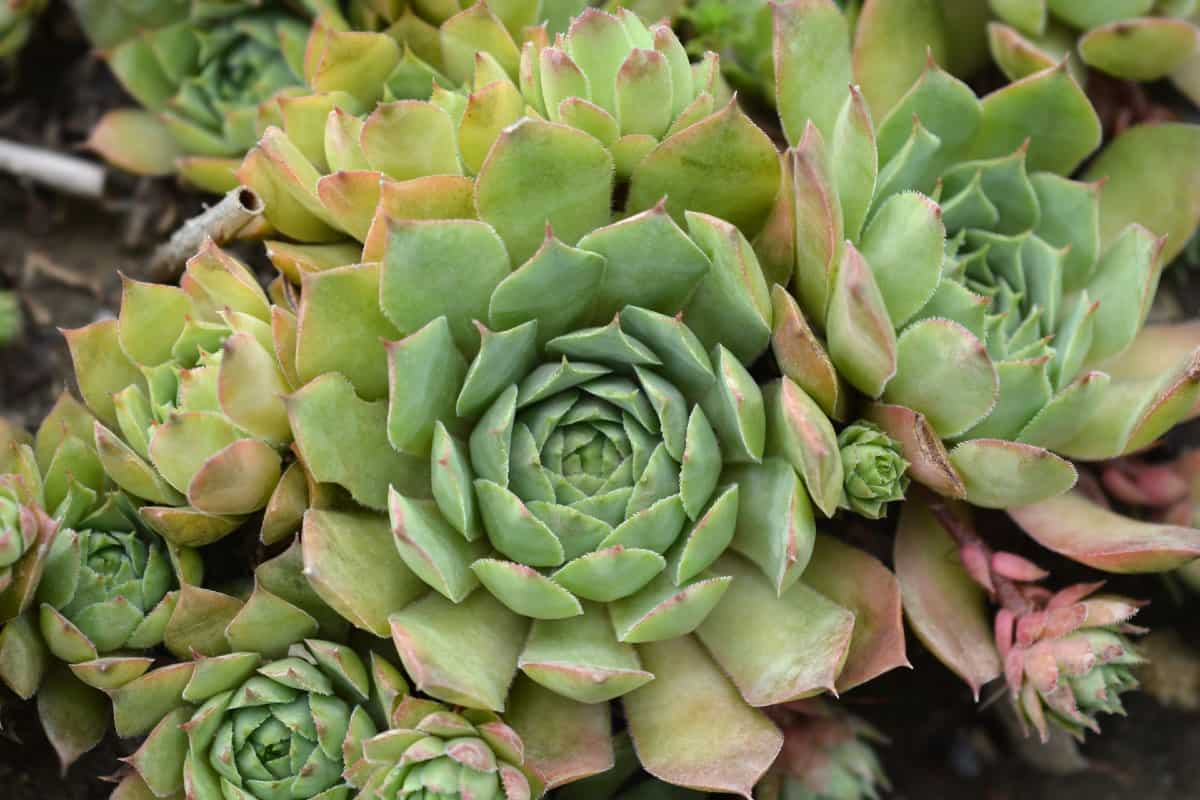 Since succulents tolerate dry conditions, sunny patches, and rocky environments, they are some of the best plants to use when it comes to designing your gardens.
Hens and Chicks loves sandy soil, to the point that most gardeners recommend adding gravel to tightly packed soils instead. Doing this improves aeration while also contributing to the drainage of vegetation that drowns in wet soils quickly.
In addition to thriving in dry soil, this succulent also fares well in very little dirt at all. The rosettes form between the rocks, whether there is a massive amount of earth to cling to or not.
Hens and Chicks are also noted for their ability to spawn new life so effortlessly that the plant is said to live forever.
Blue Fescue Grass (Festuca glauca): An Ornamental Grass for Rocky Edges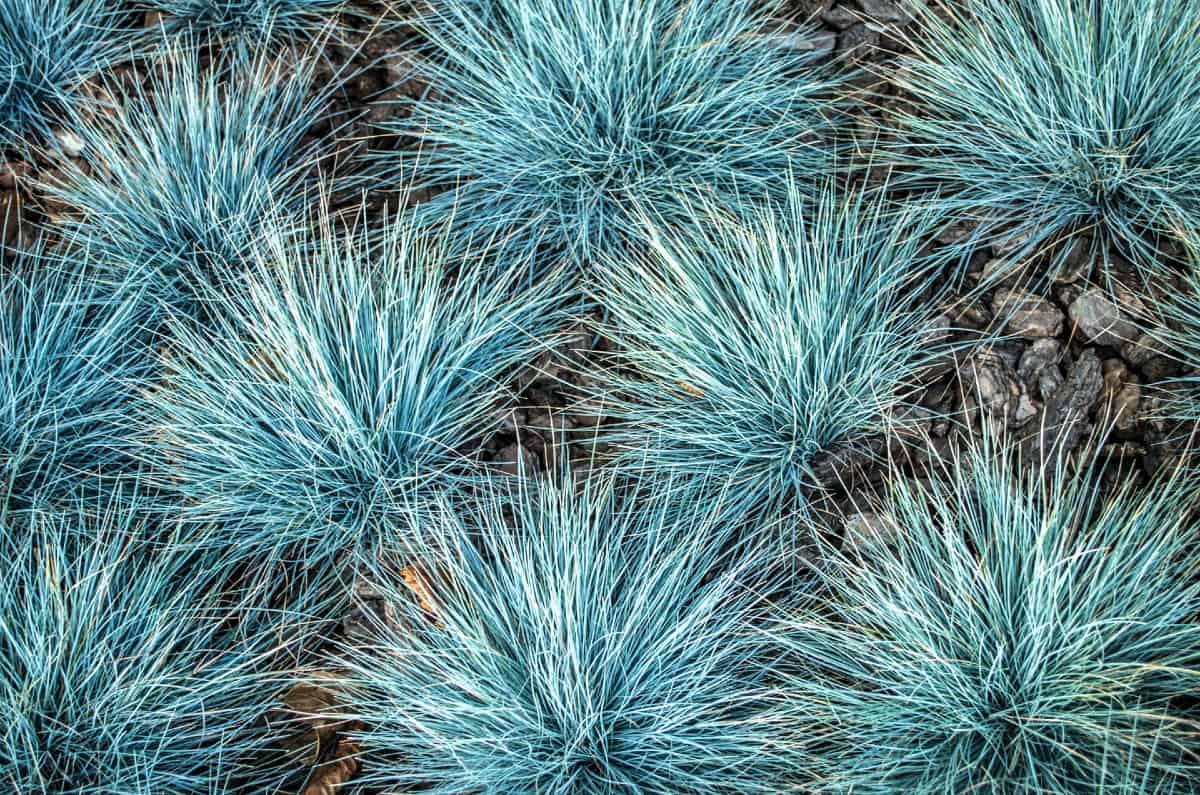 Ornamental grasses make the perfect addition when building up your list for ground cover between stepping stones or adding to a garden area. The green leaves of the plant turn a tan color in the fall, while greenish and yellow flowers bloom in the summertime.
The bluish blades of the grass that give the fescue its name remain beautiful and evergreen year-round. Fescue is a hardy plant that tolerates most common gardening difficulties.
In addition to being tolerant of salt, the plant is also deer resistant. They thrive in full sun, though they withstand shade when unavoidable – only at the loss of fuller, more abundant flowers.
Rock Cress (Aubrieta deltoidea)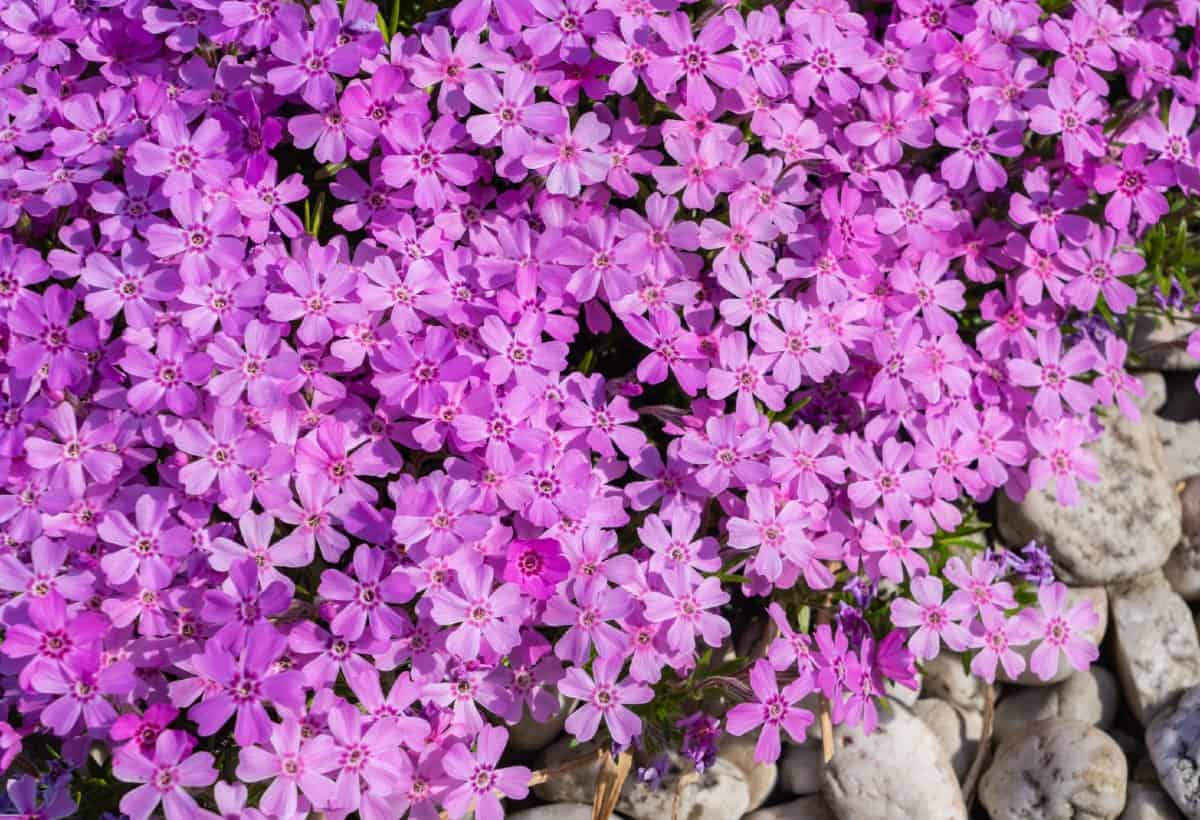 Some plants are just born to live among rocky terrain, and there is no better example of that than Rock Cress. This alpine plant displays dark green leaves that cling to their color throughout the year.
Flowers bloom in mid-spring and last for approximately four to six weeks. Rock Cress does best in slightly acidic soil and can be sown as late as early spring to see new plant growth.
One way to increase the acidity in the soil for Rock Cress is by adding a light layer of pine needles. Doing this holds in all the moisture in the earth and prevents weeds from sprouting around the plant.
Hardy Ice Plant (Delosperma cooperi)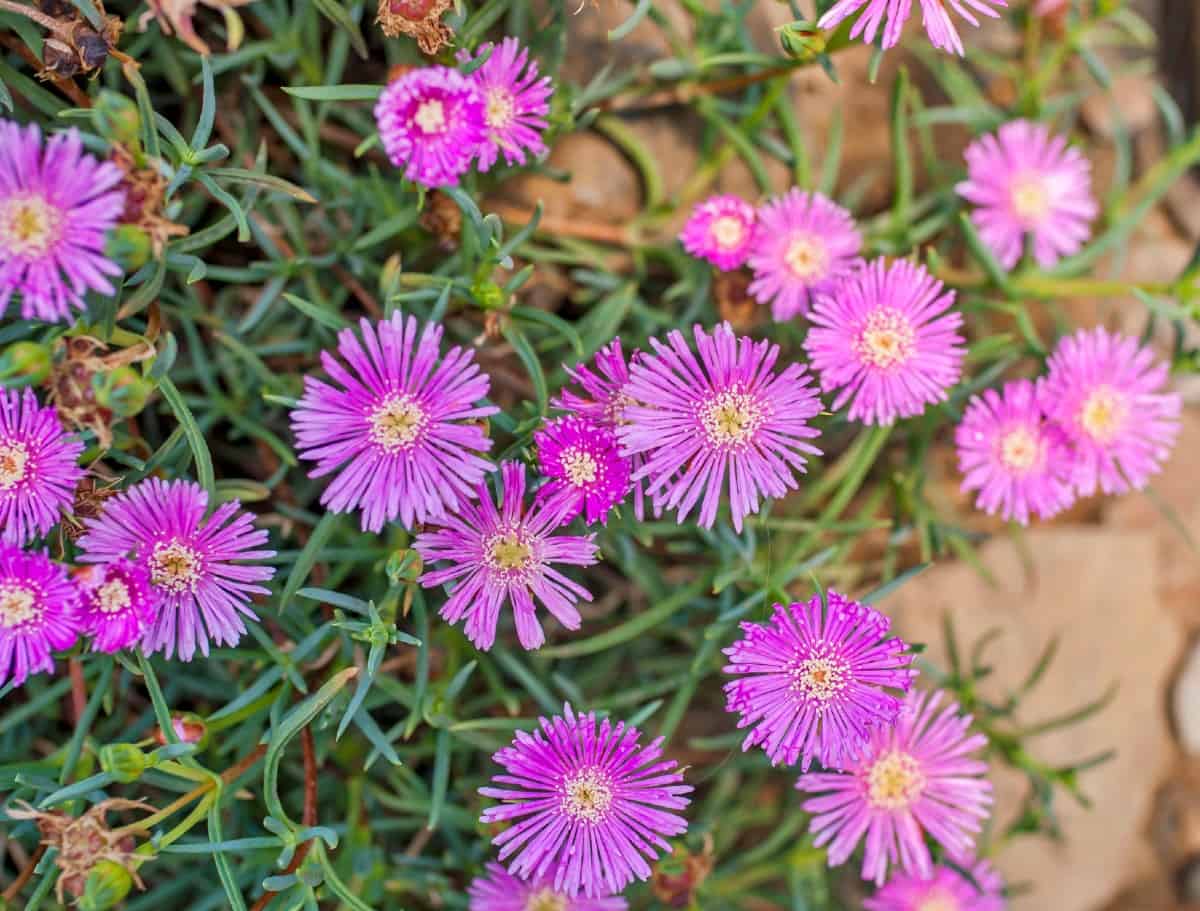 The Hardy Ice Plant, also known as delosperma, is another type of succulent that prefers the dry soils in rock gardens. Wet soils are potentially dangerous to them, however, especially in the winter.
If left in wet soil, the combined moisture and cold kills the plant. Both heat and drought tolerant, ice plants love full sun, with some wiggle room to take in a bit of shade, too.
The most vital feature of the ice plant is its flowers. These are an eye-catching shade of purple with a little bit of yellow in the center. The bold colors make an incredible feature against grey and green backgrounds.
With so many incredible ideas to work with, finding easy perennials that bloom all summer to incorporate into your garden design is a cinch.
Whether your goal is to attract lovely hummingbirds, create a cascading effect with long, sprawling vines, or just fill in unsightly gaps, there's something for everyone to love on this list.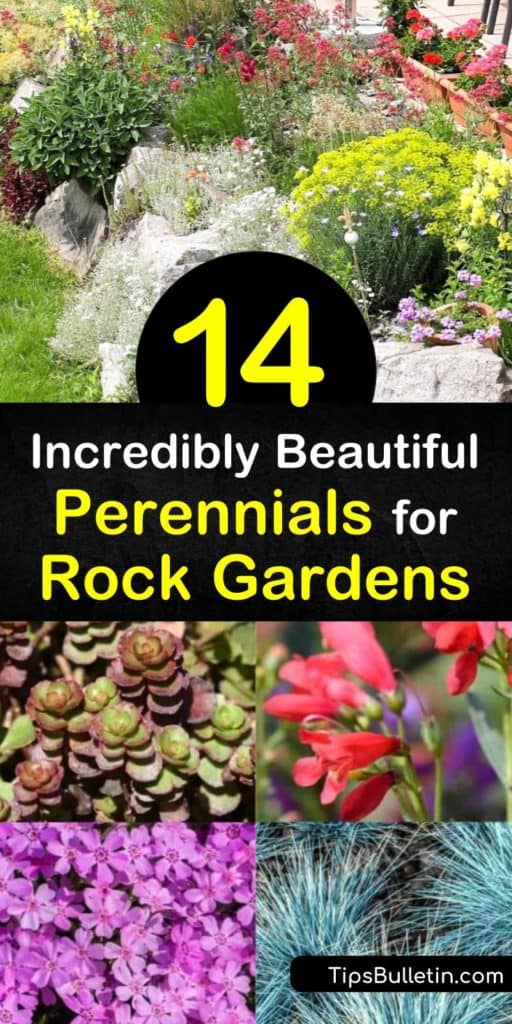 If you found these rocky terrain planting tips useful, then please remember to share all this information about perennials for rock gardens with friends and family on Facebook and Pinterest.