We all love to have perennials in our gardens, even if they don't get a lot of sunlight. A yard full of perennials is full of life and growth, and perennials add beauty and grace to any landscape. Knowing which perennials for shade are right for your yard allows you to create the outdoor environment of your dreams.
It's a great way to add extra curb appeal to any home. We've gathered the best shade loving perennials in this guide to help you build the perfect shade garden.
In this article, we let you in on which perennials will make your garden explode with color and beauty. You'll get a rundown of the best shade perennials for arid conditions, which ones like the cold, and which plants thrive in the heat. Before long, your garden will be alive and growing.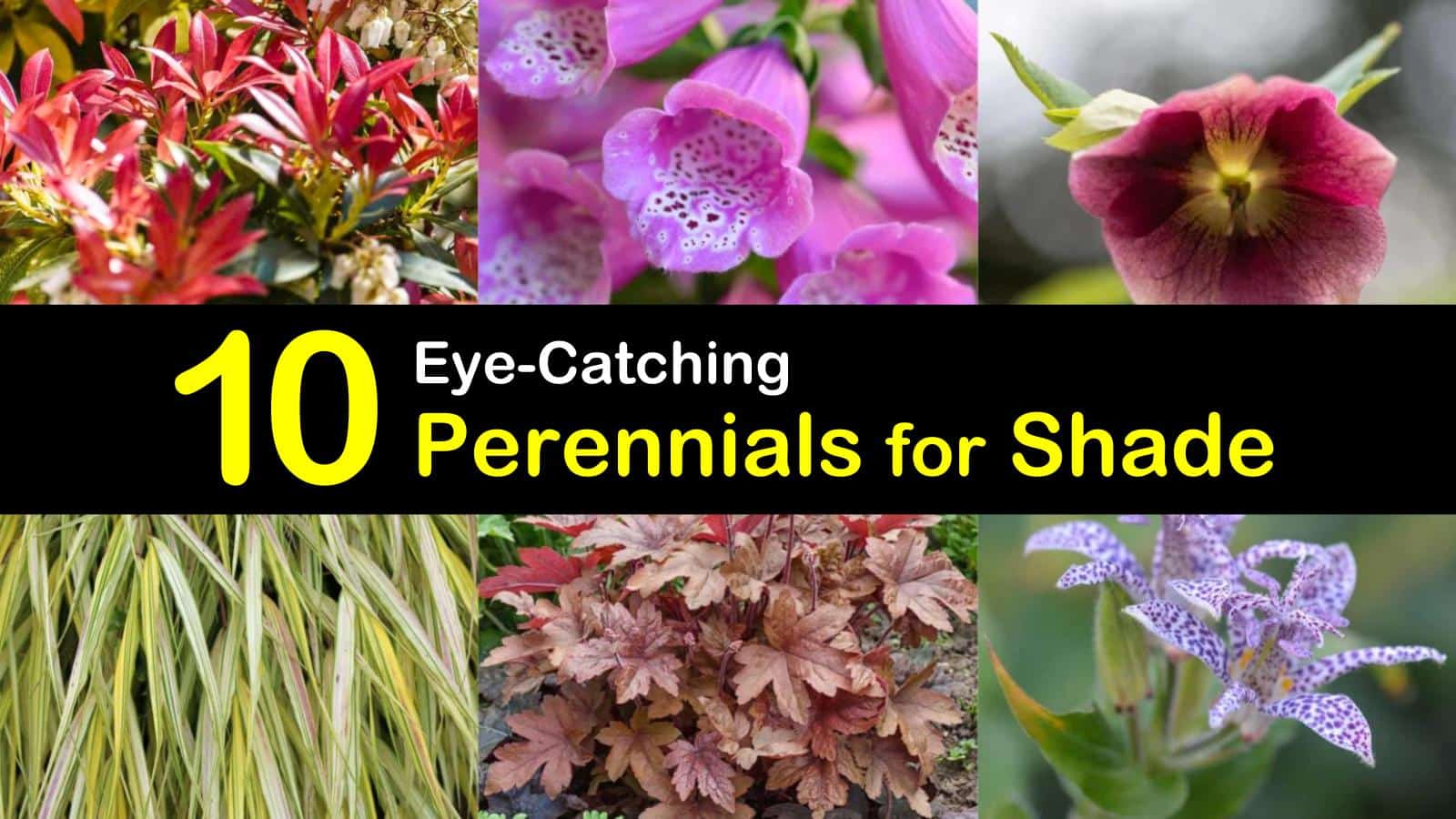 Why Plant Perennials that Grow in the Shade?
Getting your easy to care for perennial plants in the ground and growing takes some effort on your part. You'll have to spend time and money to make sure that your plants get all they need to thrive in their new home. So, is it worth all of the sweat and effort?
What makes perennial plants worth planting and maintaining? Perennials are ideal for any garden or yard because they don't require repeat plantings. Annuals for shade, while also attractive and worthwhile, only last a single season. Perennial plants live for at least two years after planting and often much longer.
As a result, when you plant perennials, you avoid repeatedly disturbing your yard's topsoil layer. That allows beneficial plants and insects to thrive and keeps out invasive species.
There are so many perennials that love shady areas that it is hard to list them all. You can also plant shade vegetables along with some dwarf trees that will survive in shady conditions. A little research and careful planning will go a long way to help you design the perfect perennial shade garden.
When Should I Plant Shade Loving Perennials?
Give your new perennials every possible chance at surviving and thriving in their new environs. That means planting them at the earliest opportunity and placing them where they'll be happy and healthy.
Start by placing the potted perennials in the spots where you intend to plant them. Give them a week or two to see if they do well in their new locations.
Reach out to your local agriculture office to get the latest information on how to plant perennials in your region. Keep an eye on the weather, and try to get the plants into the ground as soon after the spring's last frost as possible. A little forethought can guarantee a successful growing season.
How Do I Care for Shade Perennials?
Perennials are usually hardy by nature, which means that you'll have far fewer hoops to jump through than when you plant other flowers and veggies. Your perennials won't need water all that often but make each watering count.
Make sure to water deeply and thoroughly to ensure that the entire root structure gets a drink. Because you're working with plants for shade areas, you should always be aware of sunlight conditions.
Many shade-loving perennials can't tolerate full sunlight and will scorch after just a few minutes of exposure. Watch your soil nutrients as well, and fertilize if required.
It may be necessary to take care of seperating plants every few years or so to ensure that the plants do not get too crowded. When dividing, plant in another area of the yard or share your extras with friends.
Lenten Rose (Helleborus orientalis) – Beautiful Perennials for Shade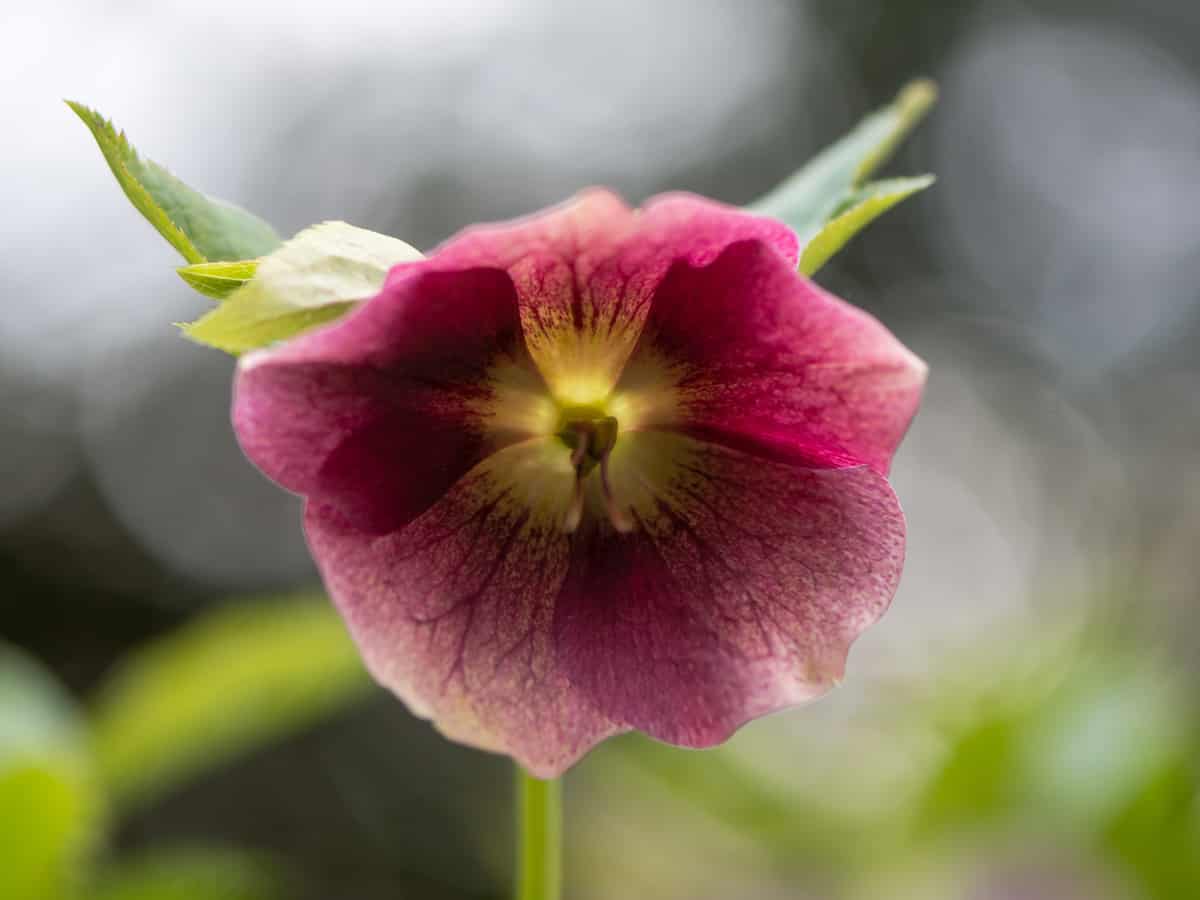 The Lenten Rose, also called the Hellebore, is an evergreen plant that will feel right at home in your shady gardens. These perennial flowers for full shade aren't really roses but are hybrids whose flowers have a similar appearance to those on a rosebush.
When you plant a Lenten Rose, you get a plant that thrives in dark spots and produces flowers that range from deep red to glorious white. You won't need to do much to maintain these easy care perennials after you establish them.
The Lenten Rose is drought tolerant, so feel free to plant it in more arid areas. It prefers partial to deep shade, so don't be afraid to place it in spots that more light-loving plants can't tolerate. Enjoy this unusual flower wherever you decide to plant it.
Japanese Forest Grass (Hakonechloa macra)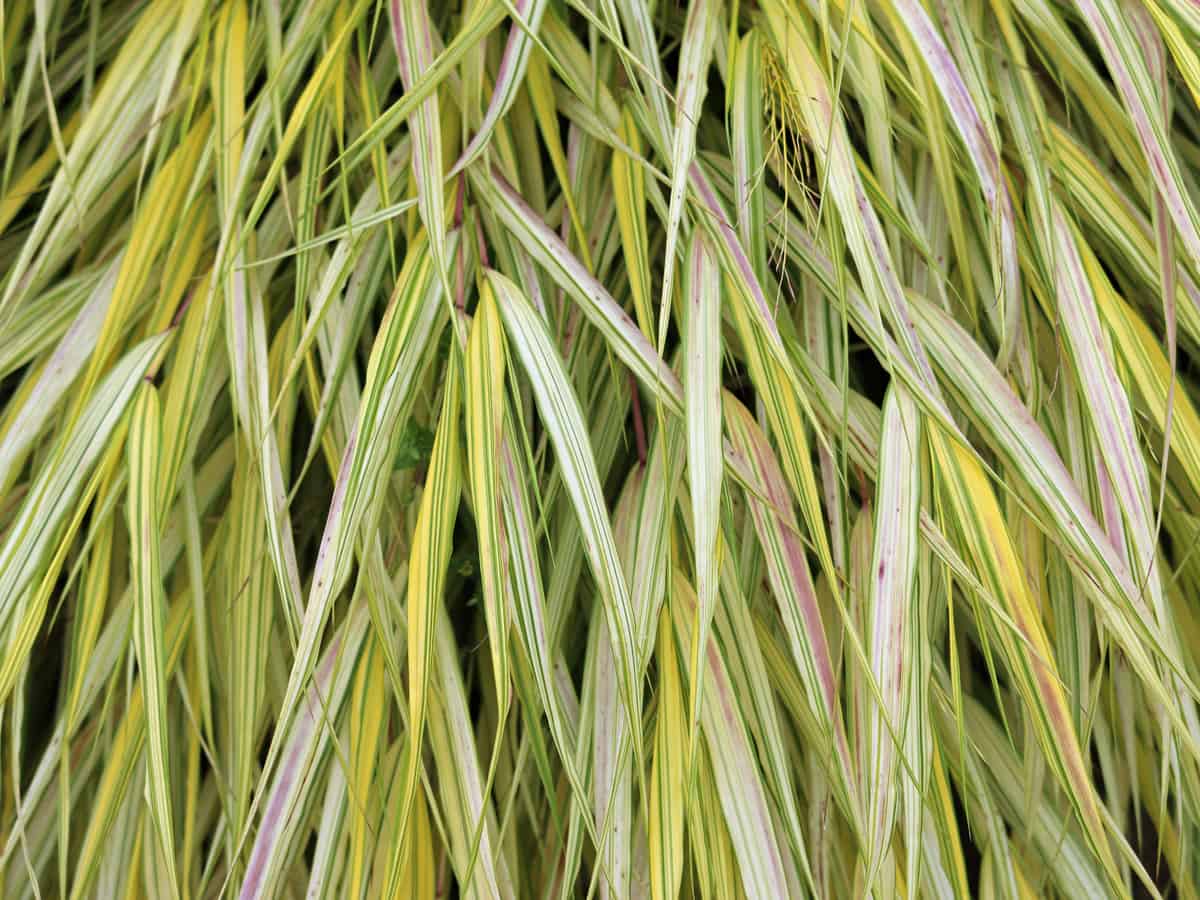 If you like a little exoticism in your yard, you'll be delighted by Japanese Forest Grass. This unusual plant, unsurprisingly, is native to Japan and does well in any moderate to warm climate. The plant's distinctive bushy shape and long leaves have a grasslike appearance.
They're perfect for a woodland garden. You can plant Japanese Forest Grass in USDA zones five through nine alongside low growing vegetables and expect it to thrive.
You can also plant it in zone four successfully, as long as you keep it heavily mulched and protected from the elements. The Japanese Forest Grass plant prefers a nutrient-rich soil and good drainage. They're the best perennials for warm and nutrient-heavy environments.
Bleeding Heart Plant (Dicentra spectabilis)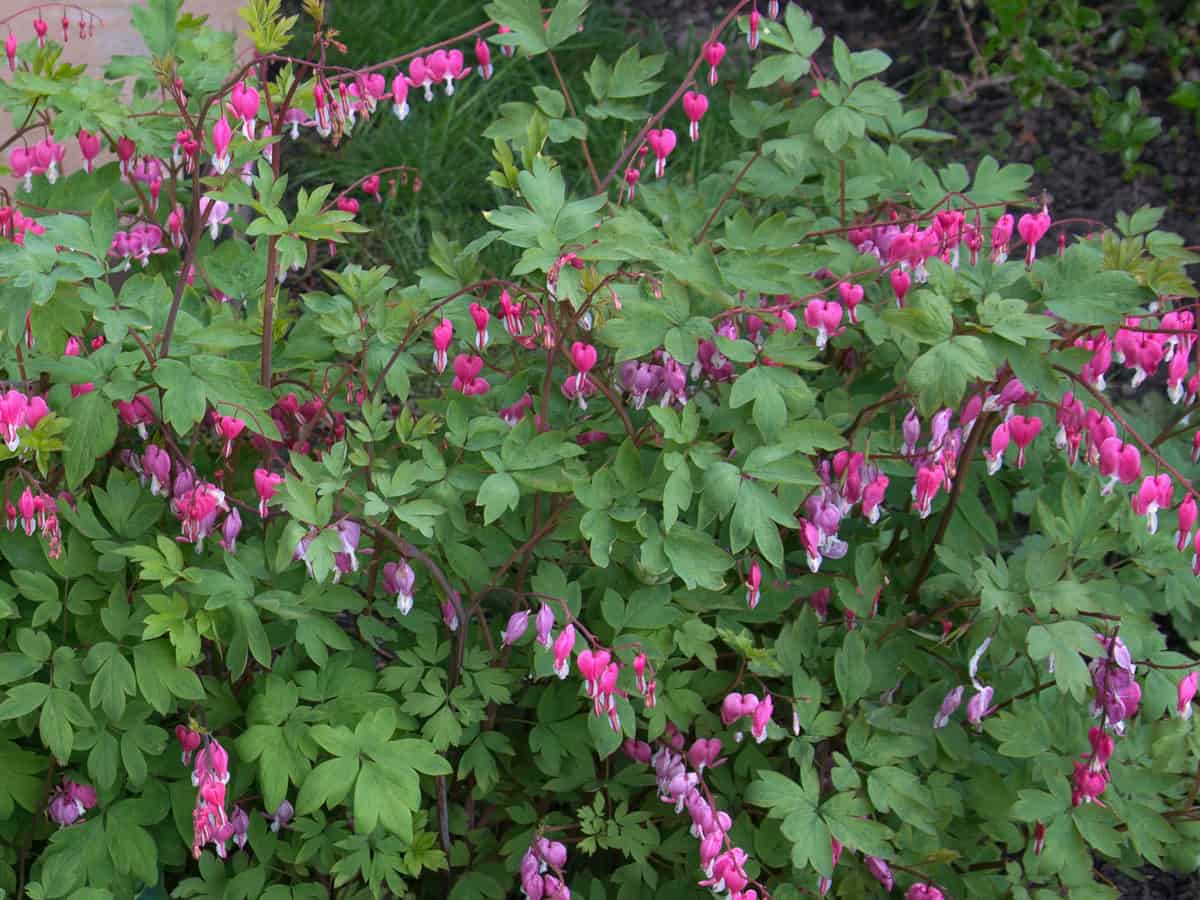 The Bleeding Heart plant is just one of many excellent full shade shrubs that livens up any yard or garden area. This plant's blue-green foliage is a year-long treat, and that's before we even get to the flowers. Bleeding Heart plants produce spike flowers that resemble hearts and come in a beautiful pink or red and white color combination.
When the flower spikes bloom, your garden will sparkle with red highlights. The Bleeding Heart is an herbaceous perennial. Herbaceous perennials are like all perennials in that you only need to plant them once.
However, every year, these perennial types die back to the root and renew the following year. So, don't panic if your Bleeding Heart seems to be in trouble. It might just be the time for it to go dormant.
Coral Bells (Heuchera) – Eyecatching Shade Perennials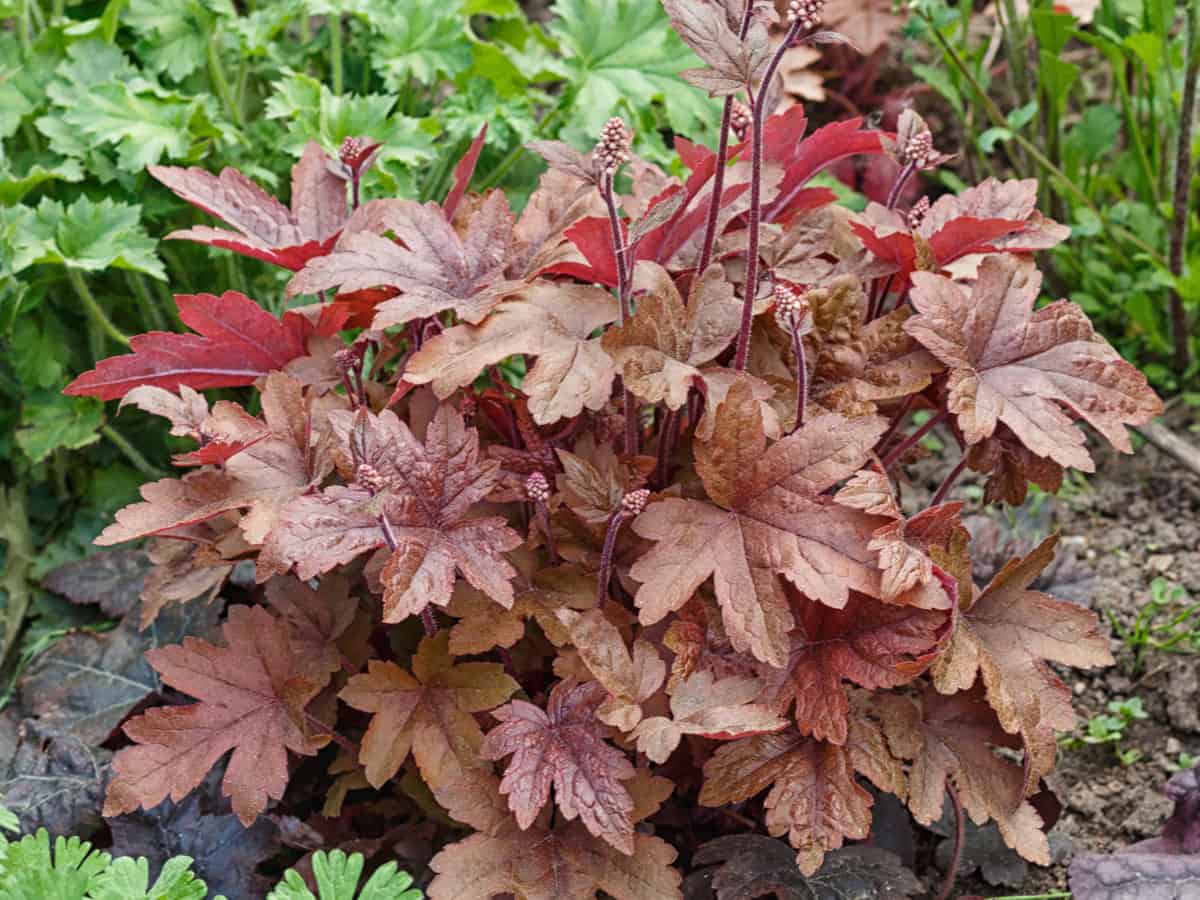 The Coral Bells plant, also called the Alumroot, is a gorgeous plant that produces leaves in a variety of color combinations. You can get Coral Bells with purple, green, or red leaves, and you'll be happy with any of them. You'll find these plants in many traditional Japanese garden spaces, and they're perfect for your garden, as well.
This plant is the perfect perennial for cold environments. Coral Bells tolerates temperatures down to -25°F, so the Northerners among us can make this plant a centerpiece in the yard.
It is one of the top drought tolerant plants and is also disease resistant, but you might need to bring it indoors during hot weather. It's a great choice when you're looking for perennial plants that repel mosquitoes, too.
Japanese Andromeda (Pieris japonica)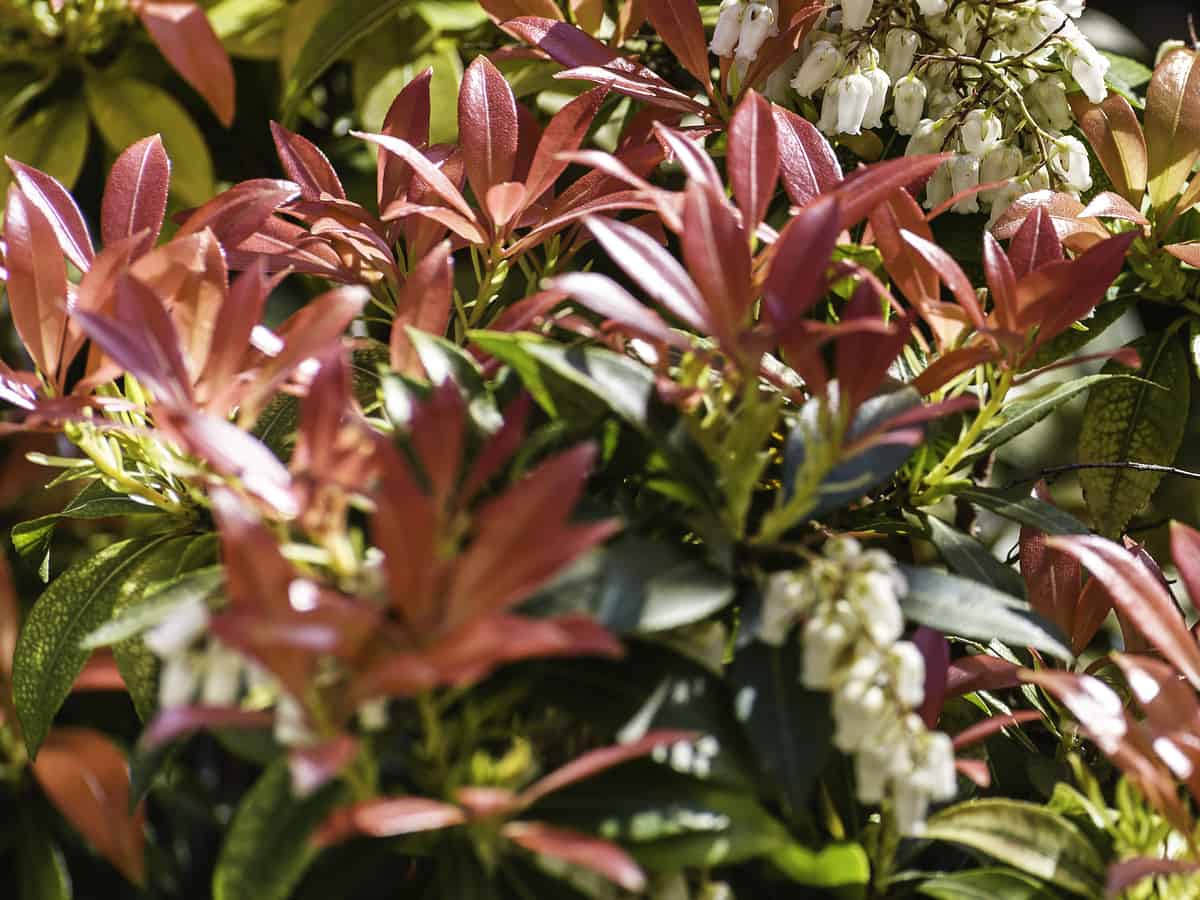 You might know this attractive perennial by one of its aliases, which include Japanese Pieris and Lily of the Valley. Whatever you call it, the Japanese Andromeda is the right choice for shady areas and adds beauty and life to the darkest corners.
The Japanese Andromeda is deer-resistant and works equally well as a foundation planting or a centerpiece. The Andromeda is a hardy specimen and tolerates USDA zones five through nine.
Plant it in acidic soil for best results. Try to plant it in a spot in your garden that gets a little sun each day, and make sure to add fertilizer as needed.
Spotted Dead Nettle (Lamium maculatum) – Shade Loving Perennial Ground Cover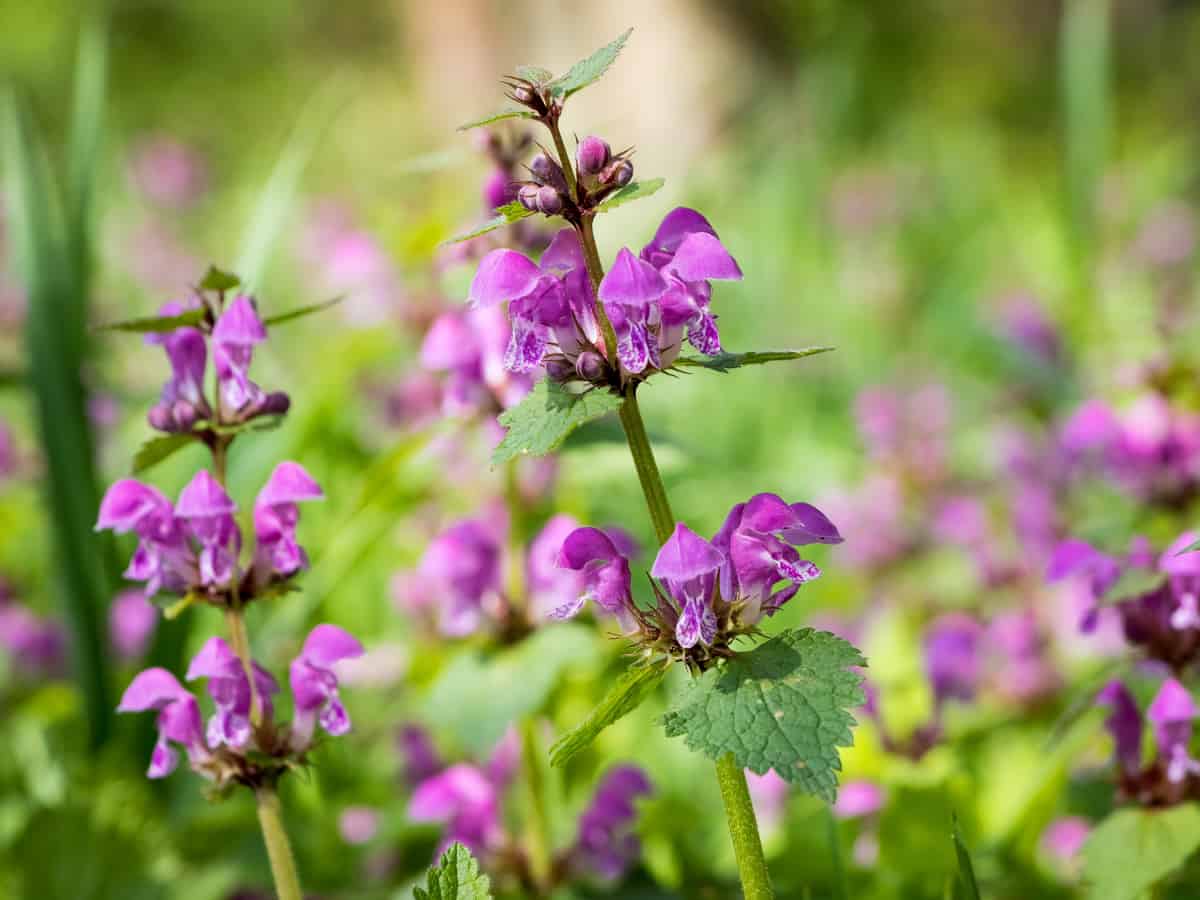 Are you looking for a shade perennial that can serve as a thick, dense ground cover and still add color and beauty to your garden? You'll be delighted with the Spotted Dead Nettle plant. These fast growing ground cover plants spread out in a mat of bright green leaves and dark green stems.
In the early spring, late spring, early summer, and late summer, it produces a multitude of pink flowers, yellow flowers, white flowers, and purple flowers. You can even find blue flowers in some varieties.
Spotted Dead Nettle thrives in a variety of environments. To get the best and most dynamic growth, plant it in well-drained, moist soil. The Spotted Dead Nettle is an herbaceous plant and dies back in hot, arid conditions.
Siberian Bugloss (Brunnera macrophylla 'Jack Frost')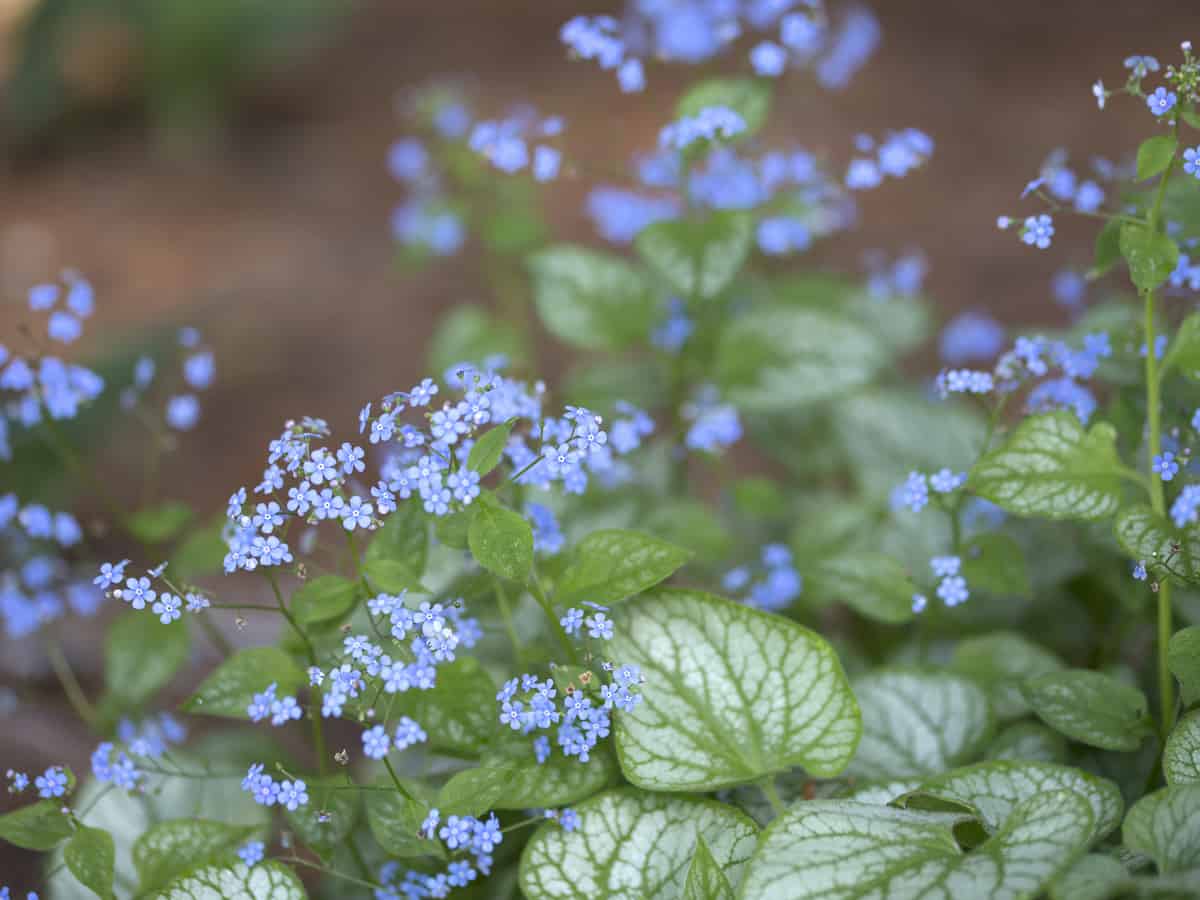 The Siberian Bugloss is also known as the False Forget-Me-Not. Like the plant it mimics, Bugloss has gorgeous, shiny foliage. Your Siberian Bugloss is an herbaceous perennial and dies each winter before bursting into new life again in spring.
These shade plants come in a variety of colors ranging from silver to white. You can plant Siberian Bugloss from seeds.
The plant does best in USDA zones three through eight, but you can grow it in colder climates with added maintenance. Plant your Bugloss in nutrient-rich soil, and never let it sit in moist conditions for too long, as its roots are prone to rotting.
Toad Lily (Tricyrtis hirta)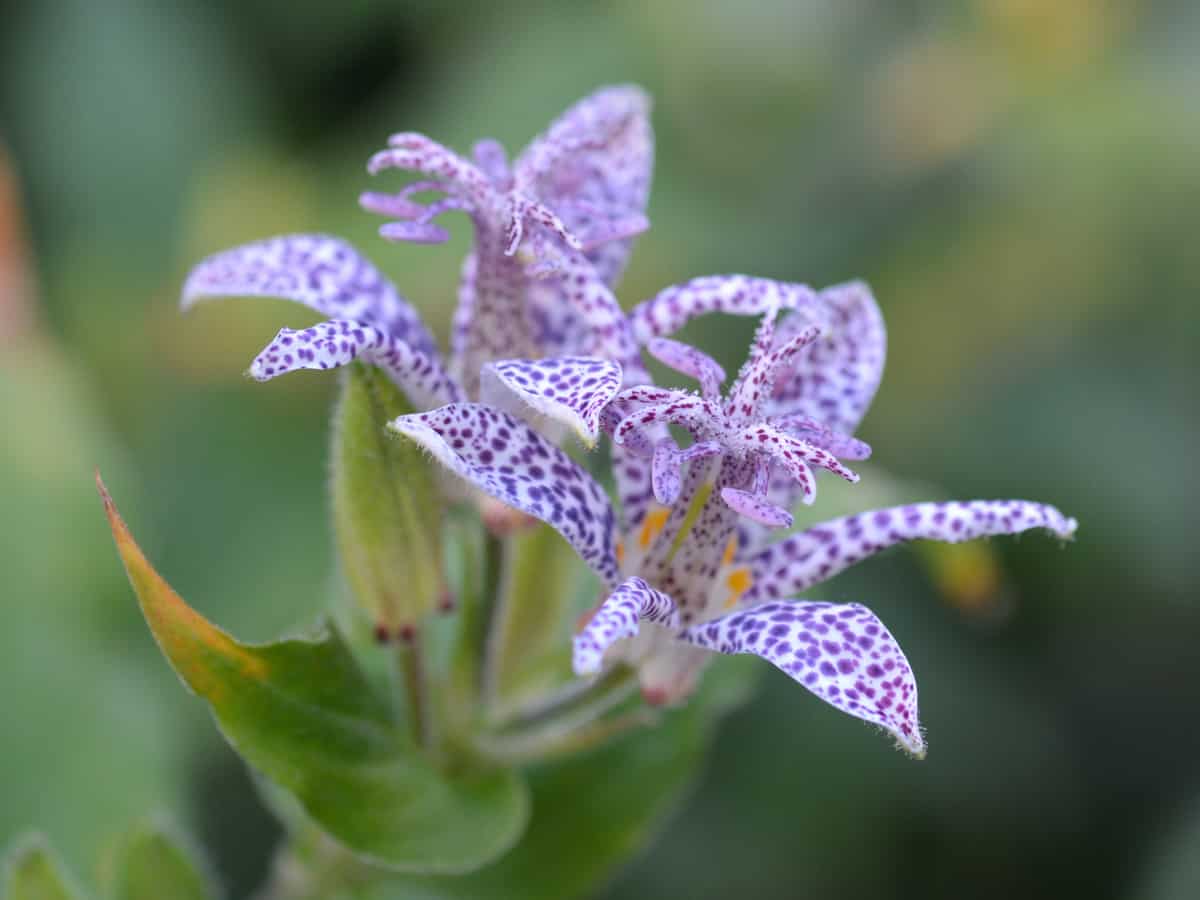 Maybe you want something a touch more unusual in your garden plants. The Toad Lily might be right up your alley. The Toad Lily gets its name from its flowers, which seem to stretch like a toad's feet from brightly spotted stems.
Select it for a touch of color and a dash of difference in your shade garden. It's an excellent choice for small spaces. The Toad Lily prefers a moderate to hot climate and is happiest in USDA zones four through nine.
Plant it in deep shade with no sunlight for the best results, but it will tolerate partial shade, as well. Keep the plant moist at all times, and make sure to feed it a diluted liquid plant food. Plant it where it gets protection from wind and other harsh weather.
Japanese Painted Fern (Athyrium niponicum) – Gorgeous Perennials for Shade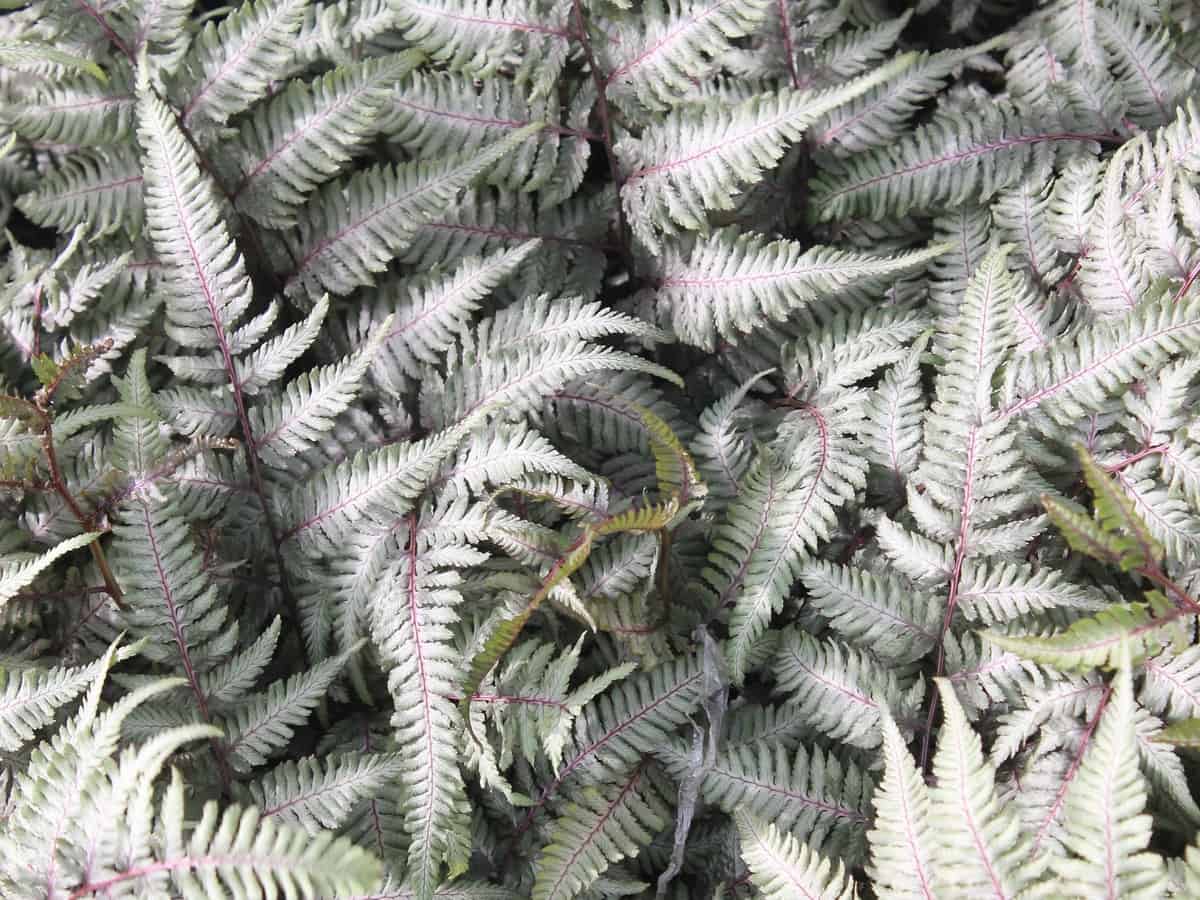 Maybe what you want is an elegant plant with classic lines and attractive coloring. If so, the Japanese Painted Fern will make you smile. Choose from several different cultivars that offer a range of colors from silver to red.
The soft fern fronds of these perennial ferns will throw your garden into sharp focus and provide it with some grace. Plant your Japanese Painted Fern in fertile soil. Add compost and other nutrients as needed.
This perennial plant can tolerate a wide range of light conditions, so plant it in deep shade or part shade as you see fit. If your plant starts to struggle, consider adding diluted plant food to its diet.
Foxglove (Digitalis purpurea)
The Foxglove has long been a favorite of gardeners around the world. These plants have an upright habit that causes them to grow in long, stately stalks. Every spring, those stalks burst with tubular pink, red, and white blooms. If you like a garden with depth and texture, the Foxglove is the perfect plant for your needs.
Plant Foxgloves in well-drained soil, and make sure to provide sufficient nutrients both at planting and afterward. Use a nutrient gauge periodically to ensure your plants stay happy and well-fed.
Foxgloves reseed from flowers, so be on the lookout to weed new growth if desired. You can cut the flowers to reduce the number of seeds they produce if you don't want them to spread.
We hope you had a great time looking into the best perennials for shade for your yard or to add to pots on the deck or patio. We all love to have gardens full of vibrant perennials, but we don't all have bright sunlight.
Our guide helps you discover which perennial plants are right for shady spots. With our help, your shady yard will be green and growing.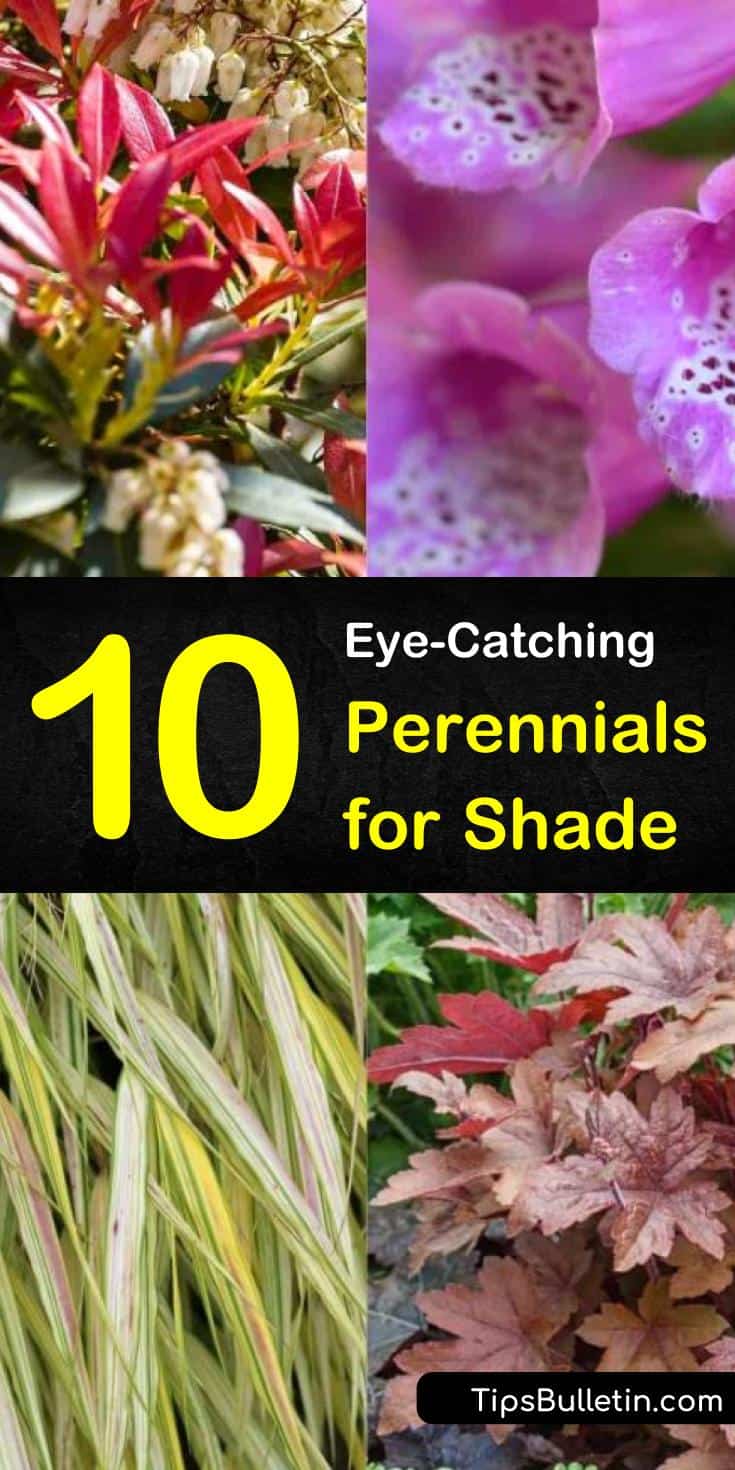 Thanks for reading our shade perennials guide. If our shade loving perennials article was useful to you, we'd love it if you'd share our perennials for shade tips with your family and friends on Pinterest and Facebook.