Have you ever thought about intentionally growing plants in the cracks in a concrete patio or between stepping stones? You don't need to abandon these crevices to bare soil or, worse, weeds. These spaces are prime real estate in your garden, so consider filling them with perennials that fit in cracks.
These plants survive in challenging conditions, such as a small quantity of soil that's low in nutrients. Cracks between stones often dry out in hot weather and become soggy in the rain.
The low-maintenance plants that we describe in this article fill these spaces with greenery, flowers, and even the occasional pleasant fragrance.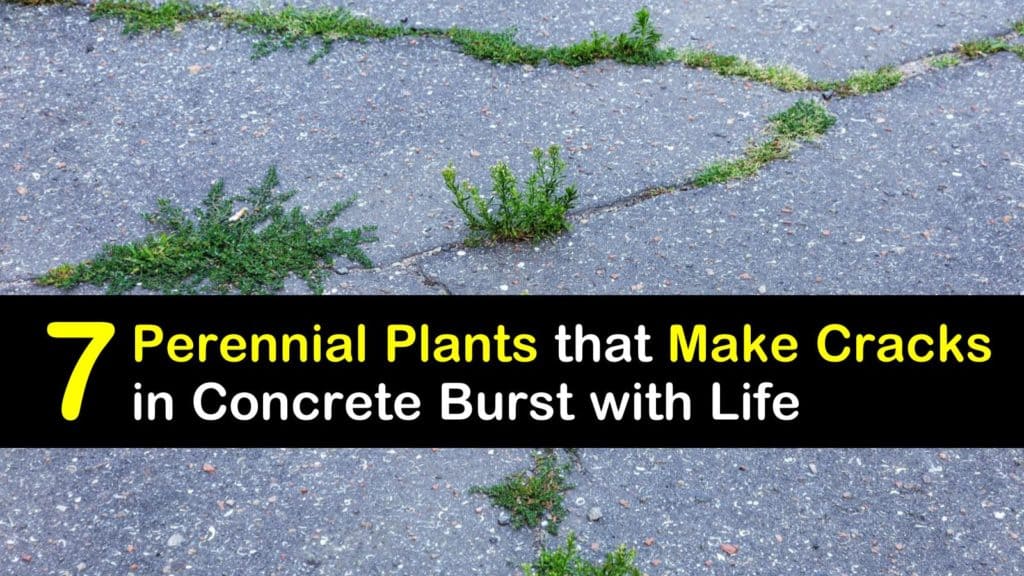 Perennials that Fit in Tight Spaces
Choose the perfect perennial for your situation based on its appearance and the growing conditions in the planting location. Next, plant it at your chosen site and monitor it to ensure that it has all that it needs to thrive.
Note that when pressure cleaning driveway and pavers, you will probably uproot and destroy any plants you grow around your bricks.
You can either take them out and clean them away from their original location or hand-wash them in place so the plants are not harmed by strong bursts of water.
Where to Grow Perennials in Cracks
Plant these hardy species as pathway edging or in the spaces between stepping stones, patio stones, and more. Cracks in concrete surfaces, such as walls or paths, are another place to add more plants to your yard.
You can also plant it in areas where you want to prevent grass from growing. Most of these ground covers are quite adaptable.
Of course, you may not want moss or other plants growing in the cracks. Removing moss from brick walkway areas is simple. Dig it out with a sharp tool or use a vinegar and salt spray to kill it.
How to Grow Perennials that Fit in Cracks
If you need to remove weeds from gravel driveways or walkways, use a vinegar and salt mixture. However, to grow plants between pavers, find a young plant with roots small enough to fit in the crack.
Remove the specimen from its pot and brush away any dirt. Soak the roots in water briefly. Carefully insert the roots into the crack, apply some more water, and fill in the gap with compost.
Keep the area damp for the first few days, and make sure not to step on the plant, even if its label describes it as steppable. Carry out this process between March and May for the best results.
Firewitch Pinks (Dianthus gratianopolitanus 'Firewitch')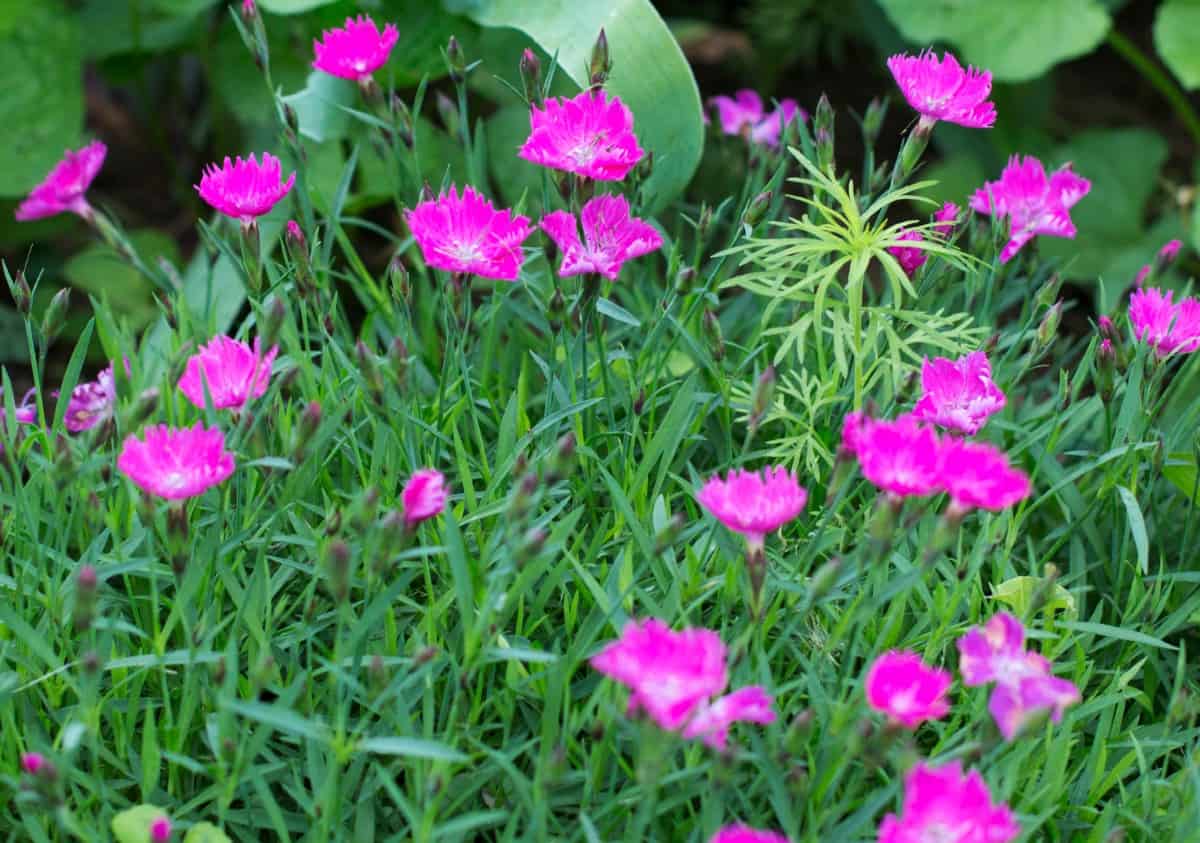 This perennial boasts narrow blue-green leaves and hot pink springtime blooms with jagged-edged petals. It releases a scent similar to cloves, and its nectar attracts butterflies and hummingbirds. Plant pinks in early spring in a full sun location.
This plant prefers neutral or alkaline, fertile, well-draining soil. The well-draining aspect is critical, as is only watering once a week. Too much water causes the stems to rot. In terms of plant care, also make a point of giving pinks compost once a year.
Woolly Thyme (Thymus pseudolanuginosus)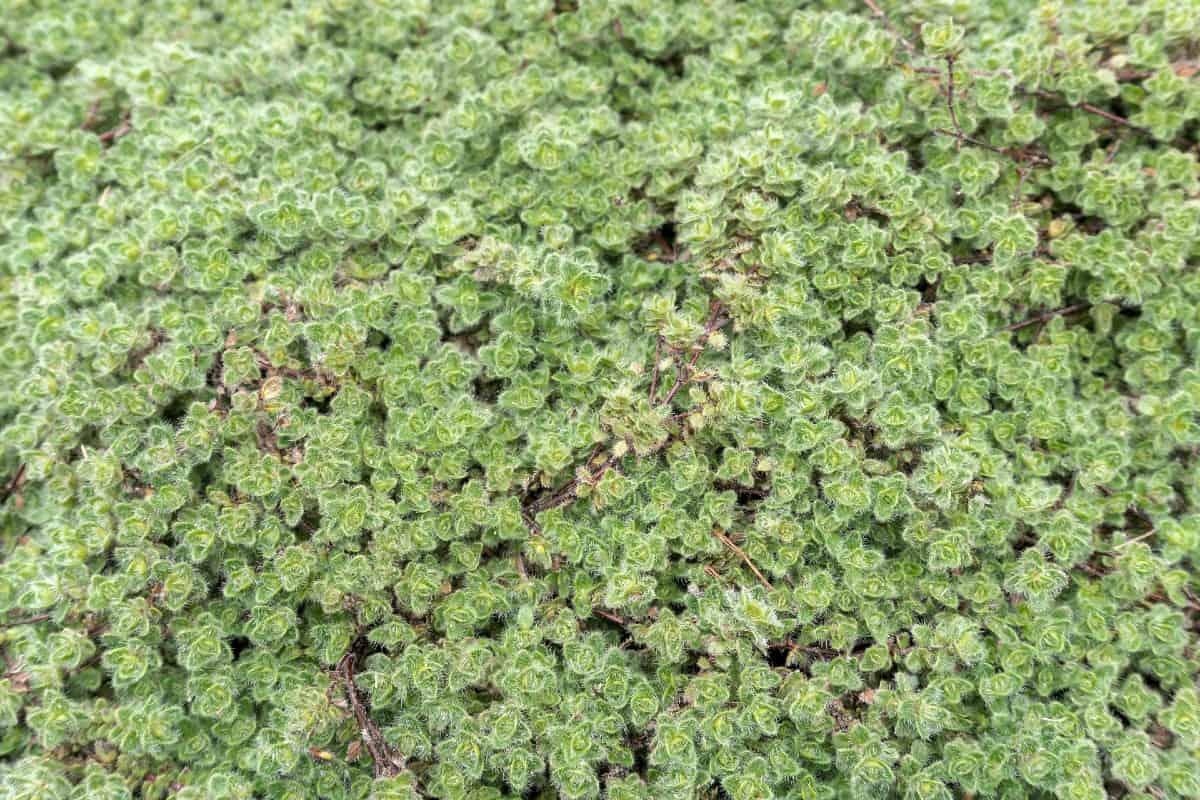 This low-lying evergreen forms dense mats of fine-textured, silvery leaves. It bears tiny flowers in the late spring or early summer. Like other thyme varieties, woolly thyme smells pleasant and attracts butterflies and bees.
Creeping thyme sprouts from stem cuttings harvested in early summer or seeds sown in the spring after the final frost. These ground cover plants for pathways are an excellent choice for using as a lawn substitute or a filler between stepping stones.
Woolly thyme thrives in full sun or partial shade. It prefers poor-quality, neutral or alkaline, moist, well-drained soil.
Dalmatian Bellflower (Campanula portenschlagiana) – A Lovely Perennial for Small Spaces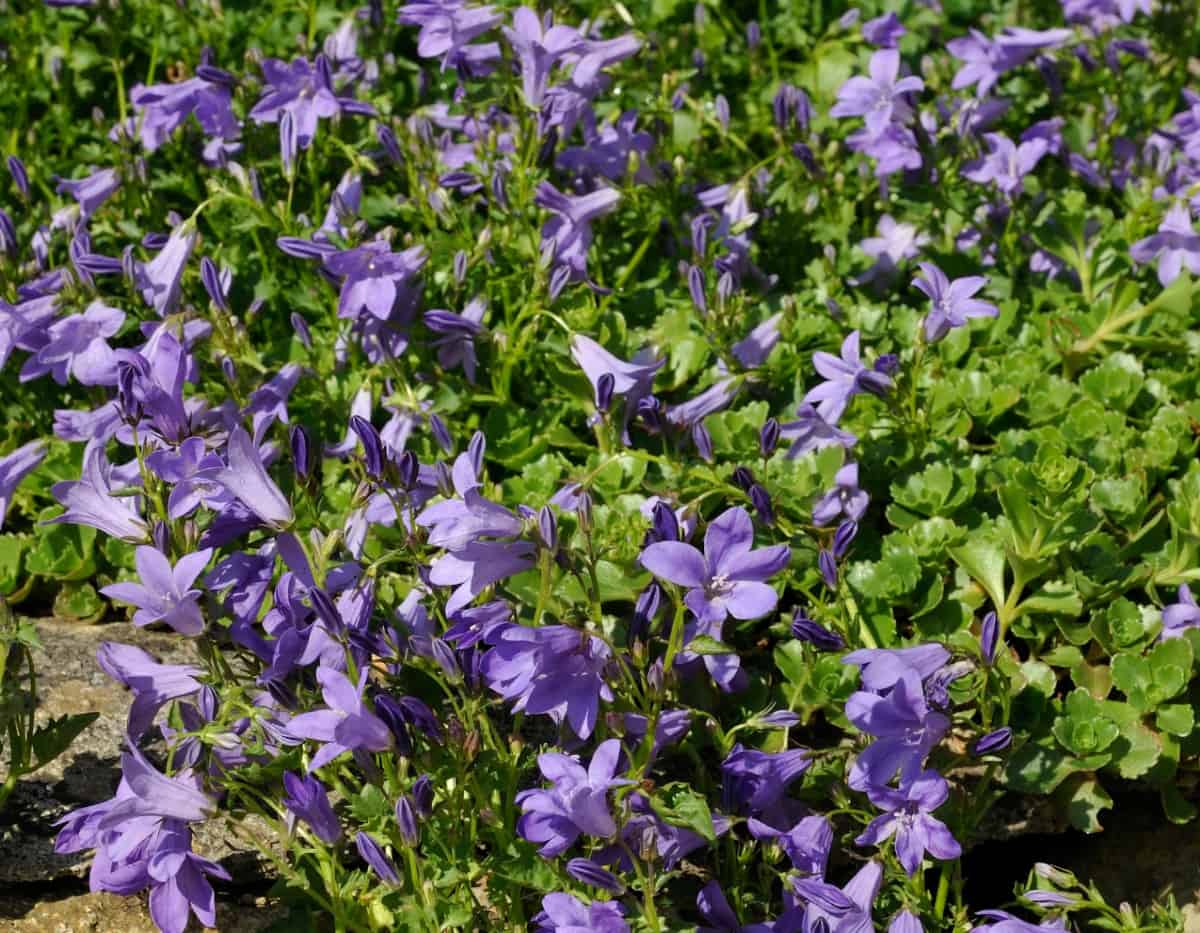 This low-lying beauty's violet flowers bloom heaviest in June and July, although they may continue until October. It does best with cool nighttime and moderate daytime temperatures. Grow it in full sun in borders, rock gardens, or cracks in concrete.
Sow this cold-hardy perennial's seeds in the spring after the last frost, or snip off its rhizomes at root nodes for propagation. Medium-moist, well-drained soil is the best option.
Feed your campanula plant a balanced fertilizer or organic compost in the spring and mid-summer. Deadhead the bellflower to encourage more flowers to bloom and quash any invasive tendencies. Cut back the plant in the late winter or early spring.
Angelina Stonecrop (Sedum rupestre 'Angelina')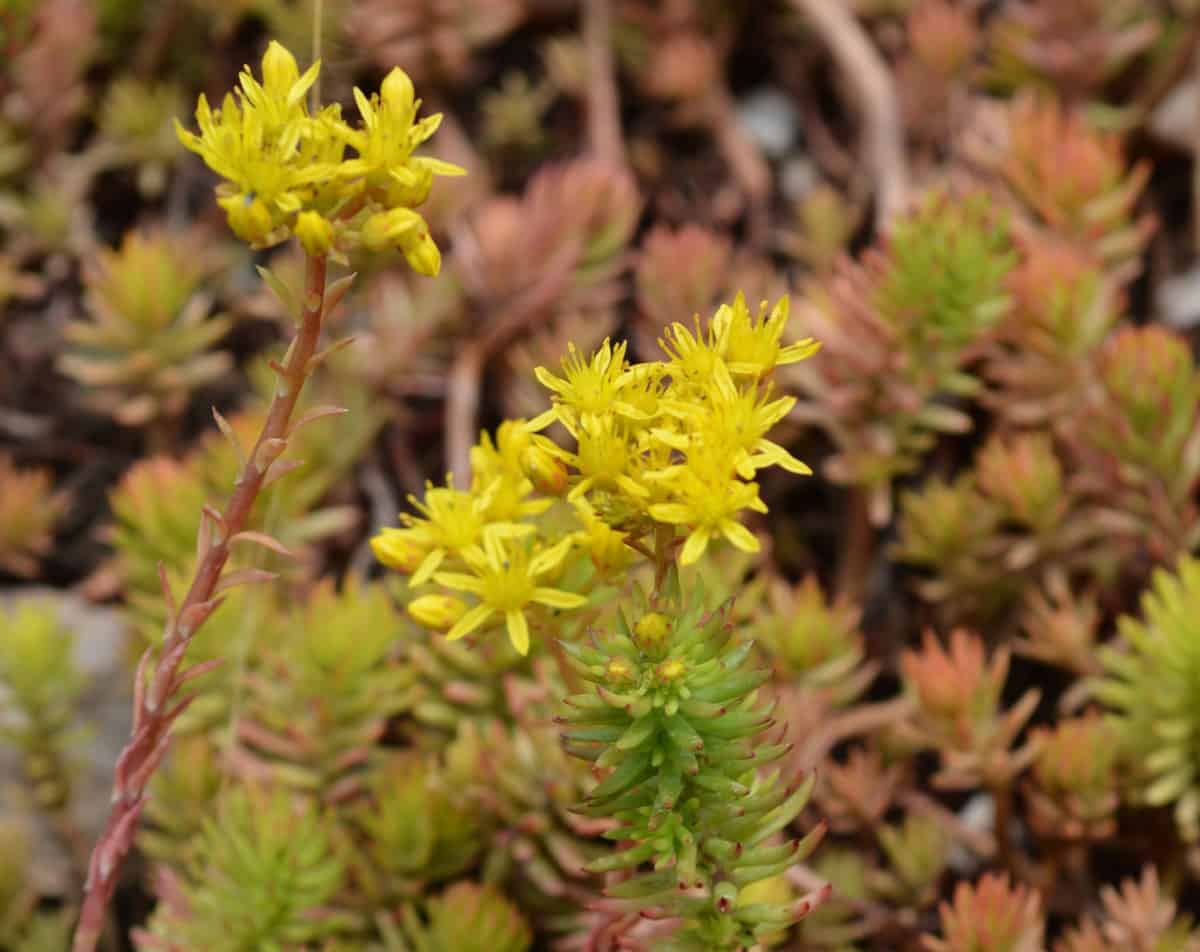 This low-lying perennial's bright yellow-green succulent leaves are rosette shaped and turn orange in the fall. It's an excellent choice for garden gaps that you don't know how to fill since it makes itself at home in tiny spaces and hot, dry, rocky areas.
Though the plant expands quickly, it's easy to remove its shallow roots. The Angelina variety of stonecrop thrives in partial shade. It prefers poor, dry, well-drained soil and suffers if it receives too much moisture. Give the plant a little fertilizer to ensure its success.
Roman Chamomile (Chamaemelum nobile)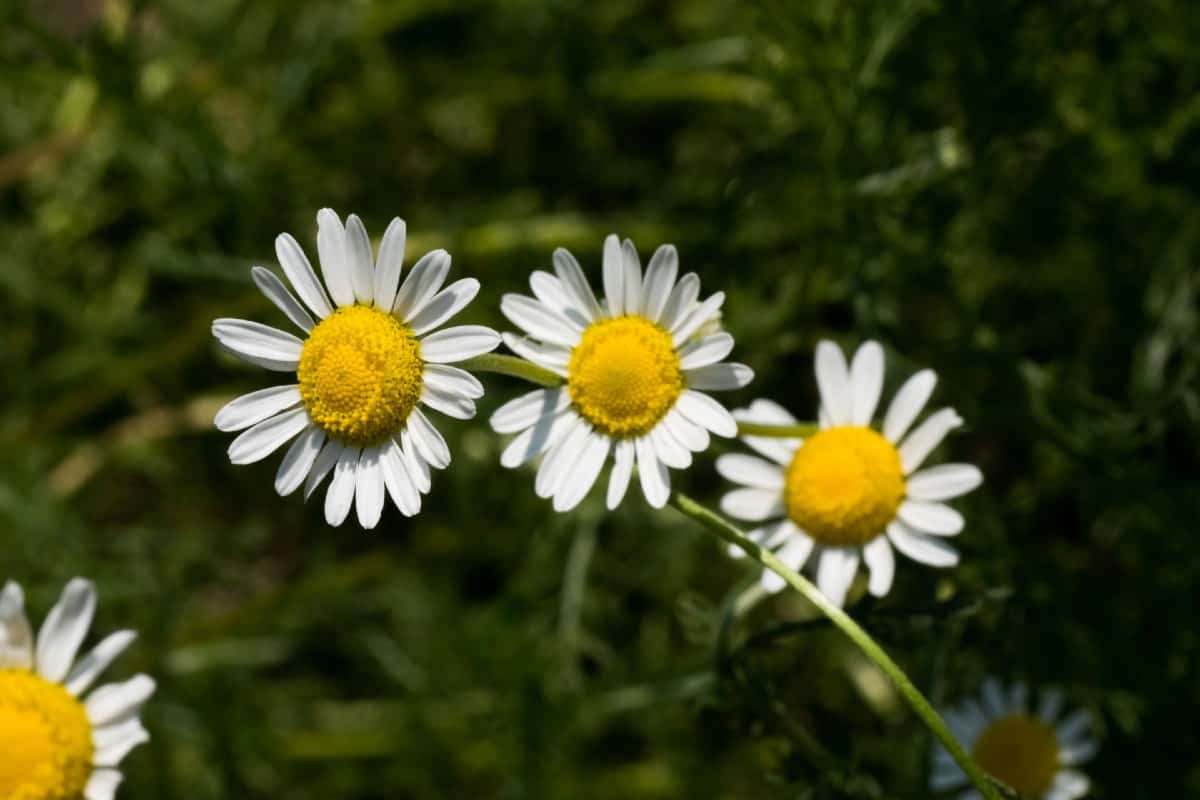 This perennial boasts sweet-smelling, daisy-like white flowers in the spring and summer. Try using its leaves for tea. Chamomile sprouts along the edges of stone walls and walkways and between stones and pavers.
It self-seeds at the end of the growing season, so you don't need to worry about propagation. Sow Roman chamomile in full sun to partial shade in neutral soil with a little organic matter. Forget about fertilizer but water the plant regularly for long-lasting blooms.
Mossy Rockfoil (Saxifraga x arendsii) – A Fussy Perennial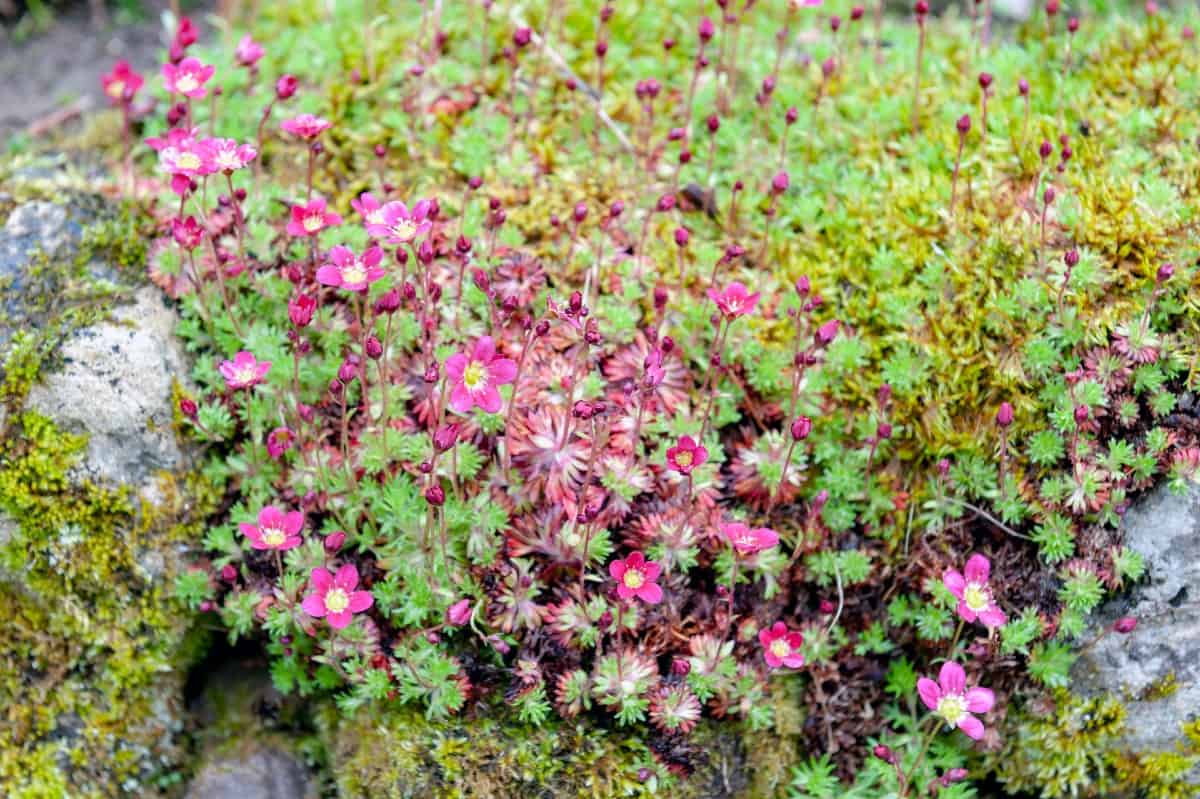 This plant grows in thick mounds or mats of bright green leaves on slender, purple-tinged stalks. Heading into early summer, it produces tiny cupped flowers of pink, purple, or white.
Treat rockfoil's seeds to cold stratification, a process that involves both moist and cold conditions. Afterward, the plant can take two to three years to bloom. After mossy rockfoil blooms, its mounds often die in the middle.
To prevent this issue, pour sandy grit around the plant to retain moisture, or divide mature clumps. Choose a cool, shady site with moist, loamy soil.
Water rockfoil near its roots twice a week in the summer. Mix in compost during planting and apply a layer of mulch.
Candytuft (Iberis sempervirens)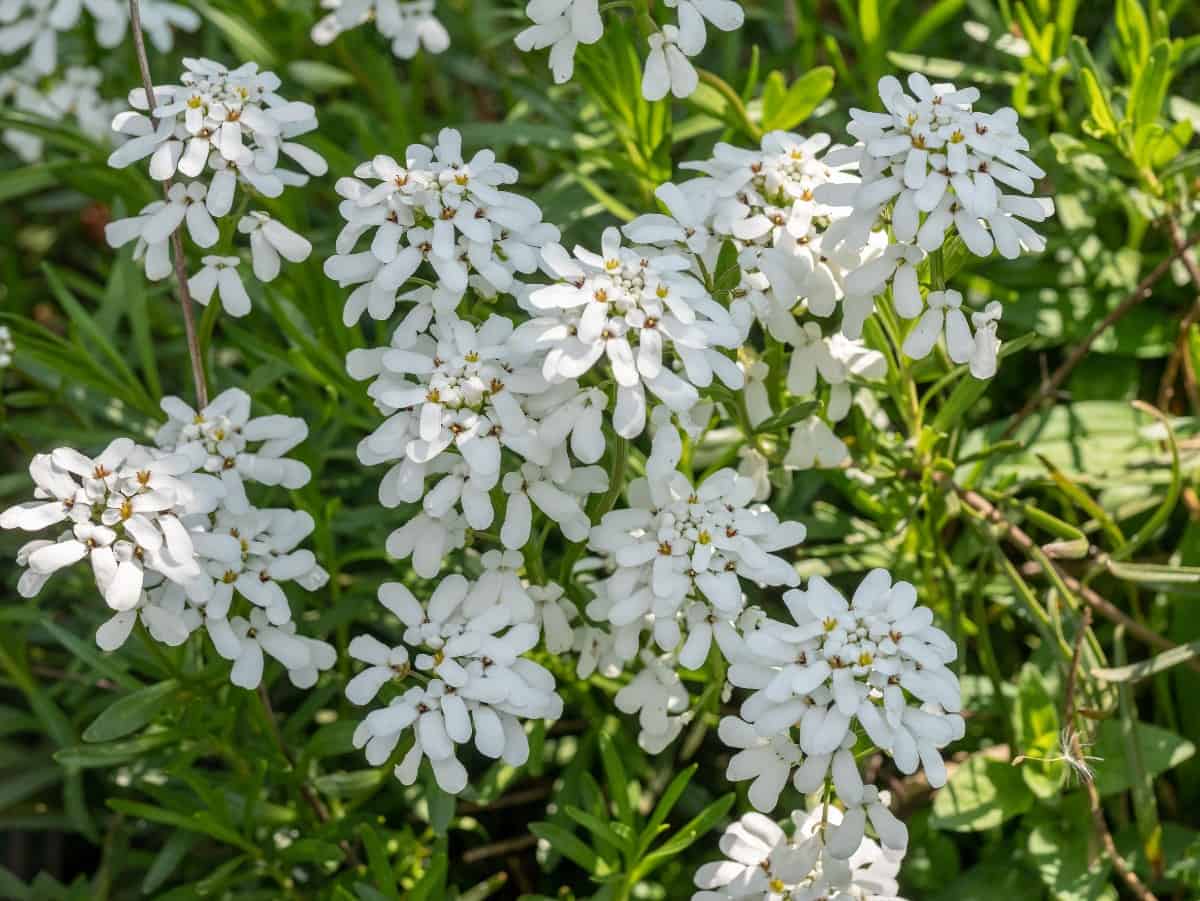 This ground cover produces numerous white or pink flowers in April and May. Near the end of the blooming period, the central petals turn lavender. Candytuft also has dark green leaves and an unpleasant smell.
It does best in the sun in soil that's well-drained, gravelly, and slightly alkaline, with a layer of mulch. A rock garden or the edging for a path are excellent locations for candytuft.
Though older specimens are drought tolerant, water younger plants weekly. Apply fertilizer with low nitrogen content in the early spring and two other times throughout the growing season, spaced at least six weeks apart.
If cracks between paving stones have been bothering you by being either empty or overtaken with weeds, it's time to take charge of your garden. Fill these spaces with plants that you long to grow.
Tough perennials that fit in cracks sprout in locations where other species would not dream of establishing themselves. Choose one today to increase your garden's interest and attractiveness.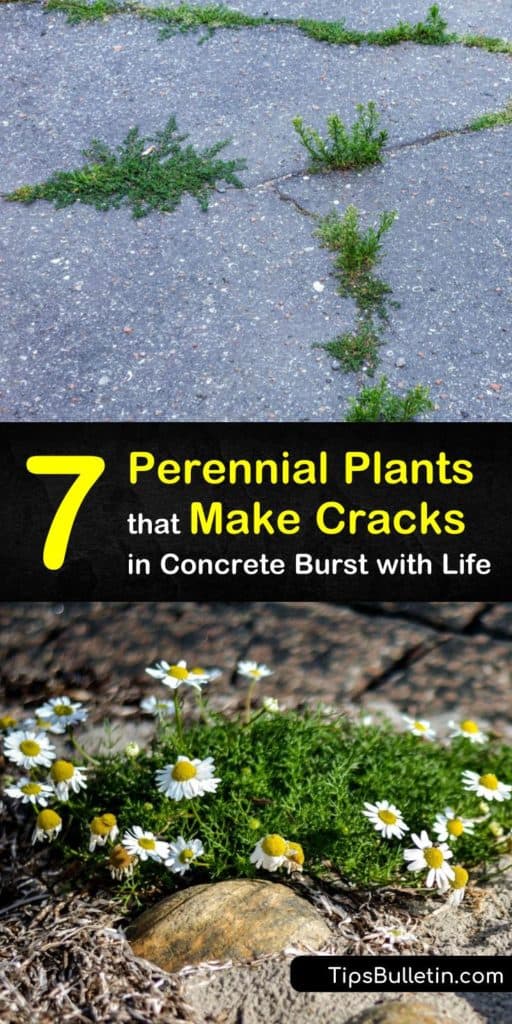 If you found these tips for planting in cracks useful, please share these perennial plants with your friends on Pinterest and Facebook.