When strolling through your garden, nothing enhances the experience quite like the pleasant aroma of blooming flowers. These scents may generate a calming atmosphere worthy of a serene escape, or simply add elegance and beauty to an already peaceful sanctuary. No matter what the reason, finding perennials with fragrant flowers makes the experience of creating your perfect little slice of heaven even easier.
Unlike annuals, perennials lie dormant over the winter months, allowing for stronger root systems to grow during that time. While annuals often produce more flowers in their short lifespan, the concentration on developing roots in perennials makes them much better candidates in terms of regular maintenance.
As a result, being established makes them hardier to poor growing conditions and easier to handle when it comes to fertilization and watering. So, whether you desire the soothing scent of lavender, exotic gardenia, or chocolate-scented geraniums, there is something for every gardener to love on our list.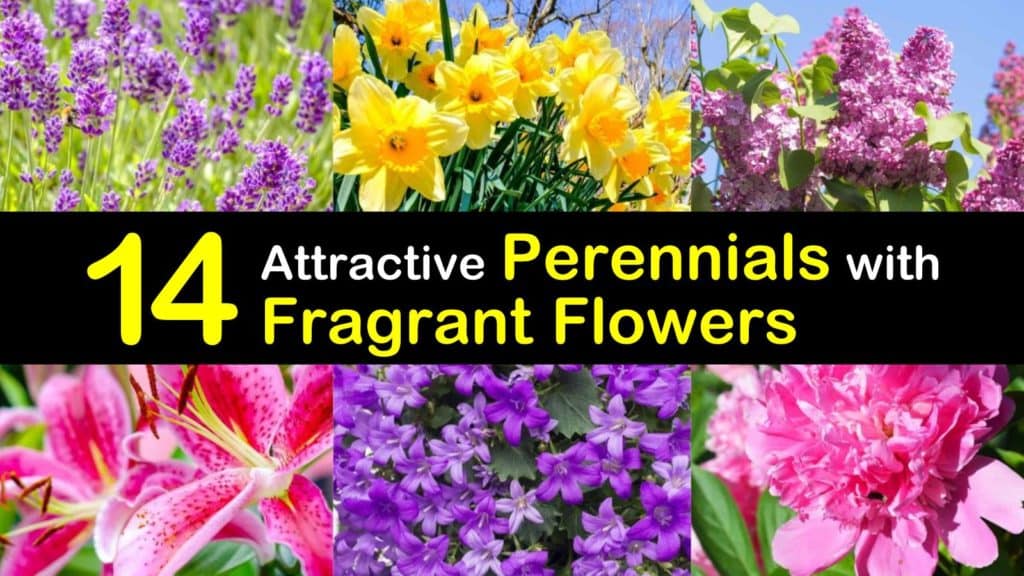 Gorgeous Flowers that Make Gardens Smell Heavenly
What are perennial flowers if not beautiful plants that you can enjoy year after year? These flowers are so amazing because they not only smell fantastic, but they look gorgeous, too.
These specimens come in a wide variety of colors, styles, and even smells, making the selection process even easier.
Note that you don't have to get all the scent from flowers. You can find some of the most fragrant trees, shrubs, vines, and even ferns to add to your landscape. Variety adds interest and excitement to the garden.
Lavender (Lavandula)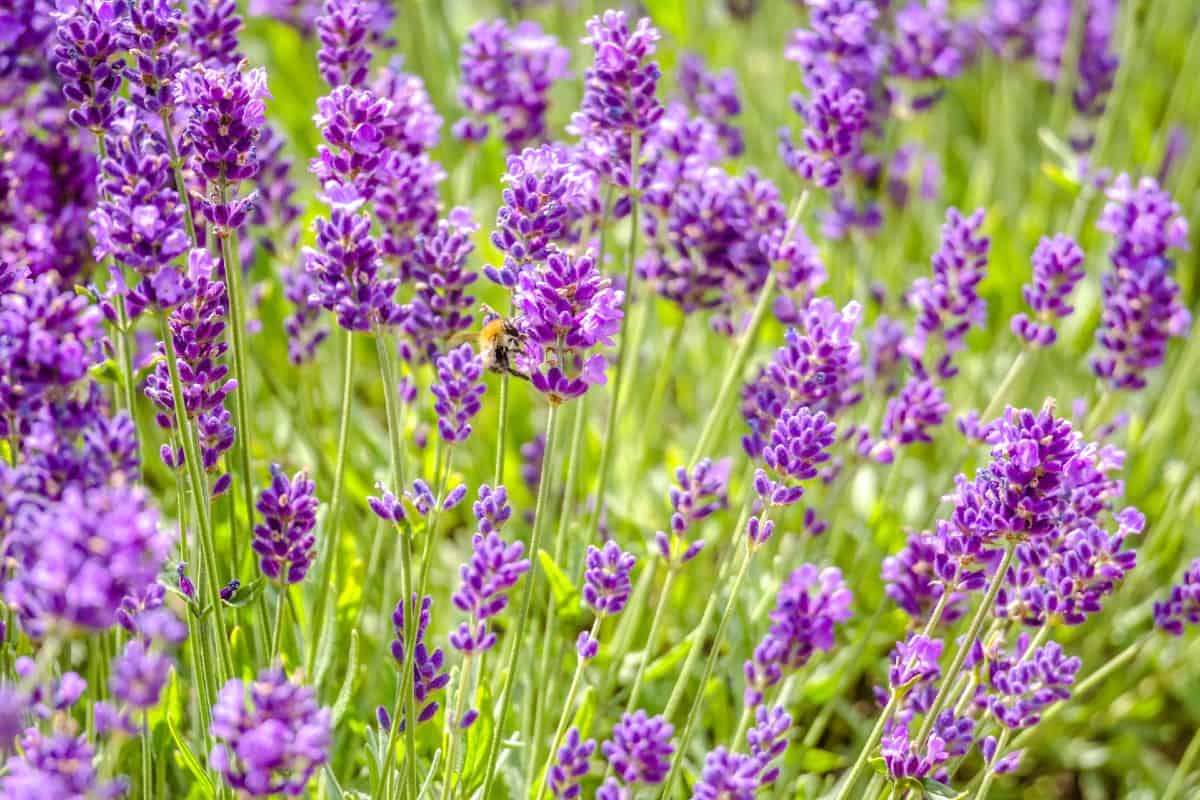 The strong scent of lavender has provided many uses over the years, including treating insomnia and back pain in Ancient Greece and perfuming mummies during the embalming process. Nowadays, we use it mainly to relieve stress and inflammation.
These vibrant purple blooms create lovely pieces of decor as cut flowers, enveloping indoor spaces with a pleasant aroma. Depending on the climate and location, lavender blooms in late spring or early summer and flowers for several weeks.
You can even grow lavender flowers at the beach, whether in a garden area or in pots that you can move around.
Give these zone 6 perennial flowers plenty of unfiltered sunlight to grow in hearty and robust. They grow to approximately two feet tall and thrive in slightly alkaline soil.
Gardenia (Gardenia jasminoides): A Perfume-Favorite and Wedding Decor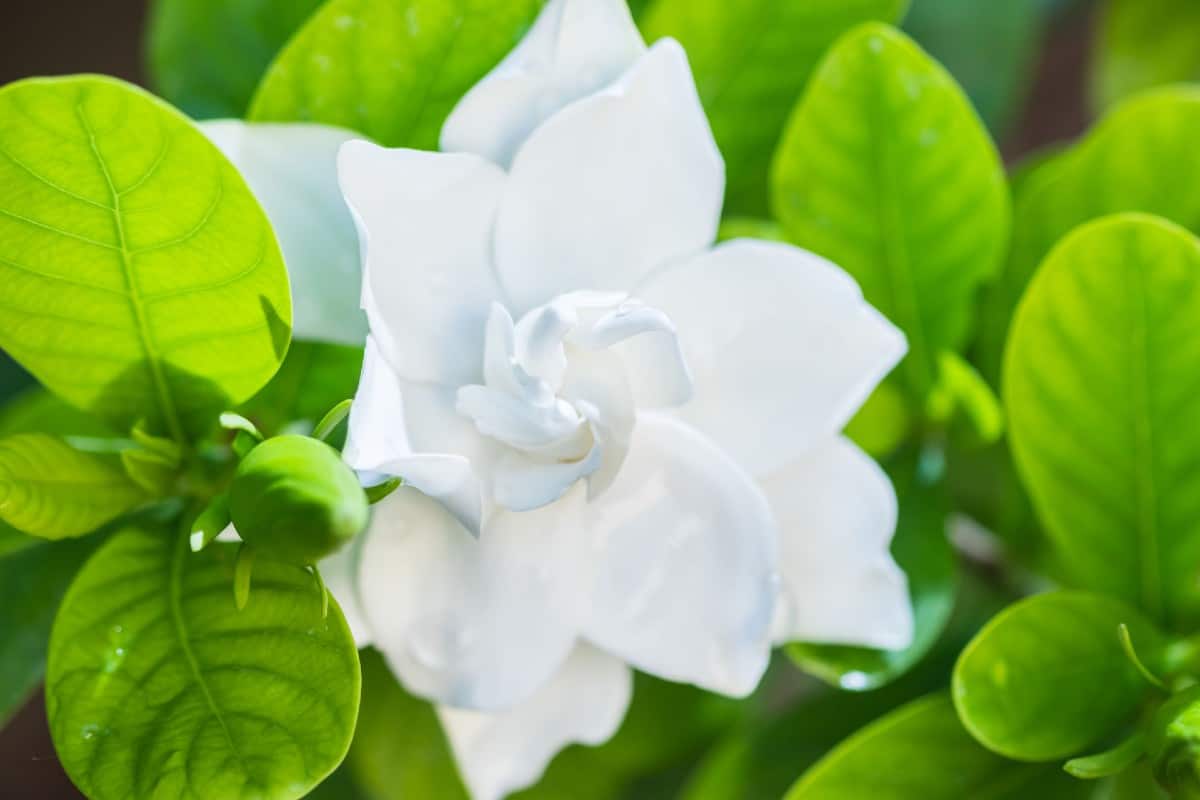 Another candidate to add to your fragrant garden is the gardenia. Their strong and romantic scent makes them incredible as cut flowers for wedding ceremonies, while their size and shape suit development as edging for borders and in a rock garden.
They grow to around 5 feet tall and wide, which also makes them a fantastic option for privacy hedges. These white blossoms sprout in May and June, with some varieties that have a second flowering in late summer or fall months.
A relatively low-maintenance evergreen, these highly scented perennials call for plenty of bright light and filtered shade in hotter climates. One inch of water a week is a sufficient amount to feed the plant.
Daffodil (Narcissus)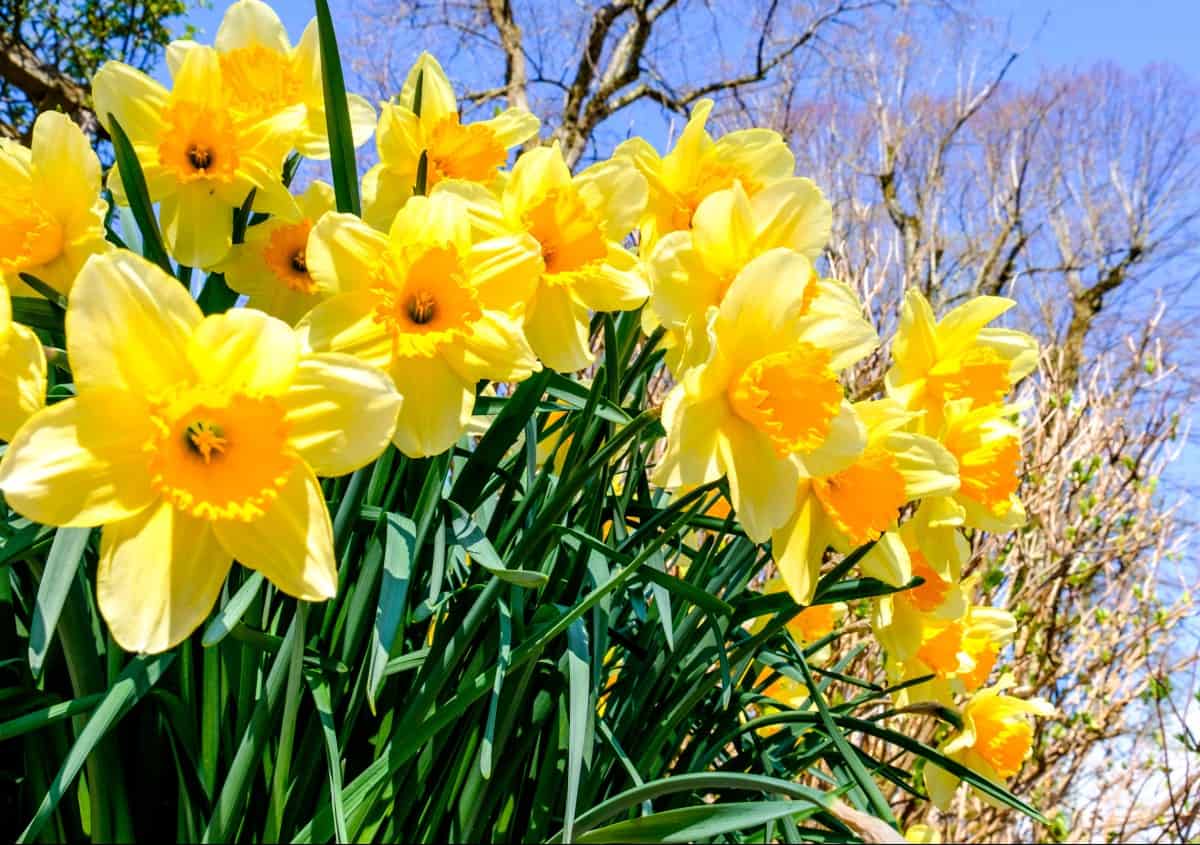 The daffodil earned its name from the Greek God Narcissus, who fell in love with his reflection by a pool of water where the plants often grow.
These fragrant flowers give off a musky smell that is often identified as a mix between hyacinth and jasmine, with hints of spice and vanilla. They thrive throughout most of the U.S., except areas where the weather is too hot and wet.
Daffodils reach heights of no more than 16 inches tall. True to their bright sunny hues, they love spots in the garden where they may soak up plenty of sunlight throughout the day.
Growing in the shade is also possible, though this typically leads to fuller foliage and little to no flowers. Plant them during the fall to have them ready for blooming in late winter.
Geranium (Pelargonium)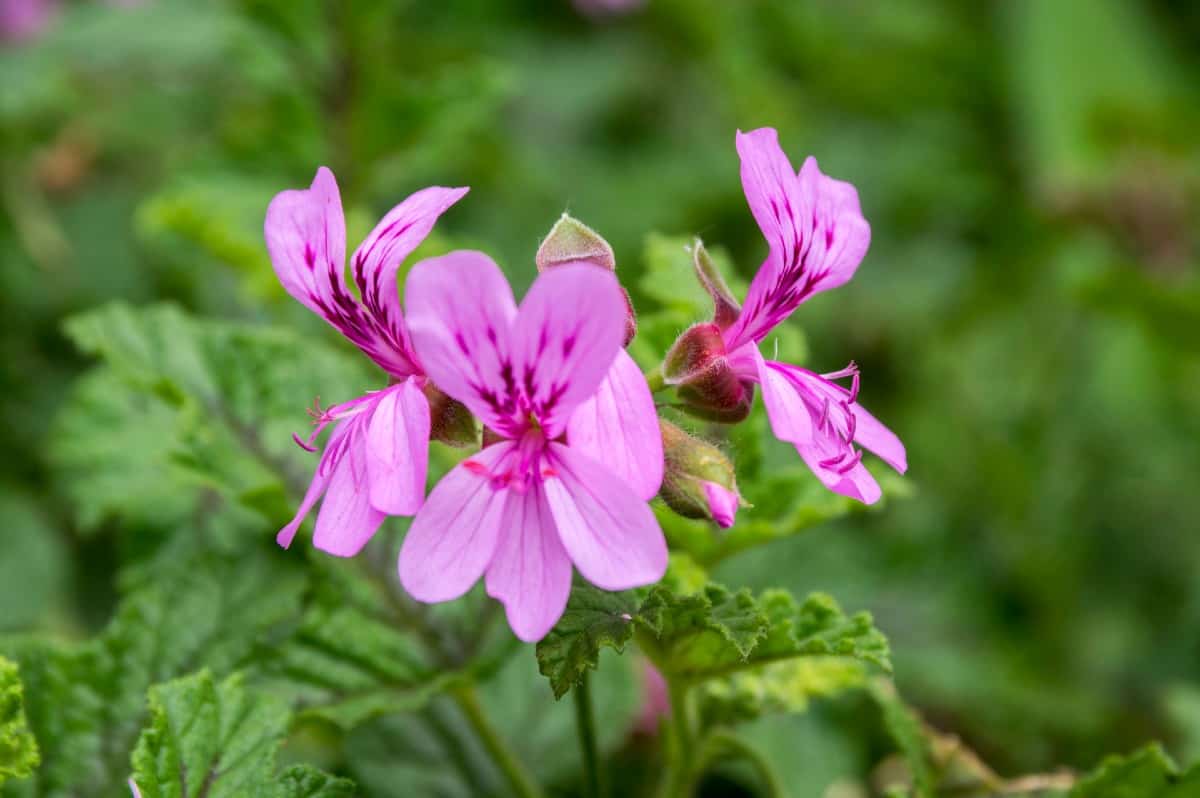 Geraniums are a popular household name, with scented varieties bearing all sorts of smells and characters to spice up garden beds. Native to South Africa, the perennial came to Europe in the 17th century and is surprisingly winter hardy.
Crushing the leaves produces a citrusy scent, while the flower itself changes with each species to a chocolate, mint, or floral aroma. Geraniums grow up to 4 feet tall and 3 feet wide.
Too little access to light or too much fertilizer typically results in an inadequate amount of blooms. These flowers need at least 4-6 hours of sunlight each day with cool night temperatures to induce these blooming perennials to flower.
Heliotrope (Heliotropium): Gorgeous Violet Flowers that Brighten Gardens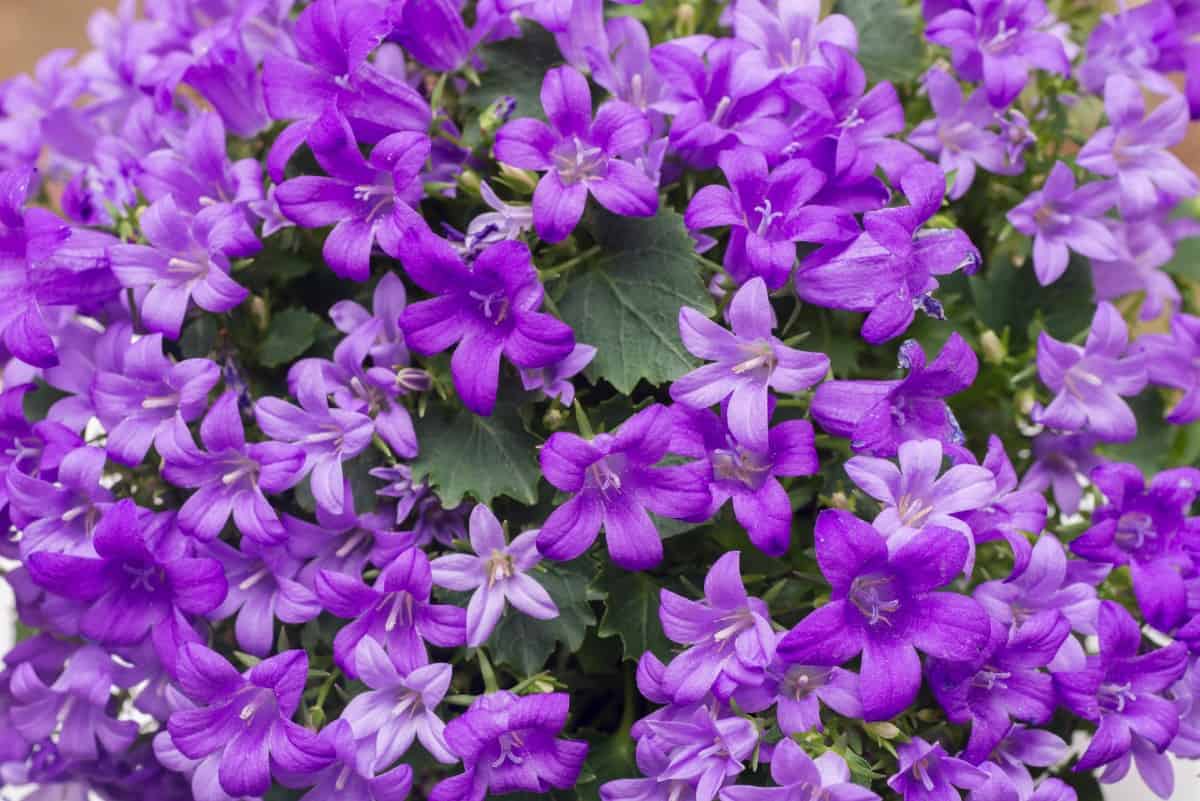 Another easy-to-care-for plant, Heliotropes appear in perfumes and gardens due to their delicious scents. Beloved since the Victorian era, the color heliotrope comes from the descriptor for the particular shade of violet associated with the flowers themselves.
The shrub is sometimes referred to as the "Cherry Pie Flower" since it gives off a smell just like the desert, with traces of vanilla and almond. Heliotropes remain small shrubs, only reaching around 1-4 feet in height, and are perfect for container gardening.
They tolerate moderate shade but need full sun conditions to develop fuller, more abundant blossoms. Flowers appear in summer alongside dark green oval leaves. Supply them with enough moisture to keep the soil damp and nutrient-rich loam.
Peony (Paeonia)
The peony is another fantastic group of fragrant plants. They represent wealth, honor, and are regarded as an omen of happy marriages and good fortune in many cultures. The rosy smell is a cross between citrus and spice, though not all peonies bear scents.
Large white varieties and pink flowers are the most common options for fragrant peonies. Attaining heights of 6 feet when in its prime, full growth only occurs in areas with plenty of sunlight and warmth, particularly USDA zones 8-9.
In colder climates, the plant only reaches about 3-4 feet tall. They are very adaptable to most soil types, though they prefer acidic soils. Bloom time is short-lived and only lasts for 7-10 days anytime after April.
August Lily (Hosta plantaginea) – Delicate, Honey-Scented Flowers
August lilies come in many different colors, though they are most notable for their white flowers. While most species of hostas do not give off any kind of aroma, this version puts off a powerful fragrance similar to honeysuckle. The trumpet-shaped blossoms bear tiny little freckles on their petals and spring to life in summer.
As social plants, lilies sprout up in clusters of at least 3-5 flowers, reaching up to two feet tall. They do well in partial sun to shade and moist, woody soil. Their sweet scent attracts pollinators like butterflies and bees.
Garden Phlox (Phlox paniculata)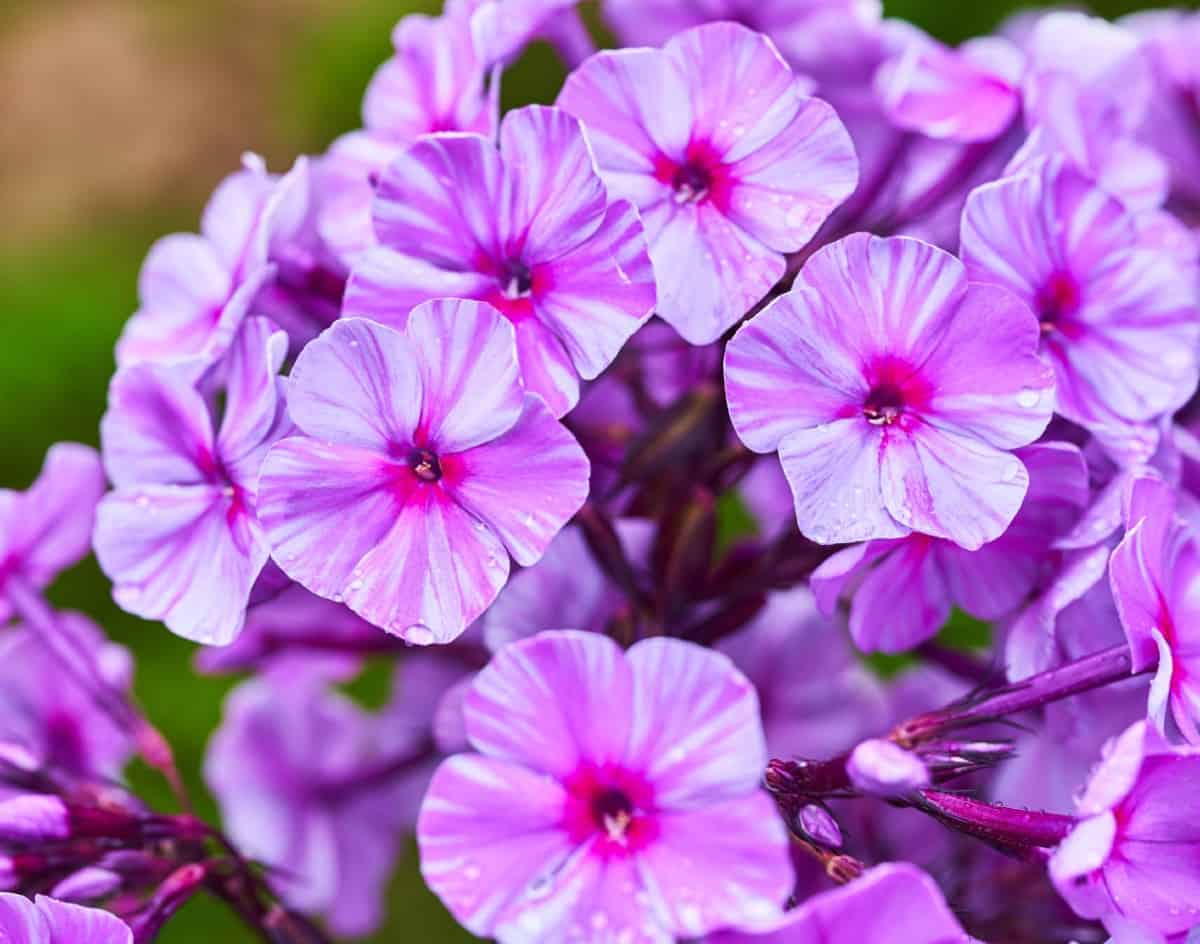 One of the most fragrant perennials to plant is Garden Phlox. Traditionally a medicinal plant, phlox contains laxative qualities when consumed as a leaf extract and assists in removing boils when applied topically.
These candy-colored flowers smell just as sweet, blooming in summer or early fall based on the location. The large clusters of flowers form in woodland areas and reach about 3-4 feet high.
They handle part shade adequately with a preference toward at least 6 hours of sun. Regular applications of lime assist in maintaining alkaline levels in the soil and providing the phlox with plenty of nutrients to succeed.
Lilac (Syringa)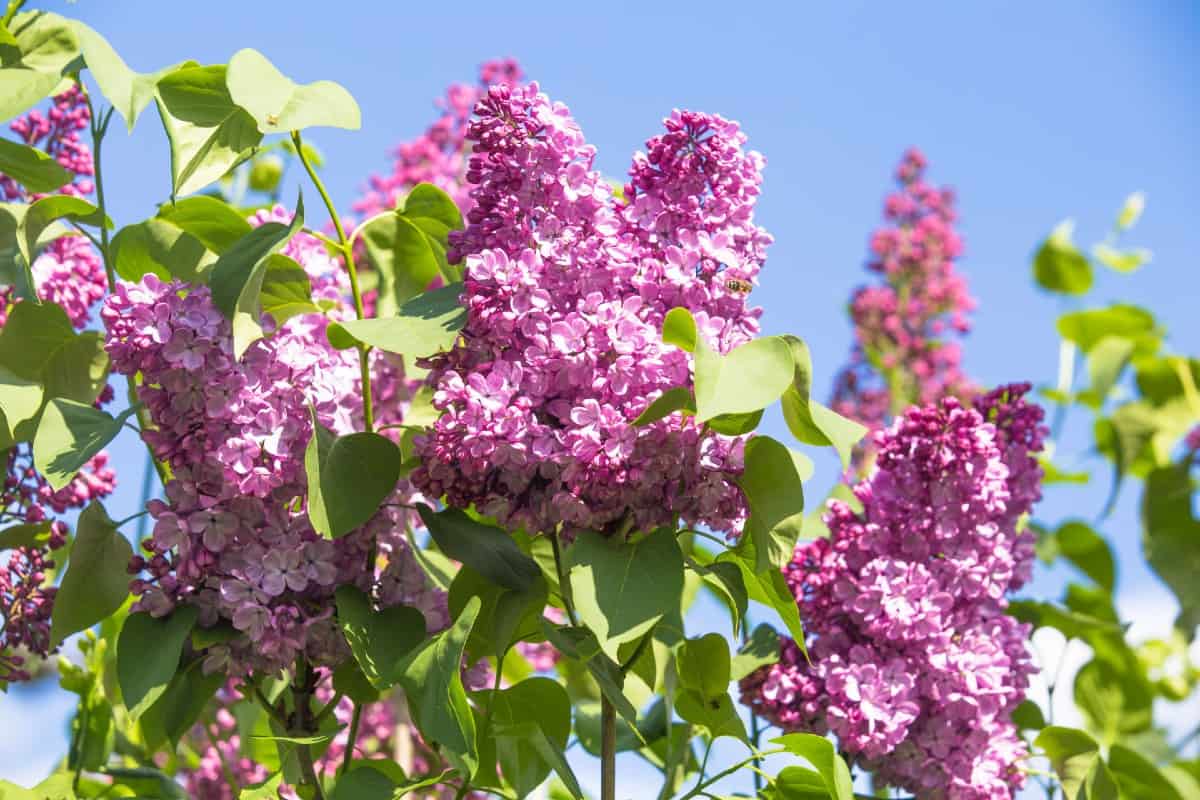 Lilacs symbolize many concepts from first love to youthful innocence. The name derives from the Persian word for flower, and the plant is a member of the olive family.
Similar to cut lavender flowers, the bloomer's potent sweetness fills any room with the potential of being overwhelming at times. Standard plants grow up to 15 feet tall, but continuous prune back helps to maintain their smaller sizes.
Dwarf varieties of these fragrant shrubs only reach about 6 feet, making them significantly more manageable for newer gardeners to tame. Supply them with full sunlight to ensure a healthy emergence of flowers in the spring. Adding some lime to the neutral soil also helps bring alkaline levels up.
Oriental Lily (Lilium orientalis): A Beloved Exotic Bloom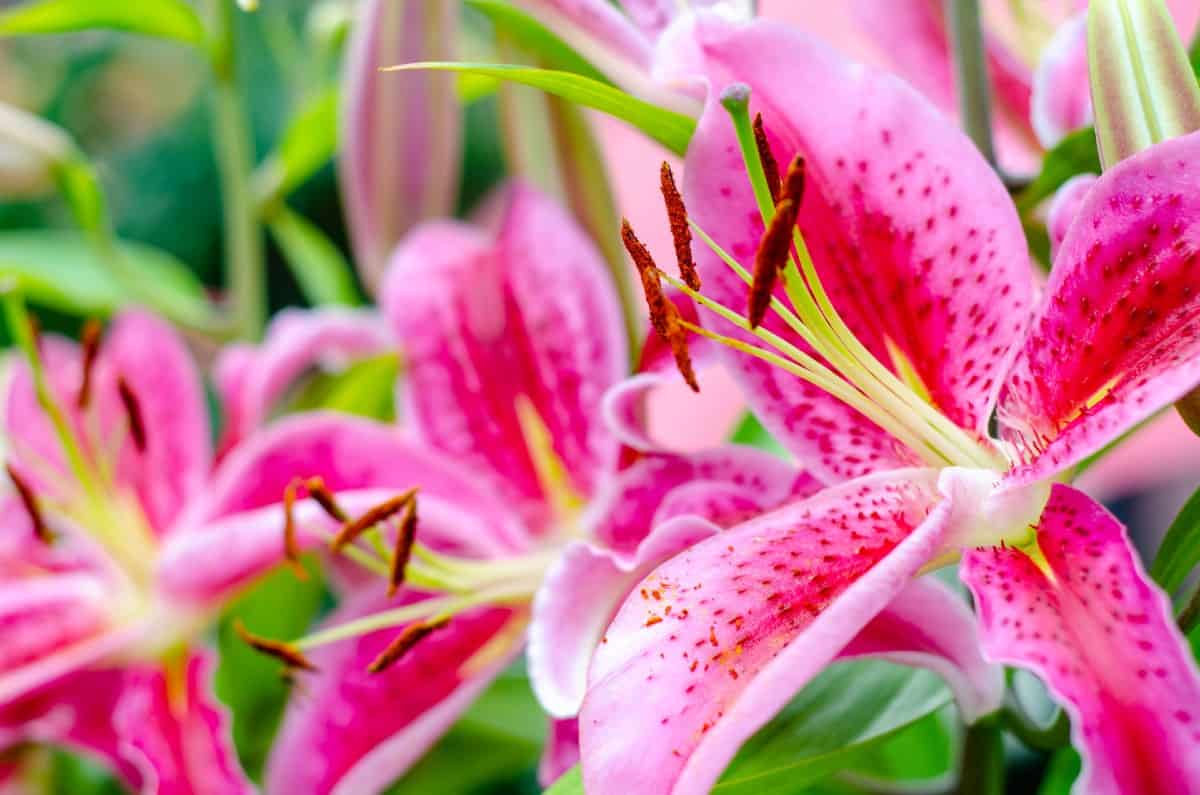 A striking addition to any garden, Oriental Lilies rank as the fourth most popular flower across the world. Different colors of the flower symbolize different concepts.
White represents purity and modesty, yellow represents happiness, and orange stands for passion. No matter the color, the plant gives off a sweet, citrusy smell. Also known as the Asiatic Lily, the plant grows between 24 and 48 inches.
When planting them, space them out about one foot apart in a sunny location. The plants tolerate partial shade, but maintaining the soil structure is the most crucial factor to consider. Many gardeners suggest planting them in raised beds to regulate acidic levels and fertilization with composts or humus.
Lily of the Valley (Convallaria majalis)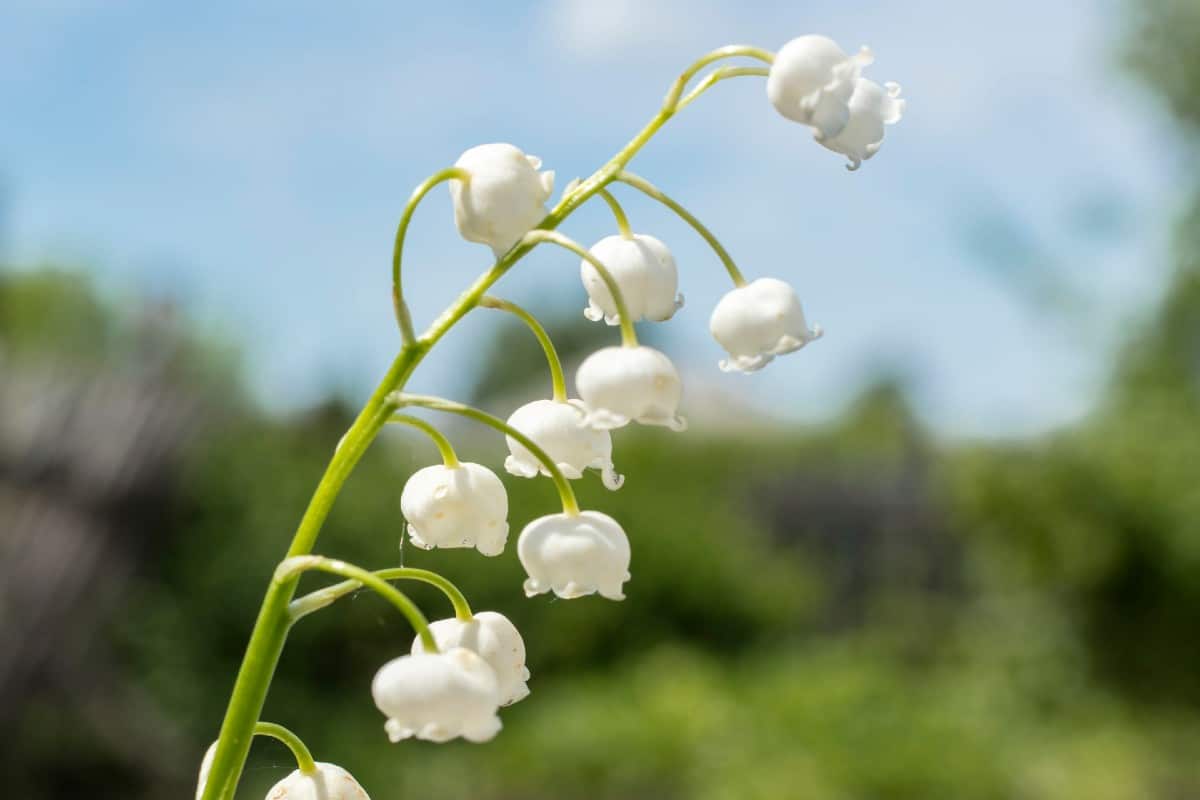 Lily of the Valley appears in celebrations and ceremonies across the globe, symbolizing hopeful concepts like a return to happiness, luck, and purity. The delicate nature of these white, bell-shaped flowers certainly helps with understanding these associations with the flower, along with a sweet, fresh scent that conjures feelings of spring.
Partial shade is best when growing this plant, preventing the blossoms from scorching in bright sunlight. The bloom time varies and depends primarily on the region where they live, blooming in spring throughout most of the country and summer in colder areas.
Honeysuckle (Lonicera)
A famous specimen in floral arrangements, honeysuckle is well-known throughout most of the Southern states. The sweet aroma stands true to the flower's name, emitting a thick fragrance like honey and citrus.
Their funnel shape and bright colors make them the perfect draw for pollinators like hummingbirds. The plant comes in two different varieties: shrubs and vining species.
Shrubs reach heights of 30 feet if left uncultivated while climbing vines spread to 80 feet if unmanicured. In some cases, they can get quite invasive, so regularly maintaining them is essential. Keep soil rich and moist but not soggy to prevent rotting the base.
Dianthus (Dianthus caryophyllus): Perennials with Fragrant Flowers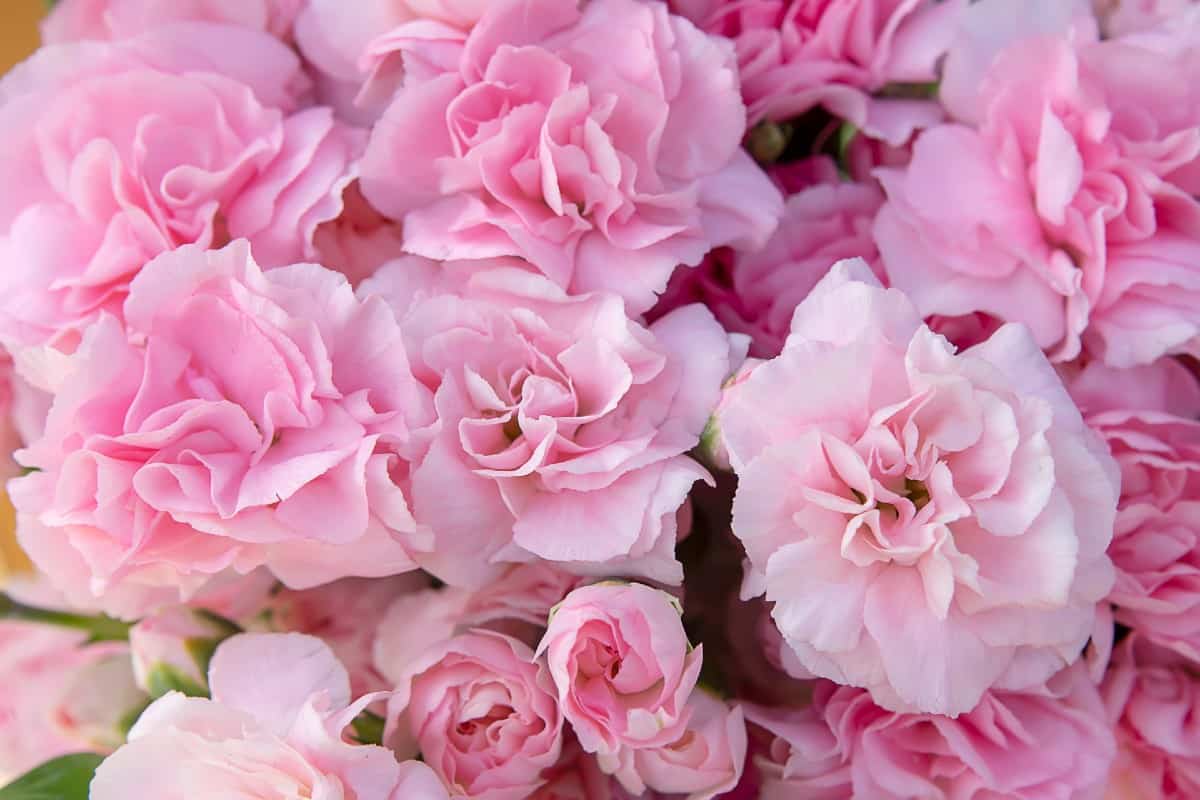 The Dianthus flower earns its name from a combination of two Greek words, meaning Zeus and flower. Generally used for decorative purposes, and growing no higher than 18 inches, the plant makes an ideal ground cover shrub. The smell dianthus emits is similar to cloves, with a spiced, cinnamon aroma.
These evergreen perennial flowers love growing in compact spaces, which means they easily adapt to container gardening. It enjoys full sun conditions, along with fertile, well-drained soil. Deadheading spent blossoms is critical to helping new growth form from one season to the next.
Hyacinth (Hyacinthus)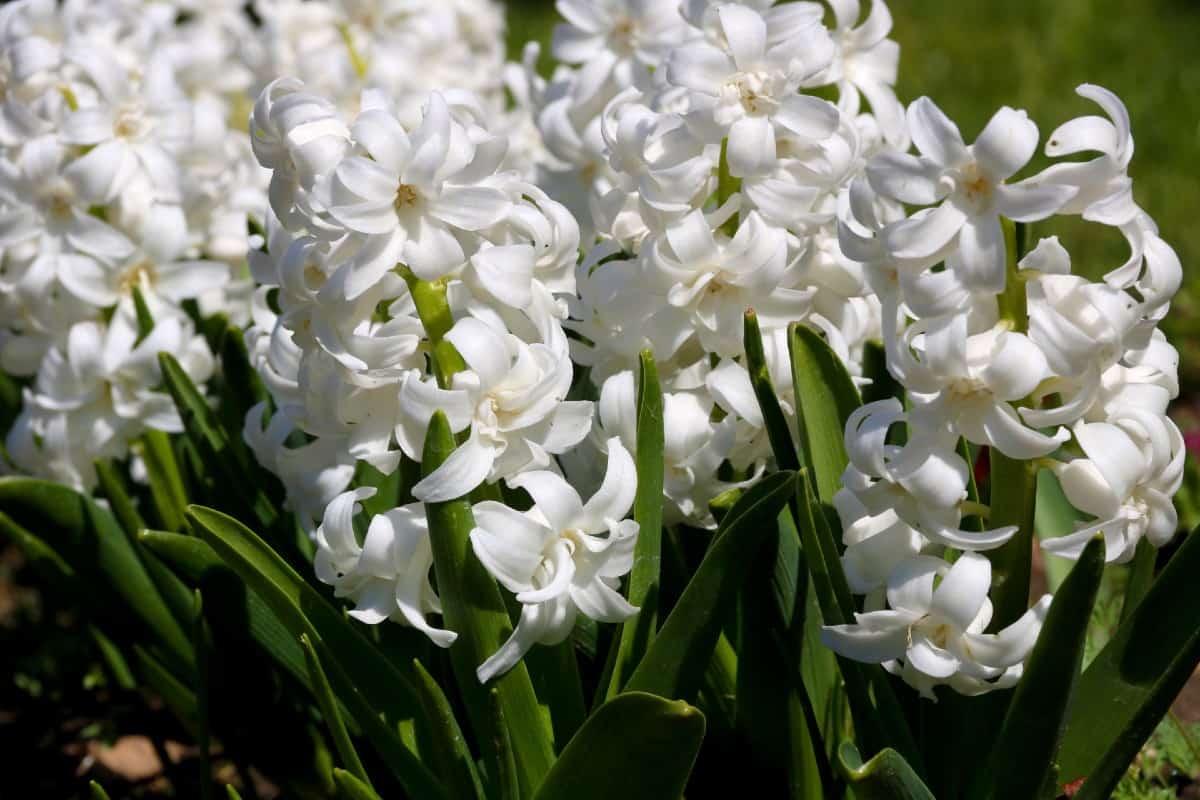 Hyacinth is toxic if ingested, though surprisingly, is also a member of the asparagus family. It is no less lovely in terms of scent, however. Grown commercially in the Netherlands, the fresh, delicate fragrance reminds many of spring dew and new growth.
It only grows to a foot tall and blooms in early spring three weeks after the leaves shoot up. When growing hyacinth, at least 6 hours of direct sunlight ensures its best development.
Whenever necessary, provide it with plenty of plant food in the form of bonemeal or compost. Otherwise, maintaining loose, moist soil is enough to keep the plant thriving and healthy.
By now, you should have the complete list of floral candidates for your garden. While the exact aroma of your specimen is the biggest draw, ensuring its appearance matches the rest of your flower beds is equally significant to its appeal.
Luckily, there are plenty of stunning options for you to choose from, making the final decision even more difficult.
If you found these aromatic flower tips helpful, please remember to share which perennials with fragrant flowers you loved most with family and friends on Facebook and Pinterest.