To add texture and color to flower beds, consider using perennials with spiked flowers. Many home gardeners prefer perennials as they don't require planting each year, plus many of them are self-seeding, so they naturally spread throughout your flower beds.
Another benefit to perennials is the sheer number of species available to choose from; each perennial renders different cultivators making the possibilities seem endless.
Perennials come in a variety of color choices, as well as leaf textures, and blooming periods. Perennials are available in different sizes, too, including dwarf varieties, so there is something for large and small spaces.
These variations allow gardeners to plan out their garden to ensure they have bursts of color throughout the growing season.
When planting your perennials with spiked flowers, ensure you choose the best planting location based on their growing requirements. This gives each plant the best chance at thriving inside your beds.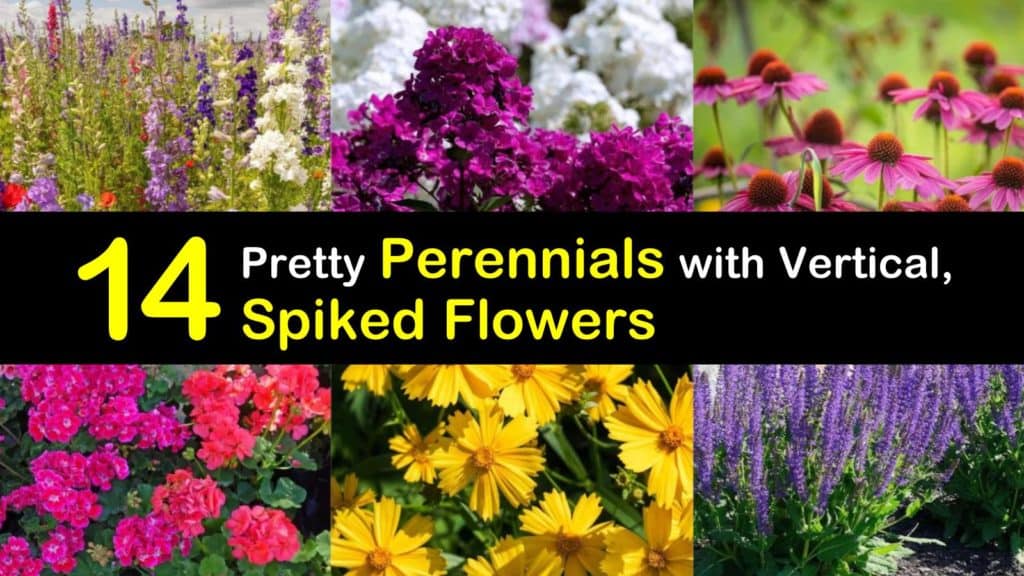 Best Tips for Caring for Perennials in Your Garden Beds
Before you start caring for your perennials with spiked flowers, they require planting. Always plant perennials in the fall or spring after there is no danger of frost for your area. How they are planted depends on if they are a bare-root, seed, or container-grown.
Bare-root perennials require soaking the roots in water for several hours before planting. For seeds, sow them directly into the ground after the last frost. To plant container-grown perennials, dig a hole as deep as the original container, remove the plant from the pot, and place inside the new hole.
Watering is a significant part of caring for any plant. When it comes to specific watering requirements, each plant has its own, but there are some basic watering facts.
Always do a deep watering rather than a shallow watering as it allows the roots to set themselves deeper into the ground. Avoid getting any water droplets on the foliage as it increases the risk of disease.
To help retain moisture, apply a thin layer of mulch around the base of your plants; it also helps cut down on weeds. Pruning requirements also vary from one perennial to the next, but there are some basic rules to keep.
Deadheading spent flowers in most perennials encourages new blooms. Deadheading also helps improve the overall look of the plant and prevents seeds from self-sowing.
Pruning reduces the appearance of legginess and encourages bushier growth in several perennials.
Pretty Perennials with Spiked Flowers for Your Garden Beds
Always consider your USDA hardiness zone when planting perennials with spiked flowers. Follow the same rules as other perennials, plant them in the fall or the spring after the danger of frost.
Perennials with Spiked Flowers – Garden Phlox (Phlox paniculata)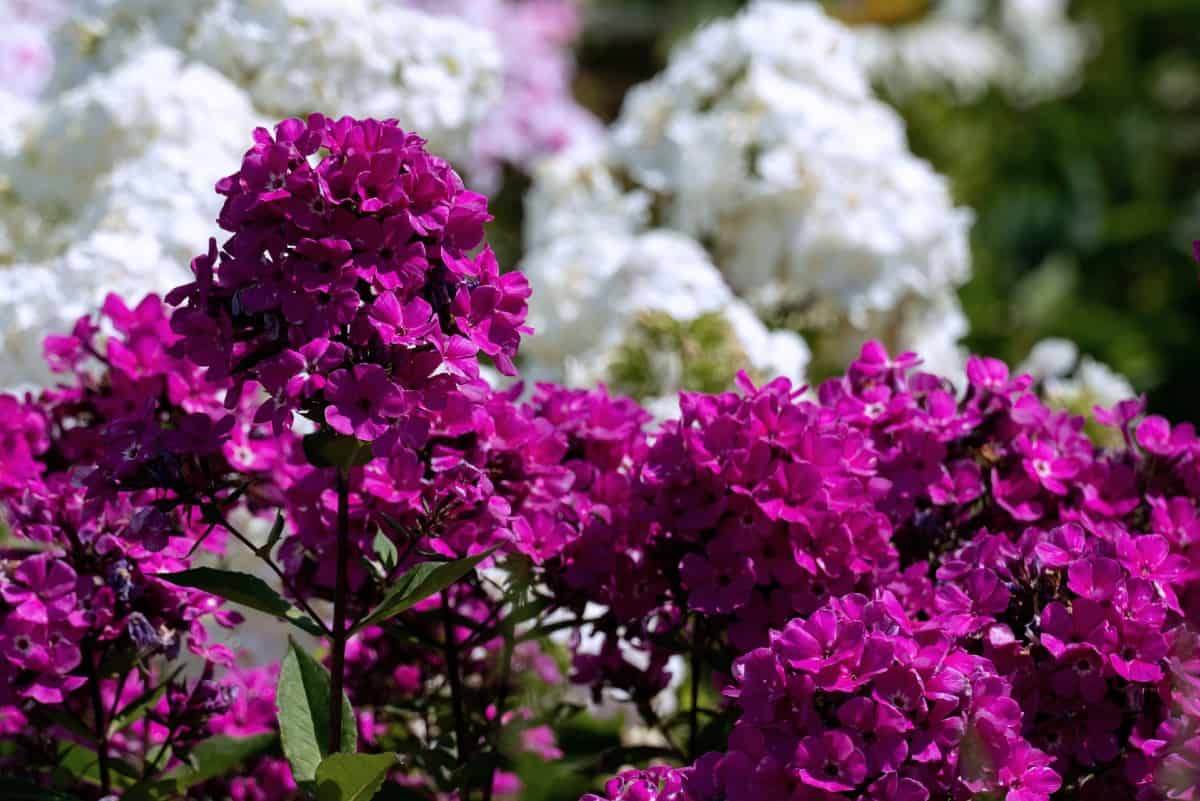 Garden Phlox is easy to care for and requires very little maintenance. The plant provides large billowy fragrant blooms that grow upright and sit on top of dark green foliage.
Some cultivators come with yellow margins on green leaves or cream-colored edges. The vertical flowers come in a variety of colors and provide a long blooming time, as they begin appearing in July and last until September.
When planting Garden Phlox, it grows best in zones four through eight. As a vertical plant, it can reach heights of up to five feet tall without requiring staking for support. Choose locations in full sun with well-draining soil.
Perennial Salvia (Salvia)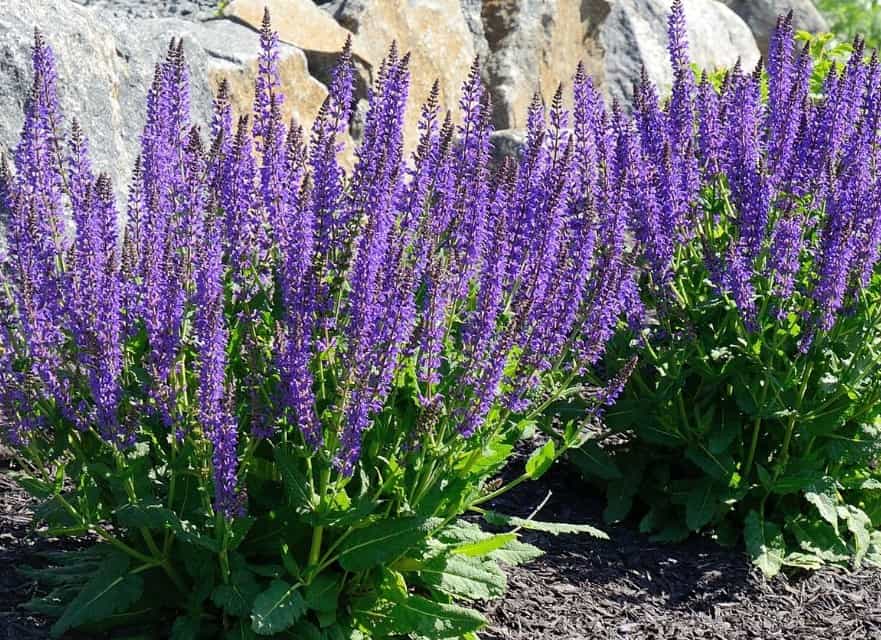 Salvia makes an excellent midsummer border for your garden beds as its bloom time runs from late spring until the end of summer. Salvia, sometimes called sage, is not your common sage used in the kitchen, although it is a relative.
Salvia features colorful spikes of tubular blossoms sitting above velvety leaves on square stems. These flowers attract hummingbirds and butterflies, but bees enjoy them, too.
These heat and drought tolerant beauties are known survivors in any summer garden. Depending on the cultivator purchased, these all summer flowering perennials grow up to five feet tall and are natural repellents for a variety of garden pests.
Daylily (Hemerocallis)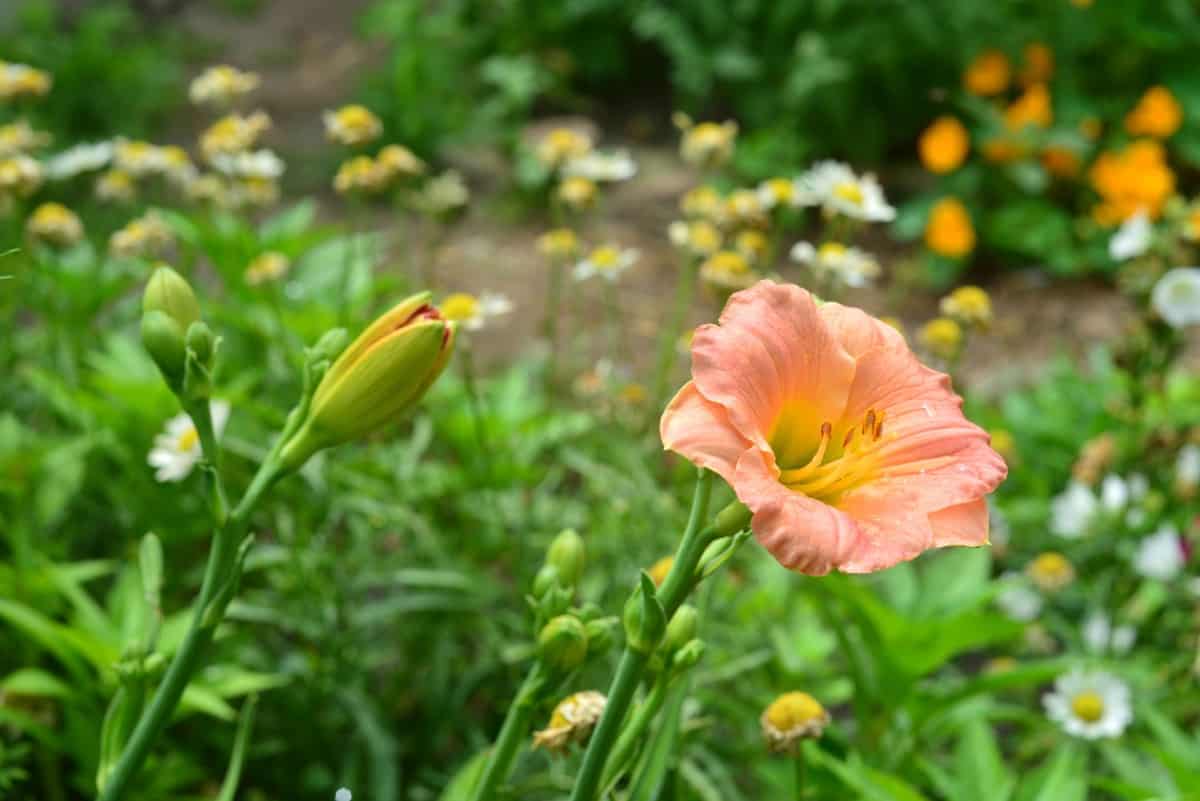 Not only does the Daylily offer tall flowers, but they also provide an extending blooming period. Home gardeners enjoy the heat and drought tolerant plant, which is available in a variety of colors.
With Daylily, the blooms only last one day, but the same stalk produces many flowers. Plant the Daylily in the middle of your flower beds, as they are on the medium-tall side. These heat-loving plants require well-draining soil in full sun for optimal blooms.
Different species provide various blooming times; some open during the day while others bloom in the evening. Opt for the type that coincides with when you enjoy your garden.
New England Aster (Symphyotrichum novae-angliae) – Pretty Spiked Flowers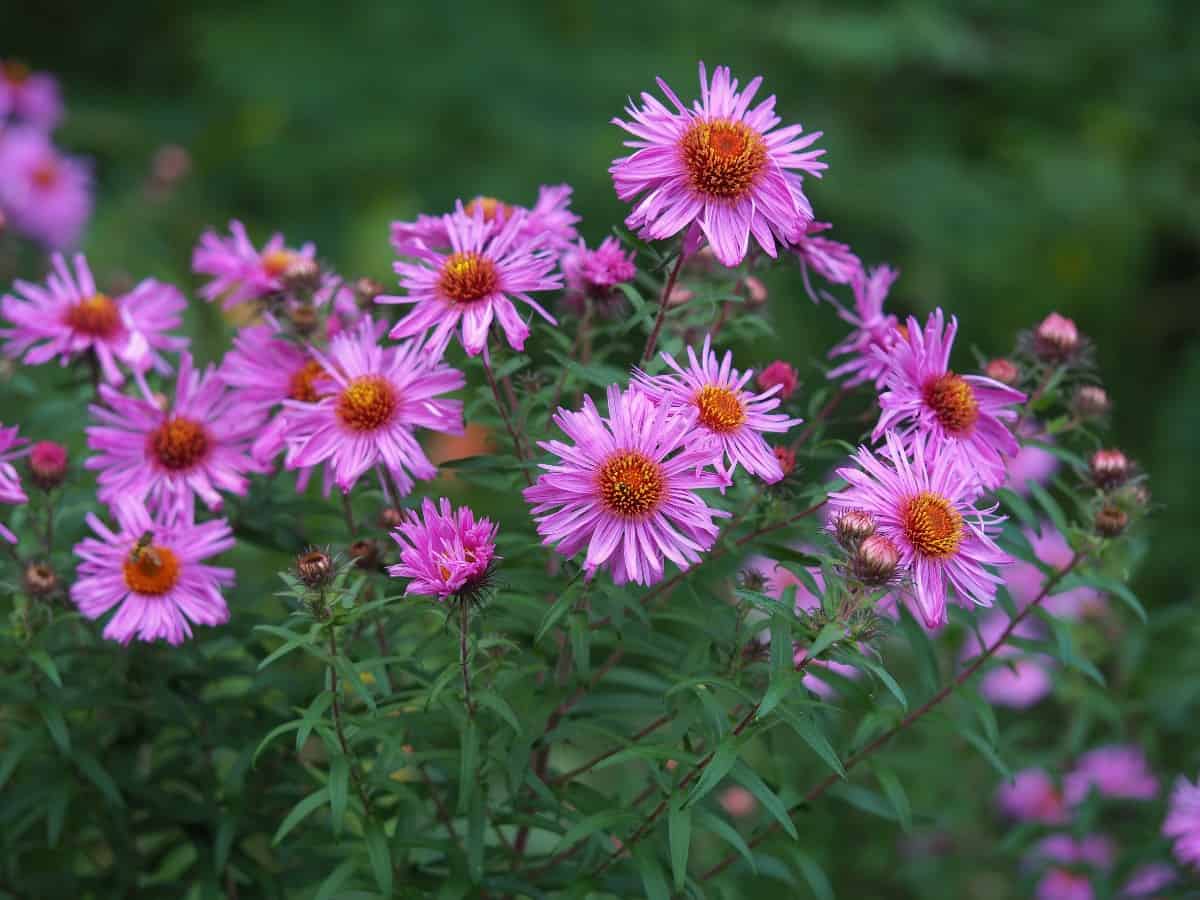 The New England Aster blooming time is mid to late summer until the beginning of fall. In the early summer, prune back the New England Aster to reduce the legginess appearance.
If you forget, do your pruning after the blooming season. The New England Aster grows up to six feet tall, and this shrub-looking perennial offers tiny, feathery blooms.
New England Aster's blossoms attract pollinators, including bees and lady beetles. After the growing season is over, leave the withered stalks for added interest during the winter.
Plant the New England Aster towards the back of gardens in an area with moist soil and full sun.
Larkspur (Delphiniums)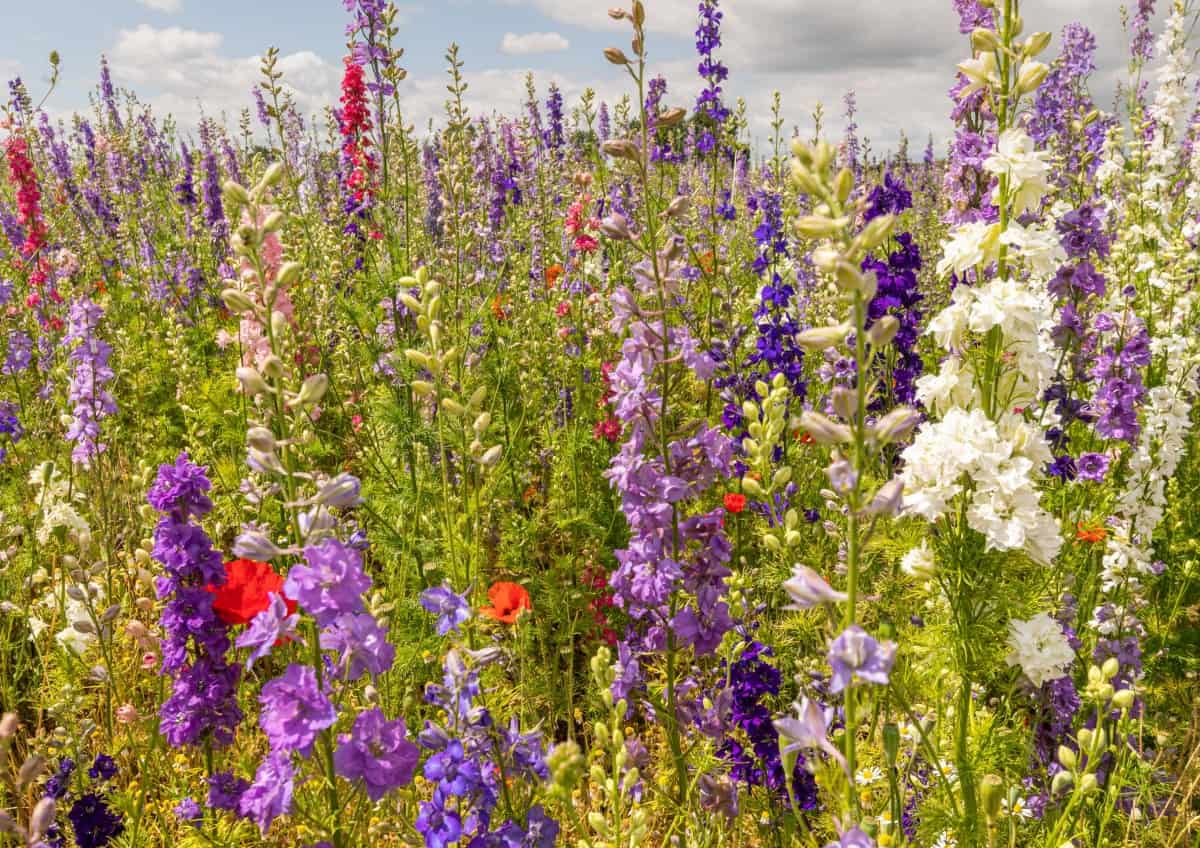 Gardeners love planting Larkspur because of their brightly colored blooms. Shockingly, the Larkspur belongs to the Buttercup family of flowers, even with their dark purple flowers.
The flower spikes grow up to seven feet tall and begin blooming in the early summer. The flowers rest among leaves that bear a striking resemblance to maple leaves.
When choosing a planting location for your Larkspur, opt for areas towards the back of your garden beds.
These long lasting perennials don't require support, but they do well when located next to fences. Larkspur prefers full sun and well-draining soil as it's prone to powdery mold.
Purple Coneflower (Echinacea purpura)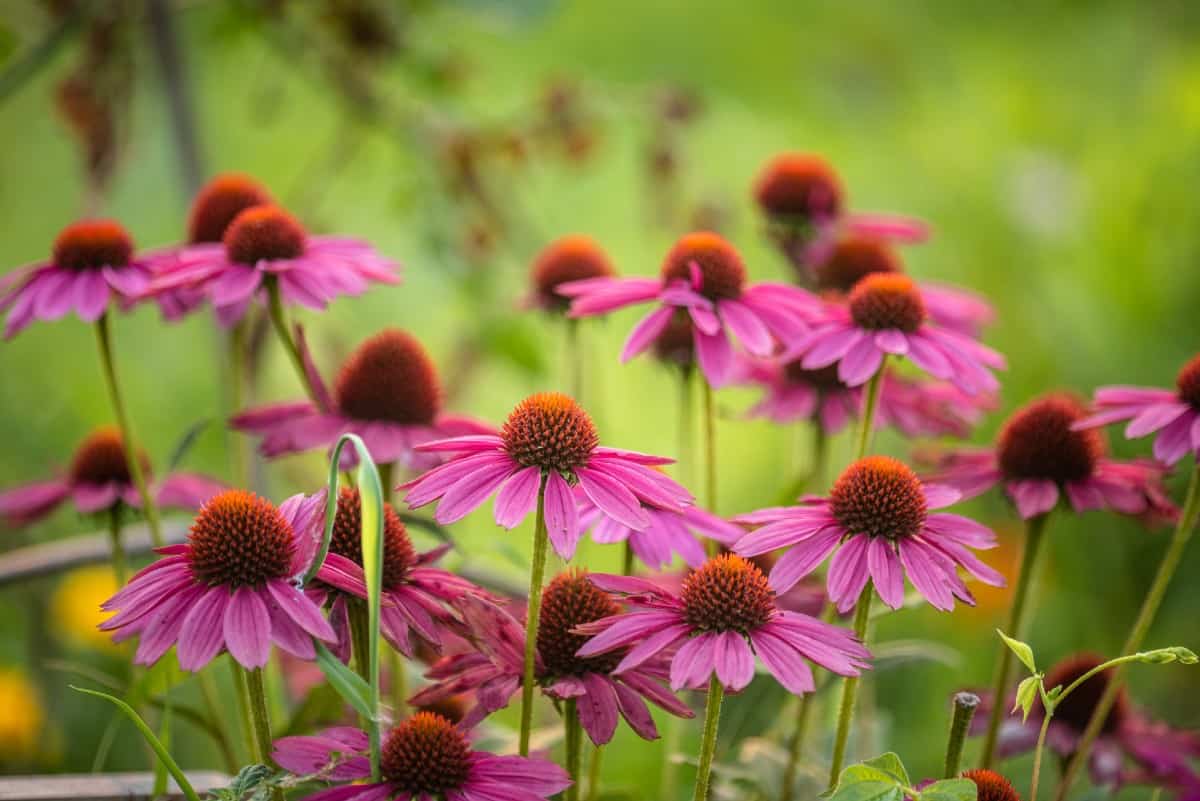 Native to the southeastern US and one of the most popular zone 6 flowers, the Purple Coneflower is a herbaceous perennial that reaches up to four feet tall. The flowers of this plant stand out as they look similar to a daisy, but are purple with a five-inch diameter.
These brightly-colored blooms begin appearing in June and start dying off in August. A sun-loving perennial, Purple Coneflower requires full sun, so avoid areas with partial shade.
Choose a planting location with well-draining soil and keep the dirt on the dry side for optimal growth. An adaptable plant, Purple Coneflower, is capable of growing in various soil conditions and, once established, is drought and heat tolerant.
Pretty Perennial with Spiked Flowers – Yarrow (Achillea millefolium)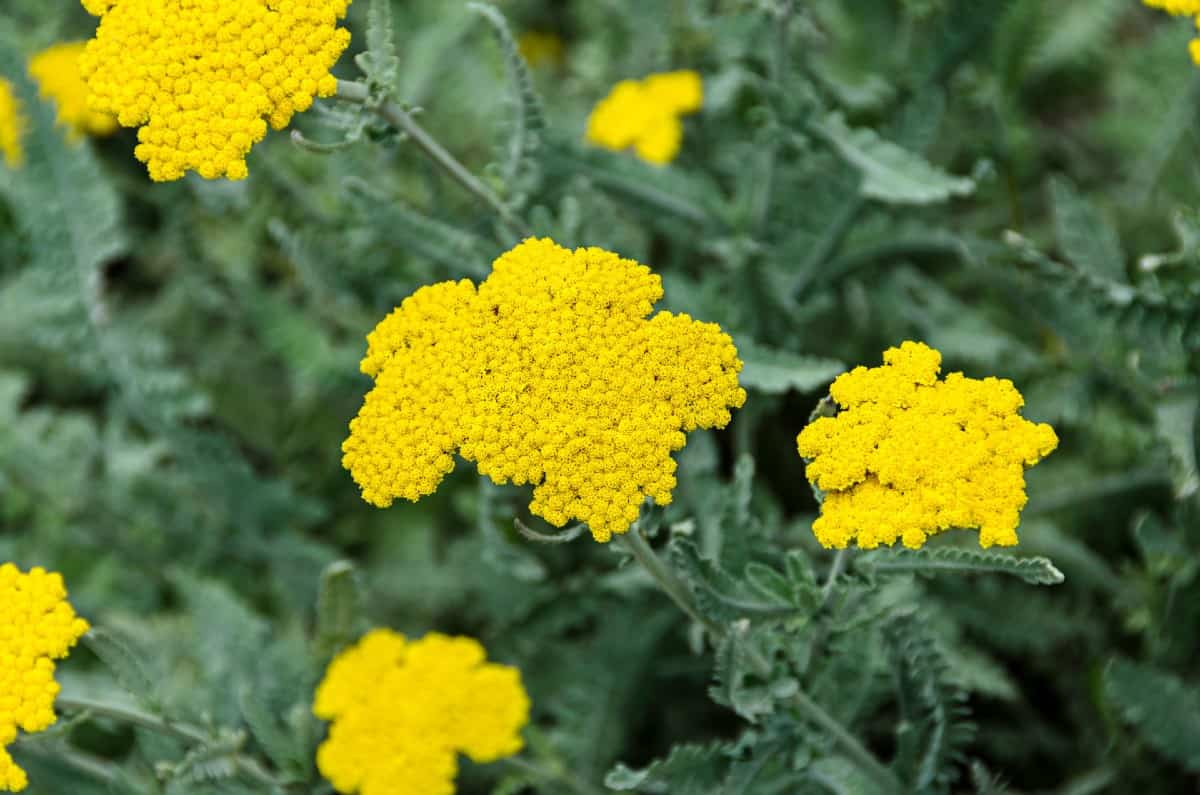 Where you place the Yarrow plant depends on the other perennials you plant throughout your beds. As plants with spiky stems, Yarrow grows up to four feet tall and requires full sun for optimal growth and prolific blooms.
Many gardeners use Yarrow as a border plant as its aromatic leaves, which emit a spicy scent, help keep deer at bay.
Although these wildflowers come in a variety of shades, the true native one produces white flowers that may take on a pink tint at higher elevations. Yarrow is often considered invasive and spreads quickly via underground stems.
Speedwell (Veronica)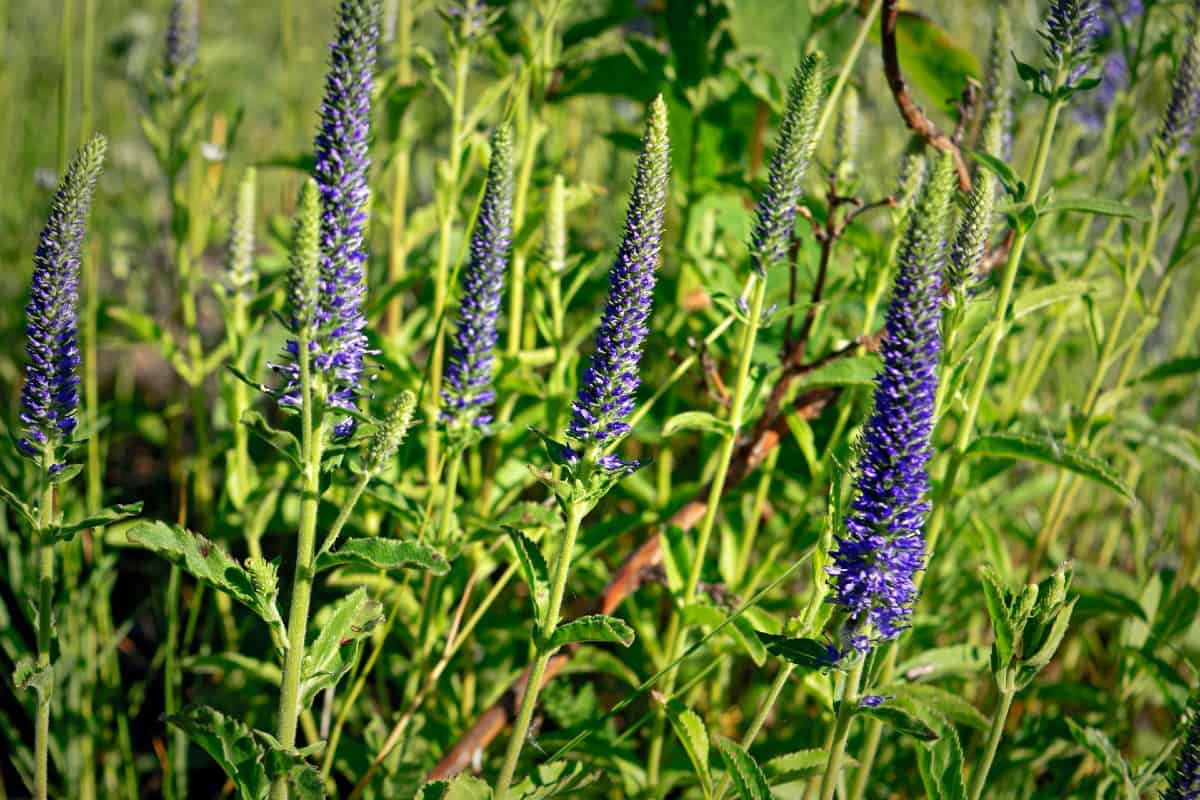 The spiky and showy flowers of Speedwell bloom throughout the entire summer and make an excellent choice for cut flowers. These long spikes come in pink, purple, white, or blue flowers that form clusters and reach up to three feet tall.
This low-maintenance plant requires very little care, as long as you meet its basic needs. Most gardeners find this plant works best in the middle area of gardens, and they do well at attracting butterflies and bees.
Plant this beauty in well-draining soil and cover with a thin layer of mulch to help retain moisture. Deadhead spent flowers to encourage more blooming.
Hostas (Hostas pp.)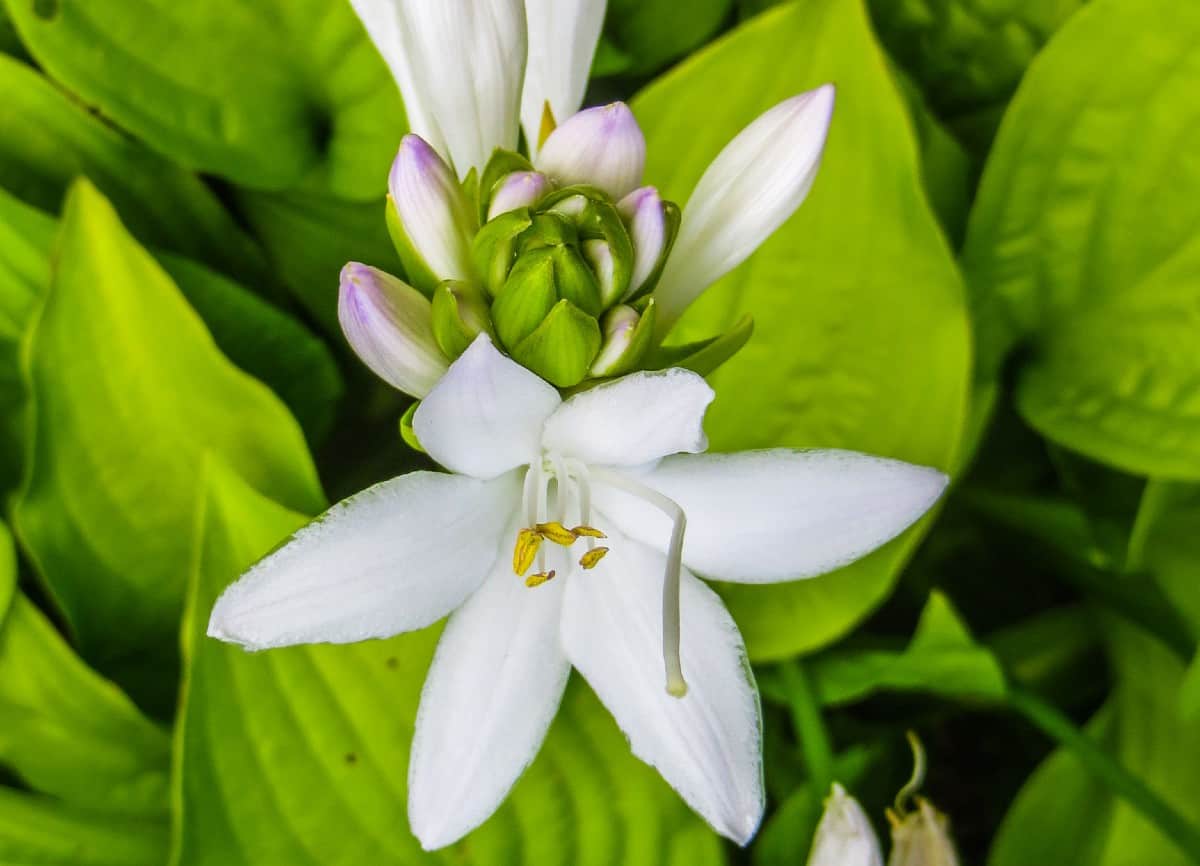 When we think of Hostas, we think about shade lovers, not plants with vertical flowers. These beauties are known for their large leaves that overlap one another. Most gardeners choose Hostas for the lush foliage, not the actual flowers.
Flowers on Hostas appear in the summer in spikes similar to lilies. The bell-shaped flowers come in shades of white and lavender and are known for their fragrance.
Not all plants produce tall flowers, especially the white-flowered varieties. Once the blooms begin to die off, clip them back down to the leaves as they are not attractive. Plant Hostas in areas with partial to full shade based on the cultivator purchased.
Note that Hosta is considered as one of the wildlife friendly shrubs. Deer love it.
Perennial Tickseed (Coreopsis lanceolata) – Perennials with Vertical Flowers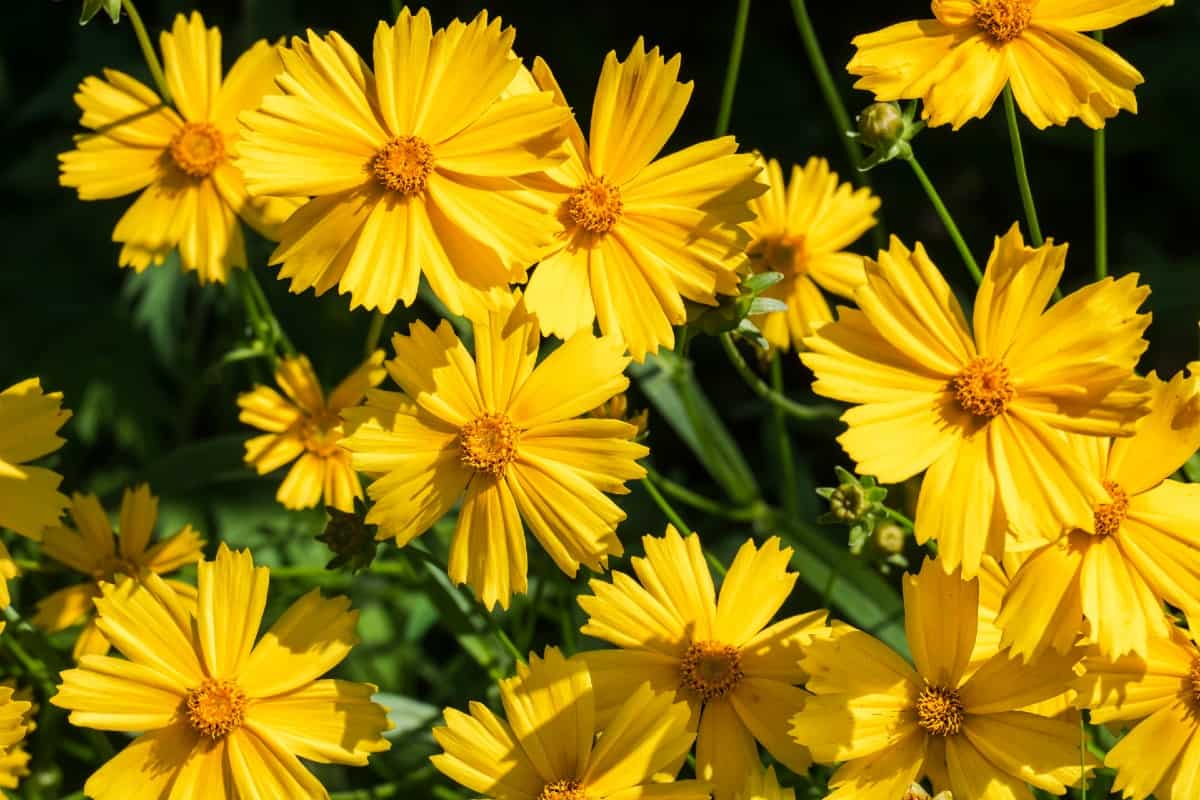 Sometimes called Lance-Leaved Coreopsis, this perennial thrives in some of the worst soil conditions, as long as it has excellent drainage. Perennial Tickseed features long, slender stems with gorgeous colored blossoms.
This sun lover requires minimal maintenance and does best in mixed beds or along borders. Currently, there are over 80 species of Tickseed; some are annuals while most are perennials.
Over half of the cultivators are native to North American areas, while the others are native to South and Central America.
Tickseed got its unusual name because its seeds resemble ticks. Birds are drawn to the seeds, while butterflies and bees are attracted to the daisy-like orange to yellow flowers.
Hummingbird Mint (Agastache)
Commonly called Hummingbird Mint, this plant is also referred to as Hyssop. No matter what it's called, the long-blooming perennial is known for its flavorful leaves and showy blooms.
Blue, pink, or red flowers in the form of spikes attract a variety of pollinators. These plants grow up to five feet tall with a spread of 2 feet. This plant is invasive but is not as harmful as real mint.
As a self-seeder, to prevent it from overtaking gardens, remove all spent flowers. Once-blooming finishes, prune back the plant to reduce a spindly appearance. Hummingbird Mint prefers full sun and has fewer flowers in partial shade.
Bee Balm (Monarda)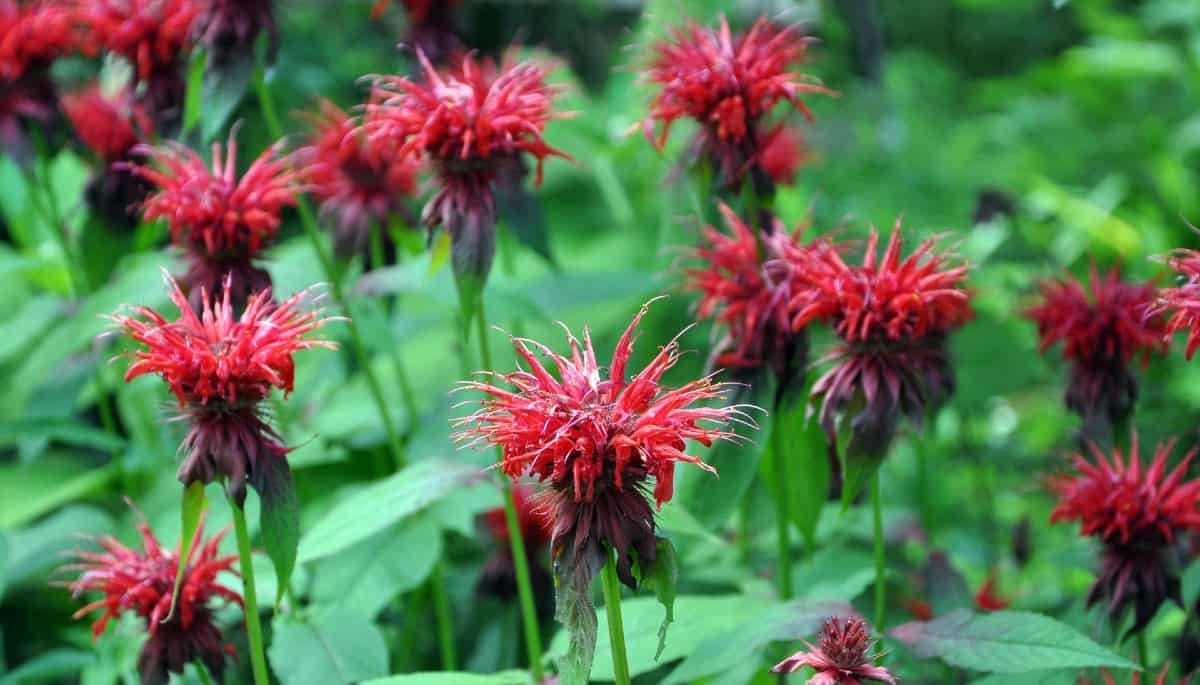 As the common name of Bee Balm suggests, the brightly colored blooms on this plant attract bees, as well as many other pollinators. Flowers start appearing during the early spring and continue to provide bursts of color until the early fall.
There are several different cultivators to choose from, and how big these plants get depends on the one purchased; in some cases, they reach heights of up to four feet.
The crown-shaped flowers are available in a variety of colors, including red, lavender, pink, and white. An easy to care for perennial, gardeners need to find a planting location with full sun to part shade. Use mildew-resistant varieties in humid climates.
Perennials with Spiked Flowers – Black-Eyed Susan (Rudbeckia)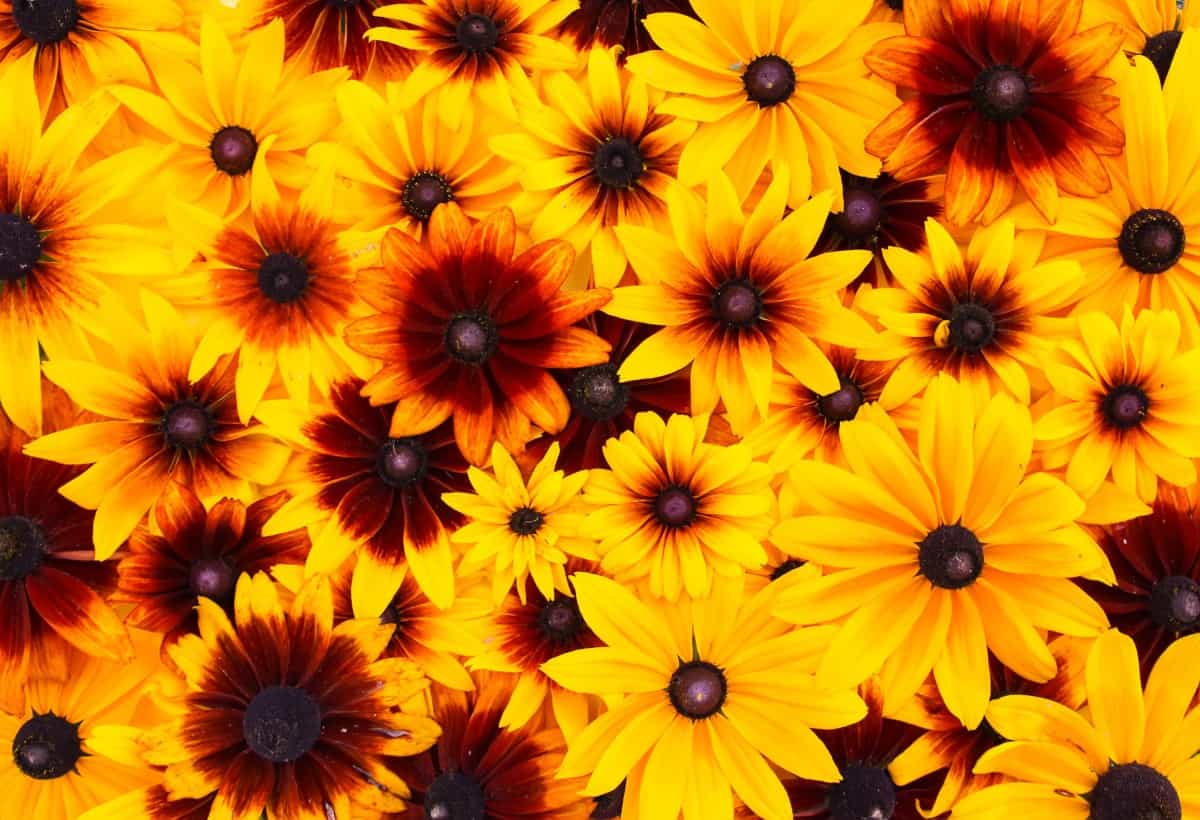 Black-Eyed Susan works well in the middle row of any flower bed, as it's not the tallest nor is the shortest plant around. The easy to care for perennial reaches about two feet tall and adapts to just about any soil conditions.
The key to their survival is well-draining soil in full sun. Flowers of the Black-Eyed Susan are yellow or orange petals that surround a blackish/brown eye.
The flowers begin appearing in the early summer and continue until the first frost. These plants are self-sowers, so deadhead any spent flowers to prevent it from spreading.
Geranium (Pelargonium)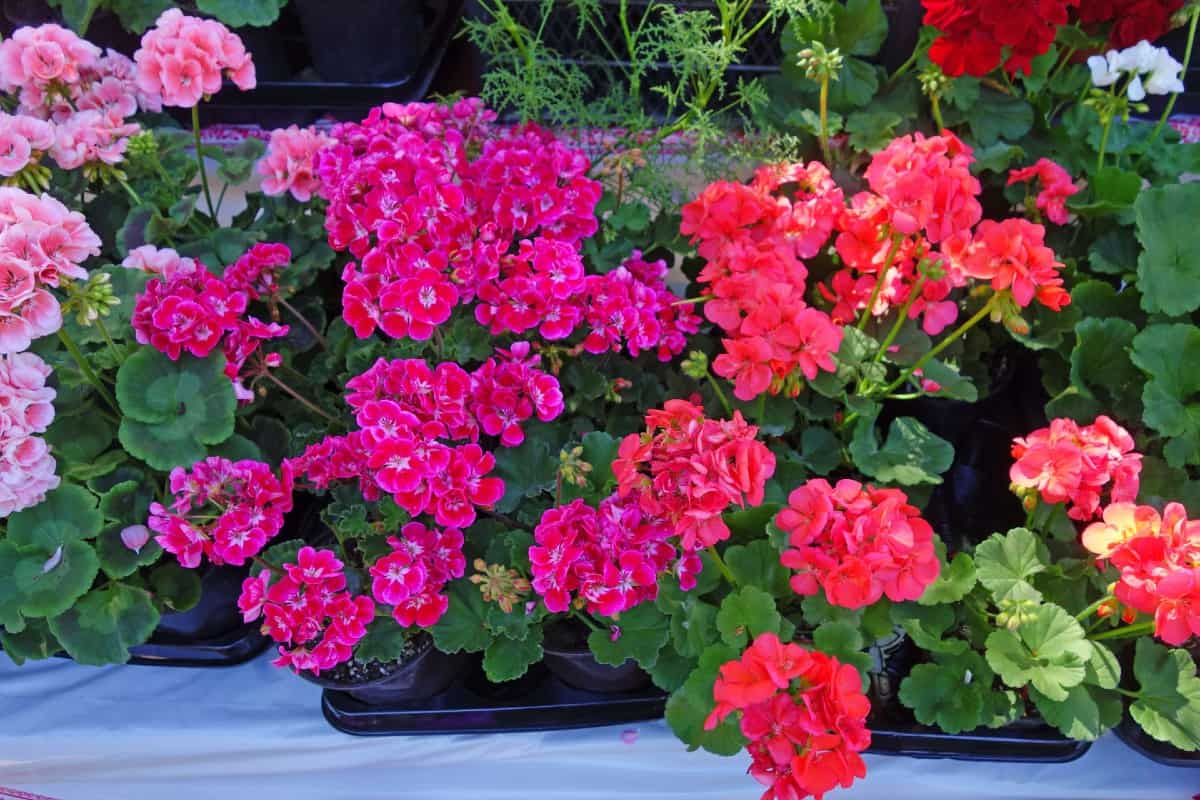 Similar to Sedum, there are over 300 species of Geraniums to choose from, including some groundcover varieties. Each of these cultivators supplies different colors, scents, and foliage.
Often considered annuals, in warmer areas, they are grown as perennials. In colder climates, overwinter your plants indoors to grow them as perennials.
An easy to grow perennial, Geraniums require minimal day to day care if planted in ideal conditions. Look for a planting location that delivers full sun and well-draining soil. While Geraniums do well in various soil conditions, avoid using clay or heavy soils.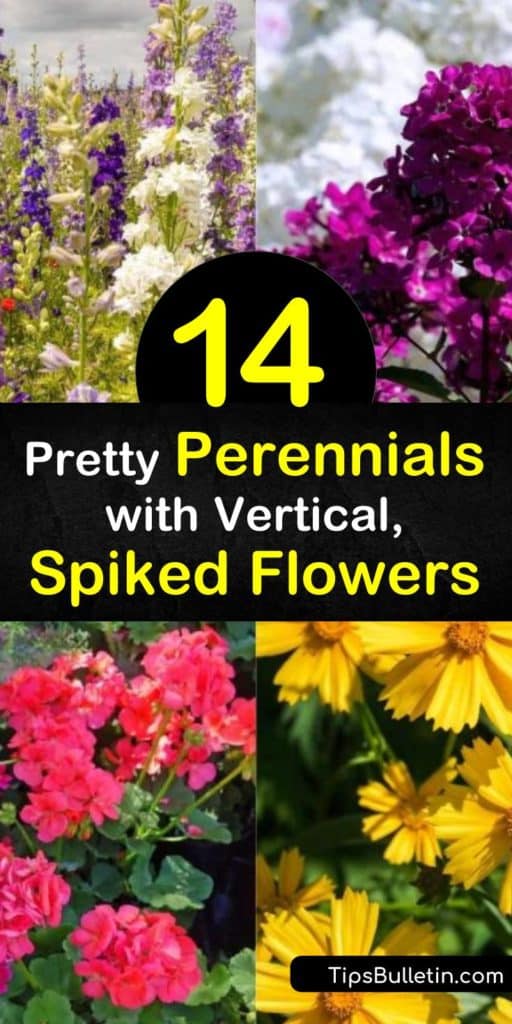 Thank you for reading our views on the best spiky flowers for your garden beds. If you found any of our opinions on the best spiky flowers for your yard, please share these perennials with spiked flowers with others on Facebook and Pinterest.