If you are a pet owner, then you're already aware that pets are a part of the family, and fill your life with love and joy. In some cases, they also fill homes with unpleasant odors. The good news is that we have an entire list of recipes and tips for making a pet odor neutralizer to eliminate smells that result from dog urine, a cat litter box, and other pet odors.
Pet parents have their job cut out for them the moment they bring their new family member home. As a pet parent yourself, you're probably well aware of the many odors that are a result of your furry friend.
Pet urine is number one on the list of pet odors, and then there is that wet dog smell that is inevitable on a rainy day. Having the skills to eliminate dog poop odor from the backyard is essential when pet odors begin to take over your yard. Follow these methods to help eliminate all pet odors and urine smells in the home.
Neutralizing Pet Odors
Pet odor elimination is essential to providing both you and your pet with a comfy and stink-free home. We'll show you how to get rid of bad odors in your home by cleaning culprit areas. Use a natural enzyme cleaner for dog urine or cat urine and vomit to break down stains. We'll also give you tips for pet odor prevention.
In addition to using an effective pet odor neutralizer at home, you can also use a DIY spray to make dogs poop in one area to avoid the smelly stains once and for all!
Pet Smell Neutralizer – The First Step
There are a few easy steps to take before using a pet odor neutralizer and stain remover for getting urine smell out of the carpet. These are essential to making sure that you eliminate the problem odor.
Before you do anything else, immediately absorb as much of the pet urine out of the carpet as you can. Not doing this allows the urine to soak further into the pad and flooring beneath, which is more challenging to eliminate. Use paper toweling and newspaper to soak up the urine and replace it with fresh sheets until all of the liquid is absorbed.
For urine stains that are old and dry, use a black light to find the areas in the carpeting where your pet has had accidents. Turn off the lights and walk through the room, holding the black light above the carpet to locate old stains.
Cleaning a Pet Urine Stain With a Carpet Cleaning Machine
After soaking up the pet urine with paper towels, use a carpet cleaner to remove even more of the pet stain while cleaning away nasty residue.
Use the suction setting on your carpet cleaner to suck up any leftover pet urine from the carpet or upholstery. Follow the instructions on your cleaner's model and fill the tank with the appropriate ratio of water and pet odor cleaning products. Clean the stained area as you usually would clean your carpeting and allow the floor to air dry.
Homemade Dog Deodorizer Spray
Pet odors are not always the result of floor accidents. Dogs tend to have an odor in between baths that are sometimes unappealing. Make your own odor absorber to freshen up their fur so those dog hugs are more pleasing. This recipe also conditions their coat and soothes irritated skin.
Fill a bottle sprayer with water and add the essential oils, glycerin, and coconut oil. Shake the liquid well to mix and label for future use.
Spritz the deodorizer onto your pet's fur, making sure that you avoid their eyes. Use a dog comb to brush the deodorizing liquid through their coat and let it air dry.
Neutralizing Pet Stain Odors With Vinegar
This natural cat urine removal and dog stain deodorizer spray contains white vinegar, which is a mild form of acetic acid. It breaks down dried urine while neutralizing the odor.
To make this natural rug cleaner and deodorizer, combine equal portions of water and vinegar in a bottle sprayer and shake well to mix. Spray the solution onto the stained area generously.
Use a stiff sponge to work the liquid down into the carpet fibers and lower layers. Use paper towels to soak up as much of the solution as possible and allow the rug or carpet to air dry.
Use this urine smell eliminator to remove dog urine smell from clothes, too. Instead of air drying, add the clothing to the washing machine. Ensure the odor is gone before drying. Strong pee smells may require a second treatment.
Removing Pet Urine Odors With Baking Soda
Sodium bicarbonate is a natural odor absorbent that doesn't just mask a urine odor as a commercial air freshener does. Use baking soda to neutralize a dog or cat smell that is a result of old urine stains.
Baking soda is ideal for bad smells. For a homemade odor neutralizer, after soaking up and cleaning away the dog or cat urine from your carpeting, sprinkle a generous layer of baking soda over the entire surface. You may want to use an old brush to work the baking soda into the carpet fibers.
Allow this simple but useful homemade odor eliminator to sit for a couple of hours or overnight and use a vacuum cleaner to suck up the urine odor absorbed remains. Repeat if needed.
Deodorize Old Pet Stain Odors Using Hydrogen Peroxide
If you discover that your pet sneaks away to do their business on the carpeting and you now must contend with old urine, try using the power of hydrogen peroxide and baking soda to neutralize and remove stains. This natural cat urine cleaner is easy to make and quite effective.
To eliminate cat urine smell, cover the stained spot with baking soda and let it sit for one hour. Make a cat urine odor remover by pouring 3% hydrogen peroxide into a spray bottle and adding a few squirts of dish soap that does not contain bleach. Shake the bottle gently to mix.
Spray the liquid onto the baking soda and scrub the stain with a sponge. Let the cleaner sit until completely dry and then vacuum away all the cleaning residue.
One of the best home remedies for skunk smell on dogs includes hydrogen peroxide, too. It works much better than some other DIY solutions.
Neutralizing Fresh Pet Stain Odors
For fresh urine stains, make a cat and dog odor spray with Epsom salt to absorb leftover urine and kill odor-causing bacteria.
Combine the salt and water in a spray bottle and shake vigorously to mix well. After absorbing the stain with paper towels, spray the solution onto the area and allow it to sit for a few minutes.
Use a sponge to work the salt solution into the carpeting and then use paper towels to soak up as much as possible. Spray the solution once more on the affected area and allow it to dry completely to kill off any leftover bacteria. Once dry, vacuum the area thoroughly.
Freshening Your Dog With Deodorant
In between bathing, dog fur gets dirty and saturated with oils, which leads to an unpleasant smell. Make a pure and non-toxic deodorant for your dog using two natural ingredients. The essential oil in the deodorant also repels insects and pests and is excellent for making DIY room deodorizers.
Pour baking soda into a container and add a few drops of lavender essential oil. Mix the powder with the oil and apply it to your dog's coat a teaspoon at a time, working it into the fur as you go along.
Make sure that you do not get any of the deodorant in your dog's eyes. Finish up by brushing your dog to comb away any loose powder.
Deodorizing a Pet Bed
Chances are, if your pet has an unpleasant odor, then their bedding does, as well. Rather than using a carpet freshener spray on your dog or cats bedding, use everyday baking soda as the best pet odor neutralizer to eliminate foul smells.
If your pet's bedding is machine washable, cleaning it in the washing machine is the easiest way to remove pet odors. For large bedding areas, sprinkle a generous layer of baking soda over the entire surface and allow it to absorb odors for 15 minutes. Use a vacuum upholstery attachment to clean away the powder, pet hair, and other dirt and debris.
How to Remove Pet Odors From Hard Surfaces
While bleach is not safe for use in the presence of animals, it makes an excellent odor neutralizer and is useful for cleaning while the pets are out of the room. This odor eliminator will also work to get dog pee smell out of concrete on the driveway or patio.
Make sure to ventilate the area, and that family members and pets are not in the room before beginning. Combine a one to ten ratio of bleach and water in a clean spray bottle and shake well to mix. Spray the bleach solution onto the stained area and allow it to sit for half an hour.
Use paper towels to wipe away the bleach solution. Wet a sponge with clean water and remove any leftover residue. Use your favorite floor cleaner and mop to clean the surface.
Neutralize Urine Odors on a Wall
Unfortunately, cats do not always have accidents on the floor. Many times, cats tend to spray back and onto the wall when taking care of their business. Follow this clever way to clean cat spray off a wall when these unfortunate incidents occur.
Combine the vinegar and water in a bottle sprayer and shake well to mix. Label the container if you plan on using it more than once. Spray the wall with just enough solution to make it damp.
Wipe the area with a sponge and reapply more spray if needed. Wash the sponge with clean water and wipe the wall area one more time to remove residue.
Deodorizing Your Cat's Litter Box
The best pet odor eliminator is baking soda. This alkaline powder is an excellent tool for neutralizing and absorbing foul odors in just about any situation.
Neutralizing Litter Box Odors
The first step to eliminating odors from your cat's litter box is to clean it regularly by dumping out the old remains and adding fresh litter. For times in between cleaning, sprinkle a generous layer of baking soda into the litter and use the scoop to blend the powder throughout. This will almost instantly eliminate cat litter odor until you can complete a more thorough cleaning.
Neutralizing Fresh Pet Odors on a Hardwood Floor
It's essential to get urine smell out of hardwood floors right away to prevent the acidity of the urine from being absorbed into the wood surface. Try using this DIY enzyme cleaner as an easy solution. Use the alkalinity of baking soda to neutralize and remove pet odors.
After cleaning as much of the stain from the floor as possible, wet the area lightly with clean water. Sprinkle a coat of baking soda onto the surface, and allow it to sit for ten minutes. Use a soft sponge to remove all of the residue. Dry the area thoroughly with paper towels.
Removing Old Pet Stain Odors From Hardwood Floors
For older stains on a hardwood floor, use hydrogen peroxide to lift away the dried stain and remove pet odors.
Soak a clean cloth with hydrogen peroxide and place the rag on top of the stained area. Allow it to sit for one to two hours while it picks up the stain and odor from the flooring. Use a sponge, wet with clean water, to wipe away all residue, and dry the floor thoroughly with paper towels.
Using Commercial Pet Deodorizers
When all else fails, or you do not have the time to make a homemade pet odor eliminator, try using a store-bought high-quality enzyme cleaner.
Commercial pet deodorizers and cleaners, such as Rocco & Roxie Professional Strength Stain Remover, Angry Orange, or Nature's Miracle, are ideal for cleaning pet stains and removing urine odors. Pet stores such as Bubbas and PetSmart carry these products, and many times these cleaners offer a money back guarantee.
Blot the stained area with paper towels to absorb as much of the urine as possible. Dilute the spot by pouring five ounces of warm water into the stain and use more paper towels to absorb the liquid. Repeat this process two more times.
Spray the cleaner onto the area until entirely wet and let it sit for ten minutes. If the urine stain is old, allow it to sit overnight. The enzymatic solution breaks up the urine for easy removal.
Use paper toweling to soak up as much of the cleaner as possible and let the area air-dry. Vacuum the spot once it is dry.
Fortunately, living with your pet doesn't mean that you have to live with bad smells. The first step in neutralizing odors is determining the exact cause of the unpleasant smell.
Is it from urine stains, a cat box, smelly kennels, or another form of dog odor? Once you establish the cause, using the right cleaning solutions is a breeze.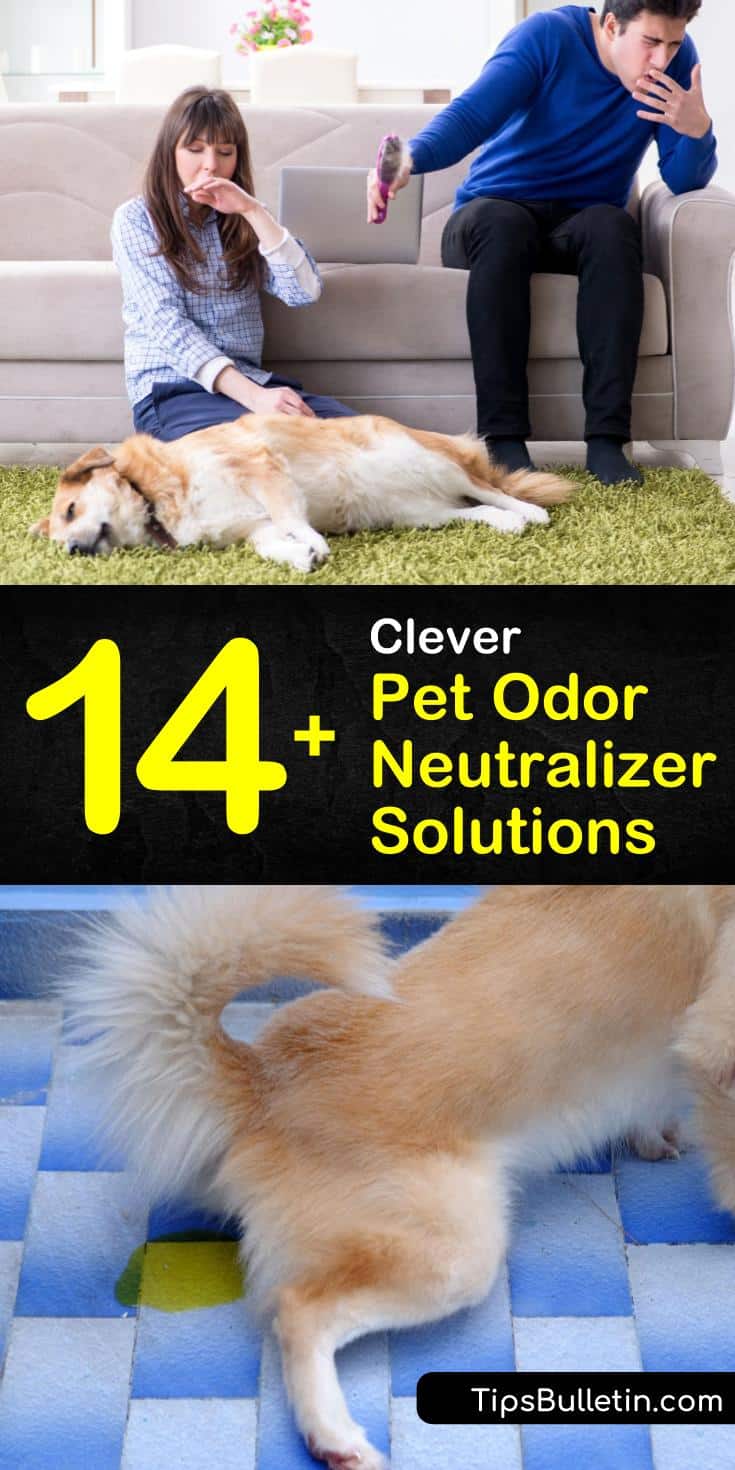 Using a pet odor neutralizer to remove a pet stain and eliminate pet urine odor is key to enjoying a fresh-smelling home, so why not share our pet odor neutralizing tips with friends and family on social media?