You take a jar of pickles out of the fridge and bite into the tanginess of a kosher dill pickle. Whole pickles look like small cucumbers, but is it the same thing? Learn the differences between a pickle vs cucumber and how they vary in taste, texture, and nutrition.
The most popular types of pickles are made from cucumbers, including dill pickles, cornichons, bread and butter pickles, and gherkins you commonly find at the grocery store.
Both cucumbers and pickles are healthy, crunchy, delicious, and a great addition to the diet. However, pickles and cucumbers are not the same.
To make things even more confusing, pickles are not always made from cucumbers. Many other veggies are pickles, from zucchini and peppers to carrots and tomatoes.
There are also pickled fruits, like raspberries, cherries, and cranberries. As you can see, there is a vast range of pickled foods that are distinctly different from cucumbers.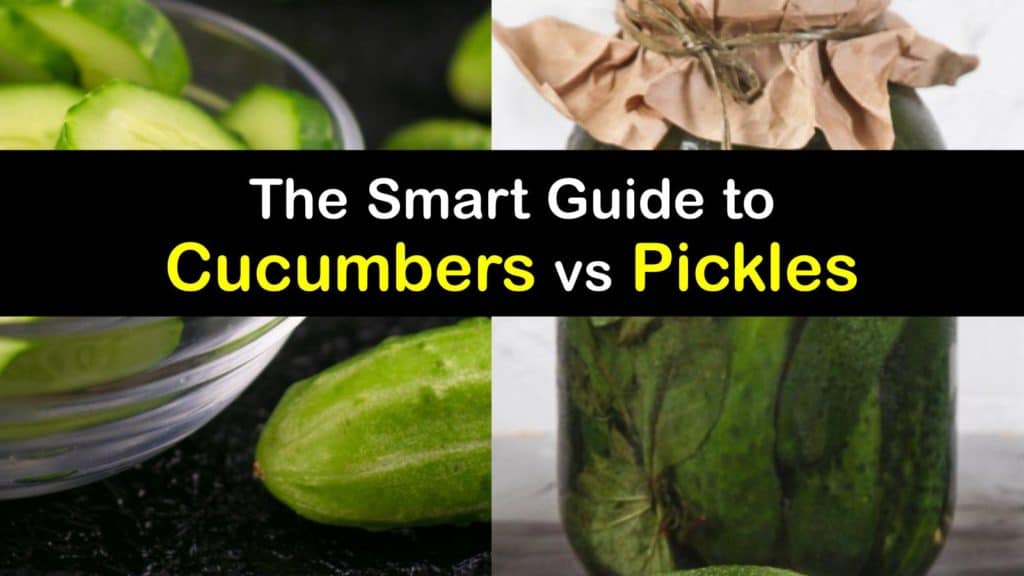 The Difference between Cucumbers and Pickles
We all have our favorite type of pickle, whether they are dill or sweet pickles. There is just something about the sweet, sour taste that's hard to resist, and they are perfect as an appetizer. But are pickles and cucumbers the same?
A cucumber can be a pickle, but a pickle cannot be a cucumber. While that sounds strange, it's pretty simple.
Learn the difference between pickle and cucumber flavor, nutrition, and appearance. Find out what pickles are and how to turn cucumbers into pickles with a simple recipe.
Are Pickles and Cucumbers the Same?
A typical jar of pickles is packed with mini cucumbers, so are pickles and cucumbers the same? These two foods are different due to the pickling process. Discover what they are and how they differ.
In the pickles vs cucumbers debate, there are many different types of cucumber, including slicing cucumbers, burpless cucumbers, English cucumbers, and pickling cucumbers.
They are cylindrical fruit that grows on a vine, either close to the ground or growing on a trellis. While we think of cukes as vegetables, they are a fruit that contains seeds and grow from a flower.
On the other hand, pickles are any fruit, veggie, or other food you ferment with salt or pickle with vinegar.
Pickling is a popular way to extend the shelf life of many food items, and fermented foods often last for months beyond their expiration date.
Difference Between Pickle and Cucumber
The pickling process alters the appearance and taste of vegetables, including cucumbers. We discuss the flavor and texture difference between pickle and cucumber and ways to use them in your diet.
Fresh cucumbers have edible, dark green skin with an earthy flavor and green-white flesh.
They have high water content and a mildly sweet taste that is cool and refreshing when raw. Cucumbers taste great in salads, smoothies, gazpacho, and beverages. Freeze cucumbers for smoothies and gazpacho
Pickling cucumbers or any other food changes the appearance and flavor, depending on the ingredients you use to pickle them. Whether using zucchini or cucumber or another fruit or veggie, vinegar pickling is the most popular method, and the brine gives the food a salty, sour taste.
However, changing the flavor is easy by adding different seasonings and herbs, like tarragon, dill, red pepper flakes, and mustard seeds.
While pickled cucumbers are still crunchy, they aren't as crispy as fresh cucumbers. Pickles are great as an appetizer, on sandwiches and hamburgers, and as a relish.
Nutritional Differences of a Pickle vs Cucumber
Since pickles go through a fermentation process, their nutritional value is different from fresh cucumbers. Learn which vitamins and nutrients these foods have and which are healthier for you.
Cucumbers and dill pickles are low in calories and carbohydrates, while sweet pickles have slightly more. They both have several antioxidants, like beta carotene and vitamin C, and small amounts of vitamin A and vitamin K.
Pickles have probiotics and more vitamins and fiber than cucumbers. Still, cucumbers are healthier in comparison because they have less sugar and sodium.
While a cup of sliced cucumber has 2 milligrams of sodium, the same amount of pickles has over 1,300 milligrams of sodium.
How to Turn Cucumbers into Pickles
While many fruits and veggies are good candidates for pickling, pickled cucumbers are one of our favorites. Preserve and store cucumber in the fridge by making refrigerator pickles.
The best thing about refrigerator pickles is that you don't need canning equipment to prepare them. Water bath canning pickles or pressure canned pickles are necessary for them to last longer.
Prepare the cukes by cutting them into spears or slices and then pack them into each glass jar. Ensure that you know the best way to tell if a cucumber is good before making pickles with it.
Divide the garlic cloves, coriander seeds, mustard seeds, red pepper flakes, and dill sprigs between the jars and set them to the side.
In a non-reactive pot like stainless steel or glass, combine the white vinegar, water, sugar, and salt. Cook on high heat while stirring the salt and sugar with a whisk to dissolve them.
Pour the hot liquid over the cukes in each jar to cover them, leaving a half-inch of headspace. Set the covers on the jars and let them cool at room temperature before screwing the lids in place.
Keep the pickles in the fridge for 24 hours before eating and refrigerate them for up to one month. The longer they rest, the better they taste.
There are many different types of pickled foods, and cucumbers are only one of them. While a raw cucumber has a mild, fresh taste, pickles range in flavor from sweet to sour, and they store longer in the pantry or fridge.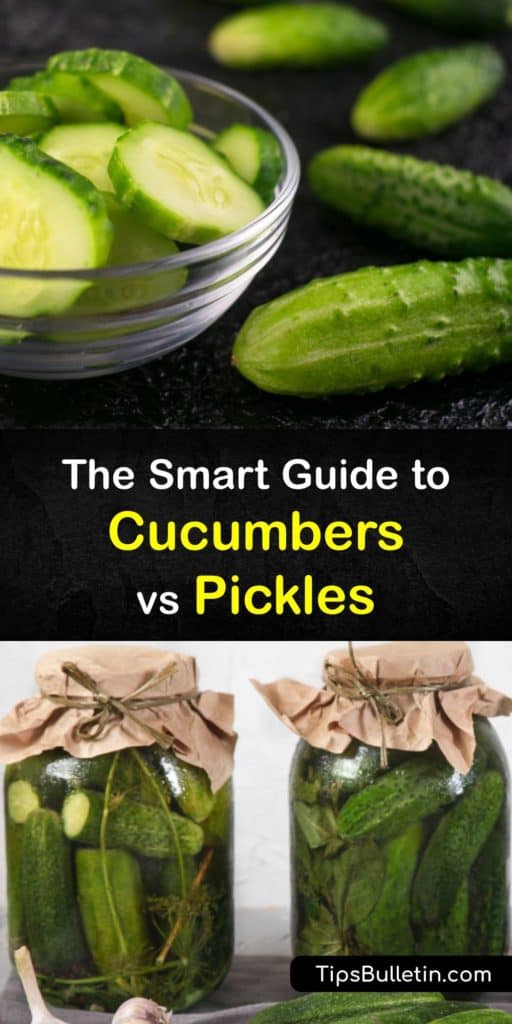 The flavor and nutrition of a pickle vs cucumber differ, so why not share our cucumbers vs pickles guide and pickling recipe with your foodie friends and family on Facebook and Pinterest.