Beets are a loved or hated type of vegetable, and since you're interested in growing your own, you're probably a part of the former group. Beets are super healthy and delicious, and they're also easy to grow. Learn how to plant beets from seeds and transplant them in the garden, the care they need to grow, and when to harvest and store your beets for the freshest flavor.
There are many types of beets in a variety of colors, shapes, and sizes. They range from the typical red color, like the Detroit dark red beet, to candy-striped, like the Chioggia beet. Some, such as the Albino beet, are pure white, while Golden beets are creamy yellow.
There are standard-sized beets, and there are baby beets, which are perfect for the impatient gardener.
Not only is there a range of beets to choose from when planning a garden, but these veggies are a dual-crop since both the root and beet greens are edible. They are also simple to plant in both gardens or raised beds, as long as the space is deep enough.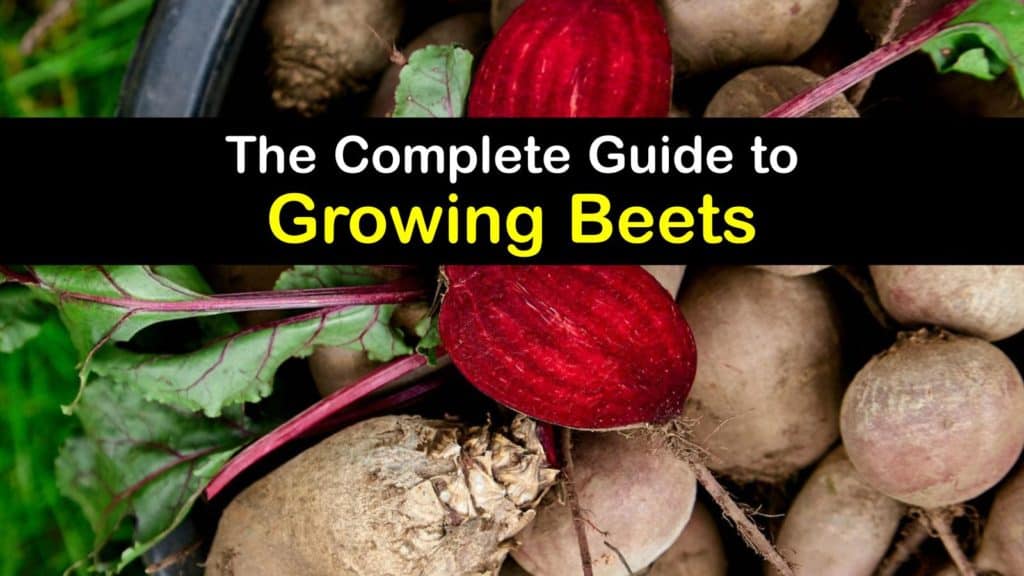 Planting and Caring for Beets for a Bountiful Harvest
Beets are tasty raw, canned, and cooked to tender perfection, and growing your own means that you get to eat healthy veggies untreated with chemicals.
The greatest thing about planting beets is they are very hardy and can withstand near freezing temperatures, making them an excellent choice for northern gardeners. No matter where you live, beets are an ideal addition to the garden.
Learn when to plant beets, how to grow beets from seed, how deep and how far apart to plant beets in the soil, what these root vegetables need to thrive, common problems that occur while they grow, and when they are ready for harvesting.
Things to Learn before Planting Beets
When planning a garden, it's a great idea to learn as much as possible about the vegetation you're planting, whether you're growing flowers, herbs, fruits, or vegetables.
Here is some helpful information to know before planting beets to ensure that your garden grows healthy and strong.
Beets (Beta vulgaris)
When preparing to plant beets, the first thing to decide is which beet type to grow in your hardiness zone. There are many types of hybrid and heirloom red, gold, and striped beets, from Red Ace and Ruby Queen beets to Golden Detroit beets.
However, beets are a cool season crop, and they do not fare well in hot weather. If you're a beginner gardener, it's a good idea to choose bolt-resistant beet varieties.
Beetroots love growing in sandy and loamy loose soil in the spring and heavier soil in the late summer or fall since sand warms faster during cool temperatures. However, avoid planting them in thick clay soil. They also require a minimum of six hours of full sun daily.
Beetroots are a biennial that is grown as an annual. For an early harvest, plant your beets in the early spring with successive plantings every two to three weeks until the middle of summer as long as the temperatures stay below 75°F.
For a fall harvest, start the seeds in mid-summer, four to six weeks before the first frost. It's also possible to grow beets in a container or pot. Follow the same guidelines.
How to Plant Beets from Seed
When growing a veggie garden, it's always best to start the seeds indoors to ensure the plants develop without fear of a hard frost, and planting beet seeds is the easiest part of the gardening process.
However, these seeds require the right soil temperature, seed depth, and water for proper germination. Here is how to start different types of beet plants indoors in a few quick steps.
The best way to plant beets is directly in the garden since they do not take well to transplanting. However, starting them indoors is fine as long as you take care when you transplant them outside.
To start your plants from seeds, fill a seed starting tray with potting mix and make a half-inch deep hole in each compartment. Place one seed in each spot and cover them with dirt.
Pat the soil down lightly and spray the entire tray with water to dampen the soil without soaking it. Set the tray in a sunny window and keep the dirt moist to encourage germination.
How Far Apart to Plant Beets in the Garden
After seeding indoors, and your plants germinate, it's time to prepare them and the garden for planting. Discover how to transplant your seedlings into the garden and how far apart to plant beets for healthy spacing and growth.
If you start your beets indoors, it's vital to transplant them carefully. Like many other root vegetables, they do not handle the transplanting process as well as other plants.
Wait until they are four inches tall and harden them off outside before you make the big move. Also, each seed is actually a cluster of two to four seeds, so thinning is necessary before planting them.
Take them out in the yard for a couple of hours each day and set them in a partial shade area to help them acclimate to the weather.
The day before transplanting, water the garden bed thoroughly to make the transition easier for your plants. When growing beet plants, beet plant spacing is essential to healthy root growth, so prepare the bed by making holes four to six inches apart.
Make them large to accommodate the plant's base and space rows 12 to 18 inches from each other. Carefully remove each plant from the tray and transfer it to the hole.
Cover the plant's base with dirt and pat it down lightly. Water each seedling well right after planting to help the root system settle and spread a decent layer of mulch or organic matter over the ground to retain moisture.
If you're planting beets in a garden with other vegetables, consider companion plants for healthy growth. Beets love growing alongside kohlrabi, onions, lettuce, radishes, and Swiss chard, but they do not get along with field mustard, pole beans, and charlock.
Common Problems with Beet Plants
While growing vegetables has many rewards, any gardener will tell you there are many obstacles to overcome before a bountiful harvest.
Unfortunately, outdoor plants have many things to contend with, including pests and diseases. Here are signs to watch for while growing beets and ways to prevent common problems.
Black heart, or boron deficiency, is one of the most prevalent issues when growing beets. This occurs when there is a boron shortage in the soil due to very fertile and alkaline dirt. Amending the ground before planting helps solve this concern.
Other beet diseases include Alternaria, Cercospora, and bacterial leaf spot, beet curly top, and beet rust caused by various fungi and bacteria. The simplest way to avoid these diseases is to plant disease-resistant varieties, perform crop rotation, and disinfect garden tools.
Two primary insects beets deal with are leaf miners and flea beetles. A leaf miner is the larva of a fly that burrows into the leaves, devouring as much as possible.
A flea beetle has a shiny black body and chews shot holes in crops. To prevent and control these pests, consider using a row cover and performing crop rotation. For an infestation, try using a natural insecticidal treatment.
Beet Plant Maintenance and Harvest
Nature is good at providing plants with almost everything they require to grow. However, nature is also unpredictable and not always reliable, so it's essential to step in and give your plants some TLC.
Here is how to care for your beetroot plants and when and how to harvest them at the end of the growing season.
Beets need a lot of moisture so give them a good watering each week to ensure they receive an inch per square foot.
Mulch is ideal for helping the soil retain moisture, so consider spreading straw or another material over the garden. It's also beneficial for preventing weed growth.
Be gentle when weeding since beets have a shallow root system. Fertilizer is not necessary for beets unless you have extremely poor soil. If you do decide to fertilize, use a treatment with potassium and phosphorus and low nitrogen.
Beets are ready for harvesting a50 to 70 days after germination, depending on the type. Once the beets are around the size of a golf ball, loosen the soil around the plant's base and pull them gently from the ground.
Where to store beets after harvest is important. Keep them in the root cellar or basement where the temperature is cool. If you plan on eating them soon, place them in a plastic bag with holes and set them in the crisper of your fridge.
If you're a beet-lover, what better way to enjoy these versatile root vegetables throughout the year than to plant your own at home?
Not only are beets simple to grow, but these veggies are also very hardy, and providing them with the right care rewards your efforts with an abundance of beetroots for pickling or eating in your favorite recipes.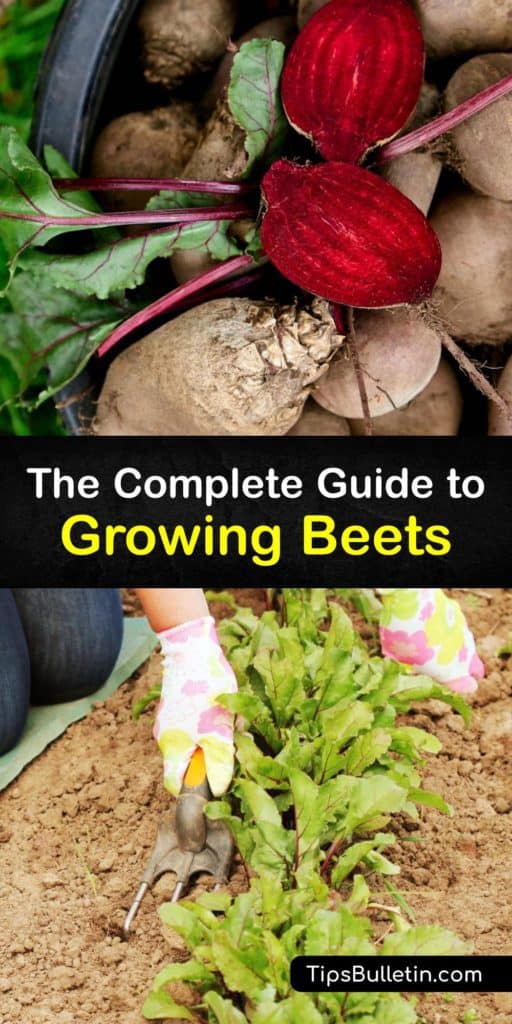 Now that you know how to plant beets and care for them as they grow for a healthy harvest of root vegetables, why not share our beet growing and caring guide with your friends on Pinterest and Facebook?