Onions have been a staple food crop around the world for thousands of years. They're remarkably straightforward to grow in your home garden as long as you can provide the proper environmental conditions. Discover the best tips and tricks for planting onion bulbs to enjoy an abundant harvest of homegrown onions at the end of the growing season.
The bulb onion, or Allium cepa by its botanical name, is the most commonly cultivated member of the Allium plant family. Other Alliums include chives, garlic, leeks, scallions, and shallots.
Most varieties of bulb onions have a relatively long growing season, taking between 90-150 days before they're ready to harvest. Green onions and bunching onions are harvested in as little as 20-30 days.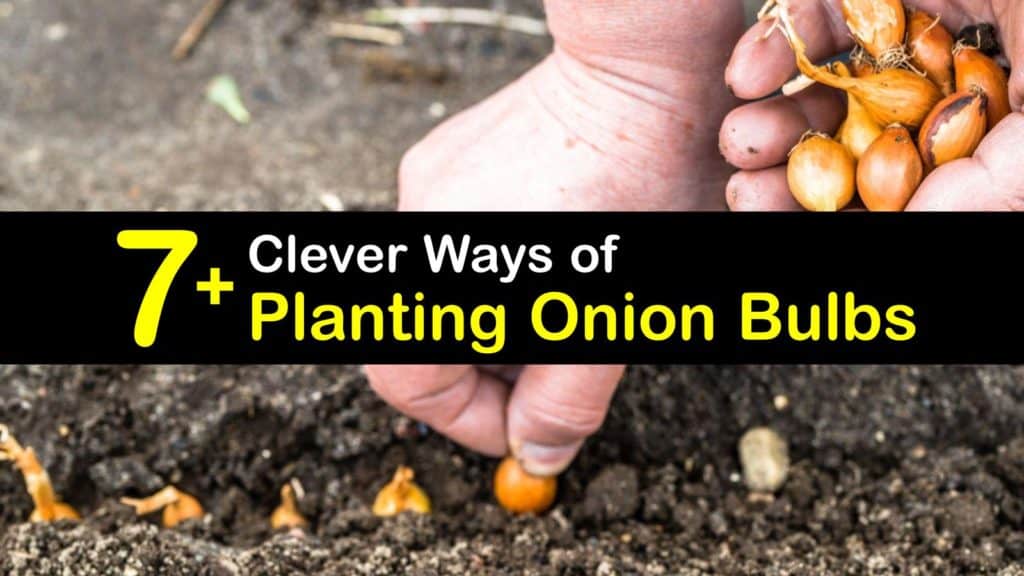 How to Plant Onion Bulbs
There are various options for planting onions: sowing onion seeds indoors in late winter or early spring, purchasing second-year onion sets, or transplanting nursery-grown onion seedlings after the last danger of frost passes. Read on to find out how to plant onion bulbs in your climate.
The best way to plant onions depends on several factors: your available garden space, which USDA hardiness zone you live in, and the specific onion varieties you select. Since they have such a long growing season, it's crucial to plant onions as early as possible, especially in colder climates.
Although bulb onions usually get cultivated as annual crops, the plants are actually biennial. They grow roots, stems, and leaves during their first year and develop flowers and seeds in the second growing season.
Many growers opt for planting onions from bulbs or sets because it tends to be easier and faster than the other onion growing techniques. When to plant onion sets depends on your growing zone.
They're not at risk of frost damage and usually have a higher success rate than sowing seeds or transplanting seedlings. When to start onions from seed is significantly earlier than bulbs or sets. Most garden centers stock several varieties of onion sets beginning in early spring.
Onion sets are small-sized onion bulbs grown close together to produce small, hearty bulbs intended for planting next year's crop. Because they're already in the second year of their biennial life cycle, they usually mature faster and are ready to harvest in 60-75 days.
It's essential to harvest onions planted from sets before they eventually develop flower stalks. When picking out your onion sets, make sure they're dime-size or smaller since larger bulbs often bolt faster.
Best Time for Planting Onion Bulbs
Generally, the best time for planting onion bulbs is spring and fall. Factors that affect onion bulb formation include seasonal temperature fluctuations and day length.
Most kinds of bulbing onions grow their green tops during periods of cool weather. They begin forming bulbs or enlarged leaf structures when the weather warms above 75℉.
For a midsummer onion crop, plant onion bulbs in early spring as soon as you can work the soil. If you purchased onion sets the previous year, the small bulbs are still dormant and vulnerable to frost damage.
Wait to transplant onion seedlings until after the last frost date for your area. The most favorable soil temperature for onion seed germination is 75℉, and the seeds won't germinate below 40℉.
Planting onion bulbs in the fall is advantageous for several reasons. The onion plants become established in the cool weather of autumn, then go dormant for the winter when temperatures drop below freezing. This gives them a head start in the springtime, and they're ready to harvest by late spring or early summer.
Preparing Your Planting Site
To prepare your garden or raised beds as part of the way to grow green onions from bulbs or another type, lay down a two-inch layer of organic compost about two weeks before planting onion bulbs. The compost helps warm the soil ahead of planting and slowly releases nutrients throughout the growing season.
Onions have a fairly shallow root system and grow best in loose soil with good drainage. If your garden soil has gotten overly compacted or consists of heavy clay, till organic matter like compost, grass clippings, and leaves into the top few inches to break it up.
Ideal Growing Conditions for Onion Plants
Choose an onion planting site with full sun and nutrient-rich, well-draining soil. Onions prefer a neutral to slightly acidic soil pH level between 6.0 and 7.0. Learn how deep to plant onions bulbs so they take root easily.
Onions require consistently moist soil. Give them around an inch of water per week or more during periods of especially hot or dry weather. However, be careful not to overwater, so you don't have problems with fungal disease or rot.
With their shallow roots, onions will suffer if they compete with weeds for water and nutrients. Use a layer of mulch several inches deep to minimize weed growth, retain moisture, and insulate the soil.
To ensure an onion crop with large, juicy bulbs, make sure to leave plenty of space between the plants. Spacing between bulb onions should be at least three or four inches or more for larger varieties.
After harvesting, store onions in a cool, dry place with good air circulation and temperatures that consistently stay below 40℉. Avoid letting them freeze.
Choosing the Best Fertilizer for Onions
Whether you are dealing with onions vs shallots, they are heavy feeders and grow best with regular fertilizing throughout the growing season. Plant fertilizer consists of three principal macronutrients: nitrogen (N), phosphorus (P), and potassium (K).
Nitrogen stimulates leaf growth, phosphorus supports robust root systems, and potassium promotes fruiting and flowering processes.
Choose an organic fertilizer with high nitrogen content. The more leaves the plant grows, the bigger the bulbs are at harvest time. Feed your onion plants every three or four weeks until the tops of the bulbs start pushing the surrounding soil away.
If you don't want to use pre-made fertilizer when you grow onions at home, try this easy recipe for homemade high-nitrogen fertilizer.
Blend the ingredients in a small bucket or lidded container using a trowel or garden fork. The best way to fertilize onions is to apply one tablespoon of fertilizer around the base of each plant and carefully work it into the top few inches of the soil. Store your homemade fertilizer sealed in an airtight container or plastic bag in a cool, dry place.
Different Types of Onions
Before planting onion bulbs, it's essential to know which varieties grow best in your region. Onion varieties fall into three general categories: long-day, intermediate-day or day-neutral, and short-day.
Long-day onions are ideal for northern climates with long daylight hours in mid-summer. They require between 14 and 16 hours of daylight during their later growth stages for the bulbs to mature. Grow long-day onions in USDA hardiness zone 6 or lower.
Short-day onions thrive in southern climates with mild winters. They usually get planted in the fall and either keep growing until spring or go dormant through the winter.
Short-day onions begin forming bulbs once the day length exceeds 12 hours and temperatures are above 70℉. They're usually ready to harvest in early summer. Short-day onions grow best in USDA hardiness zone 7 or higher.
Day-neutral onions, also called intermediate-day, are more versatile and grow in most climates. They form bulbs regardless of day length. In areas that have mild winters, plant day-neutral onions in early fall for a late-spring harvest. In colder regions, plant them in late winter or early spring.
Growing an Onion from a Bulb on Your Kitchen Windowsill
Did you know that it's possible to regrow onions from kitchen scraps? Save the bottom third of the onion bulb with the root end still attached. Let it dry for a day or two until you see the layers start to curl, then place it in a shallow dish filled with water.
To regrow green onions, cut the stem where it starts to turn from white to green. Place the bulb end with the roots in a small jar or glass of water. The leaves begin regrowing within a few days.
Growing an onion from a bulb also works in potting soil. Ensure that your container has several drainage holes at the bottom, and fill it with potting mix up to an inch below the rim. Press the root end of the bulb into the soil, cover the top with about an inch of soil, and thoroughly water it in. New leaves emerge in about a week.
Solutions for Common Onion Growing Problems
Although onions are usually straightforward to grow, they sometimes suffer from pest and disease problems. Plants are considerably less vulnerable to attacks from insects and pathogens when they're healthy. The best protection for your plants is appropriate amounts of light, nutrients, and water.
Leafminers, onion maggots, and thrips are the most common insects that attack onion plants. Leafminers and thrips damage the leaf tissue when they feed. Spray any affected plants with neem oil.
Onion maggots are fly larvae that burrow into onion bulbs, eventually killing the plant. Protect young plants with row covers in early spring to keep insect pests from laying eggs on or near your onions. Use diatomaceous earth to kill onion maggots.
Should your compost have maggots? While a few maggots are okay in compost and in the garden, keep an eye on them. You don't want too many.
A prevalent onion plant disease is bulb rot, which comes from poor soil drainage or prolonged overwatering. On the other hand, onion bulbs may split if they dry out too long.
Companion Planting with Onions
Companion planting is a practical garden design strategy that pairs compatible plants to take advantage of their mutually advantageous attributes.
Various plants attract beneficial pollinators and predatory insects, repel bothersome pests, and improve the flavor and overall growth of nearby plants. However, certain plants don't get along and must stay separated.
Onions are incredibly helpful companion plants around the veggie garden. Their strong odor repels pests, including ants, aphids, cabbage loopers, carrot flies, flea beetles, mosquitoes, potato beetles, and spider mites. They also deter larger pests like deer and rodents.
Dill are excellent companion plants for onions because it wards off onion maggots. In addition, it attracts beneficial predatory insects that feed on pests like aphids, thrips, and leafminers. Basil and marigold work to deter thrips.
However, keep your onions away from asparagus, beans, peas, and sage. These plants reportedly stunt each other's growth.
Insects and diseases don't spread as quickly when similarly vulnerable plants grow separately. Avoid planting your onions next to other types of alliums.
Most gardeners agree that growing an onion from a bulb is one of the quickest, easiest ways to enjoy a bumper onion crop. The best time for planting onions from bulbs is generally in spring and fall.
Long-day onions are best for northern climates, and short-day onions grow well in the warmer southern regions. Day-neutral or intermediate-day onions thrive in most USDA zones.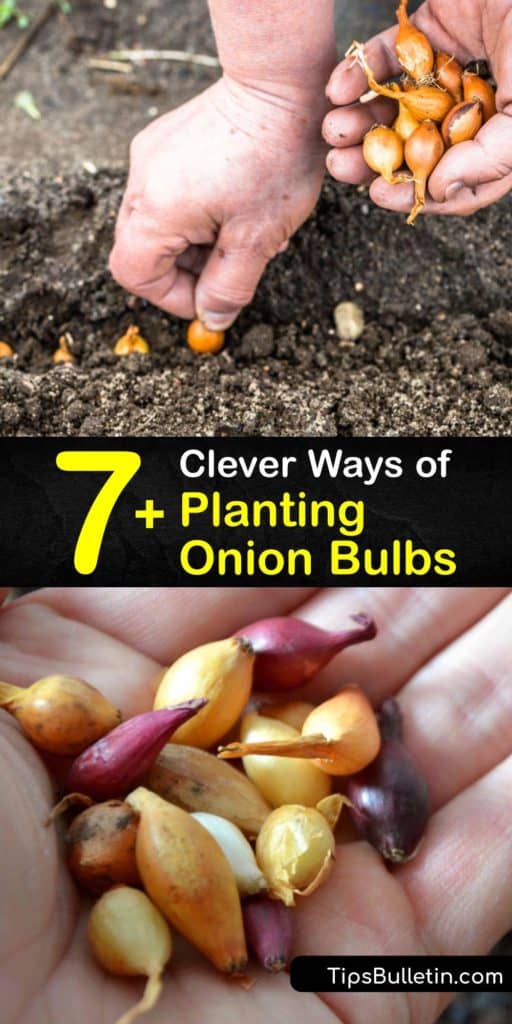 If you enjoyed learning how to plant onion bulbs, please share this article about planting onion bulbs with your fellow green thumbs on Pinterest and Facebook.