We spend a lot of time in the bathroom, but often overlook this area when decorating the home. Adding a few houseplants is a great way to liven the space with a personal touch of nature. While some plants are finicky about their growing conditions, many plants for your bathroom are perfectly content to grow in this environment.
Indoor plants have a lot to offer, whether they grow in the living room, bedroom, or even the bathroom. Not only do they bring natural wonders indoors and provide a calming atmosphere, but they also help clean the air of pollutants and toxins.
It's not often that you see plants growing in the bathroom. This room's conditions are not ideal for all plants due to the high humidity and low light.
However, many plants thrive in this type of situation. Some of the best varieties are tropical plants that adapt to growing in damp and dim locations.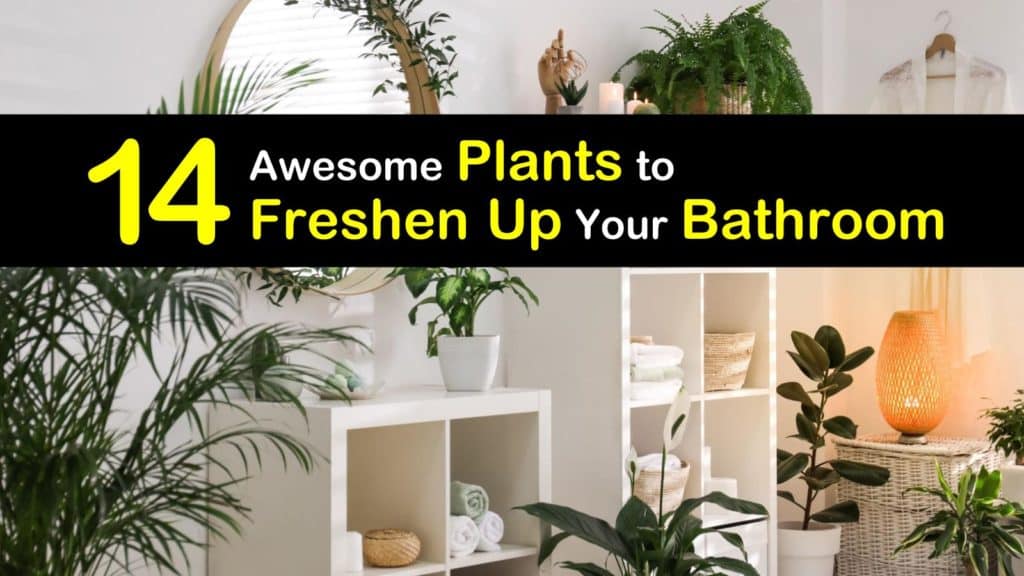 Improving Bathroom Space with Plants
Bathroom plants add a lovely touch to the room and are easy to grow on a windowsill, corner table, or hanging basket.
These plants fill empty areas of the room with greenery while also being house plants that clean the air. We help you choose plants for your home based on space, light levels, and upkeep.
What Factors Should I Consider When Growing Plants in the Bathroom?
The bathroom environment is different from other rooms in your home, and there are several things to think about when growing indoor plants in this space.
This room's humidity rises each time you take a shower or a bath, and only specific plants tolerate growing in a humid bathroom. This room is warm and humid during the daytime, but the temperature often falls overnight when there is less activity.
Natural light is also a considering factor when choosing plants. These fluctuating temperatures and lower light conditions create a challenge for plants, and only the hardiest handle them.
Which Houseplants Grow Best in the Bathroom?
The best plants for a bathroom are low-maintenance and hardy plants that cope well with low light, high humidity, and fluctuating temperatures.
Peace lily and other tropical plants are ideal since they adapt to living in the filtered light of a canopy in humid climates. Other moisture loving plants, such as Boston fern or ivy, are excellent choices for the bathroom.
What are the Benefits of Growing Plants in a Bathroom?
The most apparent benefit of bathroom plants is the natural decor that they add to the space. Their presence has a relaxing and calming effect, which improves mental health.
Another less obvious benefit is the effect these plants have on the air. Plants have the natural ability to clean air pollutants. In addition, they improve air quality by absorbing carbon dioxide while releasing oxygen.
Do Bathroom Plants Require Special Care?
There are a few factors to think about when growing the best bathroom plants. Check the care tag for your plant to determine how much light it requires to flourish.
Grow sun-loving plants in hanging baskets in front of a bathroom window, and place low-light plants on a corner table away from bright light.
If your bathroom does not receive enough natural light, consider using fluorescent bulbs to provide them with the light they need. Since the bathroom contains humid air, they require less watering than traditional houseplants.
Philodendron (Philodendron bipinnatifidum)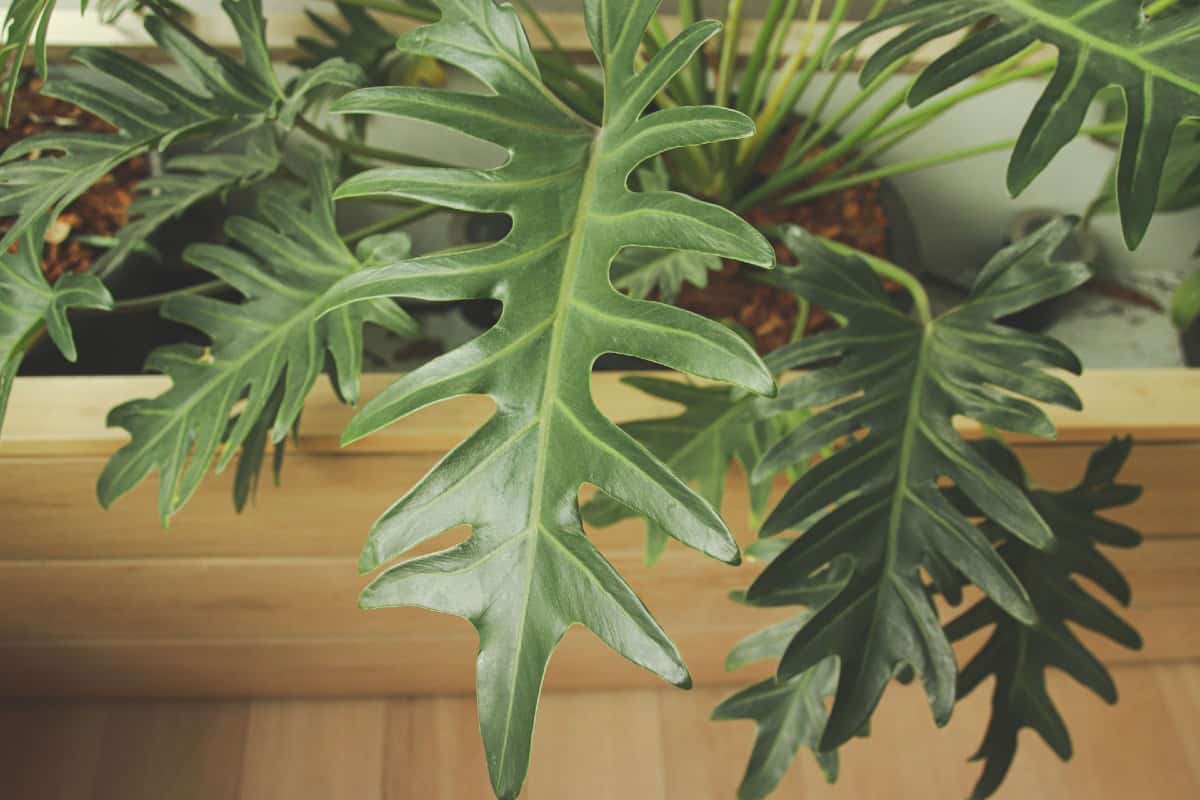 This beautiful foliage plant has glossy leaves and grows in climbing and non-climbing types. Both have a tropical feel to them and are excellent plants for cleaning the air in your home.
Climbing philodendrons have heart-shaped leaves and are great for trailing around a bathroom window, while the upright version has large leaves with a compact habit.
While they can't get rid of a sewer gas smell in bathroom areas, these philodendrons are a low maintenance plant that grows well in low light conditions.
Aloe Vera (Aloe barbadensis miller) – Plants for Your Bathroom with Skin Healing Qualities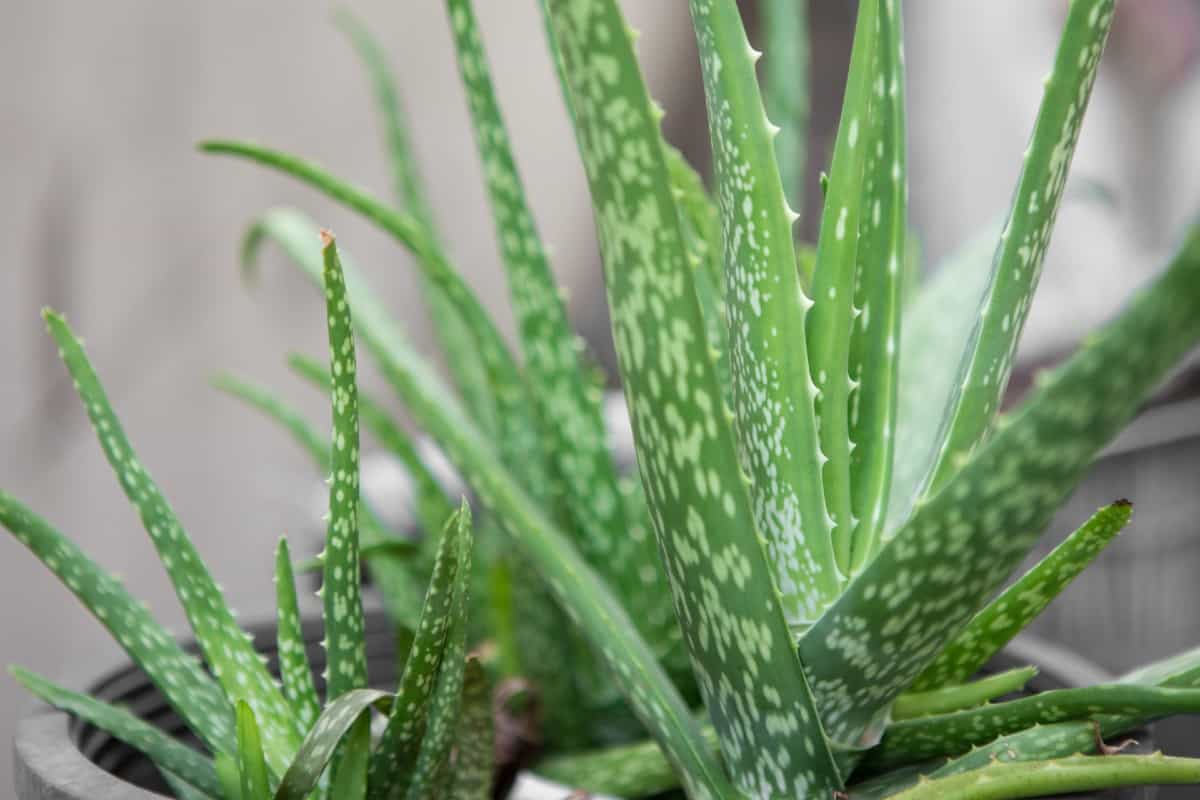 These succulents have air-clearing abilities and grow thick leaves from the base in a rosette fashion. The leaves have flexible spines with jagged edges and contain a watery gel that is useful for rubbing into irritated and dry skin.
Plant aloe vera in front of a sunny window and it can grow to a mature height of 1 to 3 feet, depending on the container's size. It is low maintenance, drought tolerant, and one of the easy to grow indoor plants for any room of the home.
Snake Plant (Sansevieria trifasciata)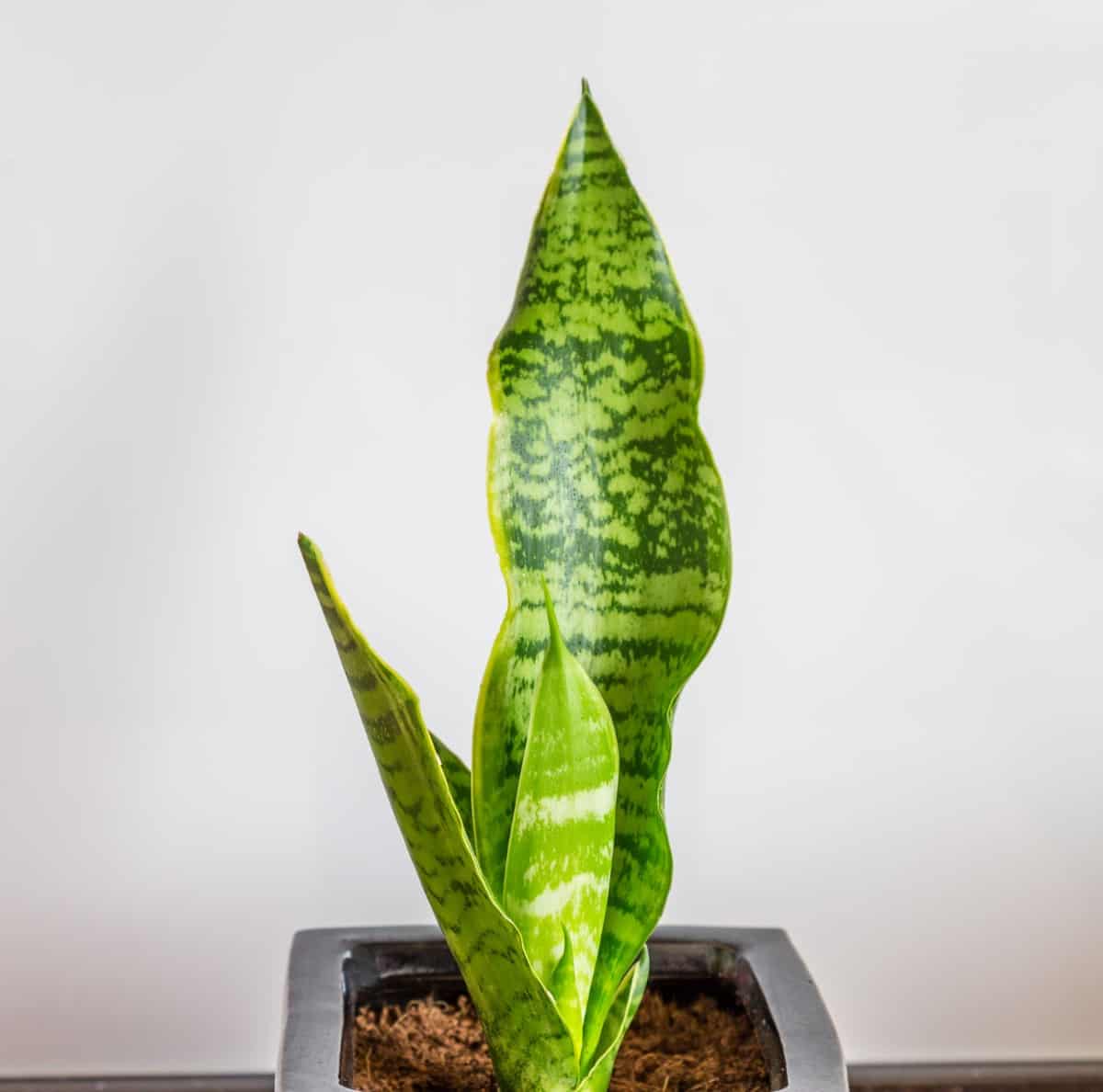 Snake plant, or mother-in-law's tongue, is a hardy houseplant that features dark and light green-banded leaves, commonly edged with a yellow border.
The upright foliage has a stately appearance and makes a bold statement as a floor plant in the bathroom corner. The stiff leaves are branchless and grow 6 inches up to 8 feet tall from the plant's base.
Snake plants are low maintenance and grow well in low light areas. They require warm conditions and are drought tolerant.
Chinese Evergreen (Aglaonema) – Bathroom Plants with Colorful Foliage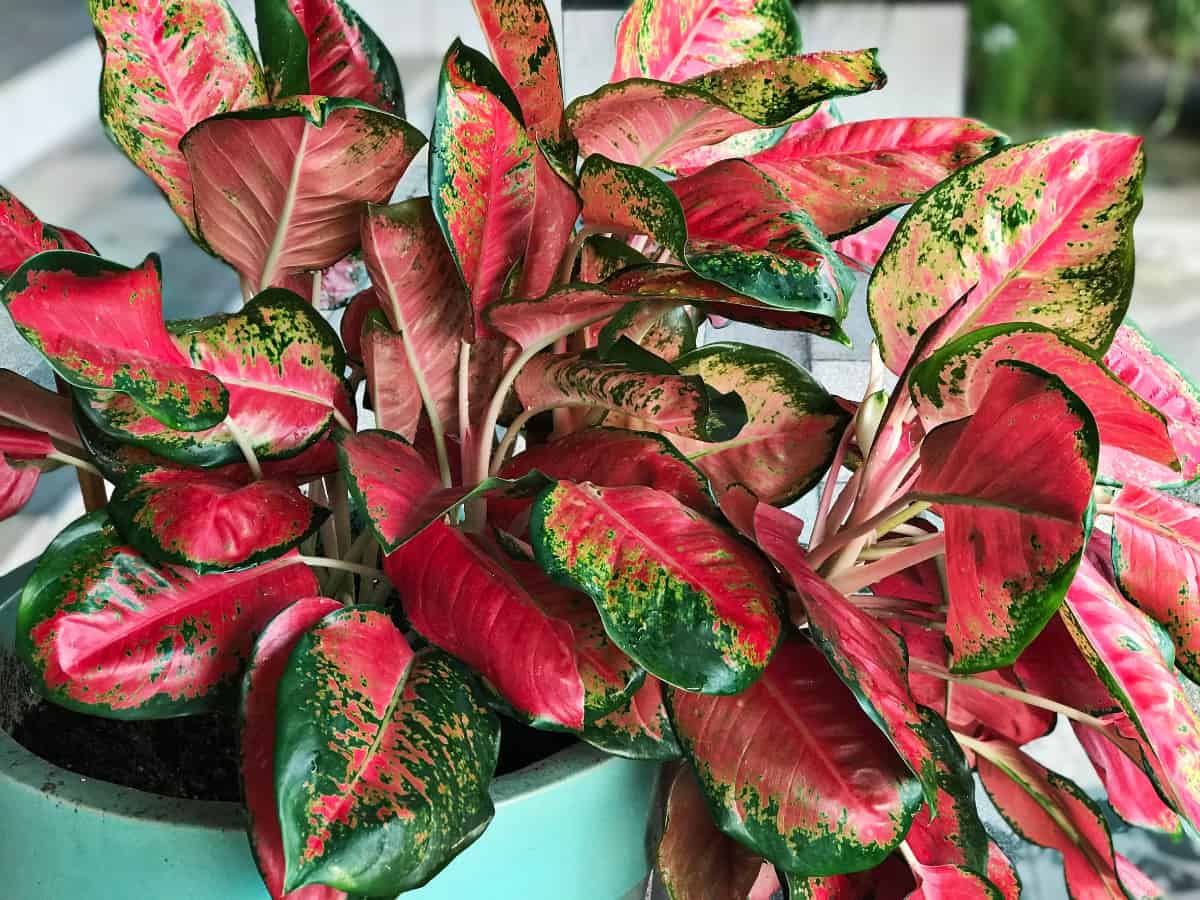 This houseplant has leaves splattered with unique patterns of color from dark green to gray and red. The large, oval leaves have a glossy surface and grow on short branches, making this an attractive tabletop foliage plant for bathroom decor.
Chinese evergreen plants have a mature size of 1 to 4 feet and grow in both low and bright light spaces, depending on the type. They love high humidity and warm temperatures and are one of the easiest plants to grow.
Spider Plant (Chlorophytum comosum)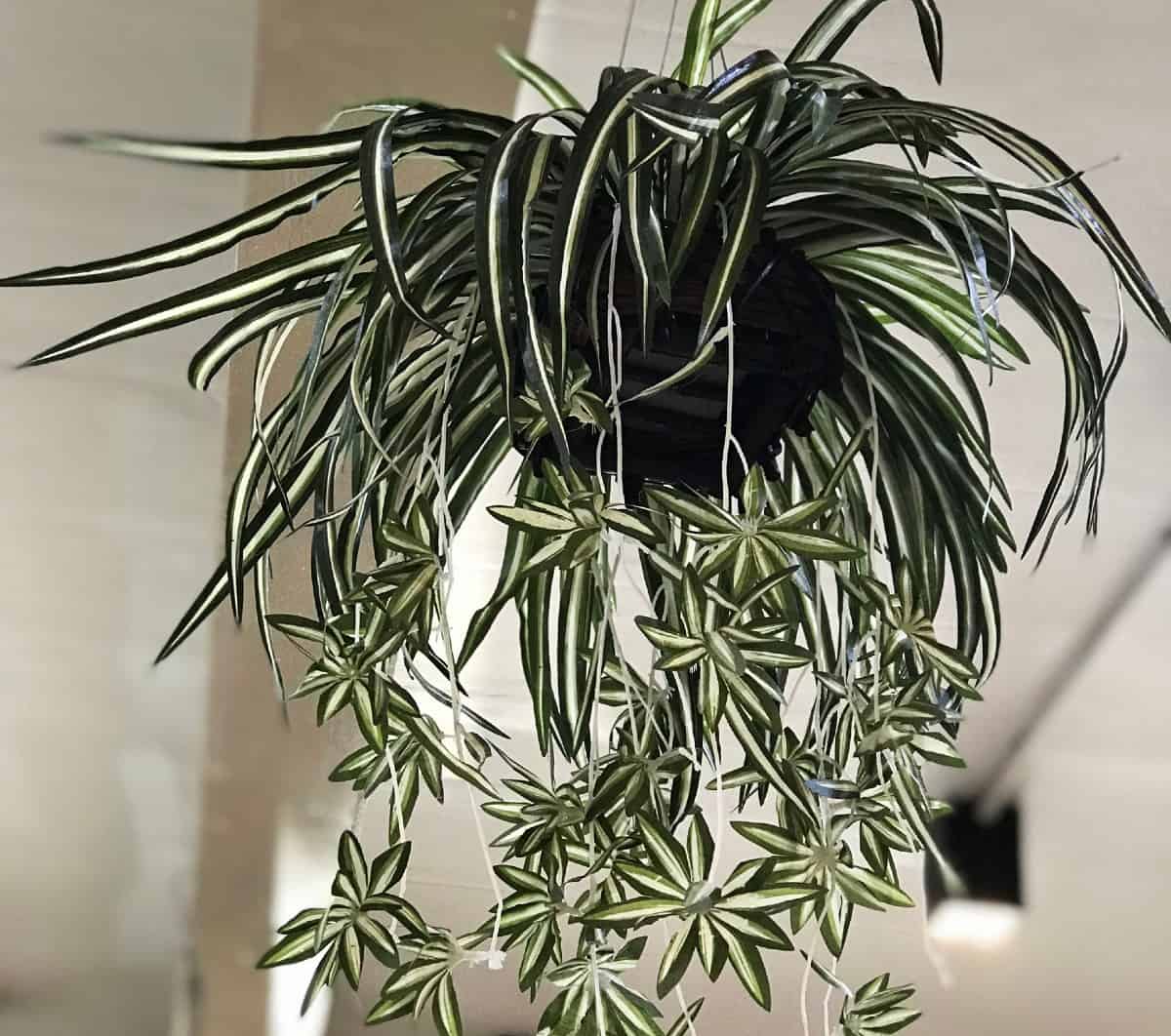 Spider plants are a favorite among indoor gardeners because of their easy growing nature. They grow in rosettes of arching leaves in solid green or variegated forms. They produce trailing plantlets and white flowers that are easy to propagate.
Spider plants grow 6 to 12 inches high and spread 6 to 24 inches. They grow well in all light conditions, from shade to sun, and grow as hanging plants anywhere in the home.
Air Plants (Tillandsia) – Unique Bathroom Plant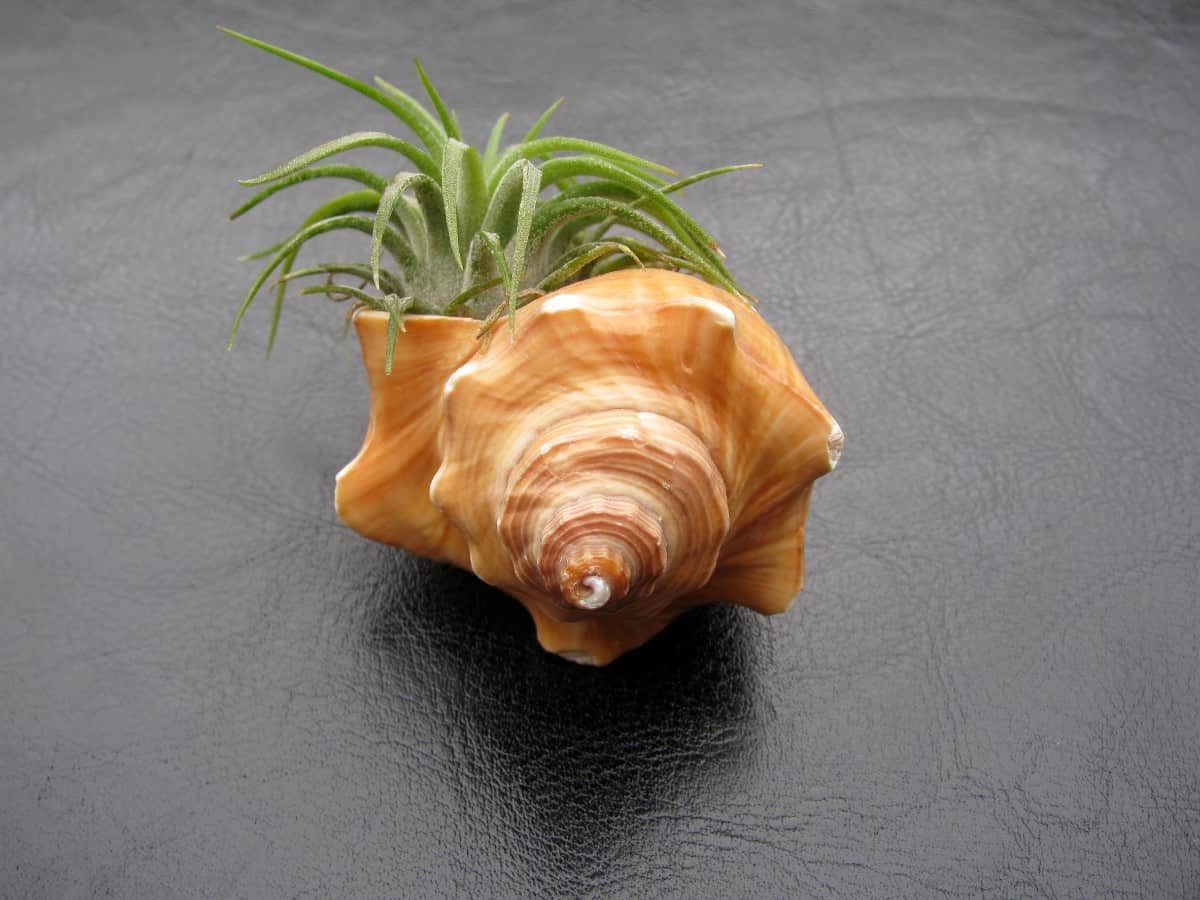 Air plants are unique in the fact that they do not require soil to grow. These tiny plants grow by extracting moisture from the air, making them the perfect choice for a high-humidity bathroom.
These plants grow well on any solid decorative mount and enjoy bright, indirect sunlight or light from fluorescent bulbs. Feed air plants with a low copper, liquid fertilizer once a month and watch them flourish anywhere in the bathroom.
Pothos (Epipremnum aureum)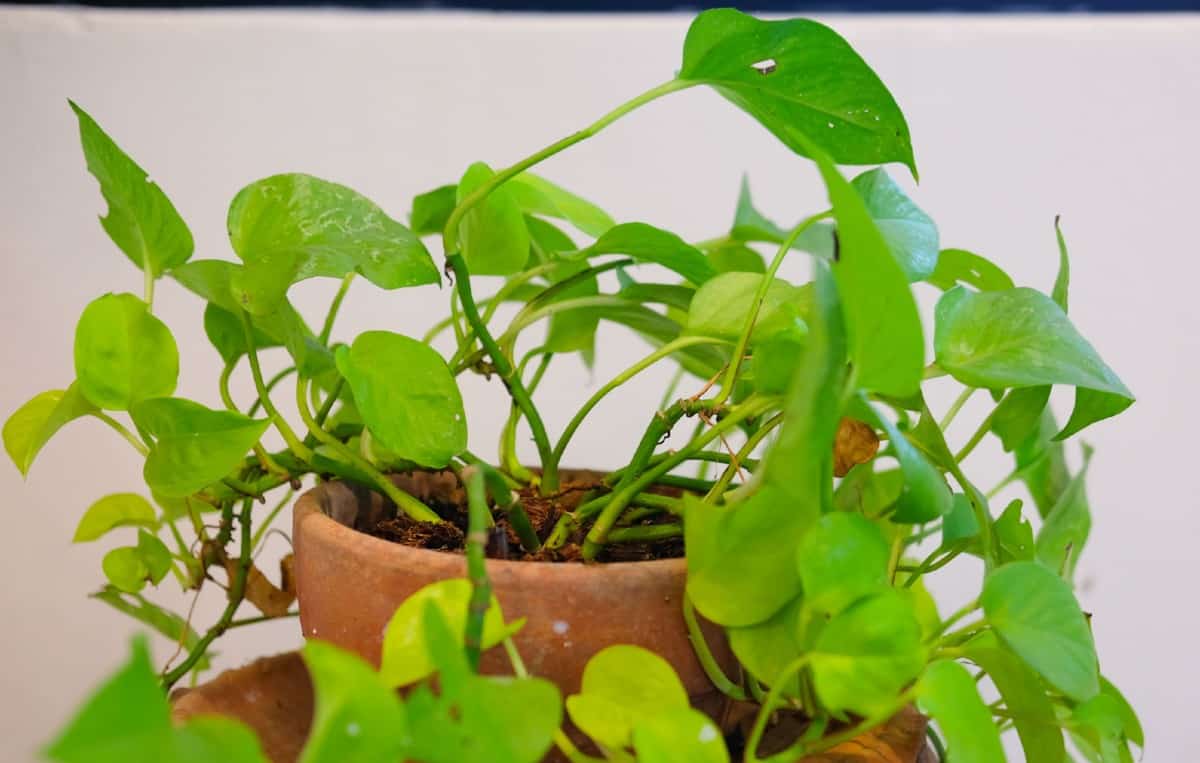 This vining plant is sturdy and easy to grow in almost any indoor condition. It has glossy heart-shaped leaves in green, white, and gold, and drapes from a hanging basket with ease.
Pothos is a low maintenance plant that grows as long as 20 feet if left to meander in the right sized pot. Its leaves have a mature size of 4 inches long, and it flourishes in areas of indirect light or part sun.
Bromeliads (Bromeliaceae) – Exotic-Looking Plant for Bathroom Air Purification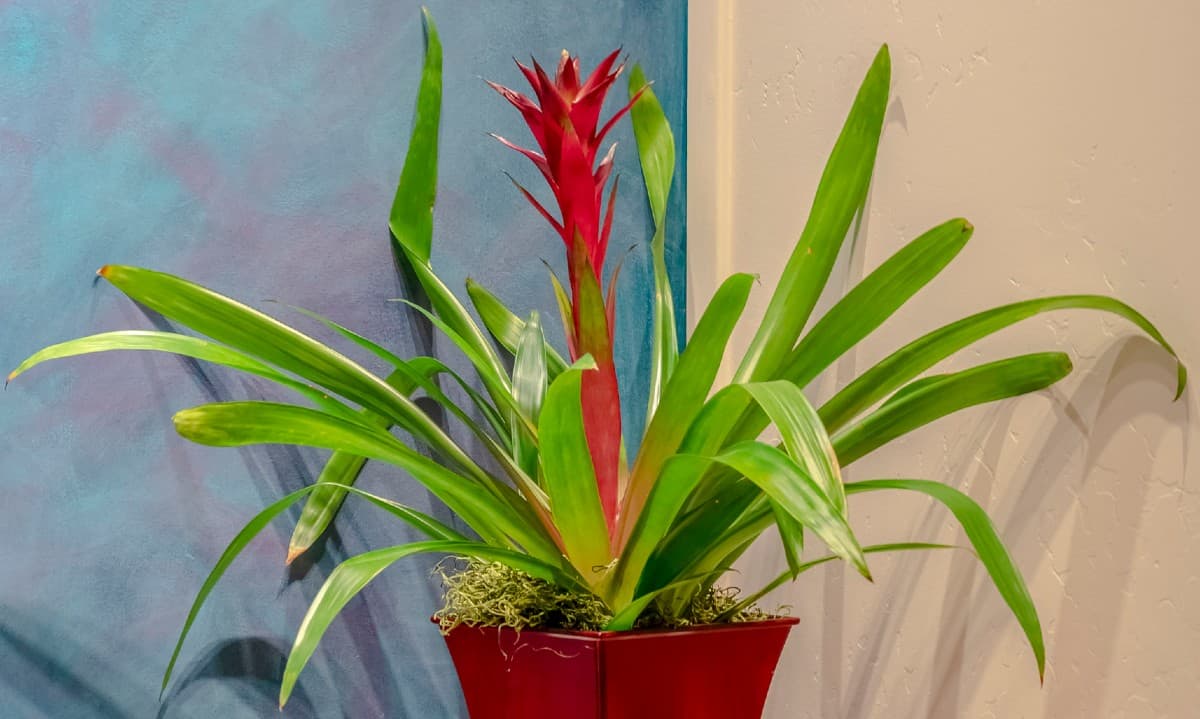 Bromeliads grow in a vast range of colors and textures, with strappy leaves and showy flowers in green, orange, yellow, red, purple, spots, stripes, and banded combinations. These plants create a colorful and exotic focal point in the bathroom.
These exotic looking plants enjoy bright, indirect light, and grow best in humid environments. Bromeliads grow in a range of sizes, depending on the variety, and are very tolerant of drought conditions.
Dracaena (Dracaena fragrans)
There are a few different types of this plant, and some have solid green leaves, while others have cream, red, and green striped leaves. The leaves grow as rings around the center stem and take on a bamboo appearance while growing.
Dracaena has flexible growing requirements and grows well in both low and bright light. It is a low maintenance houseplant that grows 1 to 8 feet tall or more, depending on the age and size of the pot.
Lucky Bamboo (Dracaena sanderiana) – Feng-Shui Bathroom Plant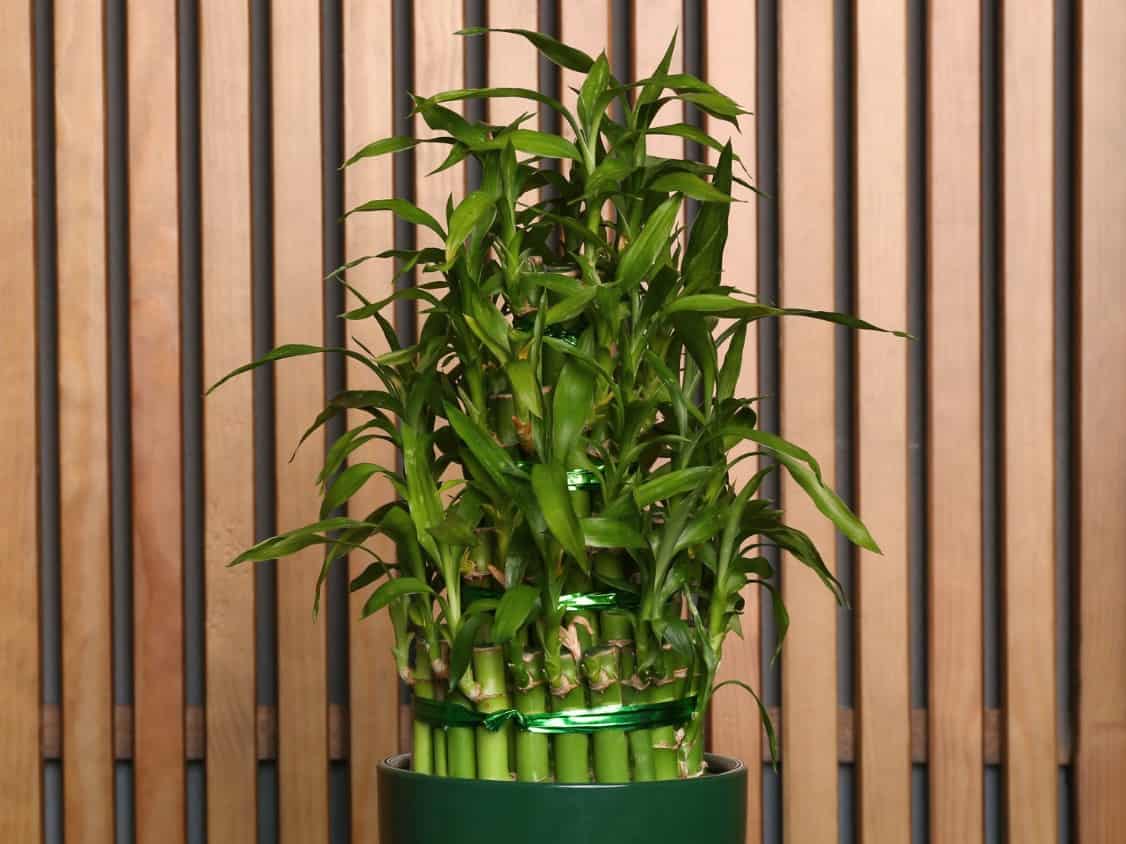 This nearly indestructible and popular houseplant is an essential part of feng-shui, bringing good luck and fortune to those that care for it. It produces light green leaves at the top of tough stalks of bamboo that grow in an upright or twined and twisted manner.
Lucky bamboo is an easy growing plant that prefers indirect light to prevent the leaves from burning. It enjoys warm temperatures and grows well in the humid air provided by a bathroom.
Fiddle Leaf Fig (Ficus lyrata)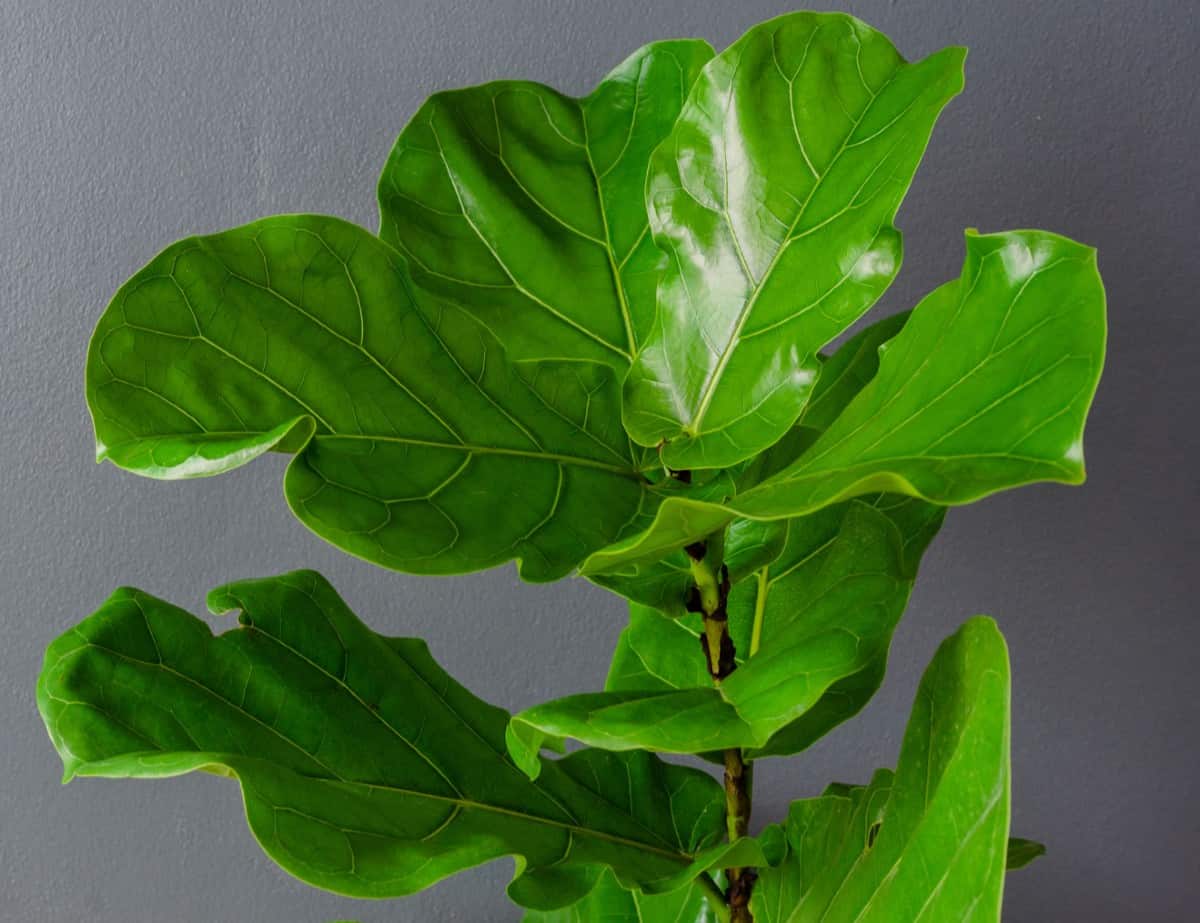 Fiddle leaf figs are tall plants that grow upright with large, violin-shaped leaves. These native tropical plants are great in a floor-standing container in an open space of a large bathroom setting.
This indoor specimen plant loves warm and wet conditions, which is challenging in other areas of the home than the bathroom. Fiddle leaf figs are fast growing plants that easily grow 6 feet or more, depending on their container size.
Peace Lily (Spathiphyllum) – Flowering Plant for the Bathroom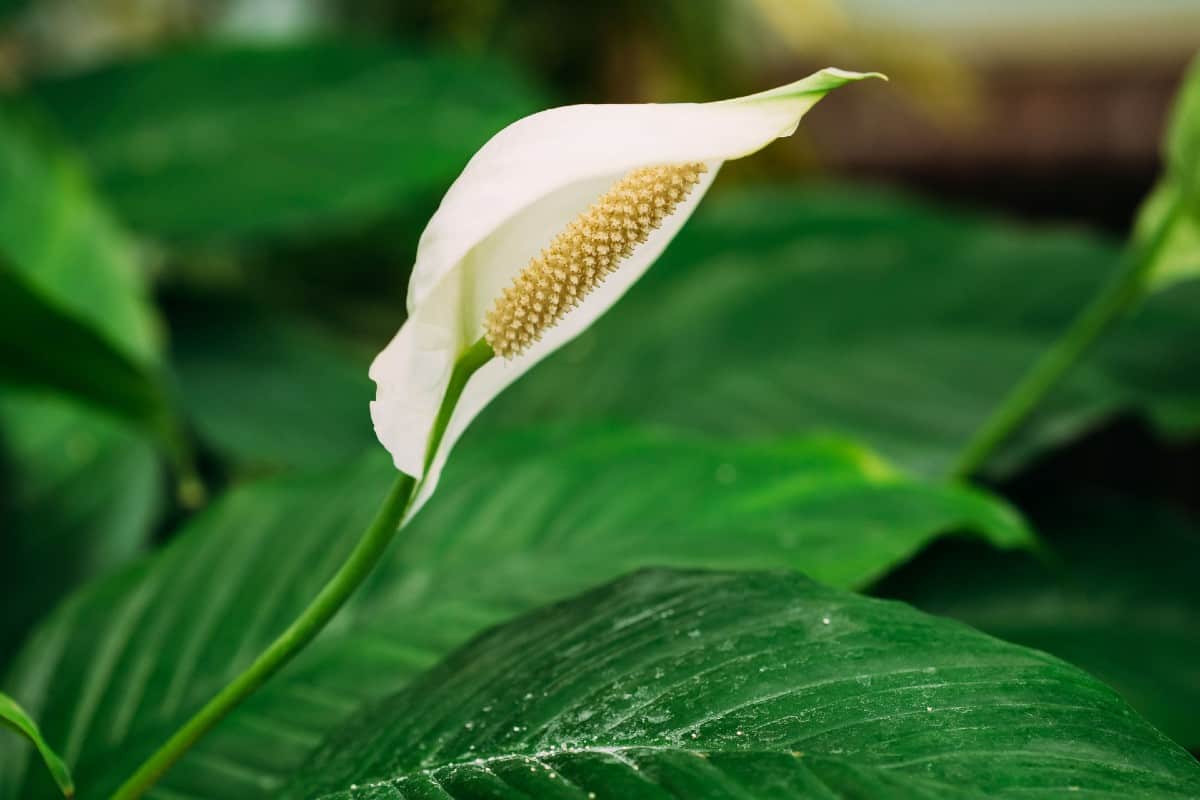 This tropical plant is an easy grower that handles most conditions. It has emerald green and glossy leaves with long-lasting flower stalks in the spring. Small peace lilies look perfect resting on a tabletop, while the larger styles look at home resting on the floor.
Peace lily plants filter indoor pollutants more than many other houseplants. They grow in warm temperatures with high humidity and partial sunny locations. Their size ranges from 1 to 6 feet tall, depending on the variety.
ZZ Plant (Zamioculcas)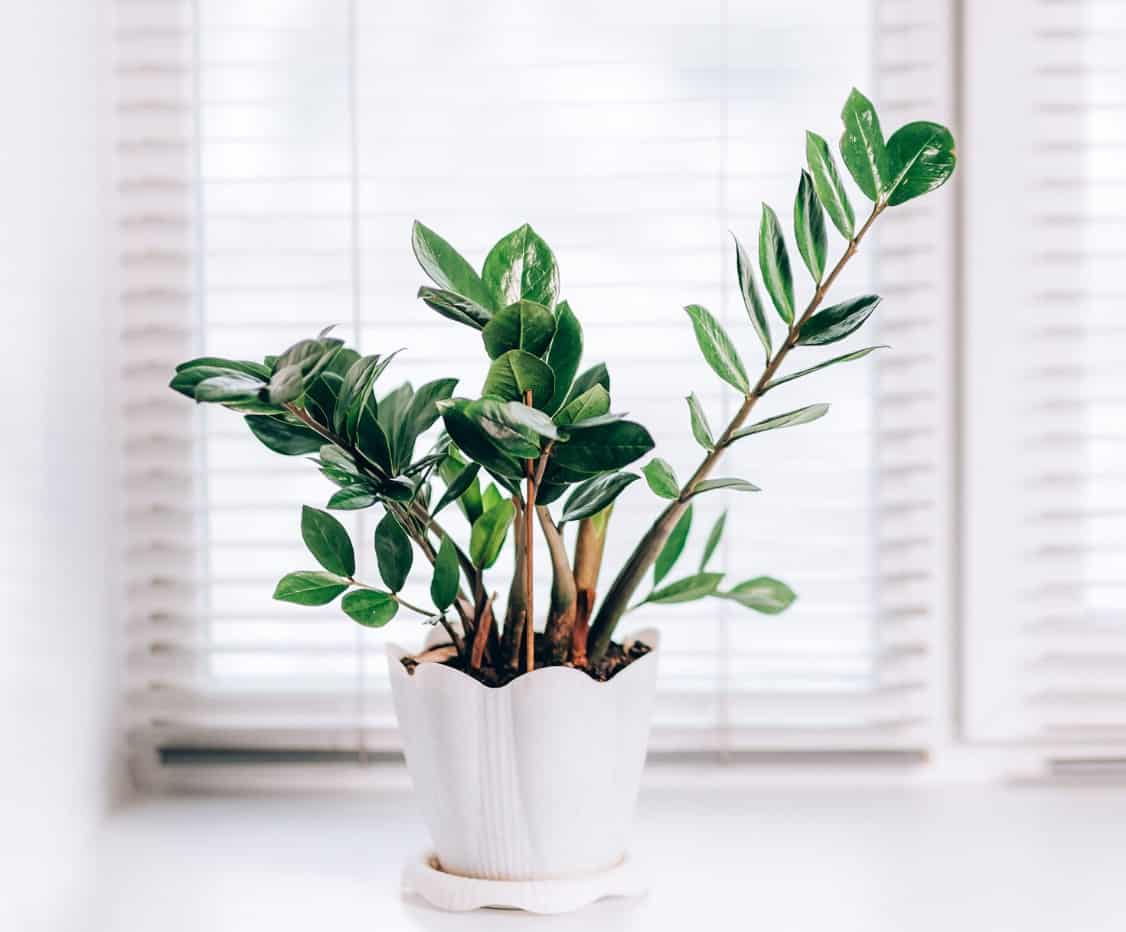 This low maintenance houseplant has alternately arranged deep green, oval-shaped foliage. The leaves' lustrous shine makes this plant stand out from the rest, giving it a clean and striking appearance.
This slow growing plant is an excellent choice for beginning gardeners and grows in any area of the home, including the bathroom. It flourishes in limited natural light and needs minimal watering. The mature height of the ZZ plant ranges from 3 to 4 feet tall.
Cast Iron Plant (Aspidistra elatior) – Undemanding and Hardy Bathroom Plant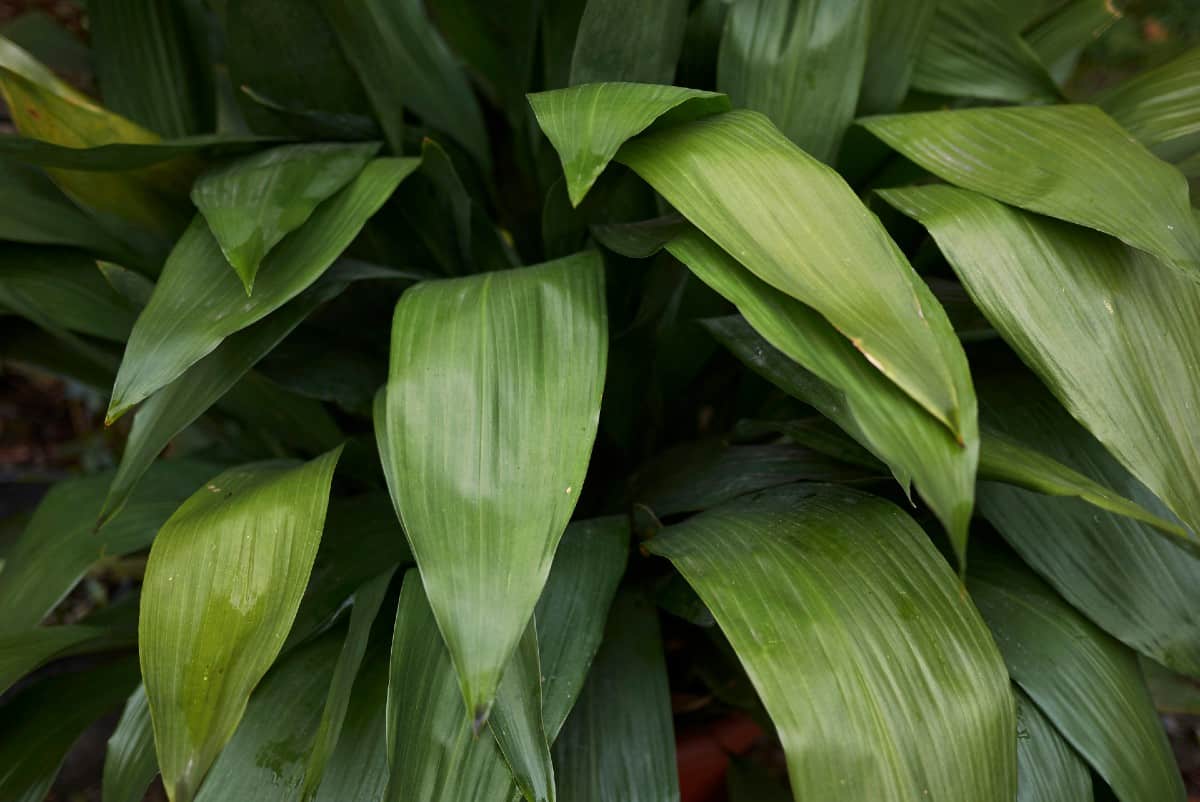 Cast iron plants are famous for being very undemanding. They handle neglect without a care in the world and tolerate most environments. Large, dark green leaves fan out from the base and fill a floor or table pot with ease.
These plants grow well, even in the bathroom's dimmest corners, and handle both dry and damp soil, but direct sunlight tends to burn the leaves. These long lasting plants grow up to 24 inches tall and wide.
Bathroom spaces are not ideal for growing all plants, due to the high humidity, cool night-time temperatures, and low-light conditions.
Fortunately, many plants tolerate this environment and even thrive in it, filling your bathroom space with beautiful greenery.
We hope that you fill your private space with the best plants for your bathroom to freshen the air while creating natural ambiance, and we'd love it if you'd share our bathroom plant recommendations with friends and family on Pinterest and Facebook.