There are so many plants that benefit from baking soda. This odorless white powder is a multipurpose cleaner and renowned odor absorber, but is baking soda good for plants? True to expectations, baking soda is no slouch in the garden and may be safely used with many flowers, food crops, bushes, and trees.
Thanks to being a food-grade product, the powder is safe for use around pets and children, and when correctly applied, it poses no threat to your plants or beneficial insects such as pollinators or birds.
Many growers ask, what does baking soda do for plants? Like its household uses, baking soda's garden applications are vast. Employ it to treat fungal spores, eliminate pests like aphids, slugs, snails, and cabbage worms, or use it as a non-toxic weed killer to take back control of your garden beds or pathways.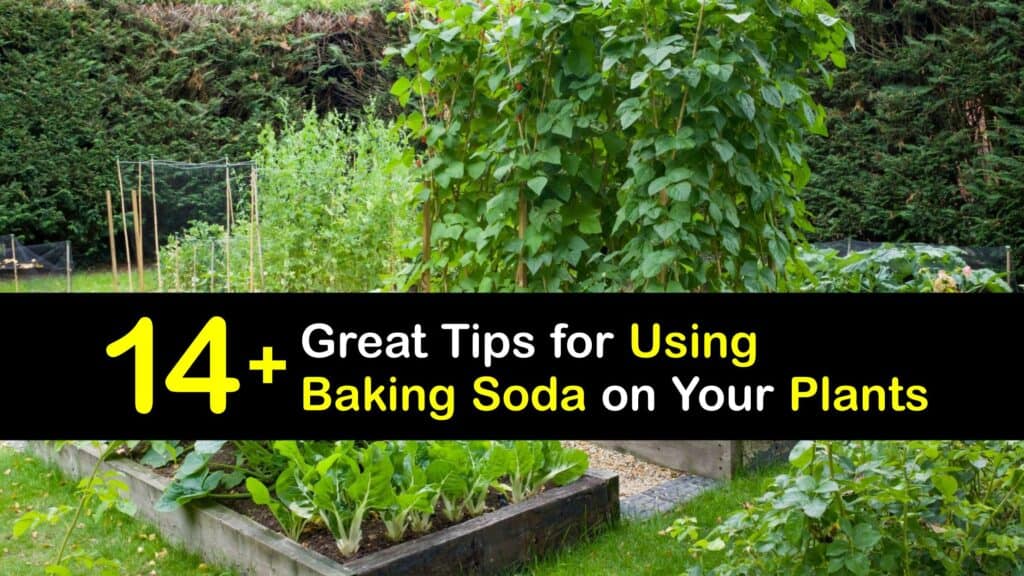 What Does Baking Soda Do for Plants?
As focus shifts to cost-efficient and organic gardening, baking soda is invaluable. Learning about the many benefits of baking soda and which plants it works best on gives growers brilliant DIY methods for garden management.
If you've ever wondered is baking soda good for plants, the answer is yes. The list of plants that benefit from baking soda is a long one. At some point, all gardeners face challenges from pests, weeds, poor growth, and even sunburn. Baking soda helps with all these issues and eliminates the need for costly commercial products bringing unwanted compounds into your garden, flowers, and food.
What does baking soda do for plants? Baking soda is a versatile substance. It works as an organic pesticide on a wide range of insects and is a crucial ingredient in homemade fertilizer.
Baking soda treats and prevents fungal diseases, and it prolongs the life of cut flowers. Discover all the benefits of baking soda and put this hearty garden helper to work on your plants.
Is Baking Soda Good for Plants?
Baking soda is a valuable substance for several species of plants, thanks to its unique properties. Though it's most known for its role in cooking and cleaning, this budget-friendly white powder is a titan when it comes to garden helpers. Though there are many instances where baking soda is beneficial, it's not appropriate for all plants. Sodium bicarbonate is very alkaline and is often unsuitable for plants who dislike alkaline soil.
What Does Baking Soda Do for Plants?
Baking soda or sodium bicarbonate is a completely natural product made of sodium, carbon, oxygen, and hydrogen. It is a versatile gardening product with a wide range of applications.
It has other handy uses like providing a tool to clean bird bath basins and absorb odors.
Prevent Fungal Spores on Roses with Baking Soda
Roses look stunning in any garden and make a perfect centerpiece when cut and brought indoors. Unfortunately, roses are prone to black spot fungus, a fast-spreading devastating fungal infection.
The infected plant develops unsightly black spots on its leaves, which gives the affliction its name, and if left untreated, defoliation occurs. Baking soda prevents fungal diseases and prevents rose damage.
When combined in a spray bottle and applied to the rose leaves, the baking soda spray alters their pH levels, making it difficult for fungal infections to take hold.
Save Brassicas from Cabbage Worms
Despite its name, the cabbage worm eats more than just cabbage. Brassicas such as Brussels sprouts, broccoli, and kale are all targets for these destructive worms. If you notice leaf damage or observe visible worms, rely on baking soda to treat the issue without harming beneficial insects.
Mix an effortless cabbage worm treatment made of baking soda and flour to dispatch the pests promptly.
Combine the powders and use a shaker or an old sock to dust over the leaves of Brassica plants. Since these species are hardy with thicker leaves, they won't burn even in the sun. Worms devour the baking soda and flour mixture and perish.
Plants that Benefit from Baking Soda – Tomato Plant
Though they're the most popular plant in home gardens, tomatoes are prone to many fungal diseases, making them challenging to grow successfully. Baking soda and other simple ingredients make a simple and organic spray to fight powdery mildew, early blight, leaf spot, and more.
To easily use baking soda for tomatoes, mix the ingredients well, transfer to a spray canister, and apply ample coverage to the foliage of tomato plants. Tomatoes prefer acidic soil and should only be exposed to baking soda in moderation to avoid garden soil pH becoming too high for them to thrive.
Tomatoes are some of the vegetables and plants that like coffee grounds, too. Watch the soil acidity when applying this product like you do for baking soda.
Deter Aphids from Beans, Potatoes, Lettuce, and More
Aphids are widespread and cause issues for many species of vegetables and flowers. Mix a straightforward deterrent to keep aphids out of your garden using baking soda. Baking soda is an excellent alternative to horticultural oil or chemicals to destroy pests.
Stir ingredients in a bucket and pour into a sprayer or spray bottle to apply to the top and bottom of the foliage of affected plants. Avoid spraying in the heat of the day to reduce the risk of leaf scalding.
Restore Heat Wilted Coleus and Other Bushes
Coleus bushes, roses, and other shrubs tend to suffer and wilt in scorching temperatures. Baking soda gives shrubs a boost and restores their appearance to keep them healthy in high heat.
Add to a sprayer and shake well. Spray on bushes and shrubs to restore luster.
Treat Slugs and Snails on Your Dahlias, Tulips, and Sweet Peas
Slugs and snails are a plague on any garden and seem to favor ornamental flowers. Baking soda offers a practical and cost-friendly option to repel and kill slugs and snails.
Sprinkle baking soda over the soil around your plants to deter these slippery, soft-bodied insect pests. If you see a slug or snail, sprinkle them with undiluted baking soda from the box to destroy them and avoid damaging your plants. Take care not to get pure baking soda on your plants.
Prevent Powdery Mildew on Vegetable Crops
Powdery mildew is one of the gardener's worst nightmares. If you're in an area with high humidity, your plants risk developing this white powdery fungus. Mildew loves impatiens, zinnias, and squash, to name a few. An inexpensive baking soda-based spray keeps your favorite plants safe.
Blend this powdery mildew treatment well and spray on plants weekly in the early morning or late evening when the sun is low. There's a small chance leaves may burn if still wet with spray and receive direct sunlight.
Eliminate Squash Bugs from Cucumbers and Other Squash
Squash bugs, or the squash vine borer, are a notorious problem for anyone growing squash, melons, cucumbers, and more. This pest reproduces at a high rate and harms the leaves of squash plants in a short time, making pest control vital.
Baking soda is critical in creating an efficient spray to kill squash bugs. Using baking soda in your vegetable garden kills these bugs and others to keep your plants safe.
Blend the garlic with two cups of water until liquid forms and combine with the rest of the ingredients in a big container or bucket. Mix until thoroughly combined. Transfer to a sprayer and apply liberally to squash bug-infested plants.
Due to intense ingredients like garlic and cayenne pepper, this spray has a strong aroma and is best mixed and used outdoors. If the squash bug solution gets on your skin, wash immediately to avoid irritation.
Baking Soda Keeps Cut Flowers Fresh
Fresh flowers are a delight from the garden. Though they make a beautiful statement piece, flowers quickly wilt and die after being cut. Pour one teaspoon of baking soda in a quart of cool, clean water, and use this solution in your vase to keep flowers fresher longer. Baking soda prolongs the life of flowers in water, allowing you to enjoy them longer.
Use Baking Soda to Craft Fertilizer
Rather than reaching for a commercial product, consider making your own fertilizer and feeding your plants with baking soda and a few other simple ingredients.
Combine to make a fertilizer concentrate. Mix one cup of the concentrated solution with four cups of water and use in place of regular watering once per month for flowers, fruits, and vegetable crops.
Control Weeds on a Budget with Baking Soda
Anybody with a garden has faced issues with weeds. While baking soda is safe for vegetable crops, fruit trees, ornamentals, and other plant life when used in low concentrations, it is toxic at a higher dose, making it an ideal weed killer.
Unlike chemical products, baking soda doesn't accumulate in the garden soil and has no residual effect. The powder treats weeds quickly but must be reapplied as required for new weed growth.
For weeds in cracks and crevices in paths or around pavers, sprinkle baking soda directly onto the problem areas at full strength. If unwanted growth has invaded your garden beds or raised beds, moisten the weed with a watering can or hose before applying baking soda to its entire surface. Take care not to get undiluted baking soda on wanted plants.
Baking Soda for the Gardener
Like any outdoor activity, gardening has drawbacks, including skin afflictions associated with the great outdoors. Even with proper precautions, sunburn occurs when you least expect it and is painful and uncomfortable.
Poison ivy allergy is another common skin problem after a day in the garden, and intense itching is a nuisance. Baking soda helps soothe skin irritations and help you feel better faster and return to the garden.
Add around 4 ounces of baking soda to a warm bath and try to soak for 30 minutes. Baking soda soothes and cools inflamed skin, relieving discomfort and assisting in a return to health.
Precautions When using Baking Soda
Take care when using baking soda home remedies on your plants. Although many growers use baking soda in their garden daily, an improper mixture could be detrimental to crops.
Test any new therapy on a small portion of a plant before using it on an entire bed, and always experiment before using a solution on a new type of plant. If the mixture seems too potent, dilute it and retest.
Every garden is unique and should be monitored carefully when starting a new treatment regime. Avoid letting baking soda products get on metals as it may cause corrosion; this includes any external heating components, metal wiring, and metal structures.
Baking soda is a behemoth in the garden. This handy white powder not only fights fungus, fertilizes, and aids in pest and weed control, it has applications in cleaning bird baths and garden furniture or keeping your potting bench presentable.
Baking soda is affordable and available at any grocery store; it's safe for organic gardens and addresses many common problems without using toxic and harmful compounds. Whatever you grow, add baking soda to your plant care toolbox to save time and money.
If you loved this article on plants that benefit from baking soda, please share these brilliant tips answering is baking soda good for plants with your friends and family on Pinterest and Facebook.