Choosing the right flowers and shrubs for your garden depends on much more than their colors and style. Purchasing plants that grow amazingly fast gives you a better perspective on how your garden looks once the plants are fully grown, without leaving behind unsightly gaps in between plants for years while they develop.
Within just a short amount of time, these fantastic specimens create a nearly instant garden that is full, vibrant, and it looks just as incredible as you imagined. So, where to start? Since efficiency is not the only trait to keep in mind when selecting your plants, we compiled a list of several distinct flowering plants and shrubs to suit numerous tastes.
Those searching for a tropical new addition to their gardens may decide on a beautiful hibiscus or bamboo plant. For stunning pops of color, hydrangeas and marigolds offer unique appeal. No matter which grouping of vegetation speaks to you, we have your inspiration here!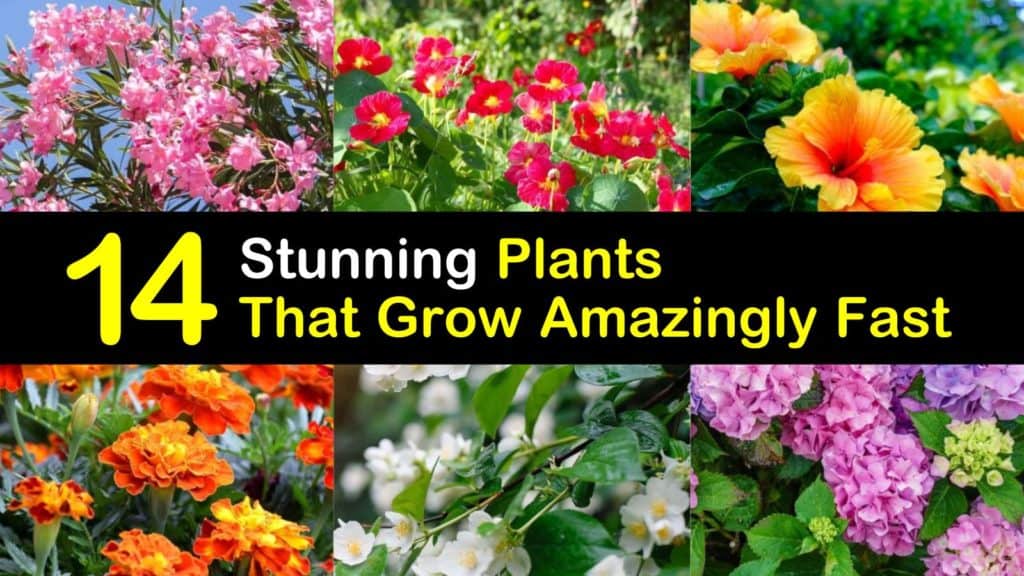 Fast Growing Plants for an Instant Garden
While all of the plants listed here grow exceptionally fast, it's critical to note that this does not yield near-instant results.
Some flowers and plants take only a few weeks to grow in, where others may take several months to reach a fuller size. It is still preferable, however, to most trees and shrubs that may take over a year to fill out.
Hibiscus (Hibiscus rosa-sinensis)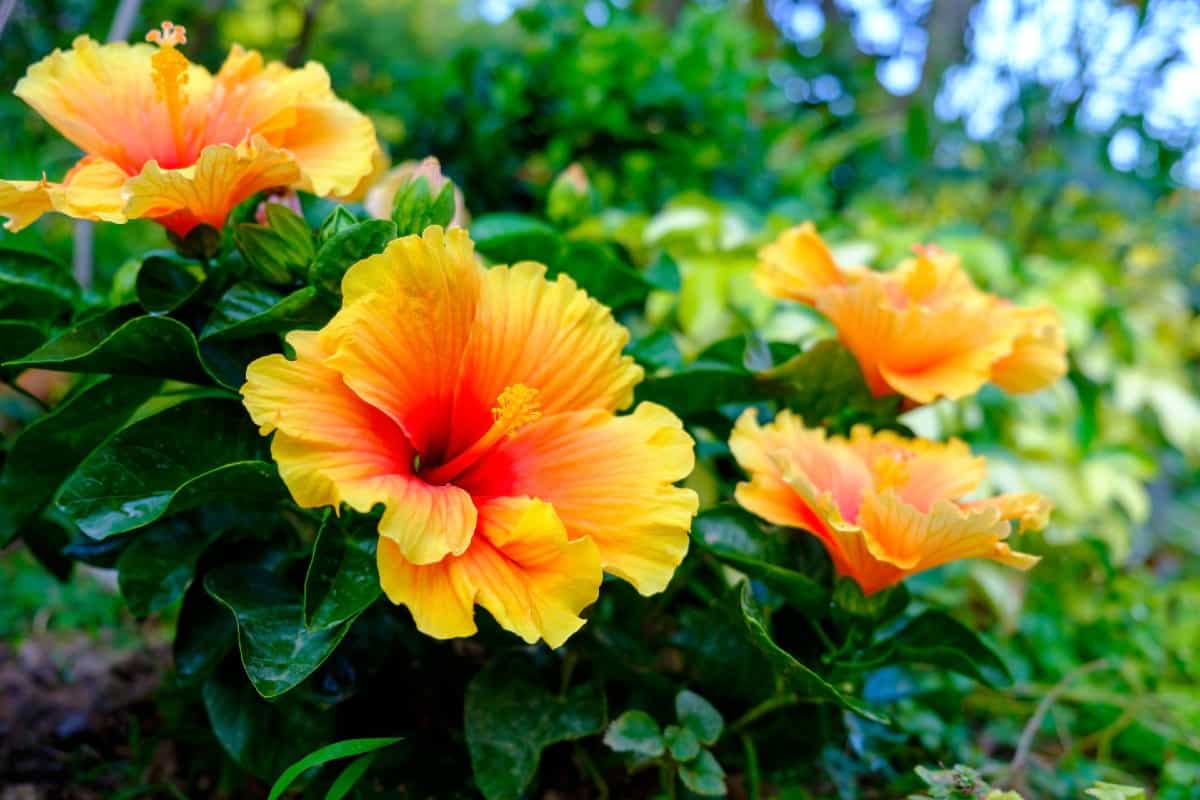 For a tropical evergreen perennial, Hibiscus is an appealing option with which to start. These breathtaking flowers come in all colors, from purple to white to orange, that bloom in summer to the fall.
Hibiscus grows up to 15 feet tall, growing approximately 7-12 feet within the first two years. Maintenance of these plants is relatively easy, though the main drawback is that it is a thirsty plant.
It needs one to two inches of water a week, with increased watering in hotter weather. Drooping of the flower is a sign there is a lack of water, where yellowing in the middle or around the base indicates overwatering.
Ficus (Ficus benjamina)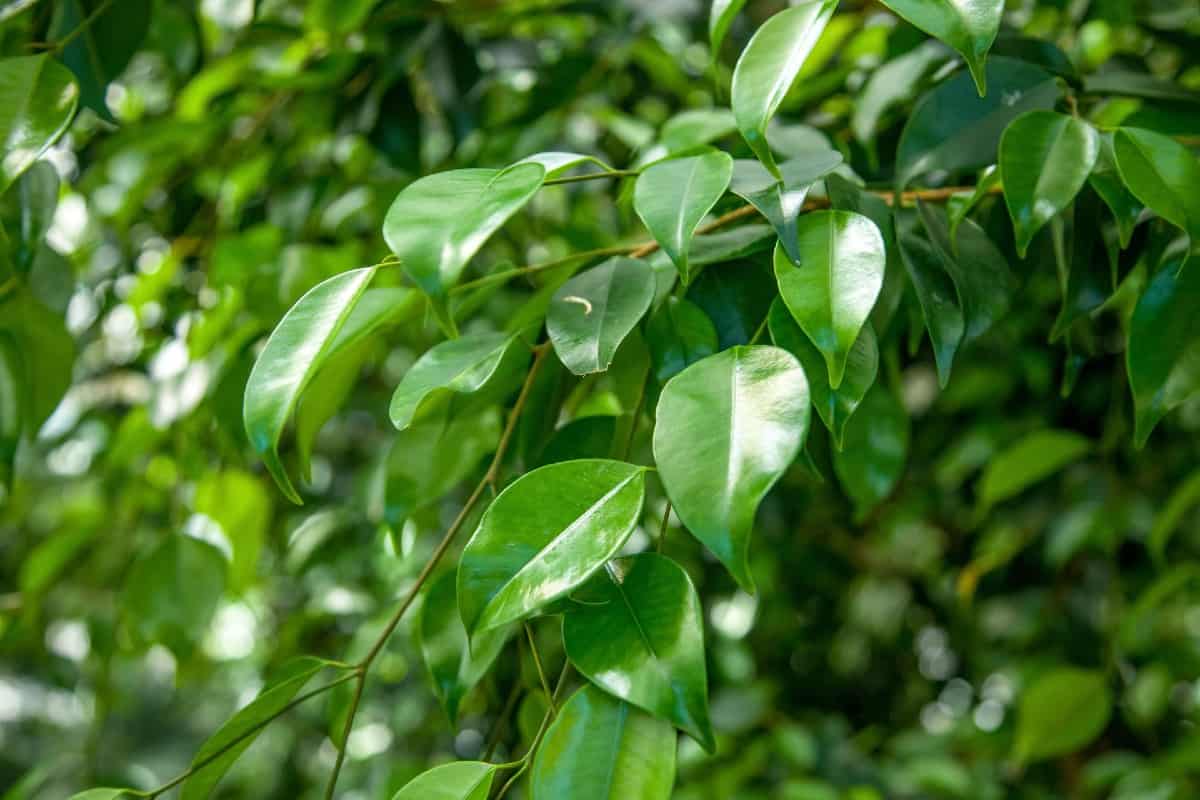 Ficus is another group of trees and shrubs that grow fast, generally reaching 25 feet in just under ten years. There are many different varieties of the plant, all demanding their own specific set of maintenance and care procedures.
However, most of these high growing shrubs prefer weather above 60℉. Other factors to consider when thinking about weather include the introduction of sunlight and handling humidity.
Ficus needs a few hours of indirect light each day, though too many hours in the sun results in the plant scorching and drying out. They are also able to withstand humidity just fine with a light misting throughout the day.
Oleander (Nerium oleander): A Beautiful Desert Bloom for Dry Climates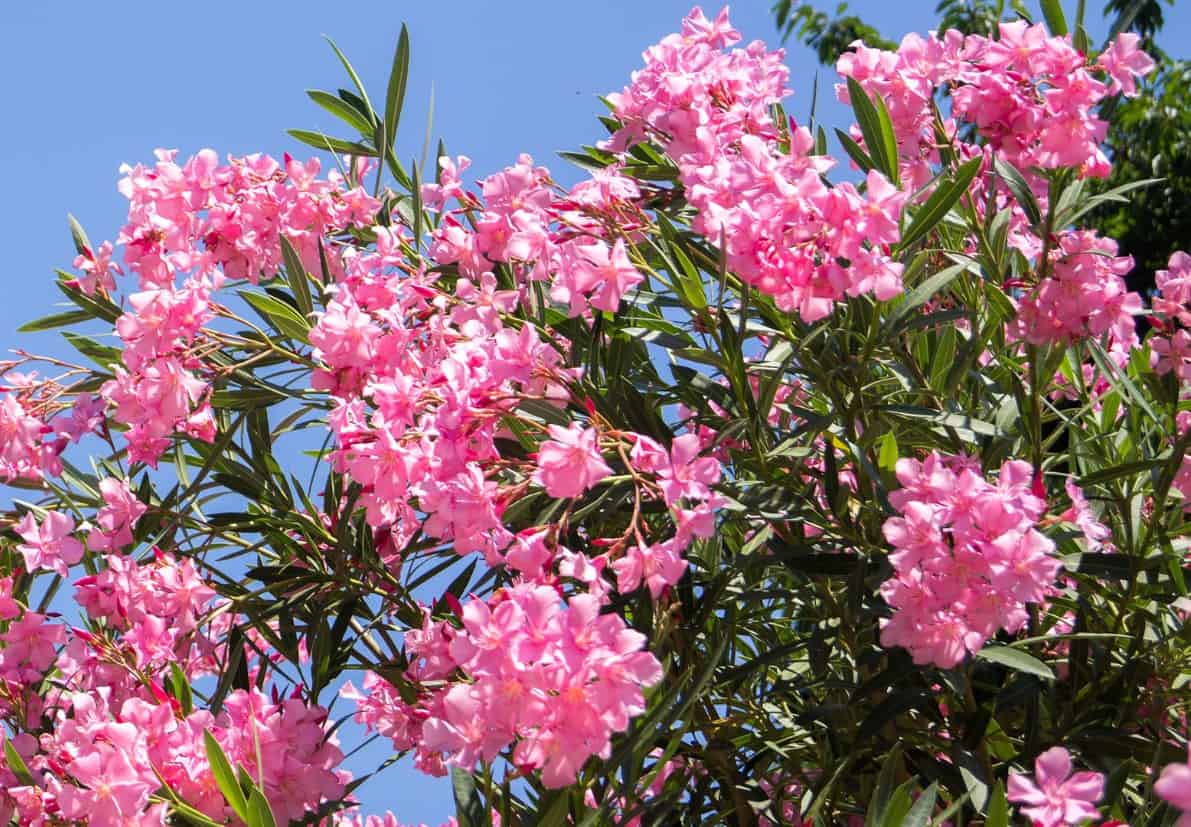 Another exquisite flower to add to any garden is Oleander, a desert plant that blooms from spring through the summer. The plant produces flowers of varying hues, from orange to white to purple.
Commonly found in desert climates, Oleander is drought-tolerant and thrives best in environments from zones 8-10 of the USDA hardiness scale. The growth rate of the flowering bush is anywhere from one to two feet a year.
Most reach about 12 feet in total. Minimal care is necessary for terms of maintenance and pruning, though the plant should receive full sun or part shade whenever necessary. It is also deadly if ingested, so keep it out of range of small children and pests.
Nasturtiums (Tropaeolum)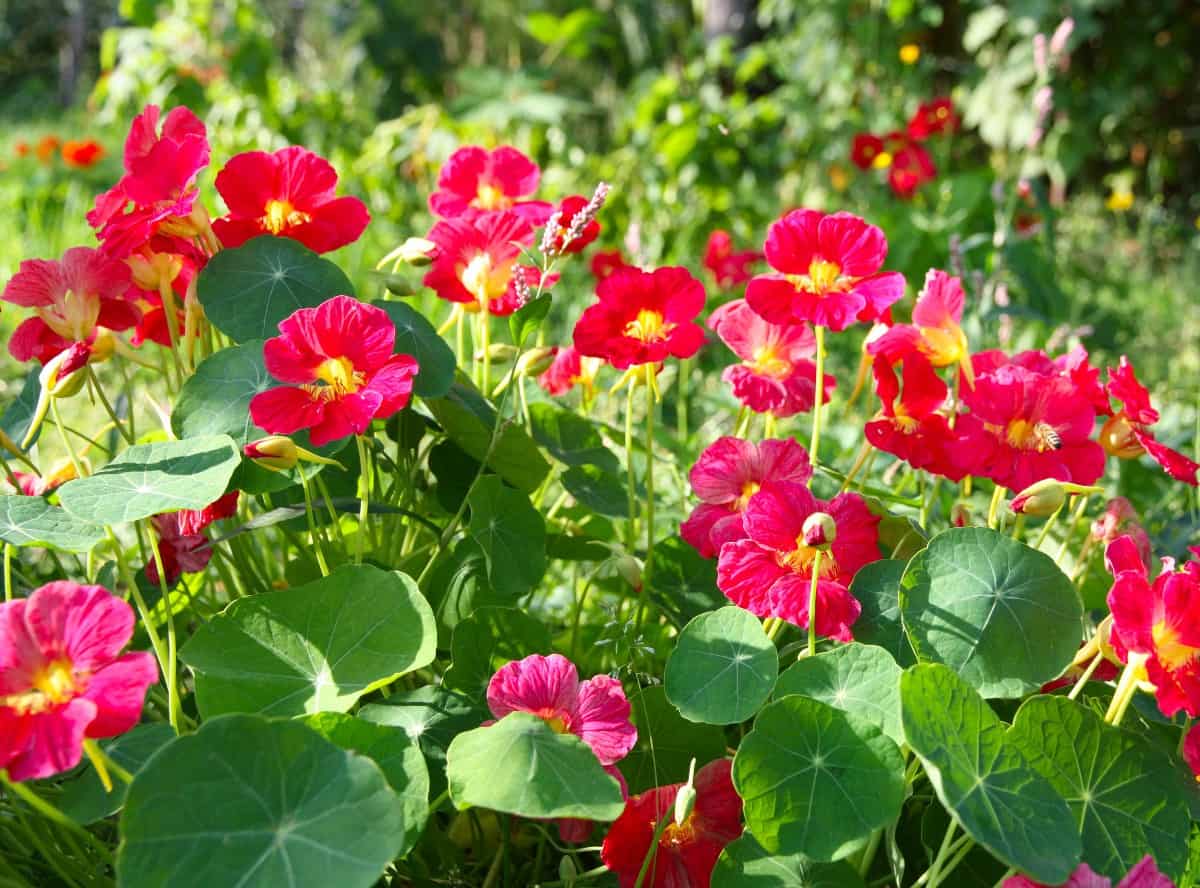 If you're searching for a fiery new collection of flowers and quick spreading plants, Nasturtiums come in a variety of intense yellows, vibrant oranges, and colorful reds. Ideal for ground cover, it blooms in summer and lasts through the fall.
After passing the germination stage of the life cycle, it takes the plant only 35-52 days to grow fully. For best results, grow the flowers indoors approximately four weeks before the last frost.
To truly thrive, plant it in the spring in moist soil with full sun, leaving about one foot apart between each flower. Partial shade is also acceptable for growing conditions, though it impacts bloom size.
Marigolds (Tagetes): A Hardy Plant for All Regions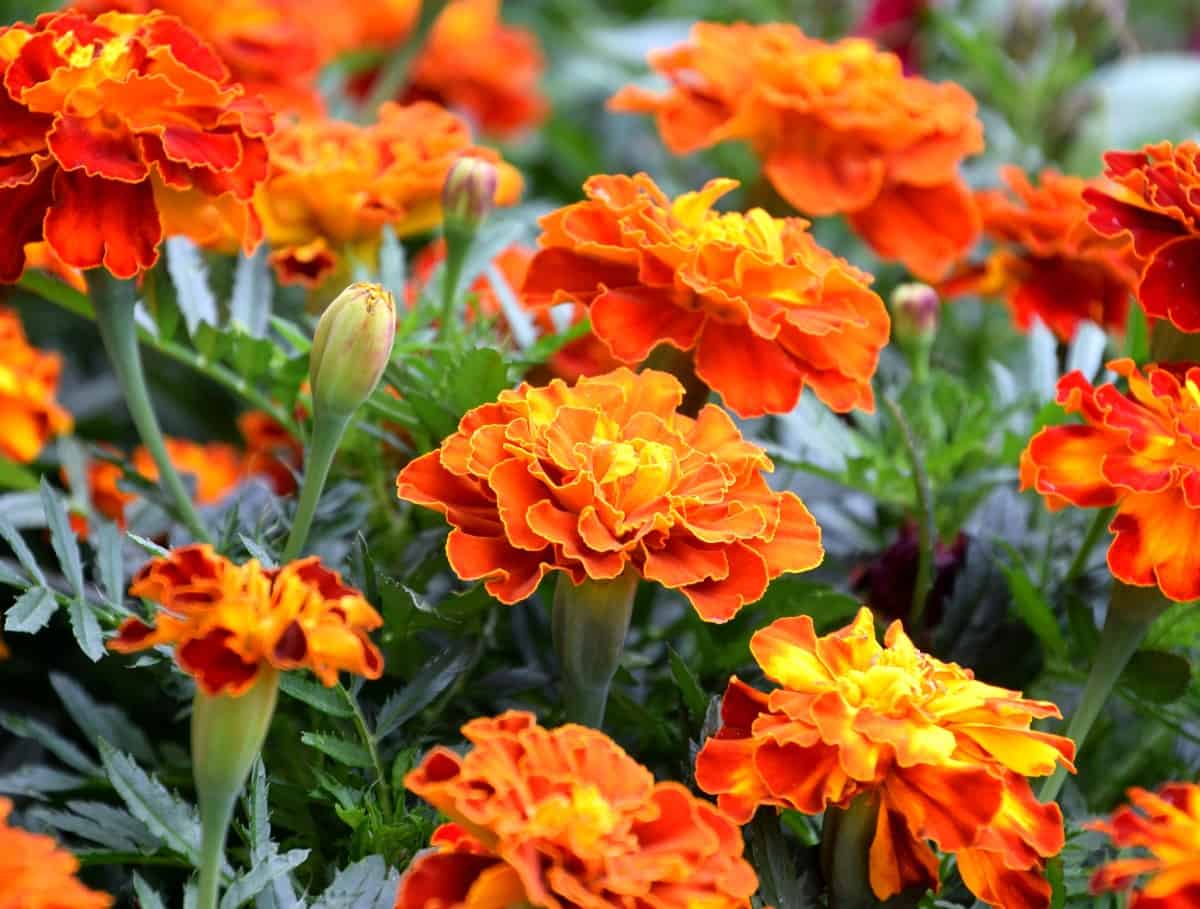 One of the fastest growing plant varieties is the marigold. These flowers typically spring up within mere days and bloom in just under eight weeks.
Like Nasturtiums, they develop bold pops of colors like red, yellow, and orange, sometimes with patches of multiple shades. Marigolds are incredibly hardy plants and do well in zones 2-11, which covers most of the United States.
Full sun is their preferred amount of light, with summer or spring being the best time of year to plant them. They are suited to any soil and do not require fertilizer. Too much nitrogen in the fertilizer causes their foliage to grow in fuller than the flowers, overpowering them.
Sequoia (Sequoiadendron giganteum)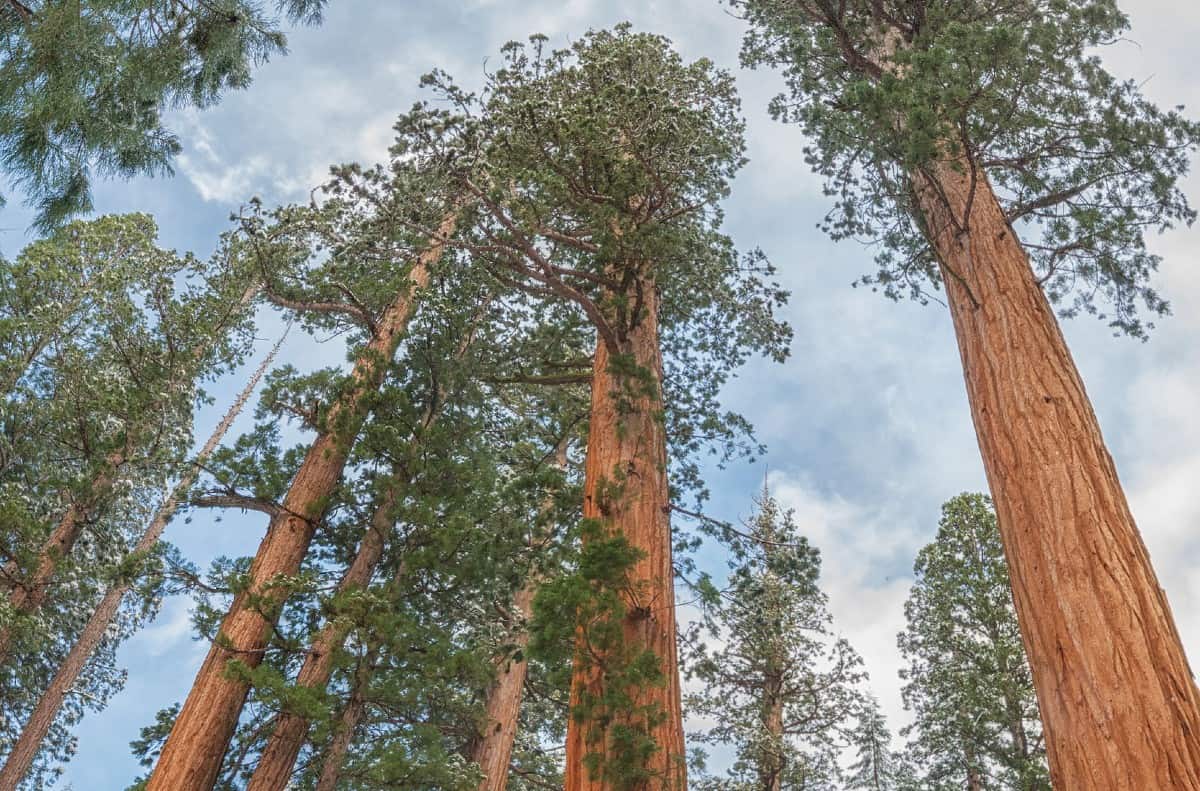 Sequoias are prominent trees that are known for living for thousands of years. The oldest recorded sequoia is 3,500 years old, with the tallest tree recorded at over 300 feet tall. This stately evergreen conifer is a beautiful addition to more significant landscapes.
Sequoias grow around 1-2 feet each year, showing an incremental rate of growth speed each year. They prefer mild weather stationed within the center of the country, typically zones 6-8 of the USDA hardiness scale. They also love loamy soil and are a lovely year-round plant to enjoy.
Aloe Vera (Aloe barbadensis Mill.)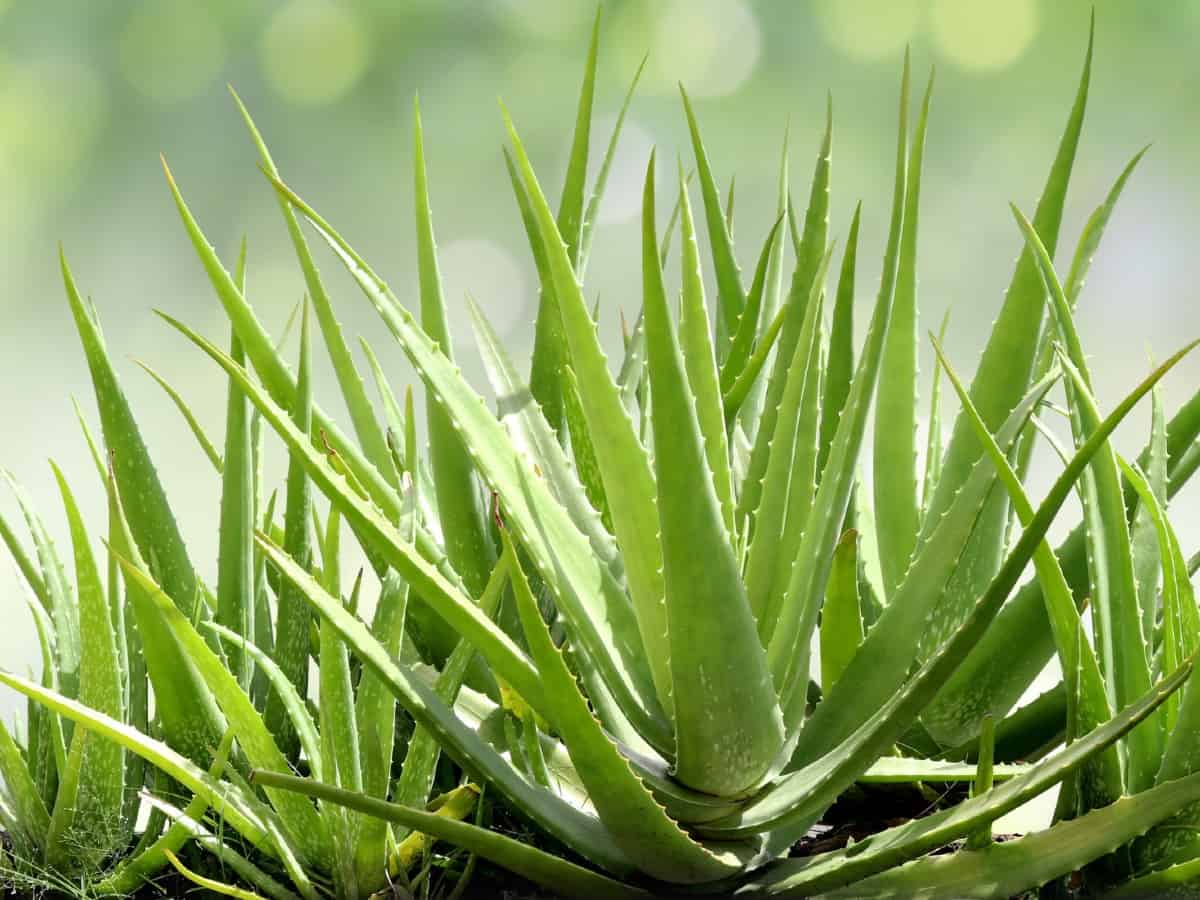 For a drought-tolerant that prefers dry conditions and provides plenty of love, there's nothing better than Aloe Vera. Well-known for treating sunburns and minor rashes, this plant not only adds beauty to your gardens but also function.
Succulents are known for being notoriously slow to grow, though Aloe Vera plants are among the faster species. To take care of your plant, fertilize it once in the spring and only whenever necessary.
As long as there is proper drainage, aloe plants do reasonably well in dryer climates and cannot tolerate standing water. Make sure the plant receives plenty of bright light. If kept indoors, place it in a southern or west-facing window.
Kudzu (Pueraria montana): Lovely Creeping Vines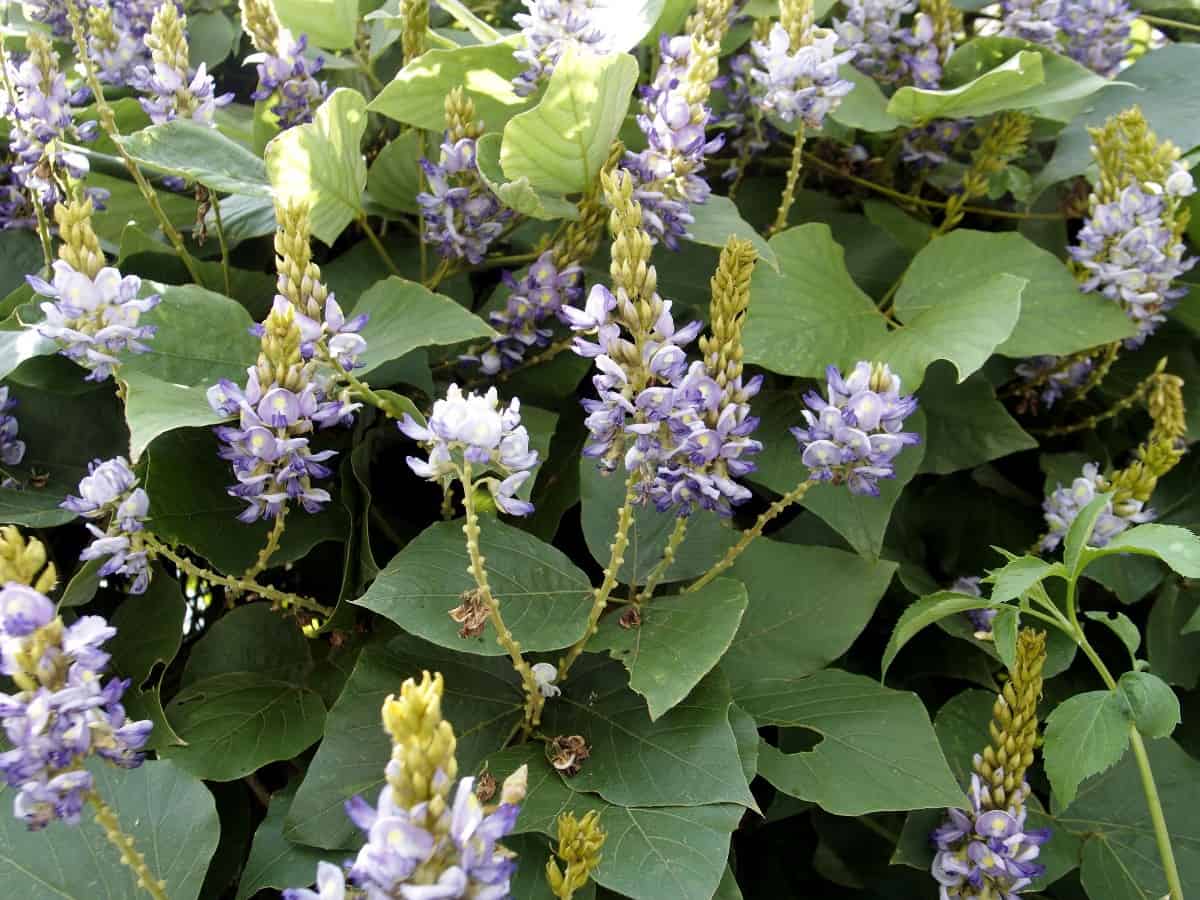 Kudzu is a tricky vine that is not for the faint of heart. Historically used for herbal remedies to treat high blood pressure, this is an amazingly fast spreading ground cover plant that advances long sprawling branches that quickly cover tall trees or stretch across sidewalks.
The unprecedented growth of the world's fastest growing plant means that regular pruning is necessary for both safety and maintenance. The plant grows so fast that some regions implement specific practices to eradicate it.
In a full growing season, it generally grows up to 60 feet, averaging out to about one foot a day. The plant does just as well in the sun as it does in the shade.
Bamboo Plant (Bambusoideae)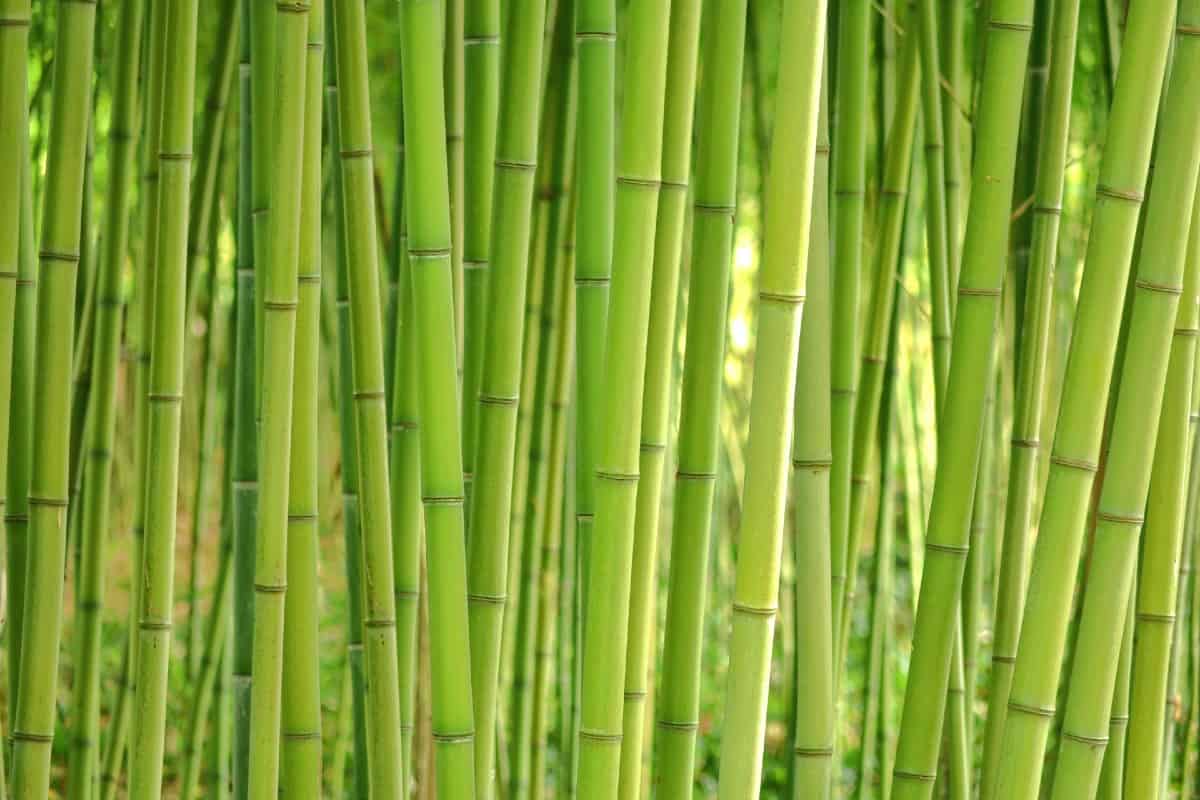 Another fast-growing plant is bamboo. The average growth of this reed plant is 3-5 feet each year, with clumping varieties growing slightly slower.
The fastest-growing bamboo variety, and the fastest growing plant in the world, grows about 35" a day and about 50 feet in only two months. It takes these plants approximately seven to ten years to mature, but afterward, they grow like crazy.
Regular watering assists this rapid growth, as well. Soil conditions are not particularly important, though bamboo prefers light soil that is high in organic content.
Be wary when growing bamboo as it can quickly take over. Vigorous pruning can help keep it under control.
Cottonwood (Populus): Fast Growing Trees that Provide Patches of Shade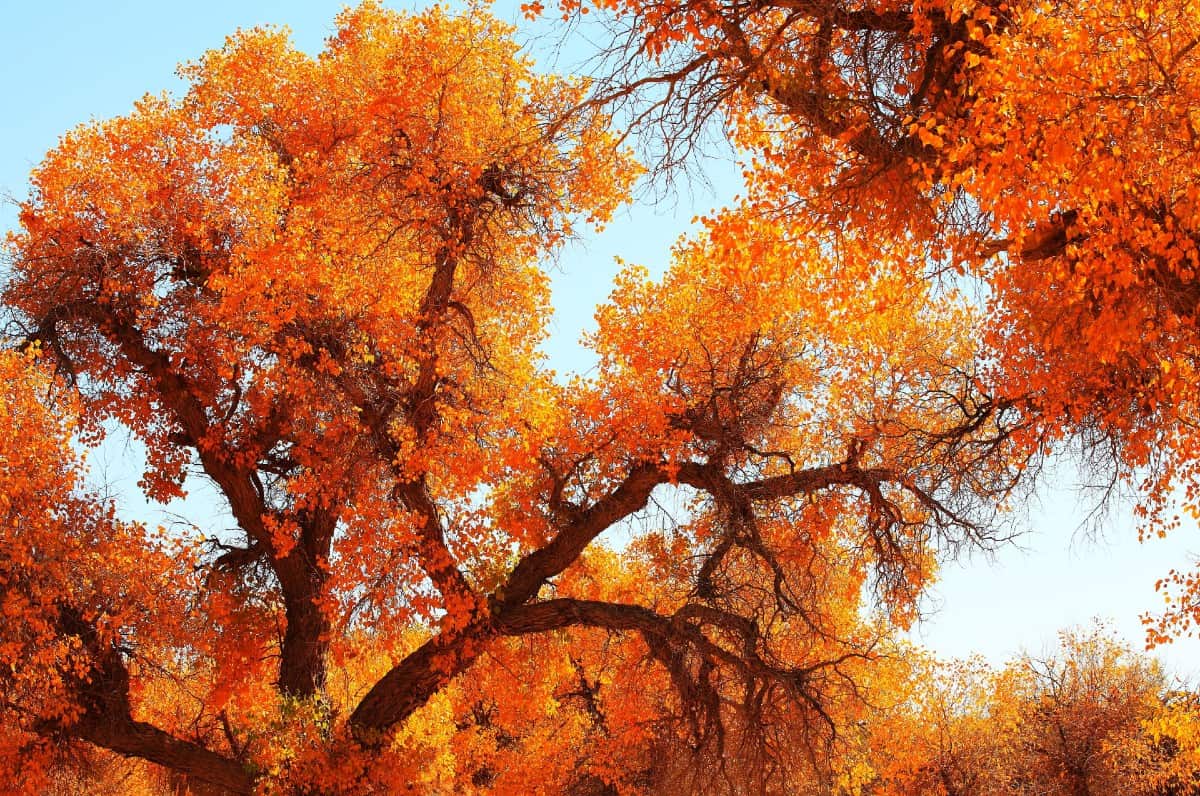 For shade trees that develop rapidly, Cottonwood is an excellent choice. These trees live up to 100 years and grow up to 100 feet tall over their lifetime. Their size and sturdiness made them an ideal material to make dugout canoes in the past.
When the trees are young, they grow around six feet each year. This rate slows significantly as the years pass, however. Either way, they are a magnificent windbreak tree and thrive throughout most USDA hardiness zones in the country.
North Privet (Ligustrum x ibolium)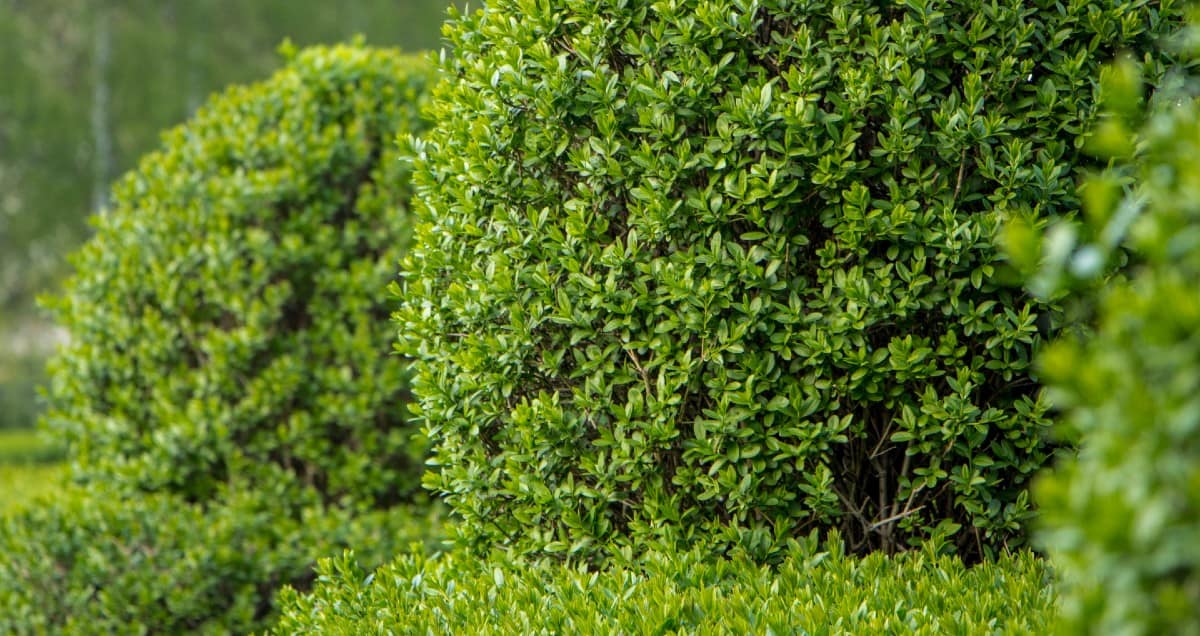 Privet is another example of fast growing trees that typically act as a privacy barrier. They grow pyramidal in shape and produce white flowers in summer. Each year they grow approximately 2-3 feet, reaching a full height of 8-12 feet overall.
These hedges do well in full or part sun, though more sunlight brings out the color in gold and variegated varieties. Privet also appreciates all soil types, as well as different kinds with both alkaline and acidic levels. While they are drought-tolerant once established, they still require regular, deep waterings.
Asian Jasmine (Trachelospermum asiaticium)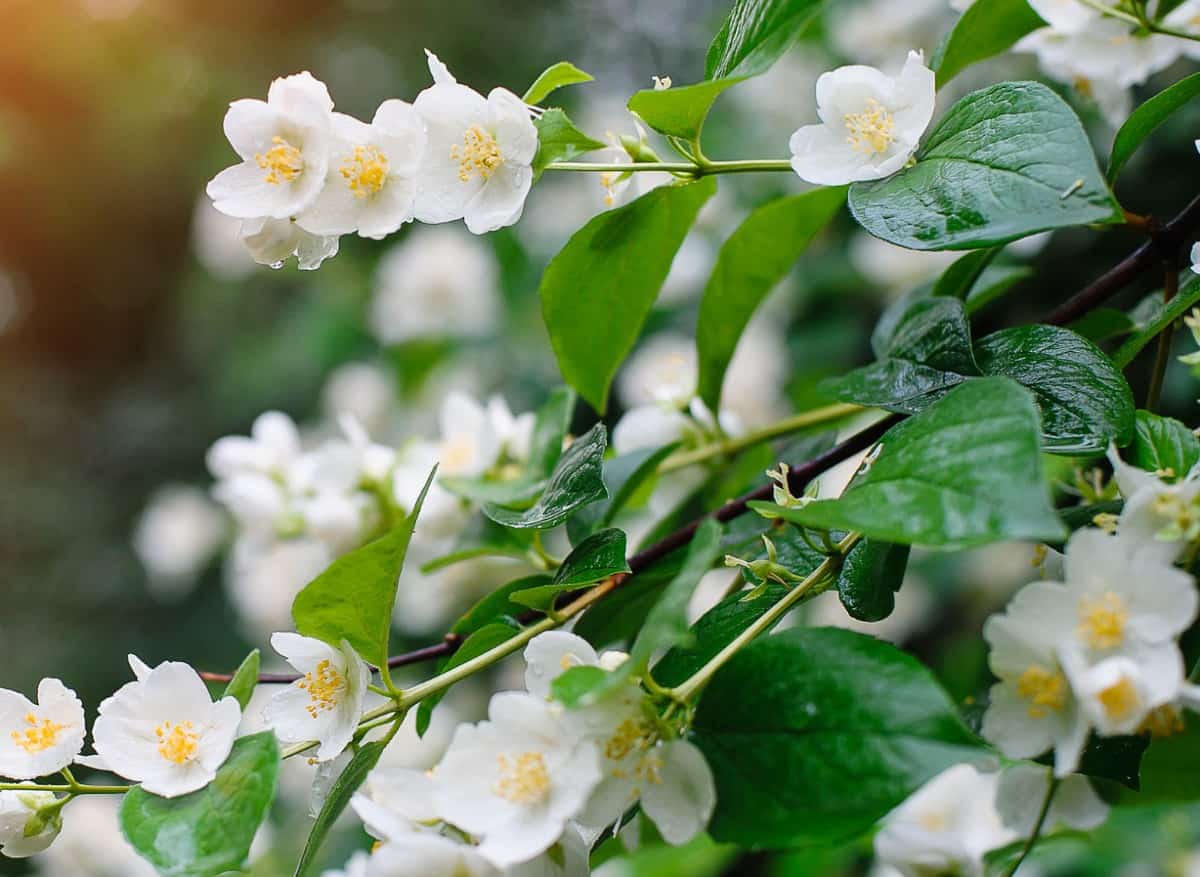 A plant native to Korea and Japan, Asian Jasmine is a lovely shade tolerant plant that produces white flowers. It prefers warmer climates and even withstands drought in high heat conditions. While it enjoys 4-6 hours of direct sunlight, morning sun is preferable, since it also appreciates partial shade.
When planting, spread three inches of organic compost in the soil, generally something high in nitrogen. It's vital to ensure the soil is moist and well-drained to keep it from getting waterlogged.
Leyland Cypress (Cupressocyparis leylandii): Plants that Grow Amazingly Fast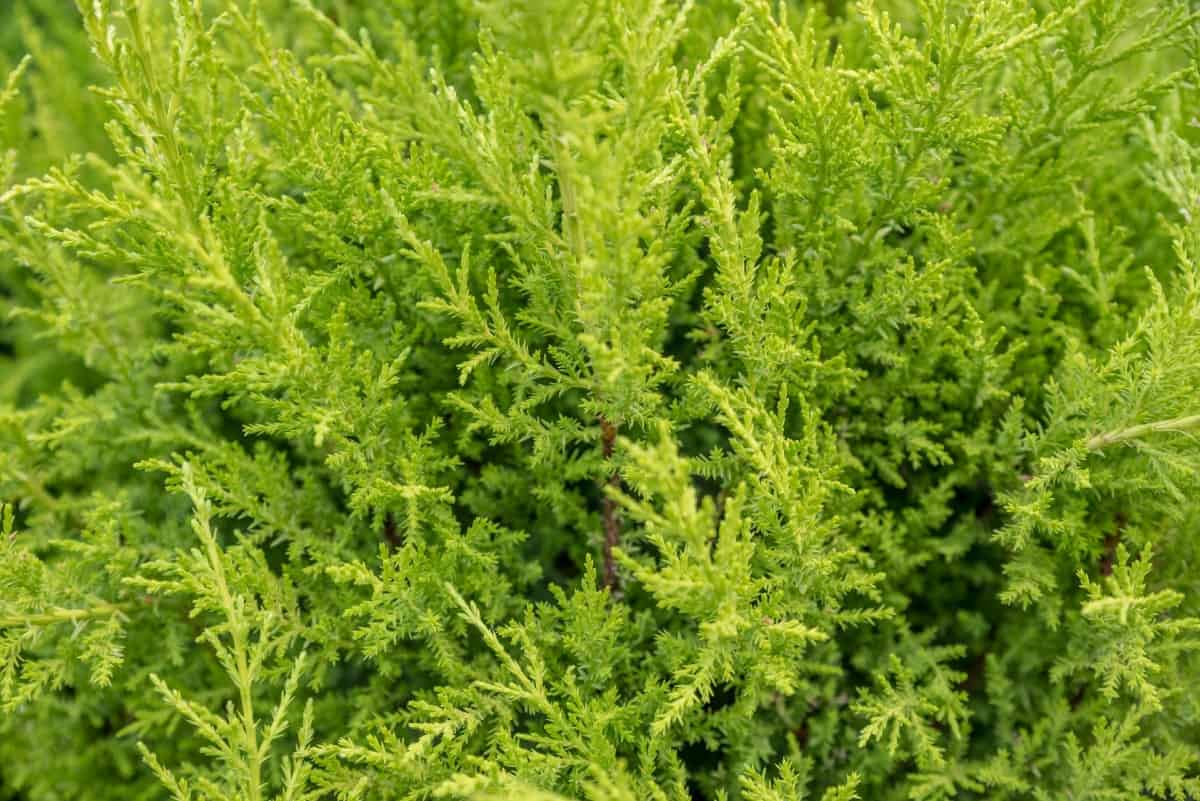 Leyland Cypress are some of the fastest growing trees out there, similar to some species of quick growing pine trees. Perfect for creating quick privacy hedges due to their rapid growth, they gain approximately 2-3 feet in height each year.
In total, they grow up to 50-70 feet high and about 25 feet wide unless kept trimmed and maintained. When planting this evergreen conifer, space them 5 feet away from each other in an area that receives partial to full sunlight.
Planting them in the spring or summer is ideal, as long as they are watered twice weekly in spring and once a week in summer. Older trees can go longer in between waterings, though it may take several months before the cypress becomes established.
Blue Hydrangea (Hydrangea macrophylla 'Nikko')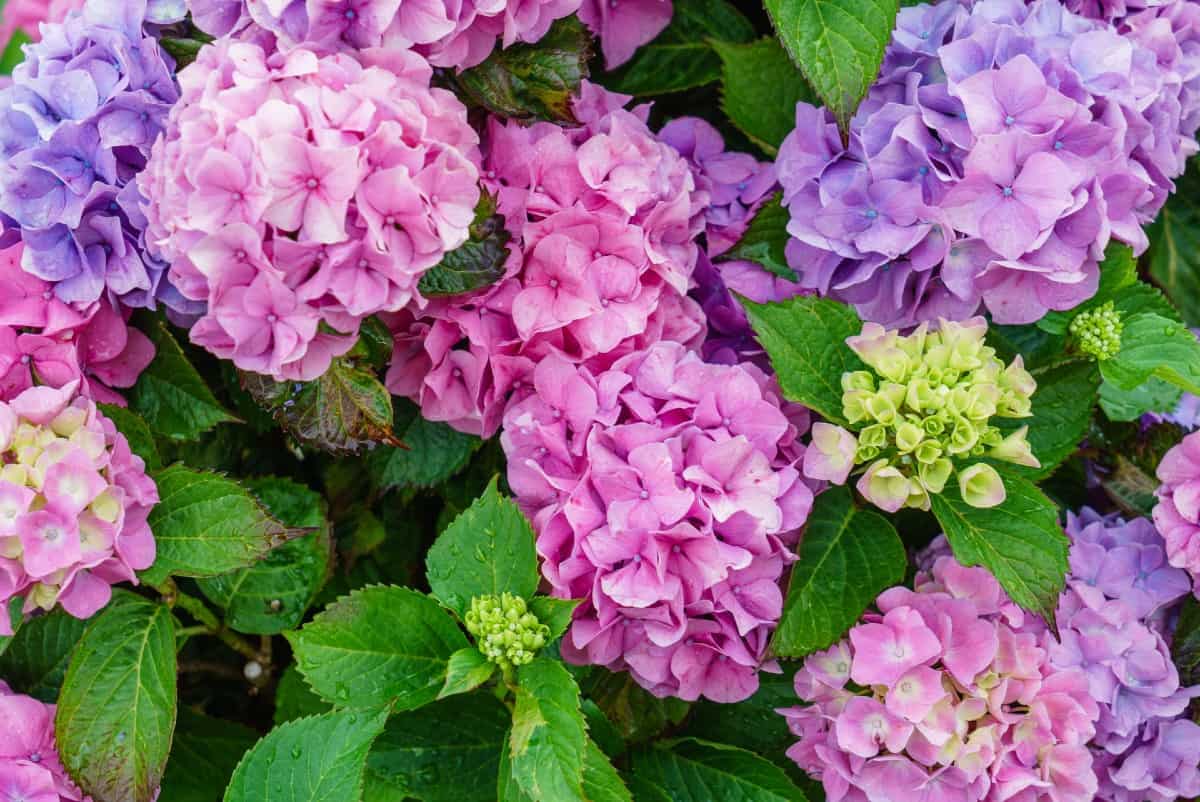 Hydrangeas are some of the most beloved and iconic flowers found in Southern landscapes. While most types of this flowering plant are deciduous, there are also plenty of evergreen varieties. Both make excellent cut flowers and potentially grow up to 25 feet.
These fast growing shrubs grow approximately 25" a year, topping out at around 15 feet high and 12 feet wide. They are hardy to most climates, though some species fare better in warmer areas than others. Across the board, hydrangeas love full to partial sun, with a preference for shade in warmer weather.
These beautiful flowering plants and vegetation provide a near-instant appeal in your garden. Their fast-growing tendencies fill in those ugly, open spaces within a reasonable amount of time, allowing you to see the fruits of your labor sooner than later.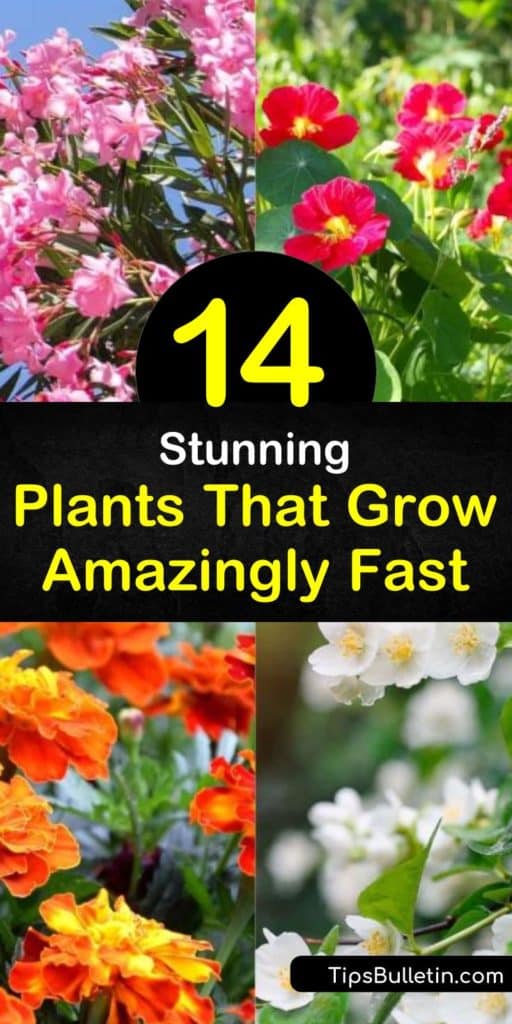 If you found these beautiful fast-growing specimens the perfect addition to your flower beds, then please remember to share all the plants that grow amazingly fast listed here on Facebook and Pinterest.