Nothing is more annoying than listening to crickets after they get inside the house. These nocturnal pests chirp throughout the night, and it's challenging to locate their hiding places, leaving you with a sleepless night. Fortunately, there are many plants that repel crickets while adding beauty to your home, and they are perfect for growing in the garden, on a patio, or sunny windowsill.
Why use insect repellent, cricket traps, or Nosema locustae to kill crickets when there are easier ways to repel bugs? Mother Nature is the ideal remedy for an insect problem since various herbs, flowers, and ornamental plants repel mosquitoes, cabbage moths, aphids, grasshoppers, flies, Japanese beetles, and house crickets.
These plants emit a scent that drives crickets and other pests away, keeping the area safe from an infestation, and work as some of the best cricket control tips. In addition to pest control, companion planting these plants in the vegetable garden draws beneficial insects, or a cricket's natural predator, while reducing the cricket and grasshopper population.
Repelling Crickets with Plants
Cricket repellent plants are a wonderful addition to the garden. Not only do they repel crickets and other common pests, but some attract butterflies and bees, while others are great for harvesting for the kitchen. Add appeal to the yard and keep pests at bay with plants that deter crickets.
What are Cricket Repellent Plants?
Cricket repelling plants emit a scent that insects like crickets hate, causing them to look for other areas to live and breed.
What plants repel crickets? A range of aromatic herbs, scented flowers, alliums, and ornamental grasses keep crickets at bay. Some are annuals, while others are perennial, and they are relatively simple to grow in the home garden.
Do Plants that Deter Crickets Keep Other Pests Away?
Plants that deter crickets keep a variety of other common pests away, like the flea beetle, tomato hornworm, and asparagus beetle. There are many ways to deter crickets with plants. Growing cricket-repellent plants around your home keeps these noisy insects away and deter other pests from destroying your garden.
Where is the Best Place to Grow Cricket Repelling Plants?
The key to picking the perfect spot for your plant is to check the plant care tag for sun and shade requirements. Good places to grow plants that keep crickets away are near doorways and windows to keep the insects from entering your home.
Grow them around a vegetable garden to keep pests from ruining your crops, plant them near a patio or porch, and place potted plants near backyard seating areas. Growing repellent plants in the garden is an excellent way to kill spider crickets and repel other pests from entering your home.
Are Cricket Deterring Plants Hard to Grow?
Fortunately, most cricket repellent plants are easy growers. While some, like lavender and lemon eucalyptus, need extra attention from you to flourish, other plants, like basil and mint, almost take care of themselves and are perfect for the beginning gardener.
Garlic (Allium sativum)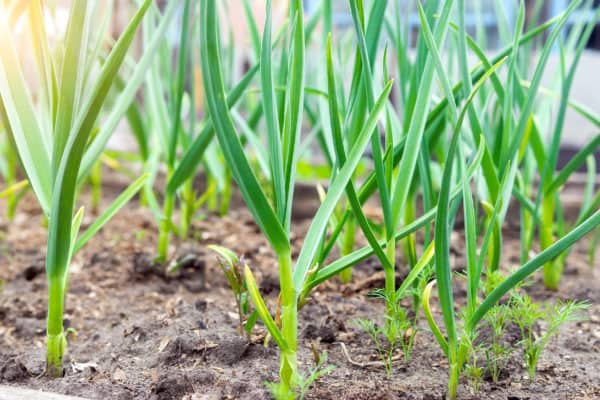 Planting garlic in the garden is a win-win since this plant repels a wide range of insects, from the mosquito to the mole cricket and field cricket, and you get to enjoy harvesting fresh garlic bulbs at the end of the season.
This close relative to the onion grows 12 to 18-inch tall grass-like leaves above ground and flavorful bulbs beneath the soil. However, while garlic is tasty to humans and repels pests, it's toxic to pets, and caution is necessary. Plant garlic to keep insects at bay, or use the cloves to make a spray bottle of garlic spray or hot pepper spray.
Marigold (Tagetes) – Flowering Plants that Repel Crickets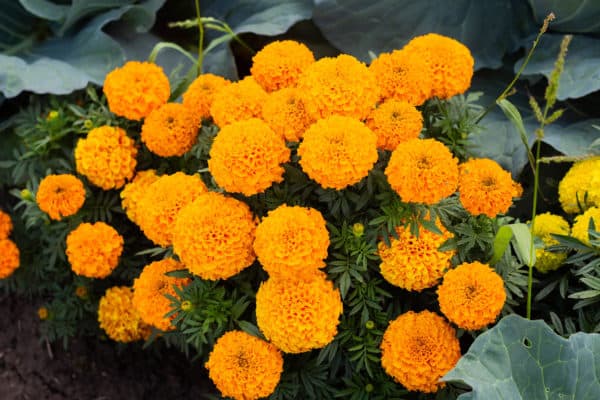 Marigolds are among the best flowers for keeping away many pests. They produce colorful blooms all summer and have a scent that repels all types of crickets, from the Mormon cricket to the house cricket, along with mosquitoes, cabbage worms, and other pests.
These annual plants are one of the easiest to grow, and the blooms attract beneficial insects. Depending on the type, they grow 4 to 48 inches tall, and prefer growing in full sun.
Lemon Eucalyptus (Corymbia citriodora)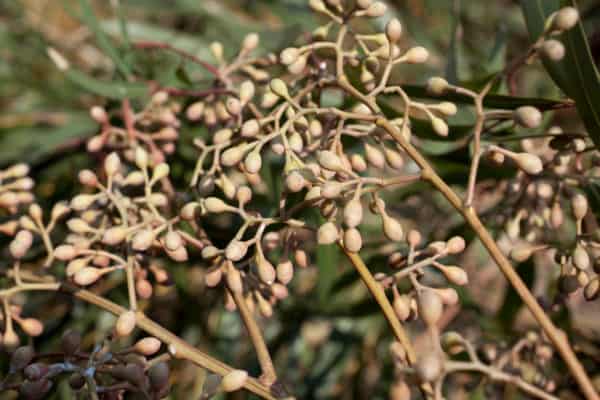 Lemon eucalyptus is a tree that produces lemon-scented gum and leaf oil that repels many bugs, including field and mole crickets. It grows in a yard setting or container, and its unique appearance makes it a focal point while keeping the space insect-free.
This native of Australia has sword-shaped leaves and tiny white flowers. It reaches up to 60 feet high under the right conditions and is four feet tall in a pot. Lemon eucalyptus is a sun-loving plant that thrives in warm areas.
Citronella (Cymbopogon nardus) – Lemony Plant that Deters Crickets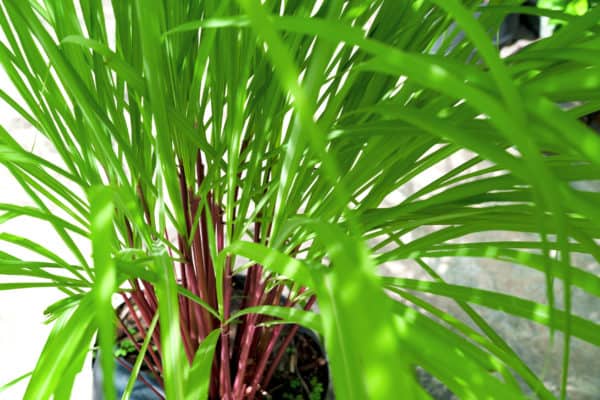 Citronella is a popular plant for keeping insects out of the yard, and it's an excellent choice for repelling crickets. This fast-growing ornamental grass is the source of citronella essential oil and crushing the leaves releases the lemony scent.
Citronella plants are annuals that grow well in beds and containers, reaching up to six feet tall and four feet wide. They are perennial in warm climates and flourish in full sun or partial shade.
Mint Plants (Mentha)
Several varieties of mint, from peppermint to spearmint, have a scent that repels insects. They keep crickets, aphids, whiteflies, cabbage moths, and squash bugs away and provide you with minty herbs through the season.
Mint plants are perennial and simple to grow in full to part sun. They thrive in hardiness zones 3 through 11 and have a mature size of 12 to 18 inches tall with a 24-inch spread.
Lemon Balm (Melissa officinalis) – Lemon-Scented Herb that Deters Crickets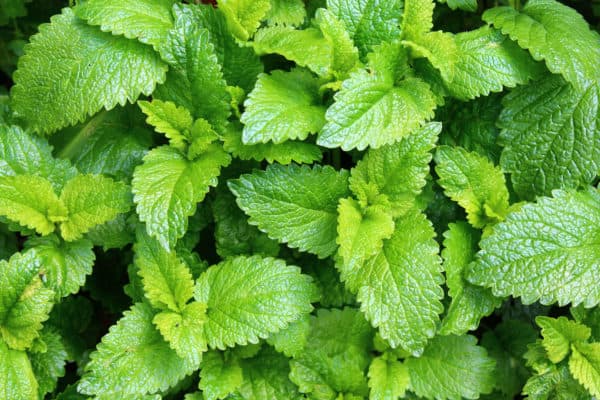 This herb contains high levels of the citronella compound and releases a lemony aroma that drives the female and male cricket away. It grows well in a garden setting and indoors as a houseplant, producing white to pale-yellow flowers in the summer.
Lemon balm is a perennial, hardy in zones 3 through 7. It grows well in full sun or part shade and prefers neutral to acidic, well-drained soil.
Basil (Ocimum basilicum)
Basil is a well-known herb that is one of the easiest to grow indoors and outside. It deters crickets, flies, mosquitoes, and other insects, and the leaves taste great in a variety of recipes.
There are many types of this mint family member, from sweet basil to lemon basil, and they grow 18 to 24-inches tall and wide. These herbs enjoy growing in full sun, tolerate some shade, and prefer somewhat rich soil.
Lavender (Lavandula) – Cricket-Repelling Plant with Relaxing Flowers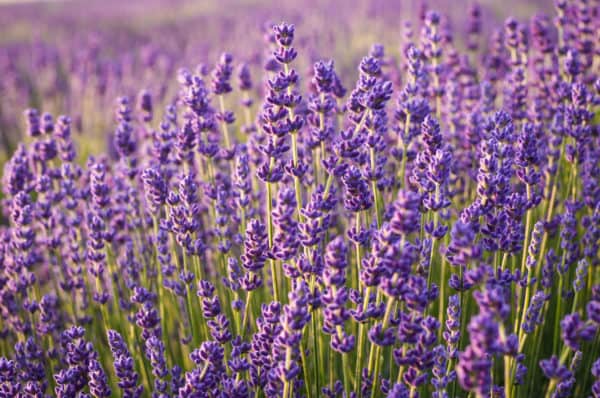 We often think of lavender as an herb that helps lull us to sleep with its fragrance. However, crickets, fleas, moths, and other pests hate the smell of this perennial's summertime flowers and look for better places to spend their time.
Lavender plants are hardy in zones 5 through 9, reaching up to three feet tall with a two to four-foot spread. They are sun-lovers that grow ideally in alkaline soil and are toxic to pets.
The house cricket is a nuisance, especially if it is indoors. This sneaky pest likes to hide in cracks and crevices and spends the entire night making annoying sounds. Fortunately, there are natural ways to prevent crickets from infesting your living space by growing cricket deterring plants.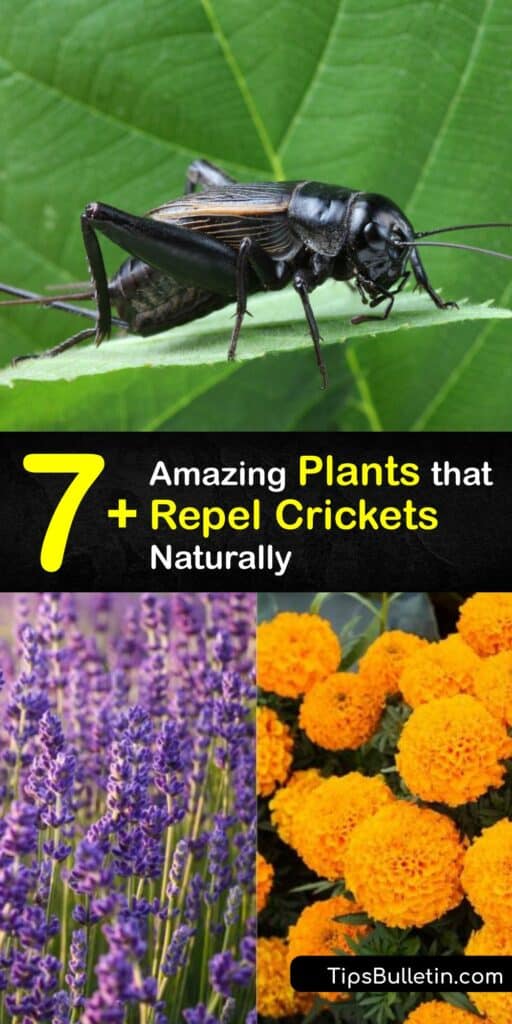 Now that you understand how to create a pest-free zone around your home with plants that repel crickets, why not share our cricket repellent plant guide with the nature lovers in your life on Pinterest and Facebook?