Summertime brings everyone outdoors to enjoy the warmth and sunshine, including your pets. Unfortunately, it's also flea season, and these pests are out in full force, searching for their next host. While you can always apply insect repellent to deter fleas and other bugs, many plants repel fleas, and they are perfect for growing around your yard.
Fleas don't just materialize on your pets. Instead, they come from outside, hopping a ride on your furry friends as they stroll through the grass. Your cat or dog then brings these blood-feeders indoors, where they multiply and spread, eventually becoming a flea infestation. One of the best ways to avoid this problem is to grow pest repelling plants.
Many plants draw beneficial insects to the space, and we grow them for their lush foliage or colorful flowers. However, some plants naturally repel fleas, house flies, Japanese beetles, spider mites, the mosquito, cabbage moth, carrot fly, and other common pests. These plants are an excellent addition to the garden, especially if you have pets.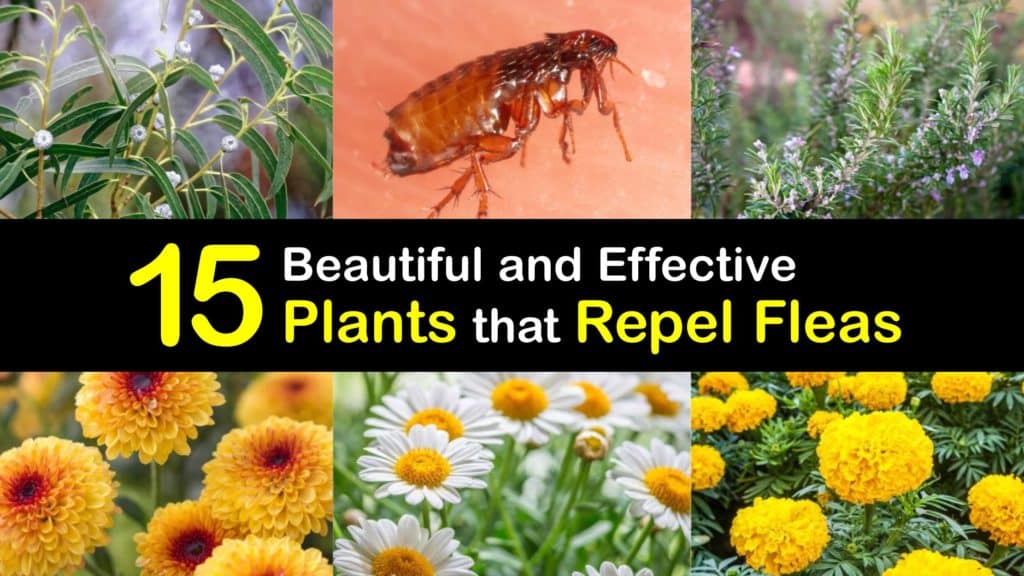 Growing Flea Repellent Plants
Does your pet start scratching after being in the yard? Fleas are no joke. You can and should make a homemade flea shampoo for dogs for some relief but growing flea repellent plants also helps. Neem oil for fleas is safe for cats and dogs. When made into a spray and applied outdoors, it will kill fleas outside so you don't have to worry about them coming indoors on you and your pets.
While there are many plant types to grow in the garden and home, not all of them are flea repellent plants. Some are simply ornamental, while others repel mosquitoes, beetles, fleas, and other insects, so it's vital to understand their differences when growing them for pest control purposes.
Find the answer to common questions about plants that fight fleas and some of our favorite plants that keep fleas away. Discover detailed descriptions of each plant to help you pick the ideal one for your yard and home.
What are Flea Repellent Plants?
Nature provides us with many beautiful plants, and some, such as the Venus flytrap, have astounding abilities. There are herbs like basil, and other culinary plants, flowering plants that look and smell heavenly, and there are plants that repel bugs like fleas. These bug repellent plants deter various insects from other plants, you, and your pets.
How Do Flea Repellent Plants Work?
To keep from having to get rid of flea infestation on a dog or in your house, growing attractive plants that fleas don't like keeps them away naturally. Several plants keep fleas away by emitting a scent that these bugs cannot stand. Some plants release natural chemicals that act as insect repellent, while others have foliage and flowers that are not appealing to certain insects, making your yard an undesirable place for bugs to call home.
Are Plants that Keep Fleas Away Easy to Grow?
Most flea repellent plants are relatively simple to grow, even if you do not have a green thumb. However, it's essential to understand their growing habits when deciding which plants to grow. Some flea and mosquito repellent plants desire full sun and warm temperatures, while others are happy with a short growing season.
Where is the Best Place to Grow Flea Deterrent Plants?
Once you know what plants repel fleas and the natural ways to kill fleas, it's good to plan out your garden space accordingly. Consider each plant's needs, like sun requirements, and choose an appropriate area of the yard. Another helpful thing to remember when planting a flea repellent plant is to grow it where you and your pets spend a lot of time.
Lavender (Lavandula)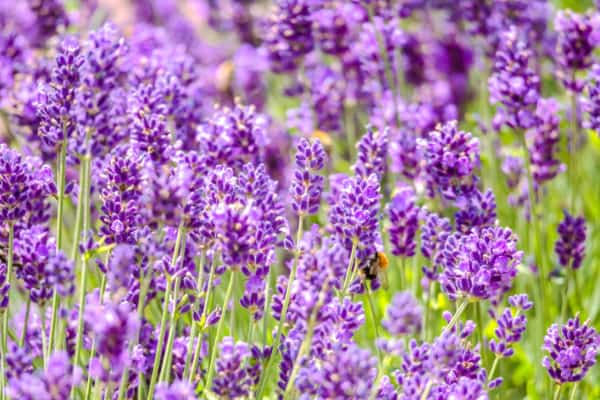 There are over 20 species of lavender plants, and they attract bees and butterflies to the garden. As a bonus, this herb emits an oil that deters fleas, moths, and mosquitoes, and it's great for planting around a patio, in containers, or placing in a vase as a cut flower inside the home.
Lavender is a perennial that is relatively simple to grow as long as you provide full sun and dry, well-draining soil. It grows 2 to 4 feet wide and 2 to 3 feet tall and produces highly fragrant, purple flowers throughout the summer in zones 5 through 9.
Pluck some lavender leaves and flowers and let them dry. Add them to a homemade flea spray for house areas. It smells wonderful and deters a variety of annoying insects.
Chamomile (Matricaria chamomilla) – Flowering Plants that Repel Fleas
Chamomile plants are great for repelling fleas, and they fill the garden space with cheerful arrays of daisy-like flowers throughout the summer. The white and yellow blooms grow quickly and are ideal as ground cover with their creeping growth habits.
This herbal flower is annual and perennial, depending on the type, and it grows 8 to 24 inches tall with an 8 to 12-inch spread. Benefit from the many qualities this plant offers by planting chamomile in full sun with organic soil that is not too rich.
Citronella Grass (Cymbopogon nardus)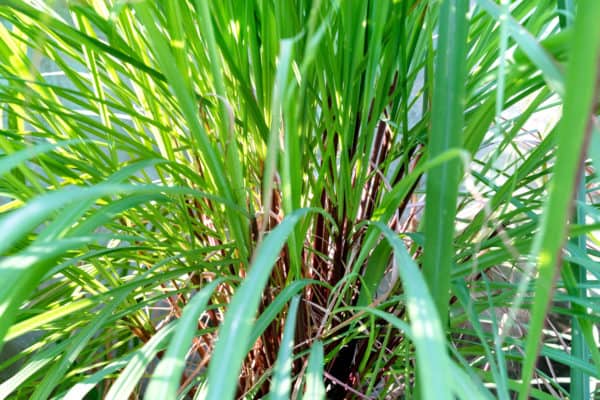 This plant is famous for its mosquito-repelling abilities, and it puts off a natural pyrethrum chemical that repels many other insects. While citronella grass is an appealing ornamental plant, its waxy foliage and aroma are both a natural flea and tick repellent.
Citronella grass is perennial in zones 10 through 12 and annual everywhere else. It thrives in partial shade and full sun and grows up to 6 feet tall and 4 feet wide, making it ideal as a focal point in the yard.
Rosemary Plant (Salvia Rosmarinus) – Herbs that Repel Fleas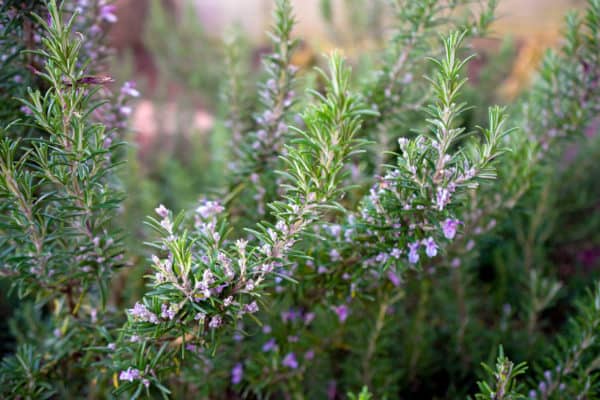 While we often think of rosemary as a culinary plant, it has other purposes. This herb repels fleas, draws butterflies and bees, and is safe to grow around pets. It's one of the plants that cats don't like so it repels the neighborhood strays. It's even more beneficial when your dog rubs up against the leaves, releasing the familiar rosemary scent.
Rosemary is an evergreen shrub that grows 2 to 6 feet tall and 2 to 4 feet wide. It has slender, needle-like foliage on erect woody stems and produces white flowers in the early spring.
Add a few sprigs of rosemary to some water and let it sit for several days. Use it as a homemade flea repellent for cats. Spritz it on their collar for added protection.
Marigolds (Tagetes)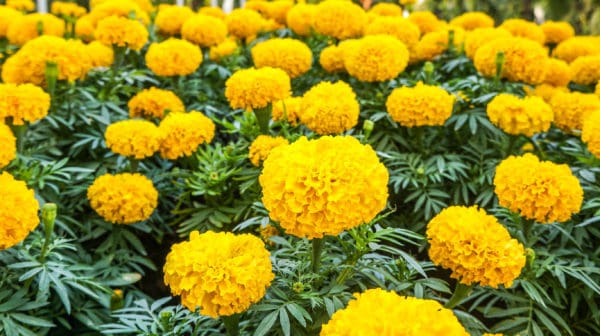 This multi-functional plant is a wonderful addition to any yard. It's perfect for the beginning gardener, and it produces colorful orange, yellow, and red blooms that deter fleas and other pests with their aroma. The flowers require regular pruning to ensure the plant thrives.
Marigolds are annual in all zones, growing well in full sun. They flower all summer long and grow anywhere from 4 to 48 inches tall, depending on the variety. The shorter cultivars are great ground cover plants that repels mosquitoes, too. They are low-maintenance, fast-growing plants, perfect for garden beds or containers.
Chrysanthemums (Chrysanthemum) – Plants that Deter Fleas with Beautiful Flowers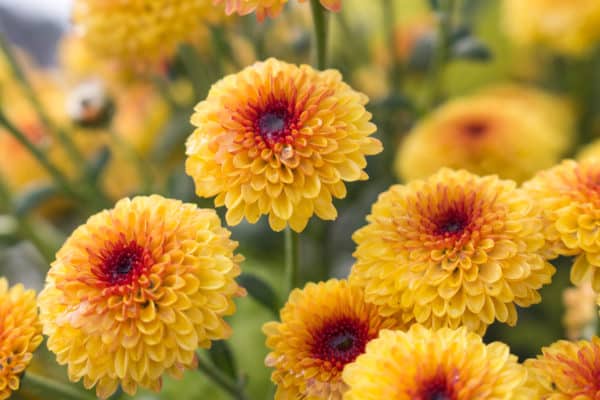 The fact that this plant repels fleas and ticks is just an added benefit. It also produces rounded blooms of vibrant flowers during the fall with jewel-tone white, gold, bronze, pink, purple, and lavender colors. However, the chrysanthemum is toxic to pets, and caution is advised.
Chrysanthemums or mums are perennial in hardiness zones 3 through 9, and they grow up to three feet tall. Plant them in a sunny area with rich and moist soil, and these plants provide the area with beauty at the end of the summer.
Mint Plant (Mentha)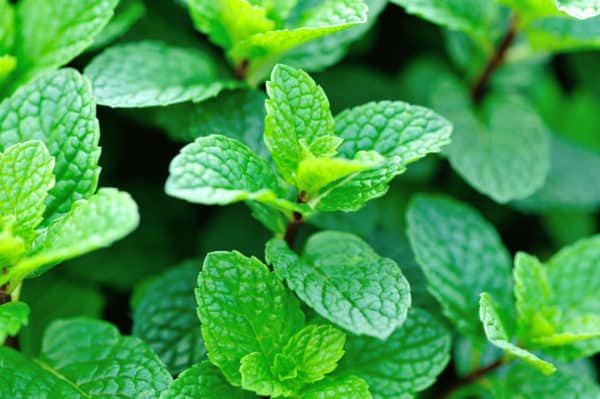 Mint is the perfect beginner's plant, and it grows well in both a garden setting and containers. There are many varieties of mint, from chocolate mint to peppermint, and they are helpful for repelling fleas, ticks, and other insects.
Mint is a perennial herb that grows 12 to 18 inches tall with an 18 to 24-inch spread in zones 3 through 11. It flourishes in full to partial sun and prefers acidic to neutral soil. Grow it indoors or outside and enjoy using the fresh leaves in beverages.
Sage (Salvia officinalis) – Attractive Herb that Deters Fleas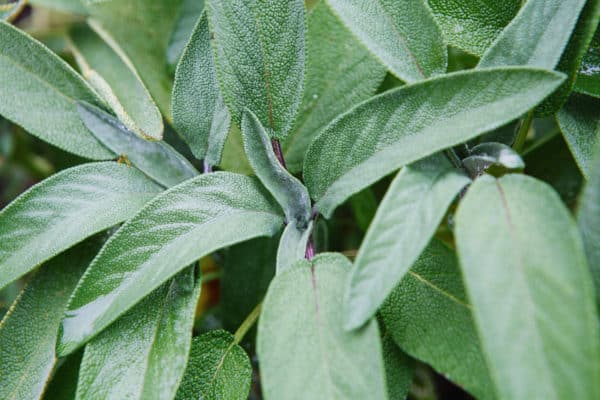 Sage has a unique appearance with its soft and textured foliage. We commonly grow it for making tea and incense, and it works wonders for keeping fleas out of the yard and the tomato hornworm and other bugs off garden plants like tomatoes and onions.
This sun-loving perennial is very easy to grow, and hardy in zones 4 through 8. It has a mature size of over 2 feet tall and 2 to 3 feet wide, and the wooly, aromatic leaves grow to four inches long.
Catnip (Nepeta cataria)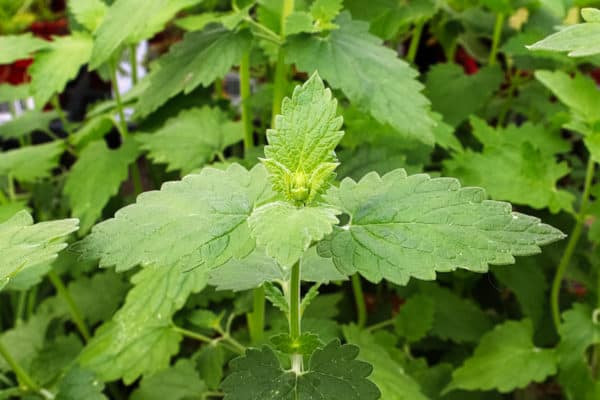 Catnip is not just a feline delight. This herbal plant has a scent that keeps fleas and other pests away from your outdoor space, and it's pretty simple to grow. It grows in clumps and produces flower spikes from late spring to early fall.
This perennial herb grows nearly 3 feet tall and wide, and it is hardy in zones 3 through 7. It is a fast grower, spreading quickly if not maintained, reaching its mature size in a single growing season.
Fleabane Daisy (Erigeron annuus) – Flea-Repelling Flower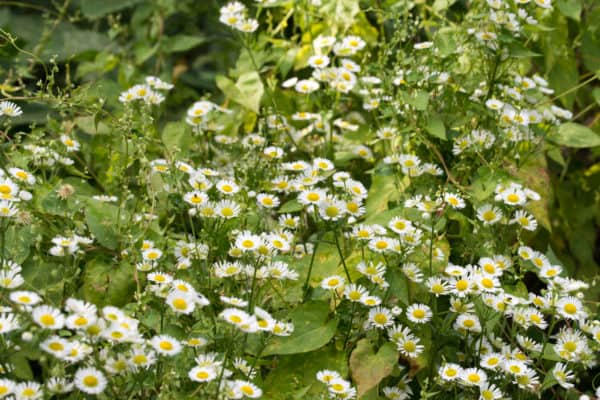 As the name implies, the Fleabane daisy is a popular flower for repelling fleas. It closely resembles the traditional daisy, and it's a favorite among bees, butterflies, and other pollinators. The flowers begin white and gradually turn to soft shades of pink and purple.
This easy-care, perennial wildflower grows 2 to 4 feet tall and is hardy in zones 5 through 9. It is tolerant of both full sun and partial shade and well-drained, acidic, neutral, and alkaline soils.
Eucalyptus (Eucalyptus)
If you're looking for something different to plant in the yard to repel fleas and other insects, the eucalyptus tree may be it. This fast-growing tree has reddish-brown bark with silvery blue-green leaves, and the foliage releases a menthol fragrance when bruised.
Take caution when growing this tree, however, since the sap is toxic to both humans and pets. Eucalyptus grows 6 to 10 feet tall in the home garden, and it prefers growing in full sun and well-drained soil. It flourishes in USDA hardiness zones 8 through 11 and grows several feet per year.
Lemon Grass (Cymbopogon) – Ornamental Plant that Fleas Hate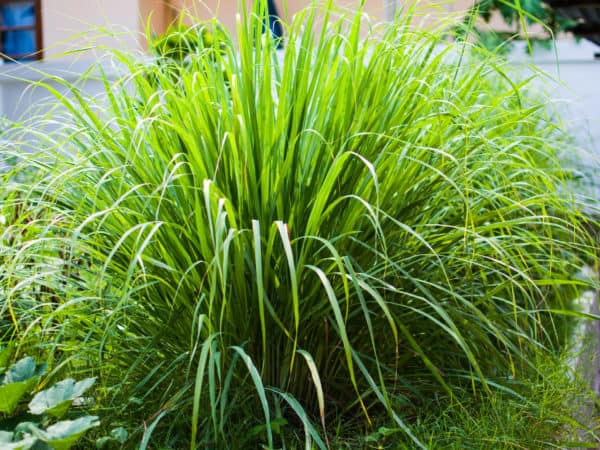 Lemongrass repels the flea and mosquito, and it fills space quickly when the conditions are warm and humid. The leaves are fragrant, keeping unwanted pests at bay and the mature plant has a whimsical appearance.
This ornamental grass grows quickly, reaching 2 to 4 feet tall in no time, and the foliage turns to gorgeous burgundy and red during the fall. However, it is toxic to animals, and safety measures are necessary when growing it around pets.
Sweet Bay (Laurus nobilis)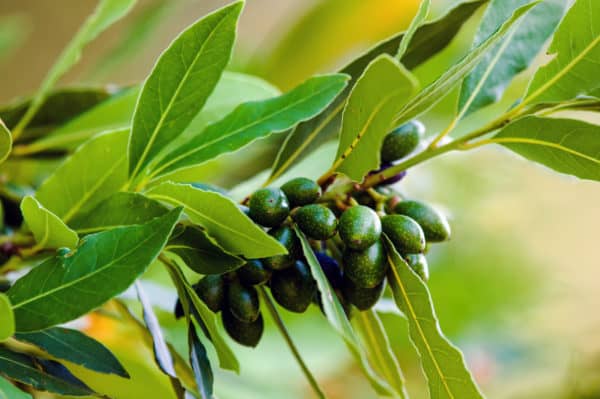 Sweet Bay or Bay Laurel grows well in a garden bed or pots, and is excellent for flea control. This broadleaf evergreen shrub or tree has pale yellow flowers in the spring. While we often use the bay leaf for cooking, they are toxic to cats and dogs.
Sweet bay grows 4 to 6 feet tall in a container and up to 60 feet tall in the yard. It tolerates full to partial sun and is hardy in zones 8 through 10. Use a general potting mix for container growing and average well-drained soil in the garden.
Tansy Ragwort (Jacobaea vulgaris) – Flea-Deterring Wildflower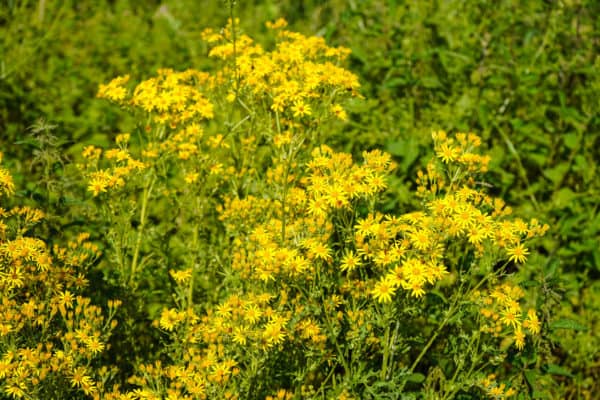 This biennial weed from the sunflower family effectively repels many insects, including fleas, lice, and scabies. They are flowers that deter flies, too. However, it is invasive and toxic, and caution is required when growing it around children and pets.
Tansy ragwort has clusters of daisy-like flowers with yellow petals and orange centers, and it grows 2 to 4 feet tall. It enjoys cool, moist climates and well-drained soil, and you often see it growing in pastures and ditches.
Wormwood (Artemisia absinthium)
This herb goes by many names, including wormwood, sagebrush, and mugwort, and it has many culinary and medicinal purposes. It also repels insects such as fleas, ants, carrot flies, flea beetles, and cabbage maggots. It has attractive, silvery-gray, fuzzy leaves and tiny clusters of white or yellow flowers at the end of the summer.
Wormwood plants are primarily herbaceous perennials and hardy in zones 4 through 10. They are not picky about the soil and thrive in full sun. Unfortunately, some species of wormwood are toxic to humans and pets.
We often forget that nature has a way of taking care of us, and we tend to use a bug repellent spray to deter fleas and other pests. However, a flea repellent plant is a natural way to keep these insects at bay while adding beauty to the space and attracting beneficial insects.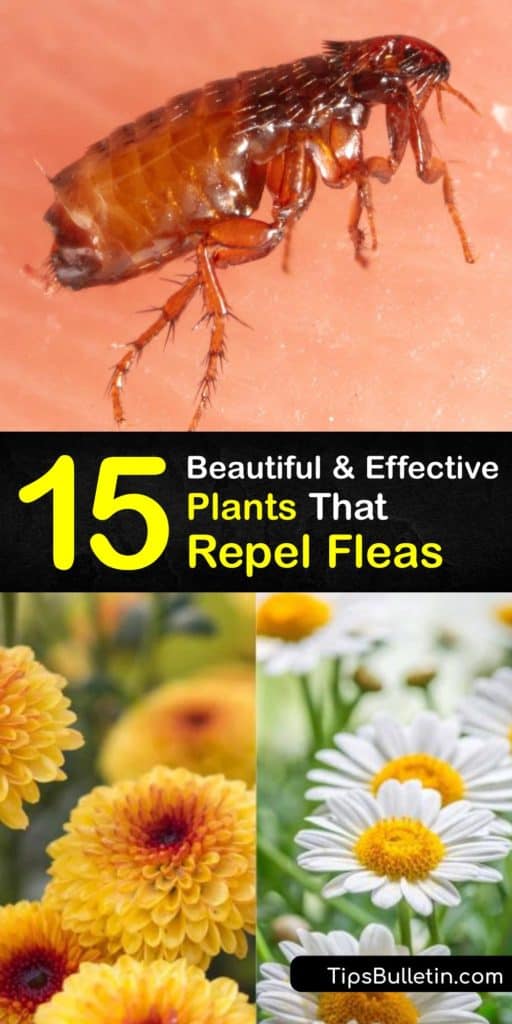 Filling your yard with plants that repel fleas is an excellent way to keep you and your pets free from these troublesome insects, so why not share our flea repellent plant guide with your gardening social circle on Facebook and Pinterest?