With their tiny eyes, pink snouts, and clawed, fleshy paws, moles are almost cute. They even fertilize and aerate soil and eat garden pests like the grubs of Japanese beetles. However, finding molehills in your lawn can leave you wondering whether there are any plants that repel moles.
Indeed, several mole repellent plants, including alliums, protect your landscaping against mole tunneling. These insectivores spend most of their time burrowing for critters like earthworms and larvae.
Occasionally, moles pause their digging to push loosened soil to the surface. Although they don't eat plants, moles dislodge roots. Voles, who sometimes use mole tunnels, do eat plants.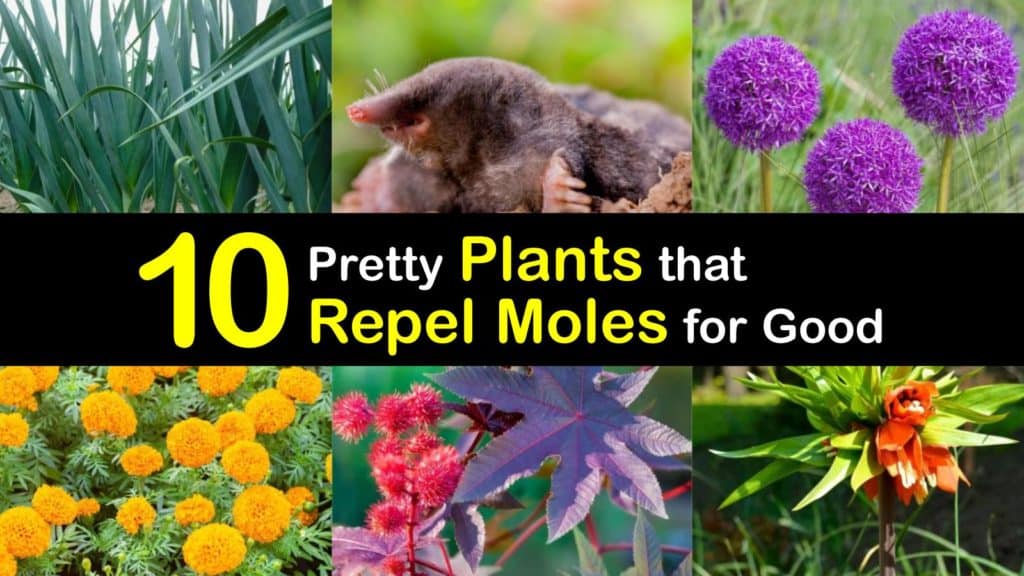 Plants that Moles Detest
Other than the Allium genus, which contains onions, plants that deter moles include flowers like marigolds. These plants' features, including strong scents, drive moles away.
Also think about getting rid of grub worms in your yard. Eliminating a mole's food source often works quite well. What kills grub worms? There are many natural and commercial products to take care of these pests.
Planting Location for Plants that Repel Moles
Plants that keep moles away generally favor full or part sun. Confirm their growing requirements before you try to get rid of moles with plants.
The plants' landscaping uses vary. For example, garlic suits the vegetable garden, while marigolds brighten up flower beds. Try placing mole repellent plants around your yard's perimeter.
You may also find that some are also plants that repel squirrels and other yard pests like chipmunks and rabbits.
Plants That Deter Moles: Planting Method
If you've ever wondered, "What plants repel moles?" the answer is both bulb plants and seed ones. Read the packet carefully since you may need to start seeds indoors or soak them before sowing.
Check the proper spacing for bulbs. In general, insert them with the pointed end up, but insert crown imperial's bulbs on their side to minimize the risk of rot.
Alternatives to Mole Repellent Plants
Suggestions for mole repellents abound, from ultrasonic devices to used coffee grounds. To create a physical barrier, bend a piece of hardware cloth at a 90° angle. Bury one side, and lay the other side flat along the ground.
For a DIY approach, try using cayenne pepper for moles. Alternatively, purchase mole repellent granules or insecticides to eliminate moles' food source.
African Marigold (Tagetes erecta)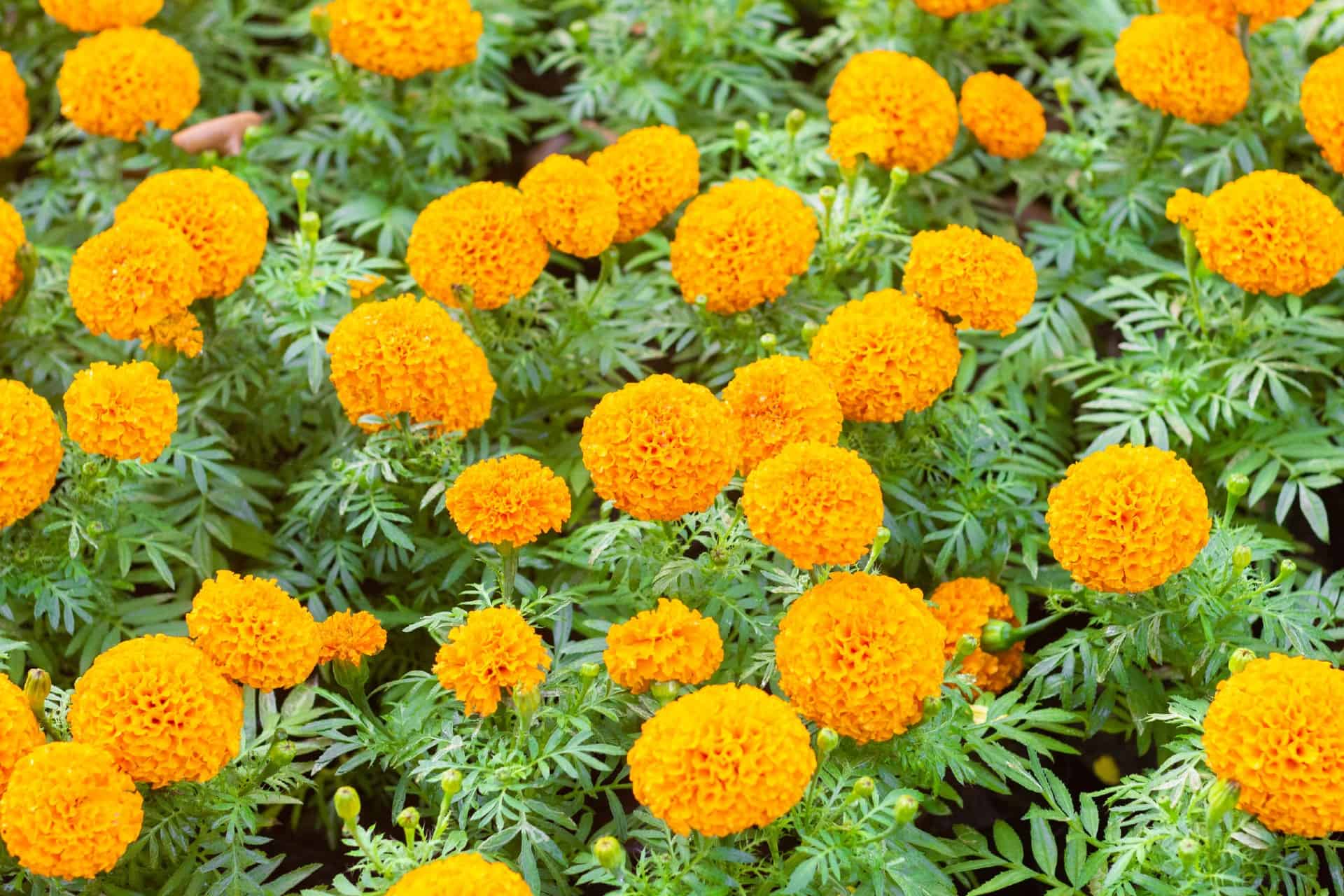 This plant produces carnation-like flowers in the spring, summer, and fall. Possible colors include orange, red, and white. Marigolds contain pyrethrins, which repel the bugs that moles eat.
Purchase young plants, or start the seeds indoors four to six weeks before the last frost. Marigolds thrive in full sun and neutral, fertile, well-drained, loamy or sandy soil.
Spread mulch. Add slow-release, granular 5-10-5 fertilizer to poor-quality soil when the plants are not growing. Water your marigolds at their base, letting the soil dry between waterings.
Castor Bean Plant (Ricinus communis)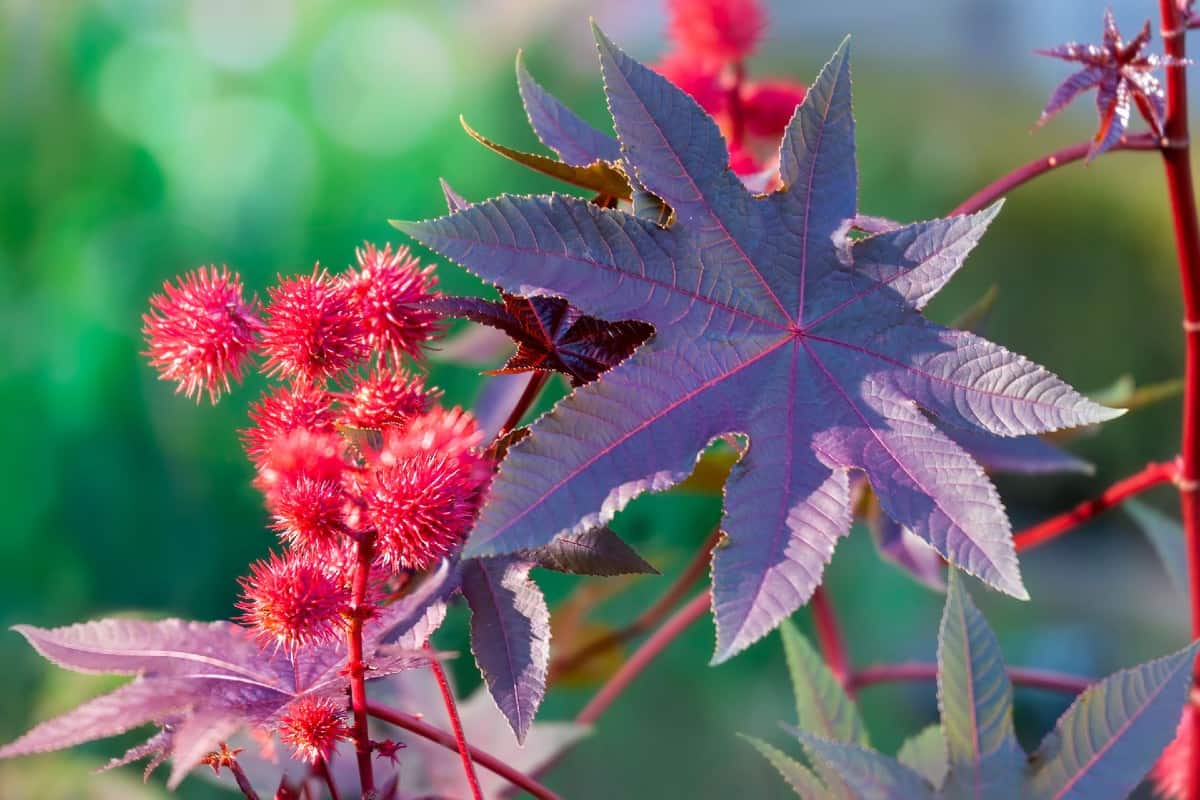 This plant has insignificant pink or red flowers, spiny red seed capsules, and large, star-shaped, green or dark-red leaves. The whole plant is poisonous, especially the seeds—the source of castor oil, a known mole repellent.
Start them indoors, soaking them overnight. Use this tall tropical plant as a specimen plant or place several together as a privacy screen. It's a perennial in warm regions but an annual in cooler ones.
Castor bean plant prefers full sun and moist, well-draining, loam. Water it well during the summer, and add compost to low-fertility soil.
Caper Spurge (Euphorbia lathyris) – A Spiky Mole Repellent Plant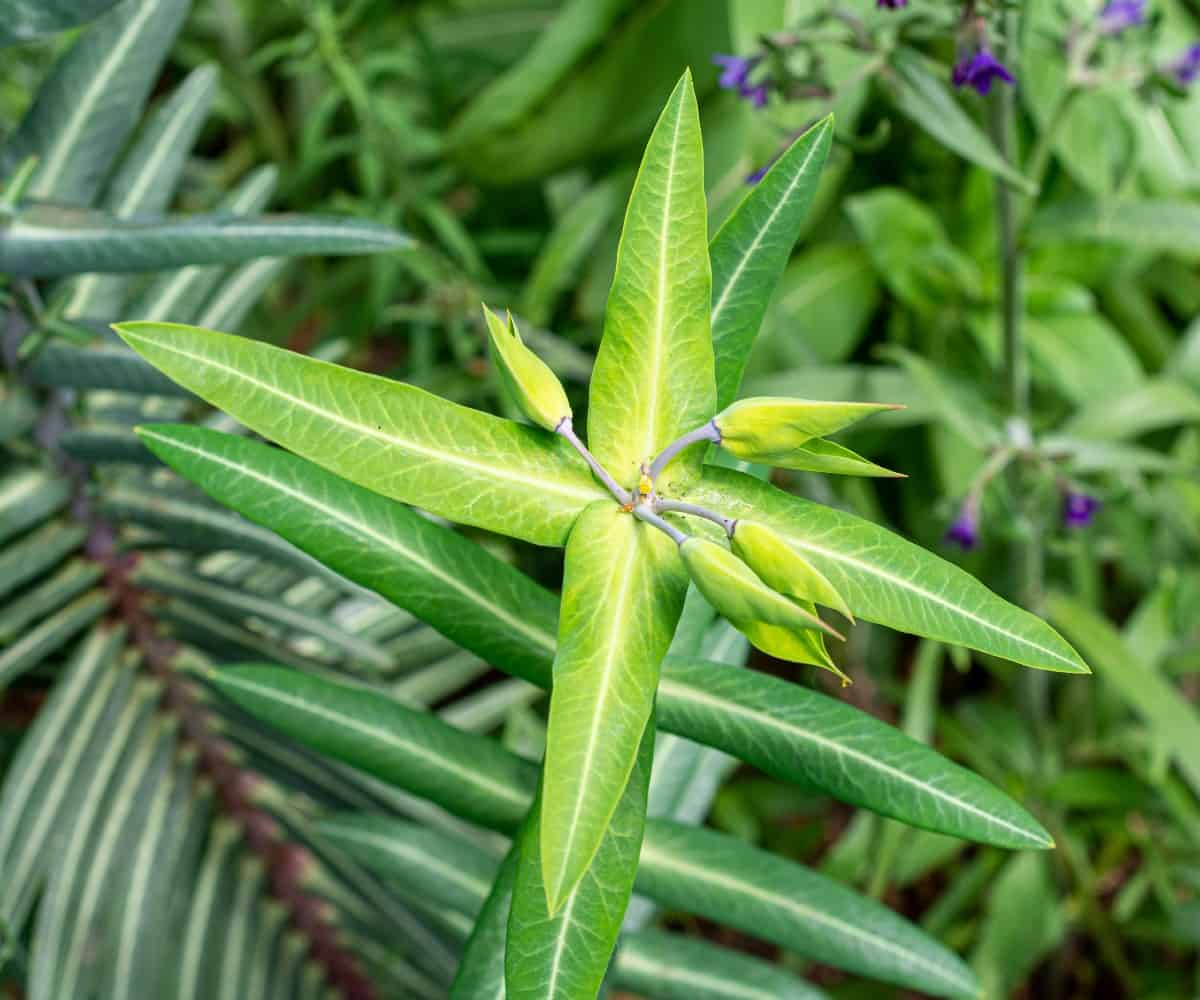 This plant, also known as mole plant, has green seed clusters and lance-shaped, blue-green leaves arranged around a central stem. In May and June, it bears yellow blooms.
Watch out: the whole plant is poisonous, and its milky-white sap causes skin irritation. Moles avoid its smelly roots. Place mole plant in a border or bed. Soak its seeds in warm water before sowing them in late spring or early summer.
Caper spurge favors full or part sun and light, fast-draining, alkaline or neutral soil. Water well, allowing the soil to dry between waterings. No fertilizer is necessary, but make sure to deadhead.
Daffodil (Narcissus)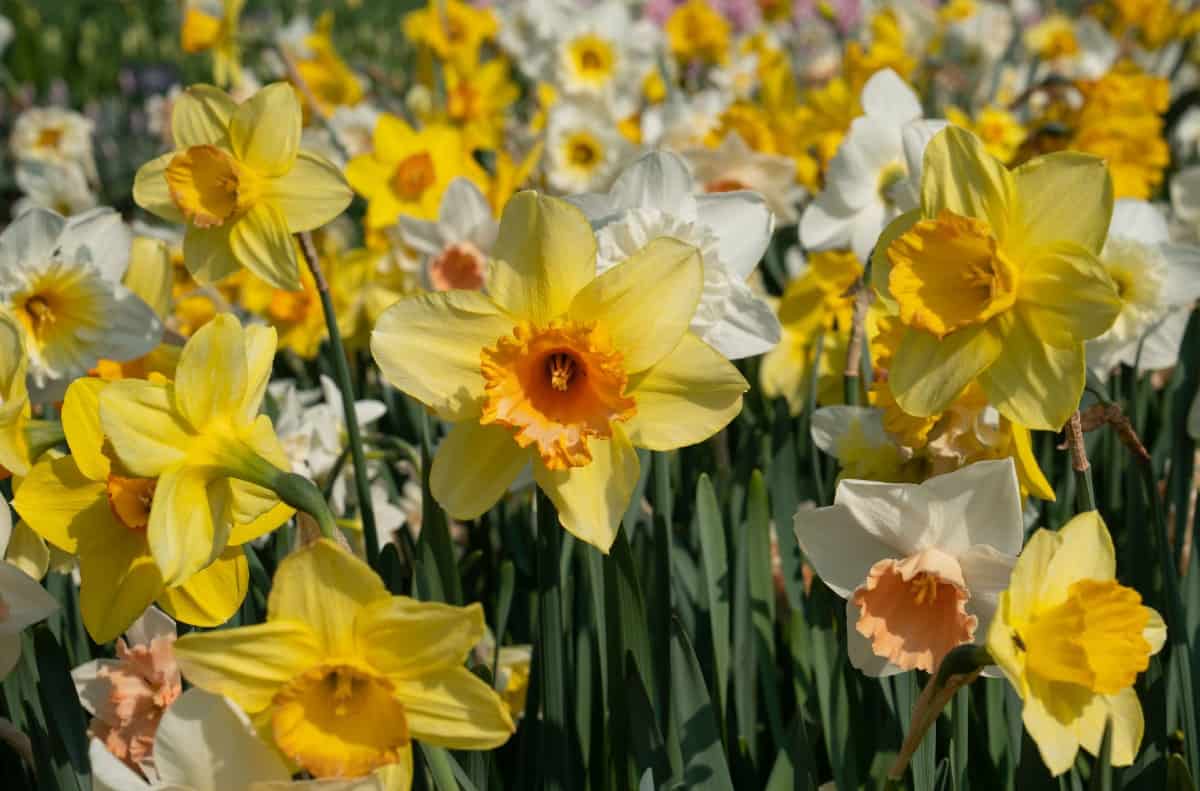 In early spring, daffodils produce their distinctive flowers with petals circling a central cup. The blooms are typically yellow but may also be white, orange, or red. Daffodil bulbs and flowers are toxic to animals.
Insert bulbs in mid- to late fall lining a pathway or bed. Daffodils thrive in full or part sun and fertile, moist, neutral to acidic soil that drains well.
Water your plants regularly in the spring and fall and during snowless winters. Stop watering three to four weeks after the blooms fade. For poor-quality soil or struggling plants, add bulb food or bone meal when the leaves emerge and when the flowers appear.
Crown Imperial (Fritillaria imperialis)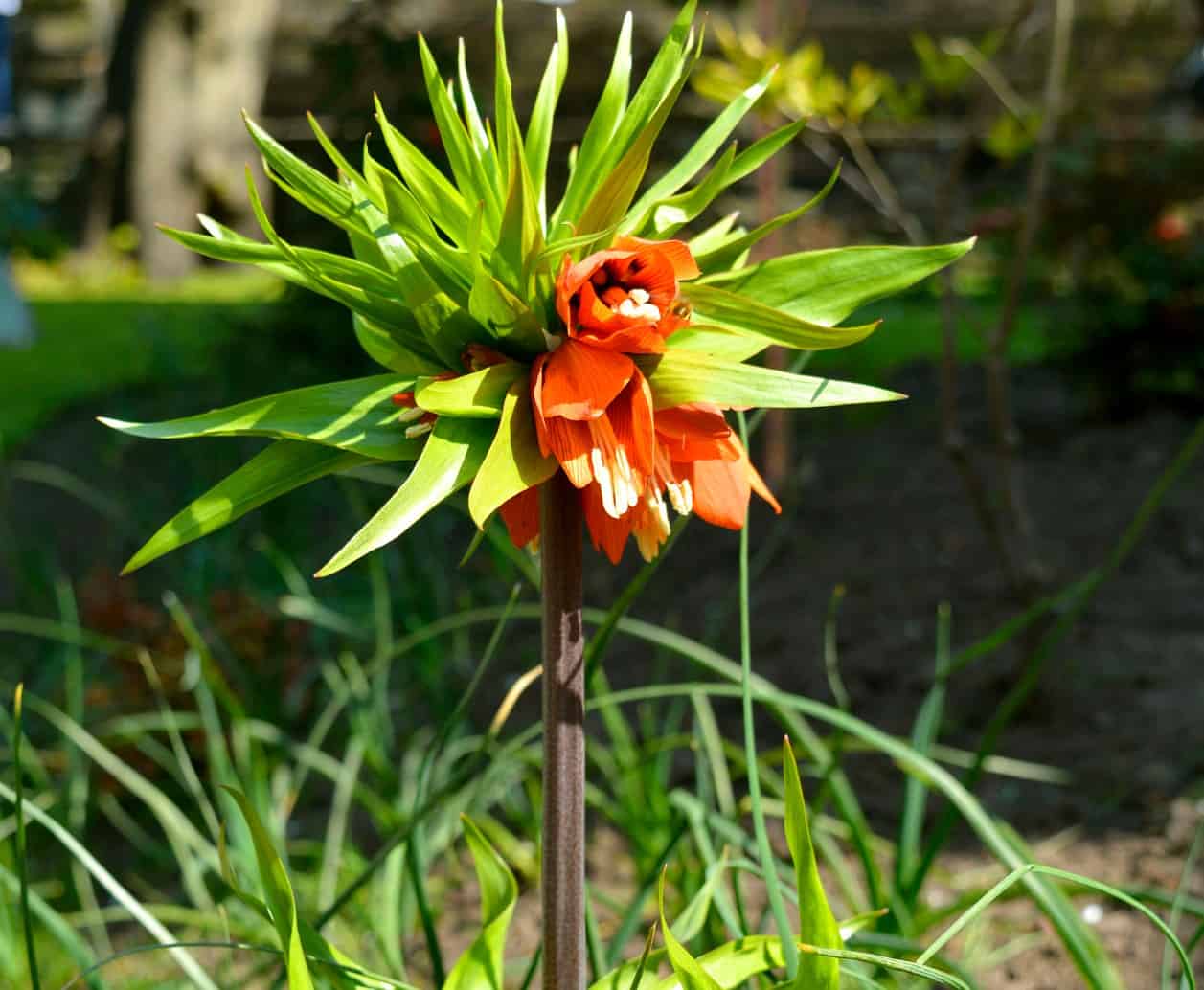 In late spring, fritillarias boast bell-shaped blooms at the top of their stalks. Crown imperial flowers are red, orange, or yellow. Their musky stink repels moles and gophers.
Use this perennial as a border or specimen plant. It flourishes in full sun and well-drained soil. No fertilizer is necessary, but add compost before planting and again every fall.
Plant crown imperial's large bulbs on their side in the fall. Give growing plants one inch of water weekly. Distribute mulch before the winter.
Siberian Squill (Scilla siberica) – A Lovely Mole Repellent Plant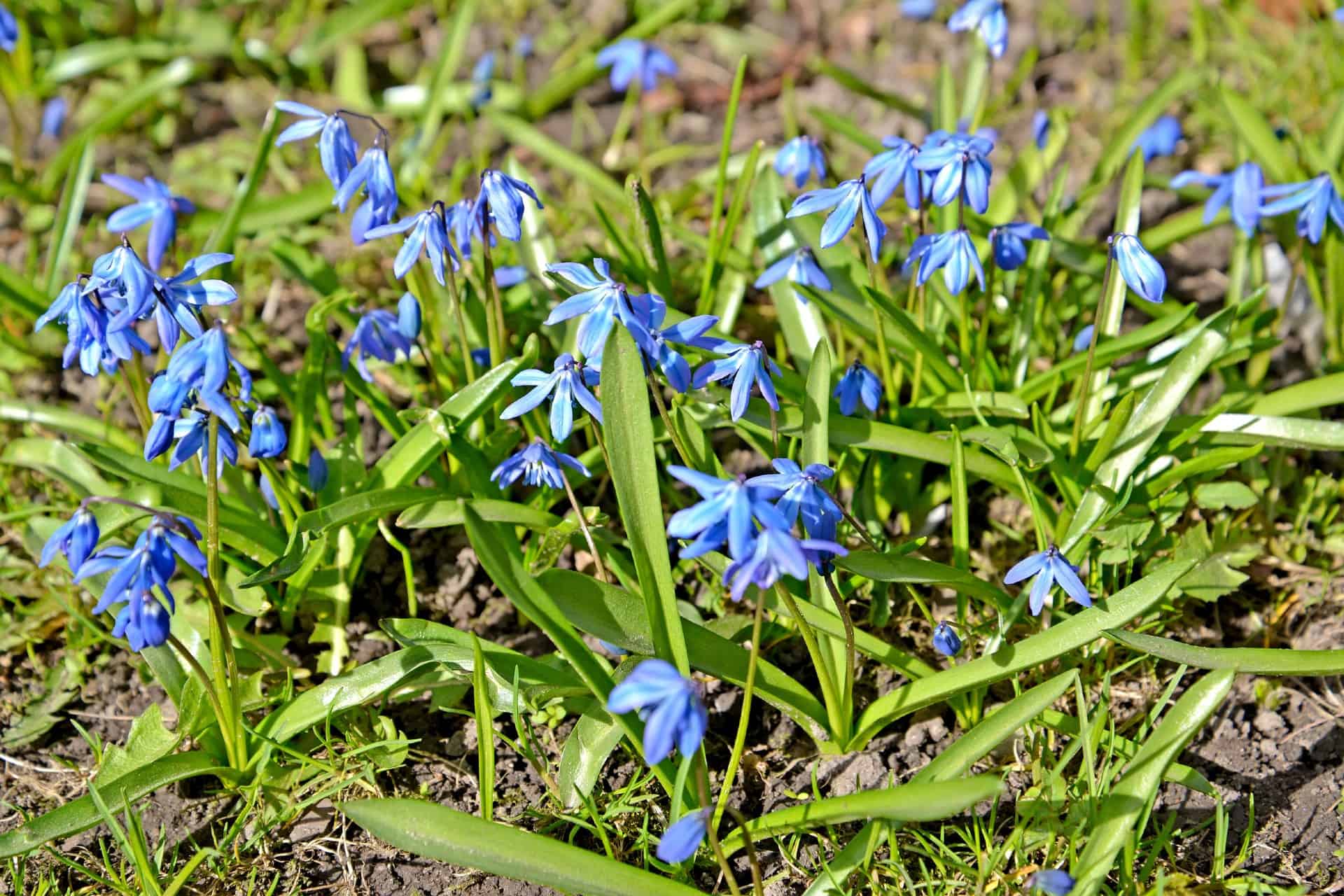 Among plants that deter moles, Siberian squill is perhaps the prettiest with its numerous brilliant-blue blooms in early spring. This small, cold-hardy plant's offensive odor discourages moles.
This squill multiplies rapidly. Plant several bulbs close together in mid- to late fall. Consider mixing them with other bulbs that flower in early spring.
The site should have full to part sun and well-draining soil. Water your squill regularly after planting it, avoiding getting the earth soggy. Apply bulb fertilizer or low-nitrogen, high-phosphorus granular fertilizer after the leaves emerge.
Purple Sensation Ornamental Onion (Allium holandicum 'Purple Sensation')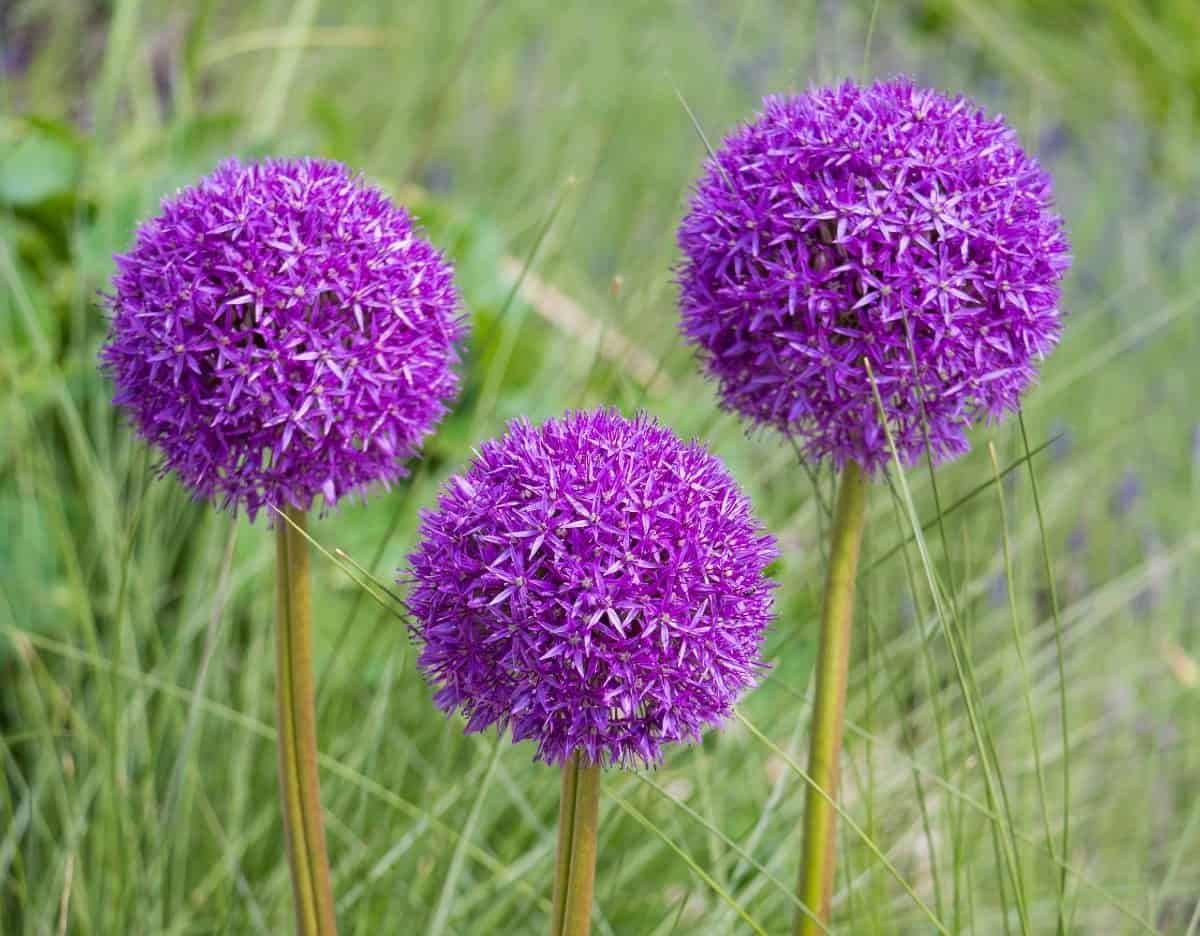 This tough plant may not be edible, but its onion-like scent deters moles and is one of the plants that repel skunks, too. The ornamental onion boasts round, bright-purple flowerheads composed of many tiny, star-shaped flowers. Plant its bulbs in the fall.
Try combining alliums with other medium-height plants or poking them through low-lying plants. Ornamental onions prefer full sun or partial shade and slightly acidic, fast-draining soil with organic matter added.
When the alliums flower, give balanced fertilizer to poor-quality soil. Water regularly if there's little rain, particularly during flowering.
Garlic (Allium sativum)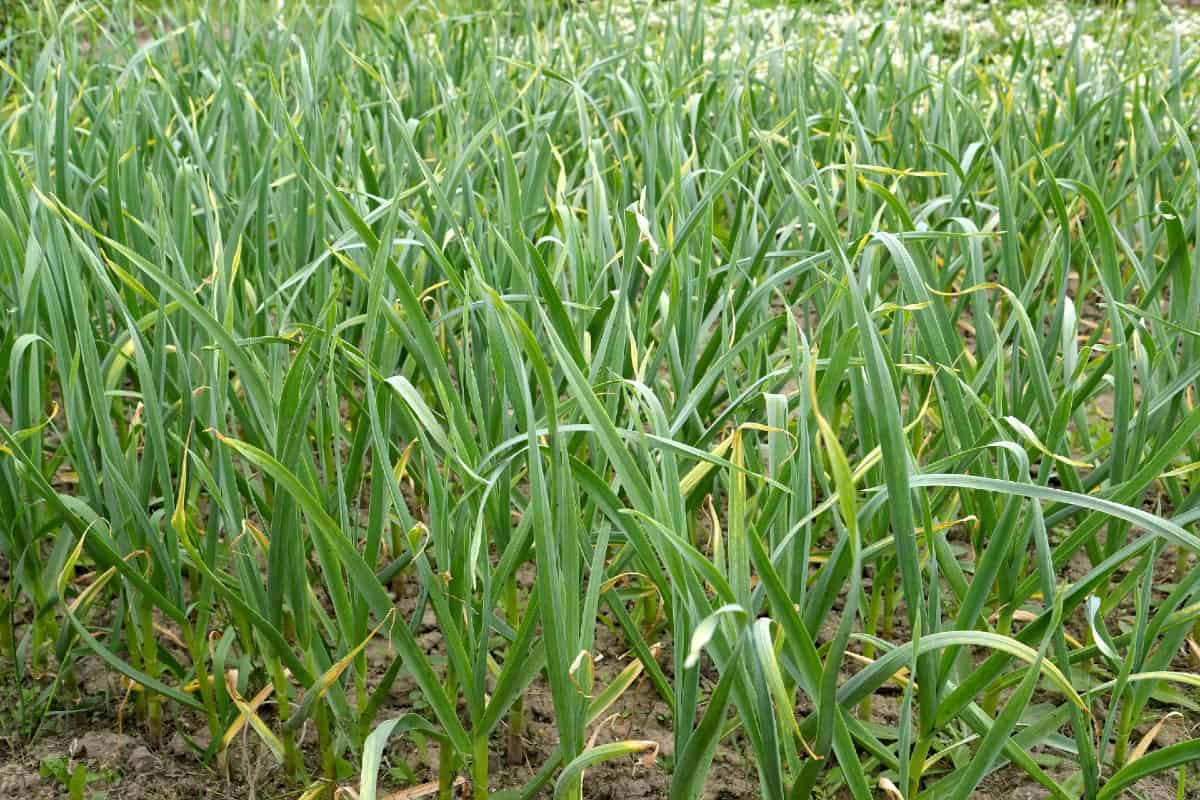 Moles flee from garlic's strong scent and they are also plants that repel skunks and a variety of other critters. Plant garlic cloves from a seed company or nursery in the fall. The site should have full sun and fertile, slightly acidic to neutral loam that drains well.
Before planting garlic as a rabbit repellent for gardens, add 5-10-10 complete fertilizer, bone meal, or fish meal. Amend thin, sandy soil with compost and aged manure.
Side-dress your garlic plants with nitrogen-rich fertilizer in early spring and again just before the bulbs start swelling—around early May. Water the plants every few days from mid-May to mid-June, then taper off. In colder regions, apply straw mulch before the winter.
You can also make a natural mole repellent recipe using garlic bulbs. Spritz the spray in areas where you cannot add plants as a homemade squirrel and chipmunk repellent, too.
Leeks (Allium porrum) – An Edible Mole Repellent Plant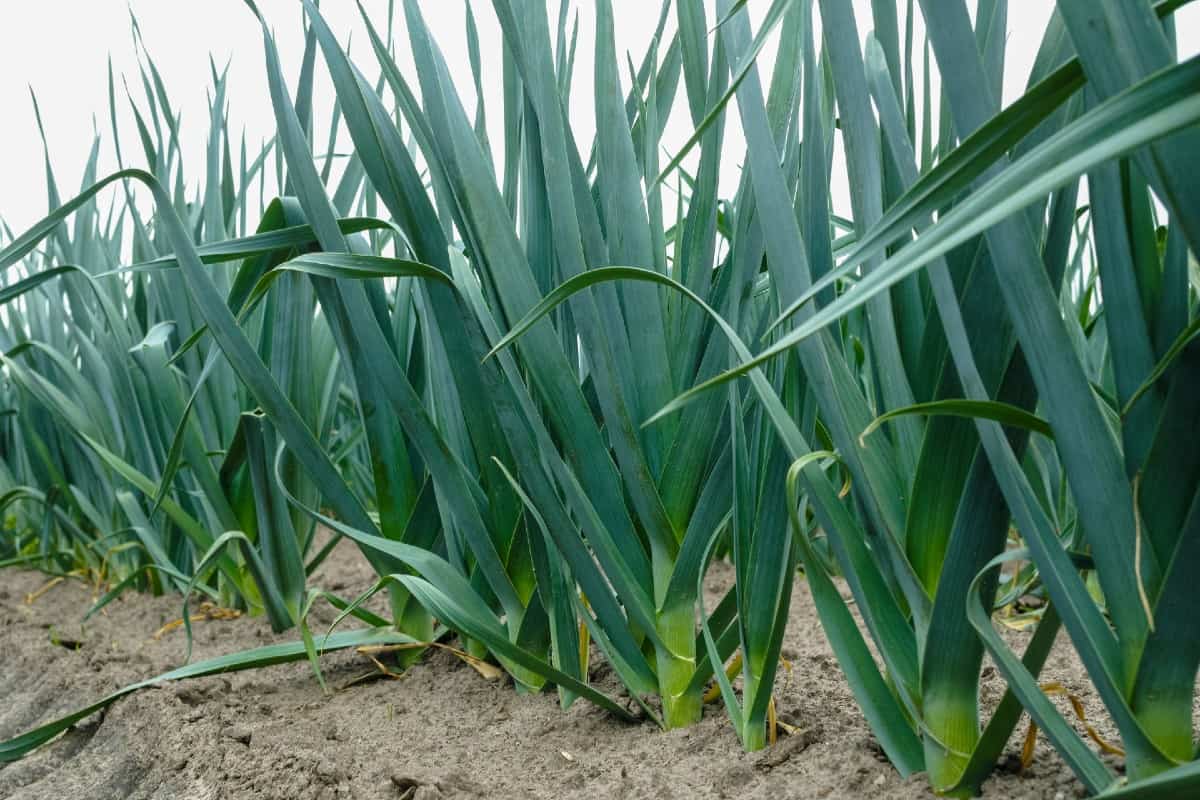 This perennial used to eliminate ground moles has long, flat, blue-green leaves and white springtime flowers. Although leeks' flavor is milder than onions', their scent still repels moles.
Start seeds indoors eight to twelve weeks before the last frost in cold climates or three to four weeks in warmer regions. Leeks flourish in full sun and fertile, well-drained, neutral to acidic, sandy soil.
Add compost to soil lacking organic matter, and spread mulch. Water leeks deeply once a week. In the middle of their growing season, side-dress with composted manure or nitrogen-rich, balanced fertilizer.
Shallots (Allium cepa var. aggregatum)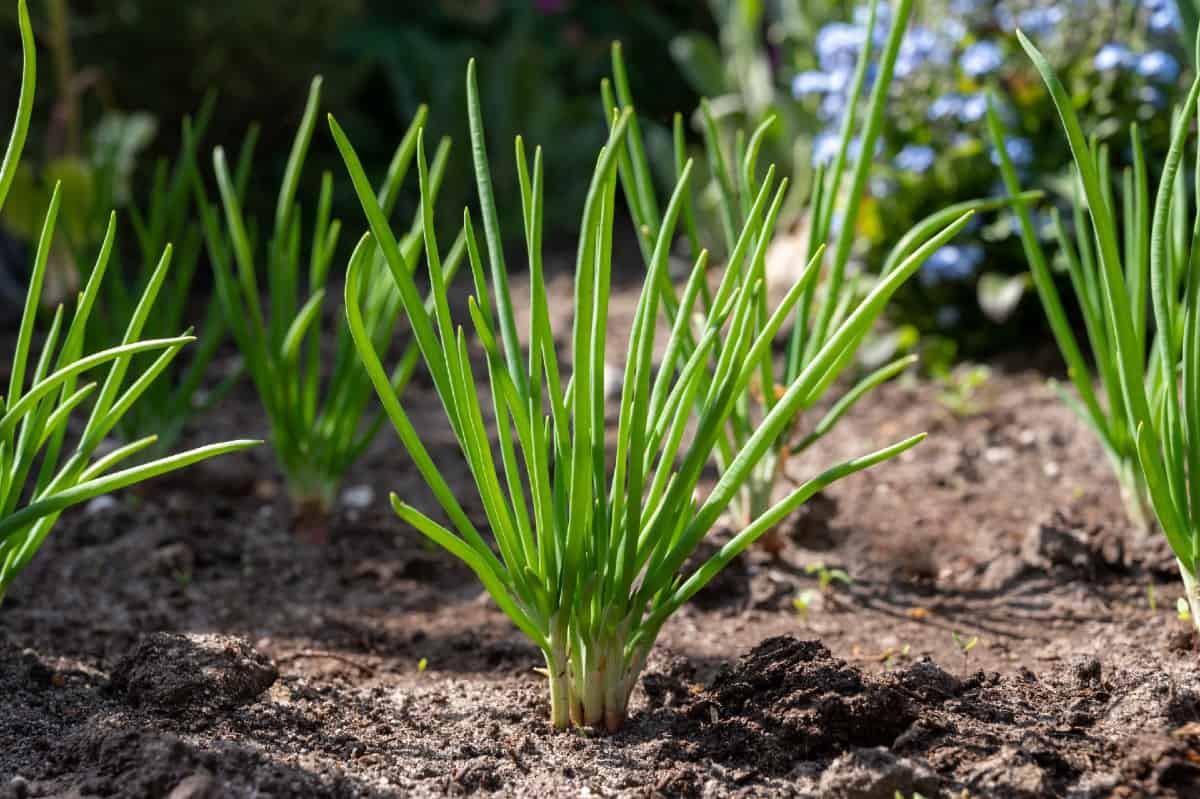 Each shallot plant produces multiple bulbs that each have several layers. Shallots have only a subtle onion flavor but deter moles nonetheless.
Plant shallot cloves in early fall or very early spring. They prefer full or part sun and well-draining, acidic or neutral soil that's rich in organic matter.
Water your shallots well during the growing season, not getting the soil too wet. Do not use mulch. Fertilizer is not necessary, but you may side-dress with organic matter in early spring.
Moles have several benefits, from aerating and fertilizing soil to eating pest insects. However, you're unlikely to see any positives to mole activity if they're ruining your lawn with molehills.
In fact, you're probably willing to try just about anything to get your garden mole-free. Before turning to dubious solutions or traps to kill lawn moles, why not try plants that repel moles instead?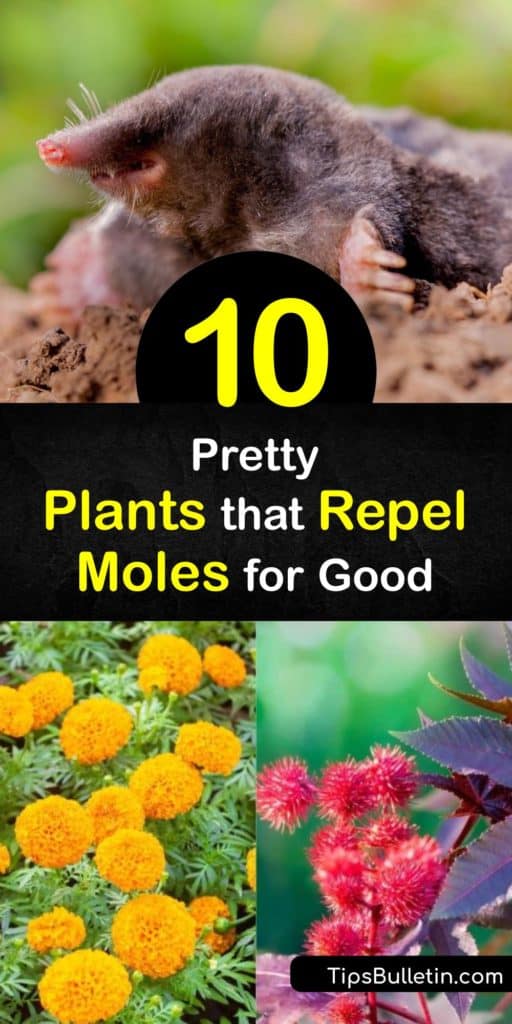 If you found these mole repellent plant ideas helpful, please share these mole control tips with your friends on Pinterest and Facebook.