Silverfish are alien-looking insects with bristle-like appendages on the end of their body, and they do not spread disease or bite humans or animals. However, an infestation of these pests may damage your house and trigger allergies. Fortunately, there are several plants that repel silverfish and prevent them from becoming a problem.
Various home and garden pests cause havoc in our daily lives, from bed bugs and fleas to cockroaches and ants. While silverfish aren't as annoying as other bugs, an overabundance of them is cause for concern since they feast on natural materials like silk and cotton.
Silverfish have a lifespan of up to eight years, lay one to three eggs daily, and an infestation signifies a long-time problem. They deposit their eggs in small cracks and crevices, making them challenging to find – the best way to halt an infestation is to keep them out of your living space.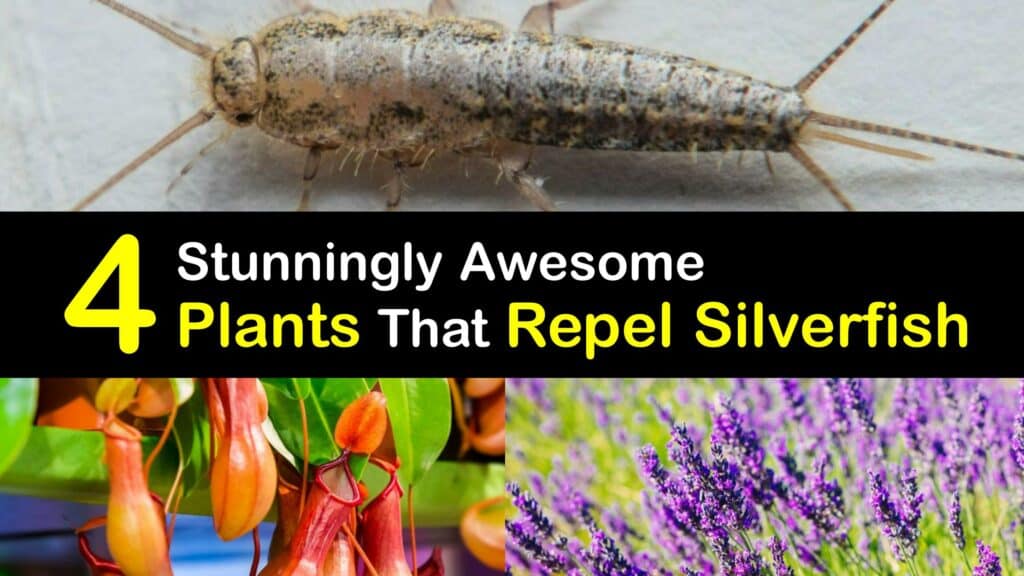 Repelling Silverfish with Plants
Growing plants that deter silverfish is an ideal way to get rid of silverfish naturally and keep these insects away from your home without using bug spray. Try a remedy for getting rid of silverfish and improve your home aesthetics at the same time.
Not only do the plants repel silverfish, but they act as insect repellent and are great for Japanese beetle, cabbage moth, carrot fly, and cockroach control.
What Are Silverfish Repellent Plants?
The most obvious answer is that silverfish repellent plants are plants that keep silverfish away. However, there's more to it than that. Many plants contain oils that insects cannot stand. While beneficial insects enjoy the fragrance of basil, lemon eucalyptus, or bay leaf, bugs like silverfish avoid areas where they detect the scent and it works like a natural silverfish deterrent. It can also repel other unwanted insects like roaches.
Do Plants That Deter Silverfish Keep Other Pests Away?
What plants repel silverfish, and do they keep other pests away? Basil and lemongrass are two popular plants that deter silverfish. As a bonus, they also repel mosquitoes, houseflies, asparagus beetles, and other annoying or harmful insects.
Where is the Best Place to Grow Silverfish Repellent Plants?
Depending on the type, you can grow silverfish repellent plants indoors or outside. For example, lemongrass is an ornamental plant that repels silverfish and is perfect for planting around the perimeter of your house. Basil is ideal for growing inside on a sunny windowsill, and the Venus flytrap is great for catching bugs on a side table.
Are Plants That Repel Silverfish Easy to Grow?
Although you can easily make your own silverfish sticky traps, growing repellent plants is just as simple. Fortunately, plants that deter silverfish are relatively straightforward to grow if you give them the proper growing conditions.
For instance, some plants require full sun, and others prefer partial shade – it's important to understand your plant's needs before planting them in the flower or vegetable garden.
Pitcher Plants (Nepenthes)
The pitcher plant is a carnivorous plant similar to the Venus fly trap. However, this plant type uses a different system to capture insects like Japanese beetles, cucumber beetles, and silverfish. It lures the pest into a cupped leaf, where the insect falls into the trap.
There are different types of pitcher plants, and they grow ideally in part to full sun in hardiness zones 6 through 10. Yet, it's possible to grow them indoors as long as you keep the soil damp.
Lavender (Lavandula) – Herbal Plants That Repel Silverfish
Lavender contains a compound called linalool, which contributes to the fragrance we enjoy and the insects hate. The plant produces purple spikes of flowers throughout the summer, and its smell is adept for keeping silverfish away, as well as everything from spider mites and aphids.
This perennial herb grows 2 to 3 feet tall and 2 to 4 feet wide and is hardy in zones 5 through 9. It prefers well-draining, alkaline soil, and full sun, and is toxic to pets, so caution is necessary.
Add a few drops of lavender essential oil to a cotton ball and place strategically to help to get rid of moths in your kitchen and pantry. Sprigs of lavender work well, too.
Basil (Ocimum basilicum)
The scented oils of the basil plant deter silverfish and the asparagus beetle, carrot fly, tomato hornworm, flea beetle, and whitefly, and touching the leaves increases the plant's insect-repelling qualities.
Basil is an annual herb that enjoys rich soil, growing 18 to 24 inches tall. Plant basil in the outdoor herb garden or inside as an indoor plant, and watch as bug pests avoid the area.
Lemongrass (Cymbopogon) – Landscaping Plant That Repels Pest Insects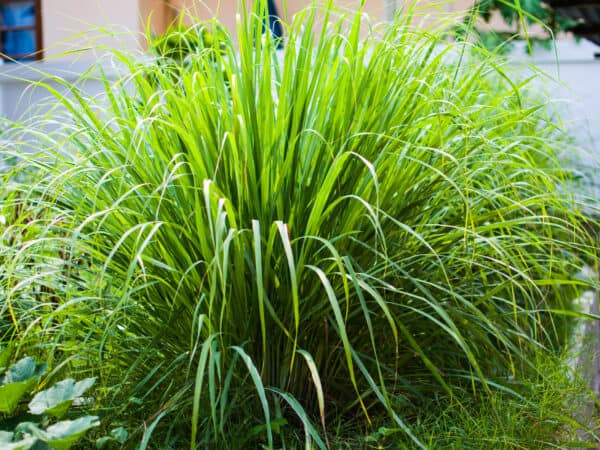 Lemongrass has a sweeping, whimsical appearance and looks stunning as a focal point in the yard or border. Not only is it attractive, but it's useful to repel insects, including silverfish, mosquitoes, and other plant pests. Lemongrass plants that keep fruit flies away are helpful in pots on the patio.
While lemongrass is a popular silverfish and mosquito repellent, it's also relatively easy to grow as annuals or perennials. Plant it in full sun in loamy soil, and watch it grow 2 to 4 feet tall and wide.
No one wants to have to handle an infestation of flies, roaches, moth larvae, silverfish, or other insects. Luckily, many plants repel bugs and keep them in check. Using plants as pest control is better for the environment than harmful pesticides.
Growing plants that repel silverfish is an excellent way to keep pests out of your home without using harsh chemicals, so why not share our silverfish plant repellent guide with the nature-loving people in your life on Pinterest and Facebook?