At first, having a few squirrels around your backyard and your garden does not seem like a pressing issue that deserves immediate attention. However, squirrels can cause significant injury to the fruits, herbs, and vegetables in your garden as well as your porch or deck. Several plants repel squirrels naturally if you want to refrain from using harsh chemicals to get rid of squirrels.
Squirrels tend to dig holes in your lawn to bury and search for nuts and chew on wooden furniture and decks, leaving plenty of damage.
Throughout this article, we show you what flowers and other plants serve as an all-natural squirrel repellent, how to make a DIY deterrent, and what attracts the critters to your yard in the first place. The squirrel repellent plants we share here act as a form of pest control and a beautiful addition of bright colors to your garden.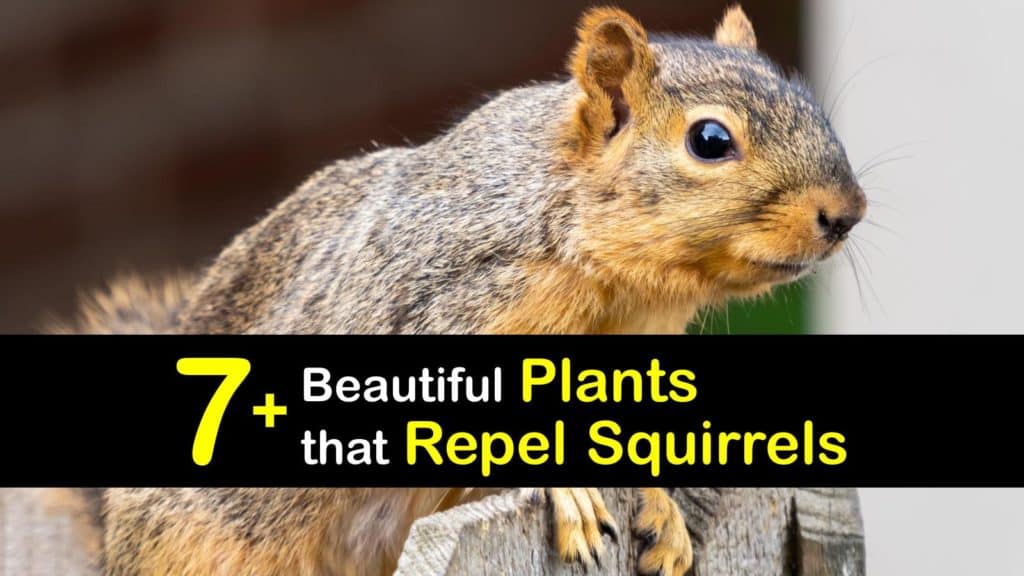 Why Do Squirrels Cause Yard Damage?
Before including any plants that repel squirrels in your garden, it is important to understand why squirrels dig holes in your lawn and other areas around your house. The primary reason squirrels dig up your grass and garden is to search for their food sources.
A squirrel's diet consists of roots, bark, shoots, stems, leaves, flowers, nuts, and fruit, making your garden the ideal place to find a majority of these foods.
A second reason squirrels dig holes in your yard is to bury and hide supplies like nuts and seeds so they can survive the winter months.
Common Squirrel Attractants
Learning about the popular squirrel attractants helps you know the most likely places squirrels are congregating and causing the most harm.
A squirrel repellent for garden areas in your backyard only works when you know where to grow the plants to keep squirrels away. The most likely reason squirrels invade your garden is in search of a food source.
Squirrels and chipmunks continue to feast in the same area when they realize food is always available. Some familiar food sources include bird seed, acorns, fungi, insects, fruit, and vegetables.
If you have bird feeders or are growing delicious fruits and vegetables in a garden, your lawn is a perfect spot to find food.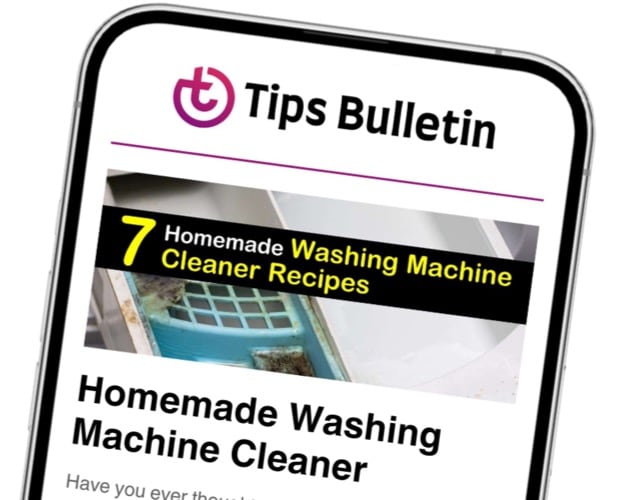 Finally, an email that Transforms Your Home.
Get the latest home and garden tips from our experts, delivered straight to your inbox.
Alliums Are Plants That Repel Squirrels
If you find a squirrel digging up plants in your garden, we suggest growing allium. An added benefit of growing plants that deter squirrels like alliums is protecting your veggies and fruits from other pests like rabbits, deer, aphids, and Japanese beetles.
When it comes to this perennial plant, there are a couple of options regarding what kind of plant you would like in your garden. One form of alliums is the edible kind, which releases a strong odor that squirrels despise and what keeps squirrels away from plants you enjoy.
The ornamental allium varieties are beautiful, stylish plants with large, round flowers. They have the added benefit of being rat repellent plants. Chipmunks and mice don't like them either.
Some of the bright colors allium ornamentals come in include white, pink, yellow, purple, and blue. They produce a strong scent that works well to repel squirrels from your flower beds.
Making a simple garlic spray from your plants is one of the best home remedies to get rid of raccoons, chipmunks, squirrels, and neighbor cats that may stop in your yard.
Daffodils Are Beautiful Squirrel Repellent Plants
Plants in the Narcissi family, like daffodils, are the ideal flower to include in your garden. As one of the best squirrel repellent plants, daffodils not only drive squirrels away but also deter other critters like rabbits and deer.
These animals do not like a daffodil's taste or smell and quickly avoid the plant when they contact it. As a perennial, daffodils are reliable when returning year after year, even in harsh climates.
Plant daffodil seeds in the fall, so the flower blooms in the early spring. To add a layer of squirrel protection for your daffodils and other plants, surround the area with a chicken wire fence to block out any smaller animals.
Plants That Deter Squirrels Include Galanthus
Galanthus flowers, commonly referred to as snowdrop flowers, are ideal for growing in your garden if you reside in an area with colder temperatures. The snowdrop flower bulbs release a strong scent that squirrels do not like, keeping squirrels away from your yard.
Plant Galanthus bulbs in an area that receives a little bit of shade and has well-draining soil. In the early fall, plant the bulbs about five inches deep in the ground and pile two inches of potting mix on top of the bulb.
As you grow a snowdrop flower bulb, make sure the bulb's flat base points down into the ground and the skinny nose points upward.
Does a Hyacinth Flower Deter Squirrels?
Hyacinths flowers and certain hybrid crocus bulbs bring unique colors to your vegetable garden while simultaneously serving as natural squirrel repellents.
The spring-flowering bulbs are quite fragrant when they bloom in dense clusters, which drives squirrels away. When planting hyacinth bulbs, space them at least three inches apart in a location with total sun exposure.
Bury the bulbs four inches deep in the soil and make sure the pointed end is facing up. The best time to grow hyacinths bulbs is in the autumn before the first fall frost.
Hyacinth flowers contain oxalic acid, which irritates the skin, so wear gardening gloves while planting.
Geraniums and Cayenne Pepper Are Terrific Squirrel Repellents
The best squirrel prevention techniques involve combining repellents like geraniums and cayenne pepper in your garden. This is a sure way to repel squirrels as well as other critters like skunks, chipmunks, raccoons, and deer. When grown around your garden crops, geraniums are excellent squirrel repellants.
This resilient flower contains strong odors that prevent squirrels from eating other veggies in your garden. To ensure that no squirrels infest your vegetable garden, consider adding cayenne pepper on the top of your soil or mulch.
This hot pepper is unbearable to animals and will get rid of squirrels in the yard as soon as they get a whiff. To implement cayenne pepper into your garden, sprinkle a generous amount of the hot spice around your plants when it is time for them to bloom.
Squirrel repellent plants like geraniums and hot pepper flakes like cayenne pepper are a fantastic way to avoid destruction in your garden.
Lily-of-the-Valley Plants Act as Squirrel Repellent Flowers
One type of flower that is generally not well-liked by squirrels is the lily-of-the-valley. Because this flower has a strong odor, lily-of-the-valley repels squirrels and other wildlife from digging up veggies and flower bulbs.
Lily-of-the-valley flowers are often poisonous when animals ingest them. If you have family pets, set up a barrier surrounding the plant made from chicken wire or bird netting to protect your pet.
To err on the side of safety, plant lily-of-the-valley away from areas where your pets go or avoid planting the flower altogether.
Marigolds Are the Ultimate Pest-Deterring Flower
What plants repel squirrels the best? Marigolds are one of the most effective flowers to grow in your garden when it comes to deterring unwanted critters and insects. They are plants that deter mice, chipmunks, rabbits, and many other animals.
Marigolds release a strong scent that many animals avoid, including being plants that chipmunks hate, making them the perfect flower to include in your garden. Marigolds germinate quickly outdoors when you sow the seeds in the springtime.
Sow your marigold seeds at least one inch apart and one inch deep in the soil. To care for the flower, make sure to use well-draining soil, plant it in an area with plenty of sun exposure, and remove any stones from the ground before germinating.
Planting Fritillaria Species
To prevent squirrels from destroying the tulips in your garden, consider planting fritillaries. A fritillaria plant releases a strong scent that squirrels do not like, driving them away from your garden.
The fritillaria species contains chemicals that cause an allergic reaction for some people. To avoid dealing with an allergic reaction, grow peppermint plants instead.
The plant releases' strong scent that is undesirable to many harmful pests. Peppermint odors deter aphids, whiteflies, Japanese beetles, chipmunks, raccoons, skunks, and squirrels.
To implement peppermint essential oils to deter squirrels and get rid of pests, spread a few drops around the base of your plants.
You can also mix peppermint or another essential oil with water and spritz certain areas of your yard for a homemade squirrel and chipmunk repellent. Reapply after a heavy rain.
Other Tips and Tricks to Repel Squirrels
Squirrel repellent plants are not the only method to use to eliminate squirrels from your yard. Various other tools like moth balls, automatic sprinklers, and different bird seeds in your feeders are excellent alternatives.
Placing moth balls beside your plants is a fantastic way to deter squirrels, as they hate the odor that moth balls release.
Another technique to deter squirrels is with a motion-activated sprinkler system. Automatic sprinklers scare squirrels away when they spray water and lead the squirrels to search for food in a different location.
Safflower seeds in birdfeeders may take some time for the birds to get used to. However, unwanted visitors like squirrels, starlings, and blackbirds do not eat safflower seeds.
After you spend considerable time planting and taking care of the various fruits, herbs, and flowers in a garden, the last thing you want is for a squirrel to destroy all your hard work.
Squirrels dig up certain roots and flower bulbs to consume or to bury various nuts for a later date. Incorporating plants that deter squirrels is vital to protect and maintain all your plants to avoid destruction in your garden.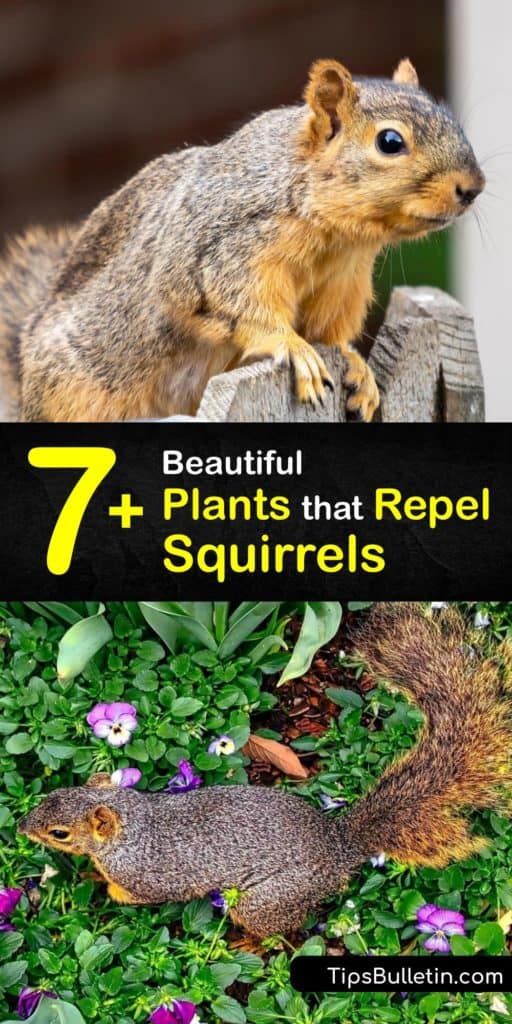 If you learned about plants that repel squirrels, share this article with squirrel repellent plants on Facebook and Pinterest with your friends and members of your family.