Weevils are a nuisance in the house and yard, destroying plants and getting into dry foods in the pantry. While they are not parasitic and do not bite, they are a common garden pest in and around homes. Fortunately, there are plants that repel weevils, keeping your garden bed and house safe from a weevil infestation.
Weevils, or flour bugs, are small beetles with noticeable snouts, and there are thousands of different species. White pine weevils eat spruce and pine, you find boll weevils on cotton plants, rose weevils are fond of flowers, black vine weevils attack shrubs, plants, trees, and herbs. Rice weevils devour oats, wheat, corn, and other grains, although vinegar does kill rice weevils if you find them indoors.
The adult weevil chews on plant stems and leaves, and weevil larvae live in the ground, feeding on plant roots. A female weevil can lay up to 250 eggs at once, so it's vital to prevent weevils from infesting the yard to ensure your plants grow healthy and strong.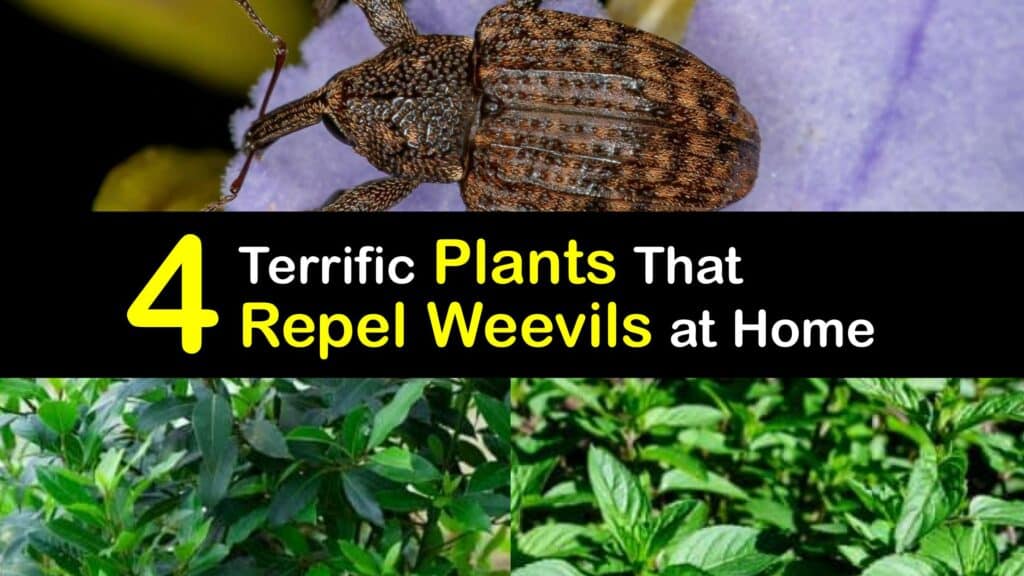 Weevil-Repelling Plants
Many forms of pest control help keep insect pests like the vine weevil, tomato hornworm, Japanese beetle, cabbage moth, or carrot fly in check. However, growing plants that deter weevils is a natural way to send the weevil and other bugs packing.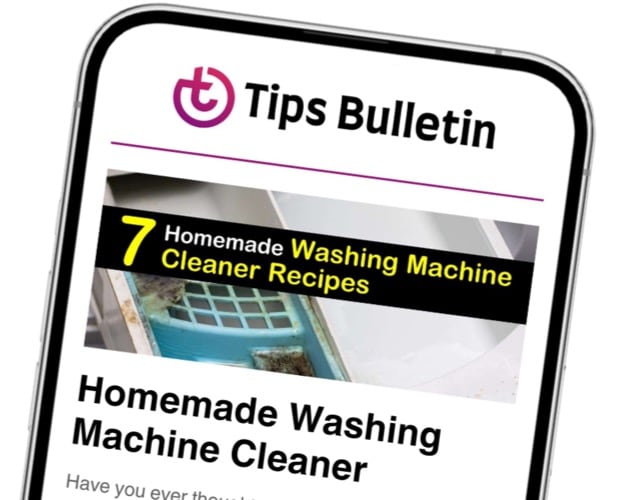 Finally, an email that Transforms Your Home.
Get the latest home and garden tips from our experts, delivered straight to your inbox.
Companion planting with weevil repellent plants is an excellent way to keep adult weevils and other harmful insects away from your plants. Growing the right plants draws pollinators and other beneficial insects to the area, ensuring harmony in the garden.
How Do Weevil Repellent Plants Work?
Several plants will work as a natural weevil repellent by emitting oils from their leaves and stems. The plant oil gives off a scent that weevils and other insects hate, causing them to seek better places to feast and shelter.
These plants are a great way to prevent weevils from attacking your garden, whether you have veggies or flowers.
Where Should I Grow Plants That Deter Weevil Populations?
Where you grow weevil repellent plants depends on your goal. if you're trying to keep insects from entering your home, consider planting weevil-repellent plants near entryways to the house. Get rid of weevils outside by companion planting to deter weevils from the garden.
Do Weevil-Repellent Plants Deter Other Garden Pests?
What plants repel weevils, and do they keep other pests at bay? Bay leaf, garlic, catnip, and mint are some popular plants for deterring weevils. They also repel mosquitoes, Japanese beetles, aphids, spider mites, bean beetles, moths, and other harmful insects.
Is It Easy to Grow These Plants?
Most plants that deter weevils are simple to grow, but it's crucial to understand their growing habits and needs before planting them in the yard. Some plants need full sun and acidic soil to thrive, while others don't tolerate direct sunlight or dirt with a low pH.
Bay Leaf (Laurus nobilis)
Bay laurel, or bay leaf, is a plant commonly grown for kitchen seasoning. It has deep, glossy green leaves with a leathery texture, grows well outside or as a houseplant, reaching four to eight feet tall, and prevents weevils in flour, Mexican bean beetle, and other pest insects. You can also place the leaves in the pantry to keep pests out of grain food.
Garlic (Allium sativum) – Edibles That Discourage Weevils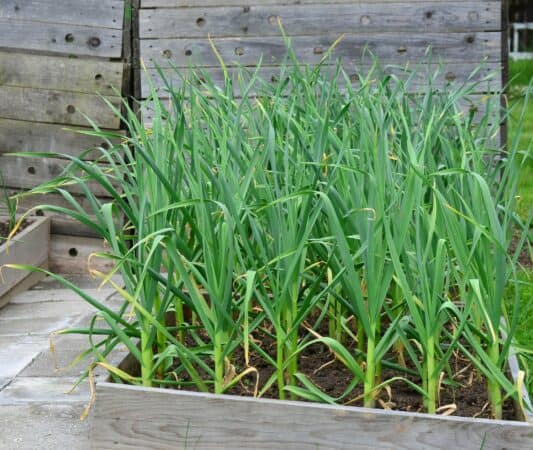 Garlic plants not only provide you with bulbs for flavoring food, but they deter the strawberry root weevil, flea beetle, asparagus beetle, and flies. It's relatively simple to grow in a garden bed or containers, and harvest time keeps your kitchen well stocked with garlic cloves.
Catnip (Nepeta cataria)
Catnip plants aren't just for cats. They are a great companion plant for keeping various bugs away from vegetables and flowers. They thrive in full sun, grow 2 to 3 feet tall and wide, and repel the root weevil, vine weevil grubs, moths, roaches, and other common pests.
Mint (Mentha) – Aromatic Plants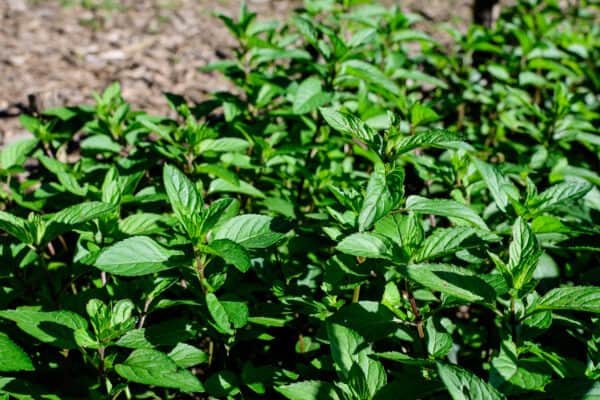 While you may love the scent of mint, the weevil beetle, mosquito, cucumber beetle, and other insect pests cannot stand its smell. It's also one of the plants that repel squash vine borers and roaches. There are different types of mint to grow in the herb garden or in a pot, from chocolate mint and spearmint to peppermint and apple mint.
Weevils cause havoc to plants, and when they run out of food outside, they head indoors searching for grains and dried goods. It's essential to control these plant and pantry pests before they become a problem. Luckily, some plants repel bugs like the black vine weevil and keep them in check.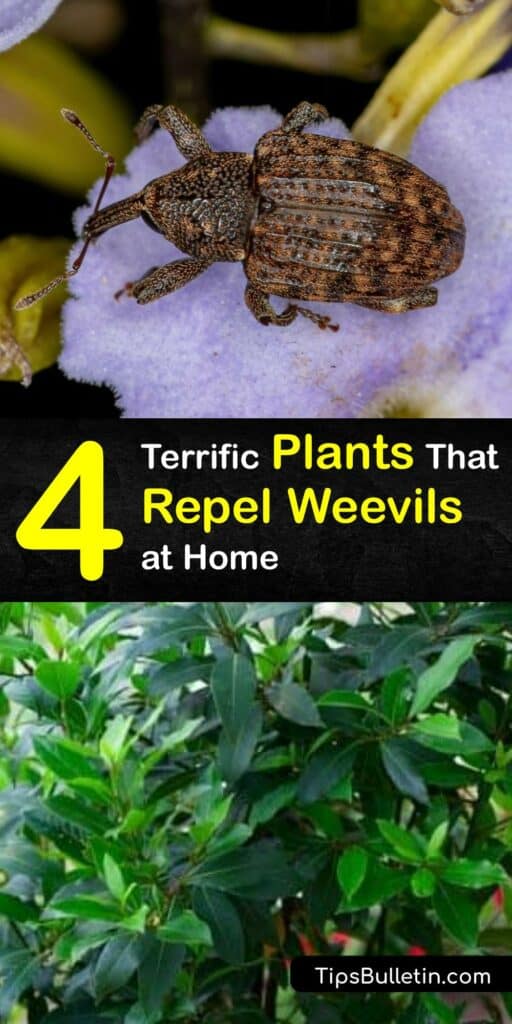 We hope that growing plants that repel weevils in your garden keeps your plants safe from destruction, and we'd love it if you'd share our guide for growing weevil-repellent plants with the gardeners in your life on Pinterest and Facebook.