You've decided to grow your own potatoes, and you are wondering why the leaves are wilting and have brown or yellow spots. Or, perhaps you simply want to know what to expect before you grow a garden. Whatever the reason, we explain common potato diseases and pests to look for when planting potatoes.
Gardening is both rewarding and challenging, especially when dealing with unexpected problems. These include fungal and bacterial diseases and insects.
While many of the causes are easy to prevent, sometimes they are unavoidable, and steps are required to solve the issue and save your plants from dying. Many potato problems are simple to rectify as long as you take action right away.
However, some diseases from certain fungi and bacteria that live in the soil are only curable by prevention. Therefore, it's vital to understand what ails your plants now to stop future crops from destruction.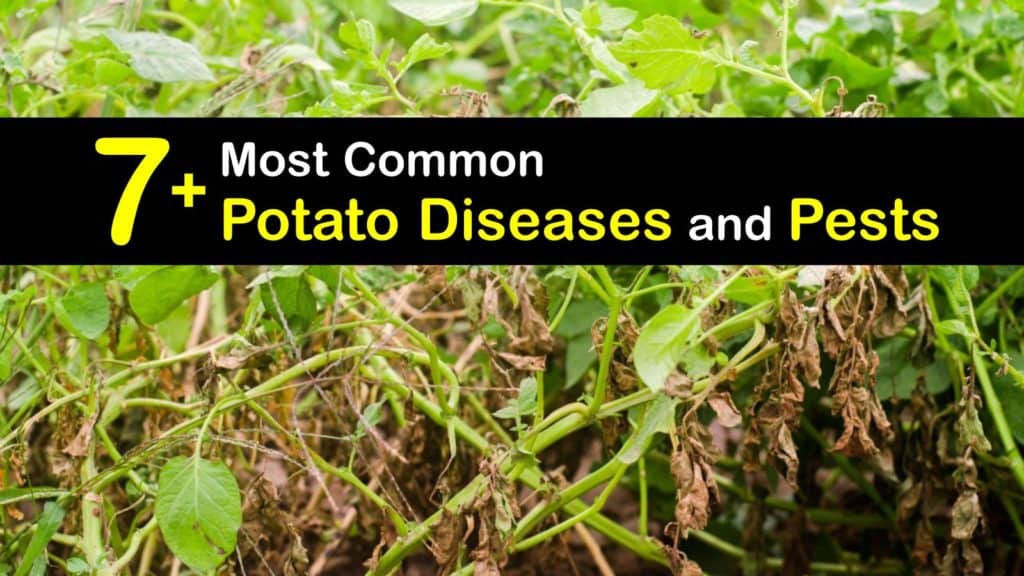 Understanding Potato Problems and Ways to Prevent Them
When you plant sprouted potatoes, there is still more work to do. Proper potato care ensures you get a nice harvest. Nothing is more frustrating than discovering your garden plants are failing, especially if you lose an entire crop due to disease or pests.
How can you preserve white potatoes if you don't have any left? Learn the different types of potato problems that occur, their causes, and how to rectify them.
Potato Problems and How to Tell the Difference
There are a variety of potato problems, from bacteria and fungal disease to insects, and it's often challenging to know what troubles your plants. We explain the differences and what to look for to determine how to fix or prevent the problem.
The easiest way to tell whether your plants are infected with insects or suffering from a disease is to inspect the foliage. Garden pests tend to chew on the leaves, leaving holes and rough edges.
If you notice this type of damage and it appears to happen overnight, check the plants for insects.
Bacterial and fungal disease affects the foliage and roots, often leaving the leaves with lesions, spots, discoloration, and wilting.
Some viral diseases cause havoc with potatoes, such as corky ringspot. If you do not notice any bugs and the plants are struggling, it is probably the result of a disease.
Dealing with Fungal Potato Plant Diseases
There is a wide range of potato plant diseases, and fungal foliar diseases are most common. Discover what fungal disease is, what causes it, and signs to look for on your potato plants.
Fungal Disease
Fungi are plant pathogens responsible for many serious plant diseases. It is spread by water splashing on soil, carried on the wind, and even causes contamination from infected tools.
These diseases cause damage to plants by killing cells, which causes plant stress. Some examples of fungal disease are black scurf, solani, Rhizoctonia root rot, pink rot (Phytophthora erythroseptica), black dot, dry rot, and blight.
While there are various signs that your plant suffers from the pathogen of a fungal disease, the most common is a powdery substance or gray mold on the leaves, water-soaked spots, and leaf roll.
Understanding Bacterial Potato Diseases
Understanding potato disease identification is important to determine what is destroying your plants. Bacterial disease is different from fungal disease and requires varying methods to remedy the problem.
Bacterial Disease
Bacterial diseases enter a plant through natural openings and wounds caused by insects, weather conditions, garden tools, and other means. They cause the most damage to the tubers, the most important part of the potato plant.
Bacterial soft rot, bacterial wilt, blackleg disease, and erwinia that affect the lenticels are some of the most common of these diseases.
Signs that your plants suffer from a bacterial disease are stunted growth, damaged stems, wilting leaves, and infected tubers.
What is Potato Blight?
Blight is one of the most common potato fungal diseases and the cause for the mid-nineteenth century Irish potato famine. Unfortunately, this disease occurs throughout the world, and the only way to halt it is to prevent it in the first place.
Two types of blight affect potatoes, early blight and late blight, and they are caused by the fungi Alternaria solani and Phytophthora infestans.
Early blight microorganisms are active when the climate is warm with high humidity, while late blight is more harmful when it is moist and cool outside.
Symptoms of blight are small brown patches on the leaves and stalks and yield reduction. The dark brown spot starts small and spreads into concentric rings, eventually turning the stem brown and affecting the potato tubers.
If your plants have blight, remove the infected foliage right away, discard it away from the garden, and treat the plants with fungicides.
To prevent blight, plant disease-resistant potato seed pieces, avoid overhead watering, increase air circulation around the plants, and perform crop rotation every couple of years.
Why Do My Potatoes Have Scabs?
If your potatoes have scabs, the culprit is more than likely potato common scab. This disease is caused by a bacterial organism and another common problem.
While many potato plant diseases are easy to identify, common scab has different symptoms and many causes.
Common Scab (Streptomyces spp)
Common scab is a soil-borne disease that attacks the roots, stolons, and stems of potato plants, as well as the young, growing seed tubers. The infected tubers have shallow or deep scabs with lesions surrounded by corky tissue.
The main cause for this disease is soil moisture and pH. It is most severe when growing potatoes in neutral or alkaline dirt, especially when it is warm and dry.
The best way to manage common scab is to plant resistant varieties of potatoes.
Early potato types such as Kennebec are more susceptible, while medium to late types, such as Sebago, are a bit more resistant and the best type of potato to prevent scab. Crop rotation and soil management are also good prevention practices.
How Do Verticillium and Fusarium Wilt Affect Potatoes?
Fusarium wilt and verticillium wilt create similar symptoms, and both are caused by fungal disease. However, one is more prevalent in warm weather, while the other causes problems during cool temperatures.
Verticillium wilt and fusarium wilt are two vascular wilt diseases that affect potatoes, and they are sometimes difficult to tell apart. Fusarium wilt causes leaf wilting and yellowing, starting on the lower leaves and progressing upwards.
The leaves eventually dry and hang from the plant, and the condition worsens in wet, hot climates.
Verticillium wilt causes the leaves to wilt during hot and sunny days and may occur on one side of the stem, starting from the bottom of the plant. Some tubers have a light brown ring with discoloration when cut open.
To prevent these diseases, plant fungicide-treated, disease-free seed potatoes, do not over-irrigate the garden and perform long crop rotation practices.
Getting Rid of Aphids in the Potato Garden
Aphids are one of the most notorious garden pests. Not only do they destroy foliage, but they spread potato viruses which lead to yield loss. Fortunately, these insects are fairly simple to identify and eliminate from the garden.
While a potato aphid infestation typically begins on the underside of the plant's leaves, these insects eventually scatter throughout the entire plant.
They are tiny, yellow-green bugs that leave a sticky honeydew substance on stems, feed on leaves, and spread the potato leafroll virus, which leads to necrosis.
Introducing beneficial predatory insects, such as lady beetles, lacewing larvae, and syrphid larvae to the garden is a great way to control aphids.
If you prefer an easier way, remove the bugs by hand, spray the leaves with water, or treat the plants with a natural insecticidal soap.
How to Control Nematodes
A nematode is a microscopic roundworm that feeds on the roots of plants, and they live in the plant tissue and soil. They overwinter as juveniles while invading roots and establishing feeding sites, and prevention is essential to saving your crop.
How to tell when potatoes are bad from nematodes is easy. Signs that your potato plants are suffering from nematodes are yellow, stunted, or dead foliage. Plants affected with these pests show these early signs under stress from moisture and temperature stress.
Nematodes are difficult to control, and prevention is the best practice to ensure that your potato crop doesn't suffer.
Spread composting manure before planting potatoes to kill present nematodes, and perform crop rotation to lessen a recurring problem.
Home gardening is rewarding in many ways, especially at the end of the growing season. Not only does it bring you back in tune with nature, but it also provides your dinner table with healthy vegetables that you nurtured from the ground.
Therefore, it's essential to know what to be aware of when it comes to potato plant problems to prevent your hard work from going to waste.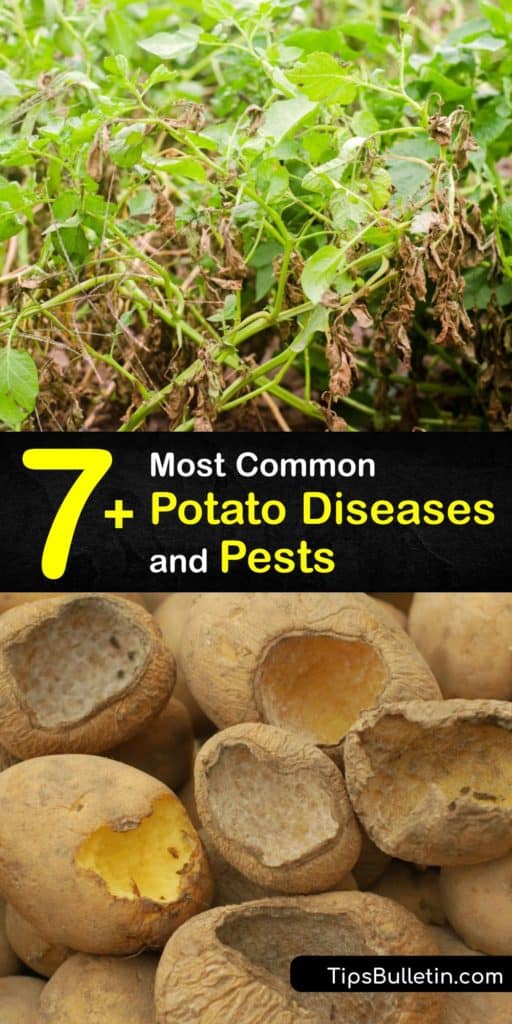 While not all potato diseases are easy to cure right away, there are ways to prevent them from destroying future gardens, so why not share our potato plant disease guide with the garden growers in your life on Pinterest and Facebook?