Potato starch and cornstarch are common kitchen ingredients used as a thickening agent and for baking and frying. In most cases, the two starches are interchangeable. In this article, find the best uses for potato starch vs cornstarch and what to use as substitutes in recipes.
While cornstarch and potato starch are similar in many ways, there are a few significant differences to keep in mind when cooking with them. They each work better at different temperatures. In addition, the resulting color is clearer when using potato starch.
Neither potato starch nor cornstarch has much nutritional value. Since potato starch is a resistant starch, it isn't digested and plays a role in supporting digestional health. It has fewer calories and carbohydrates than cornstarch and doesn't cause a spike in blood sugar levels.
To make things even easier, the substitution ratio for these two starches is 1:1. In other words, use the same measurements that the recipe calls for. Read on to discover more about the difference between cornstarch and potato starch and how to use them in the kitchen.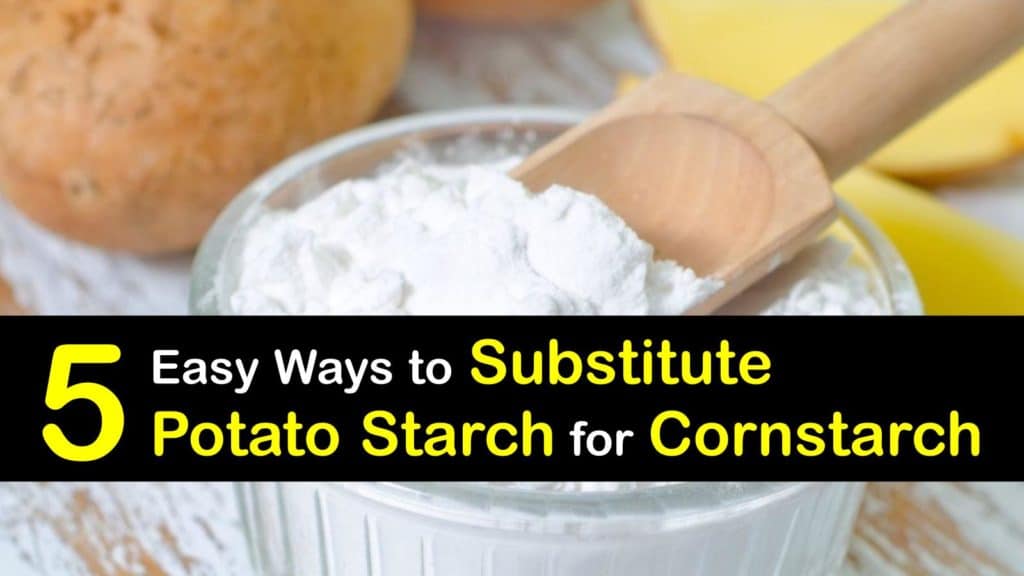 What's the Difference between Cornstarch and Potato Starch?
Starches are commonplace staple ingredients in many home pantries. As long as you keep them stored in an airtight container in a cool, dry place, the shelf life of cornstarch and potato starch is indefinite.
Whether you're whipping up some delicious baked goods, frying your favorite foods, or preparing sauces, soups, or stews, it's essential to know when to use each one.
The two primary bonding agents in starches are amylose and amylopectin. Amylose is more easily digestible, while amylopectin resists digestion. Resistant starches like potato starch are higher in amylopectin.
Cornstarch is a grain starch derived from the endosperm of a corn kernel, which consists primarily of starch and protein. It's effectually odorless and flavorless and adds a slightly opaque quality to liquids. Other grain starches include rice flour and wheat flour.
An excellent thickener, cornstarch absorbs more moisture when heated. It usually gets mixed with room temperature water to form a slurry, then added to a recipe.
However, cornstarch tends to get clumpy at high temperatures. The starch granules break down when frozen, and the thawed dish will be much runnier than before.
Potato starch is a root starch extracted from potato tubers. It thickens at lower temperatures than cornstarch but also holds up better in higher temperatures.
However, don't confuse potato starch with potato flour, as the latter has a much denser consistency. Similarly, cornflour is finely ground cornmeal, not the white powdery starch.
Frying with Potato Starch vs Cornstarch
Both potato starch and cornstarch give fried foods that satisfying, crispy mouthfeel. The primary difference between cornstarch vs potato starch for frying is temperature.
Cornstarch doesn't handle extreme heat well. Temperatures above 180℉ cause the starch molecules to break down and release all of their moisture. When frying, this causes the food to get tough on the outside and burn quickly. Cornstarch is best for light pan-frying.
Potato starch withstands higher temperatures much better. In fact, it's one of the most heat-resistant starches available. Substitute potato starch for cornstarch when using ultra-high temperature cooking methods like deep frying.
Both cornstarch and potato starch work considerably better than all-purpose flour for frying because they're pure starches. Since wheat flour contains gluten, it takes longer to cook and doesn't absorb as much oil in the cooking process.
Substitute Potato Starch for Cornstarch in Baking
An essential consideration when baking with cornstarch is that high acidity levels decrease its thickening ability. High concentrations of sugar or other acidic ingredients prevent the starch granules from absorbing moisture.
Potato starch often gets used in gluten-free baking. It has a mostly neutral flavor and creates a firm, clear finish that doesn't congeal too much once the dish cools.
It's also possible to substitute potato starch for wheat flour to make a recipe gluten-free by reducing the amount of flour by half.
However, it's imperative to add the potato starch slurry when the rest of the ingredients aren't too hot. Otherwise, the starch molecules break down and don't absorb moisture properly, according to Bob's Red Mill. The result is runny pie fillings or sauces.
If you're craving a gluten-free treat, try this easy recipe for gluten-free brownies. Use potato starch for a lighter texture or cornstarch for moister brownies.
Begin by preheating your conventional oven to 350℉. In a large mixing bowl, combine the ingredients until well-blended.
Line a square baking tin with parchment paper and pour in the batter. Bake for about 30 minutes, or until a toothpick poked into the center comes out clean. Allow the brownies to cool for around 15 minutes before slicing and serving.
Using Potato Starch vs Cornstarch with Dairy
Some starches like tapioca and arrowroot starch don't mix well with dairy. Tapioca starch comes from the tropical cassava root. Arrowroot is also a tropical tuber and sometimes gets confused with cassava.
Both starches are a healthier potato starch or cornstarch substitute but take on an unpleasant, slimy texture when combined with dairy ingredients.
Although cornstarch works best for dairy-based sauces and dishes like macaroni and cheese, potato starch works well, too.
Since potato starch has longer molecules, the liquid may have a grainy appearance at first. Keep stirring to break apart the starch granules and achieve a smooth consistency.
Temperature Requirements for Potato Starch vs Cornstarch
Cooking temperature is one of the principal factors to consider before you substitute potato starch for cornstarch. Potato starch thickens at considerably lower temperatures than cornstarch, between 136-150℉, and shouldn't boil.
Cornstarch congeals at higher temperatures between 144-180℉. For this reason, potato starch works better in recipes with shorter cooking times.
Add the starch before the rest of the ingredients are hotter than the gelation temperature of the starch you're using. Otherwise, the starch granules break down and don't absorb moisture correctly.
In addition, both cornstarch and potato starch must be mixed with cold water to form a slurry before you incorporate them in the recipe. If you pour in the straight powder, it doesn't mix evenly and forms clumps.
Nutritional Value of Cornstarch and Potato Starch
Neither cornstarch nor potato starch contains significant amounts of vitamins and minerals. However, since potato starch is a resistant type of starch, it has fewer carbohydrates and calories than cornstarch.
Arrowroot starch is a popular substitution since it provides fiber, protein, folate, iron, phosphorus, and potassium.
Using Cornstarch and Potato starch for Cleaning
Both potato starch and cornstarch can be used for cleaning in addition to cooking. Mixing cornstarch into your glass cleaner helps prevent streaks on mirrors, windows, and shower doors.
Potato starch mixed with a little water to form a paste effectively removes grease and bits of sugar stuck in the grooves of your waffle maker and countertop grill. Throw away the paste ball when you finish with it.
Cornstarch is also quite beneficial as an odor eliminator for stinky shoes. To use cornstarch to get rid of bad shoe smell, sprinkle some of the powder into the shoes and let it sit overnight. Shake it out the next day.
If you have a blood stain on your clothes, one of the home remedies to get blood out of clothes is to sprinkle a bit of cornstarch on the wet stain to absorb the blood before cleaning the material.
Have you ever wondered, "Can you substitute cornstarch for potato starch? The short answer is yes. Cornstarch is best for cooking at moderate temperatures and in dairy-based recipes.
Potato starch works well for deep frying and in combination with acidic ingredients. If you're cooking gluten-free because of Celiac disease or another health concern, always check the ingredients for any additives.
Both starches have other applications, as well, including cleaning and deodorizing.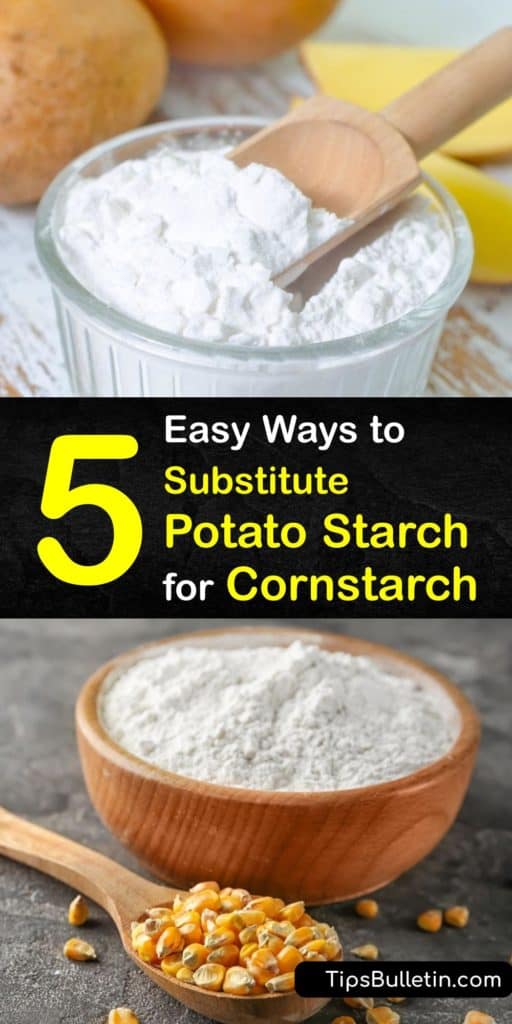 If you enjoyed learning the difference between cornstarch and potato starch, please share this article about potato starch vs cornstarch with your friends and family on Pinterest and Facebook.